Sizing up the NBA's title contenders: Part 1
Getty Images / Photo illustration by Nick Roy / theScore
Dynasties often rule the NBA, but we're in an era of championship parity, in which six different teams have contested the last three Finals. This year, once again, features an uncommonly deep field of title contenders. Over the next three days, we're breaking down the reasons to believe in those contenders and the reasons to doubt them.
First up, the five teams that best fit the NBA's traditional definition of championship hopeful. Part 2 will weigh the cases of the East's second-tier contenders, while Part 3 will examine a trio of West teams facing major injury questions.
Milwaukee Bucks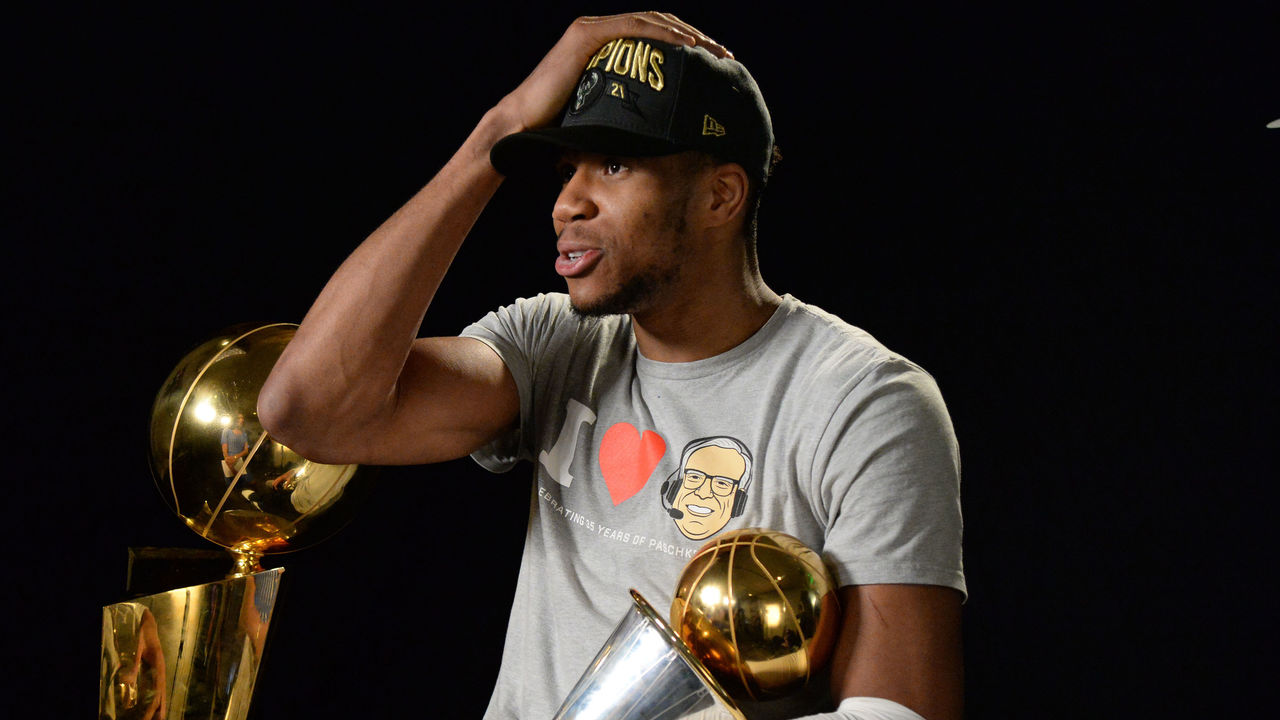 Reasons to believe: Have you heard of Giannis Antetokounmpo? The Greek Freak's presence means Milwaukee has the best player on the court damn near every night, if not every single night.
Khris Middleton has already answered the question about whether he can be a championship-level closer. Jrue Holiday impacts the game even when his finishing ability abandons him. And the Bucks support that star trio with a perfect blend of additional shooting and defense. Even coach Mike Budenholzer seemed to grow more adaptable as the 2021 playoffs progressed. Milwaukee has all the ingredients to repeat.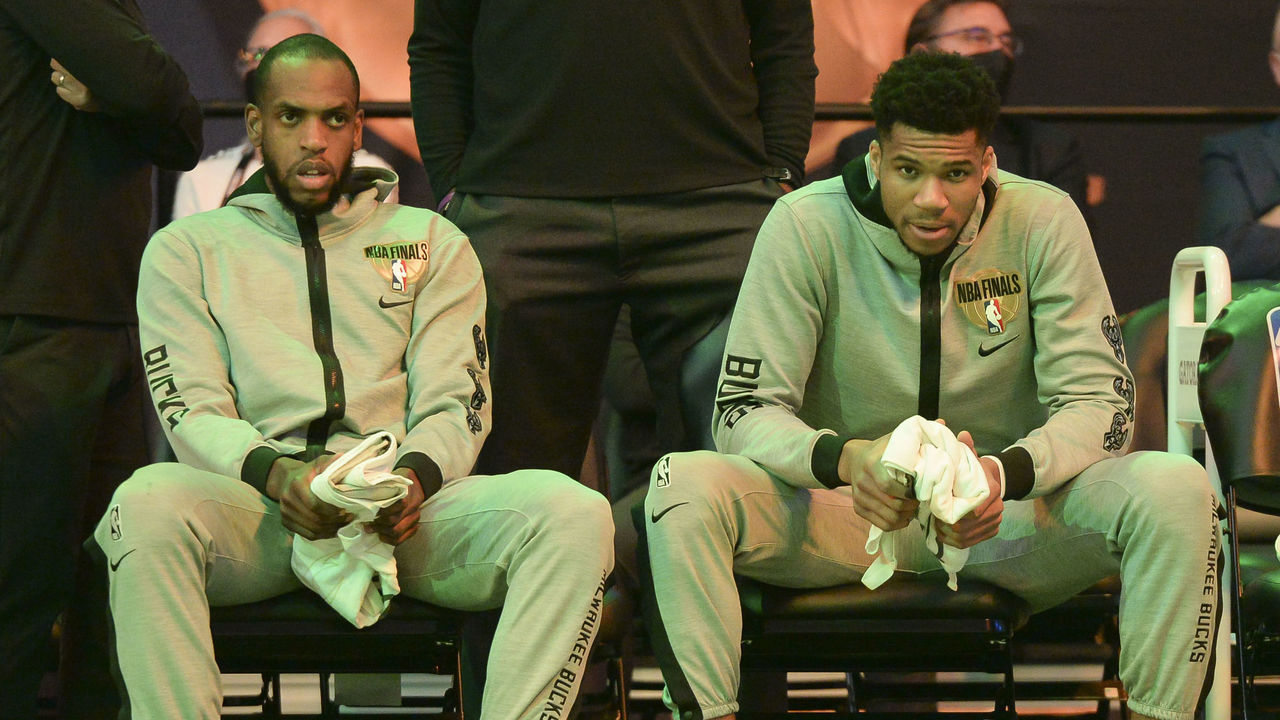 Reasons to doubt: There's no such thing as an asterisked championship. Every team that's ever scaled the NBA's yearly mountain to claim the title has needed to catch at least a break or two. But it doesn't take anything away from Milwaukee's 2021 run to say the Bucks had more things line up in their favor than the average champion. Whether it's the Nets and Lakers entering the 2022 playoffs healthier, the reloaded Heat once again built to give Milwaukee trouble, or the next potential dagger coming a few inches further back, you'd have to imagine the Bucks' margin for error will be smaller next spring than it was this past summer.
For as many questions as Giannis and Co. answered last year, there are still some festering beneath the surface that doubters will want to see answered without Milwaukee enjoying some of the benefits afforded to it in 2021. Will Giannis' smarter shot selection and the sudden free-throw competence he flashed in the final game carry over? Can Budenholzer's Bucks remain as versatile and malleable without PJ Tucker? Is Milwaukee's attack varied enough to beat the top teams in a best-of-seven series when those squads are at full strength? - Joseph Casciaro
Brooklyn Nets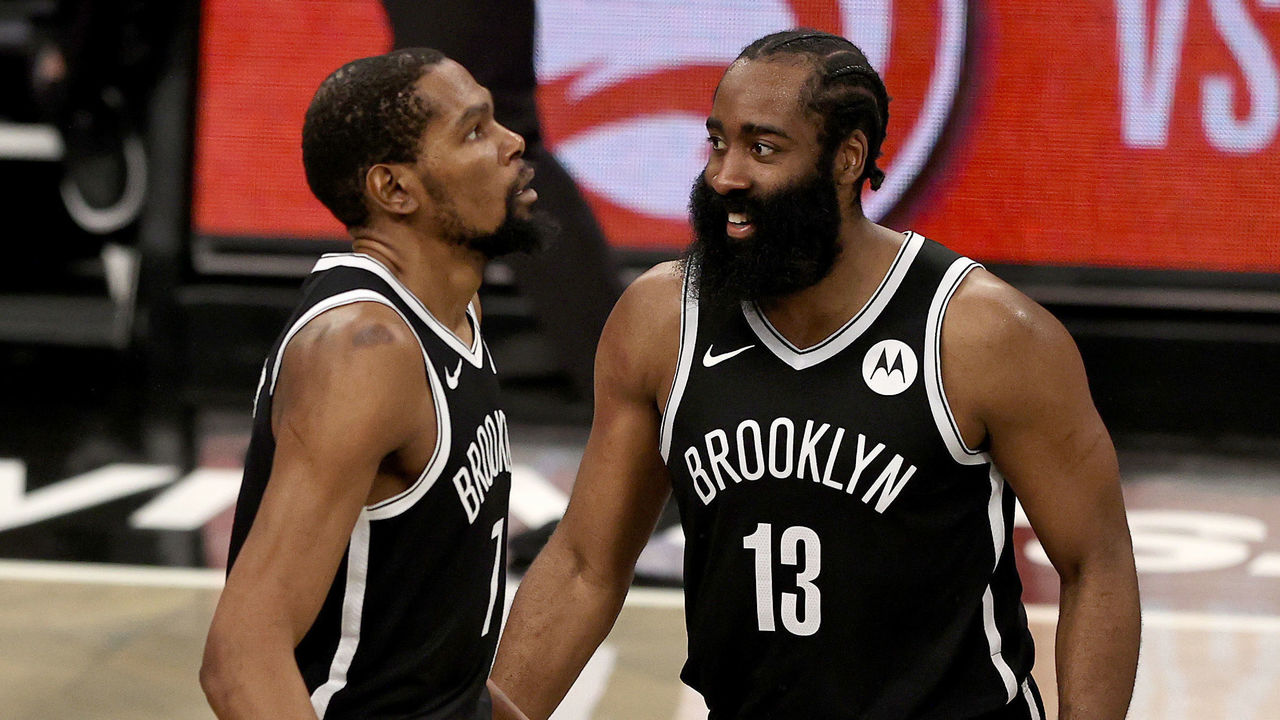 Reasons to believe: Even with doubt surrounding Kyrie Irving's playing status, the Nets boast an enviable combination of top-end talent and role-player depth. They came within a shoe size of knocking off the eventual champs last season despite Irving being sidelined and James Harden playing on one leg. Brooklyn outscored opponents by 11.2 points per 100 possessions with Kevin Durant and Harden on the court last season, and the team around them has gotten stronger.
On top of getting an offseason for the former Thunder teammates to fully rekindle their on-court chemistry, the Nets will get the benefit of an entire campaign with Blake Griffin - who proved after his buyout from Detroit last year that he still has plenty of juice as a short-rolling, pick-and-popping small-ball 5. They also signed super-sub Patty Mills to turbocharge their second-unit offense, bolstered their point-of-attack defense by trading for Jevon Carter, drafted a certified bucket-getter in Cam Thomas, added a dose of veteran smarts and defensive versatility by nabbing Paul Millsap, and brought LaMarcus Aldridge out of his brief retirement. Even if Irving misses the whole season, this should be the best offense in basketball by a not-insignificant margin.
This team also defended at a top-five rate in last year's playoffs, with an effective switching scheme that induced plenty of isolation play. Durant also showed he can still be an absolute terror as both a back-side helper and one-on-one stopper when the stakes ramp up. And this year's Nets have a bunch of different lineup types they can deploy, thanks to their bountiful scoring weapons, a slew of multi-positional shape-shifters, and myriad options in the frontcourt. Coach Steve Nash and his staff can mix and match to suit any opponent or situation. They can craft units that trend big and ones that skew small. They can go all-in on offense or build more defense-oriented lineups while trusting that there will always be enough playmaking and shooting on the floor.
The trifecta of elite talent, depth, and versatility is tough to top.
Reasons to doubt: While the Nets are more insulated against a superstar absence than any team in the league, the fraught Irving situation threatens to take a huge bite out of their margin for error. That's less than ideal for a team that had its 2020-21 season derailed by injuries to its star players.
Losing Jeff Green could also be an under-the-radar big blow. None of the various center options the Nets accumulated can replicate Green's combination of shooting and defensive switchability. That's going to make it more difficult for them to craft five-out lineups that can still defend at a high level.
In general, the lack of size up the middle will pose a concern against Brooklyn's biggest competitors in the Eastern Conference. Who's the Nets' best rim-protector? Nicolas Claxton? Durant? Griffin did an admirable job on Antetokounmpo for stretches in last year's conference semis, but the dam eventually broke. If the Nets meet the Sixers in the playoffs, Joel Embiid will be a capital-P Problem. If Irving doesn't play and the offense is merely incredible, rather than historic as it was last year, being passable on defense may no longer be enough. Do you trust this team to be better than that? - Joe Wolfond
Phoenix Suns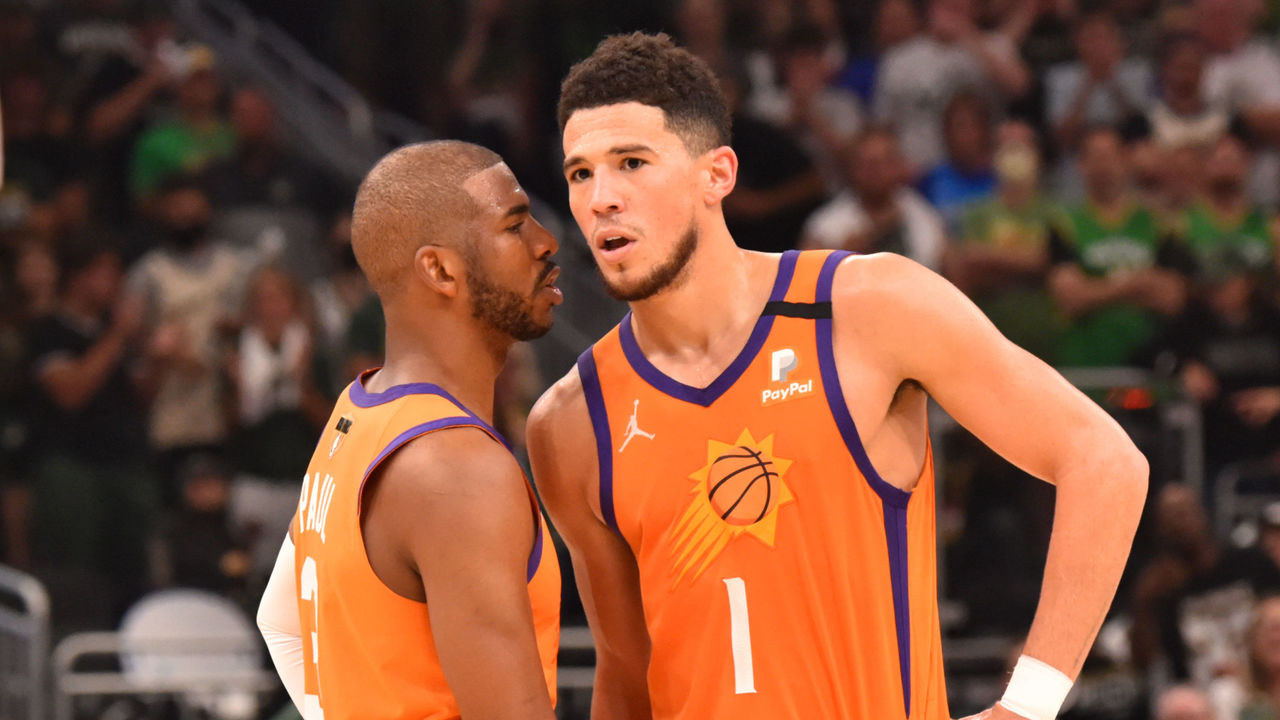 Reasons to believe: Between their collective shot creation, playmaking, and shooting, Devin Booker and Chris Paul remain as perfect a modern backcourt as a contender can hope to construct. Phoenix has already made a deep playoff run as presently built, but the sky really is the limit if further, two-way progress can be expected from DeAndre Ayton and Mikal Bridges.
Landry Shamet's shooting should boost an already strong bench run by the improved Cam Payne, especially if Dario Saric (who suffered a torn ACL during Game 1 of the NBA Finals) returns this season looking like the 2021 revelation he was as a small-ball center. Add in the fact that Bridges and Jae Crowder make the Suns uniquely equipped to guard the game's biggest wing scorers, and Phoenix is as balanced and complete a contender as exists right now.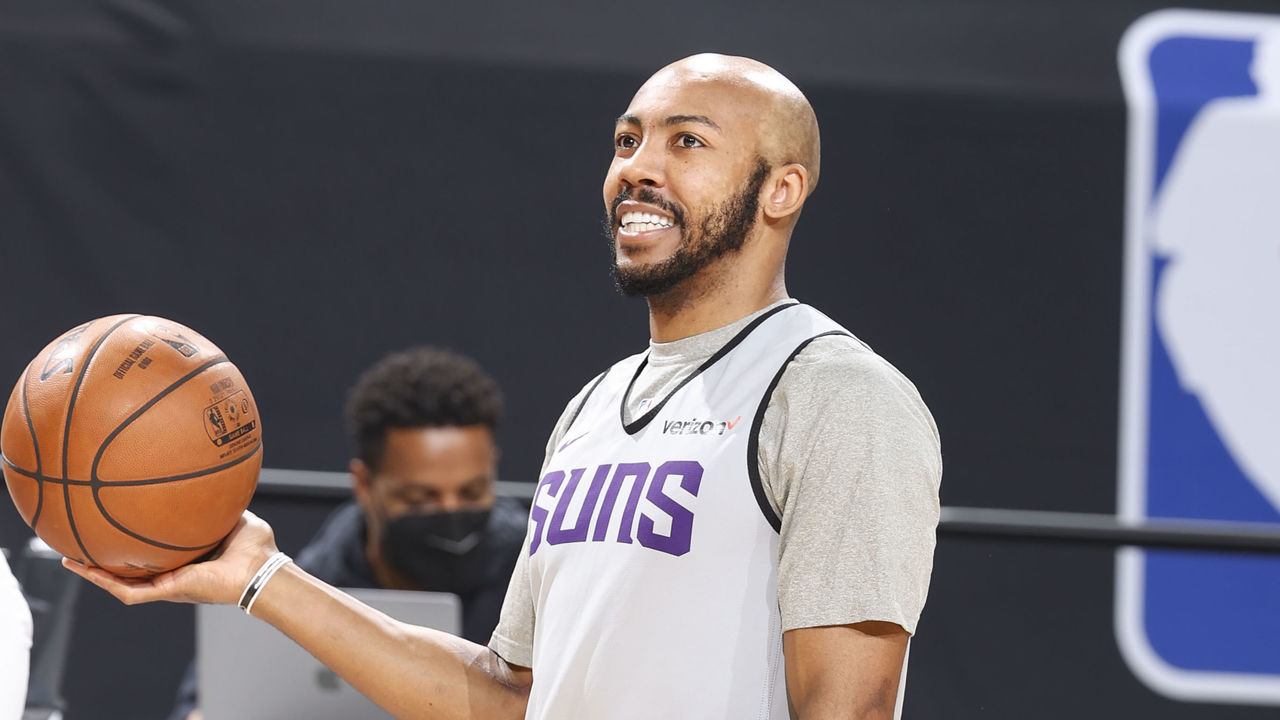 Reasons to doubt: Though he's been surprisingly durable since turning to a vegan diet following recent injury-riddled seasons, Father Time will eventually catch up to Paul, who will turn 37 before the 2022 championship is decided. He can only maintain Point God status for so long.
A big part of the reason the Suns dominated last season and secured the West's No. 2 seed was because coach Monty Williams found a reserve unit that could overpower opposing benches and hang with starter-heavy lineups more individually talented than them. That group could generally maintain the head start Phoenix's impressive starting five gave them. However, it's quite possible Payne and the Suns bench won't catch lightning in a bottle again this year. Losing Jevon Carter in the Shamet trade was a low-key blow, as Carter's IQ and defense helped balance the reserve unit in ways I'm not sure Elfrid Payton can.
Saric's return (and his ability to regain his peak form this season) remains up in the air. While JaVale McGee has turned into a fine backup center, he can't replicate Saric's skill set. Lastly, the Suns' reported hesitancy to max out Ayton is a reminder that owner Robert Sarver's franchise is still the same one that has mostly bungled the last decade. - Casciaro
Los Angeles Lakers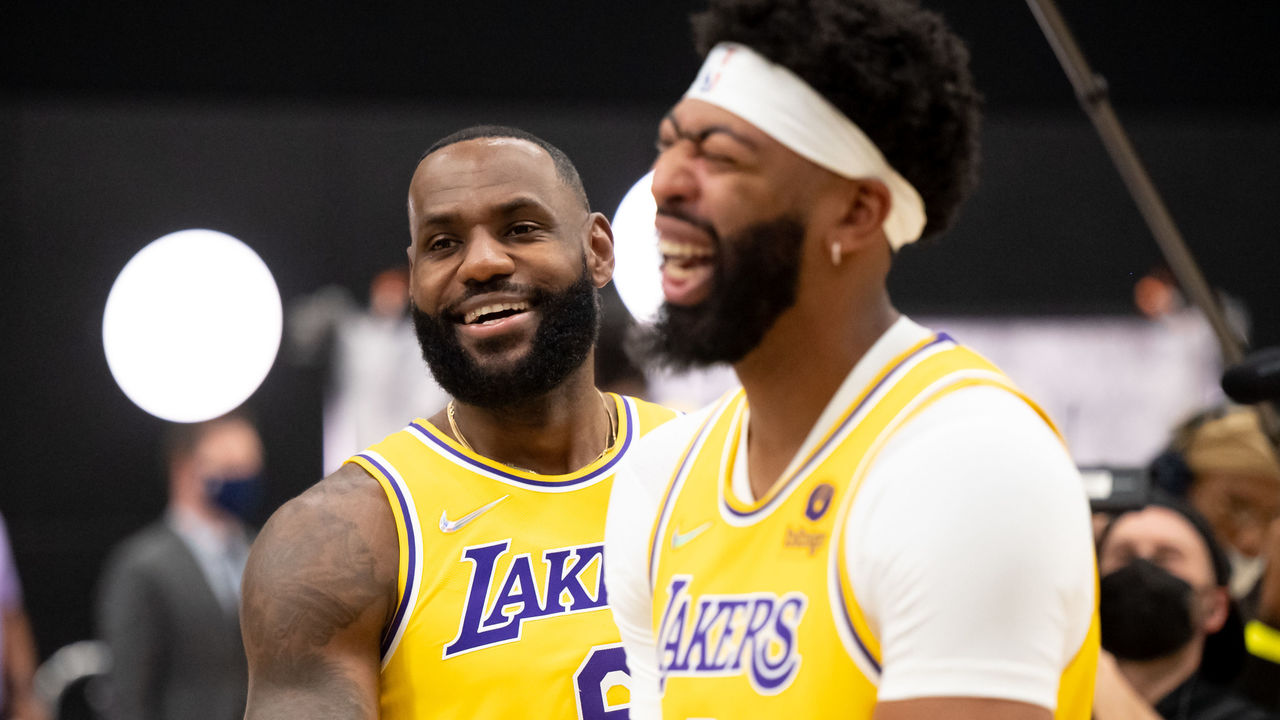 Reasons to believe: In a Western Conference rife with injury uncertainty and unproven contenders, the team with the most experience and by far the strongest two-man nucleus feels like the safest bet, even amid concerns about age, health, and roster fit. The Lakers outscored opponents by 11.2 points per 100 possessions when LeBron James and Anthony Davis shared the floor last season. As long as those two are healthy for the playoffs, L.A. will be a matchup nightmare for anyone.
The Russell Westbrook trade introduced a volatile element that will affect the team's playing style in numerous ways, but many of those should fall on the positive side of the ledger. He's a regular-season floor-raiser who'll make it easier to manage James' and Davis' workloads and keep them fresh for the postseason. On a purely physical level, James - who turns 37 this year - will benefit greatly from playing next to another high-usage creator who can ease his playmaking burden and keep the offense afloat when he's on the bench. And while he doesn't get to showcase it often, James is an outstanding off-ball player who can really capitalize on Westbrook's on-ball gravity.
The Lakers won't set the world on fire from 3-point range, but they'll be murder on the interior after adding one of the game's most relentless downhill attackers to a team that ranked sixth in at-rim frequency. And even if the half-court fit is clunky, James, Davis, and Westbrook are going to annihilate opposing teams in transition. Both areas will benefit greatly from the fact that Davis is apparently willing to play center more regularly to accommodate Westbrook.
The front office did a solid job filling out the rotation around the trio. They added complementary scorers (Malik Monk, Carmelo Anthony, Kendrick Nunn), veteran 3-and-D options on the wing (Trevor Ariza, Kent Bazemore), rim-protectors who can handle spot center minutes behind and, in some cases, beside Davis (Dwight Howard, DeAndre Jordan), a pure movement shooter (Wayne Ellington), and a floor general acquainted with the team's principles (Rajon Rondo). Throw in the funky dribble-drive game of ascendent guard Talen Horton-Tucker, and the Lakers have a deep rotation with just enough shooting and playmaking to make all the pieces fit.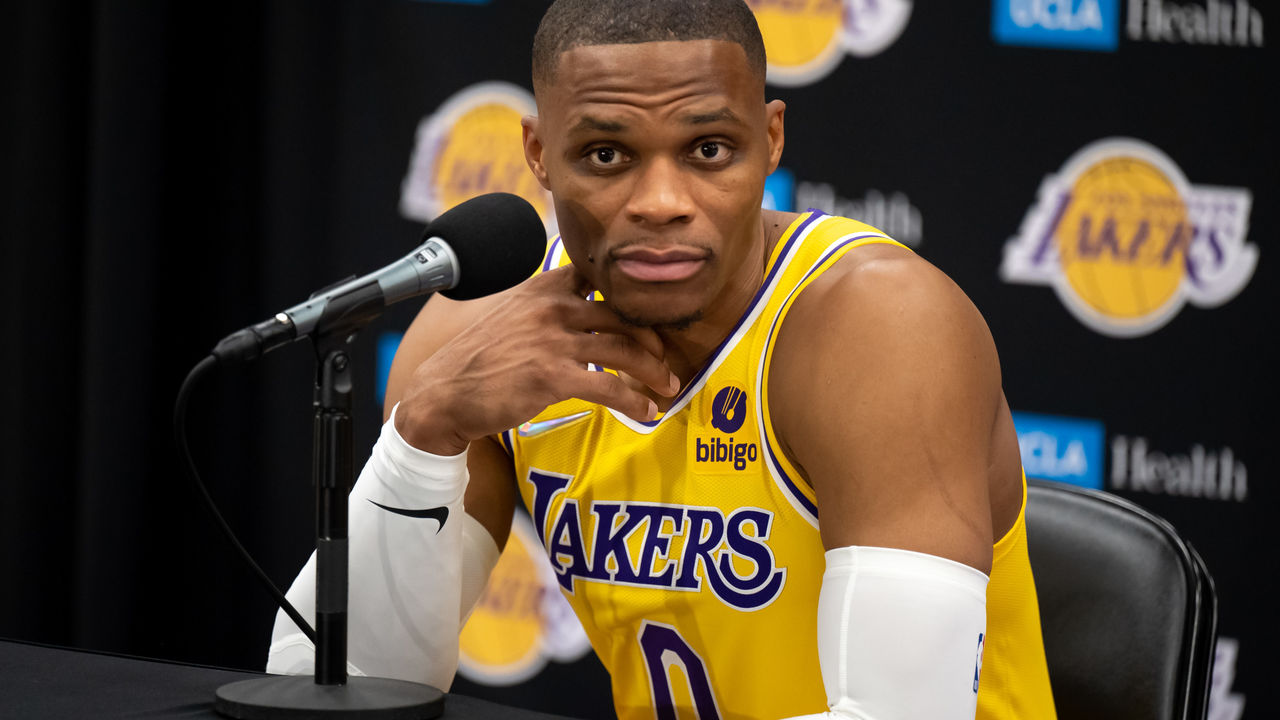 Reasons to doubt: The Lakers are the oldest team in the league by more than two years. James is entering his 19th season and can no longer be counted on to get to the playoffs unscathed. Davis has never been a paragon of health. It's not like we can just dismiss last season's injury-induced first-round flop as some major aberration.
And even at full strength, the Westbrook fit is a concern. For all his athletic exploits and eye-popping boxscore stats, he's a turnover machine coming off a season in which he posted a dismal true shooting percentage of 51%. He's a space-cramping non-entity when he doesn't have the ball. He'll take efficient possessions away from James and Davis and turn them into inefficient ones.
The Lakers have ceded a huge chunk of the defensive identity that made them champions in 2020. Westbrook can be a defensive neutral when he plays with focus, but he's plagued by missed rotations and reckless gambles most of the time. This team lost its two best point-of-attack defenders (Kentavious Caldwell-Pope and Alex Caruso) plus a solid wing defender (Kyle Kuzma) and added a slew of minuses (Westbrook, Anthony, Nunn, and Monk), one so-so defender (Bazemore), and one ostensibly capable defender who is 36 years old (Ariza). James and Davis provide a layer of security on the back side with their court coverage and instincts, but they can only put out so many fires.
The Lakers are hoping to offset the defensive downgrade by pushing their chips toward the offensive end, where they were mediocre even when James and Davis were healthy last year. Given the questionable Westbrook fit and the advanced ages of the role players this team will be relying on, that feels like an awfully risky bet. - Wolfond
Utah Jazz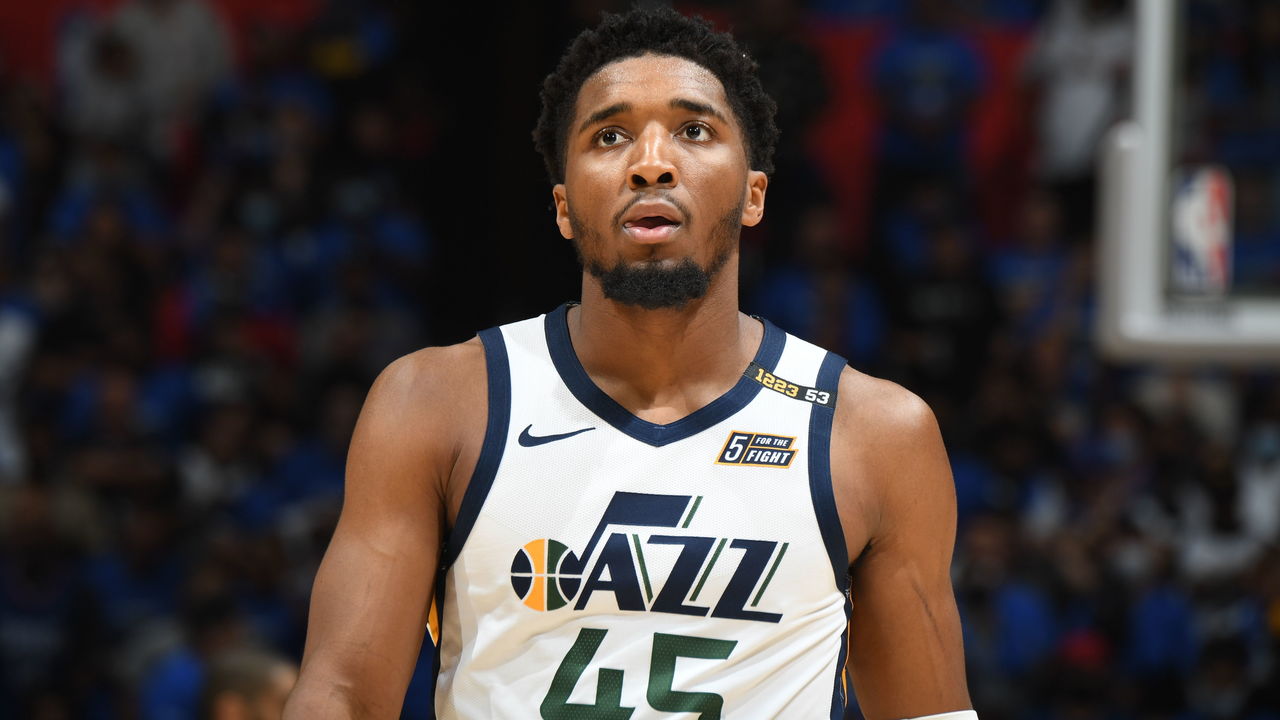 Reasons to believe: Between Rudy Gobert's stalwart rim protection and Quin Snyder's whirring offense - built around Gobert's roll gravity, multiple ball-handlers, and a glut of 3-point shooting - the Jazz are the Western Conference team with the highest floor. They know exactly who they are and how they want to play, and they'll benefit greatly from familiarity and roster continuity. The core of the rotation that posted the league's best record and best net rating last season returns fully intact. Utah may well have won the West if not for untimely injuries to Mike Conley and Donovan Mitchell.
The front office used this offseason to augment the lineup flexibility around that core group, in the event the Jazz once again find themselves scrambling for answers against a five-out team like last year's Clippers in the playoffs. In signing Rudy Gay and trading for Eric Paschall to replace the outgoing Derrick Favors and Georges Niang, Utah not only gave its bench a punchier offensive look, but it also added two potential small-ball centers who can stretch the floor, post up mismatches, and switch on defense. Mitchell, for his part, has become a certified coverage buster against any scheme, and he gets better every year. Gobert is still the league's best interior defender. And the Jazz might be the best jump-shooting team in basketball.
Meanwhile, the clubs that knocked Utah out of the playoffs the last two years are both dealing with major injuries. The Lakers are creaky and jumbled. The window is wide open. The Jazz have had their playoff demons, but no team faces fewer structural questions. It feels like now or never for this version of the squad.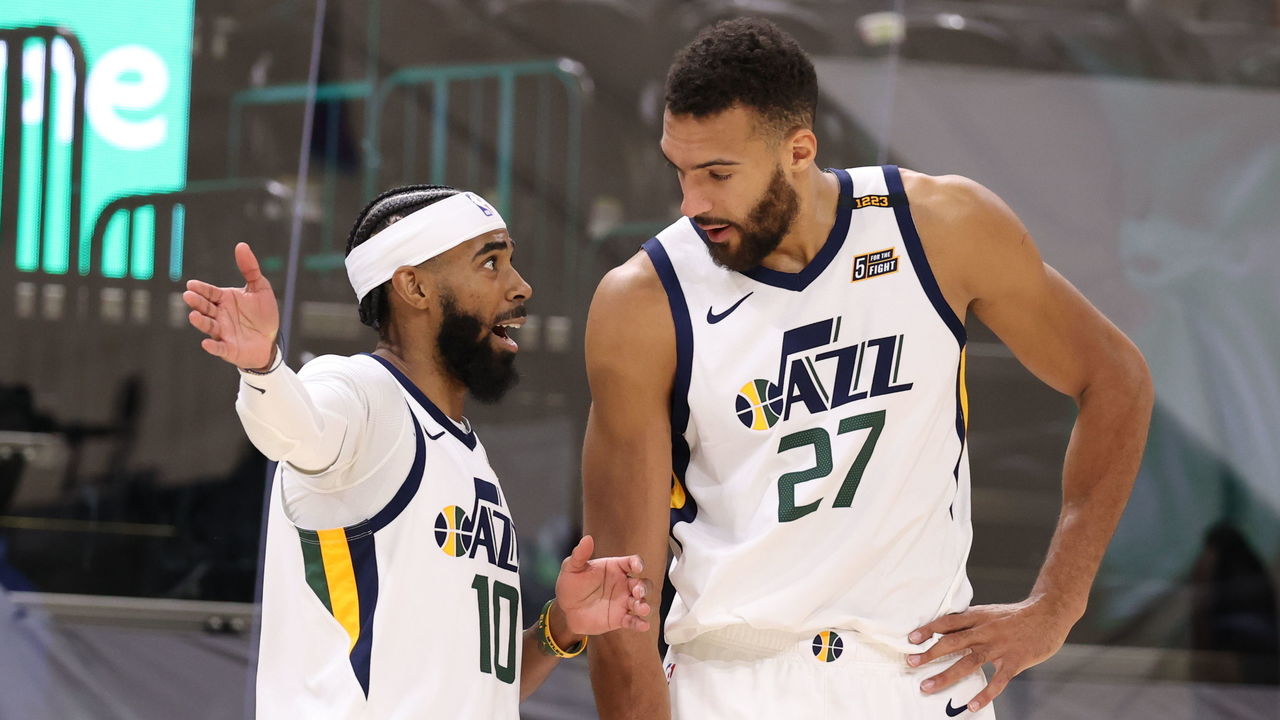 Reasons to doubt: No doubt the Jazz have a high floor, and yes, they're built to rack up regular-season wins. But outside of the Kawhi Leonard and Jamal Murray injuries, do any signs point to them being set up for the playoff breakthrough that's eluded them throughout the Mitchell-Gobert era?
Sure, having small-ball options is nice in theory, but it's doubtful this team is ever going to feel more confident in its defense with Gay or Paschall manning the 5 in place of Gobert. The thing that really let Utah down in that Clippers series was its perimeter defense, which won't be any better this year than it was last (give or take a sturdier ankle or two). There's still a troubling lack of athleticism on the wing, and 6-foot-4 Royce O'Neale remains the only dependable option to guard the big playmaking forwards of the world.
Conley is essential to what the Jazz do on both sides of the ball (they were 13.7 points per 100 possessions better with him on the floor in the regular season and 16.8 per 100 better in the postseason). However, he just turned 34 and has missed at least 20 games to injury in four of the last six seasons. If he isn't operating near 100% come playoff time (which feels like a safe assumption at this point), Utah will once again suffer from a lack of individual playmaking and porous point-of-attack defense. - Wolfond
Comments
✕
Sizing up the NBA's title contenders: Part 1
  Got something to say? Leave a comment below!