What's going on with Julio Jones, and where do the Falcons go from here?
Carmen Mandato / Getty Images
The prospect of the Atlanta Falcons trading star wideout Julio Jones went from passive offseason speculation to full-tilt, self-perpetuating news cycle this week. All it took was for Jones to answer a phone call from Fox Sports' Shannon Sharpe and declare "I'm outta there, man!" while seemingly unaware he was on live television. It happens to the best of us.
It made for a riveting spectacle, and it also upped the ante on the possibility that Jones will indeed be dealt. Sure enough, NFL Network's Ian Rapoport subsequently reported that Jones requested a trade "a few months ago," and the team had agreed to consider offers. As ridiculous as it might seem for Atlanta to trade one of its cornerstone players, a complex set of factors led to this point, and an important date is looming. Let's break it down.
The state of the franchise
Atlanta is in the midst of a rebuild … sort of. The Falcons have had three straight losing seasons, and their 4-12 finish in 2020 led to changes at the top of the football operation, with Terry Fontenot taking over as general manager and Arthur Smith as head coach. But Atlanta notably did not draft a quarterback with the fourth overall pick. The team instead opted to double down on 36-year-old Matt Ryan by restructuring his contract, ensuring he'd be on the roster (or at least extremely difficult to move) through at least 2022.
It wasn't just Ryan, either. The Falcons also reworked deals for left tackle Jake Matthews and linebacker Deion Jones. Combined with Ryan's restructure, these moves saved more than $26 million against the 2021 salary cap, which fell 8% because of the pandemic's impact on league revenues after rising consistently for years.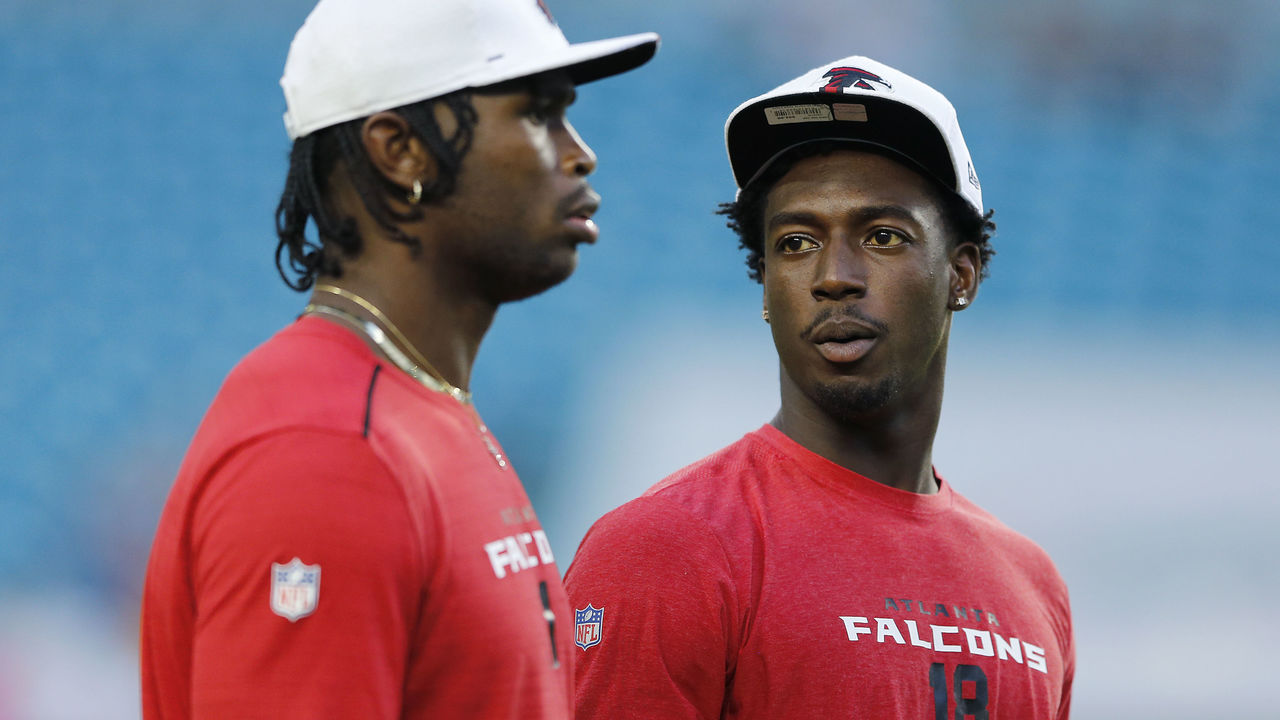 Atlanta's strategy is to build on its current roster rather than attempt a teardown. Drafting potential all-world tight end Kyle Pitts at No. 4 set up the tantalizing possibility of Ryan having Pitts, Jones, and Calvin Ridley as targets, with Smith and offensive coordinator Dave Ragone queuing up a play-action-heavy scheme on the order of what Kyle Shanahan did as offensive coordinator in 2016, when Ryan was the league MVP and dang near won the Super Bowl.
Sounds great! Ah, but there's way more to consider.
The Falcons' cap constraints
Even after all those cap gymnastics - which also included getting edge rusher Dante Fowler Jr. to accept a pay cut - the Falcons still find themselves cap-strapped. According to NFLPA records, Atlanta has just $358,694 in available room, which isn't enough to sign its draft class. Obviously, this a problem.
The Falcons have a league-high 38.1% of their cap tied up in what Over The Cap categorizes as the elite tier (or top 32) of commitments. To be more specific, nearly $71 million in cap resources is slated to go to Ryan, Jones, and defensive tackle Grady Jarrett this year. Had there been no pandemic, this wouldn't be an issue, since the cap would presumably be much higher. But here we are. Also, the Falcons made no effort this offseason to restructure Jones' and Jarrett's deals. That is a bit of a tell. But the Falcons now have better depth at receiver than they do on the defensive line, which might explain why Jones is being dangled.
Jones' contract
Unlike Jarrett, who is signed through 2022 with nothing guaranteed beyond this season, Jones is under contract through 2023. Per Over the Cap, he's slated to count for $23.05 million against the cap this year and $19.263 million in both 2022 and 2023. But the figure to keep in mind here is the $23.25 million in dead money Atlanta would have to eat by trading him. And that brings us to the important date of June 1, which happens to be next Tuesday.
Trading Jones after June 1 would permit the Falcons to spread that dead-money hit across two seasons. As Jason Fitzgerald of Over The Cap wrote, a post-June 1 trade would allow Jones' 2021 cap hit to fall to $7.75 million - the equivalent of his 2021 bonus proration - with the remaining $15.5 million in dead money hitting the books in 2022. That's a savings of $15.3 million in 2021, which would give the Falcons some breathing room.
The structure of Jones' deal is also palatable for potential trade partners. He's owed a fully guaranteed $15.3 million in salary in 2021 but just $11.513 million in both 2022 and 2023. That's a three-year average of $12.7 million, which would rank just 20th among all wide receivers in average annual value, according to Over The Cap's database. Additionally, the only thing guaranteed to Jones after 2021 is $2 million of his 2022 salary. A trade partner could therefore add Jones at a reasonable price for up to three years with virtually nothing tying its hands financially after 2021 if Jones' performance were to crater.
Here are six potential trade suitors, but it's worth noting that as many as 12 teams, per NFLPA records, have at least $13 million in cap space. That would allow them to absorb Jones' $15.3-million salary either completely or with some slight alterations to the balance sheet.
What Jones has left
Jones hasn't lost much time across his 10-year career. A broken foot limited him to five games played in 2013, and he was out for a total of four games from 2014-19. But last season, he missed seven games with a hamstring injury. And he's now 32.
Jones' age is a concern, but it's not a cause for alarm. He caught at least 70 passes in seven of his 10 seasons, and there's nothing to suggest he can't do that again: Per Stathead, a receiver has caught 70 or more passes at age 32 or later 95 times in NFL history - and a number of wideouts did it more than once.
Many of those receivers are in the Hall of Fame. Jones is certainly on that trajectory.
Sports Illustrated's Albert Breer suggested that because Jones has had to manage the effects of a broken foot dating back to before he was drafted, he could extend his career by settling into more of a slot-type role, as Fitzgerald has done. I dug into the data, and it checks out. In 2015, which was Fitzgerald's age-32 season, he was still seeing the majority of his targets while lining up outside, according to PFF. Since then, Fitzgerald has operated increasingly out of the slot:
Between the ages of 32 and 34, Fitzgerald caught 109, a league-leading 107, and 109 passes. Barring injuries, Jones can still be highly productive.
Trade return
ESPN's Adam Schefter reported Monday that the Falcons have been demanding a first-round pick in exchange for Jones. But his age and that limited pool of potential destinations seems to be hurting his trade value. Breer thinks Atlanta would be willing to move Jones for a second-rounder.
Atlanta could also decide to keep Jones and let him wing it with Ryan, Pitts, and Ridley for at least a season. Jones' contract would be even easier to move next year, when all that's left on it will be two years and $23.03 million, with just $2 million in guarantees. But did Jones foreclose on that option with his comments to Shannon Sharpe? We'll find out soon enough.
Dom Cosentino is a senior features writer at theScore.