6 potential trade suitors for Julio Jones
Dylan Buell / Getty Images Sport / Getty
The Atlanta Falcons have a potentially franchise-altering decision on the horizon.
Atlanta reportedly fielded trade calls for Julio Jones after the star wideout put in a trade request a few months ago. Could the club really move one of the NFL's premier receivers? It's possible, but a trade would have to come after June 1 to defer Jones' bonuses over the next two years.
Strapped against the salary cap, the Falcons don't have enough money to pay their rookie class and account for cap expansion in September. If Atlanta deals Jones, it would solve its issues this year and gain flexibility for next season. The 32-year-old wideout would also be fairly affordable for the acquiring team, with annual salaries of $15.3 million and $11.51 million in the next two years and only $17.5 million guaranteed.
With June 1 approaching, here are six potential suitors for the seven-time Pro Bowler:
New England Patriots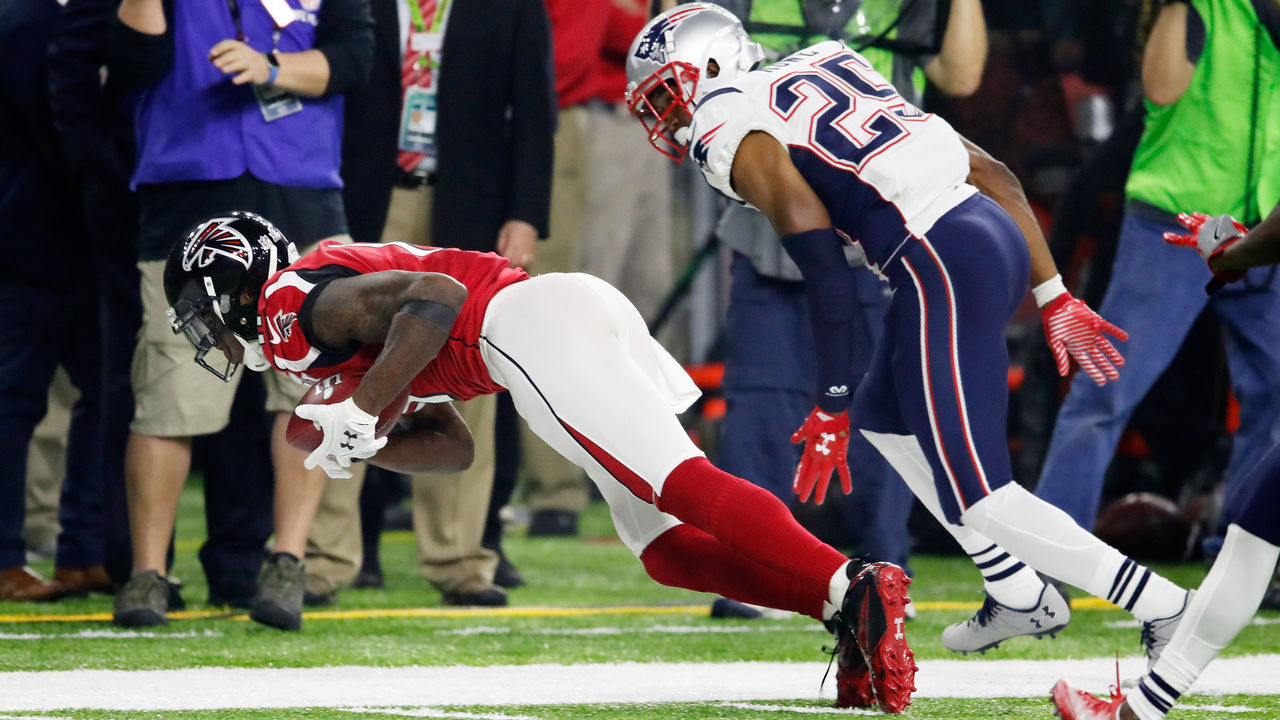 Many fans would likely not enjoy seeing Jones on Bill Belichick's squad, but no one should rule out this scenario given how aggressive New England has been in attempting to improve its offense in 2021.
The Patriots added a pair of tight ends in Hunter Henry and Jonnu Smith, but the signings of Nelson Agholor and Kendrick Bourne don't move the needle at receiver for a unit that ranked 27th in both points and yards per game last year.
Belichick and Co. have the ammunition and mindset to make a deal and can create enough cap space through a minor transaction or two. While the Patriots endured a setback in 2020, they likely believe they can still contend with either Cam Newton or first-round rookie Mac Jones under center, and the addition of Jones would take them over the top.
Los Angeles Chargers
Justin Herbert exceeded all expectations in Year 1 and could be the next sophomore quarterback to take the league by storm. An upper-echelon quarterback on a rookie contract is arguably the most valuable asset in the NFL, and the Chargers should be exploring every option to maximize their three-year window before Herbert's second contract.
L.A. doesn't have as glaring a need at receiver as other teams on this list. Keenan Allen is a legitimate No. 1 pass-catcher, racking up 403 grabs over the last four seasons. Mike Williams, meanwhile, is one of the best 50-50 receivers in the NFL and has 1,757 yards since 2019. But the Chargers did lose tight end Hunter Henry in free agency, and Jalen Guyton and rookie Josh Palmer are the team's only solid receiving options behind Allen and Williams.
Taking on Jones' contract would be fairly straightforward for the Chargers, who have over $20 million in cap space. Moreover, Williams is entering the final year of his rookie contract. Though he's been solid, the AFC West club might not want to meet his price. Jones would not only give the Chargers an intimidating trio for 2021, but he would also insure them against losing Williams next offseason.
Baltimore Ravens
The Ravens entered the offseason with one goal above all others: Improve Lamar Jackson's wide receiver group. Baltimore ultimately landed Sammy Watkins after unsuccessful runs at free agents JuJu Smith-Schuster and T.Y. Hilton, then used its first-round pick on Rashod Bateman.
While Watkins, Bateman, and Marquise Brown constitute a far more talented group than Jackson had last year, there's no guarantee they'll yield a significantly improved passing attack. Watkins hasn't recorded 1,000 yards since 2015, and Bateman will likely need time to adjust to the physicality of the NFL.
Jones would be the true No. 1 target Jackson has lacked since entering the NFL. The veteran's presence would also ease the pressure on the Ravens' young wideouts to perform immediately. Baltimore would need to get creative with its cap, as it doesn't have many obvious contracts to restructure. But considering the team's aggressive pursuits in free agency, it seems like a safe bet that the Ravens would find a way to accommodate a talent of Jones' caliber.
San Francisco 49ers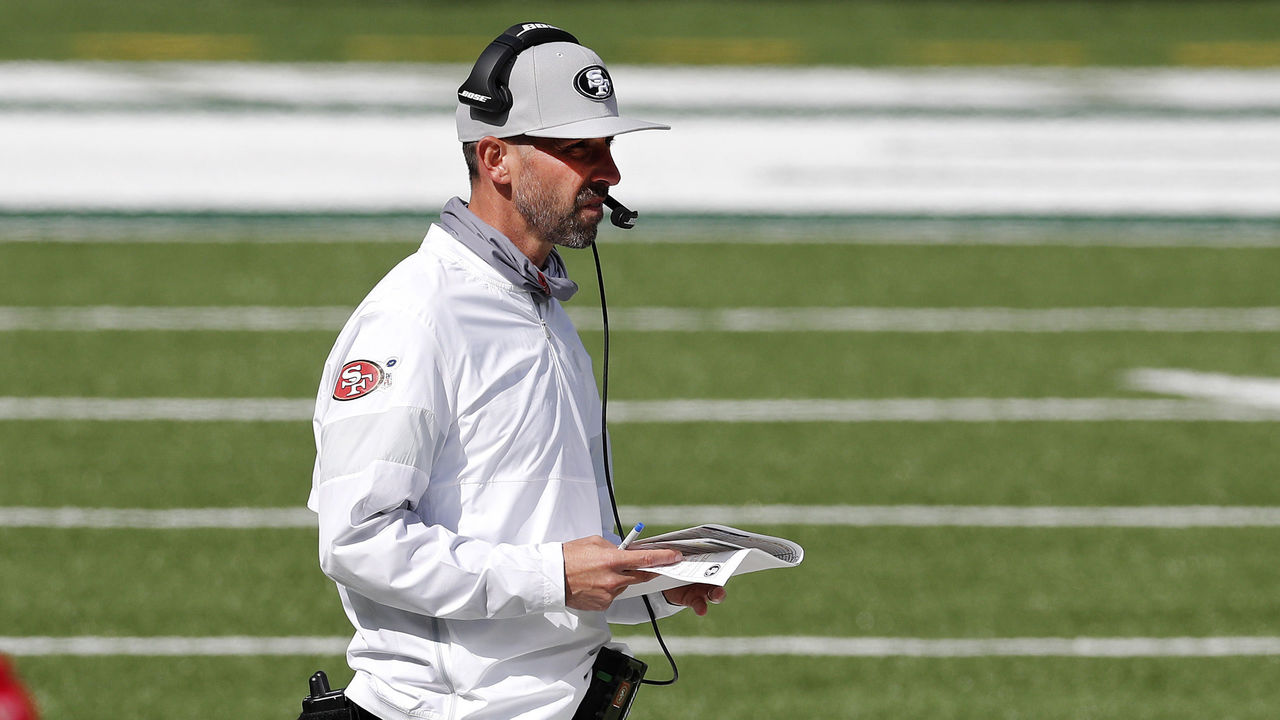 A Julio-49ers pairing makes sense for several reasons. Although San Francisco moved its first-round pick in next year's draft to select third overall this past April, the Falcons likely won't demand a Day 1 slot in a potential trade for Jones. Instead, a second- and mid-round pick could be enough to secure his services, and it's hard to imagine the 49ers would be unwilling to make a deal of that nature.
Trading Jones to the Bay Area would also reunite him with Kyle Shanahan. San Francisco's bright head coach was Atlanta's offensive coordinator from 2015-16, and he and Jones reached Super Bowl LI together. The 49ers already roster young stars in Deebo Samuel and Brandon Aiyuk, but adding a true all-around receiver would take Shanahan's offense to the next level - not to mention aid Trey Lance's development.
San Francisco general manager John Lynch wasn't satisfied with his club's performance in 2020 - despite the plethora of injuries it faced - so the 49ers are a team with a sufficiently aggressive mentality to make a blockbuster move.
Tennessee Titans
The Titans' offense suffered some major losses in free agency, with Jonnu Smith, Adam Humphries, and Corey Davis all leaving. Tennessee wasn't able to retain Smith or Davis - two key offensive pieces in recent seasons - due, in part, to a lack of cap space.
The Titans have around $3.5 million available, but they could gain more by reworking the contracts of Kevin Byard, Derrick Henry, and Taylor Lewan. Taking on Jones' contract could require restructuring all three of those players' deals, and it remains to be seen if Tennessee is willing to risk creating more long-term cap issues to land the wideout.
The need at receiver, though, is clear. Davis, Smith, and Humphries were second, third, and fifth in team catches in 2020. With little done to replace the trio, A.J. Brown could be primed for a 140-target season. But the Titans are also a run-first team. Even with the aforementioned losses, it's fair to question if Tennessee would get enough value out of Jones given the price of acquiring him.
Kansas City Chiefs
The Chiefs don't currently have the cap space for Jones, but they're only a move or two from securing it. Linebacker Anthony Hitchens and defensive tackle Derrick Nnadi could be two potential cap casualties in this scenario. Kansas City could also opt to extend star defensive back Tyrann Mathieu, pushing a chunk of his salary into future years.
It's no secret Andy Reid and Co. were in the market for receivers this offseason. Seeking more stability opposite Tyreek Hill, the Chiefs pursued JuJu Smith-Schuster and Josh Reynolds in free agency and were interested in a few others before re-signing Demarcus Robinson.
Jones in Kansas City's offense is a truly frightening thought, even if the wideout's best seasons are behind him. Chiefs GM Brett Veach has already shown a willingness to aggressively pursue players at his roster's weaker positions; a chance to field two of the NFL's top five receivers for all-world quarterback Patrick Mahomes may be too tempting to pass up.
Comments
✕
6 potential trade suitors for Julio Jones
  Got something to say? Leave a comment below!