Handing out awards for NBA's best 1st-round performances
With the first round of the NBA playoffs officially in the books, theScore's basketball editors are handing out awards to commemorate a thrilling opening round.
Most Valuable Player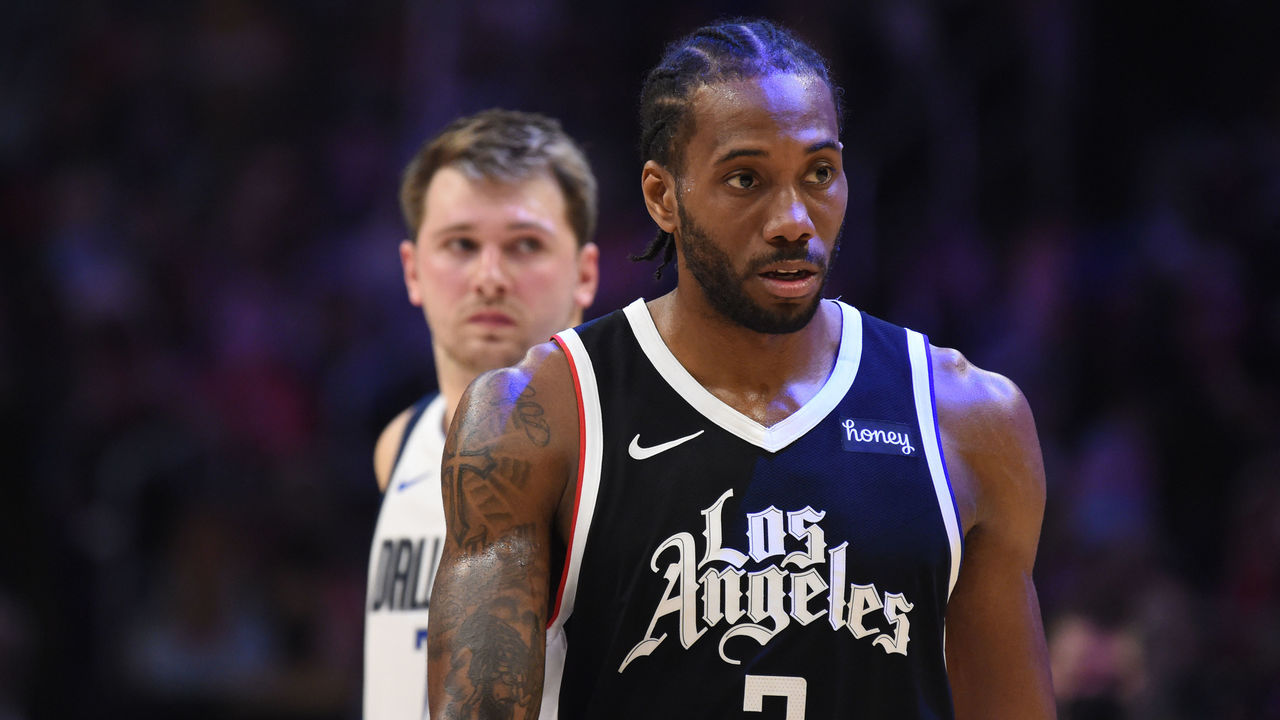 The Los Angeles Clippers needed something special in order to push back against a heroic effort from Luka Doncic, and that's exactly what Kawhi Leonard gave them. The two-time Finals MVP monitored the Mavericks star as best as anyone in the league can while registering 32.8 points, 7.5 rebounds, 3.8 assists, two steals, and a block per game in the seven-game series. Leonard also registered shooting splits of 60.5/43.2/88.1, helping L.A. score a second-round series against the top-seeded Jazz.
Top Defensive Player
Rudy Gobert proved why he's in the running for a third Defensive Player of the Year award. The Frenchman led all players with 3.2 blocks per game during the opening round of action and averaged the second-most contested shots (14). When Gobert wasn't on the floor, Utah surrendered nearly five more points per 100 possessions.
All-First-Round teams
First team
| POS. | PLAYER | TEAM |
| --- | --- | --- |
| G | Damian Lillard | Trail Blazers |
| G | Luka Doncic | Mavericks |
| F | Kawhi Leonard | Clippers |
| F | Kevin Durant | Nets |
| C | Nikola Jokic | Nuggets |
Damian Lillard exited the postseason having logged 41.3 minutes per game - a workload inflated in large part due to his heroics in Game 5, where his clutch shooting forced both overtime frames. All you really need to know is that the Portland Trail Blazers outscored the Denver Nuggets by 5.6 points per 100 possessions in 248 minutes with Dame on the floor; they lost the remaining 50 minutes by a net rating of minus-36.2.
Doncic battled a neck injury midway through his seven-game duel against the Clippers and still ranked first in points and second in assists per game.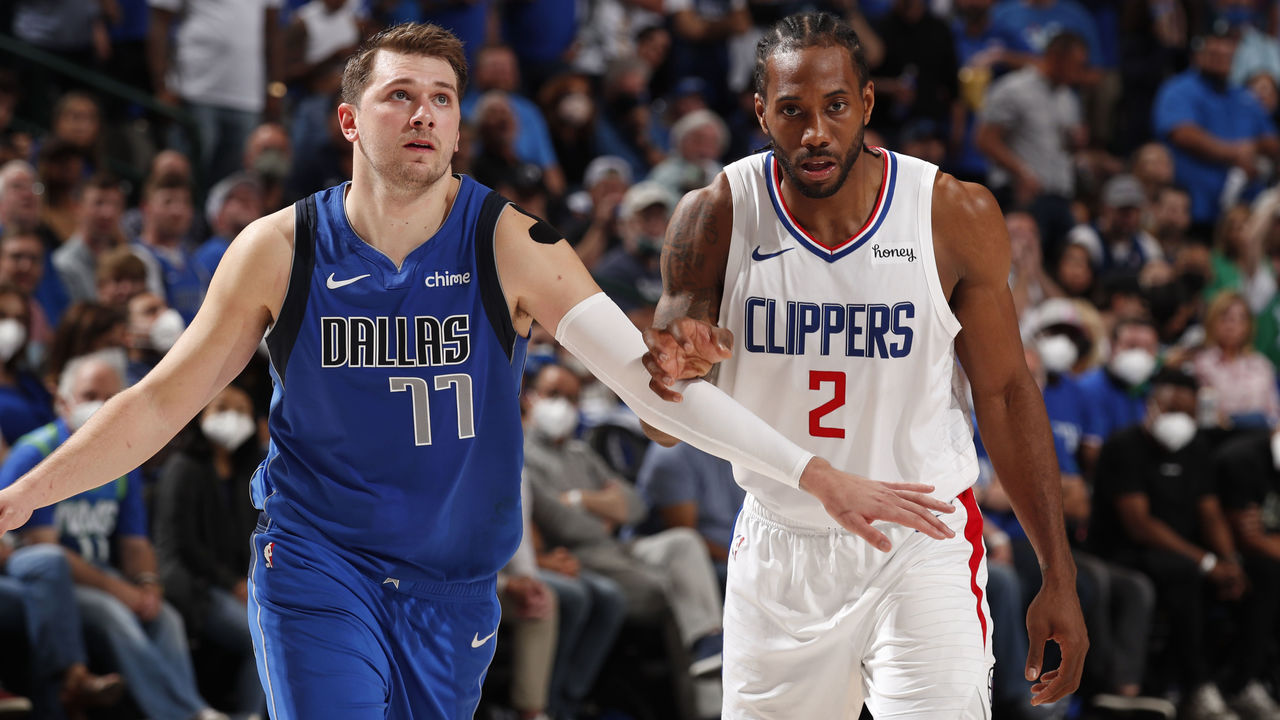 Leonard ranked third in playing time in Round 1, logging 40.7 minutes per game. That he spent a significant portion of the series tasked with trying to keep Doncic in check but still found an opportunity to contribute 32.1 points, 7.9 rebounds, 4.6 assists, 2.3 steals, and a block per night is a testament to the Klaw's status as one of the league's best two-way players.
Kevin Durant spent most of the first round making Jayson Tatum and whoever else the Boston Celtics threw at him look like pylons. The alpha dog of the Brooklyn Nets' star trio shot 54.6% from the floor - including 14-of-28 on long balls - on his way to a cool 32.6 points per game.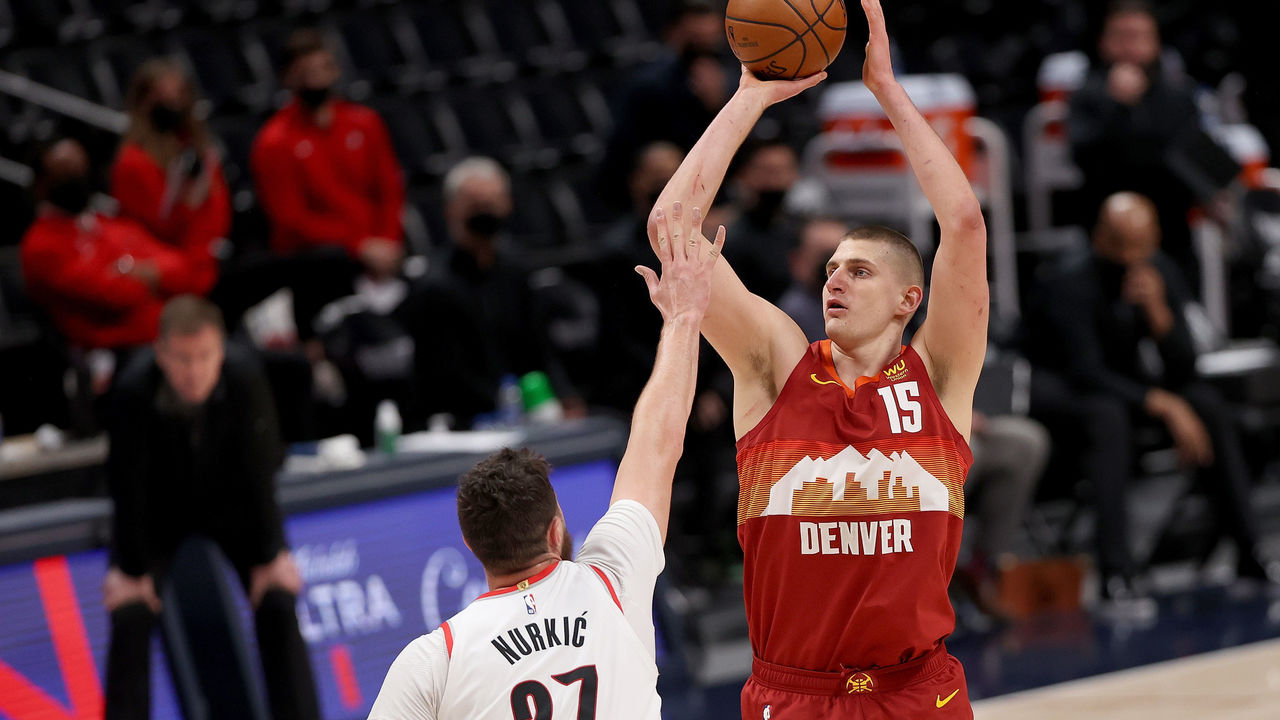 With Jamal Murray out for the season with an injury, no one would've blamed the Denver Nuggets for an early exit. Instead, they withstood an otherworldly series-long performance from Lillard; Nikola Jokic nearly matched him with 33 points, 10.5 rebounds, and 4.5 assists per game while shooting just under 43% on threes.
Second team
| POS. | PLAYER | TEAM |
| --- | --- | --- |
| G | Trae Young | Hawks |
| G | Devin Booker | Suns |
| F | Ben Simmons | 76ers |
| F | Giannis Antetokounmpo | Bucks |
| C | Rudy Gobert | Jazz |
In his first-ever playoff series, Trae Young overcame not only his somewhat shaky regular-season performance but also the league's fourth-ranked defense, cooking the New York Knicks for 29.2 points and 9.8 assists per game over five appearances. To top off his captivating performance, he stole a pair of wins in front of a raucous MSG crowd.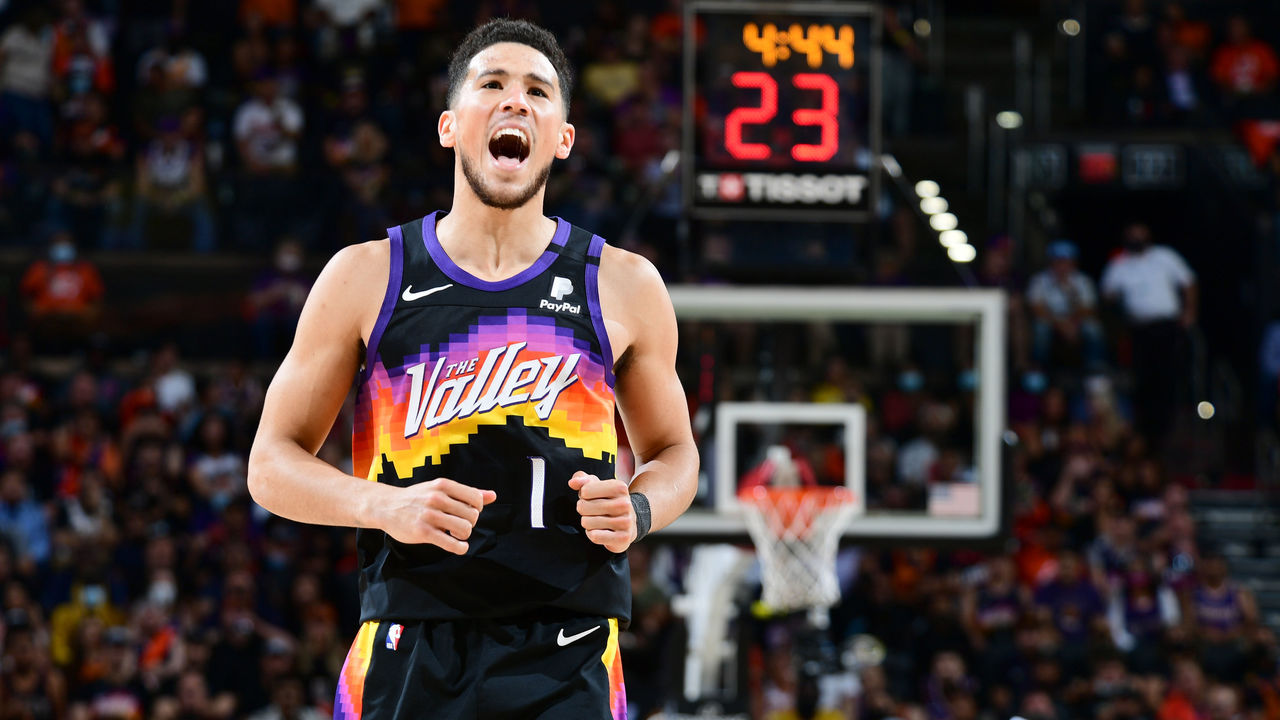 Devin Booker also had his first taste of the playoffs, and though Chris Paul's lingering shoulder injury and a lack of historical precedence stood against him, the Phoenix Suns handed LeBron James the only first-round exit of his career to date. Playing nearly 41 minutes per game, Booker averaged 29.7 points, 6.2 rebounds, and five dimes while shooting about 43% on threes.
Ben Simmons' assist totals leaped from 6.9 dimes per game to 9.2 in Round 1. With Joel Embiid sidelined with injury in Game 5, Simmons tallied 19 points, 11 assists, 10 rebounds, two blocks, and a steal to clinch the series victory against the Washington Wizards. He finished plus-84 in 160 minutes of playing time in the first round, second only to Bucks guard Jrue Holiday.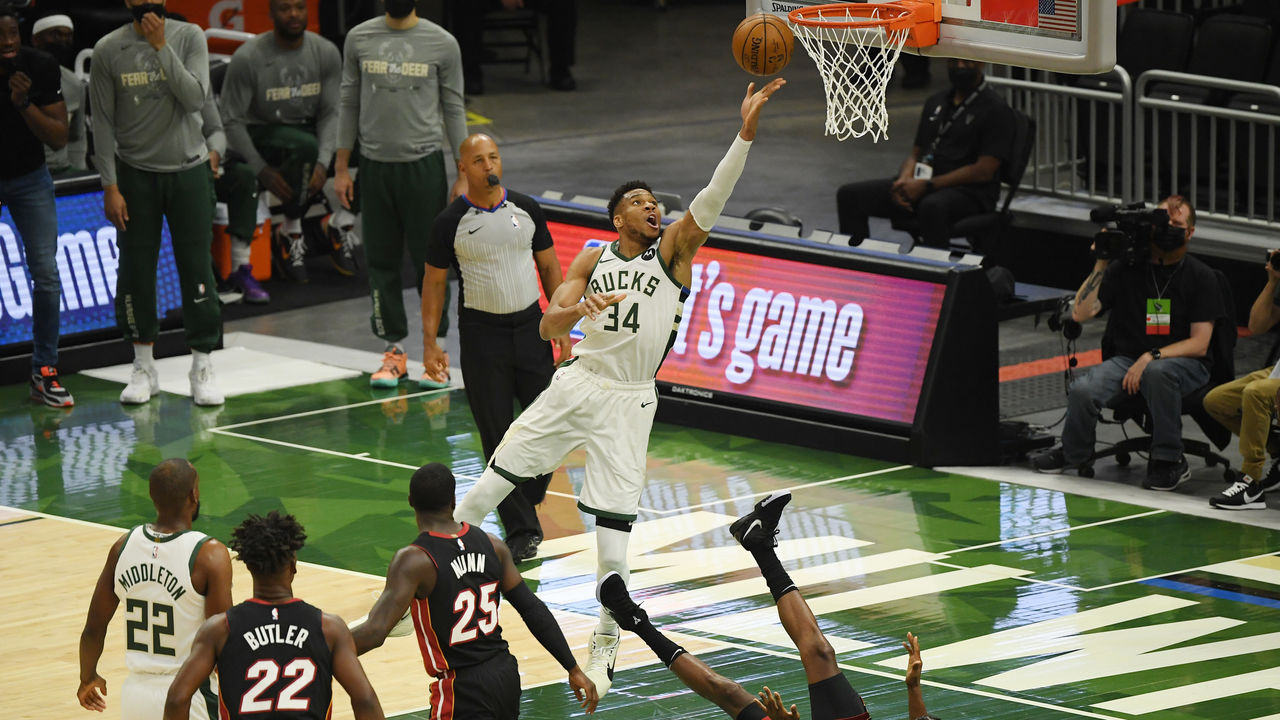 The Milwaukee Bucks made short work of the Miami Heat, producing Round 1's only sweep. In addition to scoring a team-high 23.5 points per game, Giannis Antetokounmpo was the main catalyst behind the Heat's sickly 43% collective rebounding rate; the Greek Freak corralled a playoff-leading 15 rebounds per game.
Thanks to the new play-in format, the ninth-ranked Memphis Grizzlies wound up with the eighth seed - and a first-round matchup with the Utah Jazz. Rudy Gobert quickly brought the Grizzlies' momentum to a halt, sealing off the interior with a playoff-leading 3.2 blocks per game to go along with 13 boards a night.
Top Reserve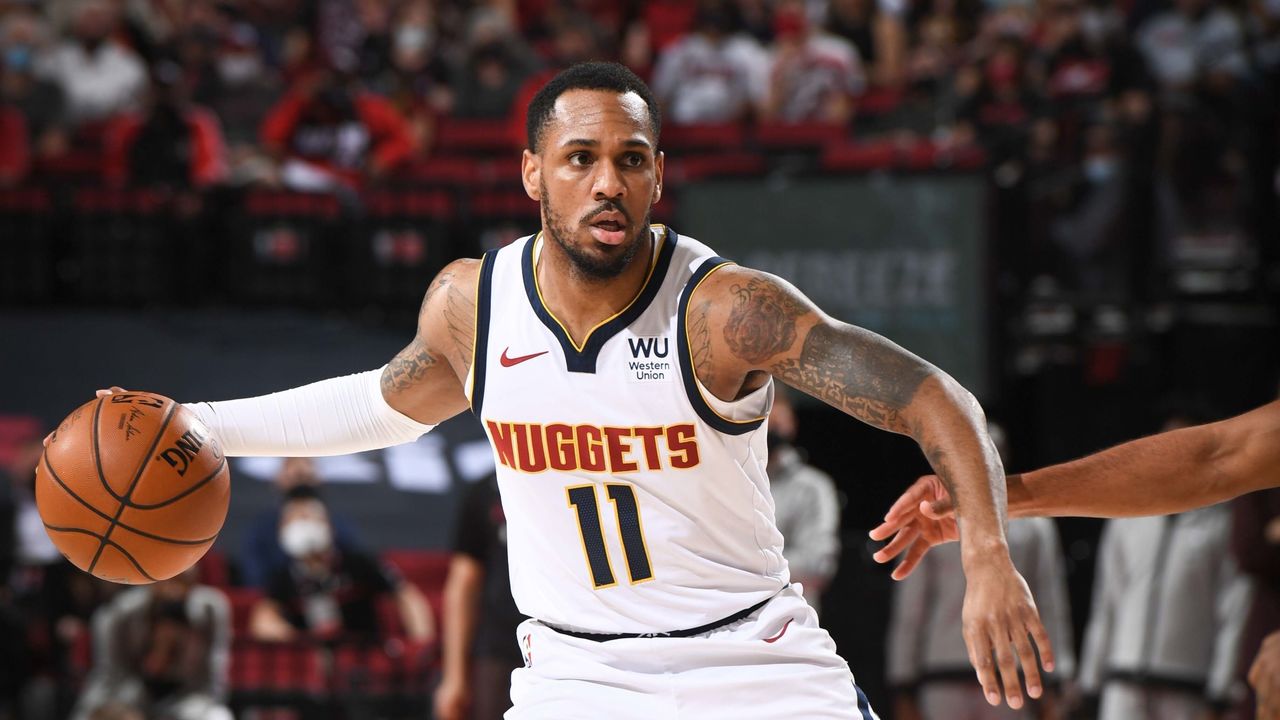 Monte Morris continues to play a valuable role on the Nuggets' reserve unit. The fourth-year guard registered a career-high 28 points in Denver's crucial Game 5 win and has been a steady presence whenever he takes the floor. Morris posted a 5.83 assist-to-turnover ratio during the first round and is a tireless worker on the defensive end.
Comments
✕
Handing out awards for NBA's best 1st-round performances
  Got something to say? Leave a comment below!