Evaluating Ignite prospects: Green, Kuminga solidify top-5 draft status
Mike Ehrmann / Getty Images Sport / Getty
Jalen Green wasn't shy about his expectations for the G League Ignite heading into their debut season.
The top-ranked 2020 recruit believed he and his teammates were poised for success in the bubble, and they delivered after months of preparation.
The Ignite, who are comprised of multiple five-star prospects and seasoned NBA veterans, were one of eight clubs to qualify for the G League playoffs.
The developmental team's success is no small feat considering they were badly outplayed in two scrimmages against G League backups last December and had a limited number of practices with their full roster before the season.
Over a one-month span, the Ignite's young guns gained valuable experience in pro-style systems and played under NBA rules as they auditioned in front of scouts and league executives.
Here's a look at the club's four potential draftees.
Jalen Green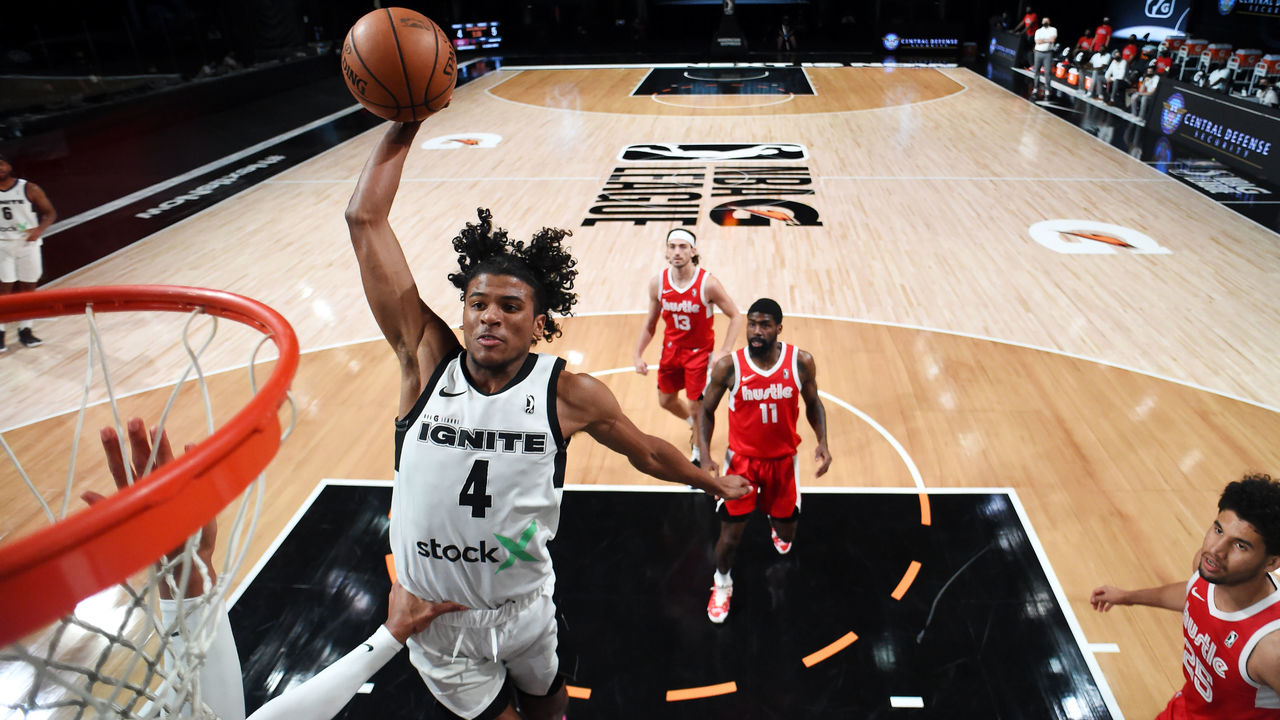 | PPG | FG% | 3P% | APG | SPG |
| --- | --- | --- | --- | --- |
| 17.9 | 46.1 | 36.5 | 2.8 | 1.5 |
Green was the Ignite's most consistent player. The 6-foot-6 guard excelled as the team's No. 1 offensive option, posting at least 10 points in all but one of his 16 appearances this season. As the campaign progressed, Green did a better job taking what defenses gave him. His efficiency and assist numbers improved as he forced fewer shots and more frequently made the right passes.
"The guys that I've been around - the Paul Georges, Kobe Bryants - who were also the targets of the other team's best defensive players and their scouting reports, they figured out a way to get it done, and I'm seeing that same kind of thing out of (Jalen)," Ignite head coach Brian Shaw told reporters, including theScore, during a media availability in March.
Green has always been known for his explosiveness off the bounce and ability to finish around the rim. He didn't shy away from that in the bubble, converting 73.8% of his attempts in the restricted area. But what really stood out from Green's performances was the different ways he manufactured his offense.
The McDonald's All-American showed off NBA 3-point range, smooth footwork on step-back shots, balance on fadeaways, and the ability to pull up off a screen from the mid-range or beyond the arc.
It's evident Green has the tools to be a high-level scorer at the next level. If the California native can continue making strides as a pick-and-roll playmaker and defender, he's got a real chance to develop into a perennial All-Star.
Draft projection: Top five
Jonathan Kuminga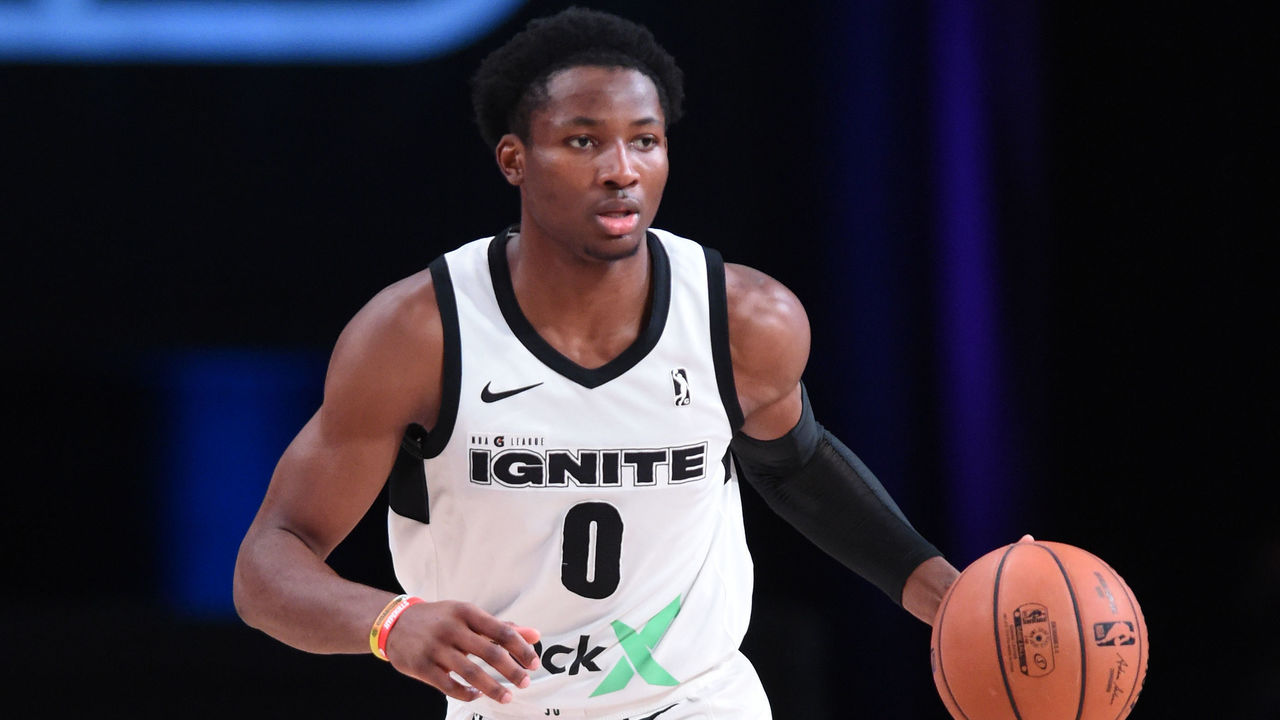 | PPG | FG% | 3P% | RPG | SPG |
| --- | --- | --- | --- | --- |
| 15.8 | 38.7 | 24.6 | 7.2 | 1.0 |
Kuminga got off to an impressive start, registering 18.8 points, 7.6 boards, 3.2 assists, and 1.4 steals per game through his five contests. The 6-foot-8, 225-pound forward teased his offensive potential with his craftiness in the post, strong drives to the rim, pinpoint passes, and ability to draw fouls.
He also demonstrated great defensive versatility, using his quickness to contain guards on the perimeter while maximizing his strength and 7-foot wingspan when defending in the paint.
"He's shown glimpses of what he can do in every aspect of the game," Shaw said. "Whether it's the 3-point shot, the ability to keep pressure on the defense, getting to the free-throw line, his mid-range (jumper) ... He's a (matchup) nightmare."
Shaw added: "If (opponents) put a smaller guy on him, he takes advantage of that. If they put a bigger guy on him, he can drive around them."
However, Kuminga struggled to maintain that two-way consistency over the remainder of the season. His shooting numbers fluctuated from game-to-game and he never found a rhythm from long distance. After attempting 24 free throws through the first five contests, Kuminga just managed to equal that amount the rest of the way. His defensive lapses in high school also carried over to the G League.
Still, there are plenty of reasons to bet on Kuminga. The Democratic Republic of Congo native is only 18 years old and already has the physical profile to be an excellent player on both ends of the floor. Kuminga is far from a finished product and could reach his potential if he lands with the right team.
Draft projection: Top five
Isaiah Todd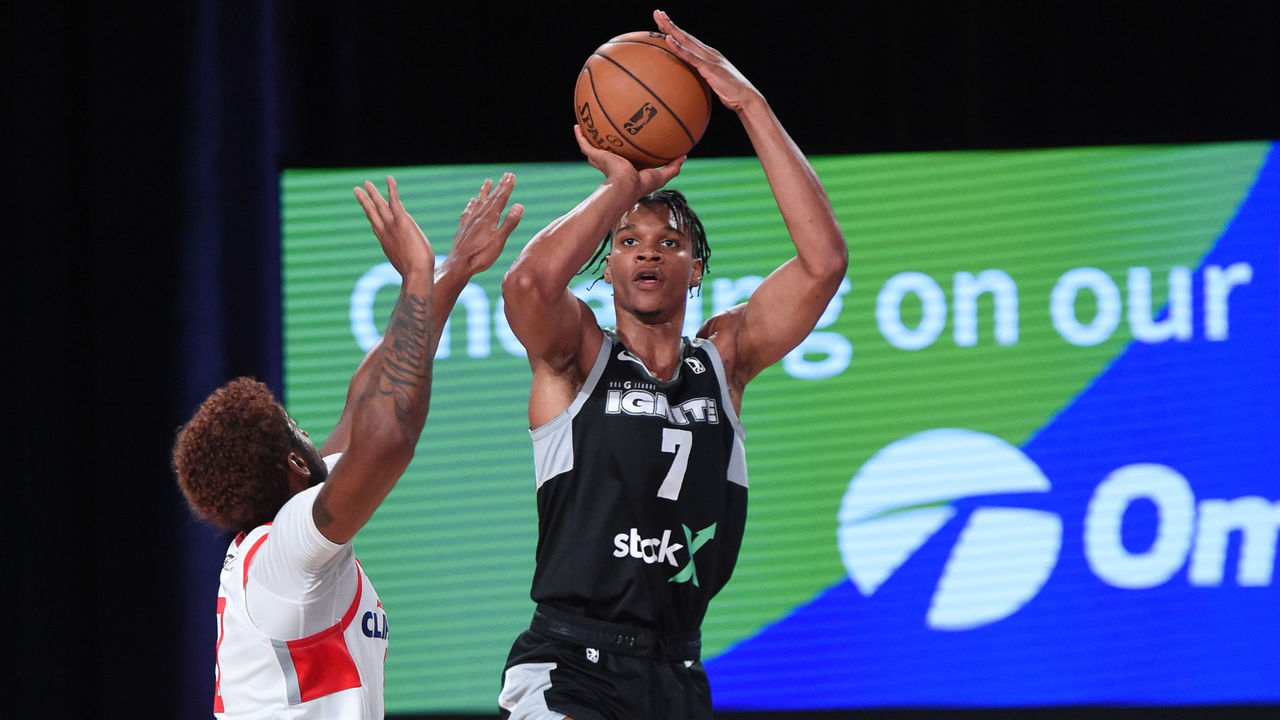 | PPG | FG% | 3P% | RPG | FT% |
| --- | --- | --- | --- | --- |
| 12.3 | 43.7 | 36.2 | 4.9 | 82.4 |
No Ignite prospect benefited more from the G League season than Todd. The 6-foot-10 forward wasn't on most draft boards heading into the 2020-21 campaign but he catapulted his stock with a solid showing in the bubble.
Todd's diverse skill set is exactly what teams are looking for in the modern NBA. The big man runs the floor well in transition, uses his mobility to guard multiple positions, and is a deadly outside threat in pick-and-pop scenarios.
"A lot of the things that he does goes unnoticed. He does a lot of the intangibles," Shaw said. "Defensively, he can get out and switch onto smaller players. Keep them in front. Use his length. He can rebound the ball. He can come from the weak side and block shots. And then he can stretch the floor ... He's kind of a jack-of-all-trades."
While Todd contributed for the Ignite in various ways, his perimeter shooting is his greatest strength. The Richmond, Virginia, native connected on 44.8% of his shots from the mid-range, displaying great touch on his go-to fadeaway and confidence in his pull-up jumper.
The concerns regarding Todd are his lean frame and lack of playmaking skills. He doesn't have the physicality to match up defensively against centers, and he averaged less than an assist per game this past season.
Draft projection: Early-to-mid second round
Daishen Nix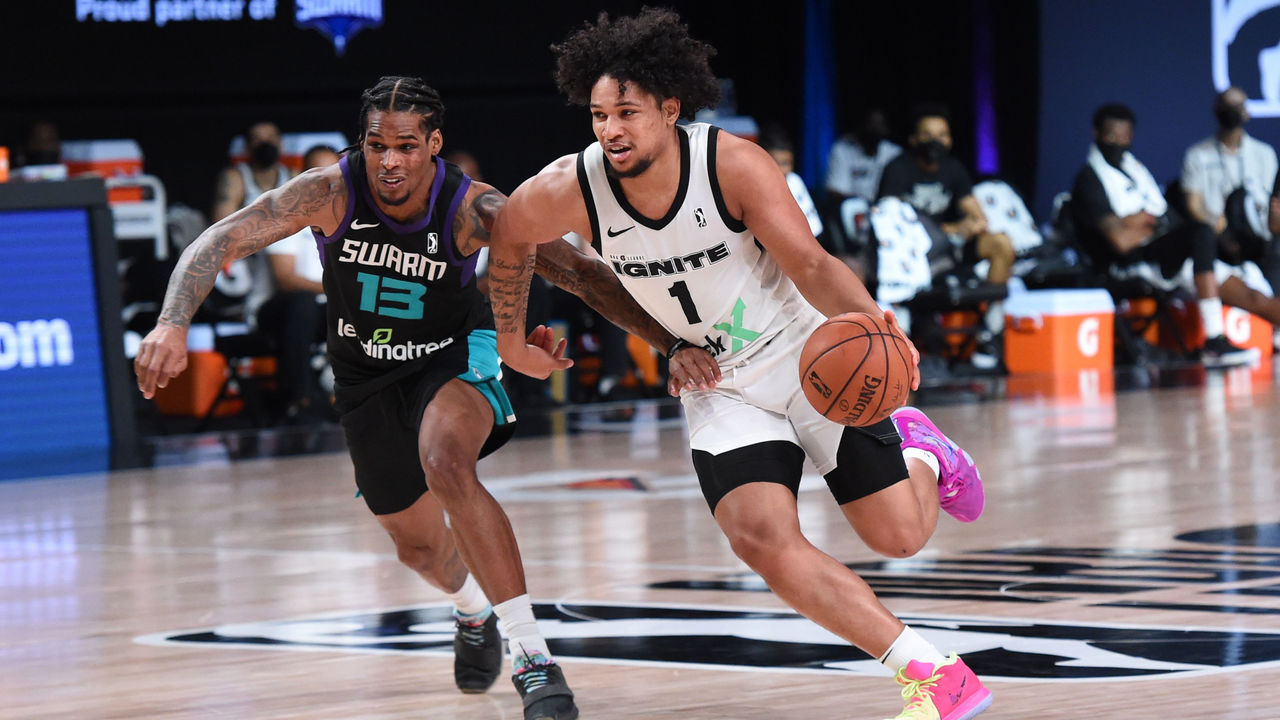 | PPG | FG% | 3P% | RPG | APG |
| --- | --- | --- | --- | --- |
| 8.8 | 38.4 | 17.6 | 5.3 | 5.3 |
Nix was the Ignite's lead playmaker despite coming off the bench for most of the season. The Alaska native showed exceptional court vision, registering the G League's 10th-most total assists and a 27.7% assist percentage over 15 appearances in 2020-21.
The 6-foot-5 guard displayed a ton of creativity as a passer. He can facilitate out of the pick-and-roll, pass out of the post, lead the transition attack, and find open shooters whenever defenses collapsed off his drives. Nix's elite rebounding instincts also provided him with more opportunities to kick-start the Ignite's fast-break game.
But unlike Todd, his draft stock took quite a hit. Nix was a defensive liability as opposing guards routinely blew by him off the bounce. His lack of burst forced him to overrely on floaters and his strong frame to power through smaller guards. Additionally, Nix wasn't a perimeter threat and teams dared him to take jumpers to negate his passing prowess. Nix's shooting struggles took a toll on his confidence and affected his decision-making.
"I'd like to see him get a little more aggressive offensively," Shaw said. "A lot of the teams play him to pass and he's a pass-first point guard. But you have to recognize the situation and take what the defense gives you.
"He can shoot the ball. He's just a reluctant shooter. So, I want to see him continue to recognize those situations and be more aggressive to score because his natural instincts will make the right play regardless."
Draft projection: Mid-to-late second round
Comments
✕
Evaluating Ignite prospects: Green, Kuminga solidify top-5 draft status
  Got something to say? Leave a comment below!