3 NBA players making the leap in 2021
Every year, numerous NBA players take significant steps forward in their development. That progression, when it's dramatic enough and happens within a single season, is often colloquially termed "the leap."
Some are breakouts that most can see coming. It usually happens for players early in their careers after showing signs of building toward stardom. The other instances are more compelling: players who make mid-career leaps long after the case appeared settled on what they were capable of. There are a handful of players who fit the bill this season, which is particularly impressive given the abbreviated offseason.
With apologies to Nikola Vucevic (who, remarkably, appears to have taken another sizable step forward), Julius Randle (who has improved as a decision-maker but has largely benefited from a huge uptick in minutes and touches), Jaylen Brown (who's been on a steady upward trajectory since entering the league five years ago), and Christian Wood (whose real breakout came in the back half of last season), here are three late bloomers who have done the most this season to change our understanding of their capabilities.
Jerami Grant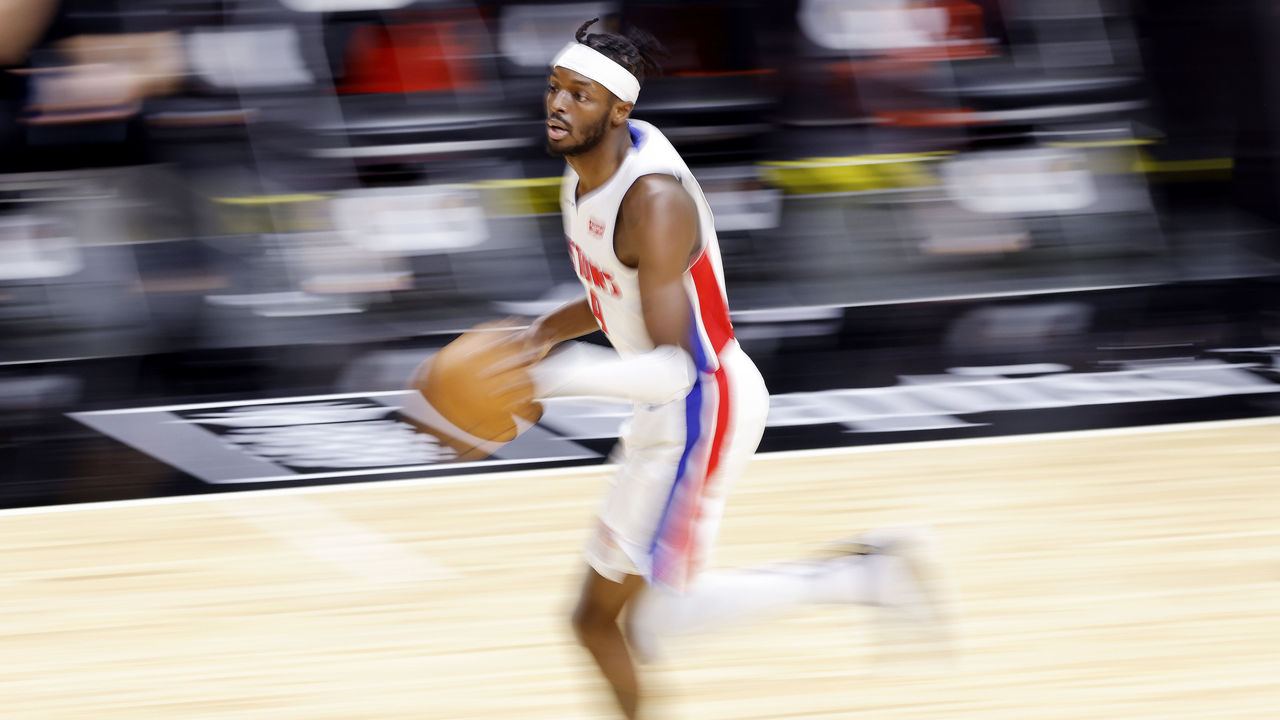 Grant entered the league seven years ago as a havoc-wreaking pogo stick, defensively active and athletically gifted but with extremely raw offensive skills. Early on, the Sixers allowed him to experiment because they had nothing to lose (except games, which was the point), but with the Thunder and then the Nuggets, he was deployed almost exclusively as a play-finisher, be it as a stationary 3-point shooter, rim-runner, or transition streaker. He was a dependent scorer whose value was mostly derived from defense and energy plays. He was closer to being a small-ball center than a playmaking wing.
He spurned the Nuggets in free agency last offseason to sign an equivalent contract with the Pistons - in part so he could step into a larger offensive role - but his decision was met with confusion and skepticism. Grant had seemingly been in the ideal situation in Denver with an important but streamlined role on a contending team. For all his positives last season, good things didn't tend to happen when he dribbled in the halfcourt, apart from attacking closeouts in a straight line. There are reasons why 84% of his field goals were assisted and why he spent just over a minute per game with the ball in his hands.
But 14 games into his Detroit tenure, the 26-year-old is taking a blowtorch to those doubts. With Blake Griffin in a severely diminished state and rookie point guard Killian Hayes taking serious lumps before getting injured, the Pistons have made Grant their primary offensive engine. He's taken to the role with gusto, showing off a tightened handle and a patient, probing dribble-drive game with plenty of gear-shifting guile. He looks comfortable as an initiator and has shown no hesitance attacking in isolation even amid Detroit's cramped spacing and when the one-on-one defender facing him down is Bam Adebayo:
Grant is averaging 25.4 points per game, having more than doubled his volume of shot attempts while upping his scoring efficiency. He's bumped his usage rate up from 18% (which was already a career high) to 26.5% while maintaining a minuscule 6.3% turnover rate that's more in line with the previous low-usage role. Only two other regular players this season have usage rates above 25% with turnover rates below 7%: Vucevic and the next guy on this list. Only 10 players have ever produced that combination of possession volume and ball control over a full season.
Grant has doubled his rate of unassisted baskets to 32%, and while he's still far more effective shooting off the catch than off the dribble, his ability to rescue busted possessions as a self-creator is the only reason Detroit's offense isn't completely underwater. He's already finished more possessions as an isolation scorer than he did all of last year, and he's averaging a gobsmacking 1.26 points per iso, a top-10 mark in the league, per Synergy.
He's tripled his number of drives per game. Among the 128 players who have driven the ball at least 50 times, only five have drawn shooting fouls more frequently than Grant has. Throw in a 41% mark on above-the-break threes, and you're looking at a legitimately well-rounded scorer.
Grant is still figuring out how to be a playmaker. He often makes only the most rudimentary passing reads. But there have been hints in recent games that he's at least starting to get a feel for how to leverage the extra defensive attention he's garnering, particularly with lobs:
In spite of the huge increase in offensive workload, Grant has remained an engaged and energetic defender. His stunt-and-recover work and 3-point closeouts have been particularly strong, and his help rotations have stanched a lot of leaks at the point of attack.
The Pistons are 3-11, but their scoring margin has just about broken even with Grant on the floor. They may not be going anywhere in the short term, but they appear to have found themselves a foundational long-term piece.
CJ McCollum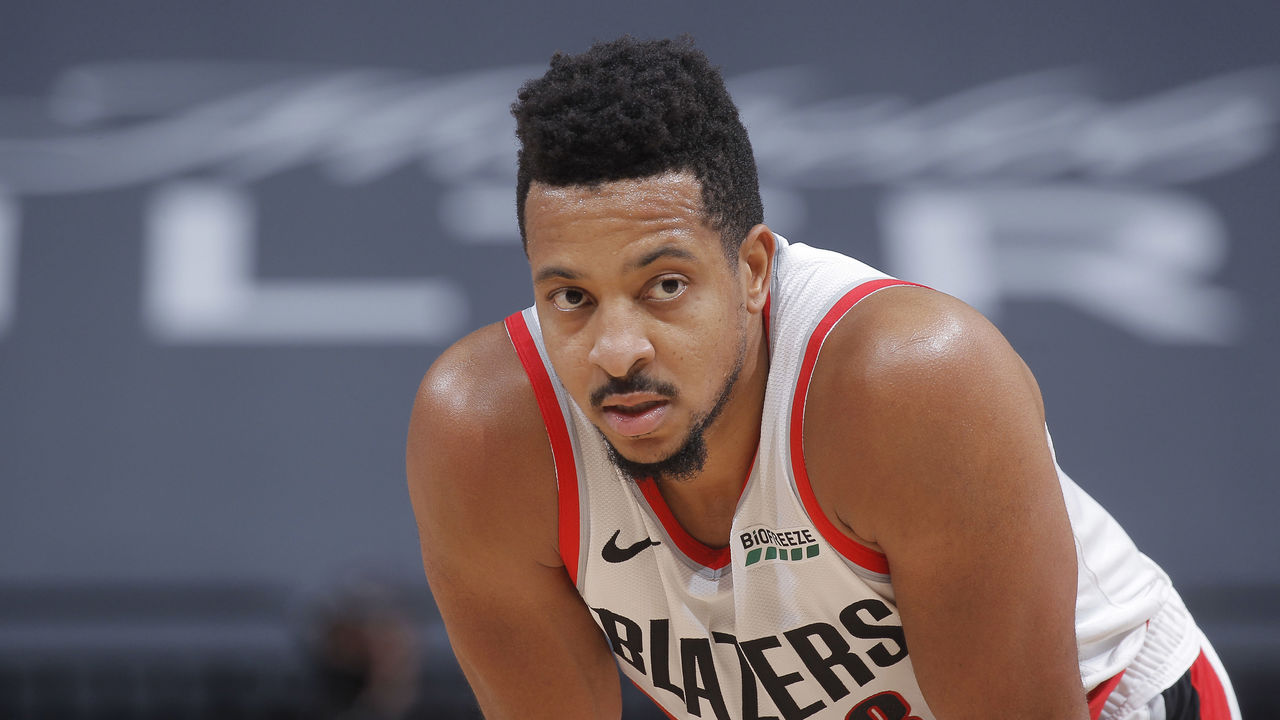 The Trail Blazers improved their record to 8-5 on Saturday but lost McCollum to a foot fracture that will sideline him for at least a month. The Blazers' solid record was no great surprise, as they came into the campaign with high hopes after making some intuitive offseason additions. The unexpected thing was that the improvement came from an already established in-house player.
Robert Covington has had a disappointing start to his Portland tenure, and neither he nor fellow newcomer Derrick Jones Jr. has meaningfully bolstered the team's anemic defense. An ostensibly healthy Jusuf Nurkic looked sluggish defending in space before going back on the shelf with a fractured wrist. Instead, it was McCollum's ridiculous offensive output pacing the Blazers. He was arguably playing even better than Damian Lillard.
McCollum has made the leap once before. Back in 2015-16, with the Blazers apparently entering a rebuild after losing three starters, he emerged as a sweet-shooting, slick-handling backcourt mate for Lillard, helping keep Portland in the playoff mix and earning the Most Improved Player award. After a subsequent half-decade of relatively stable production, it seemed clear that McCollum was who he was: a volume scorer with limited playmaking vision and a midrange-heavy shot diet that tamped down his efficiency. He was a very good player, but one who perpetually sat on the periphery of All-Star consideration. In his eighth season, though, the 29-year-old has morphed into something different.
The makeover began with his shot profile. McCollum has transported a huge share of his jumpers to beyond the arc, attempting 11 3-pointers per game - more than any player in history not named Stephen Curry or James Harden - and knocking down 44.1% of them, a mark no player has reached on even remotely comparable volume save for Curry in his transcendent 2015-16 campaign. As a result, McCollum's true shooting percentage, which previously peaked at 58.5, is up to 62.
It's even more impressive when you consider that the vast majority of McCollum's shots are coming off the bounce, with his 12.2 pull-up jumpers per game leading the league. Some regression might be in store, but he's always been one of the league's best long-range shooters and a wizard at creating his own shot. His ability to scale up the volume to these heights is a major development, even if the accuracy ultimately comes down a bit.
Defenses are reacting to the heightened threat of his pull-up 3-ball by allowing him to find more profitable looks inside the arc, where he's shooting a career best. McCollum isn't quite a three-level scorer - he's a subpar finisher who basically only goes to the rim when over-aggressive closeouts grant him a wide-open runway - but his mastery of the other two levels means it doesn't really matter.
The scoring surge is also opening up more playmaking avenues, and McCollum has been smart about leveraging his gravity to create looks for his teammates. His vision is far from elite, but he's reading the floor proactively, deliberately bending or freezing the defense to set up a pass rather than simply reacting to what the defense shows him. And he's gotten very good at delivering live-dribble passes to the corners, with either hand:
That, coupled with his risk-conscious approach and knack for ball control, has produced an extraordinary five-to-one assist-to-turnover ratio.
McCollum's defense continues to be a weak spot. But he's undeniably made strides at that end of the floor despite his small stature remaining a limiting factor in on-ball situations. The Blazers have switched more liberally this season, and McCollum has held up reasonably well on bigger players. He's also been more alert as a team defender. His lack of physicality mitigates his impact, but you'll almost never find him in the wrong spot. The Blazers have been much better defensively, if not exactly good, with him on the floor.
It's deflating for both McCollum and the Blazers that he got hurt in the midst of his career renaissance. One only hopes he can pick up where he left off.
Chris Boucher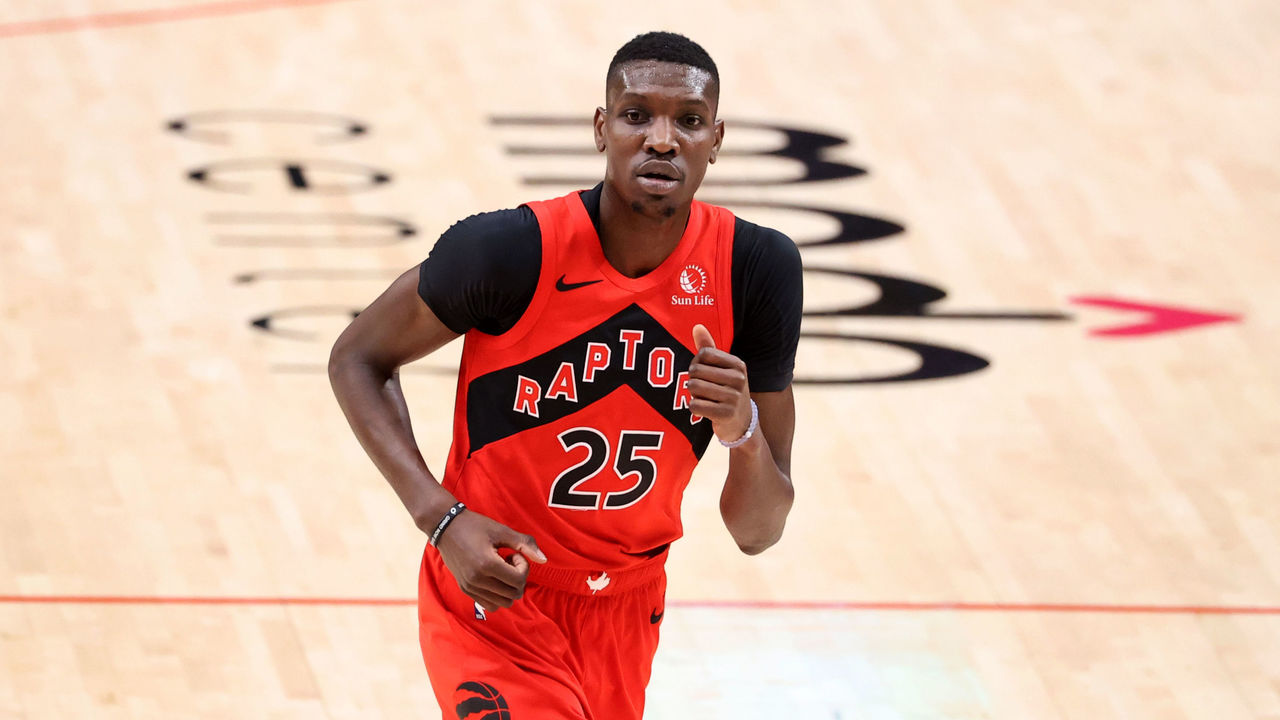 This is only Boucher's fourth year in the league, and he'd played fewer than 1,000 NBA minutes coming into the campaign, so this isn't your traditional "mid-career" leap. But Boucher is already 28 years old, and the winding basketball journey that brought him to this point makes his explosion feel as surprising as any player-development story this season.
Boucher, a spindly 6-foot-9 with a 7-foot-4 wingspan, took up basketball late in life. He played two years of JuCo ball, transferred to Oregon for two more years, and went undrafted after tearing his ACL at the end of his senior season. He signed a two-way deal with the Warriors, got waived after playing one NBA minute, latched on with the Raptors, and earned reps with the parent club after winning G League MVP and Defensive Player of the Year in 2018-19.
This season, with the Raptors' depleted frontcourt in dire straits, he's emerged as an invaluable contributor to a team hoping to extend its seven-year playoff streak.
Boucher is still out of his weight class as an NBA big man (he's listed at 200 pounds, about the same as 6-foot point guard Kyle Lowry), but he's added enough muscle to consistently finish through contact and force opponents to put him on the free-throw line. He's gotten better at recognizing when to flash into space, has refined his touch around the rim, and is shooting the absolute lights out. He still isn't the most versatile offensive player: He has no real face-up or post game, isn't a playmaking threat on the short roll, and generally relies on others to create shots for him. But between his work as a dive man, a popper, a cutter, and a putback artist, he's been arguably the most efficient finisher in basketball.
He's shooting 67.1% from 2-point range and 48.1% from deep. He's scoring an obscene 1.62 points per possession as the roll man on pick-and-roll plays, a mark that places him second only to Adebayo among players who have finished at least 20 possessions on the roll this season, according to Synergy. Boucher doesn't pass, ever, but given the efficiency with which he's scoring the ball, why would he?
The 3-point shooting will regress, but even if it settles in around, say, 38%, it will continue to be a tremendous weapon given Boucher's willingness to let it fly. He has a surprisingly quick release for someone who brings the ball all the way up over his head before flinging it toward the rim like a trebuchet (Treboucher, anyone?), and that high release point makes the shot virtually unblockable.
This version of Boucher has been a godsend for a 2-point-challenged Raptors team, not only because of the pressure he's putting on the rim, but because his shooting is opening up the court so his teammates can get there as well. Toronto's free-throw rate explodes when he's on the floor, and its rate of shots in the restricted area increases by 13%, which represents the league's single biggest player-driven impact on at-rim shot volume, per Cleaning the Glass.
Then there's Boucher's defensive impact, which, unlike most shot-blockers of his ilk, is felt as strongly on the perimeter as on the interior. Boucher is a good rim-protector, but his real skill lies in his court coverage and ability to erase space. He leads the league in 3-point blocks, with eight through 14 games, according to PBP Stats. He's also second to Rudy Gobert in blocks in the short mid-range area (the zone stretching from just outside the restricted area to the free-throw line), where the Raptors allow the league's lowest opponent shooting percentage.
Boucher's length and closing speed can turn seemingly wide-open shots into heavily contested ones:
His eagerness can come back to bite him, though. Carmelo Anthony drained a back-breaking three against the Raptors recently by letting Boucher fly past him on a closeout, and earlier in the season, the Spurs grabbed a crucial offensive rebound when Boucher chased a no-hope block rather than boxing out:
But telling Boucher to scale back his aggressiveness might defang him. The impact that his hellacious closeouts have on shooters is tangible. Opponents shoot just 25% on 3-pointers when Boucher is the nearest defender, which is 10.7 percentage points worse than they otherwise shoot, according to NBA Advanced Stats. Remove the blocks from that equation, and it's still only 29.2%. It's clear he's seriously affecting those shots even when he isn't getting his outstretched fingers on them, either by impeding shooters' lines of vision, speeding up their releases, or simply planting seeds of hesitancy in their minds.
Overall, Boucher is just a more fundamentally sound defender than he used to be. His improved footwork has allowed him to cut off driving angles and hang with guards on switches. He once seemed to simply guess at where and how rebounds would bounce, but he's gotten markedly better at timing his jumps and maintaining position.
All told, the Raptors perform 11.9 points per 100 possessions better with him on the floor. So while Boucher's willowy build still presents certain drawbacks to playing him at center, they're currently being far outweighed by the benefits.
Comments
✕
3 NBA players making the leap in 2021
  Got something to say? Leave a comment below!