Assessing the James Harden blockbuster for all 4 teams involved
The James Harden saga finally came to an end Wednesday. By the time the dust settled, the Beard was off to Brooklyn in a four-team, seven-player blockbuster that gives rise to a new potential superteam.
Here's how the deal shakes out for all four teams involved:
Brooklyn Nets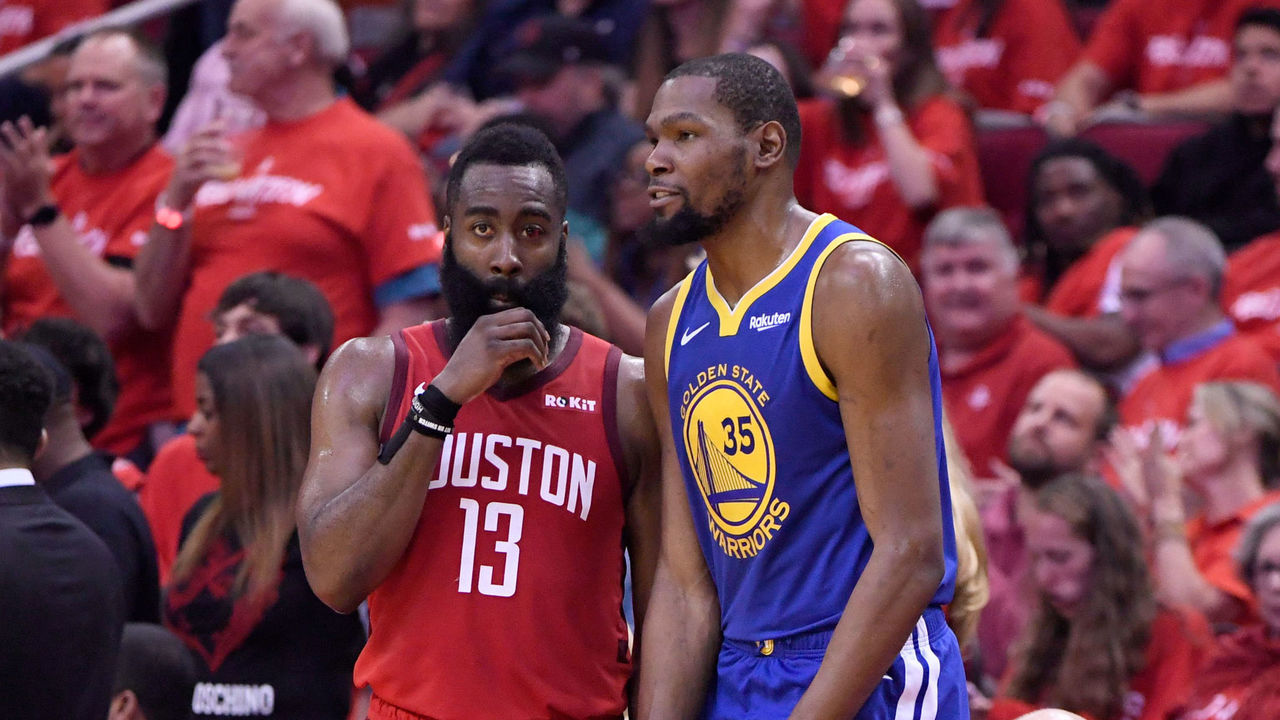 Nets acquire: James Harden
Nets trade: Caris LeVert, Jarrett Allen, Taurean Prince, 2022 1st-round pick, 2024 1st-round pick, 2026 1st-round pick, swap rights in 2021, 2023, 2025, 2027
Brooklyn has gone all-in on an unshakeable belief: Superstars make the NBA world go round, and the clearest path to a championship is to acquire as many of them as possible.
By uniting Harden with Kevin Durant and Kyrie Irving, the Nets instantly become Eastern Conference favorites and give themselves arguably the best trio in the NBA (LeBron James, Anthony Davis, and Lakers Player X can still make a strong case). Is that staggering collection of individual star power and offensive artillery enough to overcome some fit issues, major defensive question marks, a lack of complementary depth, and Irving's ever-volatile whims? The Nets had better hope so because they've completely mortgaged their future, trading literally every first-round pick and swap available to them over the next seven years for what may be a two-year championship window. And we know how that's worked out for this franchise in the past.
To be clear, this deal is not comparable to the infamous Kevin Garnett-Paul Pierce blockbuster of 2013. In the short term, the Nets should be good enough that the picks they're surrendering won't be especially valuable and that the swaps won't come into effect. Harden is a generational talent who's still in his prime (though he may need to play his way back into shape to tap into his peak powers), and he's joining another generational talent in Durant, who has looked no worse for wear in his return from a ruptured Achilles. Harden and Durant might be the two greatest scorers in NBA history, and this reunion will offer a glimpse of the future that never was in Oklahoma City.
In Irving, they'll have a third wheel who's one of the best ball-handlers and shot-makers in the game. And while the supporting cast has obviously been thinned out considerably, there's still plenty of complementary shooting in Joe Harris, Landry Shamet, Timothe Luwawu-Cabarrot, and Jeff Green. Whether or not it's reflected in the regular-season numbers, this is undoubtedly the NBA's best offense. Maybe by a lot.
And don't dwell too much on the "only one ball" theory. Yes, there's some overlap in the trio's offensive skill sets, which means the sum of their talent will naturally amount to less than its parts (something true of almost every Big Three, with Durant's Warriors standing as a rare exception.) And yes, all three will have to sacrifice something in the way of on-ball possessions and commit to moving without the basketball to avoid a my-turn, your-turn iso-fest. But with three elite shooters, a lot of the concerns about offensive fit melt away. And that's without mentioning the ball-handling and playmaking ability all three possess.
It would be nice to see Harden incorporate more movement and spot-up shooting than he did in his heliocentric Rockets years, but his gravity alone will be a massive boon. Durant and Irving, for their parts, both have long track records as exceptional off-ball players, and defenses were already at a loss for how to handle both of them while also keeping track of Harris as he rocketed off of pindowns. Lineups featuring Durant, Irving, and Harris have played to a 118.4 offensive rating this season. Adding Harden to the mix means the Nets can have at least two of those three on the floor for all 48 minutes.
But for all the overwhelming positives, there are worrisome aspects of this trade. Brooklyn has exceeded expectations on the defensive end this season, but that was driven in large part by Jarrett Allen, who was shipped out in the deal. (Losing Allen's screen-setting and gravity as a roll man could also matter; the offense has been dramatically better with him on the floor.) The Nets were already struggling mightily on the defensive glass, and they just got considerably smaller. They'll probably pluck another big man off the scrap heap at some point, but for now, their center rotation is basically DeAndre Jordan, Green, and Durant. Rim protection will be an issue.
Outside of Bruce Brown, who just recently cracked the rotation, Brooklyn doesn't figure to provide much resistance on the perimeter, either. Durant has looked surprisingly stout defensively, but will he be up for the challenge of guarding the likes of Jayson Tatum, Giannis Antetokounmpo, and LeBron James in the playoffs? Because he's pretty much the only option.
Then there's the elephant in the room: Irving has taken a leave of absence for unspecified reasons, hasn't played in over a week, and isn't expected back anytime soon. It's unclear whether this move will affect his desire, one way or another, to recommit to the team. It's not even clear what Irving really wants at this point, or if it has anything to do with basketball. What's clear is that relying on him as the third player in a Big Three is somewhat precarious.
The other concern is that the Nets haven't given themselves much runway for this gamble to pay off. Harden is 31. Durant is 32 with the Achilles injury in the rearview, and he's suggested he might retire at 35. Irving struggles to stay on the floor even when he's ostensibly committed to playing. And this season - one of two in which Brooklyn is guaranteed to have Harden - might be more of a crapshoot than any before it thanks to COVID-19 outbreaks, postponements, and a lack of home-court advantage.
If the Nets don't win one of the next two championships and then Harden walks, this will be a catastrophe. Re-signing a 33-year-old Harden to a deal worth upward of $50 million per season might prove only slightly less disastrous. This is a massive gamble.
And still, the opportunity to acquire a player of Harden's caliber while also employing Durant and Irving was too tantalizing for Brooklyn to pass up. Superstars win championships, and the Nets can now lay claim to more of them than any other team in the league. - Joe Wolfond
Houston Rockets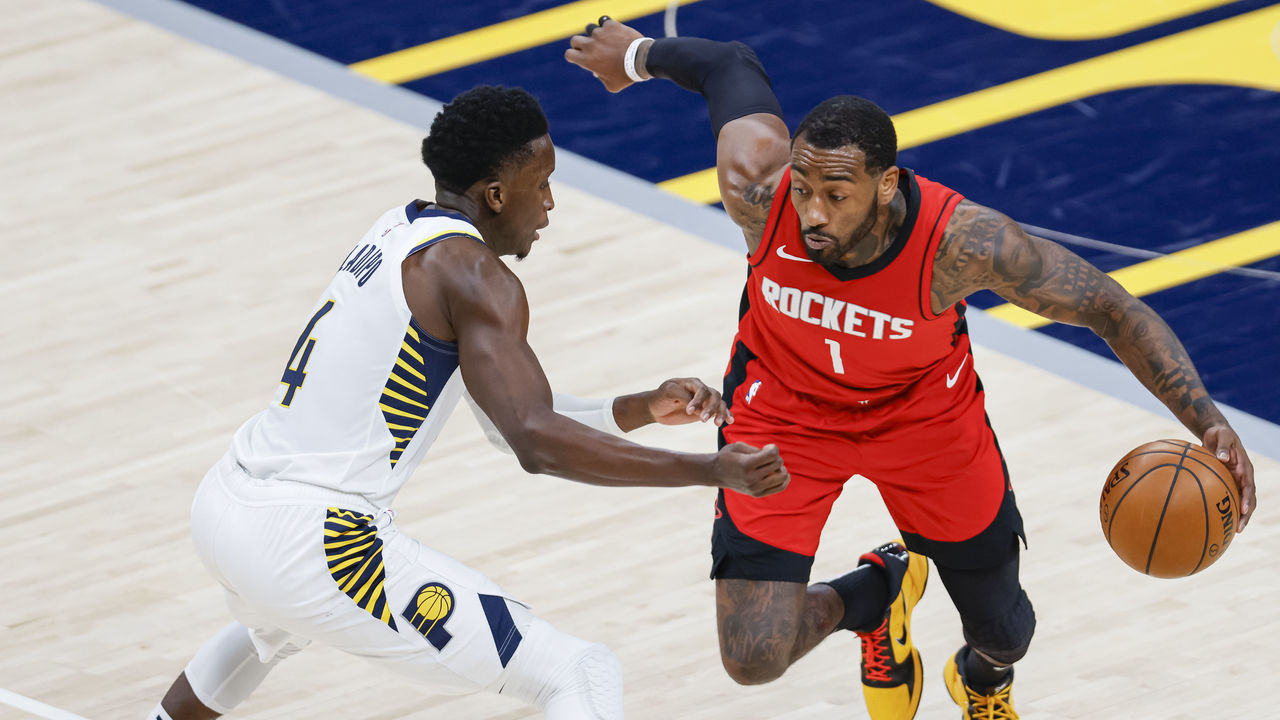 Rockets acquire: Victor Oladipo, Dante Exum, Rodions Kurucs, 2022 1st-round pick (via BKN), 2022 1st-round pick (from CLE, via MIL), 2024 1st-round pick (via BKN), 2026 1st-round pick (via BKN), four swap rights from Nets
Rockets trade: James Harden
There's no way to spin this for Houston. Trading Harden marks a crushing and official end to a successful era of Rockets basketball that was on its last legs after nearly a decade of excellence.
In the 15 years before acquiring Harden in 2012, Houston won one playoff series and topped out at 55 wins. In eight full seasons with Harden in the mix, the Rockets averaged 52 wins (per 82 games), won seven playoff series, and made two conference finals appearances, famously coming within a Chris Paul hamstring of toppling the mighty Warriors in 2018.
Harden's public desire for change - and the instability he created to give himself leverage despite multiple years of team control left on his contract - meant the Rockets were never going to be able to sell high on the former MVP. But the very nature of Harden's excellence in the most star-driven of leagues meant Houston was always going to take a loss in any potential trade.
Say what you will about his recent behavior, his current conditioning, his postseason meltdowns, or an inability to get along with star teammates that forced the Rockets into ill-fated trades. Harden's a three-time scoring champion under team control for at least the next year and a half. He's only 31 years old, and he's only a couple of weeks removed from dropping 44 points and 17 assists in his first live basketball action in over two months.
Harden remains an elite offense unto himself, and his mere presence virtually ensures 50-plus wins and a second-round playoff berth. Whoever or whatever the Rockets acquired for him, they were always going to be hoping that the players or draft assets they landed could one day be half as valuable as Harden is today.
Oladipo's three years younger than Harden, and through the opening weeks of the season, he's seemingly regained the pep a ruptured quad robbed him of a couple of years ago. A dynamic backcourt featuring Oladipo and a rejuvenated John Wall should be a treat to watch, and with the revelation of Christian Wood in the middle, Houston has a path to the play-in tournament if things break right in the short term.
But Oladipo's also a pending free agent, and neither Exum nor Kurucs is sniffing star potential.
After sacrificing a ton of draft picks to keep a revolving door of teammates spinning for Harden, acquiring four first-rounders and four more pick swaps is the real victory for Houston. But given all the Rockets have lost in Harden - and the general direction of the franchise since Tilman Fertitta took over - Houston's own picks will be far more valuable than any Brooklyn or Milwaukee selection acquired in this deal.
On the subject of Fertitta: The Rockets apparently opted to dodge the luxury tax instead of acquiring Jarrett Allen, which is a shamefully stingy decision. Perhaps Harden was discussing more than his own future when he said the situation in Houston couldn't be fixed. - Joseph Casciaro
Indiana Pacers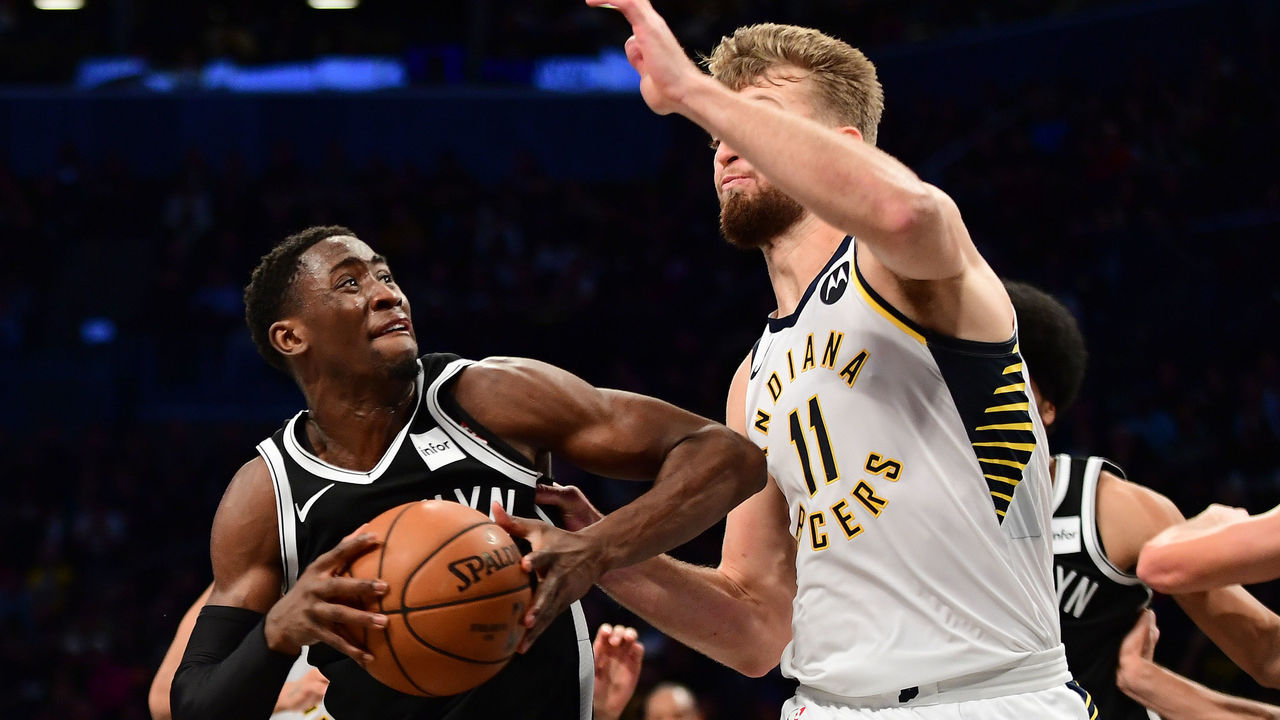 Pacers acquire: Caris LeVert, 2023 2nd-round pick
Pacers trade: Victor Oladipo
This is a fascinating trade for the Pacers - and one that provokes mixed feelings.
From an asset-management perspective, it's hard to quibble with the thought process. Between failed extension negotiations and not-so-subtle hints from the man himself, the writing regarding Oladipo's future in Indiana was on the wall for some time. For a disgruntled fringe star playing on an expiring contract and working his way back from a nasty leg injury - and whose reputation is still partially inflated by one transcendent, possibly aberrant season three years ago - this is a very solid return.
LeVert, 26, is two years younger than Oladipo, and he's in the first season of a cost-effective three-year deal. The annual value of Oladipo's next contract will almost certainly exceed the $17.5 million LeVert will earn on average through the 2022-23 campaign. Both players have checkered health records, so that variable is a wash. Oladipo's high-water mark and overall body of work are far more impressive, but LeVert arguably has greater long-term upside.
Determining what this means for the Pacers' on-court prospects in the here and now is more complicated. It's not unfair to say Oladipo is both a better player and a better fit in Indiana than LeVert. For one thing, the Pacers run much of their offense through Domantas Sabonis at the elbows and out of the post, making it incumbent on everyone else to play off of him effectively. Oladipo is a better off-ball mover than LeVert, and he carries considerably more off-ball gravity as a shooter. LeVert is connecting on 33% of his catch-and-shoot 3-pointers this season. He owned a 31.6% mark last year and a 27.3% clip the year before that. Oladipo is operating at 43.3% this season, and he went 38.8% over his three-plus years in Indiana.
LeVert does his best work with the ball in his hands - stop-and-go drives, manipulative pick-and-roll passing, putting defenders in jail - but he can also get extremely dribble-happy. That could cause fit issues with both Sabonis and new backcourt mate Malcolm Brogdon, who's been tearing it up as a lead ball-handler this season. Oladipo's ability to cede a large chunk of his usual initiating duties and restyle himself as a marauding off-ball force contributed enormously to Brogdon's success and the health of the Pacers' offense as a whole. Can LeVert make the same sacrifice? Can he be as effective off the ball? As of this writing, he's averaging nearly two more dribbles per touch than Oladipo this season, according to NBA Advanced Stats.
There's also a sizable disparity between the two at the defensive end of the floor. Oladipo may no longer be the first-team All-Defensive terror he was in 2017-18, but he's still been an important part of the Pacers' top-10 defense. He applies ball pressure without compromising his positioning, he's a menace in passing lanes, and his speed and weak-side activity make him one of the best guards in the league when it comes to helping and recovering out to the perimeter. He might be the single biggest driver of Indiana's top-10 turnover generation rate. LeVert has more length, but he can't close space nearly as quickly. He also has slower hands and isn't as alert as a helper.
That doesn't mean LeVert's skills aren't valuable or that Nate Bjorkgren and his staff can't find a way to meld his style with the Pacers' on-court identity. He's a plus passer whose ability to get into the teeth of the defense and probe for weaknesses will pair well with a team that leads the league in proportion of shot attempts in the restricted area. He's a better self-creator and at-rim finisher than Oladipo, and those two skills become more important in the playoffs. While Indiana should make every attempt to nudge LeVert away from his predilection for pounding the air out of the ball, Brogdon's proficiency as a spot-up shooter and off-the-catch attacker means it won't be the end of the world if the former does take some of the latter's on-ball possessions.
An obvious solution to the offensive fit issues is to heavily stagger LeVert's minutes with those of Brogdon and Sabonis. There's even a case to be made that when T.J. Warren returns, Indiana will be better off returning LeVert to the sixth-man role he played in Brooklyn before he was forced into the starting lineup. It makes a lot of sense to keep LeVert and Myles Turner together in transitional lineups: LeVert can put pressure on the rim with his funky dribble-drive game, and Turner can compound that pressure by pulling opposing bigs out to the perimeter while mitigating LeVert's defensive weaknesses.
This deal probably makes the Pacers worse in the present, which is disappointing given their early-season performance. But it's not a significant downgrade, particularly in terms of pure talent, and it seems fair for this team to acknowledge it's not ready to seriously contend. From that perspective, taking a longer view was absolutely the right thing to do. Decry the opportunity cost if you must, but could Indiana expect much more for Oladipo and his expiring contract? This doesn't feel like selling low. - Wolfond
Cleveland Cavaliers
Cavaliers acquire: Jarrett Allen, Taurean Prince
Cavaliers trade: Dante Exum, 2022 1st-rounder (via MIL), 2024 2nd-rounder
Cavaliers fans should be thrilled about Cleveland sneaking into this deal.
With Giannis Antetokounmpo now committed to the Bucks long term, Milwaukee's unprotected 2022 first-rounder isn't nearly the draft asset it once was. Exum's in his seventh season, he's rarely proven capable of staying in the lineup, and he owns career shooting splits of 41-31-76. A 2024 second-rounder, meanwhile, is a pittance. Yet that modest package landed Cleveland a cornerstone-type player in Allen.
Allen will be a restricted free agent this summer, but he's a 22-year-old, high-IQ big man currently averaging 11.2 points, 10.4 rebounds, 1.7 assists, and 1.6 blocks on 67.7% shooting in under 27 minutes per game. Even if he merely remains an efficient interior scorer and roll man on the offensive end, Allen's defensive upside is tantalizing. He instantly projects as the future backline anchor for a Cleveland team that may be onto something with Collin Sexton, Darius Garland, Isaac Okoro, Larry Nance, and Cedi Osman.
So much of the Cavaliers' recent, non-LeBron history is littered with poor decisions and even worse basketball. Today's deal - and the core in place should Cleveland retain Allen in free agency - is finally reason for long-term optimism. Whether the team can actually hang around the Eastern Conference playoff race in the short term remains to be seen. But Allen might already be a better two-way center than Andre Drummond, and the Cavaliers are better equipped to trade Drummond's expiring contract with Allen in the fold, which means there may yet be more assets coming to Cleveland.
In the shadow of glitzier franchises landing brighter stars, the Cavaliers emerge from this blockbuster a better team today and a more promising one tomorrow. - Casciaro