The Miami Heat's fate in Game 2 of the NBA Finals was sealed in Game 1, when Goran Dragic and Bam Adebayo suffered a plantar fascia tear and a neck strain, respectively.
It should go without saying that if one or likely both of those guys can't return for Game 3, the Heat don't have a hope of even making The Finals competitive, let alone coming back from the 2-0 deficit they now face after the indomitable Los Angeles Lakers beat them 124-114 on Friday night. Turns out it's hard to beat elite competition without two of your three best players. Who knew?
Adebayo and Dragic have been two of the best stories in the league this postseason - the former for blossoming into a legitimate superstar and establishing himself as possibly the single best switch defender in the game, and the latter for discovering the fountain of youth inside the Magic Kingdom while producing some of the best basketball of his career at age 34. Their two-man game picked the Celtics apart in the East finals, and was looking pretty strong early on in Game 1. That game turned when both guys were subbed out seven minutes into the first quarter, with Miami leading by 13.
The pair own the two biggest positive on-off differentials on the team in the playoffs. The Heat have outscored opponents by 99 points in 682 playoff minutes with at least one of them on the floor, and been outscored by 53 points in 146 minutes with both of them on the bench. All of which is to say, their absences naturally lent an air of anticlimax to Friday's proceedings.
Adebayo being out was particularly deflating, because Miami isn't remotely built to survive without him, especially against a team like L.A. that makes it untenable to go small. There's a Niagara Falls-sized defensive drop-off from Adebayo to backup centers Kelly Olynyk and Meyers Leonard. And while the Heat have at times eschewed their defensively limited bigs by instead playing a wing like Jae Crowder, Andre Iguodala, or Derrick Jones Jr. at the five, they learned in Game 1 that's not an option against the Lakers.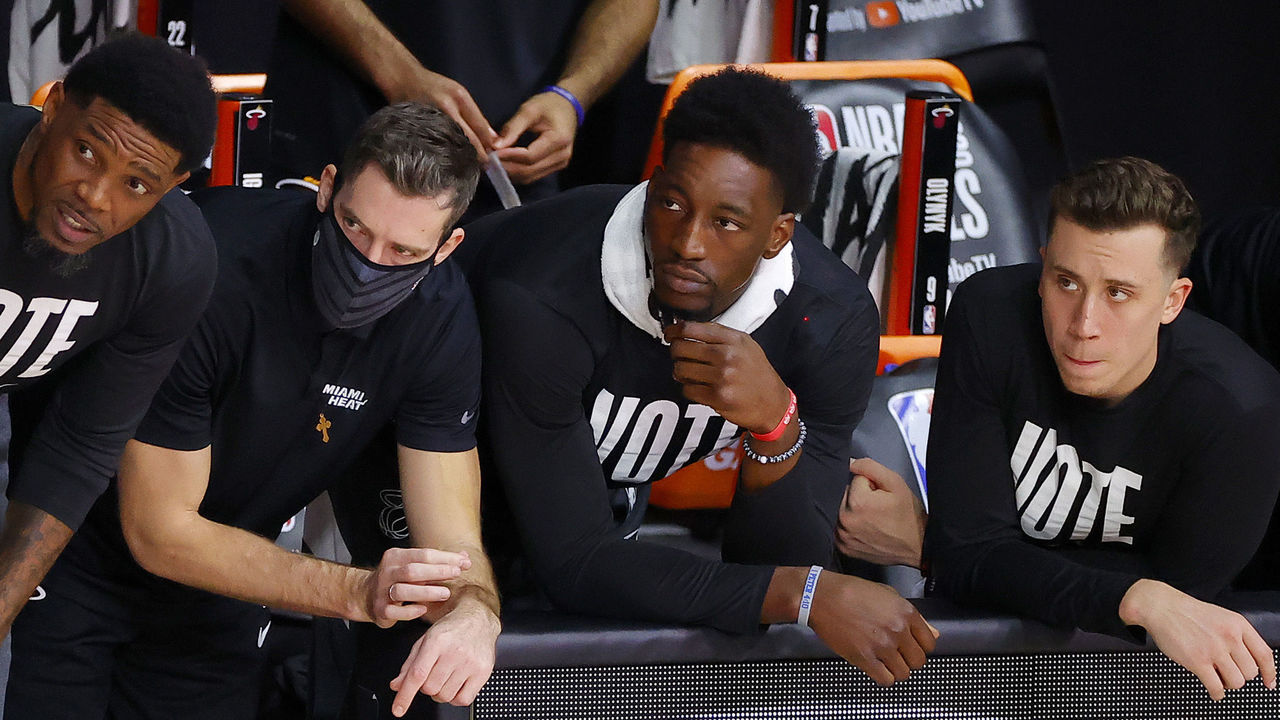 So Olynyk and Leonard combined to soak up 46 of 48 center minutes in Game 2, and Miami consequently posted a 134.8 defensive rating, squandering a quietly excellent offensive showing in which the team collectively put up a 50/40/90 shooting line.
The Heat played a ton of zone, which wasn't particularly successful but became kind of necessary when they had to trot out lineups featuring all three of Olynyk, Tyler Herro, and Kendrick Nunn. Also, broadly speaking, the zone actually had its intended effect: it turned the Lakers into a jump-shooting team, which isn't how they prefer to play. L.A. ranked 23rd in the league in 3-point attempt rate this season, but set a new NBA record for threes attempted in a Finals game with 47 in Game 2. They hit a ho-hum 34% of those threes, and shot only 17 free throws.
The problem was, without Adebayo manning the middle, the Lakers were met with little to no resistance when they managed to work the ball inside. Despite hoisting all those threes, they still scored 56 points in the paint, shooting an absurd 74%. At one point they hit 25 of 28 shots inside the arc. And it often didn't even matter when their shots rimmed out, because, thanks to both Adebayo's absence and the difficulty of boxing out while zoning up, the Heat let the Lakers rebound nearly 40% of their own misses.
As you'd expect, Anthony Davis and LeBron James doled out most of the punishment, combining for 65 points, 23 rebounds (including 10 on the offensive glass), 10 assists, and just three turnovers. They did a masterful job finding and exploiting the squishy spots in the zone, alternately flashing into the middle to spray passes or pop mid-range jumpers, slipping behind the defense and cutting into open pockets along the baseline, and bursting through gaps for put-backs.
James repeatedly kicked the Lakers into early offense, forcing uncomfortable cross-matches and attacking before double-teams could arrive. He hunted Duncan Robinson ruthlessly, tagging him with fouls and then letting him know how many he had. Any time Miami went to man coverage, Davis simply went to work on whichever undersized, overmatched sucker was unlucky enough to get stuck on him. When he wasn't hitting turnarounds out of the post, he was facing up and burying unguardable jab-step jumpers or high-arcing, off-balance floaters.
What more is there to say about these two? They're undeniable.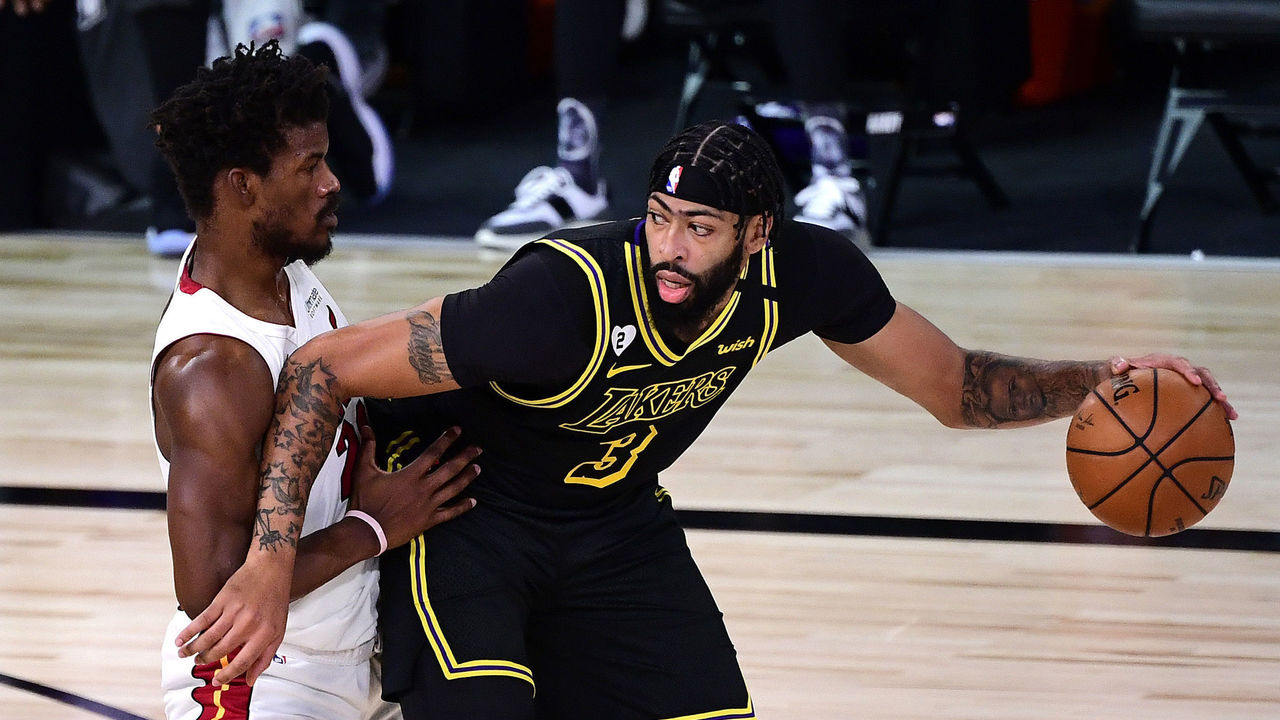 Was there anything the Heat could have done to prevent any of this? After the game, Spoelstra tried to sound a rallying cry to his outgunned troops. "We don't give a shit what anybody else thinks," he told reporters. "If you want something badly enough, you figure it out."
But we all know that's not true. You can't actually do anything you set your mind to, even if the Heat have made it seem that way throughout the playoffs. Sometimes challenges really are insurmountable, and no amount of Wanting It can change the reality of your situation. There are things Miami can do better moving forward, especially if Adebayo plays in Game 3, as he intends to. But the reality of the situation is that he likely won't be coming back at 100%, and the Heat now need to win four out of five against a team that employs LeBron James and Anthony Davis.
To Jimmy Butler's credit, he continued to prove his mettle as an indefatigable competitor. With Dragic out, he took over lead ball-handling duties and busted his tail for 45 minutes - on a bum ankle, no less. He used his burrowing, power-stepping drives not only to earn 12 trips to the free-throw line, but to shift the Lakers' defense and pry open passing lanes, through which he delivered 13 assists. Statistically, this was Miami's best offensive game of the playoffs, and that was made possible almost entirely by Butler's playmaking. It was a performance that will likely be completely lost to history.
If Adebayo and/or Dragic can in fact return at some point, that will obviously be huge. Not just for the Heat, or for those two guys individually, but for the sake of the NBA and its product. After everything that went into getting to this point, it would be galling to see this singularly strange season - which began almost a full year ago - end with a whimper, especially given the quality of competition we've witnessed inside the bubble over the last two months. Even when this looked like a good matchup that would produce a close, hard-fought series, the league was struggling with viewership. Game 1 was the lowest-rated Finals game in recorded history.
It would be disappointing to see this Heat team flame out without mounting a challenge. After reinventing themselves inside the bubble with a new rotation and revamped style of play, after upending the Bucks and Celtics with an inspired brand of basketball en route to a most unlikely Finals berth, they deserve a chance to take an honest crack at LeBron, AD, and Co.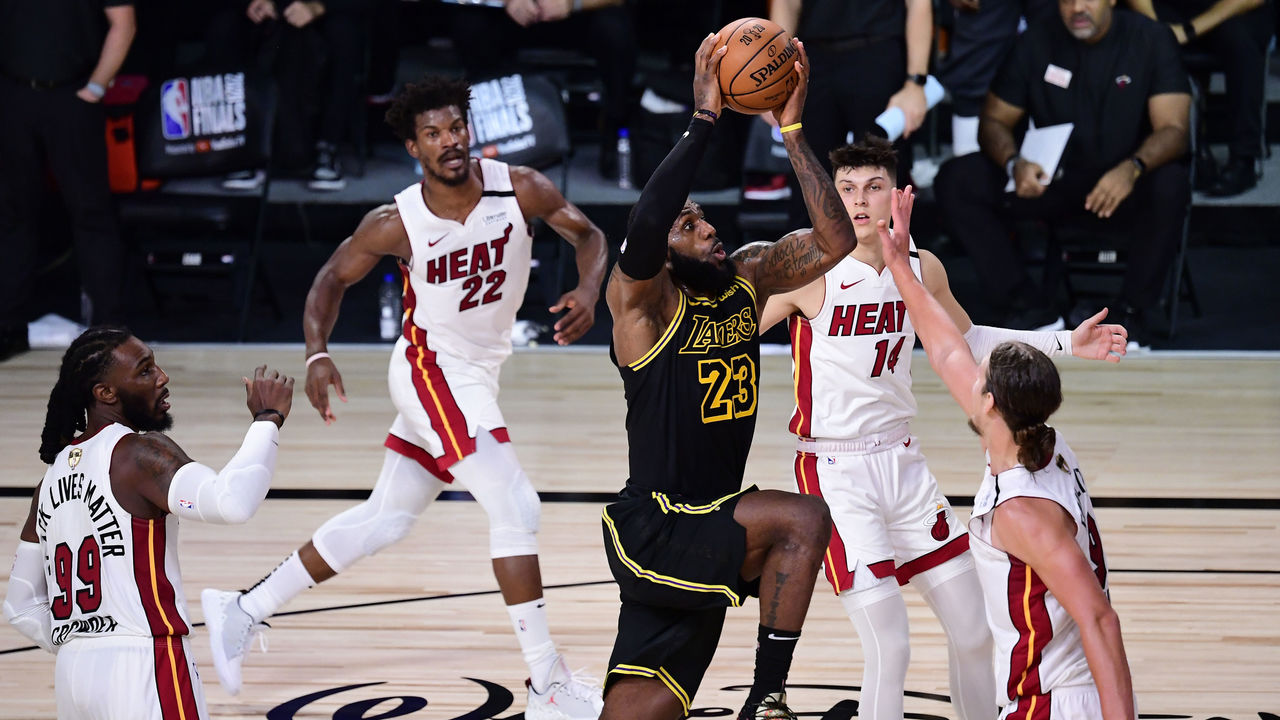 You can even say the Lakers deserve better than this. Following a dominant regular season and steamrolling their way through the Western Conference playoffs, they should get the chance to cap their thoroughly impressive year with a championship untainted by talk of injury luck.
Of course, the Lakers can't control what happens to the Heat from here on out, and the circumstances shouldn't be held against them. You can only beat the teams in front of you, and the Lakers have comprehensively dismantled every opponent they've faced this postseason.
What James is still routinely doing in his 17th season has passed beyond the point of comprehension. And Davis, the skeleton key who makes them virtually matchup proof, is having a moment, one-upping even his legendary teammate in his first taste of The Finals. And the supporting cast, a question mark all season, is showing out. Rajon Rondo is splashing threes and roasting guys at the point of attack; Dwight Howard is creating second chances and defending ably in space; Alex Caruso and Kentavious Caldwell-Pope are absolutely hounding ball-handlers over and around screens.
The way the Lakers have been playing has made it easy to forget that during their wobbly seeding games LeBron was making cryptic comments about challenges the team was dealing with behind the scenes. It's made it easy to forget that at the start of the playoffs their offense was in a world of pain, or that they were prepared to walk out of the bubble during the first round in wake of the police shooting of Jacob Blake in Kenosha, Wisconsin.
They've played their best basketball of the season over the past two months, getting steadily better each round and coalescing into a juggernaut. As disappointing as it is that injuries have played such a significant factor in The Finals, the biggest reason this yearlong campaign looks likely to end on an anticlimactic note is that the Lakers might just be unstoppable.