theScore is counting down the 100 best fictional characters in sports movie history.
100-91 | 90-81 | 80-71 | 70-61 | 60-51
50-41 | 40-31 | 30-21 | 20-11 | 10-1
10. Apollo Creed
"Rocky" (1975), "Rocky II" (1979), "Rocky III" (1982), and "Rocky IV" (1985)
Arguably the most charismatic sports figure to ever grace the silver screen, Creed (Carl Weathers) is the perfect opposite to Rocky Balboa's underdog character. The flamboyant, arrogant boxer, who was loosely based on a combination of fighters including Muhammad Ali and Sugar Ray Leonard, embraces his larger-than-life status while drawing heat and remaining likable at the same time.
9. Randy 'The Ram' Robinson
"The Wrestler" (2008)
Darren Aronofsky's dark dive into the independent circuits of professional wrestling was a masterpiece that reached Oscar-worthy success thanks to Mickey Rourke's incredible portrayal of fading grappler Robinson. "The Ram" represents everything that is wrong with fame and fortune when his continued journey toward reliving his glory years ends up costing him more important things in life. Rourke, who actually wrestled in the film, received a Best Actor nomination for his work.
8. Reggie 'Reg' Dunlop
"Slap Shot" (1977)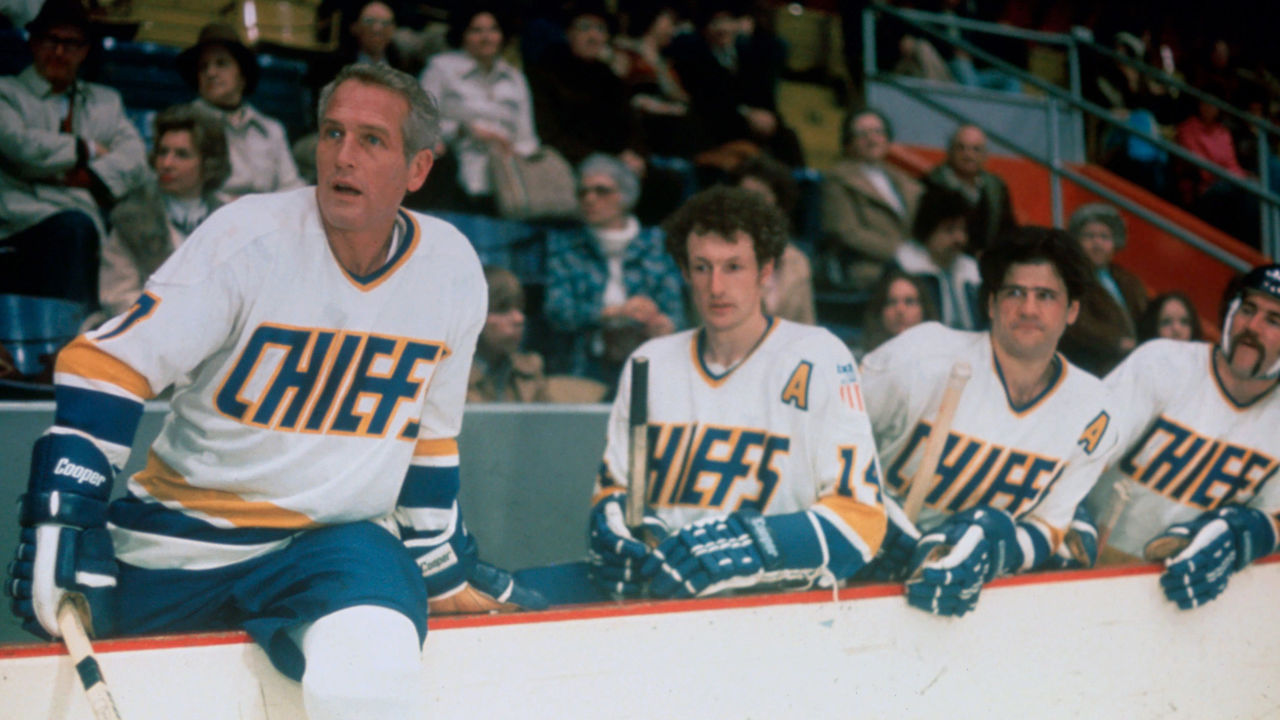 Already in his 50s when "Slap Shot" was released, Paul Newman's Reg has a bit of a Gordie Howe feel to him as a passionate on-ice leader who's seen and done it all but continues to ply his trade because hockey is truly his first love. As always, that trademark Newman cool is present both during the games and at the local bar.
Fair warning, however: Some of Reg's banter hasn't aged well.
7. Crash Davis
"Bull Durham" (1988)
Warning: Video contains coarse language
Davis (Kevin Costner) is a veteran catcher who is recruited to teach young hurler "Nuke" LaLoosh how to be a professional while also attempting to break a minor-league home-run record that most people don't know or care about. Davis may be rough around the edges in "Bull Durham," but his adoration for baseball and ability to deliver memorable speeches make him one of the most legendary sports characters in film history.
6. Happy Gilmore
"Happy Gilmore" (1996)
It's the perfect fish-out-of-water story: An impulsive wannabe hockey player takes on the golf world after discovering an uncanny ability to drive the ball hundreds of yards thanks to his graceless slap shot technique. As Happy, Adam Sandler is at his man-child best, yelling, punching, and cursing as he runs roughshod over the stodgy denizens of the pro tour.
5. Jesus Shuttlesworth
"He Got Game" (1998)
Casting a non-actor - then-Milwaukee Bucks star Ray Allen - to play a lead role in a drama carried plenty of risk, but Spike Lee's gambit paid off. Allen does just enough to bring teenage basketball prodigy Jesus Shuttlesworth to life, then wisely clears out of the paint to let Denzel Washington do the heavy lifting.
With Allen becoming a Hall of Famer, the Jesus Shuttlesworth character has remained in the public consciousness for well over two decades.
4. 'Steamin' Willie Beamen
"Any Given Sunday" (1999)
Warning: Video contains coarse language
Throughout the 1990s, Jamie Foxx was best known for sketch comedy show "In Living Color" and sitcom "The Jamie Foxx Show." Oliver Stone's "Any Given Sunday," which digs deeper into the seedy underbelly of professional football, helped bridge the gap from Foxx's comedic work to his Best Actor Oscar for "Ray" in 2005.
Much of Willie Beamen's story holds up today: football's pigeonholing and treatment of Black quarterbacks; acclimatizing to a rapid rise in celebrity status; and balancing on-field and off-field priorities. Beamen feels like an amalgam of many real-life QBs who came before and after - one-of-a-kind personalities and talents like Jim McMahon, Michael Vick, Baker Mayfield, and Lamar Jackson.
3. Shooter McGavin
"Happy Gilmore" (1996)
McGavin (Christopher McDonald) is everything you want from a comedic sports movie villain. For one, he sees all competitors as his inferiors - oftentimes making him both a sore loser and sore winner. Shooter also positions himself as a gatekeeper for his sport, sneering at those who upset golf's established hierarchies and traditions.
That makes him the perfect foil to Sandler's Happy, a blue-collar rube with a penchant for emotional outbursts. Of course, it doesn't take very long for Happy to turn the tables; by the end of "Happy Gilmore," Shooter has completely lost his moral high-ground, allowing Happy to seize victory.
2. Dottie Hinson
"A League of Their Own" (1992)
Runner-up on our list is Hinson (Geena Davis), the dairy farmer-turned-catcher in "A League of Their Own." After joining the All-American Girls Professional Baseball Team while her husband is away at war, Hinson becomes an immediate sensation thanks to her marvelous on-field play and leadership in this sisterhood classic that was preserved as part of the United States National Film Registry in 2012.
1. Rocky Balboa
"Rocky" (1975), "Rocky II" (1979), "Rocky III" (1982), "Rocky IV" (1985), "Rocky V" (1990), "Rocky Balboa" (2006), "Creed" (2015), and "Creed II" (2018)
The greatest underdog in sports film history tops our list, and rightfully so. The iconic "Rocky" franchise has spawned eight films over five decades, and the one constant has been Balboa, a nobody boxer who made the most out of the ultimate opportunity. Just when it seems Rocky is faced with an impossible challenge, the "Italian Stallion" finds a way to overcome the odds. Balboa never quits and has proven over the past 42 years that anything is possible, especially through hard work and perseverance.