Reckoning with the spectator-less future of spectator sports
picture alliance / Getty Images
As with most things in the world right now, the short-term future of pro sports is murky. While some sports in some parts of the world have resumed, others remain suspended indefinitely. Nobody knows for sure when, or in what form, they'll be back.
It seems evident that when sports do return, they'll do so without fans in attendance. We've already seen that happen with pro baseball in South Korea, and with pro wrestling, MMA, and NASCAR in the United States. Germany's top soccer league, the Bundesliga, returned with fan-less matches last weekend. Until a vaccine or a provably effective COVID-19 treatment becomes widely available, cramming tens of thousands of potential spreaders into a single venue won't be tenable.
That will present a strange new environment for everyone involved in pro sporting events, from players to coaches to officials to broadcasters to the fans watching from home. The live audience is what turns a game into the interactive, operatic spectacle we know and love. It's right there in the description: Spectator sports. What is a spectator sport without spectators? At what point does it stop being the thing we recognize, and become an altogether different entity?
In trying to conceptualize the new sports reality, I've found myself thinking a lot about those old NBA promos - the ones that open on a shot of an empty arena before reconstructing an iconic postseason play, piece by piece, player by player. The fans are last to materialize, and the moment feels incomplete until that final addition. Then the whole scene vanishes as quickly as it appeared, leaving only the empty gym once again.
I always found something haunting about the idea of these incredible, historic moments taking place against a silent backdrop of vacant seats. It felt like a brief glimpse into an alternate reality in which we'd decided not to imbue sports with meaning. There's a reason LeBron James initially reacted to the prospect of playing in empty arenas by dismissing it out of hand.
Those ads probably wouldn't feel out of place if they ran tomorrow. They speak simultaneously to what we're currently missing, and what we'll be gaining - and yet still lacking - when sports return.
It's not impossible to imagine what sports without fans will look or sound like. The difficult thing will be trying to reconcile the idea of a sporting event that looks and sounds like a scrimmage with one that ostensibly carries monumental stakes. Will those stakes resonate in the same way for the players or their homebound fans? Can players perform at the same level without a crowd there to pump them full of adrenaline? If a three falls and there's nobody there to cheer it ...
History provides us with some examples. The one most people might remember is the Orioles-White Sox game that was played in an empty Camden Yards in Baltimore just over five years ago, while protests raged throughout the city in the wake of Freddie Gray's death in police custody.
The players who participated in that game talked about the eeriness of the quiet. They were put off not only by the lack of reaction to big plays, but also by the absence of the ambient noise that had unconsciously become a staple of their experience.
"It's the same as waking up having coffee every day for five years and then waking up and having zero coffee, and kind of being dependent on that energy," then-Orioles catcher Caleb Joseph told The Athletic's Kaitlyn McGrath. "And then out of nowhere it's gone."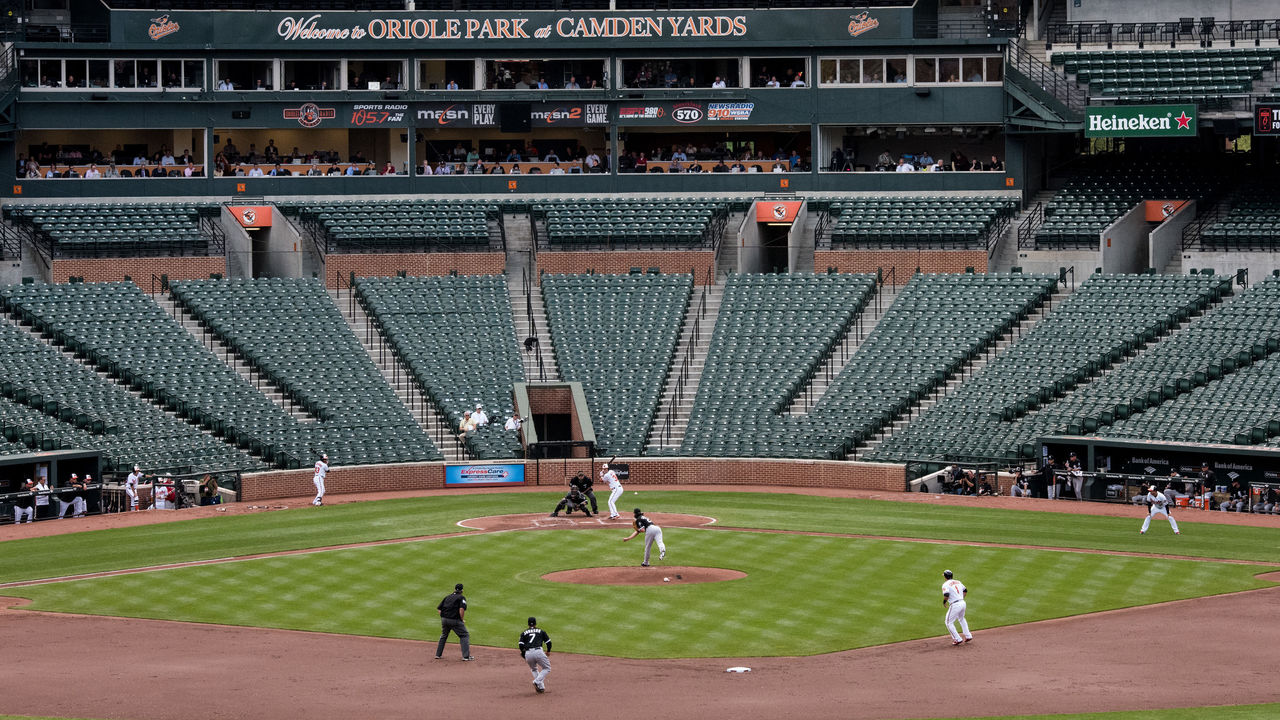 Back in 1989, Siena and Boston University played the North Atlantic Conference championship game in an empty arena because of a measles outbreak on Siena's campus.
"It was definitely an adjustment," Siena forward Tom Huerter told The Times Union's Mark Singelais of the game, which Siena won by one point to punch its ticket to the NCAA Tournament for the first time in school history. "I think the best description is it felt like playing in a preseason scrimmage, against a really good team."
We can also now draw on examples from our present-day situation.
The WWE - which was deemed an essential business by Florida Gov. Ron DeSantis - has been taping matches in empty venues for weeks. The fan-less experience is particularly strange for pro wrestling, which is by definition more performative and more of a pure entertainment product than non-scripted spectator sports. When theatricality is the whole point, what are you supposed to do when the theater's empty?
With the performance greeted by silence, both the physical and dramatic components of the sport are rendered bizarre. The performers still play to a nonexistent crowd, complete with over-the-top walk-out introductions and pregnant pauses in dialogue for effect. It's like a dress rehearsal for a hammy stage production.
"You know they're there watching at home, and that's what you have to try and focus on," wrestler Adam Joseph Copeland, aka Edge, said on WWE's "After the Bell" podcast. "The performance for the people at home that are hopefully reacting the way that you would want them to within the arena."
The Korean Baseball Organization began its season last week against a similarly silent backdrop. Umpires and coaches wear protective masks, while cheerleaders and mascots dance in front of empty seats. In Incheon, the SK Wyverns tried to create the illusion of a home crowd by filling the outfield bleachers with rows of banners displaying fans wearing the team's hat. As if to add an element of realism, the fake fans are also depicted wearing protective face masks.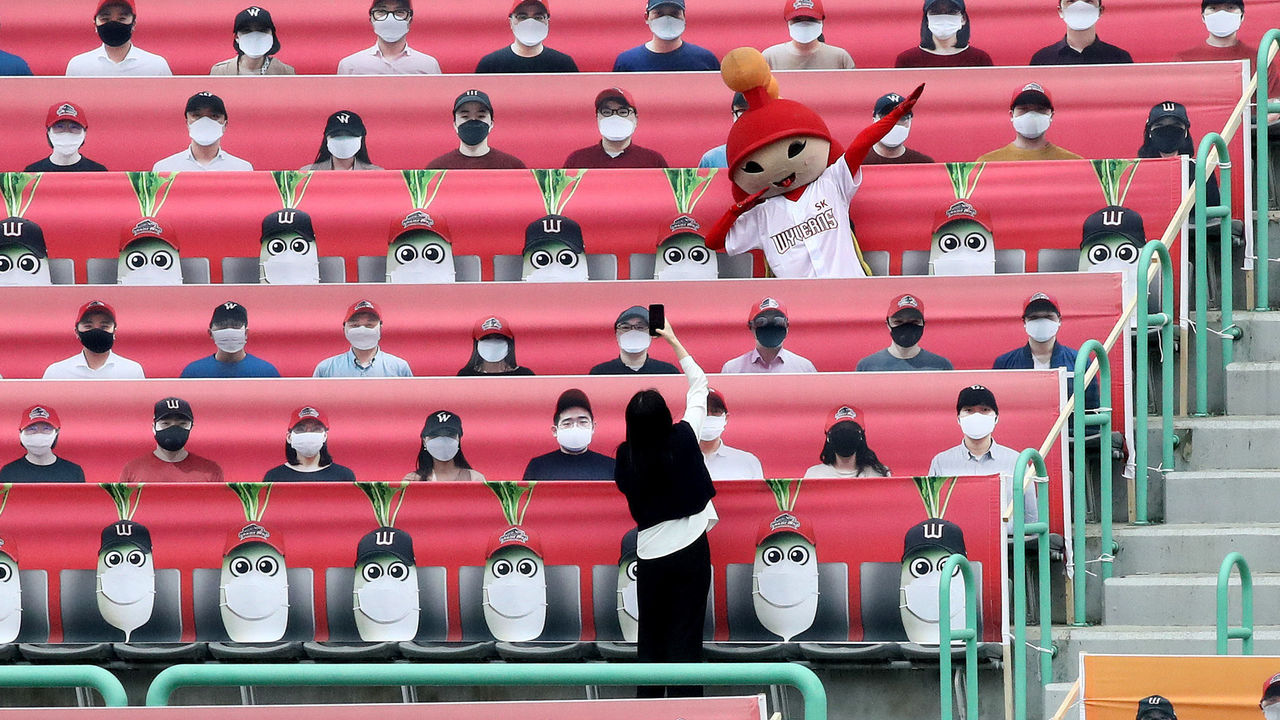 There are still a lot of practical questions to answer about how the games will be packaged when team sports return in North America.
Will they be played in smaller, more intimate facilities? That might take some of the strangeness out of the endeavor; the sounds of the game would otherwise echo through cavernous, empty stadiums and serve only to emphasize the quiet of the place. Other sports may borrow the KBO's cardboard-fan idea. Perhaps some will take it a step further and stage games in front of a green screen so broadcasts can show a digitized live audience.
Another unknown is whether arenas will still feature the work of game-ops staff. Will they pump in artificial crowd noise or music during the run of play? Without any of that, viewers are likely going to hear a lot of stuff they aren't used to hearing, from the otherwise obscured sounds of the game to things said in the heat of the moment: sideline play-calling, profane trash talk, and heated arguments with officials.
Maybe the participants will tone down their usual mouthiness. Or maybe they won't. Steph Curry suggested that games without background noise "might be something that's really appealing from a fan perspective, to get real up close and personal with what we do on the court."
Orioles and White Sox players and coaches said they could hear everything the other team was saying, on the field and in the dugout, be it cheering or heckling or strategizing. Hearing a coach bellowing instruction from the bench won't be a novel phenomenon to anyone who's ever watched a Tom Thibodeau-coached team play, but there's a different level of tactical transparency in a silent stadium. On the playing field or in the huddle during a timeout, teams will have to go to greater lengths to conceal their intentions. Baseball players holding their gloves in front of their mouths to discourage lip-reading won't be enough.
"I had to change my coaching style because I was kind of an emotive guy," former Siena coach Mike Deane told Singelais. "If there's nobody in the gym, and no noise to filter that, you've got to be a little different."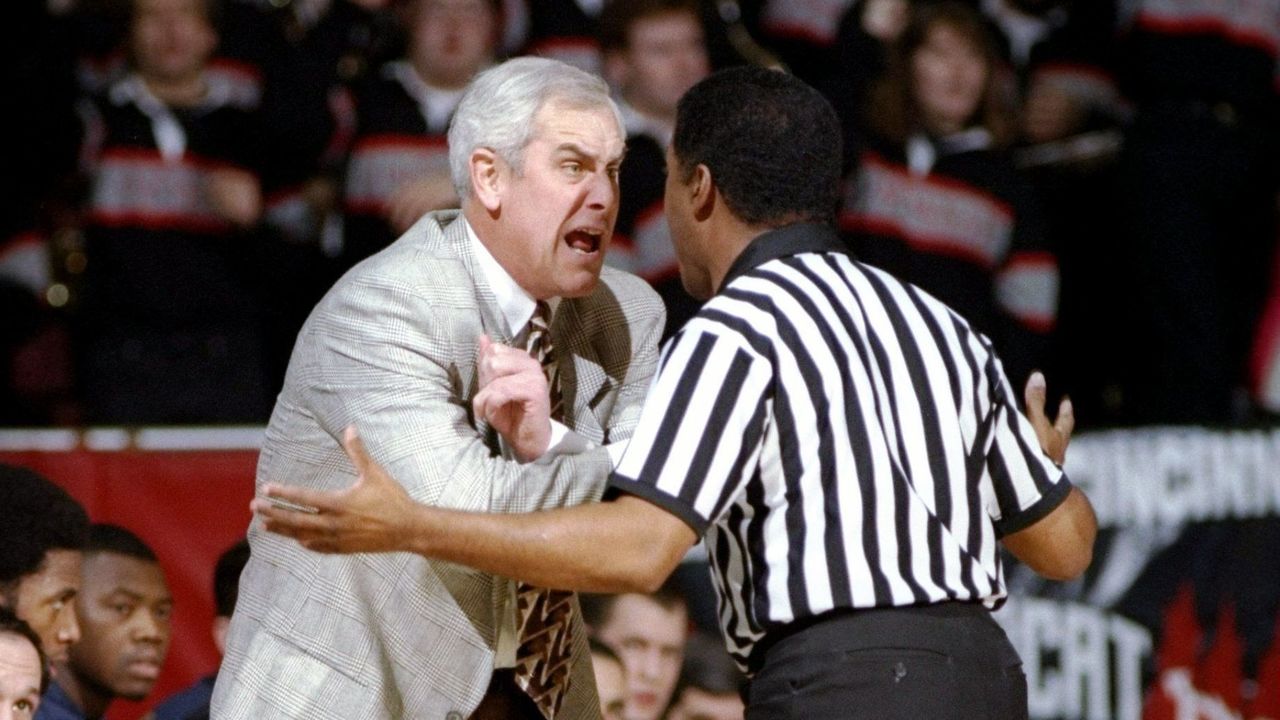 As for the broadcast, will commentators be on site or off? If it's the former, I can tell you - as someone who used to call Atlantic University Sport basketball games for Dalhousie campus radio in Halifax, Nova Scotia - that it's a strange, self-conscious feeling to be describing the scene on display in a quiet gym where all of the players and attendants can hear you. The players, meanwhile, have to try to focus on playing while essentially having their actions narrated back to them in real time.
"When I went in to pitch, I just heard (Orioles play-by-play announcer) Gary Thorne the whole time I was in my delivery," former Orioles closer Zack Britton told The Athletic's Dan Connolly and Dan Hayes of his relief appearance in empty Camden Yards. "I'd get my pitch (signal) and I could hear him say, 'Britton's coming set. And the pitch.' I'm like, 'Oh my gosh, Gary, can I just mute you right now? Because I hear everything you're saying.'"
Not all athletes have found that to be problematic, though. In fact, two fighters in UFC 249 earlier in May said they won their bouts in part because they overheard and heeded tactical suggestions from fighter-turned-broadcaster Daniel Cormier.
If the NBA and NHL return in the near future, they'll either jump directly to the playoffs or be in the midst of the home stretch of the regular season, with some playoff positions still to be decided. If MLB returns, chances are it will play in empty stadiums. That Orioles-White Sox game was just one early-season game out of 162. How will it feel to play in or watch a fan-less game to decide a playoff spot, or a series, or a championship? How do you generate the requisite level of intensity and tension for a contest of that magnitude without a crowd?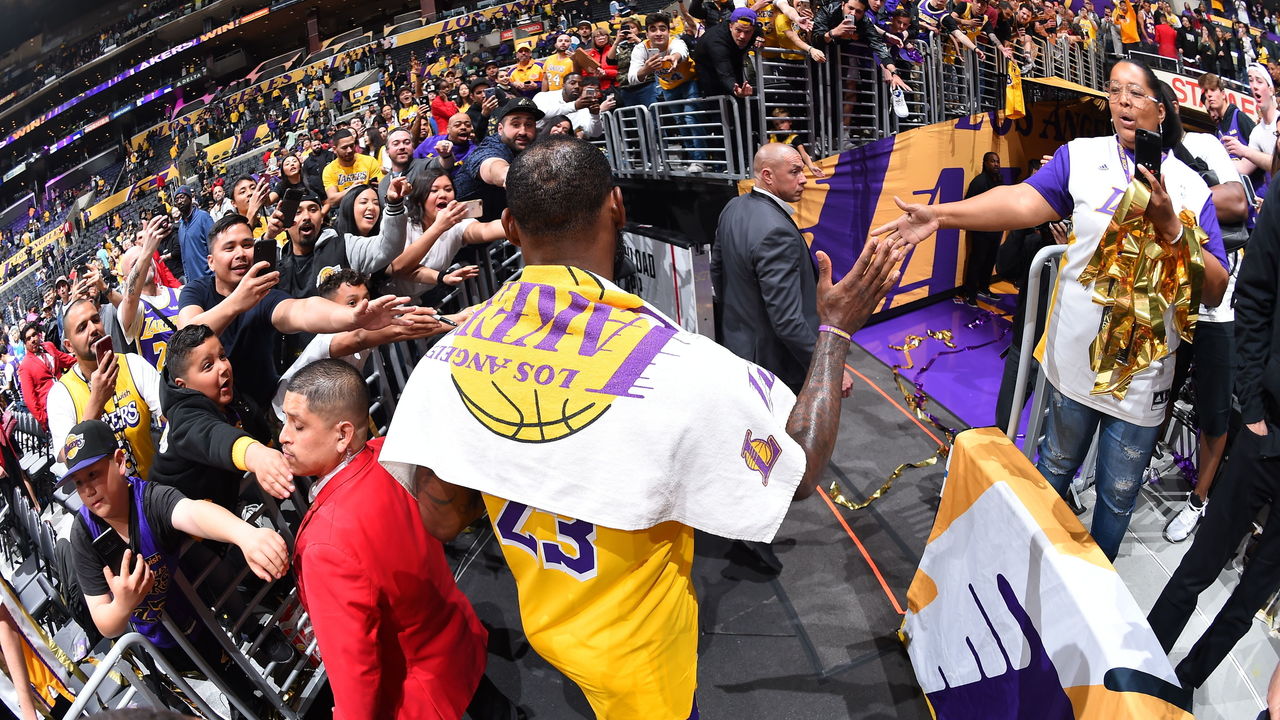 We often reference "playoff atmosphere," which connotes a particular energy in a venue that is equal parts sound and texture. When we think of memorable postseason games we think of crowds so loud that players and coaches can't properly communicate. People who dream of being pro athletes dream of performing miraculous physical feats in front of thousands of roaring fans. Imaginary plays pantomimed in the driveway or the backyard are customarily followed by, "And the crowd goes wild!"
There won't be any substitute for the goosebump-inducing thrill of a momentum-swinging run or a game-breaking play in front of a frenzied home crowd; the murmuring angst between pitches during a crucial, drawn-out at-bat; the roar after a successful penalty kill; the swelling sound as a visiting team lines up for a third down; the anticipatory hum as a play develops into a breakaway or an open 3-pointer; the cathartic explosion after a frantic sequence of events is punctuated by a goal or a dunk or a tape-measure home run. The gravity of these moments is communicated, in large part, by a crowd's reaction to them.
Maybe the biggest question in all this is one that has nothing to do with practicality and everything to do with emotional gratification. The special thing about sports spectatorship is that it's interactive; you feel like you have a role to play in the production, however small. That feeling may not persist when the interactive element is taken away.
And what about the communal element? A common refrain about the power of sports is that they bring people together. That's often meant figuratively, but there is, of course, a literal component as well, whether that means populating stadiums or going to friends' houses or packing into sweaty bars to take in the spectacle and react among fellow fans.
Will it feel the same to root for a local team if that team isn't even playing in the local market? Can a fan base collectively celebrate a victory if its members can't celebrate with each other in person? Can sports still bring people together on a spiritual level if they can't do so on a physical level?
And if not, then what, exactly, is left?
Joe Wolfond writes about basketball and tennis for theScore.
Comments
✕
Reckoning with the spectator-less future of spectator sports
  Got something to say? Leave a comment below!