BYU's 1984 championship team is still unlike anything we've seen
The Sporting News / Getty Images
Following our recent series on the best teams never to win a championship, we're flipping the concept. This series will examine a selection of the most unlikely teams to reach the mountaintop. These teams can be ones that got hot at the right time, or those who belong to franchises that have not often tasted the Champagne of champions. Previous entries covered MLB, NFL, and NBA.
On Dec. 2, 1984, during its telecast of the Iron Bowl and the Florida-Florida State rivalry game, ABC set up a telephone call-in poll and asked viewers to vote on the day's hottest topic: Should BYU be ranked No. 1?
Dial 1-900-720-0070 for yes, or 1-900-720-0077 for no. Each phone call cost 50 cents.
A voting bloc the size of Anaheim, California, dialed in. By the fourth quarter of the second game, the network was ready to declare a winner. Legendary announcer Keith Jackson passed the telecast to studio host Jim Lampley.
"Phone poll: over. Official tally, final margin: 24,746 votes, largest margin of the day between nos and yeses," he said. "And so among those people who have called in, over 357,000 of them, our viewers believe that, by a majority of 24,000 votes, BYU should not be No. 1.
"We recognize that BYU has been singled out for special treatment here. We ask them to greet it with humor as we have tried to all day long. We didn't decide a national champion here, this was not a scientific sampling of the entire nation's college football fans. It has nothing to do with those, of course, who are going to vote officially on who is the national champion after bowl games on Jan. 1."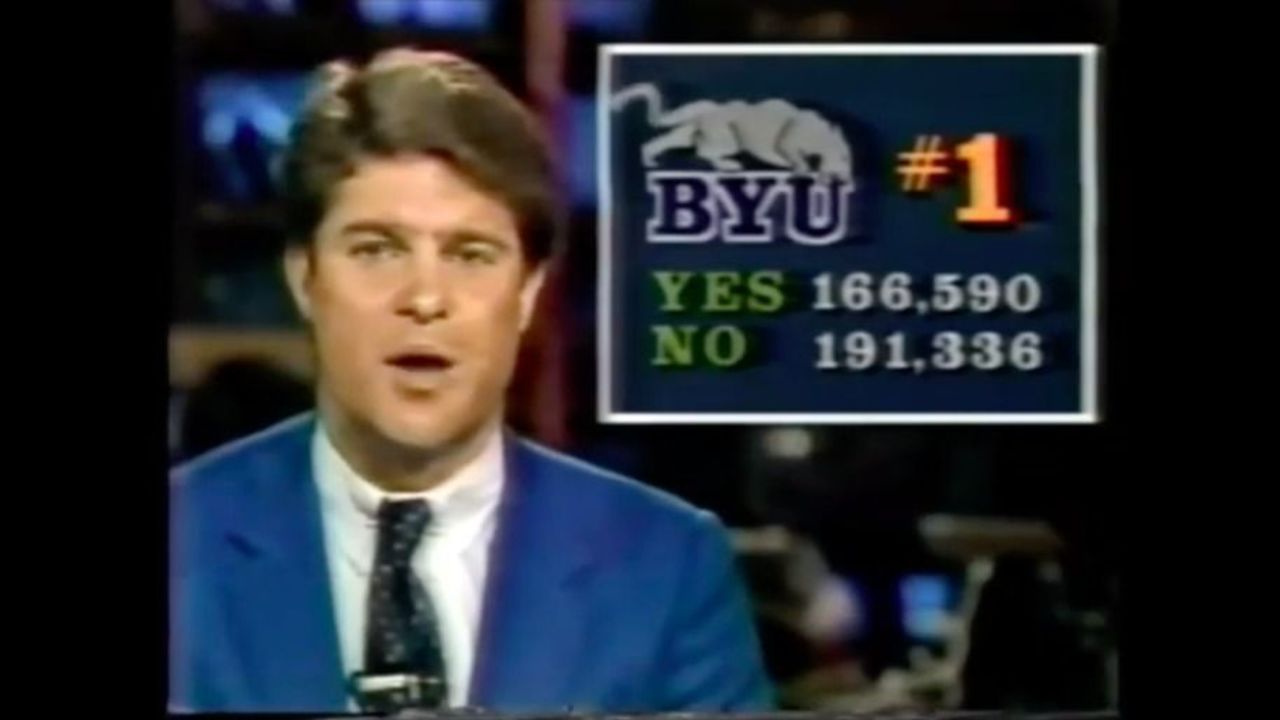 On the day of the broadcast, the Cougars were the only undefeated team in the country, finishing the regular season 12-0. AP voters ranked the team No. 1. However, BYU's strength of schedule and status as a non-power school - it competed in the WAC - led to debate and scrutiny.
On Dec. 21, BYU scored a late touchdown to defeat a six-win Michigan team in the Holiday Bowl, completing its undefeated season. From there, Cougars players watched as the more heralded New Year's Day bowls - ones BYU wasn't invited to - played out. They watched No. 4 Washington defeat No. 2 Oklahoma in the Orange Bowl, No. 5 Nebraska dispatch No. 11 LSU in the Sugar Bowl, and No. 18 USC top No. 6 Ohio State in the Rose Bowl. No. 3 Florida was ineligible for a bowl game because of previous NCAA violations.
So BYU waited for the results of the final polls - which, in 1984, still decided the national champion - to be published.
"I would tell you it's probably one of the more unique ways that a college football championship team was notified they won," David Mills, a tight end and 1,000-yard receiver on the 1984 team, told theScore. "You're sitting around watching all these bowl games after you played, listening to everybody argue about a BYU, an Oklahoma, a Washington, a whoever. And how you don't deserve it. And in your heart, as an athlete, you're going, 'You know what, put us out on the field against this team. If we don't deserve it, they'll beat us. If we do, we'll beat them. Let's go.' Yet you can't do that."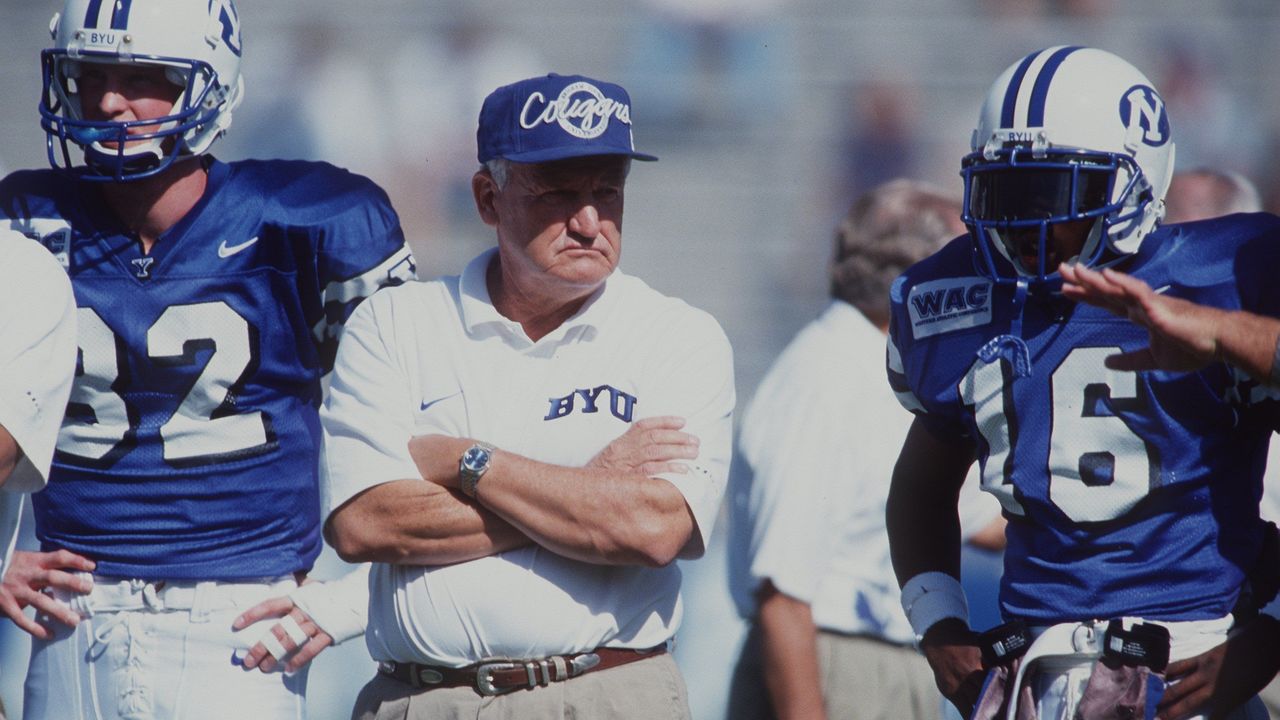 BYU was a known commodity in college football by 1984. The Cougars' offense was among the best in the country, with future NFL quarterbacks Jim McMahon and Steve Young starring in the program. From 1979-83, coach LaVell Edwards' program was 53-9.
From the outside, though, 1984 wasn't supposed to be BYU's best year.
The 11-1, seventh-ranked 1983 team was guided by Young, who finished second in the voting for the Heisman Trophy. After the season, Young joined the upstart USFL. His replacement at BYU was Robbie Bosco, a 6-foot-2 prospect from California who had thrown 28 passes in his career to date.
Bosco's story was reminiscent of a number of returnees on the 1984 team. Mills, who caught 60 passes for 1,023 yards, was a senior who entered the season with nine career receptions; Glen Kozlowski, a receiver who caught 11 touchdowns in 1984, was fifth on the team in receptions in 1983; leading rusher Lakei Heimuli handled just 29 carries the year before.
"We knew Robbie was good," Mills said. "Guys like myself that had been in the program for five years and never played, we kind of had a chip on our shoulder to show we were as good as the kids before us. So it was a team that was just kind of driven to prove people."
The team entered the season unranked, but had a juicy opener on the road at No. 3 Pittsburgh - the first live regular-season broadcast of a college football game on ESPN. Mills recalled a team meeting at the hotel: "A couple of our guys got up and talked about, 'Hey, look, here's the challenge. We went 11-1 last year, this year's 12-0.' And 12-0 puts us in a chance to rattle the world, to play for a college title the way things were done back then."
The Cougars trailed Pittsburgh 14-3 in the third quarter, but stormed back. Bosco hit Adam Haysbert over the middle for the go-ahead, 50-yard touchdown in a 20-14 win. The Panthers turned out to be overrated, finishing the season 3-7-1 and unranked. But the win ultimately turned heads nationally - BYU leapt from unranked to 13th in next week's AP Top 25.
A week later, BYU walloped Baylor, 47-13, avenging their only loss from the year before. At that point, with conference play approaching, an undefeated season became more viable.
Bosco settled into the starting role just fine, throwing for a nation-leading 3,875 yards and 33 touchdowns. The defense allowed just 14 points per game. Mills said the team had a close bond; offensive players hung out with defensive players, and both units developed chemistry.
In the days before games could be streamed on demand, Mills said he looked forward to Monday nights, when a local BYU network would broadcast a replay of Saturday's game. A group of 15-to-20 players would get together at a teammate's apartment and play cards while watching their conquest from two days earlier.
"Watching the game and just laughing with each other as we watched the game from Saturday," Mills said. "Just bonding. It wasn't always hey, pat on the back, great play. It was, 'What are you doing there?' Those kinds of comments that guys do. It just turned into a tradition for us. we just continued to do that. More than anything, it was just an off-the-field bonding experience that I think helped lead to that chemistry we always talked about."
BYU stayed focused while voters nationally remained skeptical. The Cougars were ranked fourth heading into the weekend of Nov. 10. While BYU cruised by San Diego State, 34-3, the No. 1 and 3 teams, Washington and Nebraska, respectively, both lost. However, when the next poll on Nov. 13 came out, BYU moved up just one spot. South Carolina leapfrogged the Cougars, moving from No. 5 to No. 2.
The next week, the Gamecocks lost. On Nov. 20, BYU moved to No. 1 for the first time.
"Everybody they kept putting in front of us kept losing," Mills said. "It was that kind of year. Every time you tried to knock us down and you tried to place somebody else up there, lo and behold, we'd win, they'd lose and you had to keep talking about us."
That kind of narrative led to moments like the phone poll on Dec. 2. The skepticism might have been warranted at the time, though - none of the 13 teams BYU defeated in 1984 ended the season ranked. The combined record of BYU's opponents was 61-85-3.
Only two of those teams - Air Force and Michigan - competed in the 18 bowl games offered that postseason. (And this wasn't an all-time Michigan team - the Wolverines fell out of the AP Top 20 in early October and finished 6-6.)
But at some point, as every other team that ascended to the top lost, voters had to look toward BYU. On an individual level, the Heisman Trophy voters recognized Bosco; he finished third in the award voting behind Boston College's Doug Flutie and Ohio State's Keith Byars. BYU remained No. 1 in the AP poll on Dec. 4, the last poll of the regular season. The school knew it was playing for a national championship when it faced Michigan in the Holiday Bowl four days before Christmas.
The bowl game wasn't pretty. Bosco, who appeared to injure his ankle and knee in the first quarter, limped throughout the game, and threw three interceptions. But the defense kept BYU in the game and Bosco was clutch late, leading two touchdown drives to come from behind for a 24-17 win.
Bosco finished the game 30-of-42 for 343 yards.
"Robbie was smart enough to handle us as players and he was smart enough to get the ball where it needed to be, and as he made all his throws we all just gained confidence," Mills said. "And we knew, hey, no matter what a team did, we kind of had an answer for it and Robbie provided that answer."
Eleven days of waiting followed. The real challenge to BYU's title hopes came from Oklahoma, which entered bowl season ranked second. Had OU won the Orange Bowl, Barry Switzer might have added another national championship to the Sooners' trophy case. But when Oklahoma lost to Washington, the Cougars evidently locked up the championship. BYU received 38 of 60 first-place votes in the final poll. It also finished first in the coaches' poll, making it a consensus national champion.
"There was frustration, there was anticipation, there was a lot of anxiety just kind of waiting for it to all play out," Mills said. "I remember being down in the football office after all the bowl games, and at that time I think (assistant coach) Norm Chow came out - 'Yeah, we're national champs.' There were probably 25 of us that (cheered) because we saw the voting and it was just different than today's world."
There was, of course, no on-field trophy presentation. The national champion played its final game nearly two weeks before it found out it had won. But it was still special and historic. It marked the lone national championship in Edwards' Hall of Fame career.
BYU's championship might have helped usher in the BCS era, and there's no doubt the current system would have made it harder for the Cougars to win it all.
Final AP poll from 1984
| Team | Record |
| --- | --- |
| 1. BYU (38) | 13-0 |
| 2. Washington (16) | 11-1 |
| 3. Florida (6) | 9-1-1 |
| 4. Nebraska | 10-2 |
| 5. Boston College | 10-2 |
| 6. Oklahoma | 9-2-1 |
| 7. Oklahoma State | 10-2 |
| 8. SMU | 10-2 |
| 9. UCLA | 9-3 |
| 10. USC | 9-3 |
Since the creation of the BCS - and its replacement, the College Football Playoff - teams that have made BYU-type runs have not had a chance to play for a championship. In 1998, an undefeated Tulane finished 10th in the final BCS poll and was sent to the Liberty Bowl (where it defeated BYU); Utah went undefeated in 2004 and 2008 as member of the Mountain West Conference; Boise State completed undefeated seasons in 2006 and 2009; TCU ran the table in 2010; UCF did so in 2017. None had the chance to play for a title - and none were ranked No. 1 at season's end.
Thirty-six years later, BYU remains the last non-power school to celebrate a national title. It might be that way for a while, making what the Cougars accomplished more special by the year.
"Anybody can argue that with us but I think if you look at it, and you're honest, the reason we had a BCS and the playoff system and all the other stuff now is because the little school that wasn't supposed to win a national title won a title," said Mills, who is now a high school football coach in Illinois. "The people with money and power would not like to see that happen again so they set up the playoff (to) prove it on the field. Which as an athlete, that's all we ever wanted."
Mark Cooper is theScore's NCAA writer.