Taking Stock: Is Lundqvist's storied career really going to end this way?
Jared Silber / Getty Images
The NHL's indefinite hiatus gives us an opportunity to take stock of the league's most fascinating figures. Last week, we explored Auston Matthews' goal-scoring prowess. This week, we tip our cap to Henrik Lundqvist's illustrious career while trying to make sense of its messy ending.
Around this point last year, Henrik Lundqvist was back in his native Sweden, digesting a weird season.
The 2018-19 campaign featured an encouraging first half but a disappointing second one, during which the future Hall of Famer endured one of the toughest stretches of his career. The New York Rangers, the team that drafted him in 2000, were in a state of flux. And so was he.
By September, Lundqvist was refreshed and upbeat during the annual preseason player media tour in Chicago. When asked if he expected to be around for the anticipated "good times" at the end of the Rangers' overhaul (a promising rebuild which began with a famous open letter to fans in February 2018), Lundqvist responded positively.
"I just couldn't picture myself anywhere else, so when they told me what was going to happen, it was like, 'OK, let's battle through it,'" Lundqvist said of his discussions with Rangers management, adding that he was focused solely on the season ahead and not beyond.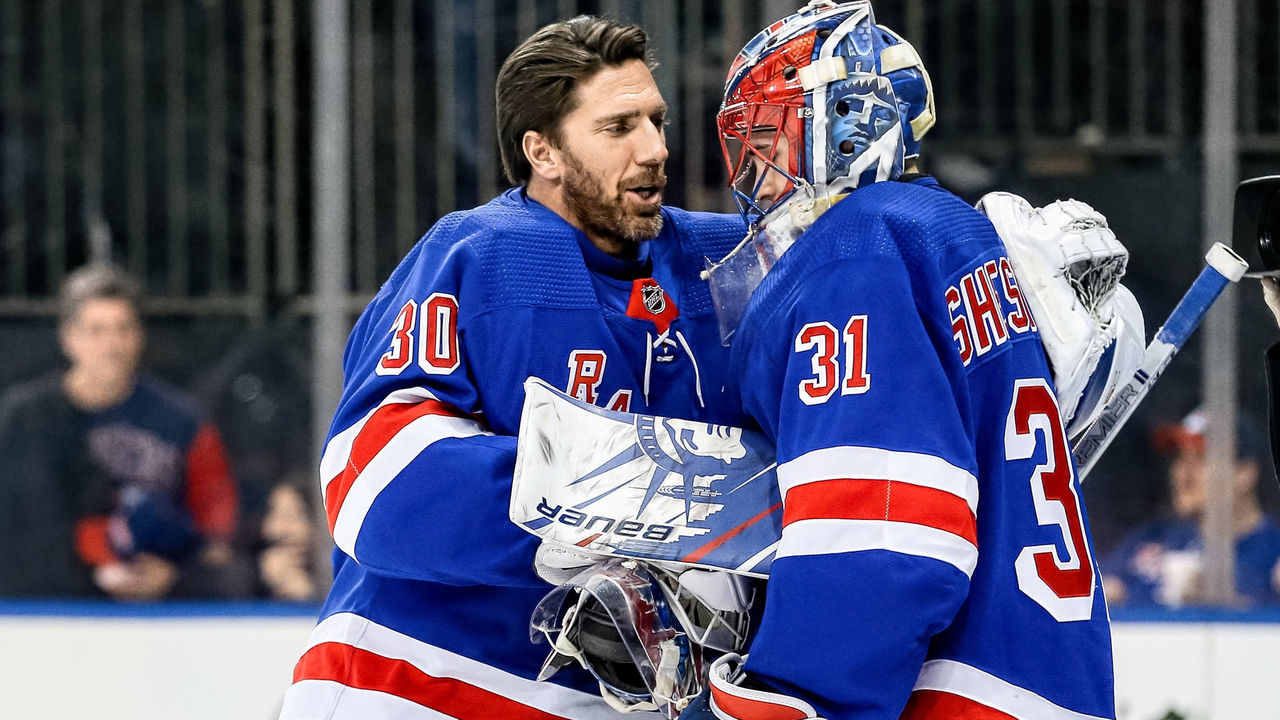 Fast forward to today and Lundqvist's future in New York can be described as murky at best. He carries an $8.5-million cap hit, yet he sits behind 24-year-olds Igor Shesterkin and Alexandar Georgiev on the depth chart. Lundqvist, a franchise legend with one year remaining on a seven-year deal, has become redundant.
Lundqvist will undoubtedly be a first-ballot Hall of Famer when he retires. He's arguably the second-best European-born goalie to ever play in the NHL, behind Dominik Hasek. Along with Marc-Andre Fleury, Carey Price, and Roberto Luongo, Lundqvist is firmly in the conversation for the best goalie of the salary-cap era, which goes back to 2005-06. Unconvinced? Here are the cold, hard facts:
Since 2005-06, his rookie year, Lundqvist ranks first in games played (887), second in wins (459), first in saves (23,509), tied for sixth in save percentage (.918, minimum 250 games), and first in shutouts (64).
Lundqvist ranks eighth all time in games played, sixth in wins, sixth in saves, tied for 12th in save percentage, and 16th in shutouts.
He earned his lone Vezina Trophy (while finishing third in Hart Trophy voting) in 2011-12. He's accumulated a total of seven top-five finishes in Vezina voting, including a runner-up honor in 2012-13.
Lundqvist has not only been a durable and tireless netminder but also a remarkably consistent puck-stopper. Goalies can be hot one season and cold the next, but not Lundqvist - for the most part, anyway. He's strung together 12 good-to-great seasons, finishing below the league-wide average in save percentage in just three of his 15 campaigns.
The seventh-round pick (205th overall) by New York enjoyed a long peak. From 2009 to 2013 (the entirety of John Tortorella's solid but unspectacular tenure behind the Rangers' bench), Lundqvist posted a cumulative .924 save percentage and a .611 quality start percentage while racking up 25 shutouts. He was nearly unbeatable at even strength, posting year-over-year save percentages of .929, .930, .933, and .937.
How much heavy lifting was Lundqvist doing for those teams? Let's look at goals-saved above average, or GSAA, for guidance. GSAA is an advanced metric that calculates the number of goals a goalie prevents, using his save percentage and shots faced against the league average save percentage and shots faced. Lundqvist's prime years stack up quite well:
| Season | GP | GSAA | NHL rank |
| --- | --- | --- | --- |
| 2009-10 | 73 | 20.13 | 6th |
| 2010-11 | 68 | 19.18 | 6th |
| 2011-12 | 62 | 28.57 | 2nd |
| 2012-13 | 43 | 16.81 | 3rd |
Shortly after Lundqvist's peak, the Blueshirts experienced a run of success. New York lost the 2014 Stanley Cup Final in five games to the Los Angeles Kings and then bowed out in the 2015 Eastern Conference Final in seven against the Tampa Bay Lightning. Overall, the Rangers have made the postseason in 11 of the 14 years that Lundqvist completed.
Lundqvist's individual and team success - despite the missing Cup ring, he owns an Olympic gold medal and world championship gold medal - makes him a true hockey icon. But what takes his status to the next level, in terms of worldwide appeal, is an affable off-ice persona. Lundqvist reached the pinnacle of his profession, and he's also kind and handsome. Multitalented. Fashionable. Charitable.
"His nickname is King," Chris Jones of ESPN wrote ahead of the 2016 World Cup of Hockey. "He has a picture-perfect family and a seven-year, $59.5-million contract. He has fabulous taste in clothes and a body like a mannequin. For a hobby, he decided to learn to play guitar. Now he's good at playing the guitar, because of course he is. I go through the first six stages of grief just thinking about Lundqvist and his gifts. I never reach the mythical seventh stage, acceptance. I just go back to disbelief and start the vicious cycle again."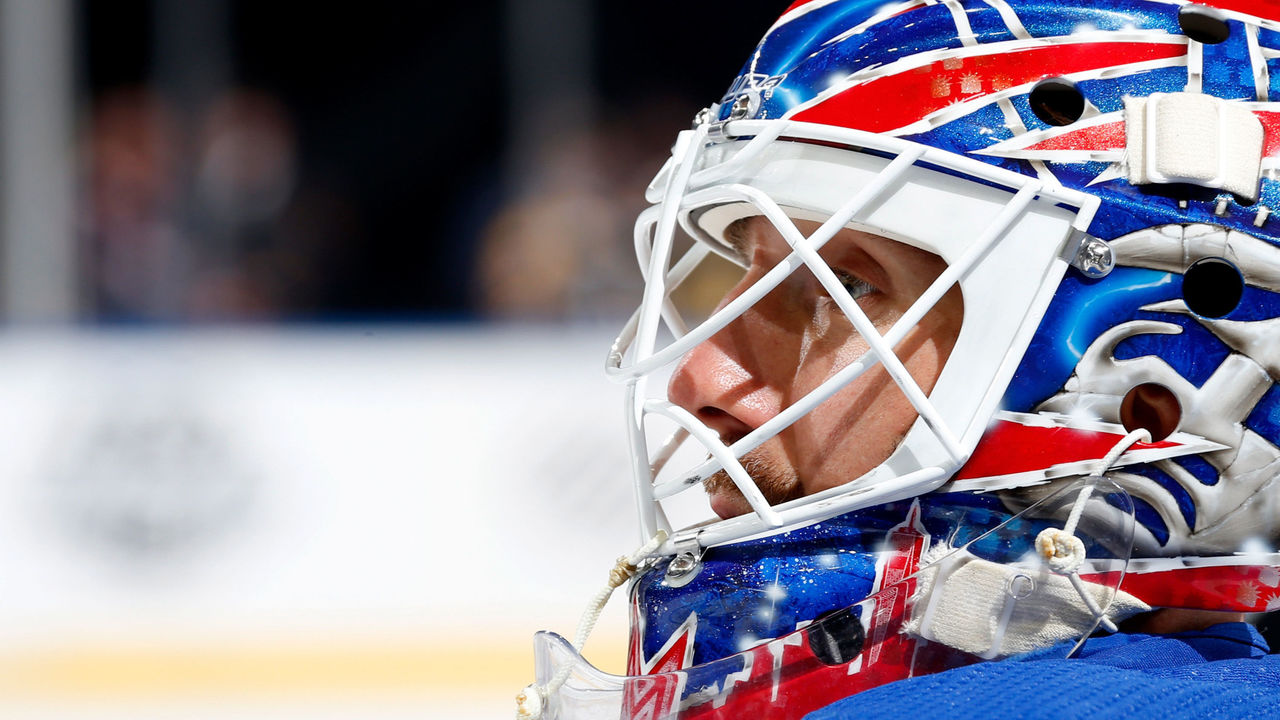 The problem is, Lundqvist's off-ice mystique doesn't erase the fact that his last two seasons between the pipes - at ages 37 and 38 - have been trying. His ability to stop pucks hasn't disappeared altogether (his .905 save percentage this year isn't that bad), but there's no question it's diminished. All players have an expiry date, and there's always someone waiting to take your place. In this case, it's Shesterkin and Georgiev.
Shesterkin, a fourth-round pick in the 2014 draft, appears to be the heir to Lundqvist's throne. His transition from the KHL, in which he dominated for three-plus seasons, has been seamless. The Russian first posted a .934 save percentage in 25 games for AHL Hartford and then stopped 395 of 424 shots for a .932 save percentage in 12 NHL contests. The only hiccup was a car accident that sidelined him for six games.
Georgiev, meanwhile, has seen the most action out of New York's three goalies, appearing in 34 games, including 10 of the Rangers' final 20 before the season was paused. He has a .910 save percentage overall and a team-high 17 wins. In other words, excellent, cost-controlled insurance for Shesterkin, who's on track for superstardom.
Lundqvist, who's appeared in 30 games this season, played only five times in nearly six weeks after Feb. 1.
It's always a little awkward when a star athlete's greatness starts to wane. It's infinitely more awkward when that athlete is sidelined in full view of his adoring fans.
The abrupt halt to the season has put the awkwardness on hold, but it also postponed a resolution. So how does this end?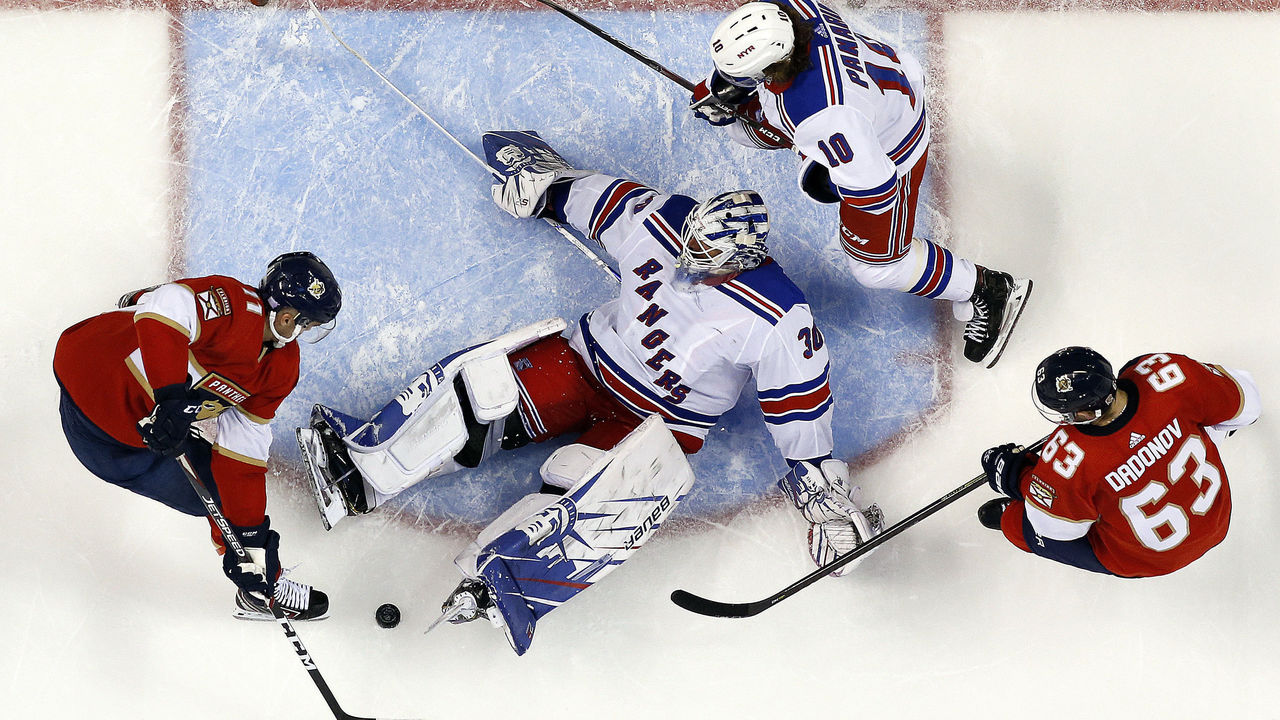 Lundqvist is most likely on his way out of the organization despite having one year remaining on his deal, according to Larry Brooks of the New York Post.
"Unless something unforeseeable develops over the next few months, I cannot conceive of Lundqvist returning to the Rangers next season," Brooks wrote on Tuesday.
Rangers general manager Jeff Gorton and head coach David Quinn have leverage, with a potential amnesty buyout possibility and the authority to sit Lundqvist whenever they please. It doesn't benefit anyone to continue using a team icon as the third-string goalie, so something has to give this offseason. Maybe that comes from Lundqvist, who holds the power of a no-move clause - he could loosen his grip on that or even retire after being bought out.
Still, there are Lundqvist's words from six months ago: Can't picture him anywhere else.
John Matisz is theScore's national hockey writer
Comments
✕
Taking Stock: Is Lundqvist's storied career really going to end this way?
  Got something to say? Leave a comment below!