These articles aren't intended to be rankings or tiers for drafting. The goal is to review what we learned during the 2019 fantasy campaign and offer a glimpse of what's to come next season.
You can view our complete wide receiver rankings here.
2019 Fantasy reviews
Can't guard Mike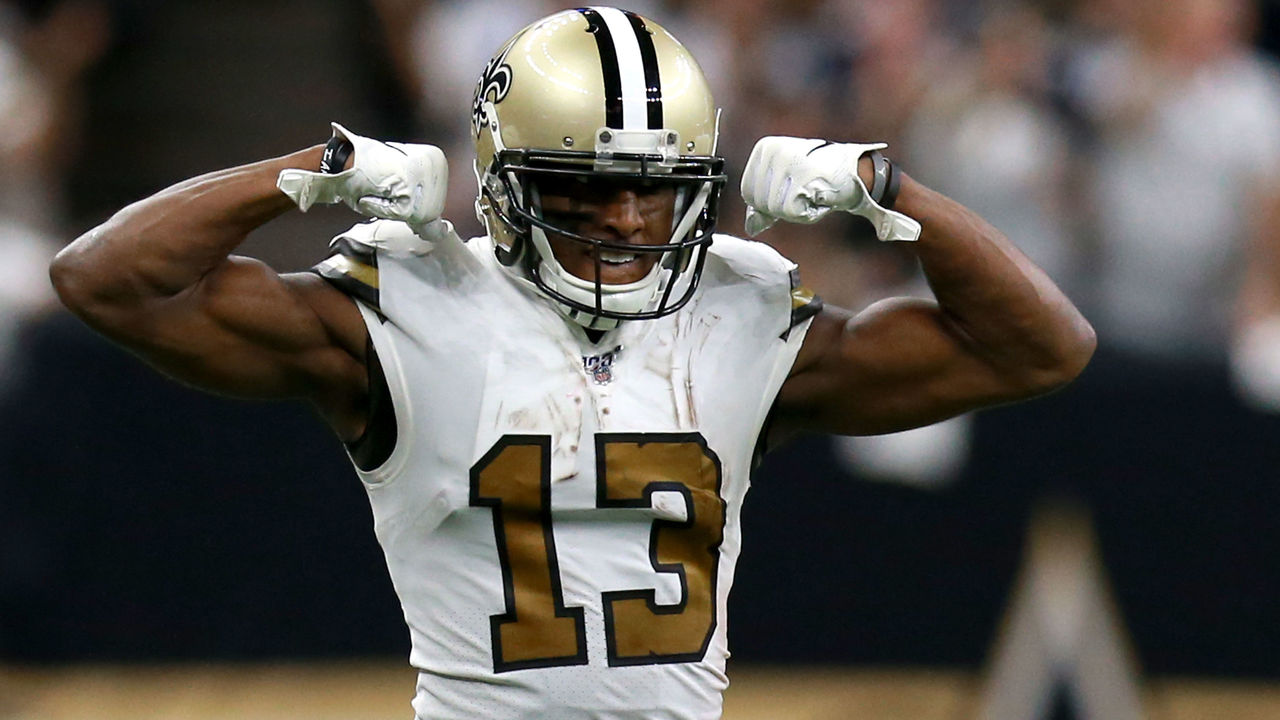 Michael Thomas, Saints - Since being drafted by New Orleans, Thomas has finished as the WR7, WR6, WR6, and this year reached the top of the mountain as the highest-scoring fantasy wideout in 2019. Even when Drew Brees missed time during the season, Thomas' numbers were basically unaffected thanks to his incredible volume of 185 targets and a catch rate of over 80%. He should be the first receiver selected in fantasy drafts and warrants consideration as a top-five pick.
Elite squad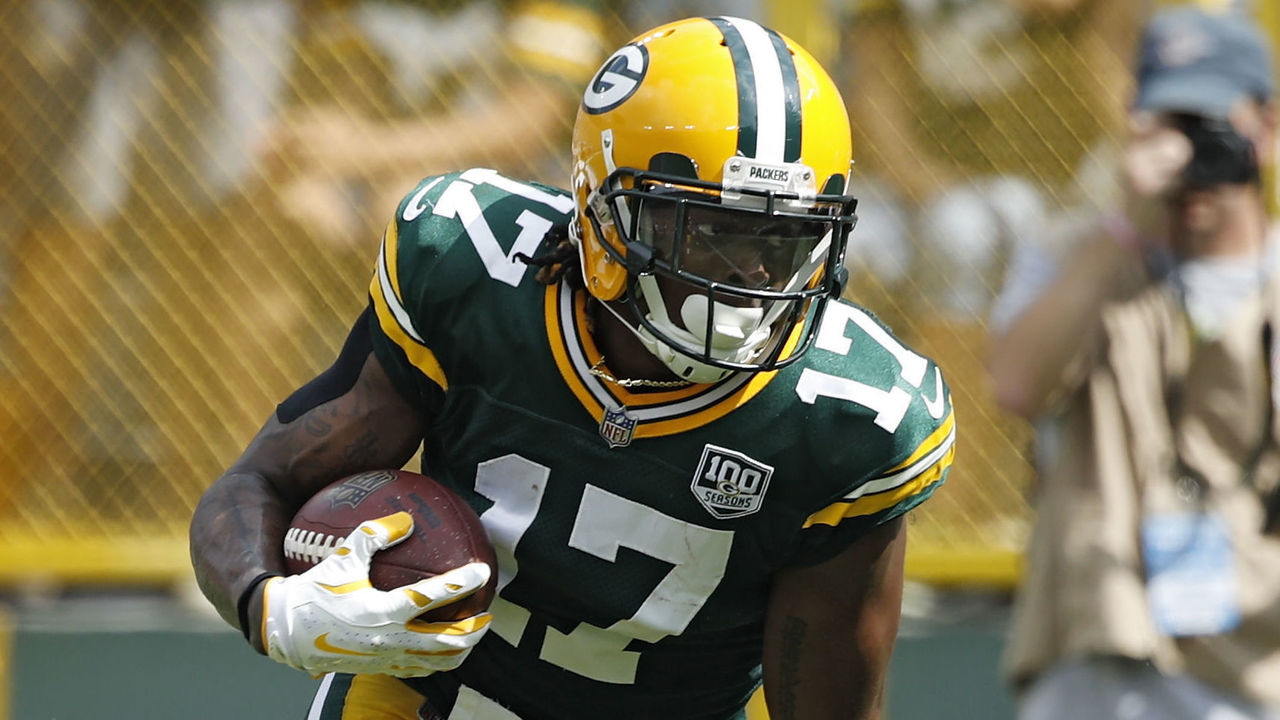 Davante Adams, Packers - After being the top-scoring fantasy receiver on a per-game basis in 2018, Adams dealt with injuries and ultimately sat out a month during the first half of 2019. When he returned in Week 9, Aaron Rodgers' favorite weapon had 100 yards and/or a touchdown in eight of his last 10 games, including two playoff contests where he racked up 17 receptions, 298 yards, and two scores. A healthy Adams isn't far behind Michael Thomas in fantasy.
DeAndre Hopkins, Texans - Hopkins had a few more down games than fantasy owners expected, especially early in the season when he went five weeks without crossing the goal line while failing to eclipse 90 yards in any of those outings. His status as one of the NFL's best pass-catchers isn't in question, but the Texans may need to surround Hopkins with more reliable talent at the skill positions to prevent defenses from keying on him.
Julio Jones, Falcons - As his 31st birthday approaches, Jones is as consistent as they come. In fact, he's in the midst of an unbelievable six-year run that's seen him post the following year-end stat lines, which speak for themselves:
| Year | Rec. | Yards | TDs |
| --- | --- | --- | --- |
| 2014 | 104 | 1593 | 6 |
| 2015 | 136 | 1871 | 8 |
| 2016 | 83 | 1409 | 6 |
| 2017 | 88 | 1444 | 3 |
| 2018 | 113 | 1677 | 8 |
| 2019 | 99 | 1394 | 6 |
Tyreek Hill, Chiefs - A shoulder injury in Week 1 sidelined the "Cheetah" for five weeks, but he immediately began producing when he returned to action. His unrivaled speed, paired with Patrick Mahomes' arm, makes Hill one of the league's most dangerous game-breakers. While the story of his season has yet to be completed, it should be noted that Hill hasn't had a 100-yard performance since suffering a midseason hamstring ailment. However, barring an injury in the Super Bowl, it's tough to rank Hill outside the top-five fantasy receivers in 2020.
Choose your Buc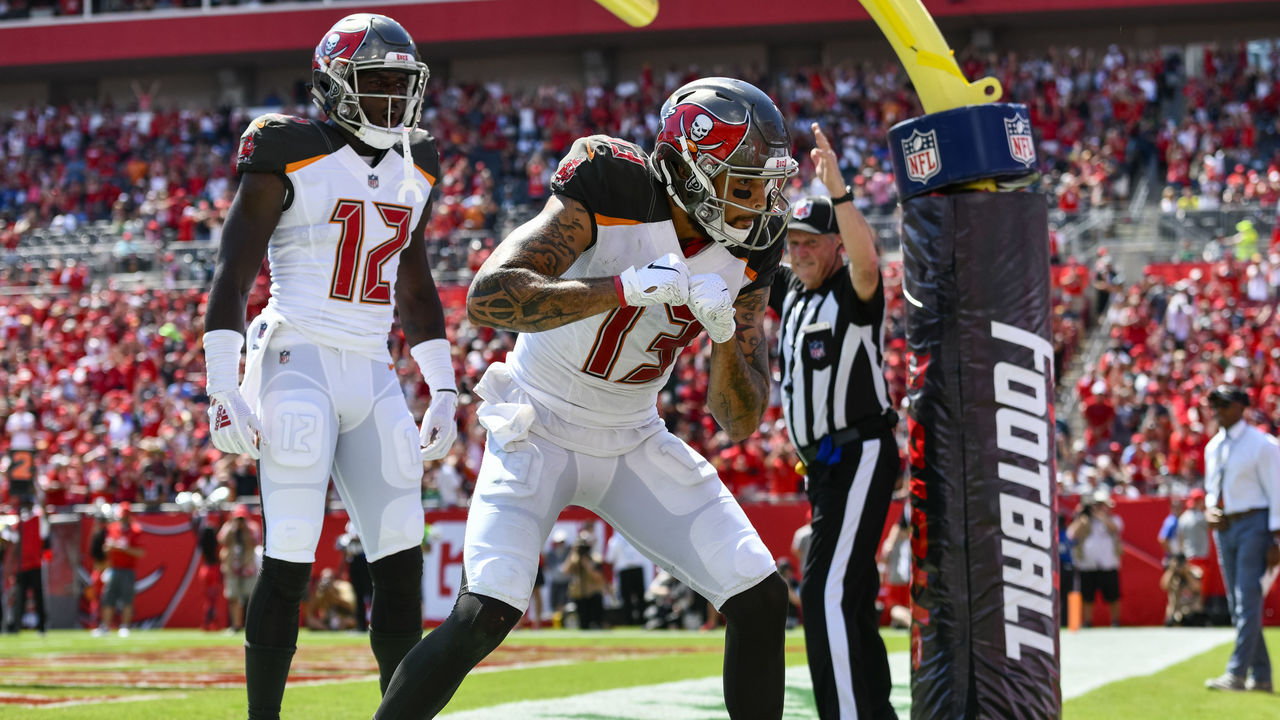 Mike Evans/Chris Godwin, Buccaneers - Despite missing two games, Godwin scored the second-most fantasy points among receivers in 2019, while Evans finished 12th. Finally given full-time snaps, Godwin's breakout was something everyone saw coming, but Evans still has a longer track record of success, being just the second receiver ever to start his career with six straight 1,000-yard seasons. For all the time wasted arguing over which Bucs wideout is the better fantasy option, can't we just be content that they're both mid-range WR1s?
Flirting with free agency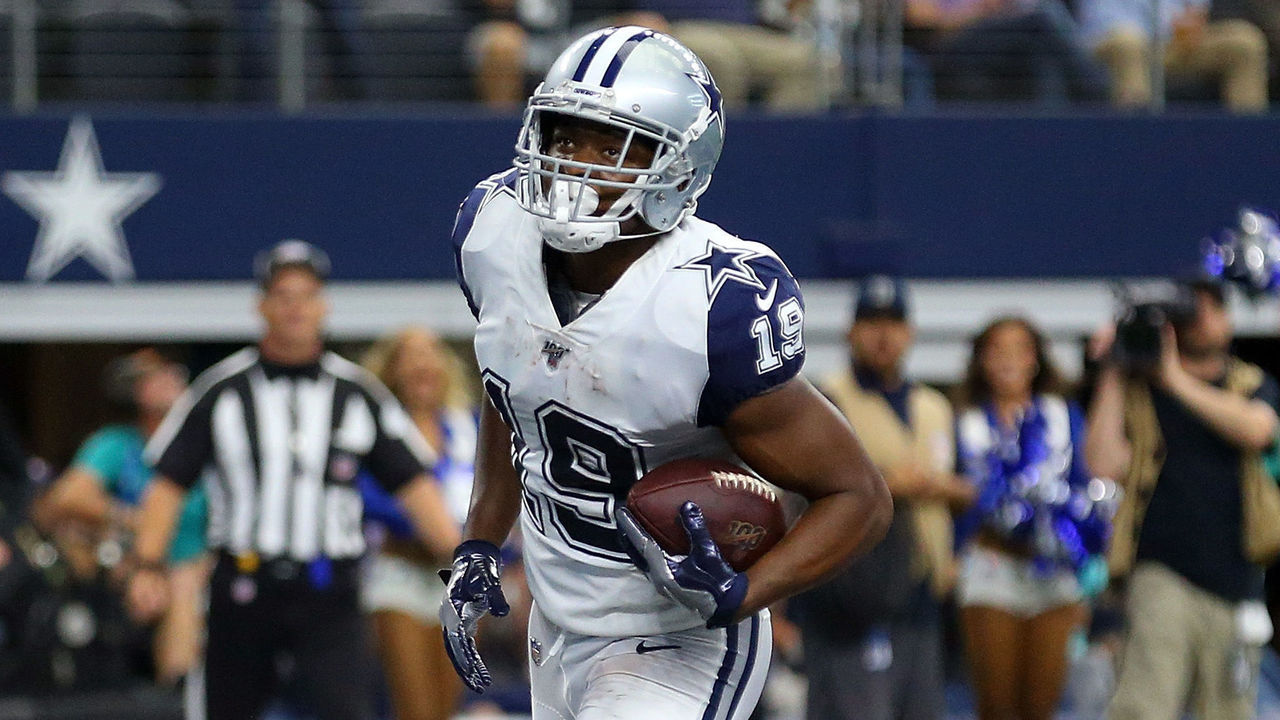 Amari Cooper, Cowboys - Injuries were a problem for Cooper for the entire 2019 season, so it's impressive he was able to amass 1,189 yards and eight touchdowns on 79 receptions. Rostering the Cowboys' star wideout in fantasy isn't without its frustrations, as the 25-year-old continues to put up bigger numbers on home turf than on the road. Regardless, we can lock him in as a top-10 wideout, and one Jerry Jones will find a way to keep in the offseason.
A.J. Green, Bengals - Once a surefire WR1, Green's fantasy value is up in the air heading into next season. He didn't play a single snap in 2019, and after missing seven games in 2018 and six in 2016, the 31-year-old's health needs to be taken into account for any fantasy projection. We're also waiting to find out which jersey he'll be donning come Week 1, though the Bengals have expressed a strong desire to bring him back.
Robby Anderson, Jets - Becoming an unrestricted free agent might be the best thing that's ever happened to Anderson's career, since he'll have the ability to escape from Adam Gase. Anderson has all the tools to be an impact player in a good offense, and for his sake, let's hope he signs with a team that's willing to take advantage of the skills he's only been able to flash during his time with the Jets.
Emmanuel Sanders, 49ers - The 32-year-old surprised us all by returning from an Achilles tear, suiting up in Week 1, and posting over 85 yards in three of his first four games. He was eventually traded from the Broncos to the 49ers, where his production declined as the year went along, outside of a couple of notable performances. With so much young receiver talent across the league and in this upcoming draft class, Sanders will be way down my board in 2020.
Next wave of stars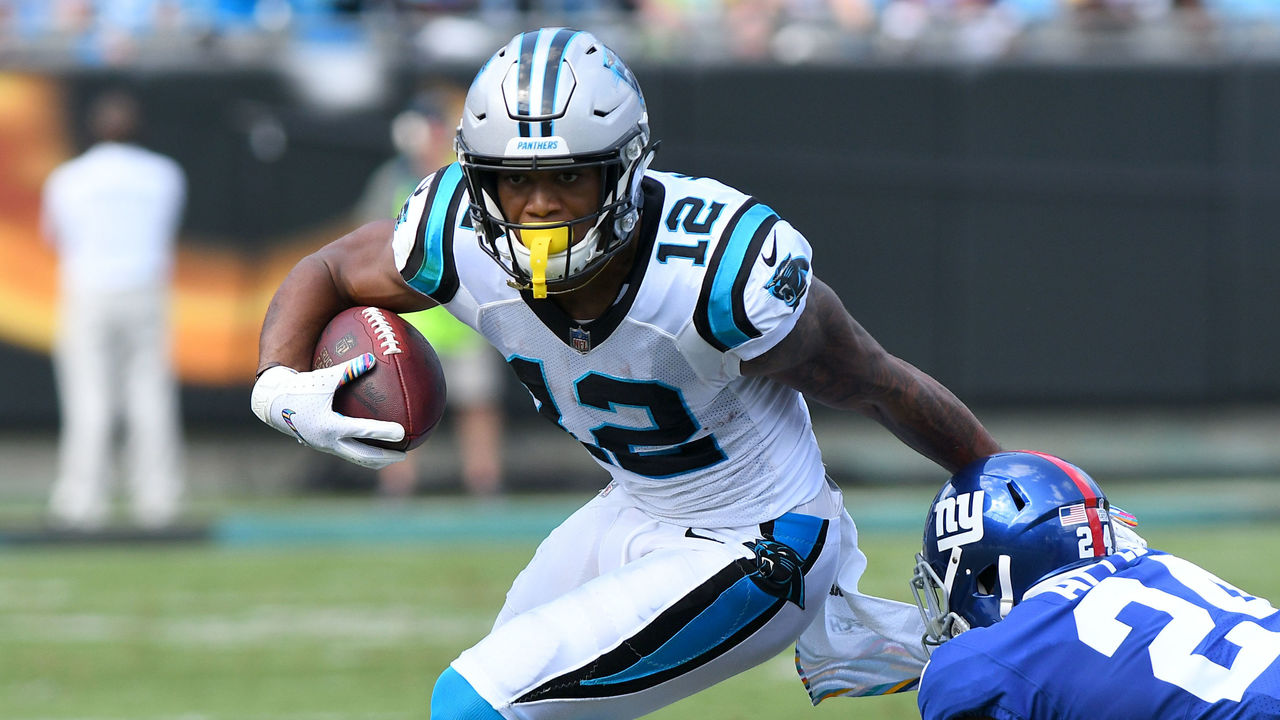 DJ Moore, Panthers - The fantasy community is guilty of overhyping players all the time, but Moore isn't getting nearly enough love. A sophomore who recorded 87 receptions and 1,175 yards while catching passes from a backup-level quarterback in Kyle Allen needs to be acknowledged. Moore's situation is only going to improve with a new offensive coaching staff taking over, and, presumably, more competent quarterback play. His low touchdown total (4) may cause some fantasy owners to misjudge his ceiling. Don't be one of them. Moore came in ninth among receivers in my initial 2020 rankings.
Courtland Sutton, Broncos - Similar to DJ Moore, Sutton was able to overcome subpar quarterback play from the likes of Joe Flacco, Brandon Allen, and a very green Drew Lock en route to a breakout season with 72 grabs, 1,112 yards, and six touchdowns. His lone bad outing came against Bills star corner Tre'Davious White, a matchup most receivers struggled in. Sutton is a force that's here to stay as a WR2 in fantasy, especially if Lock gets more comfortable in the offense.
A.J. Brown, Titans - The first-rounder only saw more than eight targets in one game as a rookie and was normally held to five or less. He still delivered stat lines of 4-81-0, 4-135-1, 5-153-2, 8-114-1, and 4-124-1 as he transitioned to more of a full-time role down the stretch. Brown is a bonafide star who will have fantasy managers climbing over each other to draft him as a WR2 in 2020.
Bounce-back candidates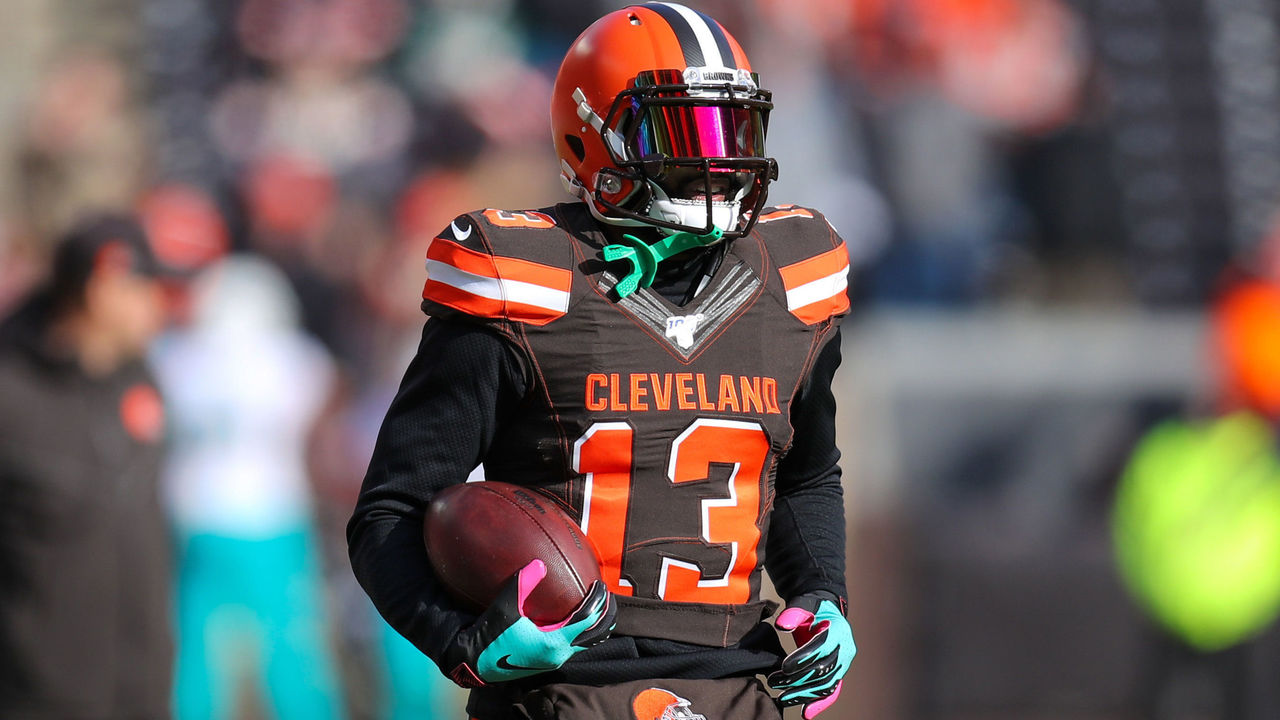 Odell Beckham Jr., Browns - The move to Cleveland didn't exactly pan out as many in the fantasy community had expected for Beckham, who's coming off his worst year as a pro outside of the 2017 campaign when he suited up in just four games. We don't know how much of the blame can be placed on Beckham's core muscle injury that required surgery after the season, but this is an instance where we can rely on historical data and hope that better health and a new coaching staff can get him back on track as a top-10 wideout.
Adam Thielen, Vikings - The 29-year-old's fantasy stock has declined due to an injury-plagued season. However, when healthy, Thielen has operated as the Vikings' top receiver. Most recently, he received more targets than teammate Stefon Diggs by a margin of 16-8 during Minnesota's two playoff games. He also scored the same amount of touchdowns as Diggs in the regular season, despite making five fewer appearances and missing large chunks of a couple of other contests. Concerns regarding a lack of volume in the Vikings' passing attack are real, but Thielen has done a better job of overcoming that issue. Assuming he's healthy, Thielen remains among my top-20 receivers.
Brandin Cooks, Rams - Cooks' streak of four straight 1,000-yard campaigns came to an end in 2019 as he became unplayable in fantasy. His season-long totals of 42 catches, 583 yards, and two touchdowns look bad, but even worse is the fact he didn't crack 60 yards in a single game after the first month. The emergence of tight end Tyler Higbee as a viable pass-catcher will make it even more difficult for Cooks to get back in our good graces.
Passing problems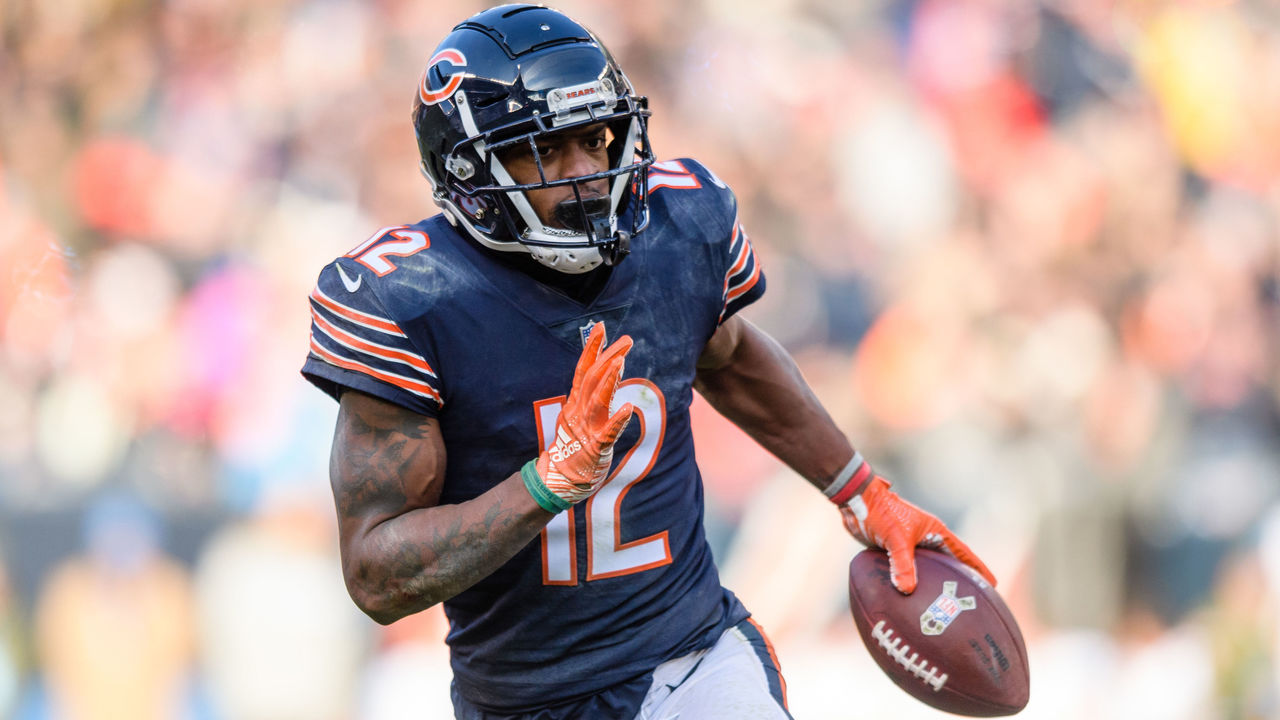 Allen Robinson, Bears - Mitchell Trubisky's up-and-down performances didn't shake Robinson, who survived on talent and volume. The Bears' No. 1 threat was third in the league with 154 targets and often slid into the slot, avoiding the challenging coverage that lurks on the outside. The result was a top-12 finish and a renewed sense of confidence in Robinson.
T.Y. Hilton, Colts - Jacoby Brissett did an admirable job taking over after Andrew Luck's surprise retirement, but his ceiling was evident as the year progressed. Hilton's strong start was largely touchdown-based, and when injuries sapped his effectiveness later in the season, he was unable to maintain any sort of fantasy production. Hilton should be fully recovered come Week 1, we'll just need to see who the Colts have under center before we get too excited about his fantasy outlook.
Terry McLaurin, Redskins - If it weren't for the uncertainty at quarterback in Washington, McLaurin could be ranked as a high-end WR2 alongside other young stars like DJ Moore, Courtland Sutton, or A.J. Brown. Unfortunately, once Dwayne Haskins was given the starting job, the rookie passer's accuracy issues prevented McLaurin from reaching his full potential, which is saying something since he still racked up 50 yards and/or a touchdown in 10 of his outings. The upside is here for McLaurin to be a difference-maker if you're willing to take a chance on the Redskins' offense improving in 2020.
Quarterback question marks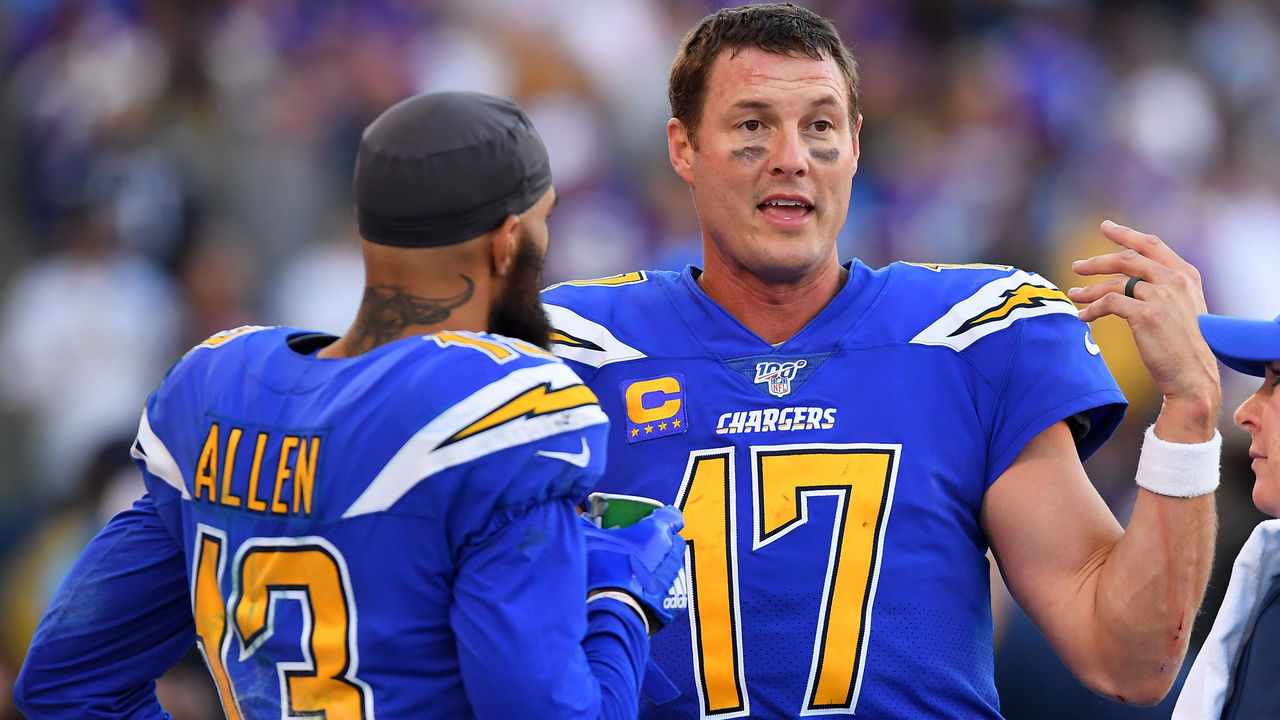 Keenan Allen, Chargers - Philip Rivers' future with the Chargers is up in the air. If he does ultimately leave L.A., that could end up being a positive for the organization in the long term, since Rivers' arm looked cooked during his 20-interception campaign. However, Allen has benefited from Rivers' checkdowns, as he's put up at least 97 receptions, 1,196 yards, and six touchdowns in each of the last three seasons. Finding a replacement won't be easy, making Allen a more volatile fantasy WR2 for the upcoming year.
Julian Edelman, Patriots - The 33-year-old was a top-five fantasy receiver before injuries slowed him down in the final month. Now he faces a possible future without Tom Brady leading the Patriots' offense. Though it still seems hard to imagine Brady signing elsewhere, Edelman's value would take a hit without the quarterback he's caught passes from his entire career.
JuJu Smith-Schuster, Steelers - Unlike Rivers and Brady, Ben Roethlisberger is expected to return to the only team he's ever played for. When that will happen and what shape Big Ben will be in following elbow surgery remains to be seen. The Steelers don't have a timeline for when he'll be able to practice, and with his 38th birthday approaching in March, it's understandable to question whether there will be a decline as he comes back from such a serious injury to his throwing arm. As we witnessed this season, Smith-Schuster's value depends greatly on his veteran quarterback's health, so much so that JuJu falls into the high-end WR3 range if Roethlisberger's not in the lineup.
Deserving of more hype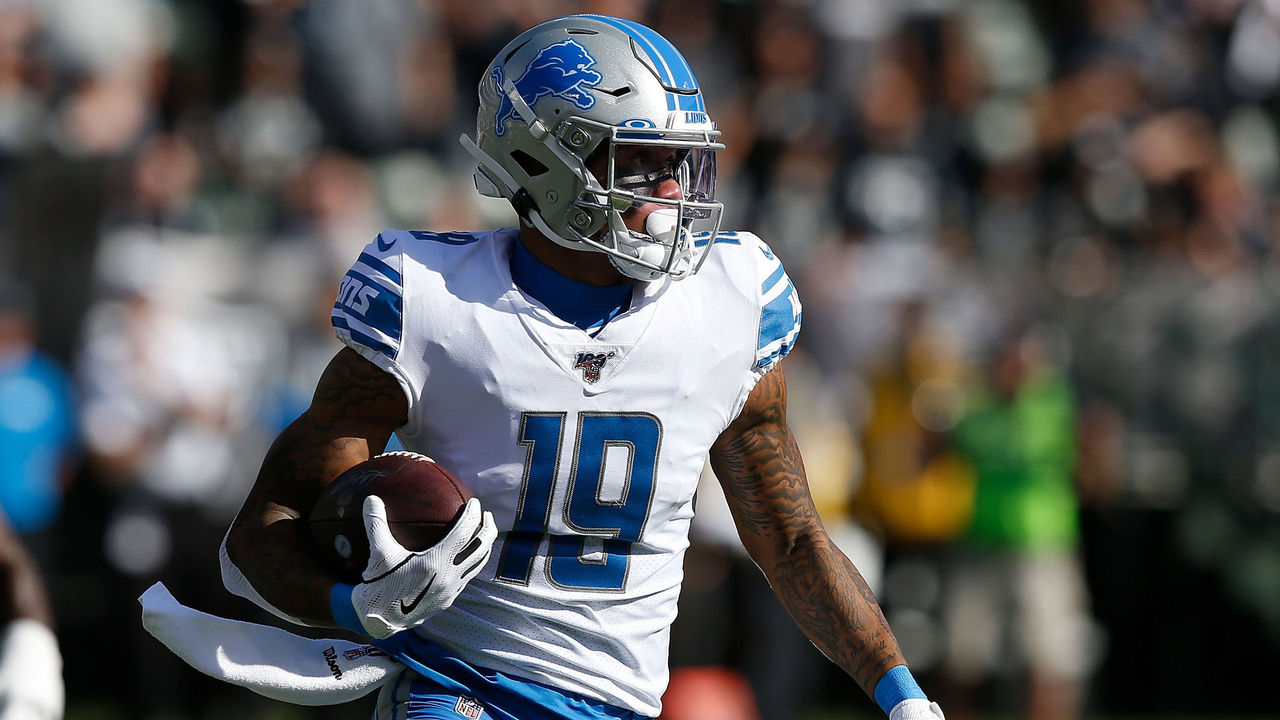 Kenny Golladay, Lions - While he was thrown to three fewer times than the year before, "Babytron" gained 127 more yards and more than doubled his trips to the end zone. Golladay's career year included 65 receptions, 1,190 yards, and a league-leading 11 touchdowns. Even with the impending return of Marvin Jones, Golladay is in the conversation as a borderline WR1 in fantasy.
Robert Woods, Rams - Mixed results in the first half of the season were forgiven after Woods' numbers shot back up over the final two months. The 27-year-old saw at least nine targets in each of the last seven weeks and scored the eighth-most fantasy points among receivers during that time. Hopefully, his limited touchdown production will keep fantasy owners off the scent of a player with top-15 upside.
John Brown, Bills - A regular among the leaders in air yards, Brown finally found the right opportunity in Buffalo, serving as Josh Allen's No. 1 receiver. The duo connected instantly and Brown displayed a remarkable floor with at least 50 yards in 13 of his 16 games, including the Bills' playoff loss, securing him a spot in my top-20 fantasy wideouts.
Tyler Lockett, Seahawks - Lockett was never going to repeat his 2018 numbers from an efficiency standpoint, but Doug Baldwin's departure pushed 40 more targets his way. That led to 82 catches and 1,057 yards - both career bests - and locked him in as an intriguing low-end WR2 attached to one of the top quarterbacks in the game.
Consistency issues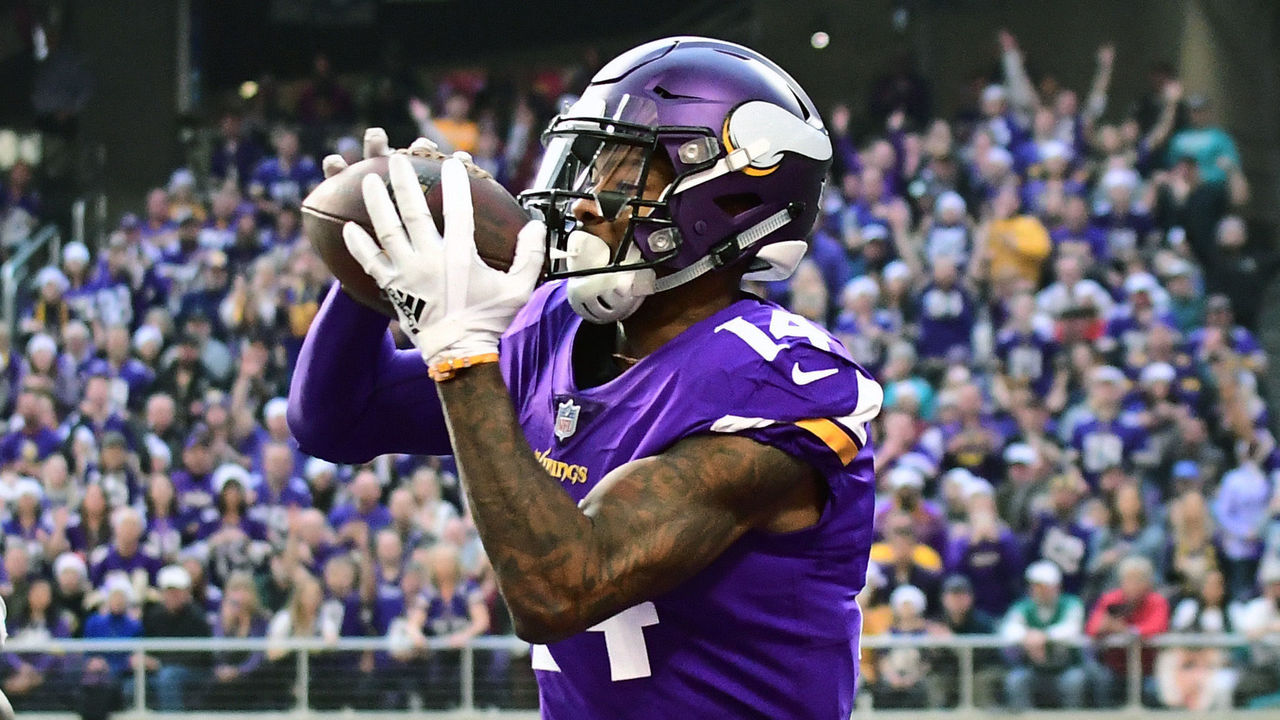 Stefon Diggs, Vikings - Unable to establish himself as a No. 1 receiver during Adam Thielen's injury absence in 2019, fantasy owners will be forced to make a tough decision regarding Diggs' 2020 value. His route running is phenomenal, but it only led to a few spiked weeks, as the Vikings were more than willing to let their rushing attack carry the offensive load. Diggs has taken a back seat whenever Thielen is healthy, and there's no reason to believe that will change next year, making Diggs a fringe WR2.
Cooper Kupp, Rams - Kupp's year-end totals look great, with 94 receptions, 1,161 yards, and 10 touchdowns. However, he accumulated most of his yardage in the first half of the season, with his numbers trailing off considerably after the Rams' Week 9 bye. Aside from a late-season touchdown streak, which slightly salvaged his production, Kupp wasn't a set-it-and-forget-it fantasy starter, as he went seven straight games without topping 65 yards. With Robert Woods and Tyler Higbee demanding targets and Brandin Cooks looking to rebound, Kupp suddenly takes on more risk as a fantasy WR3.
Mike Williams, Chargers - Touchdowns can be fluky, and though we expected some regression after Williams scored on 10 of his 43 grabs in 2018, no one thought that number would drop to just two in 2019. His first 1,000-yard campaign was promising, but until we know who's throwing the ball for the Chargers in 2020, Williams' projections are a moving target.
Dede Westbrook, Jaguars - A year after leading the Jags in receiving yards, Westbrook was barely fantasy relevant in 2019 with 660 yards and just three touchdowns. If you're looking to invest in Jacksonville's passing weapons, you should set your sights on DJ Chark before lowering the bar and considering Westbrook.
Are they for real?
DeVante Parker, Dolphins - Parker's long-awaited 1,200-yard, nine-touchdown breakout campaign came with an assist from Ryan Fitzpatrick, who had tunnel vision for his top pass-catcher. Double-digit targets were a regular occurrence with Fitzmagic at the helm, which leaves us wondering whether a quarterback change could hurt Parker's upside. His performances in tough matchups against the Bills (5-55-1 in Week 7 and 7-135-0 in Week 11) and Patriots (8-137-0) provide hope that Parker will be an annual WR2 moving forward.
DJ Chark, Jaguars - It will be interesting to see where the fantasy community settles on Chark's value. After all, 73 receptions, 1,008 yards, and eight touchdowns earned him admission into the top-20 receivers club, even though most of his production was earned in the first half of the season. Injuries and quarterback changes contributed to his slow finish, but his development from Year 1 to Year 2 was evident. The arrival of a proven offensive coordinator like Jay Gruden is another reason to remain bullish on Chark.
DK Metcalf, Seahawks - The debate over whether Metcalf's skills would translate to the pros has been decided. With 50 yards and/or a touchdown in 15 of his 18 outings - including the playoffs - the rookie is a WR3 with room to grow. Don't be scared off by the Seahawks' run-first offense - Metcalf is legit.
Christian Kirk, Cardinals - Kirk missed three contests due to injury but averaged the 18th-most targets on a per-game basis. If you're looking to buy into the Kyler Murray-led offense - and you should - then Kirk is a smart place to start.
Darius Slayton, Giants - Spiked weeks - such as Slayton's stat lines of 10-121-2 and 5-154-2 in 2019 - tend to have a lasting effect on the minds of fantasy managers. Just remember that the Giants' pass-catching corps was rarely at full strength during the season. The competition for targets will be more fierce when Sterling Shepard, Golden Tate, Evan Engram, and Saquon Barkley - along with Slayton - are all on the field together.
Overqualified second options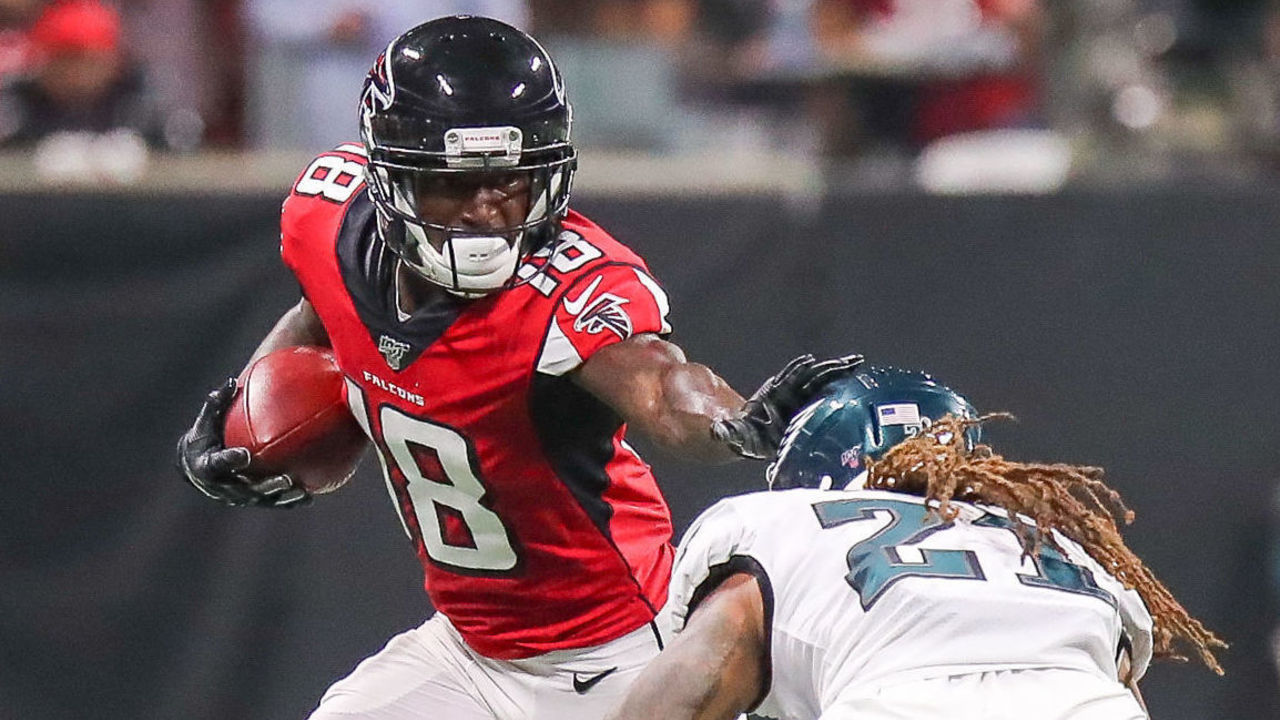 Calvin Ridley, Falcons - The second-year pro was on pace for a 1,000-yard season and might have hit double-digit touchdowns for the second straight year if he hadn't missed time with an abdomen injury. Ridley excelled after the Mohamed Sanu trade and will pick up right where he left off as a fantasy WR2 come Week 1.
Jarvis Landry, Browns - Amidst a chaotic season in Cleveland, Landry performed quite nicely in the role he's more suited for - playing second fiddle. Landry was miscast as the Browns' lead receiver in 2018, but with Beckham drawing the most attention from defenses, Landry was able to improve his numbers across the board during his second season with the club. The list of No. 2 receivers more talented than Landry is very short, just don't get too attached to his 2019 stats, since an OBJ rebound is likely coming.
Michael Gallup, Cowboys - Recognizing Gallup's ability, the Cowboys nearly doubled his targets this season, and in turn, he doubled his production, culminating in a three-touchdown performance in Week 17. If Amari Cooper isn't re-signed, Gallup would be a top-15 fantasy option at the position. As it stands, he's an intriguing WR3 with week-winning upside.
Tyler Boyd, Bengals - Drafting Joe Burrow with the first overall selection in this year's draft would increase the ceiling for every skill-position player in Cincinnati. However, until we know what A.J. Green is doing in free agency, Boyd has to be viewed as a WR3 - albeit one who could quickly reach WR2 status if Green signs elsewhere.
Best is yet to come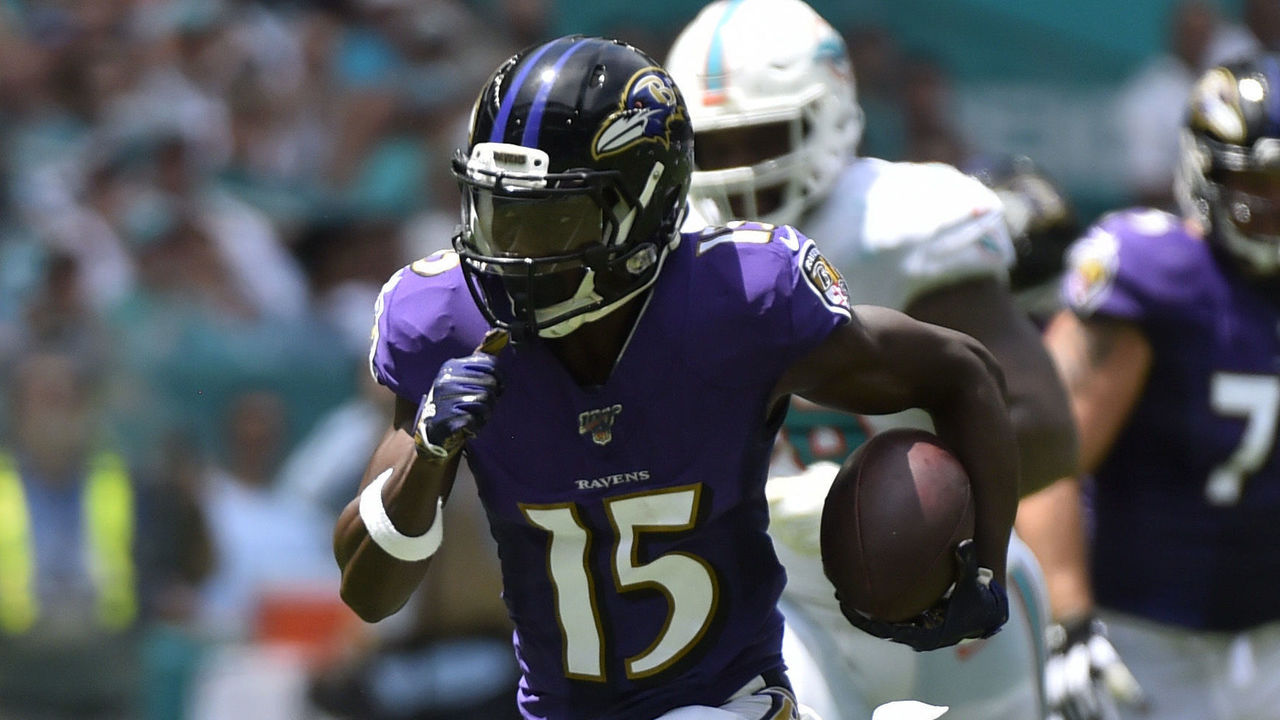 Marquise Brown, Ravens - After being drafted, "Hollywood" spent last offseason rehabbing from a Lisfranc injury. That robbed the rookie of valuable snaps in training camp. Now that we know what Lamar Jackson and the Ravens are capable of and have seen Brown make an impact in limited snaps, it's time to get excited. With a full offseason to build chemistry with Jackson and prepare for the 2020 campaign, Brown will be a part of every breakout list you read.
Deebo Samuel, 49ers - The rookie helped the 49ers reach the Super Bowl, but he might not be getting the credit he deserves. Samuel finished the year as the WR29 in half PPR leagues, aided by his rushing stats, which included 159 yards and three scores. Kyle Shanahan found ways to get the ball in his hands and Samuel delivered. From Week 9 on, he was a top-10 fantasy receiver in all formats. A big performance against the Chiefs could send his 2020 ADP skyrocketing.
N'Keal Harry, Patriots - Held under 30 yards in all seven of his appearances as a rookie, Harry now faces an uphill battle to prove he was worth the first-round pick New England used on him. The degree of difficulty could be ratcheted up even more if Tom Brady joins a new team.
Diontae Johnson, Steelers - Pittsburgh's front office has set the standard for finding and developing receiver talent. Johnson flashed enough in 2019 to believe he'll be next to emerge. Like Smith-Schuster, his fantasy value will depend on Roethlisberger returning to form.
Don't sleep on them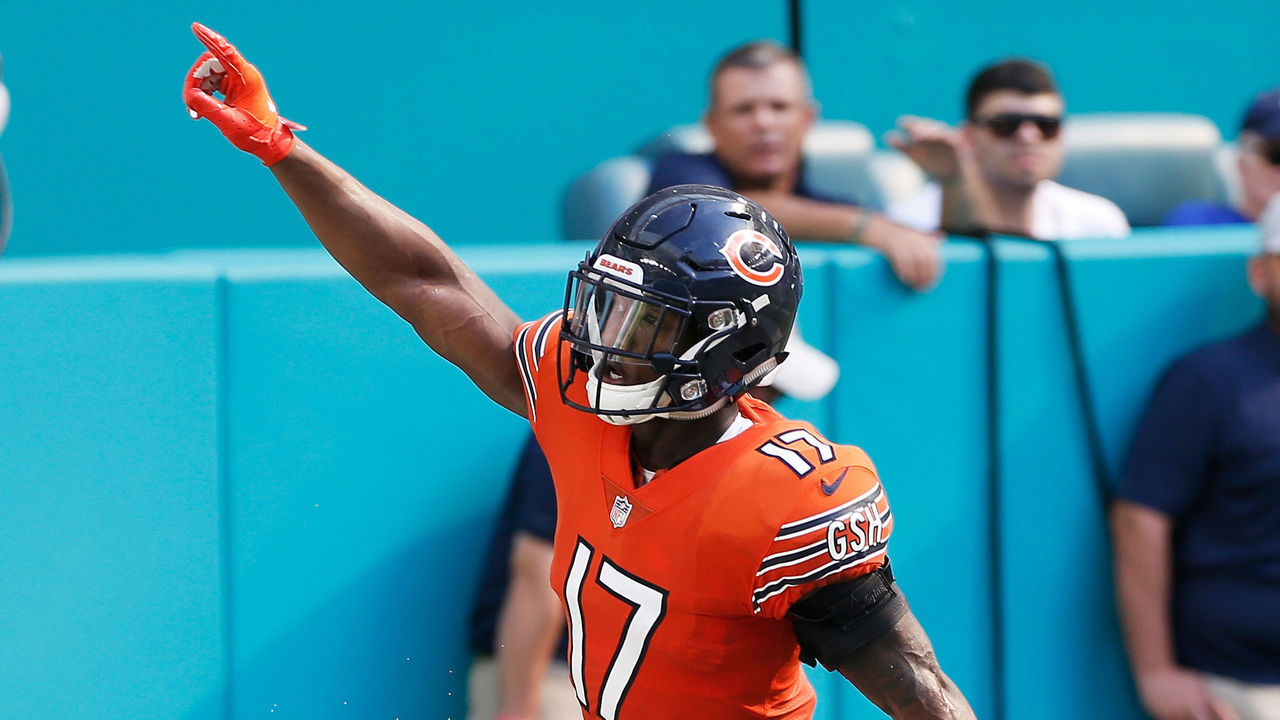 Anthony Miller, Bears - After scoring seven touchdowns as a rookie, Miller found himself in the doghouse at the start of his sophomore campaign. The Bears' coaching staff took a while before they deployed Miller as a full-time player, and once they did, he responded with several big performances. A top-30 fantasy season is within his range of outcomes, as long as Mitchell Trubisky doesn't sink the offense first.
Curtis Samuel, Panthers - If you want to read about how Samuel is being undervalued, check out my recent dynasty column focusing on buy-low options. A new coaching staff combined with more competent quarterback play could turn Samuel into a weekly fantasy starter.
Marvin Jones, Lions - And while you're looking through my dynasty column, you can read up on Jones, as well. Injuries are the only thing that's kept Jones' fantasy stock down in recent years.
Preston Williams, Dolphins - For an undrafted free agent, Williams blew away expectations and was becoming a steady contributor in the Dolphins' passing game. As 4for4's John Paulsen pointed out, before suffering a midseason injury, Williams had more receptions and yards than his teammate, DeVante Parker. Whoever Miami elects to start at quarterback next season will have a nice set of weapons.
Trainer's table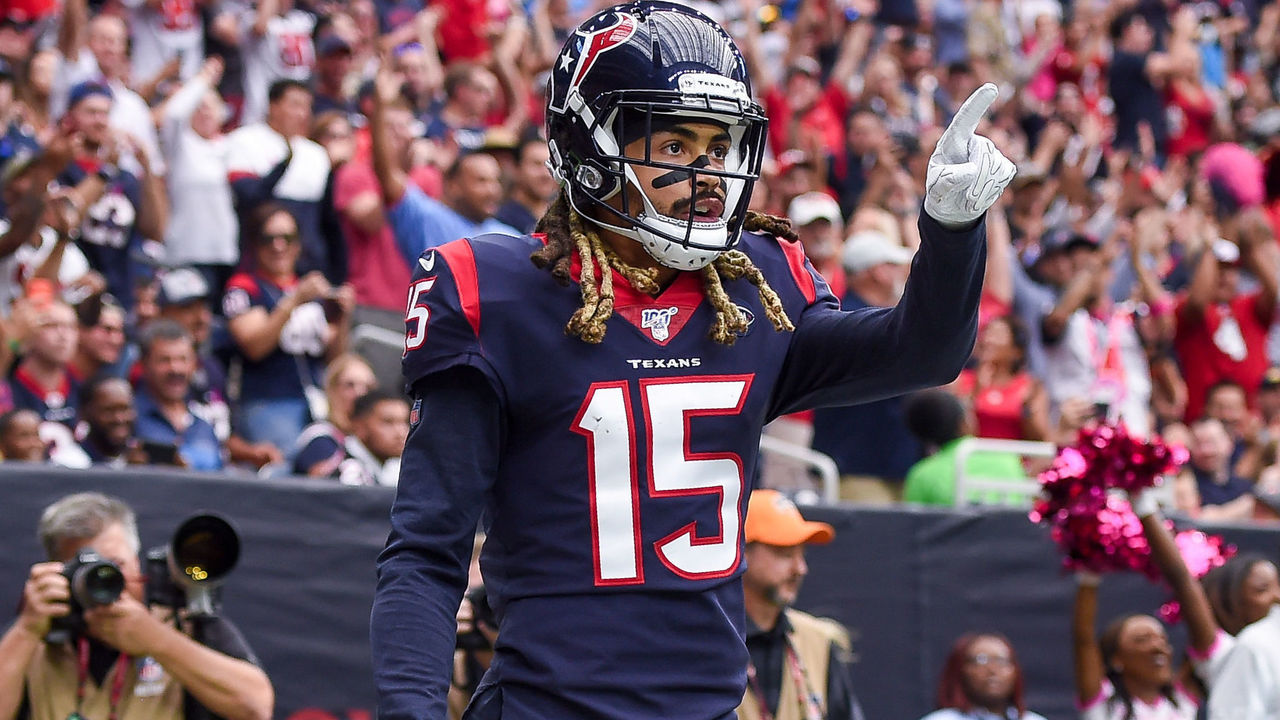 Will Fuller, Texans - Fuller hasn't been able to stay on the field during his career so far, missing 22 games over his four NFL seasons. There's no denying his ability to produce when active - his ceiling is somewhere around the 14-catch, 217-yard, three-touchdown afternoon he delivered against the Falcons in Week 5. However, at this point, the Texans need to consider finding a more reliable option to pair with DeAndre Hopkins, and fantasy managers may want to do the same.
Sterling Shepard, Giants - Shepard suffered multiple concussions in 2019, which cost him six games. Though he returned for the final month-and-a-half of the season, repetitive head injuries cast doubt on his career longevity.
Alshon Jeffery/DeSean Jackson, Eagles - In Jeffery's last healthy outing, he put up 137 yards and a touchdown on nine receptions in Week 13. To find Jackson's last full game, you'd need to venture back to Week 1 when he dominated with 154 yards and a pair of scores. While each receiver ended the year on the sidelines, don't underestimate their fantasy upside in an Eagles passing attack that's guaranteed to rebound with better injury luck in 2020.
PPR bump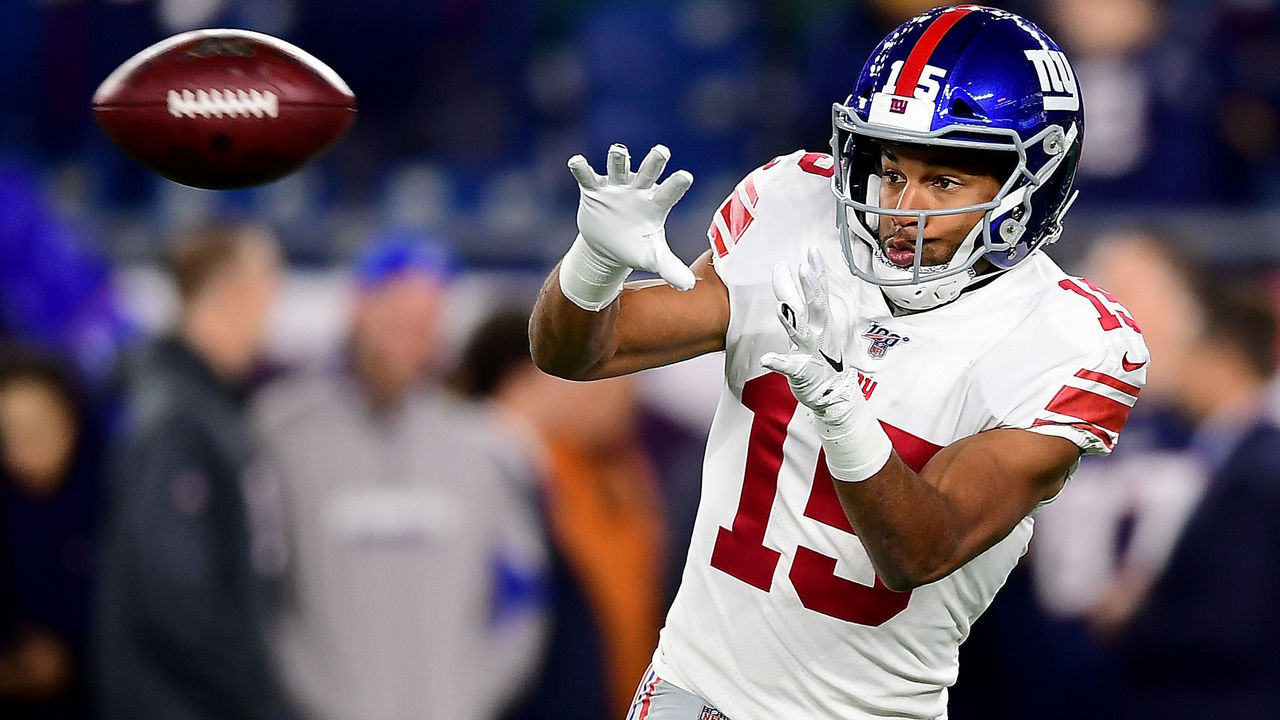 Golden Tate, Giants - The 31-year-old still has something left in the tank, which he proved by posting 80 yards and/or a touchdown in eight of the 11 appearances he made for the Giants in 2019. Just remember, a lot of that production came while some of New York's other skill-position players were injured.
Jamison Crowder, Jets - Expectations were inflated after Crowder's 14-catch, 99-yard opener, which included 17 targets. However, he didn't come close to those marks for the rest of the year. It's hard to advise anyone to invest in the Jets' offense until we see overall improvement.
Cole Beasley, Bills - Beasley quickly became an integral part of the Bills' offense, posting 70 yards and/or a score in 10 of his 15 outings in 2019. He's guaranteed to offer value in fantasy drafts if you're willing to accept the risk of his low weekly floor.
Hunter Renfrow, Raiders - Though Renfrow ended the year with back-to-back 100-yard performances, his numbers were aided by a lack of receiving weapons in the Raiders' offense. With the team likely to address the position during the offseason, let's hold off before we put too much stock in a volume-dependent slot receiver on a below-average offense.
Steven Sims, Redskins - Sims didn't see much playing time until the final month of the season when he was thrown to at least seven times in each of his last four contests. With stat lines of 4-40-0, 5-45-1, 6-64-2, and 5-81-1 over that stretch, Sims is a sneaky sleeper for 2020.
Going deep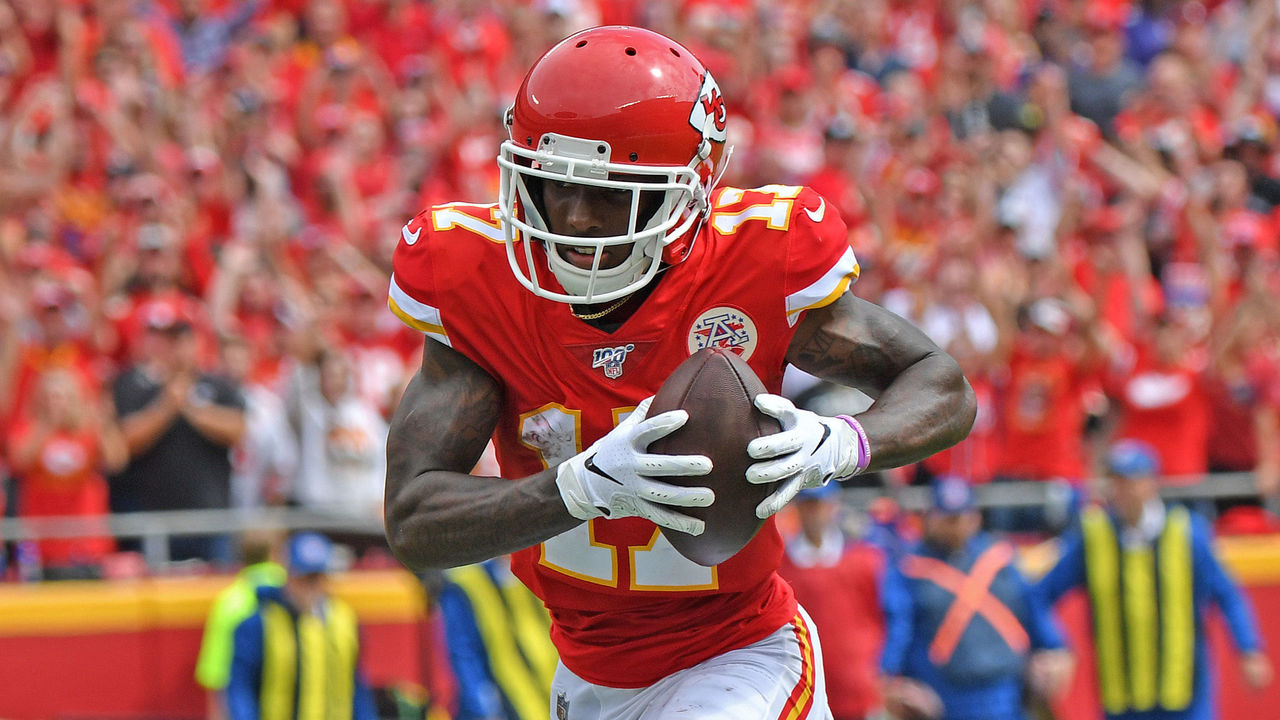 Mecole Hardman, Chiefs - Even with limited touches, the rookie's game-breaking ability was on display all season long as he found the end zone six times on just 26 receptions. That kind of efficiency is sure to regress, but Hardman's role in the offense will almost certainly grow, making him an intriguing fantasy target.
John Ross/Auden Tate, Bengals - Both Ross and Tate had their moments in 2019, but their fantasy value will be dictated by A.J. Green's free-agency decision.
Parris Campbell, Colts - Indy's second-round pick never really had a chance to find his footing as a rookie, as a variety of injuries limited him to just seven games. Keep him in mind as a late-round sleeper.
Tre'Quan Smith, Saints - Smith didn't see enough volume to be a fantasy option in 2019, but his situation could improve dramatically if Brees returns and Ted Ginn leaves.
Hard to trust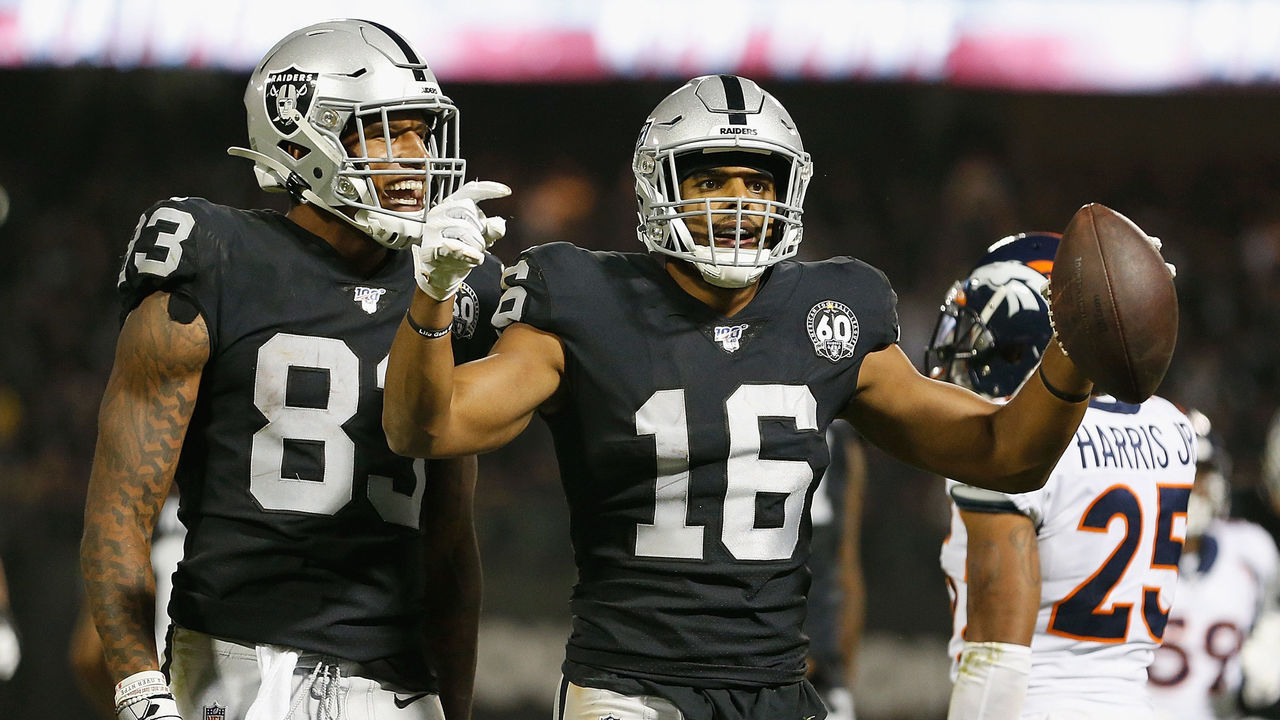 Tyrell Williams, Raiders - Williams' strong start to the year was buoyed by five straight games with a touchdown. Once the scoring dried up, so did Williams' viability as a reliable fantasy option.
Sammy Watkins, Chiefs - When Tyreek Hill was hurt in the Chiefs' season opener, Watkins stepped up with a nine-catch, 198-yard, three-touchdown game. Unfortunately, he failed to top 65 yards or even find the end zone for the rest of the regular season. Everyone attached to Patrick Mahomes has the potential to erupt at any moment, but Watkins has proven to be far too volatile to trust as a weekly fantasy starter.
Kenny Stills, Texans - Even though Will Fuller's injury woes helped Stills stay active in the Texans' attack, the former Dolphin had sporadic production in his first year in Houston, and that isn't likely to change next season.
Larry Fitzgerald, Cardinals - Fitzgerald will be 37 years old when Week 1 rolls around. He's shown his age the last couple of years by starting the season hot before cooling off after the first month or so. Don't let sentimentality sway your fantasy choices.
Way off the radar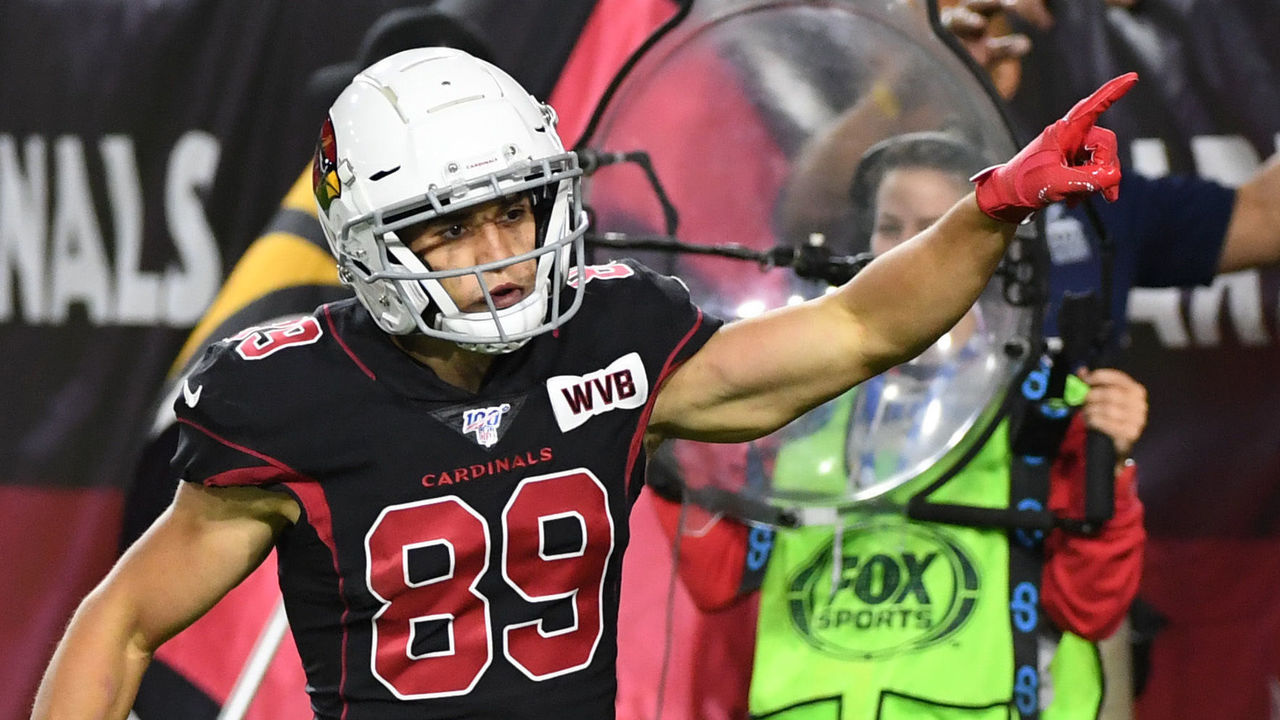 Andy Isabella/Hakeem Butler, Cardinals - Arizona's rookie wideouts are coming off very quiet debut campaigns, only for different reasons. Butler hit injured reserve before his year began due to a serious finger injury, while Isabella struggled to carve out a role on offense. Scooping up players associated with Kyler Murray's rising star is a wise move, especially when they have the immense upside that both of these young pass-catchers possess.
Jalen Hurd, 49ers - Injuries also kept Hurd from making an impact in Year 1, but with Emmanuel Sanders potentially leaving in free agency, we could see the versatile Hurd take on a significant role if he can stay healthy next season.
Miles Boykin, Ravens - Outside of a couple of scores, Boykin was a rare contributor in Baltimore's high-powered attack. The big-bodied rookie will have a full NFL offseason to get up to speed and work on his connection with Lamar Jackson. A double-digit touchdown campaign is within his range of outcomes if he can continue to develop as a pro.
2019 Fantasy reviews