The Indiana Pacers of recent vintage have made a habit of defying expectations. In 2017-18, which was supposed to be a developmental season after they dealt Paul George, the Pacers won more games than they had the previous campaign and came within a hair's breadth of knocking off LeBron James and the eventual Eastern Conference champion Cleveland Cavaliers in the first round of the playoffs. Last season, rather than plateau or regress, they built on their successful formula and got even better - at least until losing Victor Oladipo to a ruptured quad tendon in January.
That injury reoriented Indiana's direction, and ultimately, its priorities. After trudging dolefully to the finish line of the regular season and then getting swept out of the first round, the offseason brought significant change for the team. Out went Bojan Bogdanovic, Thaddeus Young, Darren Collison, and Cory Joseph - a quartet that had been central to the Pacers' success in the previous two seasons and represented four of the team's top five minutes-getters in 2018-19. It was a lot of institutional knowledge to lose, particularly on defense. In to replace them came Malcolm Brogdon, Jeremy Lamb, T.J. Warren, and T.J. McConnell.
The overhaul was a worthwhile bid to pump some air into an offense that went totally flat in Oladipo's absence, but it seemed likely to hurt Indiana at the other end of the floor. Additionally, Brogdon had never been a primary initiator, and it was reasonable to think that he - and the rest of the Pacers who'd be moving up the food chain - would be stretched thin until Oladipo returned. Equally worrisome was Domantas Sabonis (who'd thrived primarily as a center since arriving in the George trade) being shoehorned into a role as the starting four alongside Myles Turner - a twin-big look that had never been especially successful.
Those concerns seemed to be validated when the Pacers - perhaps still jet-lagged from their preseason jaunt in India - lost their first three games of the season, one against the Blake Griffin-less Detroit Pistons and another against the lowly Cleveland Cavaliers. Then, the injuries started to pile up.
Edmond Sumner, whose energy and defensive activity had made him a surprise contributor on the wing, broke his hand. Turner sprained his ankle. Lamb hurt his hip. Sabonis and Brogdon missed time with nicks and bruises. It seemed, for a while, like the Pacers might dig themselves a hole that even Oladipo wouldn't be able to drag them out of.
Instead, they've rebounded with aplomb, winning 16 of their last 22 games despite ranking third in the league in man games lost to injury. They're treading water offensively while sustaining a top-10 defense. The Sabonis-Turner pairing, while still an unnatural fit, has been more productive than ever, recording a 108 offensive rating and 4.7 net rating (up from 102.4 and 2.8 a year ago). With Brogdon on the floor alongside those two, Indiana has outscored opponents by 10.4 points per 100 possessions, posting elite ratings on both sides of the ball across 253 minutes.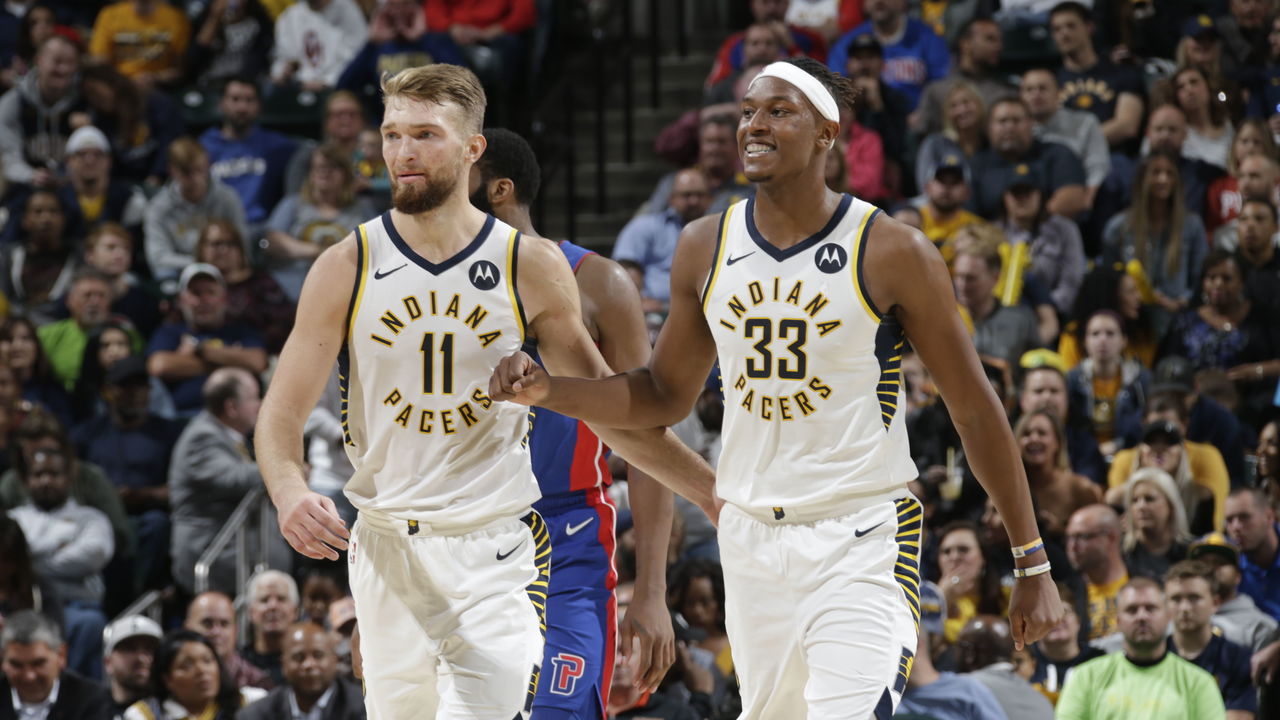 Turner's offensive involvement has essentially fallen by the wayside - his usage rate (17.1%) and true shooting percentage (52.6%) are career lows - and both he and Sabonis have been better when playing without the other. But that doesn't mean that having them overlap for 15-odd minutes a game is a bad thing, or that Indiana needs to trade one of them. Each brings a unique skill set that the Pacers would be loath to lose.
Even when Turner is hardly touching the ball, his ability to drag opposing bigs out to the perimeter by popping or spotting up from 3-point range is invaluable. It's a more sensible way to use him than stationing him inside the arc, where he's shooting just 46% and isn't much of a threat in the post or on the glass. He's a lot like Kristaps Porzingis that way, and the Dallas Mavericks have been similarly well-served paring down Porzingis' in-between touches.
Sabonis hasn't necessarily leveled up - his per-minute stats are nearly identical to last year's - so much as he's proven that all his crafty dirty work as a bench big can scale to a starter's workload. He's inhaling rebounds at both ends, keeping the wheels greased as a high-post playmaking hub, and springing his teammates with some of the savviest screens in the game. (He ranks second in the league in screen assists.) Double ball screens, with Sabonis rolling and Turner popping, are a pretty reliable source of offense when the two share the floor.
Sabonis has also honed his defensive footwork to the point that he can credibly handle the four, even if he's better suited to the five. His improved ability to hedge and recover on high pick-and-rolls, or chase stretch-bigs around the perimeter, allows Turner to hang back and play a one-man zone in the middle, where his rim-protecting prowess can be put to optimal use.
Sabonis spends a significant portion of his minutes playing with Indiana's bench units, and his off-ball screening for Doug McDermott has helped the latter shoot 45.8% from three. The Pacers reserves as a whole have been better than expected. McConnell has done a bang-up job pushing the pace while staying under control. Aaron Holiday has settled himself down and is making meaningful strides after a wild start to the season. That second unit could be really effective when one of the team's current starters moves to the bench.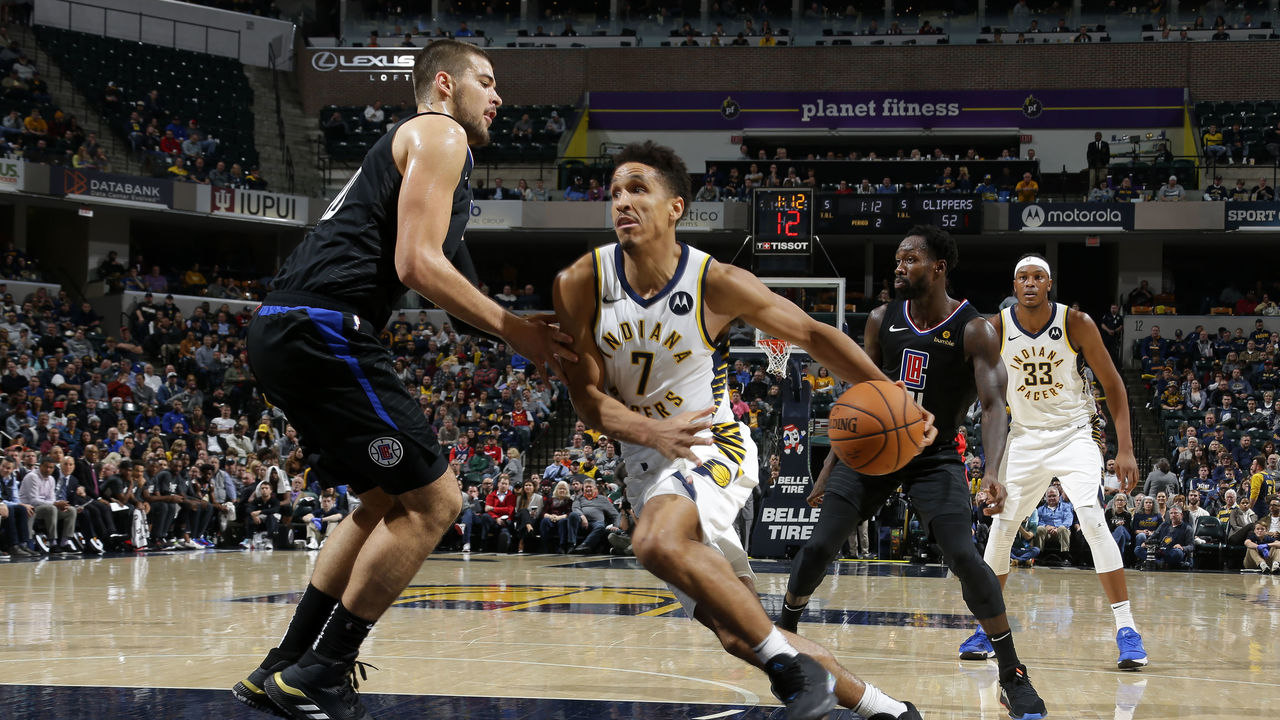 As for Brogdon, he's proven that his hyper-efficient, off-the-catch playmaking can translate to a more ball-dominant role. That's meant trading a bunch of spot-up jumpers for pullups, which has dragged his percentages down. But, even though he isn't the 50/40/90 guy he was when he was playing off Giannis Antetokounmpo last year, it's been a worthwhile trade-off for a team that badly needed off-the-dribble shot creation. Brogdon is a more natural self-creator than Bogdanovic (who was shoved into the role following Oladipo's injury last year), and a significantly better attacker and playmaker than Collison was. His ability to run the offense bodes extremely well for Indiana's capacity to eventually ease Oladipo back into primary initiating duties and to stagger the pair's minutes to keep one of them on the floor at all times.
The Pacers remain almost proudly anti-modern in their approach on both sides of the ball. Defensively, they work harder than almost any team to avoid switching. Offensively, they don't hunt specific shots so much as they take what defenses give them. For the third straight year, they rank in the bottom five in 3-point attempt rate and in the top two in long mid-range attempt rate, according to Cleaning the Glass. They were dead last in free-throw attempt rate before taking 36 trips to the stripe in Wednesday's big win over the Celtics.
This year, though, they're better equipped than they've been at any point under coach Nate McMillan to make that retrograde shot spectrum work. Brogdon is roasting drop coverages with mid-range pullups, shooting a blistering 51% on 4.6 such attempts per game. On slightly lower volume, Lamb has been even more effective as a mid-range shooter off the bounce, hitting 57.1%. Warren is at 46.2%. On the whole, the Pacers are the most accurate pull-up shooting team in the league (though they rank fifth in effective field-goal percentage because so few of those attempts are coming from 3-point range). Compare that to last season, when they ranked 19th after losing Oladipo. On plays finished by the pick-and-roll ball-handler, the Pacers have jumped from 28th to seventh in scoring efficiency, according to Synergy.
Brogdon, Lamb, and Warren have been so money on those looks that opponents have frequently had to change their schemes to take them away. Fortunately, the Pacers are more scheme-proof than they were a season ago, when switching every screen was a pretty effective way to smother them during their Oladipo-less phase. Brogdon gives them the kind of switch-buster they were lacking; someone they can turn to when things get muddy, who can break a defense down and manufacture a bucket or scoring chance from scratch. Brogdon thrives on decisiveness and strength. He ranks 12th in the league in drives per game and is the sole reason Indiana has jumped from 24th to 14th in that category.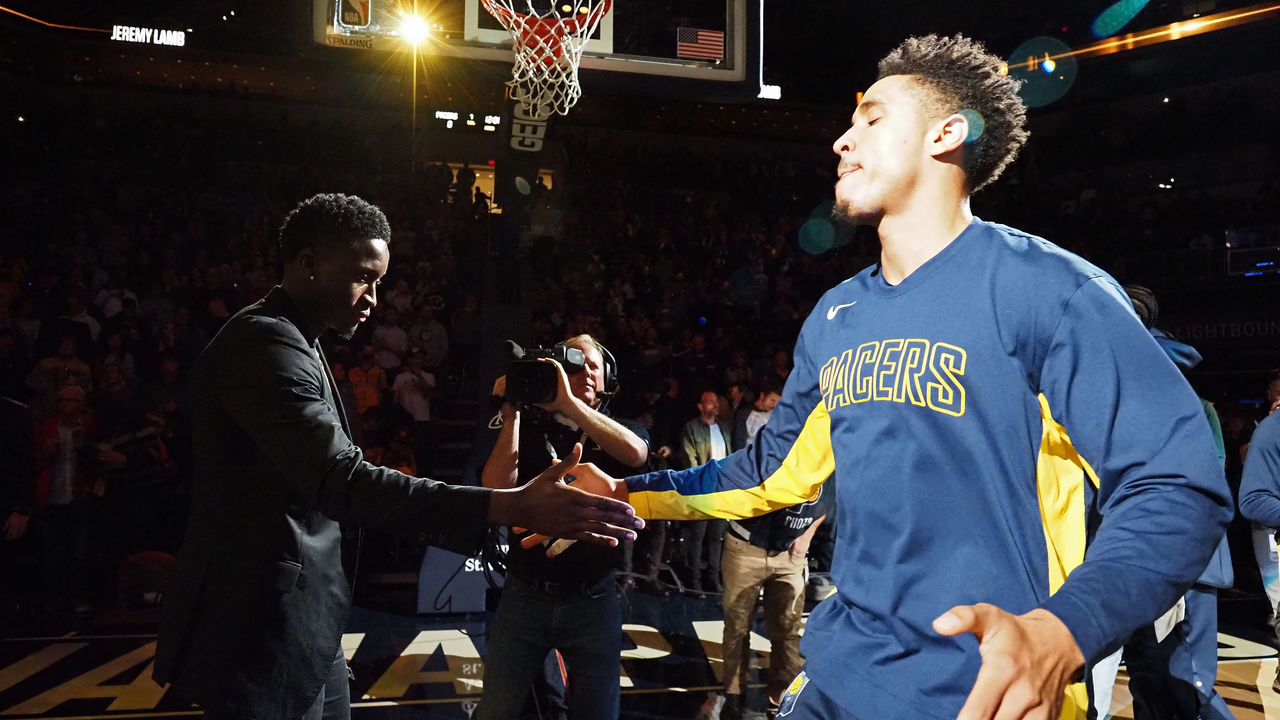 A soft early schedule has undeniably helped. The Pacers have played the league's sixth-easiest slate so far, according to Basketball-Reference, with just eight of their 25 games coming against teams with winning records. They're 4-4 in those contests, but three of the wins have come against the Brooklyn Nets (13-11) and Utah Jazz (14-11), who haven't exactly set the world on fire. But the Pacers deserved that bit of good scheduling luck given the misfortune that's befallen them, and as Oladipo inches toward a return, they've done exactly what they were supposed to do: fatten up on lower-rung teams to give themselves a margin for error.
They're finally getting healthy and can optimistically hope to have Oladipo back when their schedule takes a turn for the difficult starting in late December. They should be within spitting distance of a top-four seed in the East when he does return.
Of course, we still have to see how Oladipo looks before making any pronouncements about how high the team can ultimately climb. He'll have been on the shelf for a year and will be returning from a severe injury that could hinder the blazing first step and downhill explosiveness that have been elemental to his success. But if he can closely approximate the player he was before he got hurt, Indiana is going to be a problem.
For all their scrappy success, the Pacers are light on individual scoring. They still require a lot of movement, screening action, and decoys to create profitable looks late in games. (They rank 25th in crunch-time offensive rating, at 94.9.) The defense that thrived on takeaways last season ranks just 15th in opponent turnover rate. So it's easy to be tantalized by the prospect of adding a reliable self-creator and steal-swiping point-of-attack defender to the mix.
After being forced to trade George and then losing Oladipo for an extended stretch, the Pacers have spent the past two-plus years scheming their way around the talent vacuums their best players have left in their wake. After they came so close to dethroning LeBron in 2018, we didn't get to see last season whether, at full strength, their formula could stand up to postseason scrutiny. Here's hoping they can peak at the right time this year.
Joe Wolfond writes about basketball and tennis for theScore