NHL best bets to make/miss the playoffs
Dilip Vishwanat / Getty Images Sport / Getty
The NHL is one of the most unpredictable leagues in professional sports, as the playoff landscape is ever-changing. Such volatility also makes it difficult on sportsbooks to adjust lines year-to-year, and it would be rude of us not to take advantage.
So, who's going to be in the playoffs this season? With a revolving door of contenders every year, it's a great market to find value. Here are some spots to exploit ahead of the 2019-20 season:
Winnipeg Jets: No playoffs (+150)
The Jets were outplayed significantly during the second half, as they closed out the regular season with a 13-14-2 record and made a premature first-round playoff exit. Their underlying numbers support that record, too. Connor Hellebuyck took a step back and resembled the goalie he was in 2017 more than he did the Vezina nominee we saw in 2018. Now, In three years as a starter, he's been average twice. Which season sounds like the outlier here?
Injuries exposed Winnipeg's lack of depth on defense, and that's going to be a major area of concern for the club after losing Jacob Trouba and Tyler Myers. Bryan Little wasn't nearly as effective, suggesting he may no longer be suited as a second-line center, which leaves the Jets thin down the middle after Mark Scheifele. Kyle Connor and Patrik Laine remain unsigned, and the Jets will be right up at the cap when - or if - they agree to a deal, leaving the team little room to add pieces during the campaign. In the toughest division in hockey, Winnipeg is a lot closer to being a 90-point team than a 100-point one.
Carolina Hurricanes: Yes playoffs (-160)
Unlike Winnipeg, the Hurricanes were one of the NHL's best teams over the second half. They already boasted one of the deepest defensive units in the league before signing Jake Gardiner. With that addition, they have an embarrassment of riches on the back end, which should help goalie Petr Mrazek build off what was his best season since 2016. Carolina has an elite group of young forwards and should be a lock to make the playoffs this year. If sophomore Andrei Svechnikov takes the leap toward becoming the elite scorer he was expected to be when he was drafted, this team could be looking at a division title.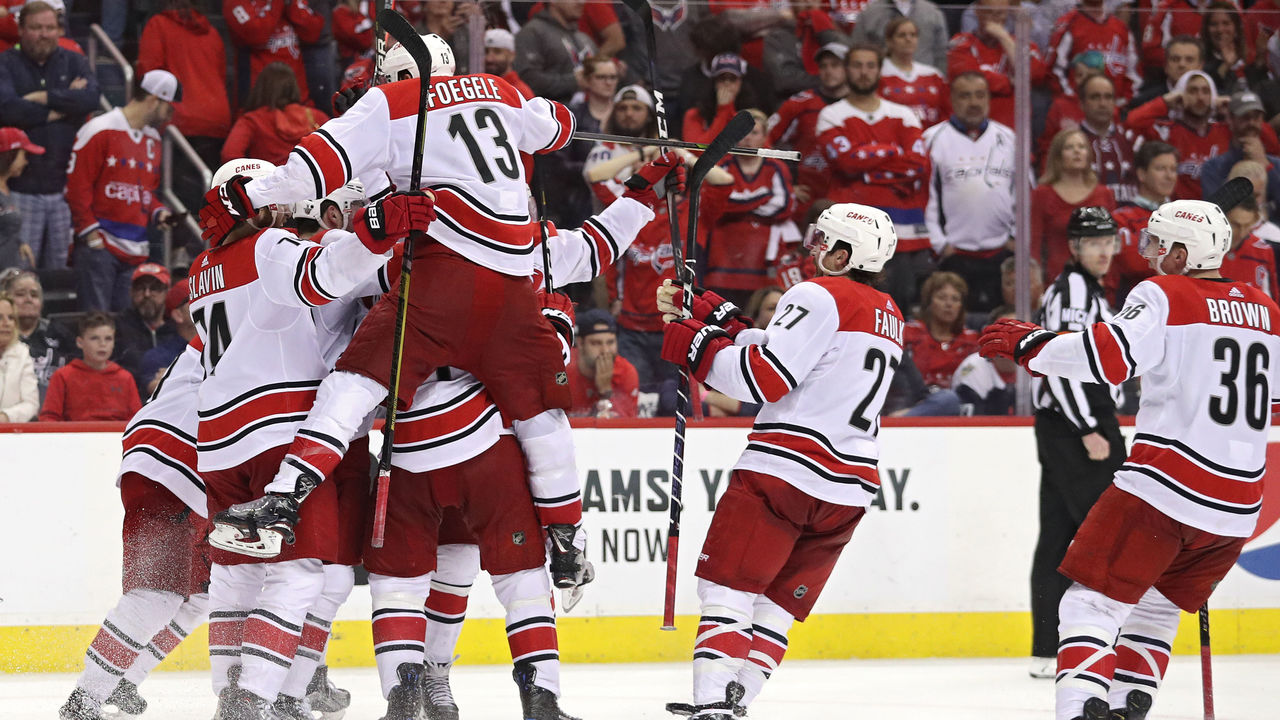 Calgary Flames: No playoffs (+180)
Every year we see a team go from the top of the division to close to the bottom the following season. Anaheim did it last year. Montreal, Chicago, and Edmonton the year prior. The season before that, Dallas and Florida. And the Flames look like the next team to be added to that list.
They need to clear out cap space before they can sign Matthew Tkachuk and Andrew Mangiapane, which could result in T.J. Brodie being traded. Can they really absorb such a blow on the back end? How will David Rittich handle a bigger workload with Mike Smith gone? Tkachuk, Johnny Gaudreau, Sean Monahan, Elias Lindholm, and Mark Giordano all set career highs in points last year, surpassing their previous best totals by a wide margin. Can they really sustain that sort of production? Is this the team that won its division with 107 points, or the one that was bounced in five games in the playoffs without so much as a whimper? It feels safer betting on the latter.
New York Rangers: No playoffs (-150)
There's no doubt that the Rangers were offseason winners, but that's hardly a harbinger for immediate success. Artemi Panarin, Jacob Trouba, and Kaapo Kakko should have fans excited in the Big Apple, but let's all settle down on anointing the Rangers as a playoff team. They were awful after trading Mats Zuccarello and Kevin Hayes, posting a 5-10-5 record without them. The production gained from the recently acquired players will have to be otherworldly to mitigate those losses. They missed the playoffs by 20 points last year, and that was with more than half a season from the aforementioned duo.
This team is also very weak down the middle. Mika Zibanejad is excellent, but behind him are Filip Chytil, Lias Andersson, and Brett Howden. Howden is the oldest of that group at 21. New York might have the weakest crop of centers in the NHL. It's a young team that, despite the hype, is looking at a developmental season, not a return to the playoffs in a tough Eastern Conference.
Alex Moretto is a sports betting writer for theScore. A journalism graduate from Guelph-Humber University, he has worked in sports media for over a decade. He will bet on anything from the Super Bowl to amateur soccer, is too impatient for futures, and will never trust a kicker. Find him on Twitter @alexjmoretto.
Comments
✕
NHL best bets to make/miss the playoffs
  Got something to say? Leave a comment below!