As his dynastic team started showing cracks early this past season, Golden State Warriors coach Steve Kerr talked about finally experiencing the "real NBA" after years of living in a fantasy world of their own fortuitous making.
The Warriors still reached The Finals for a fifth straight year and likely would've won their third straight title if they'd been fully healthy. But they're very much down in the muck with everyone else now. On Sunday, after Kevin Durant agreed to sign with the Brooklyn Nets, the Warriors did what teams in the real NBA often do when confronted with a major setback: They got a bit desperate, a bit restless, and made a move that carries a lot of downside. They turned Durant's departure into a sign-and-trade with the Nets, acquiring point guard D'Angelo Russell while inking him to a four-year, $117-million max contract.
The trade hard-caps the Warriors and leaves them precious little wiggle room beneath the $138.9-million apron. They had to ship out stalwart wing Andre Iguodala and a lightly protected 2024 first-round draft pick to the Memphis Grizzlies and deal another future first-rounder to Brooklyn just to accommodate Russell's new deal. They're now essentially left to fill out their roster with minimum contracts around Russell, Steph Curry, Draymond Green, the newly re-signed Kevon Looney, and Klay Thompson - who's expected to miss most, if not all, of next season. The Warriors' other notable free agents - DeMarcus Cousins and even Quinn Cook - are as good as gone.
It's far too early to call the move a mistake. Russell, after all, is coming off a breakout season, is still just 23 years old, and will provide the Warriors a badly needed scoring punch while Thompson works his way back from his torn ACL. The memory of a box-and-one locking down Curry and a bunch of non-shooters in The Finals is still fresh. For all Iguodala's meant to Golden State over the past few years, his unreliable jumper and eroding offensive skill set played a part in that strategy's success, and he's in the twilight of his career at age 35. Russell shot 36.9 percent on a high volume of 3-pointers last season. The Warriors saw an opportunity to get younger and retool around their three-man core and seized it.
This is also a defensible asset-acquisition play for a team that would've had limited means of acquiring a player of Russell's caliber for the foreseeable future. The Warriors were already butting up against the luxury tax with Thompson's new five-year, $190-million contract on their books, and Draymond Green's free agency is just a year away. As many have suggested, they may simply be getting Russell with the aim of using him as a trade chip in the near future. There are still a handful of teams around the league who'd be anxious to get their hands on a young, talented point guard - including the Minnesota Timberwolves, who were confident they were getting Russell before the Warriors swooped in.
But the cost of acquiring him was high enough to make you wonder whether the potential return for him down the road will make this worth the Warriors' while. It's far from a guarantee that Russell's max contract will be viewed as a positive asset moving forward.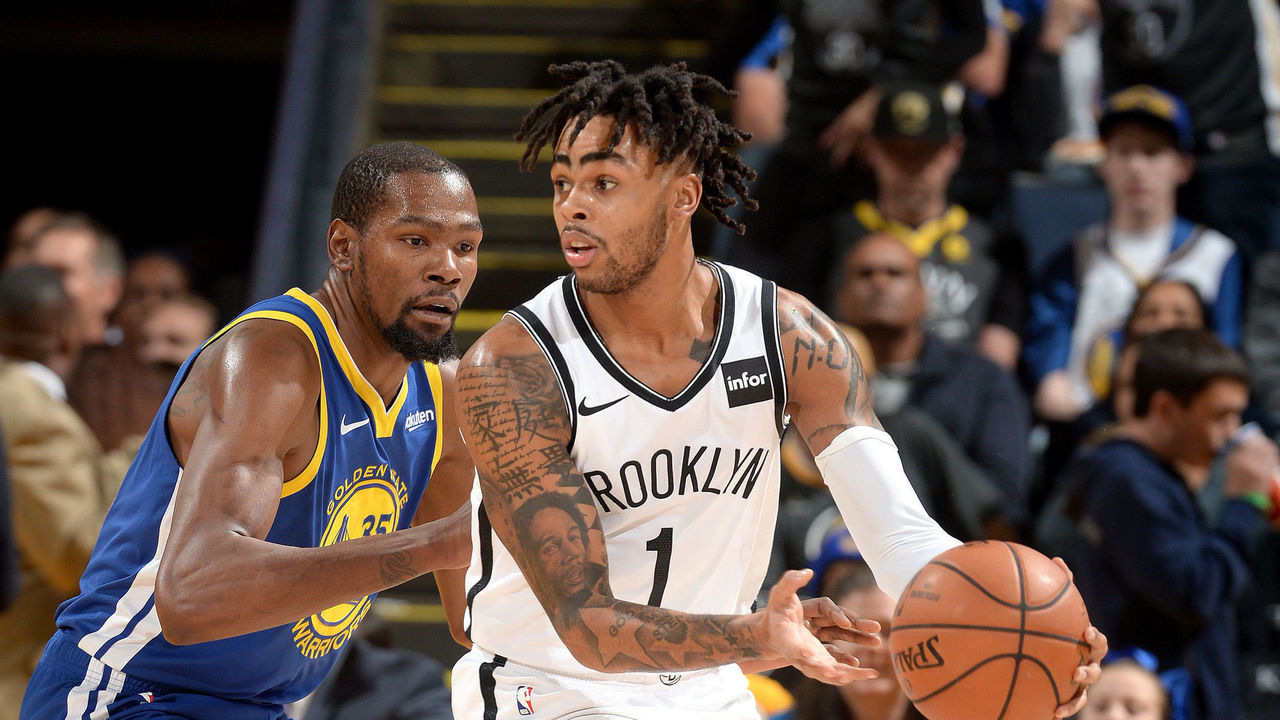 This is also a really awkward fit for Golden State. Russell's a ball-dominant guard who had a 31.9 percent usage rate in Brooklyn last season and converted those possessions into a below-average 53.3 percent true-shooting mark. He's yet to distinguish himself as an off-ball player, and two-point guard lineups with him and Spencer Dinwiddie didn't bear much fruit in Brooklyn. That doesn't mean the pairing can't be successful offensively. Curry's a magnificent off-ball mover, and his gravity will open things up for Russell's pick-and-rolls. Kerr will find ways to engage Russell in a spot-up role. The Warriors' pass- and motion-heavy offense will benefit from Russell's vision.
The fit defensively is significantly harder to envision. Golden State will stagger its two lead guards, as Russell is a clear minus on defense, but its rotation still figures to feature some 20 minutes of overlap per game. The Warriors' defense was a hallmark of its championship teams, but it already slipped in a big way this past season. With Thompson sidelined, Iguodala out the door, and those precarious Curry-Russell minutes factored in, they look like a team primed to finish in the bottom 10 in defensive efficiency, even if Green ramps up his regular-season intensity for the first time in three years. Will their offense be good enough to overcome that?
Even if we're just looking at this strictly as an asset play, Russell isn't being put in a position to thrive or showcase his value. He and Curry are going to cannibalize each other's touches at one end of the floor and get attacked relentlessly at the other end. If the experiment flops, it likely won't be Curry's reputation that suffers for it.
There's also the opportunity cost to consider. Who might the Warriors have been able to acquire otherwise - without hard-capping themselves - in exchange for Iguodala and two first-rounders? Even if Russell was the best player they could've gotten, was he worth what they sacrificed in roster balance and financial flexibility? Could they really not have found a team that would've taken on Iguodala without demanding a first-rounder?
It was inevitable that the Warriors' front office would have to change its M.O., given what a jolt to the system the past few weeks have been. It still feels like they could've done better. The move doesn't feel like it was born of careful consideration and planning. It felt like the product of a sensation Golden State hasn't experienced in a half-decade: desperation.
Desperation doesn't always lead to disaster. This roll of the dice may well pay off. But the sense of certainty with which the Warriors have operated for so long has evaporated, and it's a bit jarring to see them leaning so heavily into the risk. This was the organization with an ownership group and front office that was "light years ahead" of the rest of the league. But now they're gambling - grasping, even - like any other team trying to prop its competitive window open for a bit longer.
Welcome to the real NBA.