TORONTO -- In the NBA Finals, there are superstars all over the floor whose skills evoke certain reactions. The shooting of Steph Curry and Klay Thompson brings people to the edge of their seats with anticipation. The physical, defensive dominance of Kawhi Leonard can leave fans cackling in disbelief. The ease with which Kevin Durant (currently sidelined) renders fellow athletic freaks helpless by calmly elevating over them for a jumper is mesmerizing.
Then there are the two stars in this series whose contributions are often considered intangible and described using cliches. Ask enough Toronto Raptors and Golden State Warriors about Kyle Lowry and Draymond Green, who combined for 17 points in Game 1, and multiple teammates will use the same phrase to describe them: emotional leader.
We know how to describe the basketball exploits of NBA stars. How do you articulate what it means to be a team's emotional leader?
"That title means a lot to me, but with that title comes great responsibility," Green said at Finals media day Wednesday. "When you're an emotional leader, your team feeds off that, and if you don't bring that, your team usually lacks in that area.
"The way we play, Steph gotta score, Klay gotta score. That's their job. I have to bring that emotion to the table. That's my job. ... It's something that I enjoy. It's a role that you don't get nights off. You know, you're gonna have off nights shooting. You're gonna have nights when you turn the ball over. You're gonna even have nights when you don't get as many rebounds. You don't get off nights as an emotional leader, and if you do, the ramifications, they're not good."
Green is an all-time great defender who can pick apart opposing defenses with his playmaking on the short roll. His five playoff triple-doubles this spring are the most by one player in a single postseason since Magic Johnson had five in 1984.
Lowry is a do-it-all point guard who can make the simple look sublime - just watch how precisely he delivers a pocket pass to Serge Ibaka on the pick-and-pop. At his best, in constant attack mode, Lowry can beat you with his shooting, hound players like Curry and Thompson around screens, and stand his ground in the post against Joel Embiid.
Both players are essential to their teams from a basketball perspective, but they share an indescribable hunger that often overshadows their tangible skillsets.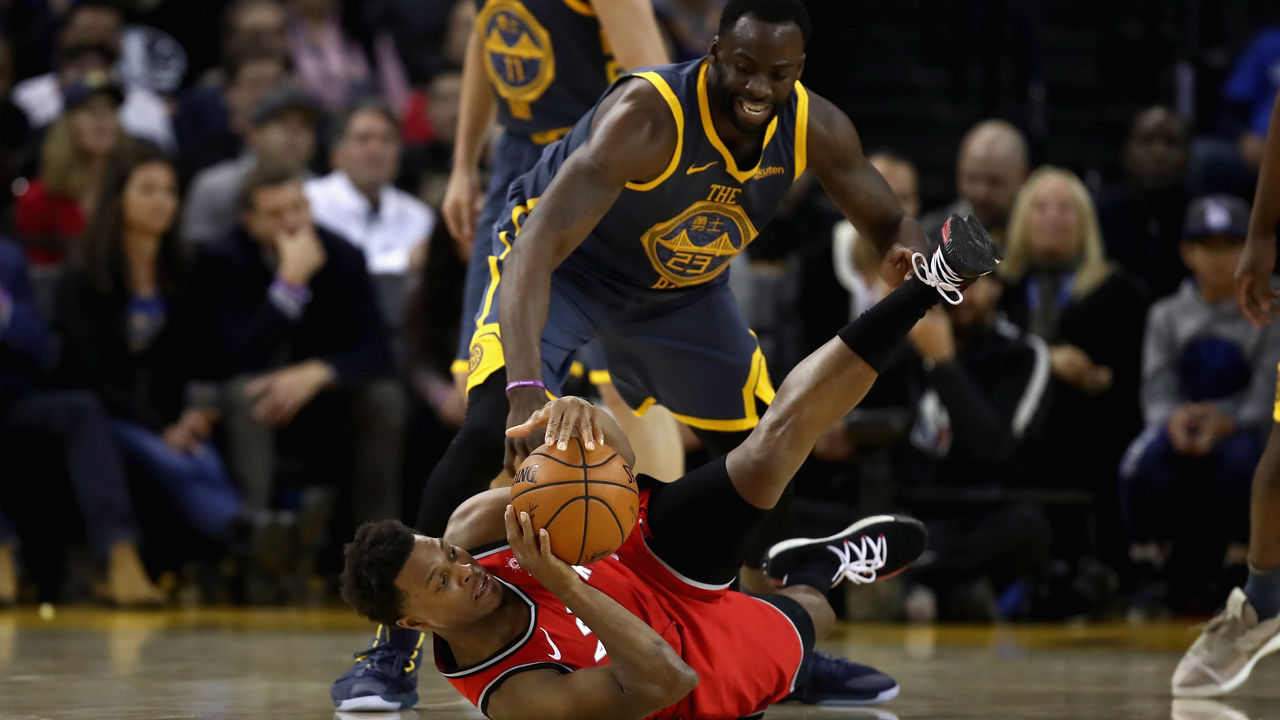 "I've got mad respect for Kyle," said Green, who won Olympic gold for the U.S. with Lowry in 2016. "Kyle's a guy who got it out (of) the mud. He wasn't always an All-Star, he wasn't always a starter, but he got it out the mud, and he's where he's at today. He's faced a lot of doubt. He's been criticized a ton this year, and previous years before, but yet, he's still standing and he's here in this moment, and it's well-deserved."
Green can relate. A second-round pick in 2012 after a four-year college career at Michigan State, he averaged 2.9 points per game as a rookie and started only 13 of 161 games over his first two seasons. He's now a three-time All-Star, the 2017 Defensive Player of the Year, and an integral component of one of the greatest teams the NBA's ever seen. He's also one of the most versatile and game-changing defenders in league history.
Lowry was the 24th pick in the 2006 draft and started 30 games combined over his first four seasons in Memphis and Houston. After being traded to Toronto in 2012, he lost his starting job to Jose Calderon. He's now a five-time All-Star and, if he secures a championship ring before his career is over, might have a case for the Hall of Fame.
"Emotional is misused a little bit with him, because he's always running around, flying around the court, yelling at referees. He's pretty theatrical and dramatic," teammate Fred VanVleet said of Lowry. "That's where people get the emotional part from, but he's been the heartbeat of this franchise since I've been here. We kind of go as he goes and flow as he flows. He's so key to what we do, and that's why when he plays well, we play at a high level, and when he doesn't, usually we don't."
If the basketball subtleties that make Lowry and Green great are tough to spot for casual observers, the emotion they display on the court is not. Watch a Finals game for even five minutes and you'll likely spot both players fervently arguing a call, Lowry needling an official to check the ball to him faster on an inbound, or Green barking and gesticulating into a timeout.
"The energy and emotion that (Green) brings to the game motivates you," said Raptors guard Patrick McCaw, who spent the previous two seasons with Green's Warriors. "When he comes to the sidelines yelling and screaming, telling guys to go harder, that motivates you. That same thing, I can say Kyle does it as well. You can't teach that - being a leader, bringing that emotional side to a basketball game. Guys don't take it (negatively), guys embrace what they're saying. They just want to win. If you bring the same energy, that same mentality that (they do), you'll be just fine."
Both players have risen to the challenge in the playoffs.
Though Leonard's heroics have garnered much of the attention in Toronto, it's Lowry who's helped pick the Raptors up off the mat at various points this postseason. He set the tone early in Game 2 against Orlando and Game 4 in Philadelphia, then single-handedly turned things in Toronto's favor late in the third quarter of Game 7 against the Sixers. He averaged 19.2 points, 5.5 rebounds, and 5.2 assists on 51-47-84 shooting against Milwaukee, despite a left thumb injury that's causing him great discomfort.
And while Curry's explosive scoring has dominated headlines in the wake of Durant's absence, it was Green's two-way play that ratcheted back up to heights we haven't seen from him in a couple years. Since the start of the conference finals, Green's averaging 15.2 points, 11.4 rebounds, nine assists, 2.2 blocks, and two steals.
Few players understand the moment and the task at hand like Green and Lowry, who are often the smartest guys in the room, even among fellow basketball geniuses.
"When I was here last year, Kyle was the one directing a lot of stuff on the defensive end and offensive end," said the Warriors' Alfonzo McKinnie, who appeared in 14 games for the Raptors last season. "I always saw that he knew the game pretty well, and then coming to Golden State, Draymond's the one that anchors the team here, especially on the defensive end."
After Lowry fouled out halfway through the fourth quarter of Game 3 against the Bucks in the conference final, he could be seen invading Toronto's coaching huddles throughout the two overtime periods.
"He's very vocal," Raptors guard Danny Green said through a wry smile. "He speaks his mind. ... He lets it be known he's a floor general. But the little things that he does that go unnoticed by the average fan, that's what makes him a quiet leader: him telling guys where to be, where to rotate, calling out switches, boxing people out, diving on the floor, taking charges."
Those little things allow Lowry, the undersized guard, and Green, the undersized big man, to dominate in situations where they should be overmatched. And Finals runs are built on those tiny margins, even in the presence of greater singular talents.
It's a role that can be just as taxing as the burden carried by high-usage scorers. After Game 1 on Thursday night, Green took responsibility for not stopping Pascal Siakam, who scored 32 points in the Raptors' win; Lowry would probably tell you he needs to do more after shooting 2-of-9.
But success or failure for these two isn't just about stopping one player or dropping a couple more 3-point bombs. Their teams require every ounce of their leadership, physical and emotional, to get the job done.
Without Green and Lowry, neither team - and none of The Finals' more glamorous stars - would be on this stage.