Alabama covering the first-half spread? Check. Cal going under on the road? Yep!
Those were just a few angles we dug into last week. Again, trends tell us more about what's already happened than what will come next, but they can still line up with an edge you're already seeing.
With that in mind, here are some promising angles to consider with Week 12 on deck:
Ohio State's 0-5 ATS in last 5 seasons the week before playing Michigan
Situation: Ohio State -16.5 at Maryland
Is it purely coincidence, or does Urban Meyer have a knack for looking ahead to his biggest opponent? Under Meyer, Ohio State's only covered once in the week prior to playing Michigan, which came in his first season with the program.
Why it will hit again: Ohio State has certainly come down to earth, failing to cover its last four spreads as a double-digit favorite after coming through in three of four to open the season.
Miami (Ohio) has gone over its team total in 7 straight weeks
Situation: Miami (Ohio) +6.5 at Northern Illinois; O/U 46.5
The Redhawks of Miami (Ohio) were slow out of the gates offensively this season, averaging just 10.3 points per game in the first three. Since then, they've scored 30 or more points in seven straight contests, easily flying past their weekly team totals. And we can expect to see their total somewhere around 20 for this midweek game at Northern Illinois.
Why it will hit again: It's desperation time for the four-win Redhawks, who need to win out to become bowl eligible.
North Texas has gone under its team total in 6 straight weeks
Situation: North Texas -3 vs. Florida Atlantic; O/U 61.5
What happened to North Texas' offense? After erupting for 44 points or more in four straight games to start the year, the Mean Green have only topped 30 in two of their previous six.
Why it will hit again: Florida Atlantic has already seen its fair share of high-powered offenses this season including Central Florida and Oklahoma, so facing North Texas won't be anything out of the norm. The Owls' defense might also be clicking at the right time, as its allowed just 50 total points over the last three weeks.
Mississippi State's opponents have gone under their team total in 8 of 9 games this season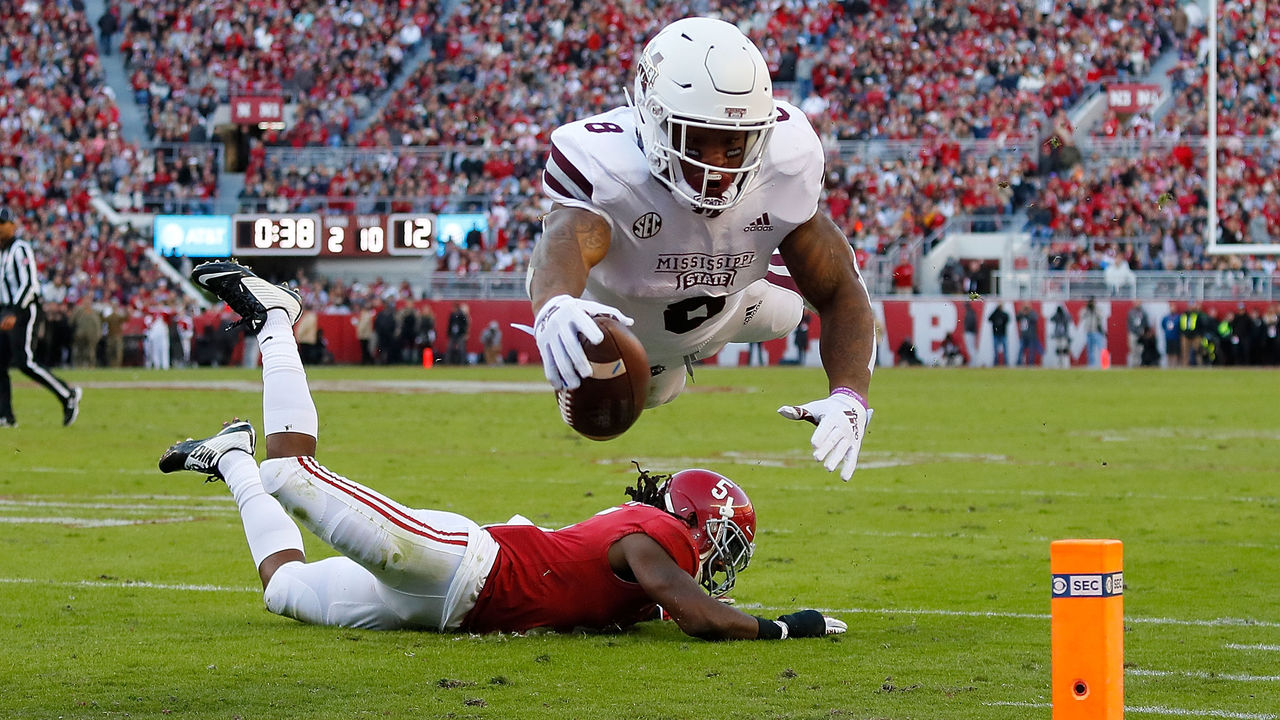 Situation: Mississippi State -20.5 vs. Arkansas; O/U 46.5
Mississippi State's season hasn't gone as planned. Pegged by some to challenge the Alabamas and Georgias of the SEC, the Bulldogs instead have four losses heading into Week 12. But the silver lining's been the defense, which has allowed just 13.6 points per game while holding all but one opponent (Kentucky) under their team total.
Why it will hit again: Arkansas is ranked No. 95 in the country in scoring at 25.4 points per game and will be playing its first road contest since Week 5.
North Carolina State's 2-7 against the spread as a double-digit favorite under head coach Dave Doeren
Situation: N.C. State -16 at Louisville
North Carolina State's had some close calls in the past when laying double digits, including last week's outright loss to Wake Forest as a 19-point chalk.
Why it will hit again: Louisville's defense has plenty of holes but North Carolina's unit has also been spotty, allowing more than 300 passing yards per game. Sixteen is a ton to lay on the road against a conference opponent, especially if the points come in bunches.
Iowa State's opponents have gone under their team total in 12 of the Cyclones' last 14 road games
Situation: Iowa State +3 at Texas; O/U 49
Iowa State's built its identity on a stingy defense - one that's allowed an average of just 21.8 points in its previous 14 road games. Outside of the 42 the Cyclones allowed to Oklahoma State in Week 6 (in a six-point win), they've given up only 33 total points in their other three road contests combined.
Why it will hit again: Iowa State's ranked No. 26 in S&P+ defense. The Cyclones also have a top-25 overall scoring defense at 20.4 points allowed per game.
Utah State's 9-1 against the spread and hitting the over in 2018
Situation: Utah State -27.5 at Colorado State
It's been Utah State and points all season long. If a bettor had wagered on the Aggies, their team total over, and the full-game over every week this season, they'd be 27-3. The Aggies are the country's highest-scoring team at 51.3 points per game, and are equipped with a serviceable defense that makes them one of the hottest teams in the country.
Why they will hit again: While Utah State is the best at putting up points, Colorado State's been one of the worst at giving them up. The Rams are allowing 38.5 points per contest in 2018, which ranks No. 119 in the country.
Alex Kolodziej is theScore's betting writer. He's a graduate of Eastern Illinois who has been involved in the sports betting industry for 11 years. He can quote every line from "Rounders" and appreciates franchises that regularly wear alternate jerseys. Find him on Twitter @AlexKoIodziej.