Party at Camp Nou: Witnessing Barca's demolition of Real Madrid live
theScore's Gianluca Nesci spent five days in Catalonia leading up to Sunday's El Clasico between Barcelona and Real Madrid. You can find the complete collection of stories from the trip here.
BARCELONA - Gerard Pique just couldn't help himself. Neither could anybody else inside the Camp Nou.
After Arturo Vidal put the final nail in the coffin - rising up, unchallenged, to head home Barcelona's fifth and final goal against Real Madrid on Sunday - his teammates joined him to celebrate by the corner flag. As the huddle broke, Pique turned and gave the crowd a familiar five-finger salute.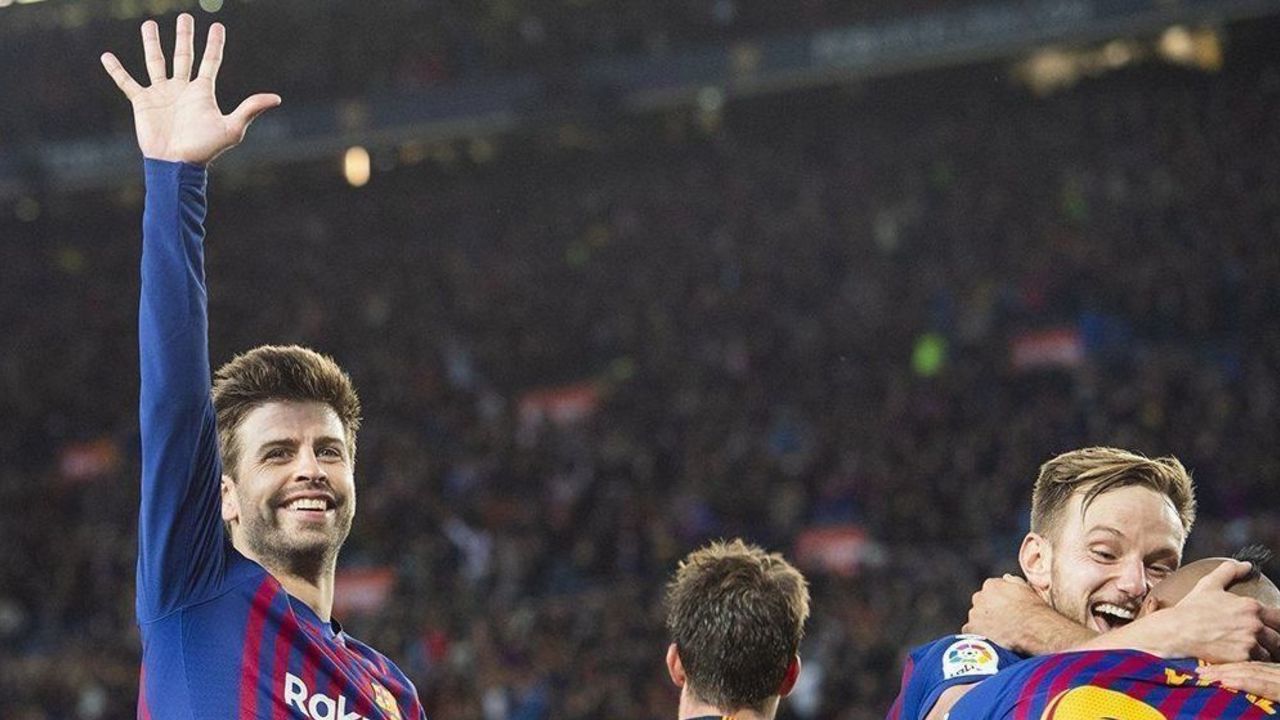 It was 2010 all over again.
The defender, Barca to his core, raised his hand to indicate a 5-0 Blaugrana thumping on that memorable occasion as well. (At least Madrid actually got one this time around.)
It felt like all 93,265 fans in attendance, save the tiny group of Real Madrid supporters nestled into the away section at the top of the stadium, followed Pique's lead.
For the beleaguered Julen Lopetegui, the celebration doubled as a mocking wave goodbye. "I know how football is," the 52-year-old coach, defeated in more ways than one, said after the match.
There was no coming back from this. By Monday afternoon, he was sacked.
Less than five months ago, Lopetegui was leading Spain into the World Cup and looked like a good bet to win the damn thing. Now, after just 14 matches in charge at the Bernabeu, he's been sacrificed. The two biggest jobs of his life, both gone in the space of 139 miserable days.
Even though he emerges from this Spanish football soap opera bearing plenty of blame, it's hard not to feel for him.
Related - Sacked in the evening: 5 matches that sealed Lopetegui's fate
The situation looked untenable even prior to Sunday's decimation. He lost as many matches as he won (six) in his brief stint with Los Blancos, and leaves, humbled, having overseen the club's worst run in La Liga since 2009. Four goals in seven matches, with just one win, won't cut it in the Spanish capital.
His dismissal felt inevitable. Barca just expedited the process - and happily.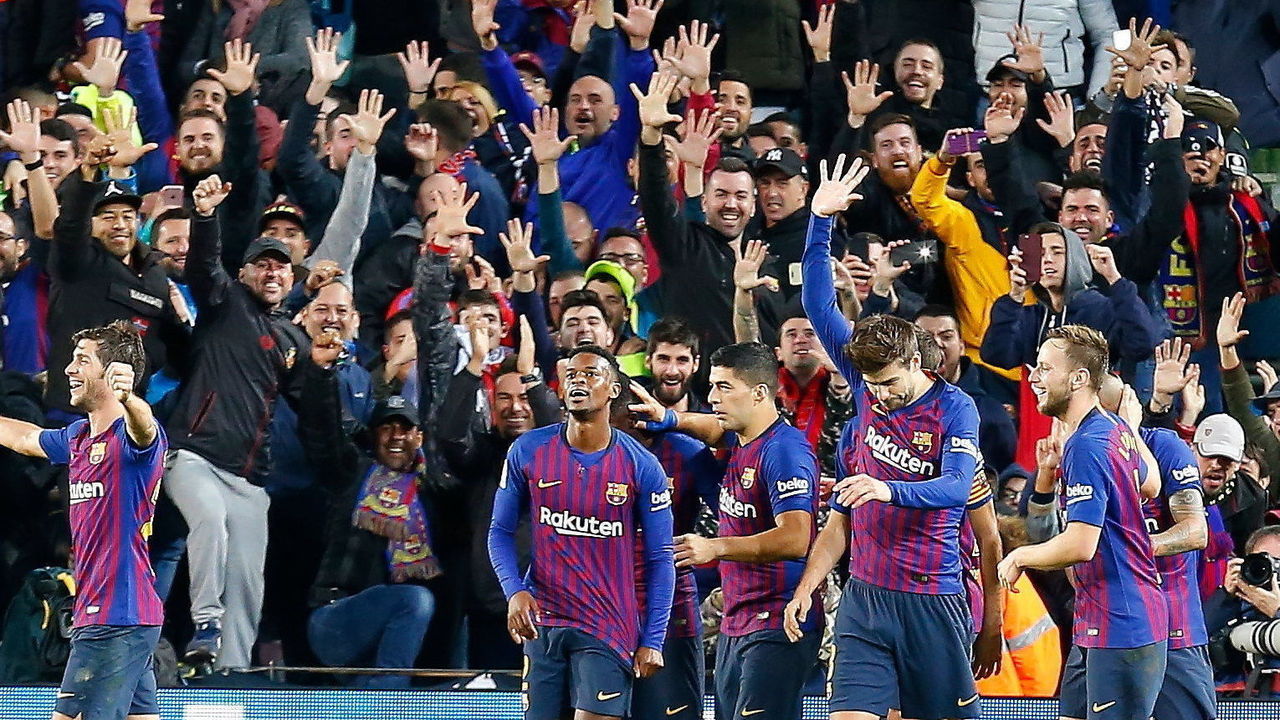 "Lopetegui, Seleccion," the Camp Nou faithful chanted in unison, ridiculing his infamous departure from the national team hours prior to this summer's World Cup. As if the knife needed to be twisted.
The pre-match atmosphere had been subdued - maybe it was the rain that dampened the city all morning, or maybe it was nerves over Lionel Messi's absence.
Now, though, it was a full-blown party.
And to think that Messi's broken right arm was supposed to give Madrid a lifeline when ineptitude up front and wonkiness in defense defined the reigning Champions League holders' season. The writing was on the wall, with or without Messi's involvement. Perhaps we all just ignored it.
No matter the state of the two clubs at the time, "you can never predict a Clasico," said one fan, decked out in full Barca garb, as we waited in line to enter the stadium.
That didn't stop anyone from trying. Sitting around a large table inside Girona's Moli de l'Escala restaurant on Saturday afternoon, we took our best shot at guessing the scoreline, surveying a group of 20 people - 21 including the waiter, who, after setting down and describing a tasty duck dish in great detail, chimed in with his prediction. Not a single one opted for the eventual 5-1 scoreline, even as a joke. (Having called 3-1 to Barcelona, the waiter was in the ballpark, at least.)
The demolition, though shocking, might have been predictable.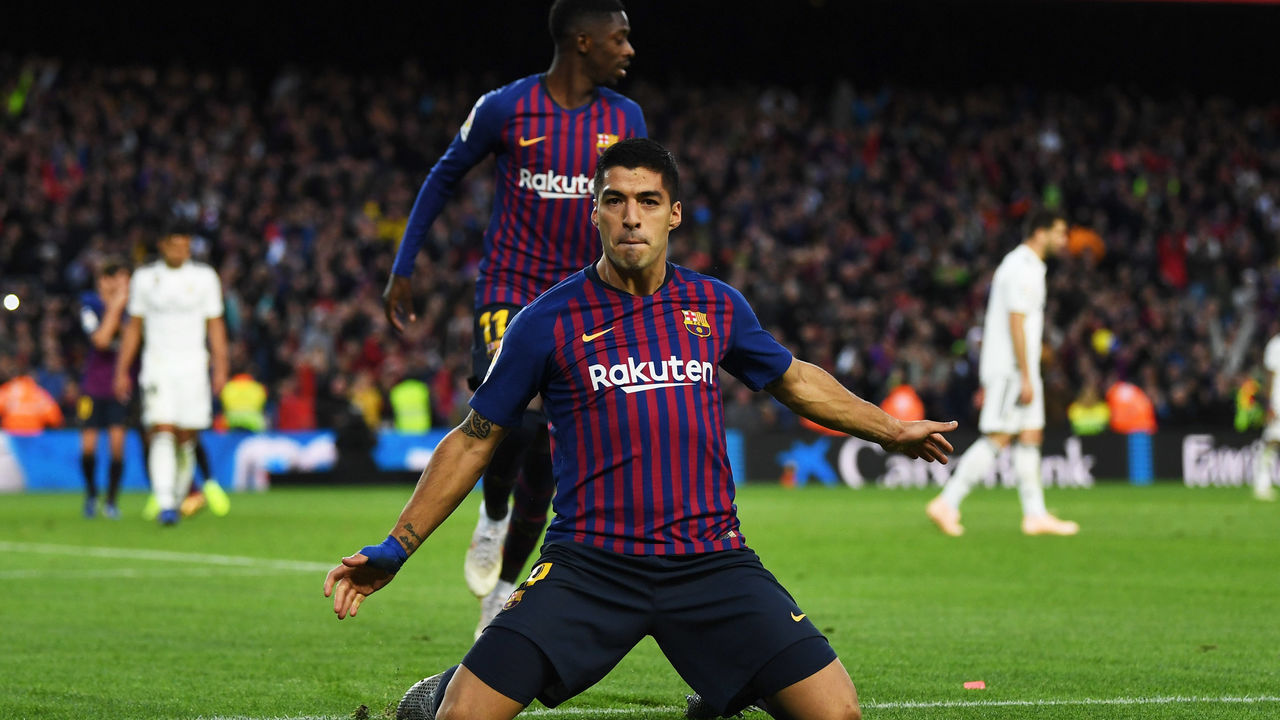 Madrid got the contest underway, and the Camp Nou hissed in unison as Sergio Ramos and Co. knocked the ball around the pitch in the opening seconds. It was deafening - some 90,000 people whistling and jeering at once, as they tend to do when their beloved Barca go more than a few moments without touching the ball. It was the only time they really needed to express their displeasure all match, such was the home side's dominance.
Form, as it turns out, really does matter. Even in a Clasico.
Barcelona were slick, quick, and crisp. Madrid, outside of 15 encouraging minutes to open the second stanza, were slow and sloppy, their defensive structure easily manipulated by Barca's movement. They looked like a team that arrived in Catalonia without a league win in over a month, and they were consequently ripped to shreds.
Nacho, playing in place of the injured Dani Carvajal, was terribly exposed at right-back. The combination of Jordi Alba and Philippe Coutinho was too much to handle; the former was his usual energetic self, teeing up the opening goal, while the latter slotted it home after a classic Barcelona move that saw 30 passes completed in the build-up to the Brazilian's simple finish. Tiki-taka, alive and well.
Luis Suarez converted a penalty in the 30th minute and it remained 2-0 at the interval, but the scoreline didn't reflect Barca's dominance. Beyond collecting a few long-range efforts with ease, Marc-Andre ter Stegen was about as involved in the action as a magpie that set up shop down Real Madrid's right wing.
Ernesto Valverde's men deserved more. Suarez ensured they got it.
A ridiculous 75th-minute header from just inside the penalty area was quickly followed by a deft dink over Thibaut Courtois. The eight-minute brace, which only intensified the bliss inside the Camp Nou, made Suarez the first Barcelona player not named Leo Messi to score a Clasico hat-trick since 1994. He now has nine league goals against Real Madrid since joining the club, more than any player in that time.
Suarez celebrated the birth of his son, Lautaro, just five days earlier, and ensured Sunday that he'll have quite the story to tell him. Even for someone who has now scored 159 times with Barcelona, it was a memorable evening.
And Suarez was prepared for it, judging by the undershirt he revealed after scoring his first goal of the night. "Welcome, Lauti," the shirt read, printed over a photo of his first two children, Benjamin and Delfina, with their baby brother.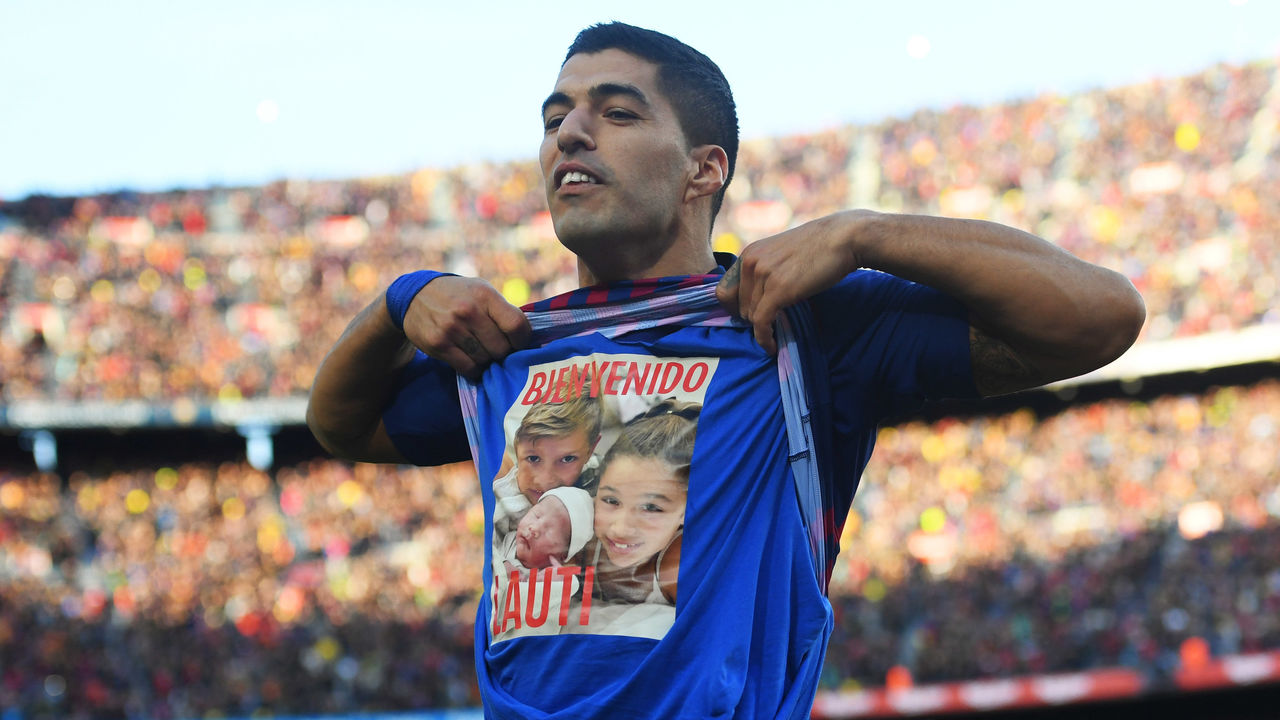 Were it not for the post and a well-positioned Courtois, the 31-year-old could have had two more spectacular tallies, coming oh-so-close with a pair of acrobatic flicked volleys that shouldn't really have been possible to connect on.
Not that it mattered. As evidenced by the "U-ru-guayo!" chant that reverberated after he sealed his hat-trick, those in attendance were plenty happy with just three goals.
As the crowd finally filtered out into the unusually chilly Barcelona night, two friends stopped underneath a massive billboard of Suarez in the Camp Nou parking lot. They asked a passerby to snap a photo and duly took up their positions under the striker's visage.
Then, perhaps inevitably, they each lifted one hand in the air, five fingers splayed. They couldn't help themselves.
Comments
✕
Party at Camp Nou: Witnessing Barca's demolition of Real Madrid live
  Got something to say? Leave a comment below!