The following five players have each been pegged as a breakout candidate in recent years. Instead, they plateaued or regressed and are now flying under the fantasy radar.
However, it's possible those predictions were just a year or two early. Now that the hype has died down, here are five sleeper candidates whose past disappointing performances can translate into great value.
G Robin Lehner, Islanders
Fantasy expectations are low for newly acquired Islanders goaltender Lehner, who joins a team that was historically bad defensively last season and lost John Tavares this summer. But there's one reason why he could drastically exceed those expectations: Barry Trotz.
Trotz is a defensive wizard. His teams have ranked in the top 10 in goals against nine times during his coaching career. While it helped he had Braden Holtby in Washington, many of those top-10 seasons came in Nashville with goalies such as Mike Dunham, Tomas Vokoun, and Chris Mason manning the crease before defensemen Shea Weber and Ryan Suter came into their own.
Related: Mitch Korn reunites with Trotz on Isles' staff as director of goaltending
It remains to be seen whether Trotz can turn this group of misfits into a competitive bunch, but if he can make Dan Ellis fantasy relevant, it's more than worth taking a chance on the once highly touted Lehner in the late rounds as your third goaltender.
C/RW Elias Lindholm, Flames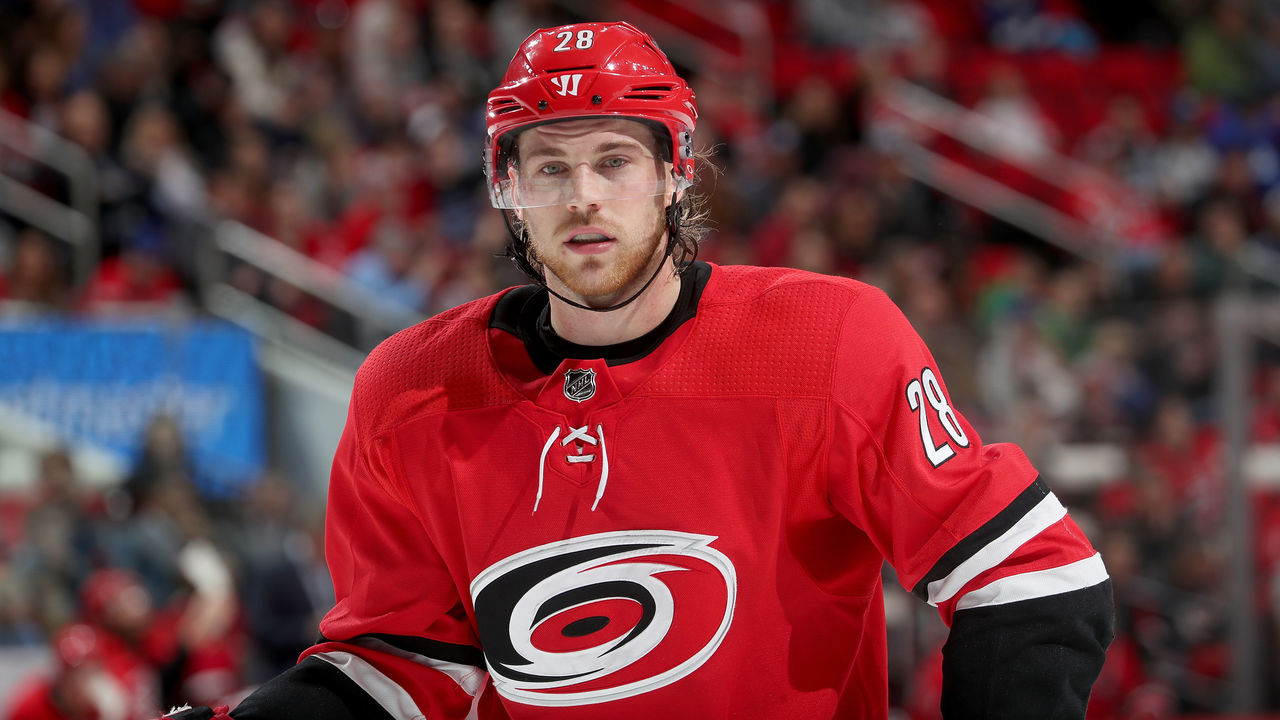 Lindholm seems to top breakout lists before each season, but after five largely unproductive years in Carolina, the hype train has come to a screeching halt.
A fresh start could be exactly what Lindholm needs to finally live up to his potential. Predominately a center the last couple of seasons, he'll likely shift to the wing in Calgary with the Flames already set with centers Sean Monahan, Mikael Backlund, Derek Ryan, and Mark Jankowski.
Lindholm has averaged more shots per game in his career on the wing. He will also deal with less defensive responsibility and could wind up on the team's top line alongside Monahan and Johnny Gaudreau. The addition of James Neal may prevent this, but it's possible the veteran sniper slides down the lineup to provide depth and secondary scoring, which the Flames lacked a season ago.
RW Oliver Bjorkstrand, Blue Jackets
Bjorkstrand was another sexy pick to be a breakout candidate a year ago, but his 11-goal, 40-point campaign was rather underwhelming.
The Dane has been a sharpshooter his entire career. He filled the net in junior, did the same in the AHL, and scored at better than a 20-goal pace through his first two NHL seasons.
His disappointing goal total last year was largely due to a 6.7 shooting percentage, well below the league average and almost half of his career mark heading into last season.
Bjorkstand averaged only 14:18 of ice time in 2017-2018, but that should increase in his second full campaign, especially if Artemi Panarin gets traded, which would also lead to more power-play time. More opportunities to shoot the puck with his quick release could result in a 25- or 30-goal campaign.
C/LW Ryan Nugent-Hopkins, Oilers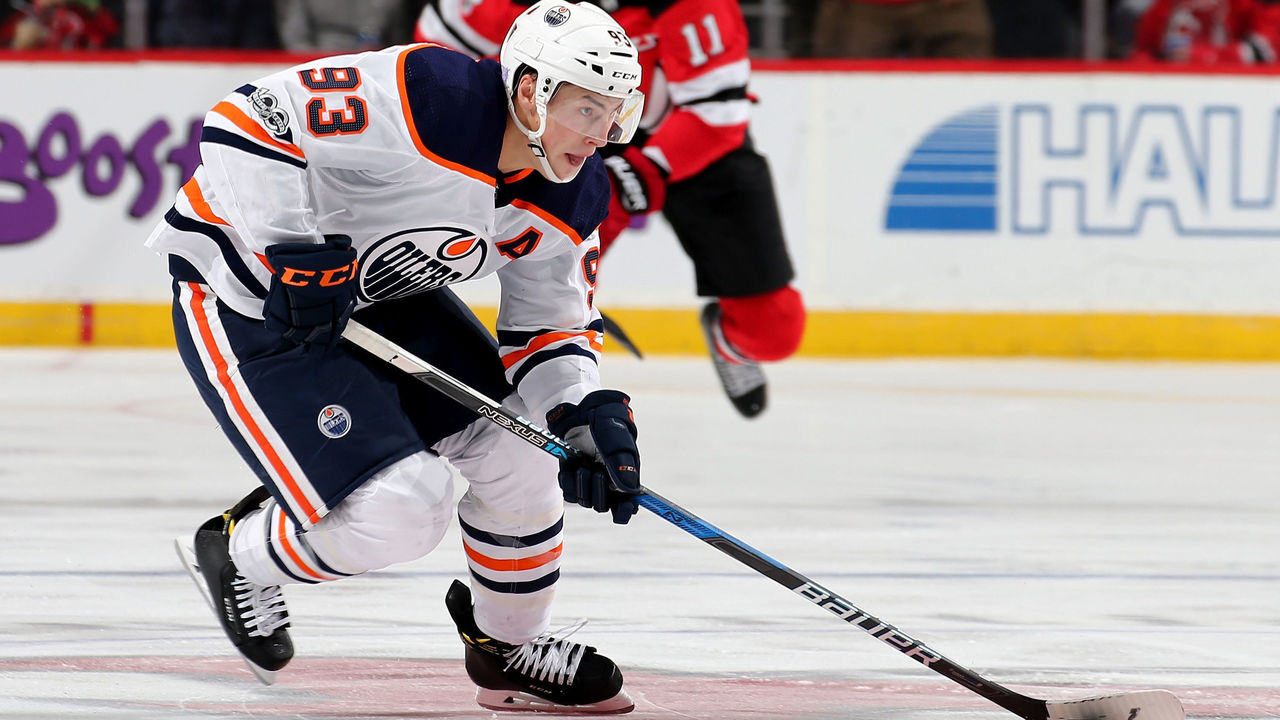 Nugent-Hopkins isn't in the same category as the other players on this list, but there's a strong chance he gets overlooked on draft day.
He averaged 0.84 points per game in his rookie year, and while many predicted he'd make positive strides, he has since failed to match that number.
The 25-year-old has, somewhat amazingly, been in the league for seven seasons now, but he may have just recently found the key to a new level of success: playing alongside Connor McDavid.
Nugent-Hopkins spent the end of the 2017-18 season playing left wing on McDavid's line, and the results were sensational. He tallied nine goals and nine assists in his final 18 games, shooting the puck at a higher rate than he ever has in his career.
If he can stick on McDavid's wing for a full season, 80 points is in the cards.
LW Andre Burakovsky, Capitals
Last offseason, the Capitals had to part ways with forwards Justin Williams and Marcus Johansson to stay under the salary cap. Many assumed this would be Burakovsky's chance for an increased role, but he failed to take advantage in what was an injury-riddled campaign.
That opportunity is still there this season. Alex Ovechkin, Evgeny Kuznetsov, and Tom Wilson will make up the Caps' first line, while Jakub Vrana, Nicklas Backstrom, and T.J. Oshie will likely form the second. The only spot in that top six that isn't solidified is Vrana's second-line left-wing role.
Vrana excited fans with his blazing speed last year, but he did nothing to cement himself in the top six. A strong camp from Burakovsky could help him steal that spot, and playing alongside an excellent two-way forward in Oshie, as well one of the premier playmakers of this generation in Backstrom, could result in 50-60 points for the big Swedish winger.
(Photos courtesy: Getty Images)