Meet Anders Lee, the Islanders' unheralded Rocket Richard contender
Bruce Bennett / Getty Images Sport / Getty
EAST MEADOW, N.Y. – Playing alongside John Tavares is good for most players, as anyone from Matt Moulson to Kyle Okposo will tell you. As much of a boost as there is from skating on the Islanders captain's line, though, the season that Anders Lee is having is something different.
It was last season when Lee linked up with Tavares and Josh Bailey, with Lee playing about two-thirds of his five-on-five minutes as part of the trio. The result was a career-best 34 goals. Lee has only continued to fill the net this campaign, with Tavares taking aim at his first career 100-point season and Bailey – in mid-January – only six points away from the career-high point total of 56 he set a year ago.
"It's a combination of good line chemistry, working hard, getting bounces, taking advantage of opportunities, and trying to pick up where we left off last year," Lee told theScore. "I've kind of rolled with it this year … Us three have been together at parts since I've been here, but consistently for the last year or so, plus, and I think all three of our games, the chemistry, the different styles just meld together really well. The way those two see the ice and we work off each other, and stick to our own game, makes us successful."
With 26 goals, Lee trails only Washington's Alex Ovechkin and Tampa Bay's Nikita Kucherov in the race for the Rocket Richard Trophy. He's on pace for 46 goals, and more than halfway through the season, that means it's possible to start thinking historically.
The highest goal total for a Tavares linemate was Moulson's 36 in 2011-12. The last Islanders 40-goal man was Jason Blake in 2006-07. It's been 20 years since Ziggy Palffy recorded the Islanders' last 45-goal season, and 25 since Pierre Turgeon was their last to hit 50. While the half-century mark is within reach, Turgeon's 58 from the 1992-93 season is probably out of the picture.
Lee doesn't mind talking about reaching various scoring plateaus - but the 27-year-old is far more excited by the Minnesota Vikings' playoff run. Lee is, after all, from Edina, Minn., and was the runner-up for the state's "Mr. Football" award his senior year of high school as a quarterback behind Varmah Sonie, now a star cornerback in the Arena Football League.
"A quarterback in hockey terms, you're looking at a guy running the point and stuff on the power play, and it's kind of the opposite for me right now," Lee said. "But it's one of those things where you've got to read and react, find the open play, and try to stay on your feet … I've always played this style, but matched up with guys like John and Josh, I'm going to be the guy that's down in the corners and in front of the net. They're going to be the guys that are high, with the puck a little bit more.
"I can create space for them to make plays, and you give those two guys space, good things are going to happen. I think all three of our styles of game just do really complement each other well."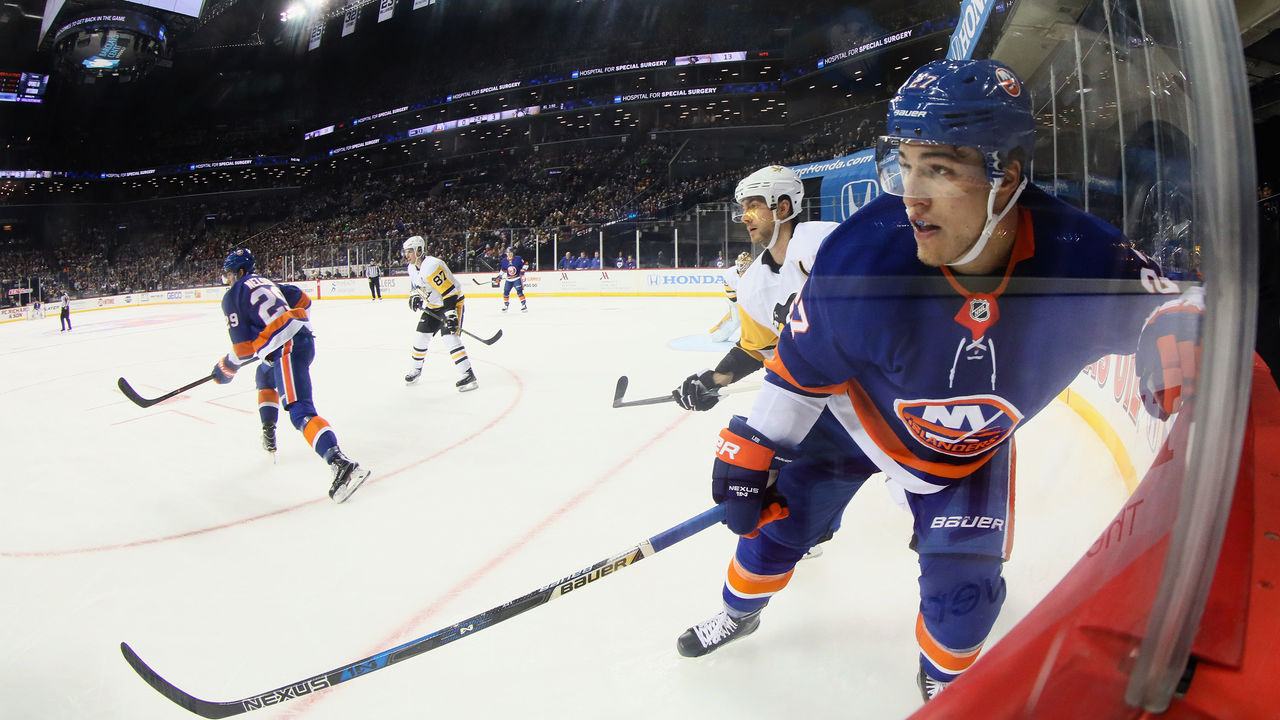 Lee's particular style is the biggest reason to believe his goal production will regress. While Ovechkin's league-leading 28 goals have come on a league-leading 193 shots, Lee is tied for 77th in the NHL for shots on goal. He's scored on 23.4 percent of them, easily the highest rate of anyone with 100 or more shots.
The difference, though, is that Lee is not a volume shooter, nor particularly a sniper. His ability to work in the corners and in front of the net has allowed him to do more damage with fewer opportunities as Tavares - who is having a stellar season with 24 goals - takes the lion's share of the shots.
It's also worth noting that Lee's shooting clip last season was 17.8 percent, which lends credence to the notion that while he may be getting some bounces, an above-average percentage is not a fluke for him.
"It's for sure high, but I don't know what else to say about it," Lee said of his shooting percentage. "I think right now, some of my shots are in tight, with a little bit of time, and I haven't been putting up five-, six-, seven-shot games which would bring that percentage down. So, it's kind of better shots and they happen to be going in. But I feel like the quality's there for sure."
The entire NHL is now seeing that quality, looking up to see Lee rise in a season where his own skill must be recognized just as much as the fact that he plays on a line with one of the game's best.
(Photos courtesy: Getty Images)
Comments
✕
Meet Anders Lee, the Islanders' unheralded Rocket Richard contender
  Got something to say? Leave a comment below!