The calendar year is nearing its end, and with it, we bid farewell to 12 months of football rife with brilliant individual performances and stellar team efforts, and damaging demonstrations and disastrous displays.
With that in mind, theScore is looking back at 25 moments that defined world football in 2017:
Giroud kicks off the year with Puskas-winning scorpion kick
It was equal parts audacious, astounding, and awesome, and earned Olivier Giroud the Puskas Award by year's end. But for the Arsenal man, a goal could not have been struck more sweetly to kick off the new year than this.
Wayne Rooney surpasses Sir Bobby Charlton with 250 goals
At the top of the year, Wayne Rooney was approaching a club record at Manchester United, having tied Sir Bobby Charlton at 249 goals. By the end of January, Rooney scored his 250th, becoming the club's all-time top scorer.
Schweinsteiger asked if Chicago will make World Cup
When Bastian Schweinsteiger joined the Chicago Fire, one reporter asked if his presence might help the club qualify for the World Cup. Huh? The odd (and ill-informed) question left Bastian laughing ... along with the rest of us.
Canada, USA, Mexico announce joint bid for 2026 World Cup
In a historic moment for CONCACAF, the U.S., Canadian, and Mexican soccer federations announced a bold plan to joint-host the 2026 FIFA World Cup, with the U.S. hosting the majority of the competition's headlining fixtures.
Borussia Dortmund team hit by explosive devices
Marc Bartra was hurt by shards of glass as three explosions went off by the Borussia Dortmund team bus ahead of a Champions League tilt with AS Monaco. This terror incident made international headlines in April.
John Terry announces Chelsea departure
After 22 years of service at Chelsea, captain John Terry called it time on his stay at Stamford Bridge in 2017. He made 713 appearances, but didn't leave to retire, instead joining Championship outfit Aston Villa.
Messi lifts shirt to Real Madrid crowd after scoring 500th goal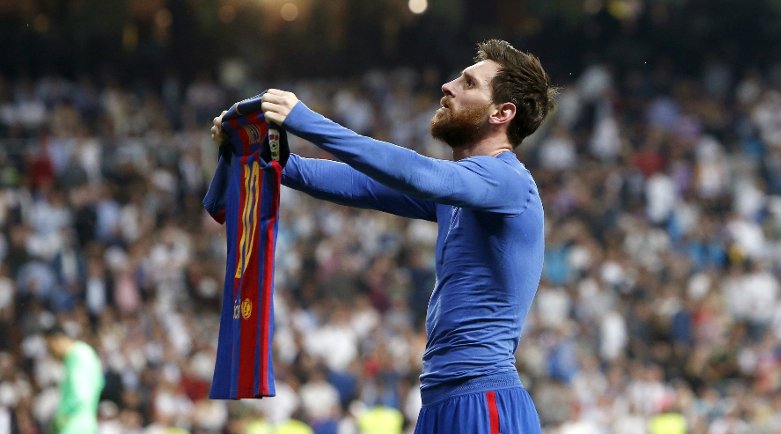 (Photo courtesy: @iam_Kashmoneyy)
One of the most memorable photos of 2017 came when Lionel Messi scored his 500th goal with a dramatic late winner against Real Madrid in El Clasico. He lifted his shirt up high, his name now truly cemented in football lore.
AS Monaco pips PSG to win Ligue 1
A new crop of superstars were born in Monaco as Leonardo Jardim's side pipped Paris Saint-Germain to claim its first Ligue 1 title since 1999-2000. The team was led by 18-year-old Kylian Mbappe, who scored the title-winning goal.
Messi loses Supreme Court appeal for tax fraud
Messi may be an alien on the field, but Spanish tax authorities didn't treat him any differently than any other suspect as the Barcelona superstar was found guilty of evading taxes to the tune of $6.1 million.
Francesco Totti plays final match for AS Roma
Twenty-four years a loyal servant of AS Roma, Francesco Totti finally called it a day in 2017, hanging up his boots and leaving behind a legacy unmatched in Italy's capital. Totti retired at 40 and the city actually wept.
Real Madrid successfully defends Champions League crown
Real Madrid became the first team to win back-to-back Champions League titles this year, with Cristiano Ronaldo scoring a brace as his side defeated Juventus 4-1 in the final.
Bradley Lowery passes away
After a lengthy battle with a rare form of cancer, Sunderland supporter Bradley Lowery passed away on July 7. His best friend, England striker Jermain Defoe, wrote that Lowery's "courage and bravery will inspire me for the rest of my life."
Rooney admits wearing Everton PJs for 13 years
Rooney has a secret, one he's kept for the last 13 years: "I've actually been wearing Everton pajamas at home with my kids," admitted the Manchester United icon, who returned to his childhood club Everton in 2017.
PSG signs Neymar for world-record fee
PSG shocked the world and changed the transfer market as we know it by spending €222 million to acquire Neymar from Barcelona. The Brazil superstar became the most expensive player in the world due to this unthinkable deal.
Juan Mata kicks off Common Goal initiative
Perhaps in response to the astronomical fees being paid this summer, United midfielder Juan Mata launched an initiative called Common Goal, pledging one percent of his salary to charity and urging other footballers to do the same.
Diego Costa finally gets his Atletico return
It was the transfer saga that just wouldn't end, until it finally did on Sept. 26 as Chelsea and Atletico Madrid confirmed an agreement to transfer wantaway striker Diego Costa back to the Spanish capital in January.
Sergio Aguero breaks a rib in car accident
(Photo courtesy: KaWijko Media/Handout via REUTERS)
Manchester City fans received some shock news on Sept. 29 as star striker Sergio Aguero was involved in a serious car accident and suffered a broken rib. Aguero was out for around two months before returning to full fitness.
Iceland qualifies for 2018 FIFA World Cup
Iceland became the smallest nation to qualify for the FIFA World Cup after topping Group I of UEFA's qualification stage. The nation of roughly 300,000 had already won the hearts of neutrals at Euro 2016 with its Viking Clap.
USA fails to qualify for 2018 FIFA World Cup
Uh-oh. Not good. The U.S. men's national team suffered a shock 2-1 loss to Trinidad and Tobago and thus failed to qualify for the 2018 FIFA World Cup. It was a failure that sent shockwaves through the U.S. as calls for change finally arose.
Hope Solo accuses Sepp Blatter of sexual harassment
Former U.S. women's national team goalkeeper Hope Solo alleged that ex-FIFA president Sepp Blatter had sexually assaulted her during a FIFA Ballon d'Or ceremony, telling Tribuna Expresso: "I had Sepp Blatter grab my ass."
Buffon retires after Italy fails to qualify for World Cup
Italy crumbled to a shock World Cup qualifying failure with a 1-0 aggregate loss to Sweden in UEFA's play-off round, thus ending the international career of Gianluigi Buffon, the country's most iconic goalkeeper. Holding back tears, Buffon said: "I'm sorry. Not for me but for Italy. We blew something that could have meant so much. The only regret is that it ended like this."
Chapecoense qualifies for 2018 Copa Libertadores
One year after a devastating plane crash killed most of the team's players and staff, Chapecoense qualified for the 2018 Copa Libertadores. This incredible story of community, perseverance, and rebirth was truly inspiring.
Ronaldo declares himself the best in history
"You will go and say that I have a big head, but when you're at the top, it's normal that you're criticised ... I am the best player in history, in both good and bad times." - Cristiano Ronaldo, after winning his fifth Ballon d'Or.
"There is no one more complete than me."
Toronto FC wins MLS Cup, completing historic treble
From the "worst team in the world" to Major League Soccer's greatest ever, Toronto FC finally won its first MLS Cup in 2017, as well as the Supporters' Shield, the Canadian Championship, and the league's points record.
Manchester City sets new EPL record winning streak
Manchester City dominated headlines in December as Pep Guardiola's men racked up win after win after win ... until the club actually set the English record for most consecutive wins with a 15th straight victory on Dec. 13.
(Photos courtesy: Getty)