NHL Power Rankings: Blues jump to No. 2, Leafs, Hawks plummet
Jeff Curry / USA TODAY Sports
theScore's NHL Power Rankings are published every other Monday. Our third go-round is put together by editors Cory Wilkins, Flip Livingstone, Craig Hagerman, and Josh Wegman.
1. Tampa Bay Lightning (11-2-2)
Previously 1st
The Lightning remain at the top for the second consecutive week. They're still scoring at an incredible pace, and Andrei Vasilevskiy continues to be rock solid between the pipes. - Wegman
2. St. Louis Blues (11-3-1) ▲
Previously 7th
The Blues are for real. They have had the second-toughest schedule in the league, per Hockey Reference, but continue to pile up wins. Jaden Schwartz is having a huge breakout season, and Alex Pietrangelo is playing like he wants a Norris Trophy. - Wegman
3. Columbus Blue Jackets (9-4-1) ▲
Previously 11th
The Blue Jackets have been dealt the toughest schedule in the league thus far, but they have responded relatively well. The Lightning have had their number so far, but they're at the top for the reason. The Jackets are fast, physical, and as deep as they come. Having Sergei Bobrovsky between the pipes doesn't hurt either. - Wegman
4. Los Angeles Kings (10-2-2) ▼
Previously 2nd
The Kings move down two spots on this list, losing two of their last three games, and needing overtime or a shootout to pick up two of their last four wins. They're still a strong team, but how long will their scoring depth hold up, and how long will Jonathan Quick continue to stand on his head? - Wegman
5. Winnipeg Jets (7-3-3) ▲
Previously 22nd
The Jets are 7-1-3 since the first two games of the season. An OT loss to the Habs on Saturday wasn't the way they wanted to end their week, but three straight wins over Pittsburgh, Minnesota, and Dallas by a combined score of 14-4 is impressive. For the first time in its history, the team seems to have an answer in goal with Connor Hellebuyck, and that has been the difference. - Wegman
6. New Jersey Devils (9-3-1) ▲
Previously 10th
The Devils continue to prove they are more than just a hot start. They currently boast the fourth-best points percentage in the league and have dropped just one of their first six road games. They're getting both scoring and solid goaltending from committee and are torching clubs with their speed with no signs of slowing down. - Hagerman
7. San Jose Sharks (8-5-0) ▲
Previously 25th
The Sharks are cruising, currently on a four-game winning streak and on the back of strong defensive play that has seen them concede the second-fewest goals per game (2.31) while boasting the second-best penalty kill. Logan Couture is off to a hot start, while Brent Burns is still without his first goal of the season. If he returns to his Norris Trophy-winning self the Sharks could climb that much higher. - Hagerman
8. Dallas Stars (8-6-0)
Previously 8th
The Stars continue to do work with their top-ranked power play and third-place penalty-kill units. Some more consistency at 5-on-5 and they could really start making some noise in the West. - Hagerman
9. Pittsburgh Penguins (8-6-2) ▼
Previously 5th
The Penguins have dropped four of their last five games and have managed to score more than two goals in a game just once in their last eight games. In all they've tallied 13 goals in eight games with Sidney Crosby, Evgeni Malkin, and Phil Kessel combining for just five. That should change. - Hagerman
10. Vegas Golden Knights (9-4-0) ▲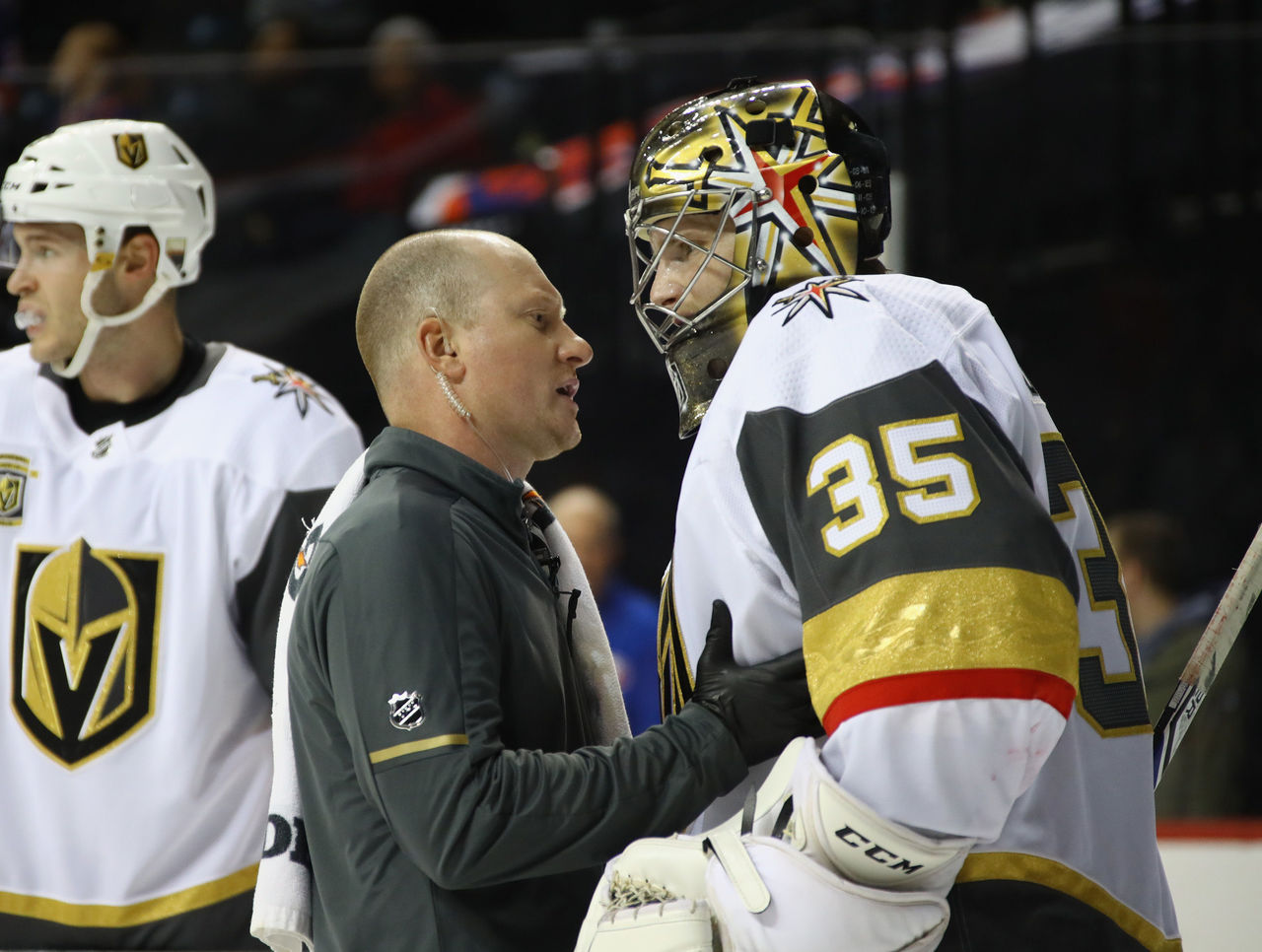 Previously 15th
Injuries in goal and the team's first real taste of life on the road has seen the Golden Knights fall back to earth a touch. They still cling to a top-third offense and could receive a jolt once some of their goalies return to regular duty. - Hagerman
11. Ottawa Senators (6-3-5) ▼
Previously 6th
Early trade rumors surrounding Matt Duchene may have been a distraction for Ottawa, as it was thumped by the Habs and lost a close, one-goal game to the Knights. Now that the deal is done, the team should be able to get things back in order. - Livingstone
12. Nashville Predators (7-5-2) ▲
Previously 14th
After a rough start to the year the Preds are seemingly rounding into form. Back-to-back road wins over the Ducks and Kings have Peter Laviolette's crew on the rise. - Livingstone
13. Vancouver Canucks (7-4-2) ▲
Previously 24th
Show of hands from those who expected the Canucks to ever crack the top 20, let alone the top 15? We'll wait. - Livingstone
14. Anaheim Ducks (6-6-2) ▼
Previously 13th
The Ducks continue to hold on despite significant injuries up front. They are just over a week out from dismantling the top-ranked Lightning and that shouldn't be overlooked. - Hagerman
15. New York Islanders (8-5-1) ▲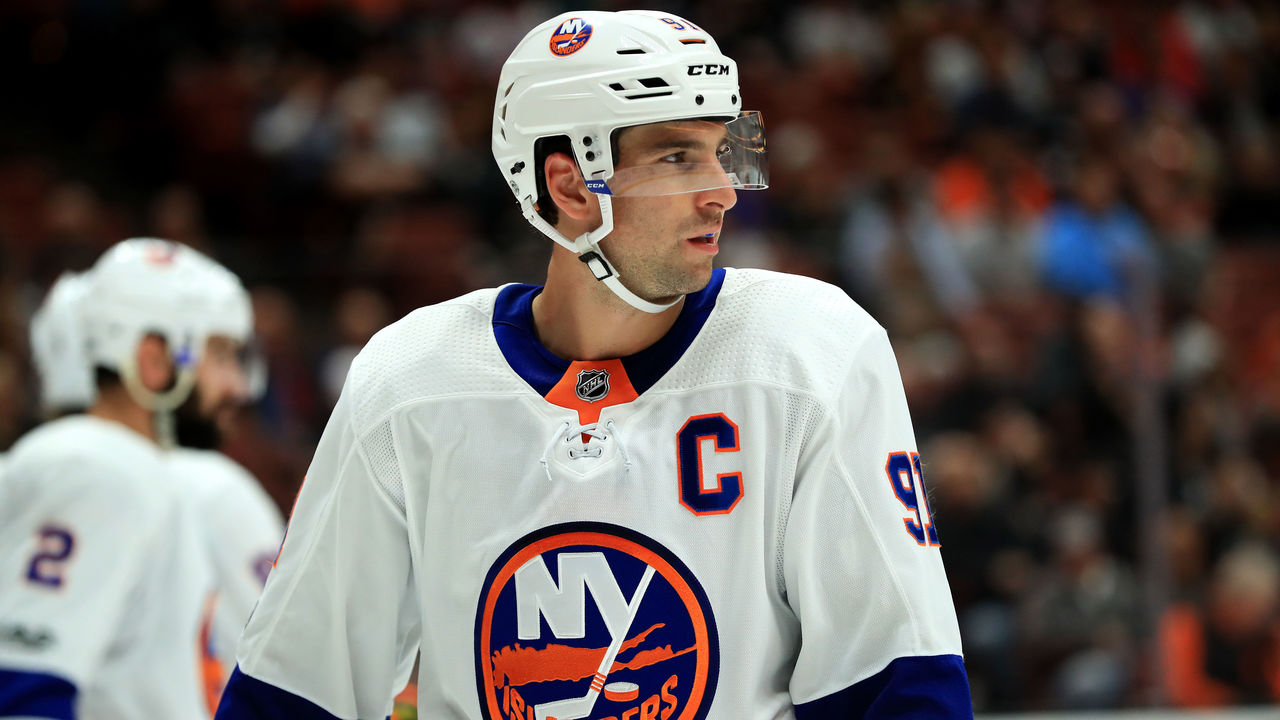 Previously 16th
The Islanders have the unfortunate distinction of being a team that wins big and loses big. But, with Johnny T filling the net on the regular, New York finds itself smack dab in the middle of the pack. - Livingstone
16. New York Rangers (6-7-2) ▲
Previously 27th
Much like the team right below, the Rangers are trending in the right direction once again, earning three straight wins and four of their last five. If New York can keep lighting the lamp and getting consistency from Henrik Lundqvist, look for it to continue its ascent up this list. - Livingstone
17. Colorado Avalanche (8-6-0) ▲
Previously 28th
Colorado continues to shock the hockey world by not being the flaming pile of garbage it was last season. The Avs only managed 22 wins last year, and already have eight to start this campaign. Three wins in their last four games have Colorado on the rise once again. - Livingstone
18. Montreal Canadiens (6-8-1) ▲
Previously 29th
Four victories in the last five games, including a statement win on the road against the Jets, have fans in Montreal shelving their pitchforks - for the time being. - Livingstone
19. Boston Bruins (5-4-3) ▲
Previously 21st
Boston may have lost three of its last four, but one of those was a shootout loss, one was an OT loss, and the other was a tight one-goal game against the Capitals. The Bruins could easily have four wins in a row instead. - Livingstone
20. Minnesota Wild (5-5-2) ▼
Previously 19th
The injury-plagued Wild are struggling to score, as defenseman Jared Spurgeon leads the team with only nine points. Two things here should be alarming to Minnesota fans: One, a defenseman is leading the team in scoring. Two, the leading scorer has only nine points. - Livingstone
21. Toronto Maple Leafs (8-7-0) ▼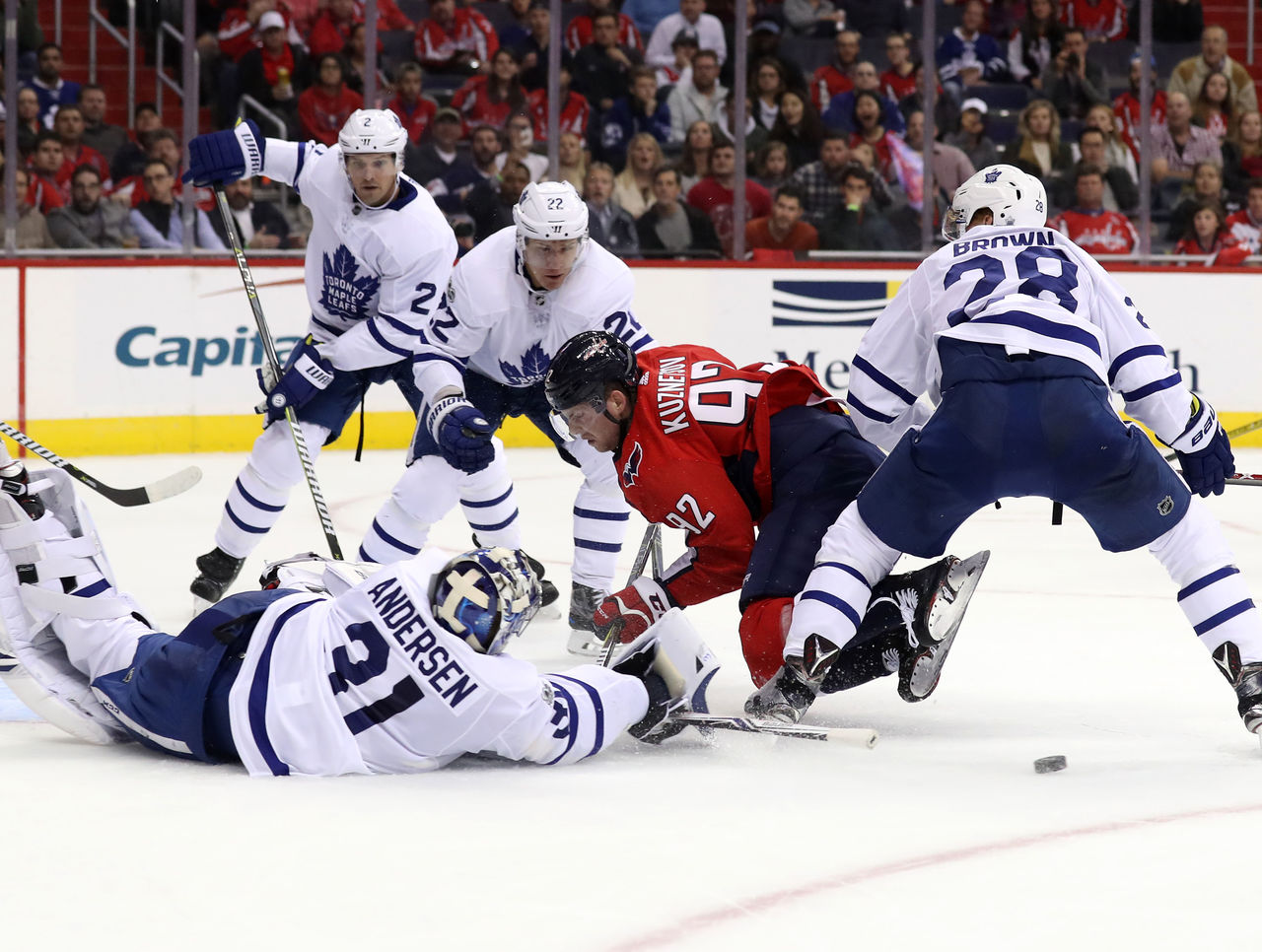 Previously 3rd
After starting the season 6-1, Toronto has found the win column just once in its last six. Goaltender Frederik Andersen continues to struggle in the early going. - Wilkins
22. Washington Capitals (7-6-1) ▼
Previously 12th
The Capitals have looked incredibly pedestrian in their last five contests, winning three times but allowing as many goals as they've scored. Washington won't have to worry about the Presidents' Trophy this year. - Wilkins
23. Philadelphia Flyers (7-6-2) ▼
Previously 9th
Philadelphia's top line is putting plenty of pucks in the net. The problem is keeping them out of their own. Offseason addition Brian Elliott has looked only average as the Flyers' go-to goaltender. - Wilkins
24. Chicago Blackhawks (7-6-2) ▼
Previously 4th
Goaltender Corey Crawford leads the league with an eye-popping .945 save percentage. He's doing all he can for a lackluster Blackhawks squad that has scored just 11 times in its last six appearances. - Wilkins
25. Calgary Flames (8-6-0) ▼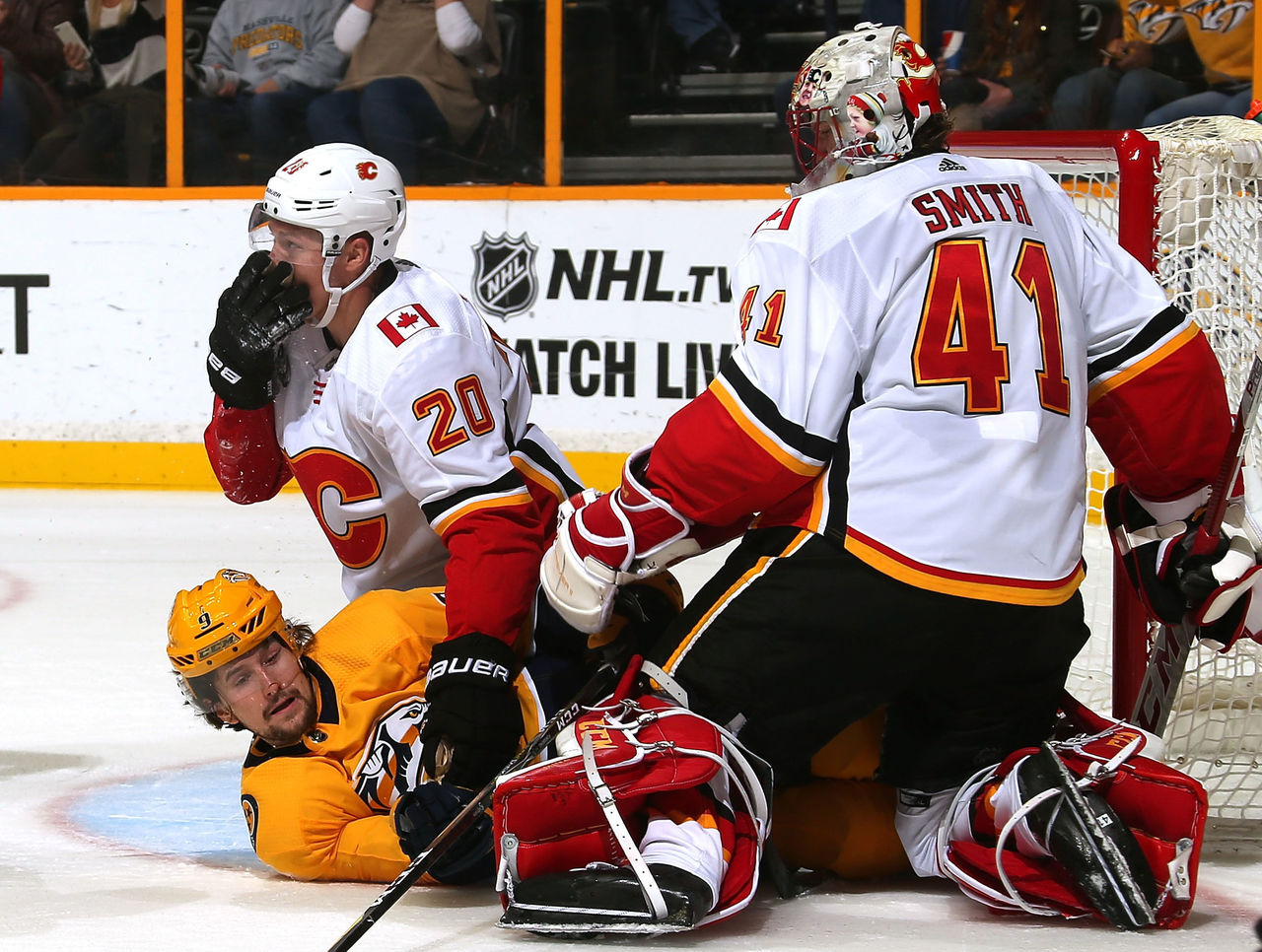 Previously 17th
Captain Mark Giordano called goaltender Mike Smith the Flames' MVP. It's a fair statement given Calgary has scored just 11 times in its last five games. - Wilkins
26. Edmonton Oilers (4-8-1) ▼
Previously 20th
Years of high draft picks - including superstar Connor McDavid - leaves the Oilers with no excuses. The team has no business sitting second-last league-wide. - Wilkins
27. Detroit Red Wings (7-7-1) ▼
Previously 26th
Detroit's 4-1 start to the season appears to be a mirage, as the Red Wings have won just three of their last 10. The good news: With 13 points in 15 games, Dylan Larkin is back after struggling through his sophomore year. - Wilkins
28. Buffalo Sabres (4-8-2) ▲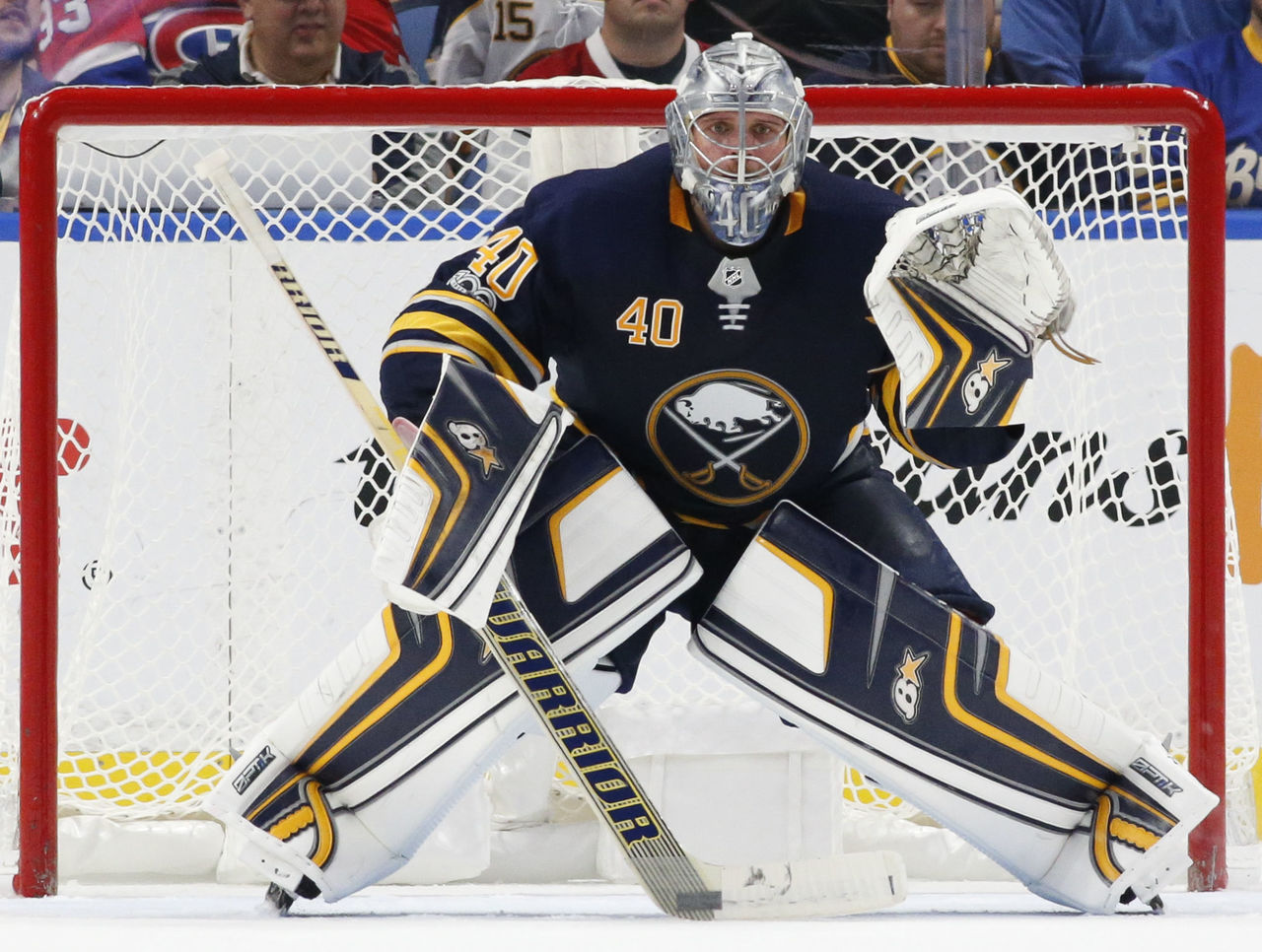 Previously 30th
Starter Robin Lehner was given a show-me contract but is failing to live up to his end of the deal. A banged up blue line hasn't helped either. - Wilkins
29. Carolina Hurricanes (4-5-3) ▼
Previously 23rd
The expectation was the Hurricanes would take the next step this season, but fans are still waiting. New netminder Scott Darling is still adjusting to the starter's role. - Wilkins
30. Arizona Coyotes (2-12-1) ▲
Previously 31st
The overall record is ugly, but the Coyotes are finally showing some signs of life, coming away with the win in two of their last four. Rookie sensation Clayton Keller continues to impress. - Wilkins
31. Florida Panthers (4-7-2) ▼
Previously 18th
The Panthers have struggled in their last six outings, picking up just one win, while interim starter James Reimer has allowed 19 goals in his last five appearances. - Wilkins
(Photos courtesy: Getty Images)
Comments
✕
NHL Power Rankings: Blues jump to No. 2, Leafs, Hawks plummet
  Got something to say? Leave a comment below!