Brett McMurphy's bowl projections: Week 4 edition
Don Juan Moore / Getty Images Sport / Getty
Brett McMurphy has been a college football reporter for nearly 30 years. He is a longtime voter in the Associated Press poll as well as a Heisman Trophy voter. Find him on Twitter @brett_mcmurphy.
Before the season, my projected College Football Playoff field consisted of Auburn (yuck), Ohio State (still got a shot), Washington (so far, so good) and Oklahoma State (what, they just scored again at Pitt?).
Technically all four are still alive. And so are my bowl projections.
After providing bowl picks for decades (ahh, the good old days of predicting the Poulan Weed-Eater Independence Bowl) for a variety of media outlets and dominating the landscape with a run comparable to Nick Saban's recent tenure at Alabama (without the $11-million salary, a Coke bottle at all my press conferences, and a loss on a Kick Six), I'm taking my talents - and selections - to theScore.
Now that you have been provided the necessary warnings as required by law and my legal counsel, I hope you enjoy my weekly projections for all 40 bowls. Each Tuesday you can find them exclusively here. Included will be a mix of insight, inside info, news, notes, and, yes, sometimes, even nonsense. And remember: If you don't like my bowl picks, they'll be different next week.
College Football Playoff
| BOWL | DATE | MATCHUP |
| --- | --- | --- |
| Championship Bowl | Jan. 8 | CFP semifinal winners |
Projection: Clemson vs. Alabama
Yes, it's another Clemson-Alabama final. Stop me if you've seen this before. After splitting the past two championships, the Tigers and Tide appear to be on a collision course for a third consecutive season. Clemson and Alabama is becoming college football's version of Warriors versus Cavs, or, if you're old-school - really old-school - Lakers versus Celtics.
Semifinals
| BOWL | DATE | MATCHUP |
| --- | --- | --- |
| Rose Bowl | Jan. 1 | CFP semifinal |
Projection: Alabama (CFB No. 2) vs. Oklahoma State (CFB No. 3)
It's no surprise Alabama will win the SEC again, but I'm projecting the Tide as only the overall No. 2 seed. Before the season, Oklahoma State was my pick to win the Big 12 and make its first College Football Playoff. The Cowboys and QB Mason Rudolph have made me look like a genius - so far.
| BOWL | DATE | MATCHUP |
| --- | --- | --- |
| Sugar Bowl | Jan. 1 | CFP semifinal |
Projection: Clemson (CFB No. 1) vs. Washington (CFB No. 4)
In each of the past six years, Clemson is the only team that's never finished the season lower in the AP poll than its preseason ranking. Dabo Swinney is the only coach in college football history that has accomplished this. Like Oklahoma State, I picked Washington before the season to make the College Football Playoff. No reason to change yet.
New Year's Six bowls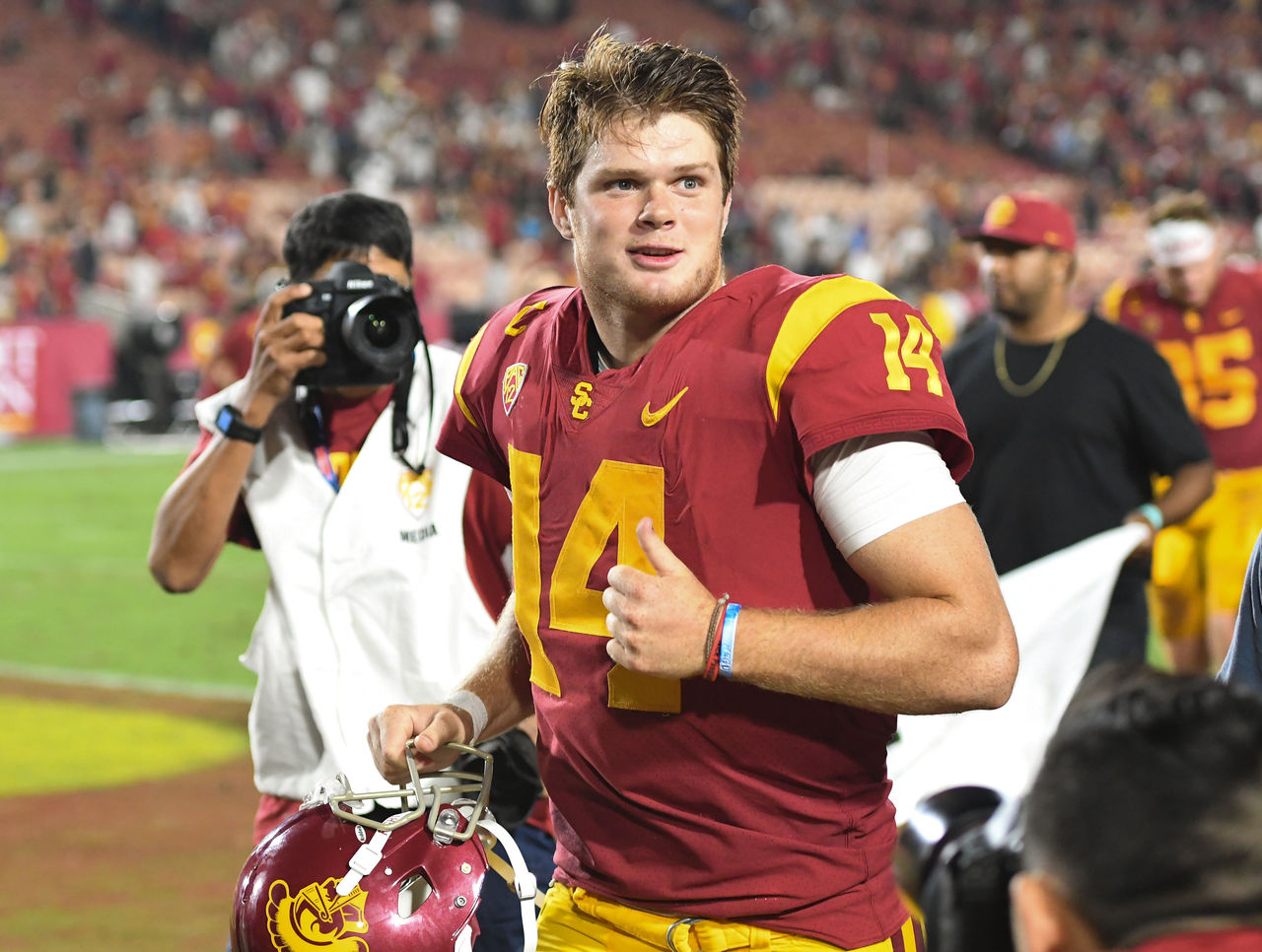 | BOWL | DATE | MATCHUP |
| --- | --- | --- |
| Peach Bowl | Jan. 1 | at-large vs. at-large* |
Projection: Wisconsin vs. San Diego State
Don't look now, but San Diego State would be leading the Pac-12 at 2-0 - that is, if the school was actually in the Pac-12. Those wins vs. Arizona State and Stanford make the Aztecs the clear favorite to get the Group of 5 New Year's Six bowl bid. Wisconsin, with the nation's easiest Power 5 schedule, should cruise to its second straight January bowl.
| BOWL | DATE | MATCHUP |
| --- | --- | --- |
| Fiesta Bowl | Dec. 30 | at-large vs. at-large |
Glendale, Ariz., would be transformed into Pasadena South in this dream matchup for bowl organizers. Michigan and USC have met 10 times, including eight times in the Rose Bowl. The schools haven't played each other since 2007 and would deliver blockbuster television ratings with USC QB Sam Darnold facing Michigan's defense.
| BOWL | DATE | MATCHUP |
| --- | --- | --- |
| Orange Bowl | Dec. 30 | ACC vs. Big Ten/SEC/ND |
Projection: Florida State vs. Ohio State
With Clemson in the playoff, Florida State - even with starting QB Deondre Francois lost for the season - gets the ACC's automatic bid as the league's next-highest ranked team. Ohio State will win the Big Ten, but misses out on the playoff. As the highest ranked non-playoff team from the Big Ten or SEC, the Buckeyes earn a nice consolation trip to Miami.
| BOWL | DATE | MATCHUP |
| --- | --- | --- |
| Cotton Bowl | Dec. 29 | at-large vs. at-large |
Projection: Oklahoma vs. Penn State
This projected matchup would be just the third meeting between OU and Penn State. The last one was the 1986 Orange Bowl, when No. 3 Oklahoma beat No. 1 Penn State 25-10 for the national title (remember freshman QB Jamelle Holieway and sophomore TE Keith Jackson?). It's doubtful Sooners coach Lincoln Riley recalls that game; he was only 2 years old when it was played.
Other bowls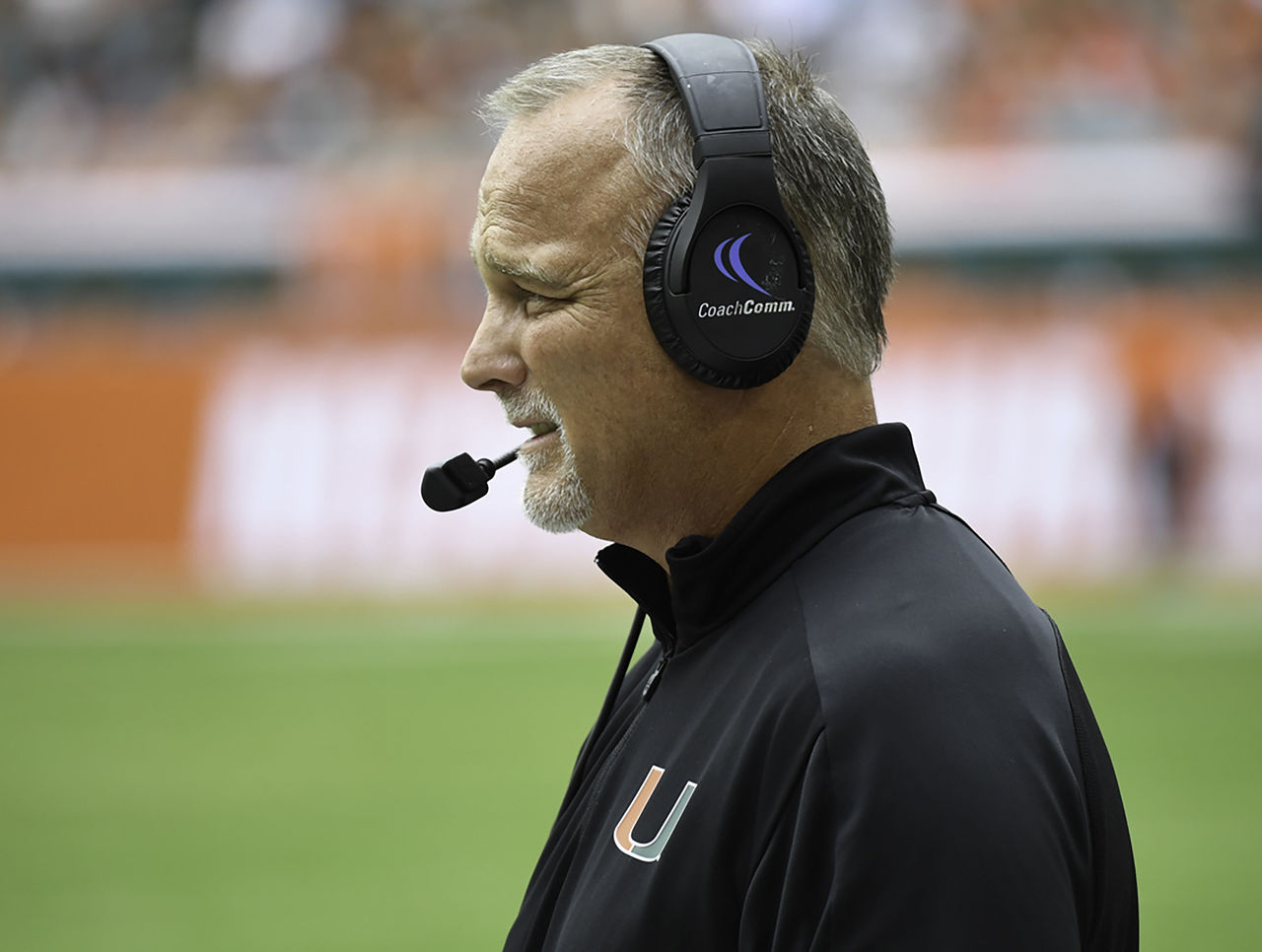 | BOWL | DATE | MATCHUP |
| --- | --- | --- |
| Citrus Bowl | Jan. 1 | ACC/Big Ten vs. SEC |
What an emotional game this would be for Miami coach Mark Richt, who spent 15 years at Georgia before he was fired in 2015. Last year, Richt told me he was prepared to sit out the 2016 season until he spoke with his alma mater about coaching. The Hurricanes are glad he didn't take a year off.
| BOWL | DATE | MATCHUP |
| --- | --- | --- |
| Outback Bowl | Jan. 1 | Big Ten vs. ACC |
Projection: Maryland vs. Auburn
In the past two weeks Auburn managed only six points vs. Clemson and 24 vs. FCS member Mercer. The Tigers' offensive woes should disappear Saturday at Missouri, which has allowed an average of 36 points in its first three games. Maryland's upset of Texas looks even more impressive after Texas' near-upset of USC last week.
| BOWL | DATE | MATCHUP |
| --- | --- | --- |
| Liberty Bowl | Dec. 30 | Big 12 vs. SEC |
Projection: Texas vs. Tennessee
Tom Herman's upset magic finally ran out - but barely. Last week's game at USC marked the 12th time Herman was an underdog since 2014 as either Ohio State's offensive coordinator or head coach at Houston and Texas. He had won the previous 11 and nearly made it a perfect dozen before the Longhorns lost in overtime.
Tennessee would have loved to reach overtime last week at Florida, but the Vols allowed a 63-yard, game-winning TD pass with no time remaining in a brutal 26-20 loss.
| BOWL | DATE | MATCHUP |
| --- | --- | --- |
| TaxSlayer Bowl | Dec. 30 | ACC/Big Ten vs. SEC |
Projection: Minnesota vs. Mississippi State
Since 2014, Mississippi State has won more SEC games than every SEC West team except for Alabama. Every year it seems the Bulldogs are picked to finish last in their division and every year Dan Mullen exceeds expectations. First-year Minnesota coach P.J. Fleck has rowed the Golden Gophers to an impressive 3-0 start, outscoring their opponents 99-24.
| BOWL | DATE | MATCHUP |
| --- | --- | --- |
| Arizona Bowl | Dec. 29 | MWC vs. Sun Belt |
Projection: Wyoming vs. New Mexico State
This matchup features the final game for Wyoming QB Josh Allen and the final game for New Mexico State as a member of the Sun Belt Conference. Next year, Allen will be making millions in the NFL and the Aggies will be making pennies as an FBS independent.
| BOWL | DATE | MATCHUP |
| --- | --- | --- |
| Belk Bowl | Dec. 29 | ACC vs. SEC |
Projection: Notre Dame vs. Florida
Notre Dame bulldozer/running back Josh Adams topped 2,000 career rushing yards in last week's win at Boston College, and got there in 316 carries. That's the quickest an Irish player has gained 2,000 career yards since some guy named George Gipp did it in 323 carries back in 1920.
| BOWL | DATE | MATCHUP |
| --- | --- | --- |
| Music City Bowl | Dec. 29 | ACC/Big Ten vs. SEC |
Duke vs. Kentucky? Sign me up! Wait, it's not basketball? Give David Cutcliffe and Mark Stoops a ton of credit. The Blue Devils and Wildcats are a combined 6-0 so far. Duke looks like the third-best team in the ACC Coastal, while Kentucky - if it can end a 30-game losing streak to Florida on Saturday - has as good a shot as anybody of winning the SEC (L)east.
| BOWL | DATE | MATCHUP |
| --- | --- | --- |
| Sun Bowl | Dec. 29 | ACC vs. Pac-12 |
Projection: N.C. State vs. Utah
True story: When I was with ESPN, a few years ago Utah's Kyle Whittingham and NC State's Dave Doeren were among a number of coaches that visited Bristol, Conn. On Whittingham's trip, he asked me if ESPN had a gym so he could work out before flying back home. Yes, we had a gym - and yes, he worked out.
On Doeren's trip home, he tweeted a photo of himself and Duke's David Cutcliffe showing off their six-packs - Bud and Bud Light, respectively.
| BOWL | DATE | MATCHUP |
| --- | --- | --- |
| Alamo Bowl | Dec. 28 | Big 12 vs. Pac-12 |
New Oregon coach Willie Taggart's teams have scored at least 30 points in his last 19 games at USF and Oregon, the nation's longest such current streak by a coach. Although TCU coach Gary Patterson is known more as a defensive specialist, his team's also a scoring machine. Ducks versus Horned Frogs would be a rematch of their epic 2015 Alamo Bowl, where TCU rallied from a 31-0 deficit to win 47-41 in three OTs.
| BOWL | DATE | MATCHUP |
| --- | --- | --- |
| Camping World Bowl | Dec. 28 | ACC vs. Big 12 |
Projection: Virginia Tech vs. Kansas State
When Virginia Tech coach Justin Fuente was Oklahoma's starting QB in 1996, Bill Snyder was already in his eighth season as Wildcats head coach. K-State defeated the Sooners, coached by John Blake, 42-35. Bill Snyder versus John Blake might have been the biggest coaching mismatch of all time.
| BOWL | DATE | MATCHUP |
| --- | --- | --- |
| Holiday Bowl | Dec. 28 | Big Ten vs. Pac-12 |
Projection: Iowa vs. Washington State
Bob Stoops' retirement before the season made Iowa's Kirk Ferentz the longest-tenured current coach in college football. His first day at Iowa was Dec. 2, 1998. When Ferentz started there, Mike Leach was finishing his second season as a Kentucky assistant. Now, Leach might have his best team ever at Washington State.
| BOWL | DATE | MATCHUP |
| --- | --- | --- |
| Military Bowl | Dec. 28 | ACC vs. AAC |
Projection: Georgia Tech vs. USF
USF has scored at least 30 points in a school-record 20 games, the nation's longest current streak. Unfortunately for the Bulls, they can score 300 points a game, but it's doubtful they can impress CFP selection committee voters because of their Charmin-like schedule. Think Paul Johnson has recovered from Tech's season-opening loss vs. Tennessee yet? Me either.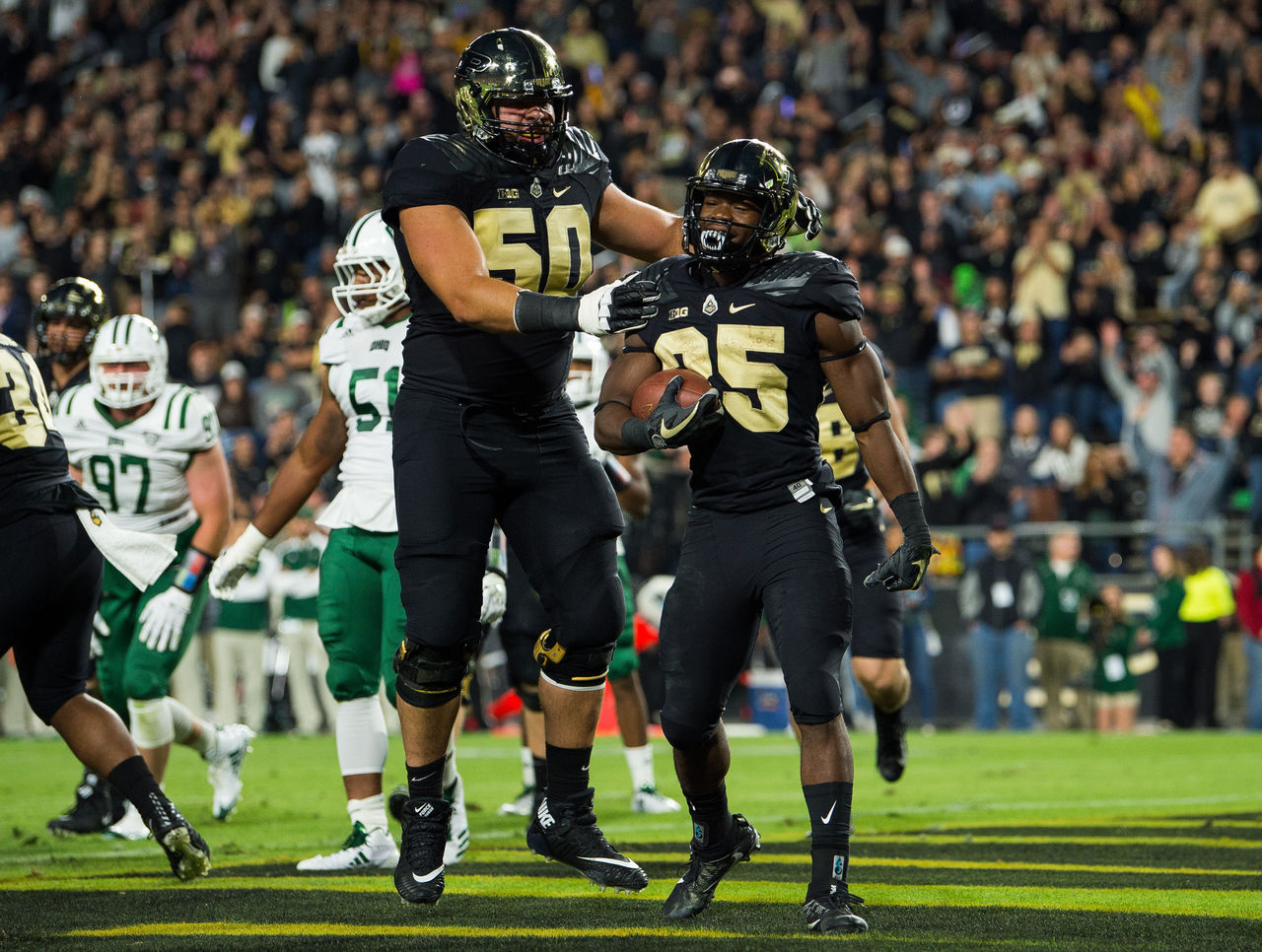 | BOWL | DATE | MATCHUP |
| --- | --- | --- |
| Foster Farms Bowl | Dec. 27 | Big Ten vs. Pac-12 |
Projection: Purdue vs. Stanford
Before the season, Purdue's over/under win total was 2.5. The Boilermakers are already 2-1 and could exceed that in September. They also might just go bowling for the first time since 2012. Jeff Brohm is my early favorite for Coach of the Year. David Shaw? Not so much. The Cardinal are off to their worst start (1-2) since 2008.
| BOWL | DATE | MATCHUP |
| --- | --- | --- |
| Independence Bowl | Dec. 27 | ACC vs. SEC |
Projection: Wake Forest vs. Texas A&M
The great Pat Forde of Yahoo noted Wake Forest has scored 50, 34, and 36 points in its first three wins. That marks the first time in school history the Demon Deacons have started a season scoring 34 points each game. Thirty-four is also a significant number for Texas A&M - it was the school's third-quarter margin versus UCLA in its mind-boggling season-opening loss. Sorry, Aggies. Too soon?
| BOWL | DATE | MATCHUP |
| --- | --- | --- |
| Pinstripe Bowl | Dec. 27 | ACC vs. Big Ten |
Projection: Louisville vs. Michigan State
It's still early, but Lamar Jackson's Heisman chances were crushed versus Clemson. But even if he doesn't return for the Heisman ceremony, he can still get back to New York for this Pinstripe matchup against underrated Michigan State. We'll know a lot more about the Spartans after their next three games: home versus Notre Dame and Iowa and at Michigan.
| BOWL | DATE | MATCHUP |
| --- | --- | --- |
| Texas Bowl | Dec. 27 | Big 12 vs. SEC |
Projection: West Virginia vs. LSU
Is the honeymoon already over for LSU coach Ed Orgeron? In 148 games, former coach Les Miles only lost by 30 twice. Orgeron lost by 30 in just his 10th game. West Virginia, which might be the Big 12's best team that's not in Oklahoma, should coast this week at Kansas.
| BOWL | DATE | MATCHUP |
| --- | --- | --- |
| Cactus Bowl | Dec. 26 | Big 12 vs. Pac-12 |
Projection: Texas Tech vs. Colorado
In his fifth season at Texas Tech, Kliff Kingsbury has returned to .500 at 26-26. Just imagine what his record would be if the Red Raiders actually played defense. In 15 of those 26 losses, the Red Raiders scored at least 30 points and still lost - including six games where they scored more than 40. And don't look now, but high-flying Oklahoma State visits Lubbock in two weeks.
| BOWL | DATE | MATCHUP |
| --- | --- | --- |
| Heart of Dallas Bowl | Dec. 26 | Big Ten vs. Big 12 |
Projection: Northwestern vs. Cal**
One of the best signings of the offseason was Northwestern locking up coach Pat Fitzgerald to a 10-year extension. Fitzgerald, a former star NU linebacker, has resurrected the Wildcats' program. First-year Cal coach Justin Wilcox, who was a defensive coordinator at Wisconsin last season, is off to a solid start. Wilcox has the Bears 3-0 and is on the short list for best September coaching jobs.
| BOWL | DATE | MATCHUP |
| --- | --- | --- |
| Quick Lane Bowl | Dec. 26 | ACC vs. Big Ten |
Projection: North Carolina vs. Indiana
For North Carolina to reach a fifth consecutive bowl under coach Larry Fedora, the Tar Heels must win their remaining home games - or pull off an upset away from Chapel Hill. The first home test is Saturday against surprising Duke. Indiana, which was impressive early before running out of gas versus Ohio State, has a layup against Georgia Southern on Saturday. After that: yikes -Penn State, Michigan, Michigan State, Maryland, and Wisconsin.
| BOWL | DATE | MATCHUP |
| --- | --- | --- |
| Hawaii Bowl | Dec. 24 | AAC vs. MWC |
Third-year SMU coach Chad Morris is slowly but surely turning around the Mustangs' program. He also made a pretty significant impact at his previous stop, Clemson. The former Tigers offensive coordinator left Clemson in 2014, but before he did, he was the first coach to offer a scholarship to Deshaun Watson. The rest, they say, is history.
| BOWL | DATE | MATCHUP |
| --- | --- | --- |
| Armed Forces Bowl | Dec. 23 | C-USA vs. Army |
UTSA announced a nine-person search committee has been formed to replace outgoing athletic director Lynn Hickey. If the Roadrunners, who won at Baylor on Sept. 9, reach a bowl game for a second consecutive year under coach Frank Wilson, they'll soon be searching for a new coach.
| BOWL | DATE | MATCHUP |
| --- | --- | --- |
| Birmingham Bowl | Dec. 23 | AAC vs. SEC |
Projection: Memphis vs. Vanderbilt
Two Tennessee teams meeting in a bowl game in Alabama? Sure, why not. Some people would suggest these are the best two teams in Tennessee (sorry, Vols). Memphis is my second choice to earn the Group of 5's bowl bid for the New Year's Six - but the Tigers need San Diego State to stumble.
| BOWL | DATE | MATCHUP |
| --- | --- | --- |
| Dollar General Bowl | Dec. 23 | MAC vs. Sun Belt |
Toledo visits No. 14 Miami on Saturday; the last time the Rockets played a ranked team on the road - No. 18 Arkansas in 2015 - they pulled off the upset. A win against the Hurricanes should shoot the Rockets into the Top 25. Troy, which nearly shocked No. 2 Clemson last year, gets a shot to upset another brand of Tigers on Sept. 30 when they visit LSU.
| BOWL | DATE | MATCHUP |
| --- | --- | --- |
| Bahamas Bowl | Dec. 22 | C-USA vs. MAC |
Projection: Louisiana Tech vs. Northern Illinois
Northern Illinois picked up the MAC's ninth victory since 2014 against a Big Ten opponent in last week's win at Nebraska. The Huskies, who also nearly knocked off Boston College, are primed to return to the postseason after last year ended a string of eight consecutive bowl appearances.
| BOWL | DATE | MATCHUP |
| --- | --- | --- |
| Idaho Potato Bowl | Dec. 22 | MAC vs. MWC |
Projection: Central Michigan vs. Boise State
Unless Boise State captures the Mountain West title, the most logical destination for the Broncos is the home blue turf. Boise State hosts Virginia on Friday and then, after an open date, has consecutive road games at BYU and San Diego State. Central Michigan, which routed Kansas two weeks ago, has as many wins vs. Big 12 opponents in its last two games (2-0) as Kansas in its last three years of Big 12 play (2-25).
| BOWL | DATE | MATCHUP |
| --- | --- | --- |
| Gasparilla Bowl | Dec. 21 | AAC vs. C-USA |
Projection: Navy vs. Western Kentucky
Ho hum: Ken Niumatalolo has led Navy to a bowl in eight of his nine seasons in Annapolis and he's well on his way to reaching a ninth bowl game. Western Kentucky is finding life after Jeff Brohm a challenge so far. The Hilltoppers are 1-2, but should have no problem reaching a fourth consecutive bowl, this time under first-year coach Mike Sanford Jr.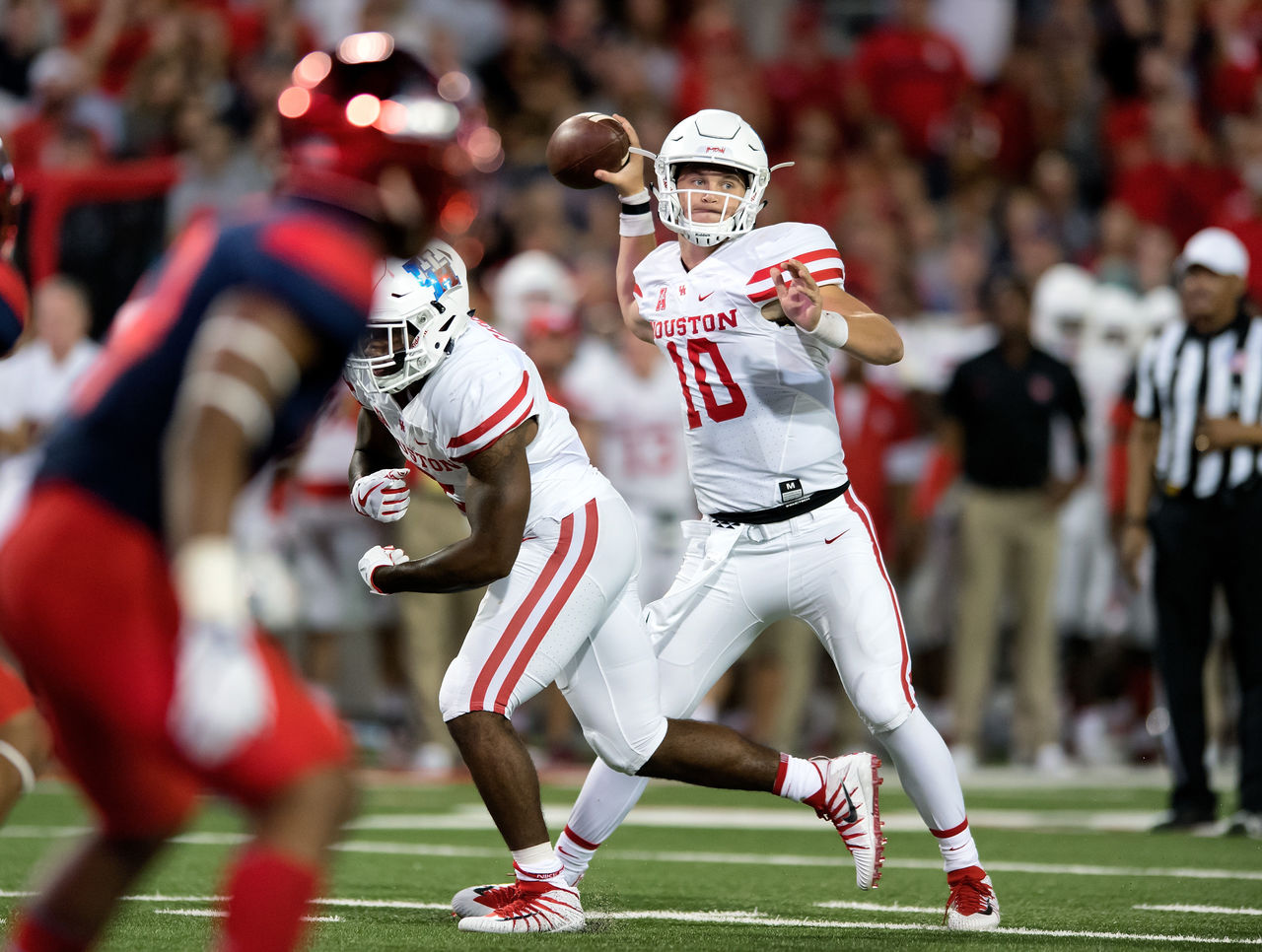 | BOWL | DATE | MATCHUP |
| --- | --- | --- |
| Frisco Bowl | Dec. 20 | AAC vs. MAC/MWC |
Houston, if it doesn't win the American, is the obvious choice to play in the inaugural Frisco Bowl (RIP Miami Beach Bowl, we hardly knew ya). The Cougars' opponent will be an at-large team from either the Mid-American or Mountain West Conferences. BYU also is a possibility if the Cougars, now 1-3, can reach seven wins, since they play 13 games.
| BOWL | DATE | MATCHUP |
| --- | --- | --- |
| Boca Raton Bowl | Dec. 19 | AAC vs. C-USA |
Projection: UCF vs. Middle Tennessee
One of the best underrated games on Saturday features UCF at Maryland. While UCF fans aren't overlooking the Terps, they will have one eye on the action in Lincoln, hoping Mike Riley quickly rights the ship so the Huskers don't pursue UCF coach/former Nebraska QB Scott Frost.
| BOWL | DATE | MATCHUP |
| --- | --- | --- |
| Camellia Bowl | Dec. 16 | MAC vs. Sun Belt |
Projection: Eastern Michigan vs. Appalachian State
Eastern Michigan's upset of Rutgers last week was its first win against a Power 5 school in 59 games. Now the Eagles shoot for even more: a second consecutive bowl berth. Appalachian State gets its shot at knocking off a Power 5 opponent Saturday when Wake Forest visits Boone, N.C.
| BOWL | DATE | MATCHUP |
| --- | --- | --- |
| Cure Bowl | Dec. 16 | AAC vs. Sun Belt |
Projection: Cincinnati vs. UL Monroe
Last week, the Bearcats roared back from a 17-6 deficit in the final 4:45 to stun Miami (Ohio) in the Battle of the Victory Bell. Cincinnati hopes to continue that momentum Saturday at Navy, in their first meeting since 1956. UL Monroe, after close losses to Memphis and Southern Miss, looks to get on track entering Sun Belt play Saturday versus Louisiana.
| BOWL | DATE | MATCHUP |
| --- | --- | --- |
| Las Vegas Bowl | Dec. 16 | MWC vs. Pac-12 |
Projection: Colorado State vs. UCLA
Through three games, UCLA QB Josh Rosen leads the nation in passing, averaging 428 yards per game. He has 13 TDs and only two interceptions for the Bruins, who are averaging 48 points per game. The problem is a banged-up, leaky defense allowing 38 points per contest. Up next Saturday is a road trip to a desperate and physical Stanford club trying to avoid a 1-3 start.
| BOWL | DATE | MATCHUP |
| --- | --- | --- |
| New Mexico Bowl | Dec. 16 | C-USA vs. MWC |
Projection: Marshall vs. Air Force
Fans of Memphis, USF, and pretty much every other Group of 5 school will be rooting for Air Force on Saturday when the Falcons host San Diego State, which is in the driver's seat for the Group of 5 New Year's Six bowl berth. Marshall, meanwhile, is already 2-1, one win from matching last year's win total (3-9).
| BOWL | DATE | MATCHUP |
| --- | --- | --- |
| New Orleans Bowl | Dec. 16 | C-USA vs. Sun Belt |
Projection: Southern Miss vs. Arkansas State
Blake Anderson, in his fourth season at Arkansas State, deserves a lifetime achievement award. He's already coached more years with the Red Wolves than their three highly touted one-and-dones: Hugh Freeze (2011), Gus Malzahn (2012), and Bryan Harsin (2013).
* - The highest rated champion from the Group of 5 conferences (American, Conference USA, Mid-American, Mountain West, and Sun Belt) will be selected to play in either the Cotton, Fiesta, or Peach Bowl. If Army is bowl-eligible, it must play in the Armed Forces Bowl.
** - Replaces team from league that can't fill bowl.
(Photos courtesy: Getty Images)