Fantasy debate: Crosby or McDavid 1st overall?
Joe Sargent / National Hockey League / Getty
Sidney Crosby and Connor McDavid are the consensus top two picks in fantasy hockey league drafts that consist of the following standard scoring setup: Goals, Assists, Plus/Minus, Penalty Minutes, Power-play points, Shots on goal.
Two of theScore's NHL News Editors, Josh Wegman and Sean O'Leary, will state their case for who they think should be taken with the first overall pick in fantasy hockey leagues.
Wegman: McDavid is the easy choice for me. He led the league with 100 points last year, and no one else even recorded 90. That gap sets him apart from every player in the league - even Crosby.
O'Leary: While McDavid reached the century mark, Crosby ranked second league-wide with 89 points despite playing in only 75 games. Staying healthy is certainly no guarantee for either player, but if both Crosby and McDavid suit up for 82 contests, the gap in production should shrink.
Reaching 100 points in today's NHL is an outstanding feat, and there's no reason to think McDavid can't repeat, or top his Hart-winning season. However, Crosby's averaged a ridiculous 1.31 points per game over his entire career, and has hardly showed any signs of slowing down.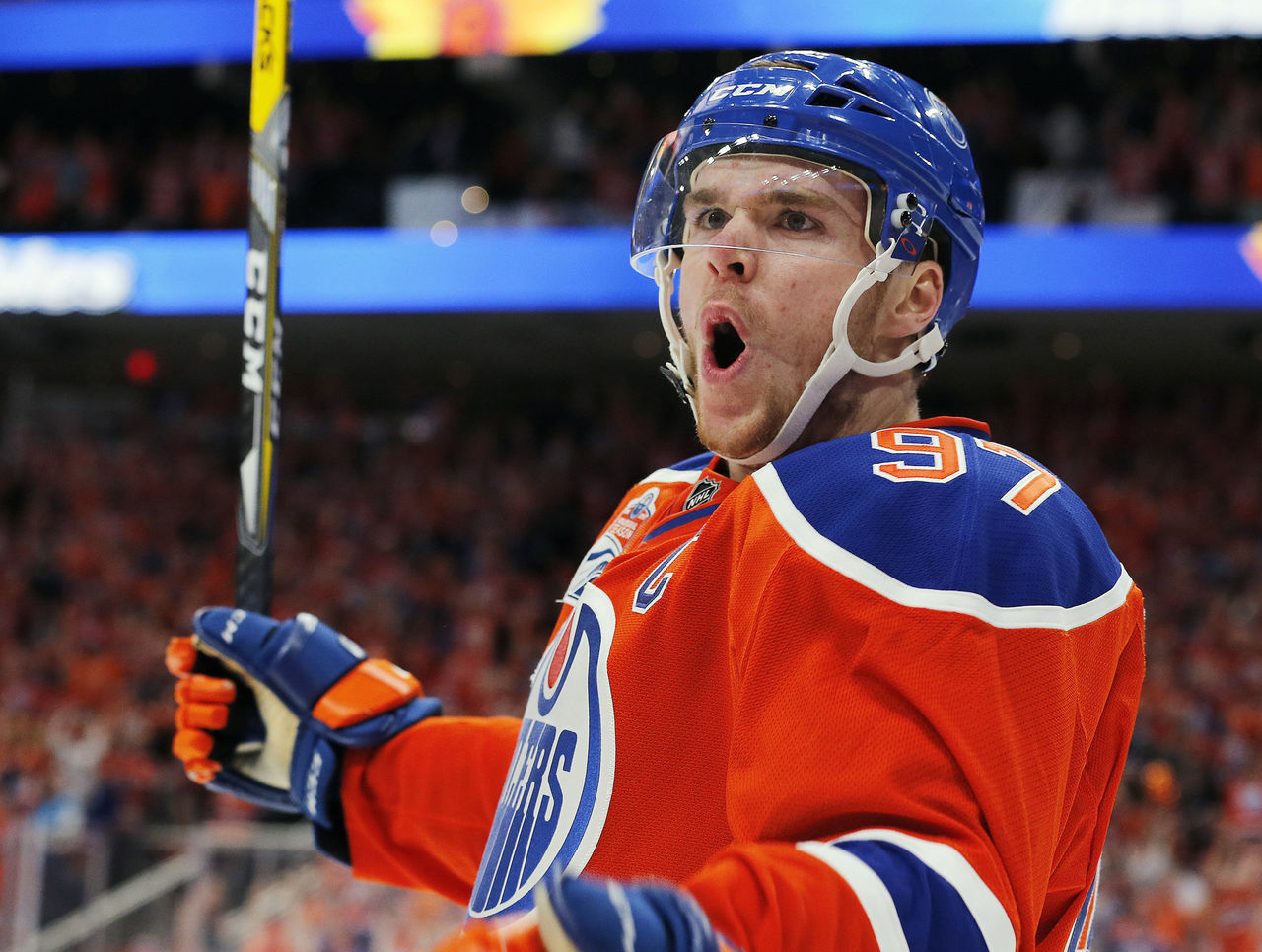 Wegman: I'm giving McDavid a leg up is because his ceiling is higher. At 20 years old, he still has plenty of room for improvement, while Crosby has seemingly peaked (although, peaking as one of the best players of all time is certainly not a bad thing).
McDavid only scored three power-play goals last season. A player with his skill set is obviously capable of more. In fact, he only registered 34 shots on the power play all year. If he opts to be a bit more selfish this time around (something Crosby learned as his career went on) it could result in a 40-goal season, which would further cement his value as the league's top fantasy player.
O'Leary: If you're looking at power-play totals, Crosby holds incredible value. In 2016-17, Sid had 14 goals on the man advantage - good for the third-highest total in the NHL - to go with 25 helpers as the Penguins scored at a 23.1 percent clip for the season while up a man.
That, too, was with Evgeni Malkin missing 20 regular-season games. If Crosby and his partner are available all season, matching, and/or exceeding last season's power-play totals is a virtual guarantee.
Wegman: Sure, Crosby is a much more established player on the man advantage, but McDavid was able to collect 100 points without tearing it up on the power play. His potential is unmatched. Which brings me to my next point.
McDavid's ceiling is higher not only because he's a decade younger, but he'll come into 2017-18 much fresher than Crosby. With back-to-back Stanley Cups, Crosby has played 48 playoff games over the last two years. While I can't question his durability or toughness, he is human, and that workload could take it's toll not only on Crosby, but on the Penguins as a whole.
McDavid is coming into the season hungry for a championship from the get-go, and it will show in the video game numbers he's about to put up.
O'Leary: Age has yet to play a factor in Crosby's production or his desire to win championships. Sid is coming off a year in which he earned the Rocket Richard and Conn Smythe, and anyone that's ever seen Crosby play hockey knows he's planning on doing it again.
McDavid's ceiling may be higher at this juncture, but Crosby's consistently been the best player in the game since he was 18 years old. If it's a keeper league, sure, McDavid at No. 1 is a no-brainer, but presently, Crosby is equally capable of generating gaudy offensive numbers, and should warrant equal consideration as the top overall pick.
(Photos courtesy: Action Images)
Comments
✕
Fantasy debate: Crosby or McDavid 1st overall?
  Got something to say? Leave a comment below!