FIFA votes in favour of 48-team World Cup for 2026
The World Cup will increase from 32 teams to 48 for the 2026 tournament after FIFA voted unanimously in favour of an initiative championed by the governing body's president Gianni Infantino.
The Swiss-Italian chief had supported his idea with the claim that bloating the World Cup would make it "more inclusive," but its new format will also pocket an additional $975 million in revenue for FIFA, according to Rob Harris of the Associated Press.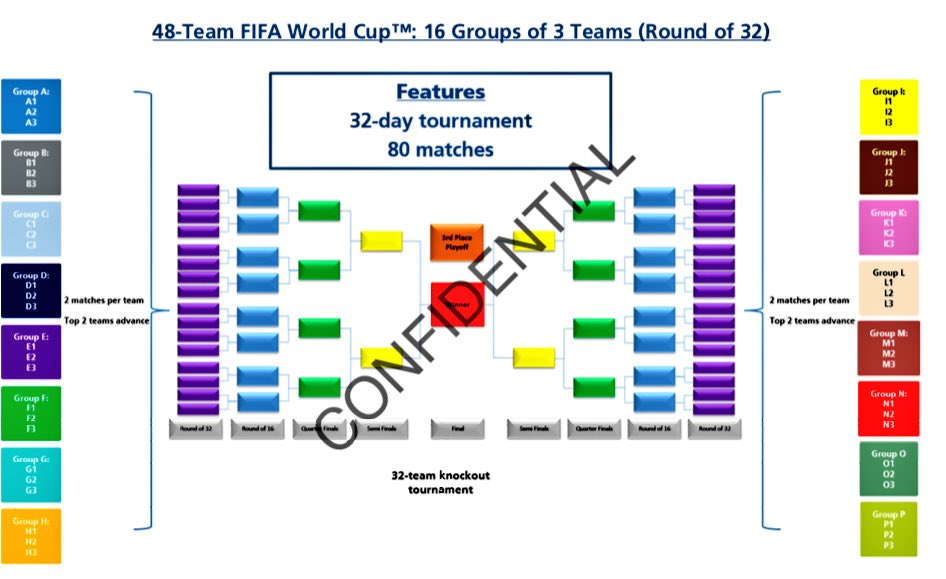 (Courtesy: @RobHarris)
Rather than the current setup of eight groups of four teams, the 2026 installment will include 16 groups of three teams, with 32 then progressing to the knockout rounds - double the current quota which advances from the group stages.
New FIFA Now, a campaign group which aims to ensure the body undergoes reform following the corrupt years under ex-president Sepp Blatter's watch, has slammed the new structure as "a money grab and power grab," rather than giving "much joy to those who don't have the chance to participate," as Infantino said on Dec. 28.
"It will dilute the competitiveness of the tournament and, therefore, the enjoyment of fans," the group announced in a statement, as reported by BBC Sport.
"It will not help development of the game or provide improved competitive opportunities for lower-ranked nations. Instead, it will make a mockery of the qualification process for most confederations."
Tuesday's decision marks the fourth time the World Cup has expanded since Uruguay's inaugural tournament in 1930.
How the qualification will work for the 48 countries is yet to be decided, although reports have surfaced suggesting that the CONCACAF and CONMEBOL regions may team up for an all-encompassing qualification campaign across the Americas.
The Times' Martyn Ziegler understands that a decision is likely to be made on the qualification process in May, and one of the chief beneficiaries may be the Asian Football Federation, which could see its participants increase by more than double its usual amount.
The host of 2026's larger World Cup format will decided upon in 2020.
Comments
✕
FIFA votes in favour of 48-team World Cup for 2026
  Got something to say? Leave a comment below!