2016's most impactful MMA moments
As the year in cage fighting comes to a close, theScore's MMA staff takes a look back at what will be remembered as a time of change, controversy, and lots of people getting punched in the face.
Best of MMA 2016
2016's most impactful MMA moments
UFC president Dana White has long touted MMA as the world's fastest-growing sport, but even he couldn't have predicted the quantum leap forward that his business would take in 2016 thanks to the efforts of his dynamic stars.
This year featured several key moments that served to dramatically alter the landscape of mixed martial arts.
Zuffa sells the company to WME-IMG
The sport of MMA had flirted with mainstream status for years, but it was thoroughly etched into the minds of the masses when its preeminent promotion was sold this past summer.
The Ari Emanuel and Patrick Whitesell-led WME-IMG purchased the UFC from the Fertitta brothers' Zuffa for a whopping $4.2 billion, a price tag exceeding that of the New York Yankees, Manchester United, and even "America's Team," the Dallas Cowboys.
As if one of the most expensive transactions in pro sports history wasn't enough to cement its place in pop culture, the promotion garnered even more A-list attention this past September, when a group of celebrities including the likes of Hollywood star Mark Wahlberg and New England Patriots signal-caller Tom Brady treated themselves a share of the pie. The new UFC brass hasn't exactly kept up appearances since taking over, but the brief track record leaves little doubt as to their mandate: onwards and upwards. - Alexis
Stipe Miocic shatters the Cleveland sports curse
"I'm the world champ."
Stipe Miocic repeated that sentence over and over again following the shocking knockout win over Fabricio Werdum in March that earned the Cleveland native the UFC heavyweight championship. It was less of a boast and more of a mantra that Miocic had to keep telling himself to make sure that the whole thing wasn't a dream.
In just six years, Miocic went from busting heads on the Ohio regional scene to battling Werdum in front of thousands of bloodthirsty Brazilians. It was an enormous personal achievement for Miocic, that just so happened to be the first huge win in what would be a banner year for Cleveland sports.
Three months later, the Cavaliers would win the city's first major sports championship in 52 years. The Indians would then make it to the World Series, and the Cleveland Browns would even go as far as to win a football game.
Perhaps it was all thanks to Miocic, who capped off his year with a first-round TKO victory over Alistair Overeem to defend his title at the Quicken Loans Arena in Cleveland at UFC 203. - Lee
A rivalry is born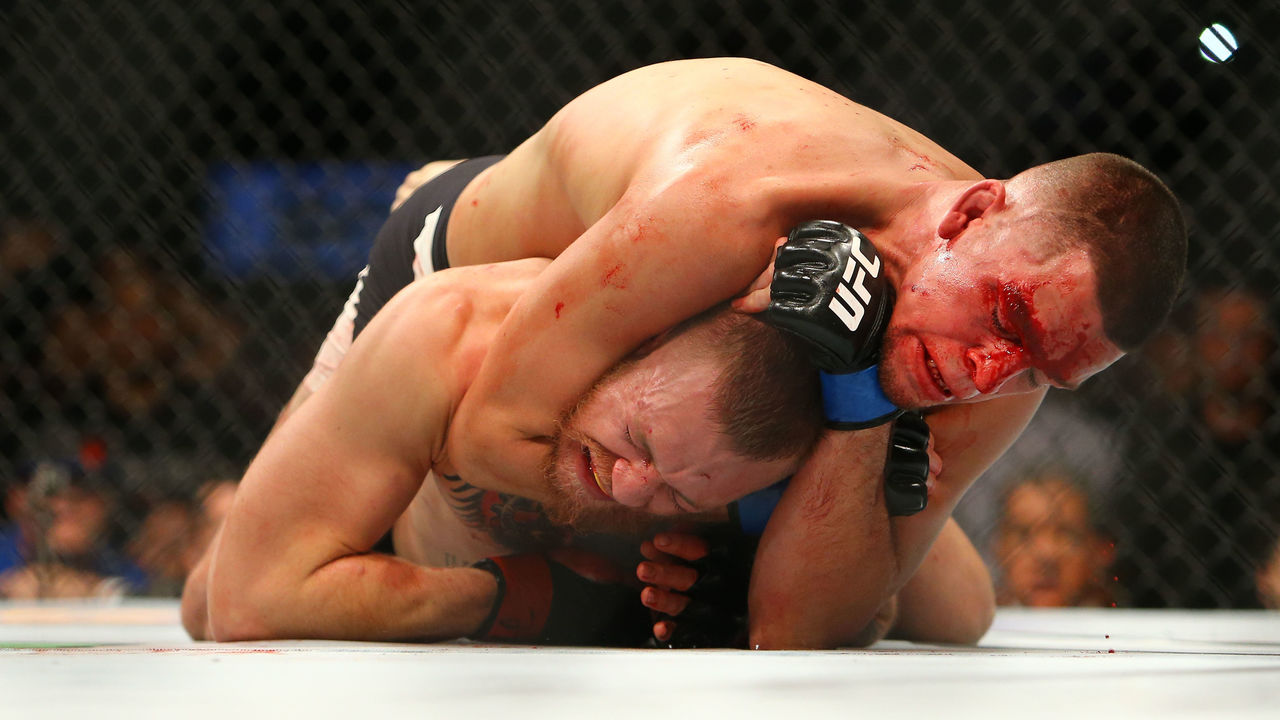 Fight fans have Rafael dos Anjos to thank for one of the greatest MMA rivalries in recent memory.
After a broken foot forced the former lightweight champ to bow out of his meeting with Conor McGregor at UFC 196, Nate Diaz answered the call to step in on less than two weeks' notice. The matchup went from patchwork to grudge match in no time, and it didn't disappoint.
After sapping the Irishman of his gas tank over a round and change with his funky brand of boxing, the Stockton scrapper secured the resounding upset over the once indomitable McGregor with a rear-naked choke.
The 31-year-old underdog capped the victory with the since immortalized quip: "I'm not surprised, motherf-----s."
The fireworks left the MMA gods little choice but to further feed the rivalry with a rematch at UFC 202 five months later, and after relentlessly lambasting each other in public, the pair handily rose to the occasion. Diaz and McGregor left it all in the Octagon with a bloody five-round war, which "The Notorious" took by majority decision to even the score. - Alexis
McGregor breaks internet with retirement tease
It couldn't be real. Could it?
Never had a fighter caused more chaos with Twitter's 140-character limit than when McGregor tweeted out his plans to "retire young" this past April. Everyone had a theory as to the motivations behind his message, ranging from the fighter simply having a laugh at everyone's expense to him being displeased with the UFC.
Whatever the reason, the tweet eventually led to him being removed from a scheduled rematch with Nate Diaz (though they would eventually fight again at UFC 202) and speculation that he was leaving MMA altogether for a boxing match with Floyd Mayweather.
The fact that those rumors persist to this day even after he continued to appear in big-money matches for the UFC proves that his words carry more weight than every other fighter combined. - Lee
Bisping: the unlikely champion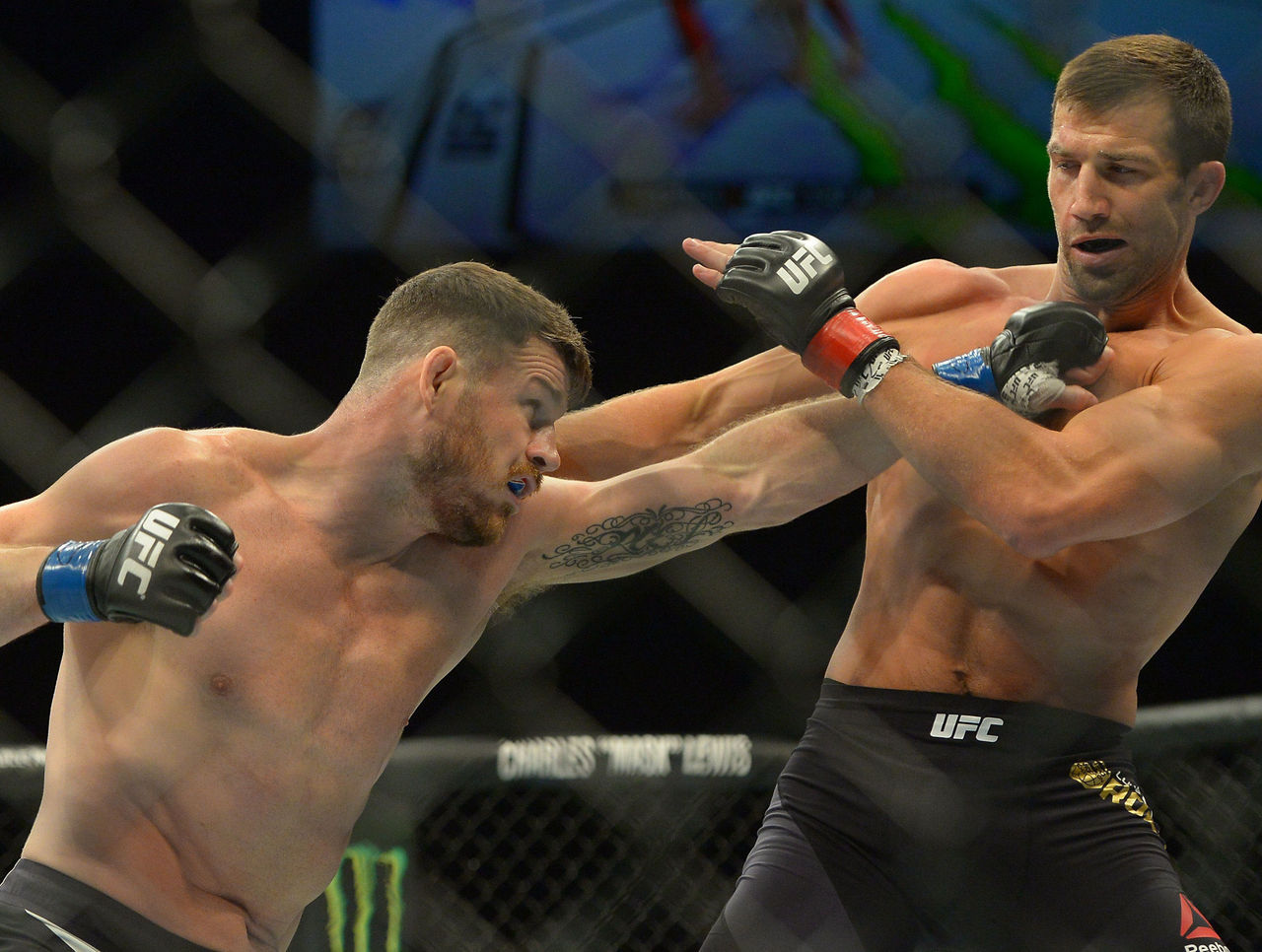 Just seven months ago, the mere thought of Michael Bisping ever fighting for UFC gold - let alone hoisting it - seemed laughable.
How could a 37-year-old with pillows for fists and a knack for faltering in his biggest fights possibly usurp a veritable destroyer in Luke Rockhold on just 17 days' notice? And yet, "The Count" rendered the MMA world catatonic when he faced Rockhold for the middleweight title in place of an injured Chris Weidman at UFC 199.
Competing in the first title fight of his 10-year stint in the UFC, the Brit freed himself of the indictments that had long shackled his legacy by knocking out Rockhold with his long-belittled mitts in just 3:36 to win the strap.
Bisping capped his banner year by avenging a seven-year-old loss to Dan Henderson in his native Manchester at UFC 204. The Count's first successful title defense gave him sole ownership of the promotion's win record with 20.
Not bad for an aging fighter with no punching power, right? - Alexis
Amanda Nunes becomes the UFC's first openly gay champion
In a sport often mired in overwrought machismo and homophobic insults, Amanda Nunes stands as a shining exemption.
When the 28-year-old Brazilian submitted Miesha Tate at UFC 200, she didn't just become a world champion, she became the first openly gay fighter to wear UFC gold around her waist. The landmark moment passed without much fanfare at the time, but with every interview and every social media moment in which she shined a spotlight on her relationship with girlfriend and fellow UFC fighter Nina Ansaroff, "The Lioness" made it clear that she was just as proud of her sexuality as she was of her in-cage accomplishments. - Lee
The UFC takes The Big Apple, McGregor makes history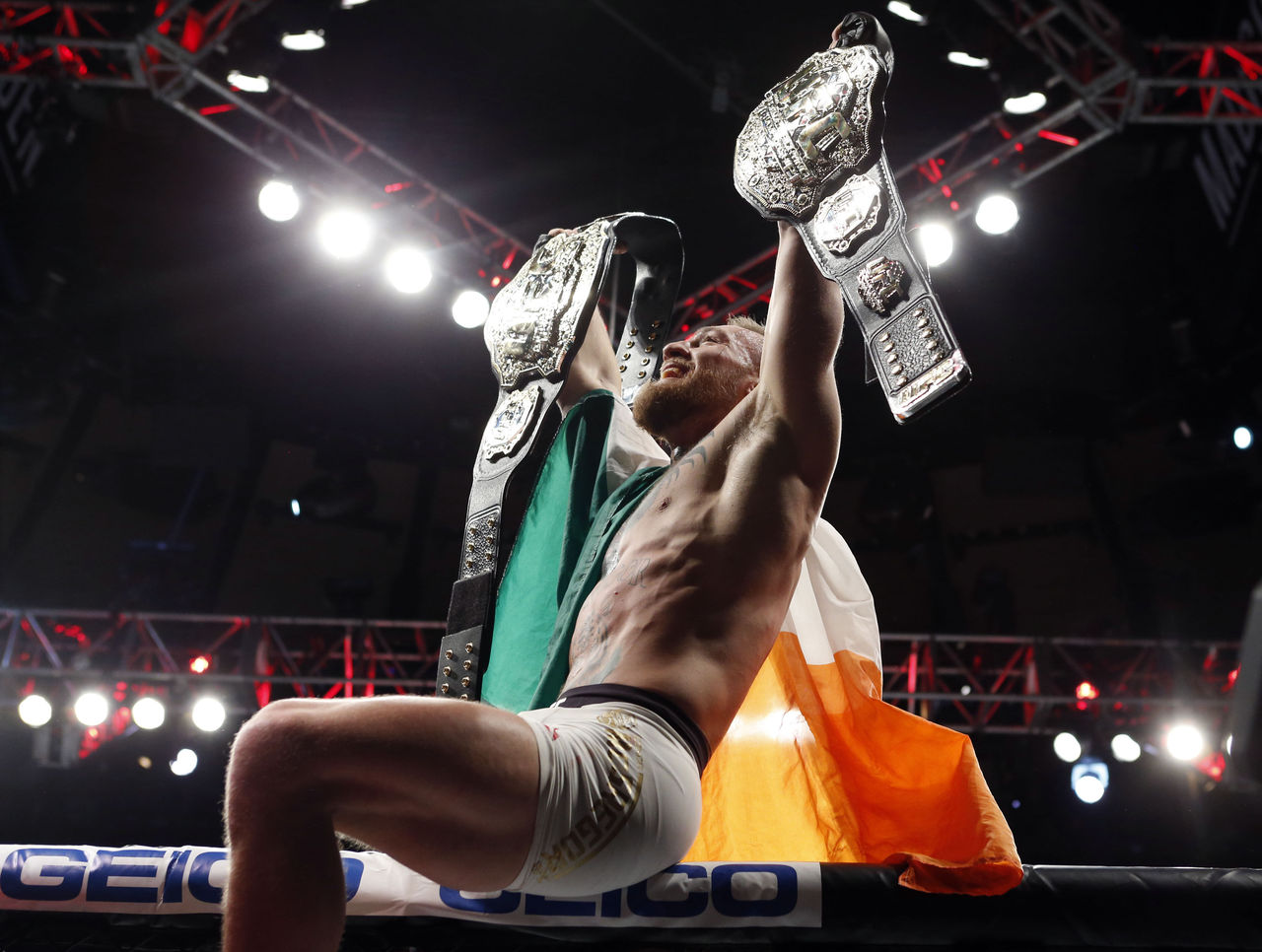 After the state of New York lifted its 19-year-old MMA ban this past spring, the UFC pulled out all the stops to make up for lost time.
The promotion booked an unprecedented three title fights for its first visit to the biggest stage of them all - New York City's Madison Square Garden - and the stacked card proved to be everything MMA-starved New Yorkers had hoped for.
Moments after strawweight champion Joanna Jedrzejczyk and welterweight king Tyron Woodley retained their titles against Karolina Kowalkiewicz and Stephen Thompson, respectively, McGregor capped a night of firsts by knocking out Eddie Alvarez in the second round of the main event, adding the lightweight title to his featherweight strap to become the first UFC fighter to hold two titles simultaneously.
The promotion's New York City takeover also translated to the box office, as the event shattered Madison Square Garden's live gate record with 17.7 million big ones. Color the city caught up. - Alexis
Comments
✕
2016's most impactful MMA moments
  Got something to say? Leave a comment below!