Gareth Southgate has been chosen as the 14th full-time manager of the England national team.
The former Middlesbrough and England Under-21 boss has agreed a four-year contract in charge of the Three Lions, with progression to the 2018 World Cup finals in Russia his first task at the helm.
Southgate, 46, was plucked from his Under-21 role at the end of September following the dismissal of Sam Allardyce from the senior setup. The burly Dudley native headlined The Telegraph's week-long "Football for Sale" expose, after he was filmed discussing ways to sidestep the Football Association's third-party ownership rules. His job overseeing England lasted a mere 67 days.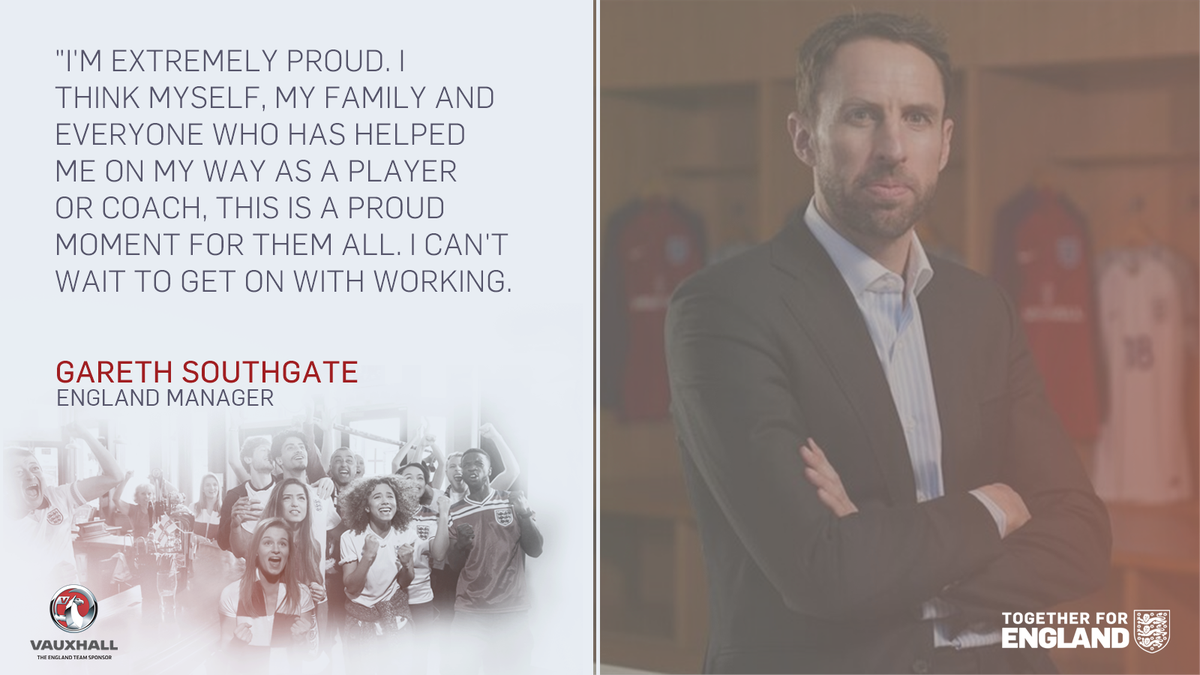 (Courtesy: England)
In his interim duties, Southgate administered seven points collected from a possible nine in World Cup qualification tilts with Malta, Slovenia, and Scotland, and rounded off his temporary stint with a 2-2 draw against Spain in a friendly at Wembley on Nov. 15.
Although Southgate has questionable experience on his curriculum vitae - he couldn't prevent Middlesbrough's descent into the second tier in 2009 before his three years in charge of the England Under-21s - his forward-thinking approach and comprehensive knowledge of goings-on at St George's Park point to a fresh era for a habitually underwhelming national side.
There has been evidence of Southgate encouraging his players to pass from the back, with John Stones the poster boy for a time where being competent in possession and even instigating attacks is becoming a requisite for a defender.
"In my view in international football you need defenders that are comfortable on the ball," Southgate said at a press conference ahead of the Spain test. "I remember in (Euro) 1996 we played Germany and everyone was talking about Matthias Sammer. Where's our Sammer? It didn't prove to me, unfortunately.
"So we had a dabble with Rio (Ferdinand), did we allow Rio to be as good as he might have been or did we inhibit his progression a bit at times? John Stones is that type of defender - he's a No. 6 rather than a No. 5, if you want the old-fashioned terms. So, to my mind, we have to encourage those sorts of players to play. Otherwise we'll just keep watching the (Gerard) Piques and people and saying 'why can't we get those players in?'
"If we're not prepared to allow our players to express themselves tomorrow then we'll never progress to be a top team."
It's a departure from the humdrum 4-4-2s and big man, little man strike partnerships that have been regular fixtures of the England squad for generations, and implementing changes that require time to be adopted into the squad's identity suggested that Southgate felt he was going to be in the job for some time - or at least wanted to be.
There is also a promise of the next generation being blooded into the lineup. Michael Keane, Burnley's 23-year-old centre-back, already appears to be part of the furniture in the England camp even though he hasn't taken the pitch for his homeland yet. And there is potential for more of Southgate's former Under-21 ranks - like Ruben Loftus-Cheek and Nathan Redmond - to graduate into the senior squad before Russia rolls around.
The talented Under-20 group, highlighted by Patrick Roberts and Dominic Solanke, continues to impress ahead of next summer's World Cup for that age group in South Korea, and certain members of that throng will be pushing for selection under Southgate over the next few years.
England isn't set to take the field again until March 22, when it faces Germany in a friendly match before a World Cup qualifier against Lithuania four days later, leaving the sight of Southgate surveying international hopefuls from Premier League stands to grow in familiarity.