2016-17 Fantasy Center Primer: Who moved, and who benefits?
Kevin Hoffman-USA TODAY Sports / Reuters
Follow theScore's fantasy feed on Twitter (@theScoreFantasy) for the latest news, features and more.
There weren't many big-name centers who changed addresses in the offseason. The biggest fish in the free-agent pond, Steven Stamkos, decided to stay with the Tampa Bay Lightning.
However, when you factor in a couple of trades and a couple under-the-radar free-agent signings, there was still some pretty significant movement at the center position. Here's a look at the biggest transactions:
Who moved: Derick Brassard from New York Rangers to Ottawa Senators, Mika Zibanejad from Senators to Rangers
Others affected: Derek Stepan, Kyle Turris
The Brassard-for-Zibanejad deal was an interesting move to say the least, considering Zibanejad is just 23 years old and Brassard is 28. Of the two, expect Zibanejad to have a better season.
Zibanejad has increased his goal and assist totals every season he has been in the league. Expect the trend to continue. After playing second-fiddle to Turris in Ottawa, Zibanejad should challenge Stepan for the No. 1 center role in New York.
It would make sense for Zibanejad to directly replace Brassard between Ws Rick Nash and Mats Zuccarello. His explosive speed down the middle would be a nice compliment to Nash's size and shot and Zuccarello's creativity.
Although Nash had an injury-riddled season, he's still a more proven threat than Zibanejad's previous linemates, Bobby Ryan and Mike Hoffman. Zuccarello is coming off a 61-point season and is underrated. Zibanejad could very well have a breakout season with 25-plus goals and 60-plus points.
As for Brassard, he's coming off a season in which he set a career high in goals with 27. His goal output is likely to regress, considering it was his first 20-goal season and his shooting percentage was 4.6 points higher than his career average. Expect him to line up between Ryan and Clarke MacArthur or Zack Smith, translating to 15-20 goals and 50 or so points.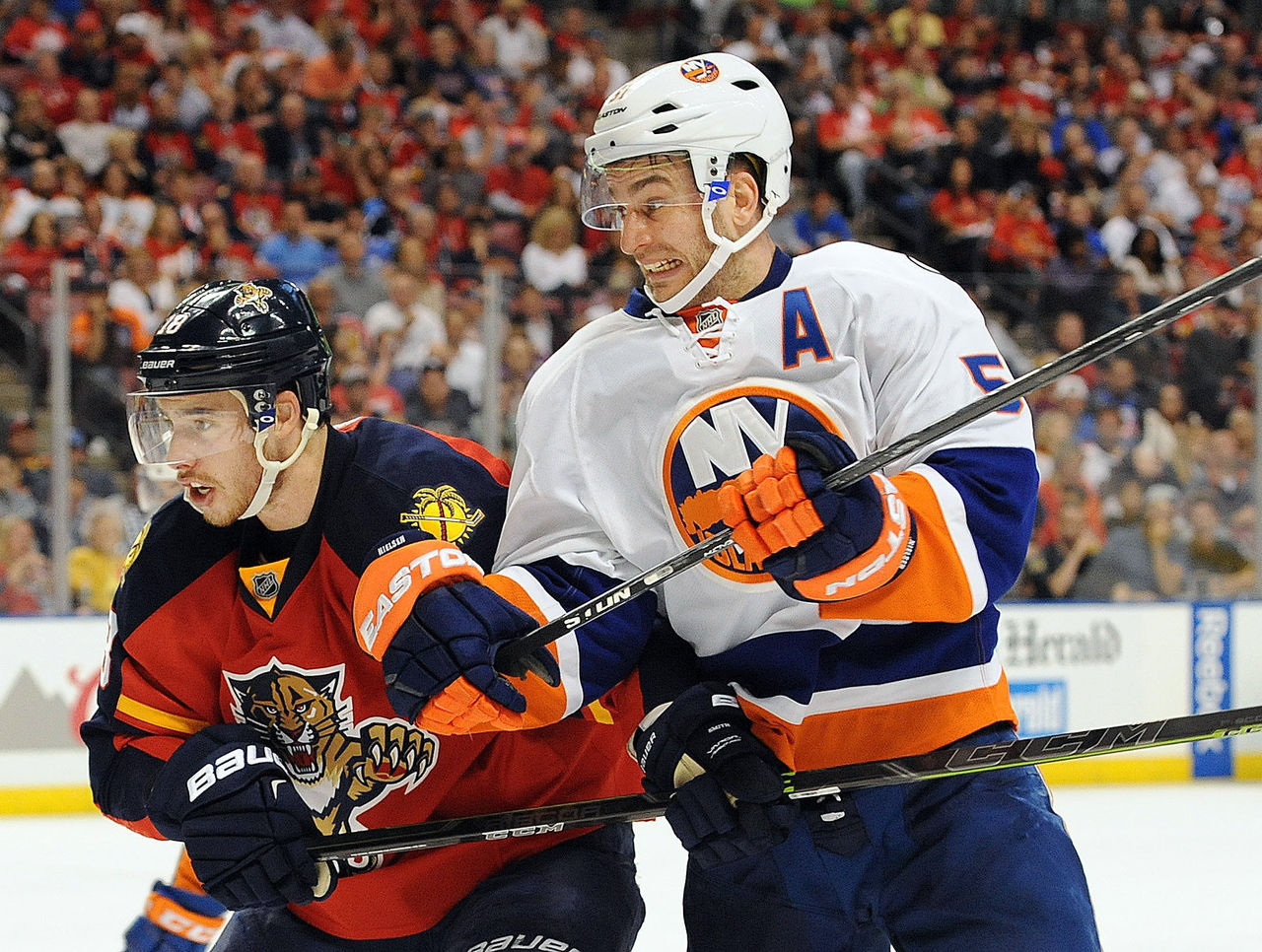 Who moved: Frans Nielsen from New York Islanders to Detroit Red Wings
Others affected: Dylan Larkin, Brock Nelson
Nielsen heads to Detroit with big shoes to fill, entering the picture the same offseason the great Pavel Datsyuk announced he is retiring from the NHL.
Nielsen has been a solid second-line center throughout his career, tallying 40-plus points in five seasons (and 29 points in the lockout shortened season), but he has never reached the 60-point plateau. Don't expect this to change. In fact, he may not be asked to directly replace Datsyuk.
Those responsibilities could fall on the shoulders of young Larkin. The 19-year-old impressed in his rookie season, scoring 23 goals on 221 shots and adding 22 helpers. He really faded down the stretch though, compiling just 16 points in the final 39 games of the regular season.
This isn't surprising considering Larkin only played 35 games with the University of Michigan the year prior. He should be better conditioned for a full NHL season in his second year in the league. He will also be moving to his natural center position, where he will have more chances with the puck on his stick. He could very well rack up 60 points.
With Nielsen leaving for Detroit, either Nelson, Ryan Strome or Mikhail Grabovski will fill in as the Islanders' second-line center. Nelson is the most likely candidate. Even though he's just 24, he probably won't match his 26 goals from last season. He scored 20 of those in the first 48 games, and was fortunate enough to play with C John Tavares and LW Kyle Okposo.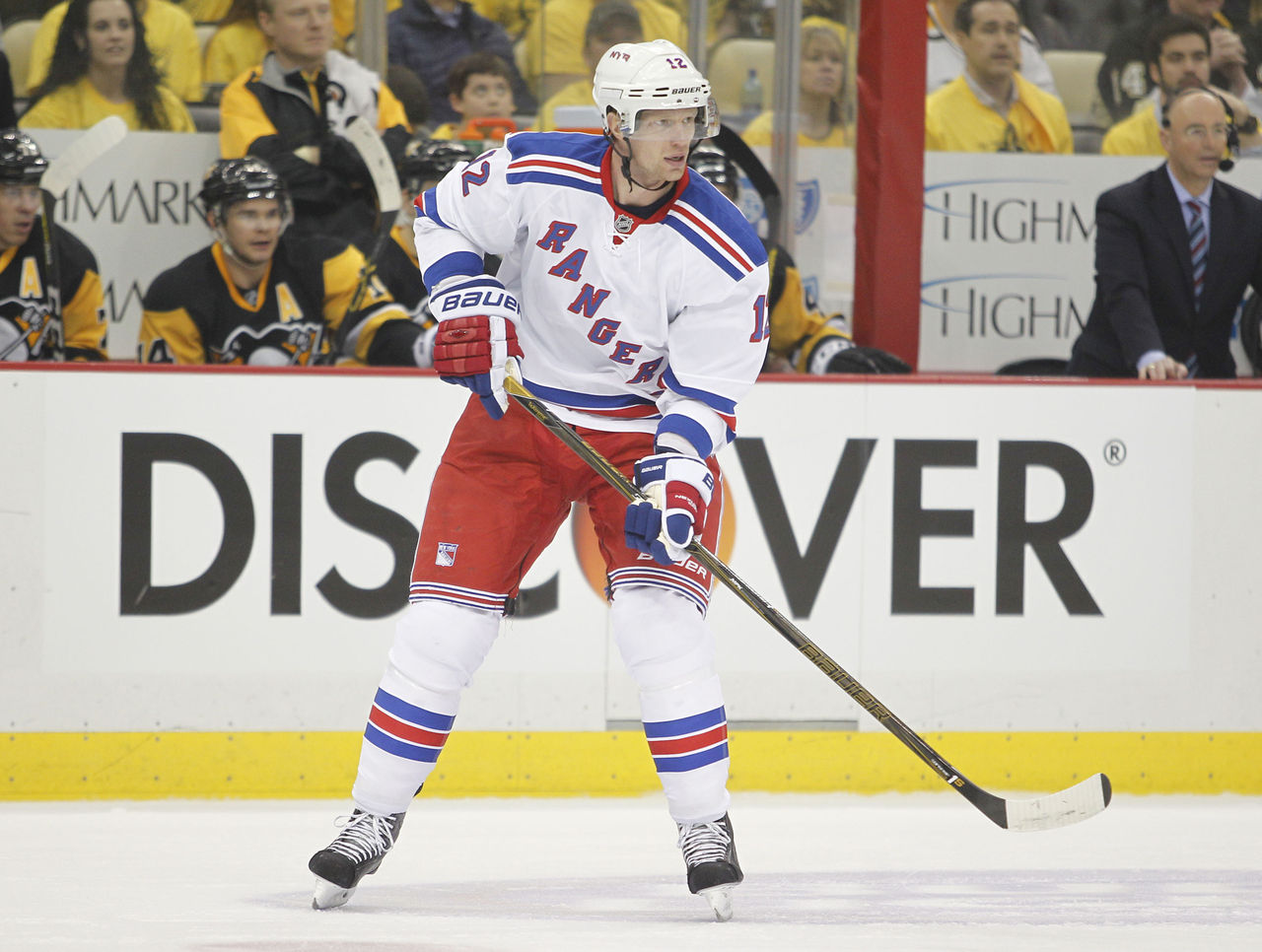 Who moved: Eric Staal from Rangers to Minnesota Wild
Others affected: Erik Haula
Staal is truly a shadow of his former self. He had a paltry 39 points last season, and just six in his 20 games with the Rangers. If there's one reason to be optimistic about a bounce back 2016-17 season, Bruce Boudreau is the reason.
Boudreau is arguably the most offense-minded coach in hockey, even though it didn't seem that way at times last season while he was coaching the Ducks. Though he has had the pleasure of coaching very talented teams, here is how is clubs have ranked in goals for during his coaching career:
| Season | Team | GF/G (league rank) |
| --- | --- | --- |
| 15-16 | ANA | 2.62 (17) |
| 14-15 | ANA | 2.78 (11) |
| 13-14 | ANA | 3.21 (1) |
| 12-13 | ANA | 2.79 (8) |
| 11-12 | ANA/WAS | 2.45 (23) |
| 10-11 | WAS | 2.67 (19) |
| 09-10 | WAS | 3.82 (1) |
| 08-09 | WAS | 3.27 (3) |
| 07-08 | WAS | 2.9 (8) |
* In the 2011-12 season, Boudreau coached 22 games with Washington and 58 with Anaheim. The numbers reflect Anaheim's 82-game stats, even though he was only on the bench for the final 58.
Obviously he won't have the talent in Minnesota he had in Washington or Anaheim, but Boudreau is no stranger to putting together a dynamic offense.
Staal should also get more help in the form of LW Zach Parise.
It's amazing how Staal had seven consecutive seasons of 70-plus points (the streak ended in the lockout shortened season when he had 53 points in 48 games) without playing with an elite winger. Sure, he had Ray Whitney and Justin Williams in his early days, but neither are of Parise's caliber.
With Staal coming in, Haula's value takes a hit. After registering 21 points in the final 28 games of last season, he looked like he could have been bound for a breakout season in 2016-17; the Staal signing negates much of his value.
Draft Staal in the later rounds of standard and banger leagues in hopes of a bounce-back season, but don't be afraid to drop him if he starts slowly.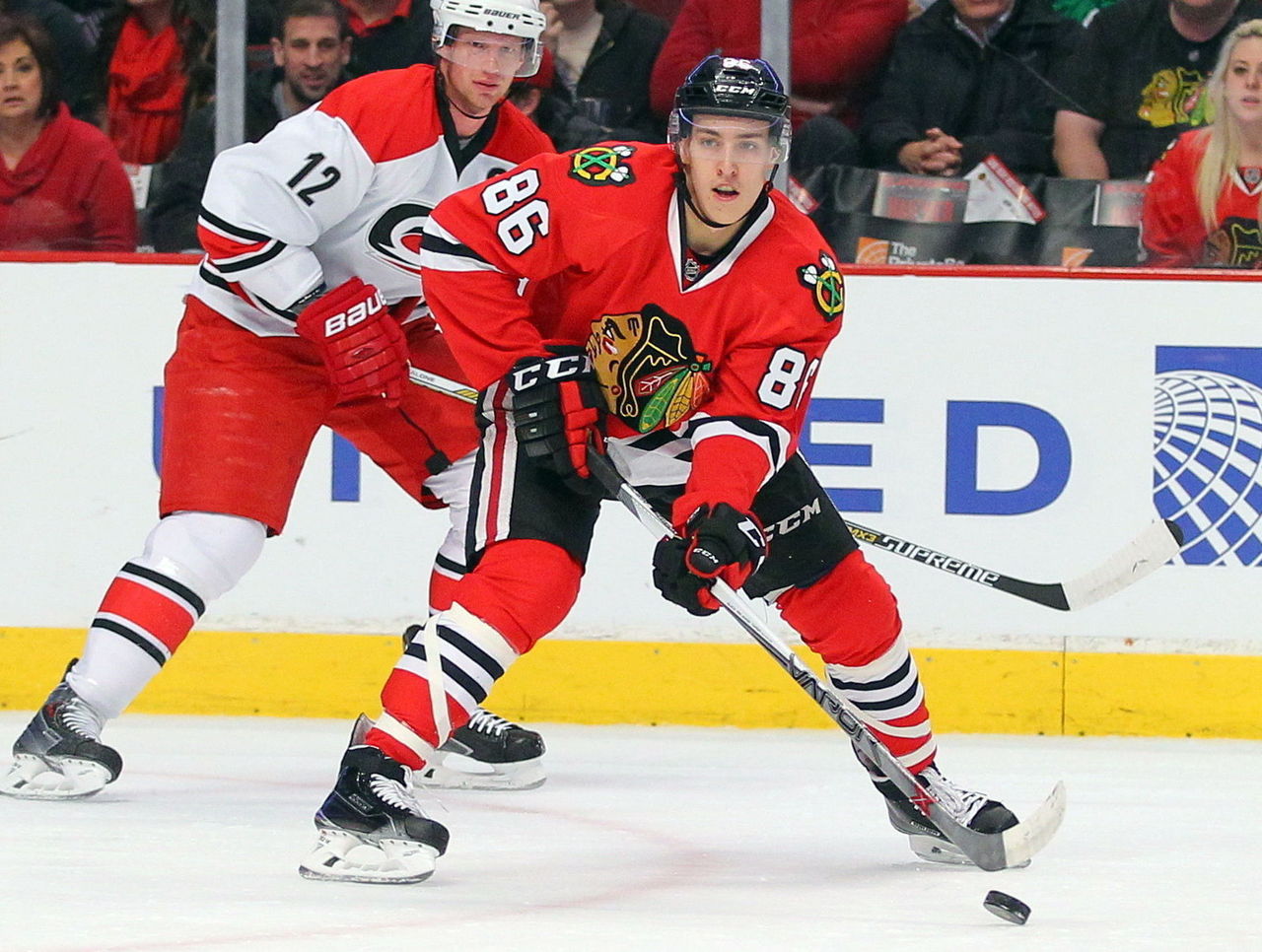 Who moved: Teuvo Teravainen from Chicago Blackhawks to Carolina Hurricanes
Others affected: Victor Rask, Jordan Staal
Many expected a breakout season from Teravainen last year after a strong showing in Chicago's 2015 Stanley Cup run, but he managed just 13 goals and 35 points in 78 games. While he won't be surrounded by all-world talent with the move to Carolina, he will shoulder a larger load on offense.
He is expected to be in the mix for the second-line center role and possibly be a member of the top power-play unit. The top-six opportunity alone could result in a 50-point season, although the talent around him is pretty bare.
Draft Teravainen in the later rounds of deep, standard leagues. Staal is the best all around center on the team, but both Teravainen and Rask have much more offensive upside.
Comments
✕
2016-17 Fantasy Center Primer: Who moved, and who benefits?
  Got something to say? Leave a comment below!