Pacquiao tops Bradley by UD in vintage display
JOHN GURZINSKI / AFP / Getty
theScore covered the Manny Pacquiao vs. Timothy Bradley Jr. main event and undercard bouts Saturday night in detail. Read our full Pacquiao-Bradley recap and round-by-round coverage below, as well as recaps of all the night's fights.
Manny Pacquiao did not look like a fighter on the cusp of retirement.
With one eye on a career after boxing and one on avenging a 2012 loss to Timothy Bradley Jr., Pacquiao won in 12 rounds by unanimous decision, 116-110, 116-110, 116-110.
Looking to overcome last May's unanimous decision defeat to Floyd Mayweather Jr. and a subsequent torn rotator cuff, Pacquiao locked horns for a third time with Bradley Jr. in the main event at the MGM Grand for the vacant WBO international welterweight title.
With the two veterans splitting the first two fights, Bradley winning the first in controversial fashion, something had to give Saturday night in a familiar venue for the two fighters in what may very well be Pacquiao's final bout.
Pacquiao was the better fighter, turning back the clock to knock Bradley down twice, once in the seventh round and again in the ninth.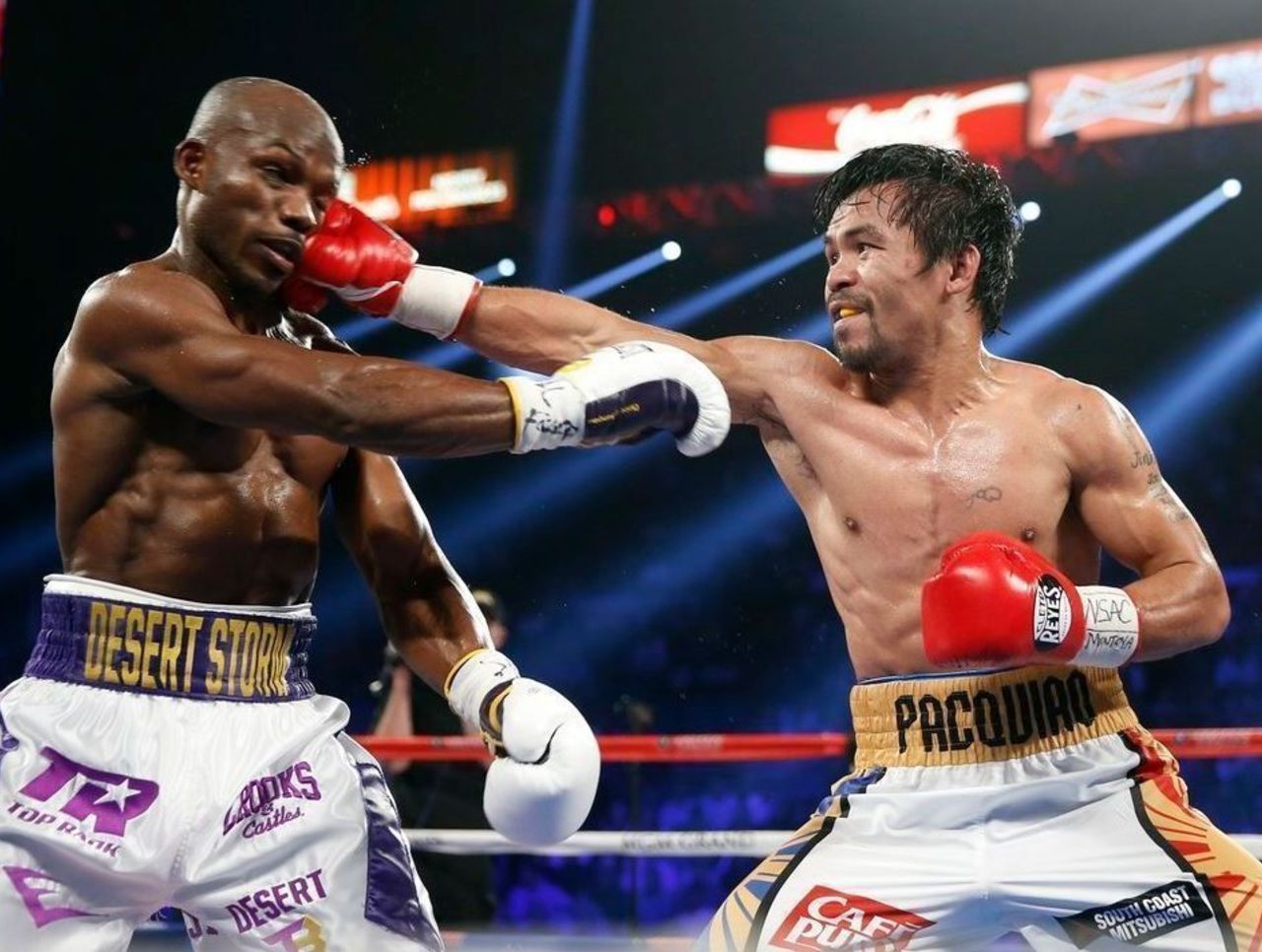 Bradley fought well, but Pacquiao was better in a matchup between two fighters who appeared more friend than foe. After fending off retirement questions from Max Kellerman post-fight, Bradley and Pacquiao discussed plans for breakfast before the defeated boxer complimented his counterpart.
"Ooooweeee! Yeah, he caught me good with that one! Congratulations to Manny Pacquaio, good job."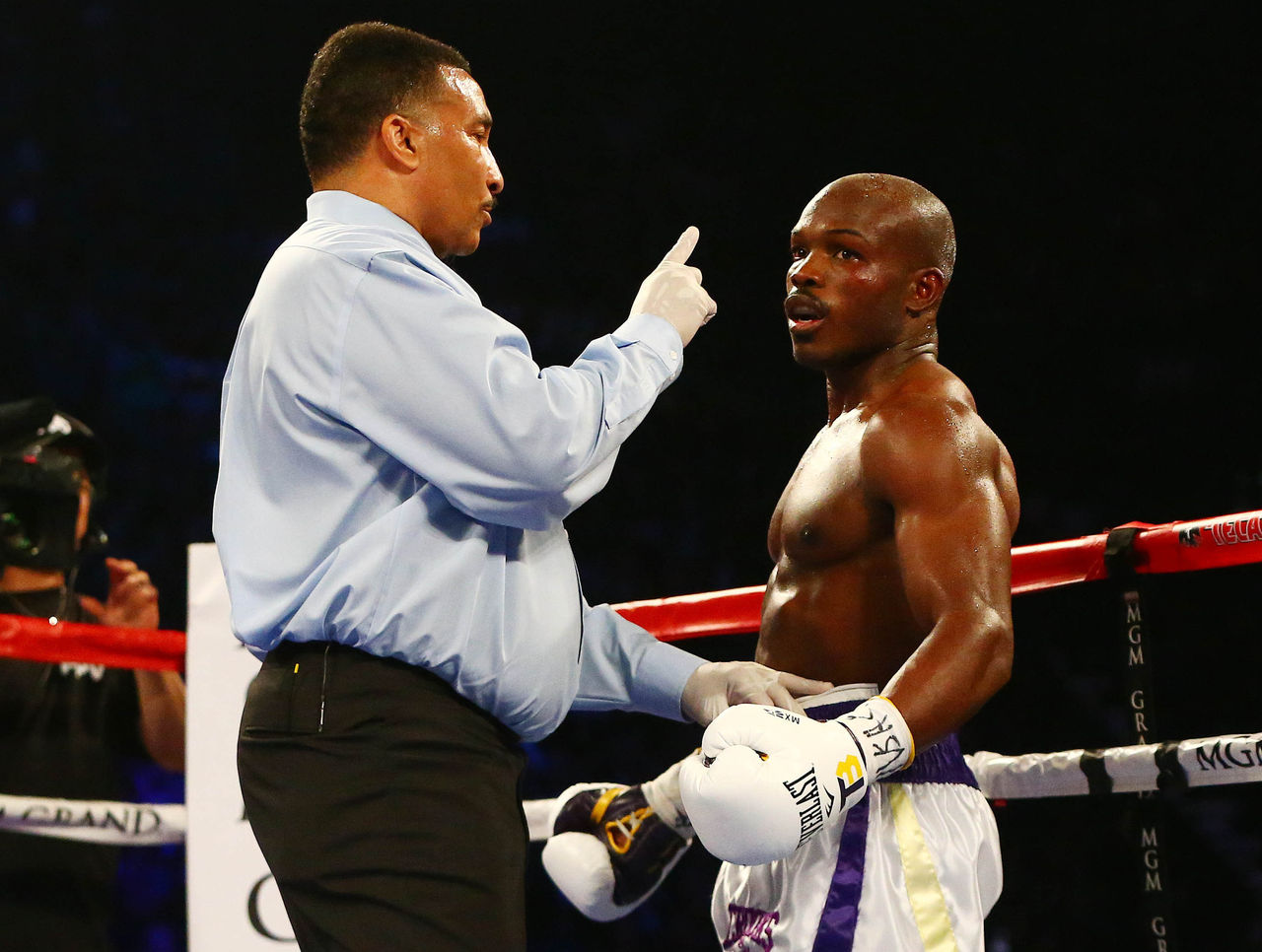 In the boxing world, words are cheap. Promises to retire have been rescinded, boastful claims unanswered, and hiatuses cut short by a melange of pride, financial incentives, and the fear of post-career malaise.
Whether or not Saturday's third meeting of Pacquiao and Bradley was the decorated Filipino's last, his legacy is one of boxing's best.
"After this fight I have already said that my mind is to focus on my job. If I win a Senate seat (in May), I have a big responsibility and I need to focus on that," Pacquiao said ahead of Saturday's fight, at once announcing his retirement and leaving the door for his return slightly ajar.
"I cannot say right now that I am going to retire. I don't want to say that because I don't know what the feeling is when you leave boxing."
When considering the legacy of the modern athlete, it's impossible to separate that which takes place in the ring with actions outside of it. The scope of an athlete's career arc considers both, as it should, and a 21-year professional tenure atop the boxing world has been tarnished by the latest of a string of homophobic comments. And so it should, though there's no overlooking what Pacquiao accomplished during his 66 pro fights.
For nearly a decade, the 37-year-old was arguably boxing's most feared. Still the only eight-division world champion, Pacquiao's 10 titles paired with the honor of being the first to capture the lineal championship in five different weight classes sets him apart.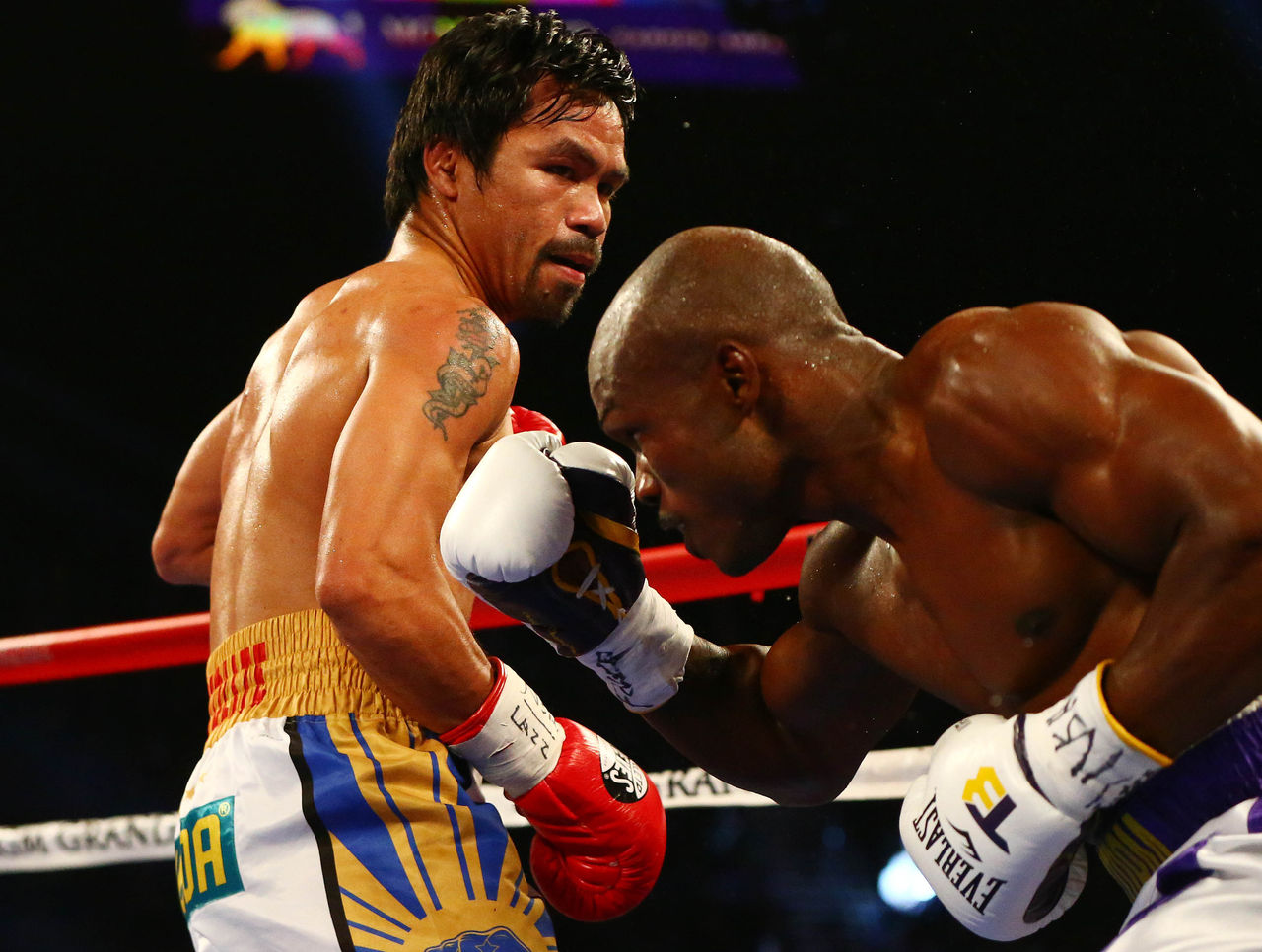 Hampered by a pint-sized frame, Pacquiao's insatiable quest to be the best saw him climb weight classes without sacrificing his trademark combination of speed and power.
Only Pacquiao knows what it will take to coax him out of retirement. For some, all it takes are the words of encouragement of a pupil in need.
Once a renowned trainer, Teddy Atlas made the switch to analyst in 2012 after a caustic split with Russian heavyweight Alexander Povetkin. Looking to thwart Pacquiao's farewell at the MGM Grand, Bradley enlisted the help of Atlas. A tune-up defeat of Brandon Rios featured an unlikely knockout for a fighter who feeds on volume.
Unlike his client, Atlas appeared nervous heading into the Pacquiao fight, saying, "The combination of speed and power that Manny has is uncommon.
"When you're competing against someone like Manny you see the obvious - the explosion of ability, the straight left hand, the right hook, the quickness, the surges, the hurricane of punches that come at you." Atlas' words could not have been more prescient.
Older and a shade slower than the world's most dominant fighter from 2005-12, Pacquiao's cluster of punches are reminiscent of the purveyor of melees of lightning-quick strikes and a left hook that left then-lineal holder Ricky Hatton a shadow of his former self.
With Pacquiao, as much as a flurry is to be expected, it's no easier to prevent.
"But you don't see what comes before the storm. I don't do much but I hope I can help my fighters see what comes before the storm," Atlas offered ahead of Saturday's main event.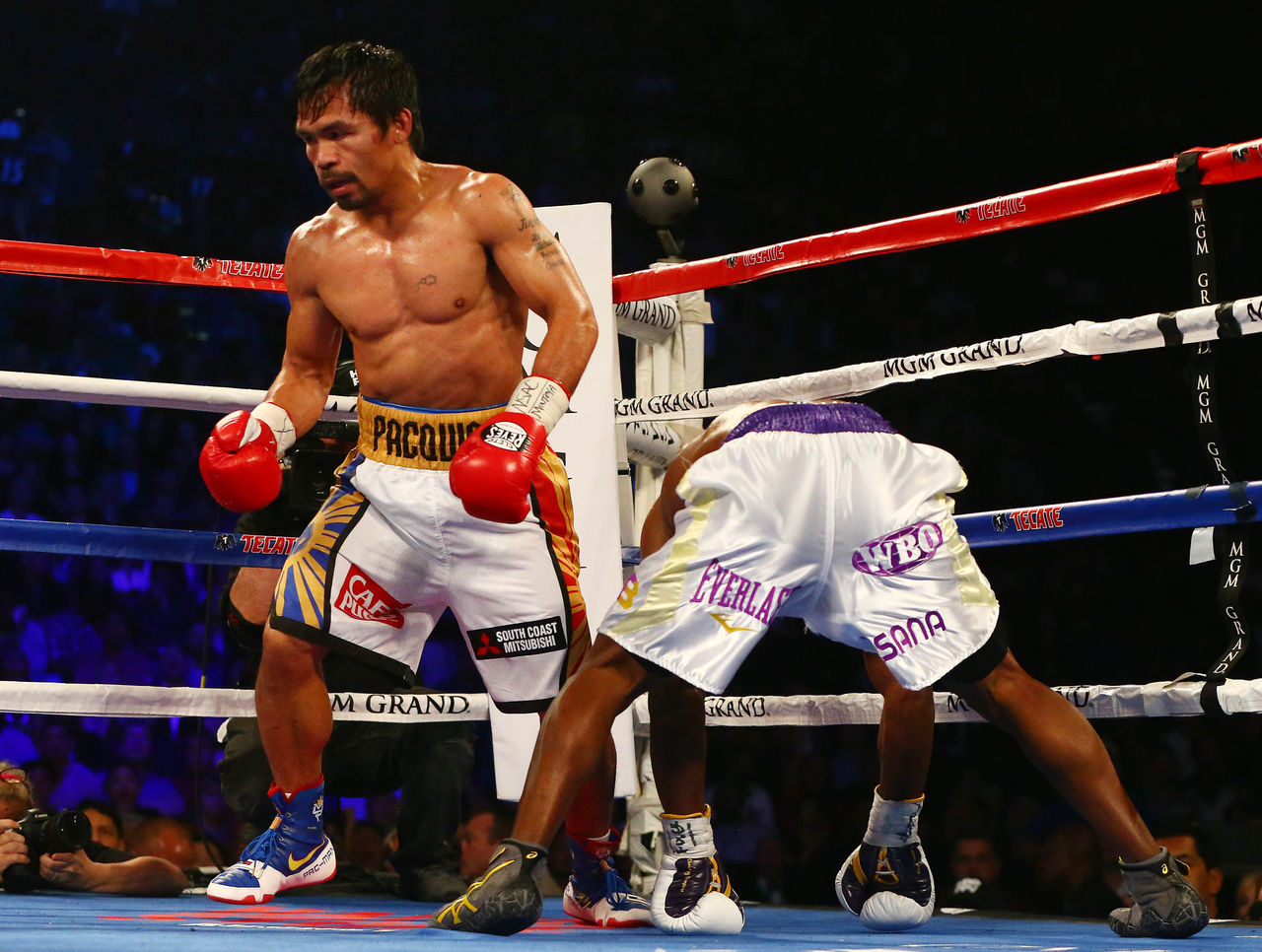 Like Bradley, Pacquiao is mentored by a trainer in Freddie Roach who transcends the craft, with Saturday's main event providing the backdrop of two celebrated teachers who've never seen eye to eye.
"I don't like Teddy and he doesn't like me," Roach said. "But that's OK. He says he's a better trainer than me, but we'll see."
On Saturday night, it was the boxers who did the talking.
To Bradley's credit, he's a great fighter, but on Saturday, he lost a one-sided clash to a legend who showed flashes of his former brilliant self. Without knockout power, Bradley's only hope of winning was to beat his foe with volume and hope Pacquiao was distracted by both his right shoulder and an upcoming senate election in the Philippines.
The now five-time lineal champ was anything but, displaying his trademark blend of speed in power throughout the 12-round tilt.
If a career ended Saturday night, it was one of boxing's best, a tribute to both a fighter of near-mythical proportions and a representative of a people. A meteoric rise from modest beginnings to the pantheon of the sport's finest, within the confines of the four ropes, Manny Pacquiao had few equals.
As Pacquiao left the ring, rife with elation, he waved to the fans chanting his name. If that's a champion leaving the sport that he has dominated for the final time, it certainly didn't look like it.
Round-by-Round:
Round 12: Not eventful enough for Bradley. Those in attendance chant Manny's name as the final bell sounds. A jubilant arena awaits the judge's scorecards.
Round 11: Can't help but feel bad for Bradley, who looks dispirited at the end of each round. Atlas demands six minutes of his best. That may not be enough. Full credit to Bradley, but Pacquiao is a better fighter and it shows. Penultimate round goes narrowly to Pac.
Round 10: Bradley ate a lot of glove that last round, prompting a spirited speech from Atlas. The partisan crowd favors Pacquiao and he responds with a series of lefts. Bradley has been pretty good. Pacquiao has been great. Round goes to Manny.
Round 9: Pacquiao knocks Bradley down for a second time with a stinging hard left. Not bad for a guy not known as a counter-puncher. Pacquiao takes that round in impressive fashion.
Round 8: Bradley needs something dramatic now and without knockout power, it's unclear where that'll come from. Against Pacquiao's counters, Bradley hits his foe hard a half dozen times, setting up the right hook with a left jab. Bradley's back. The eighth is his.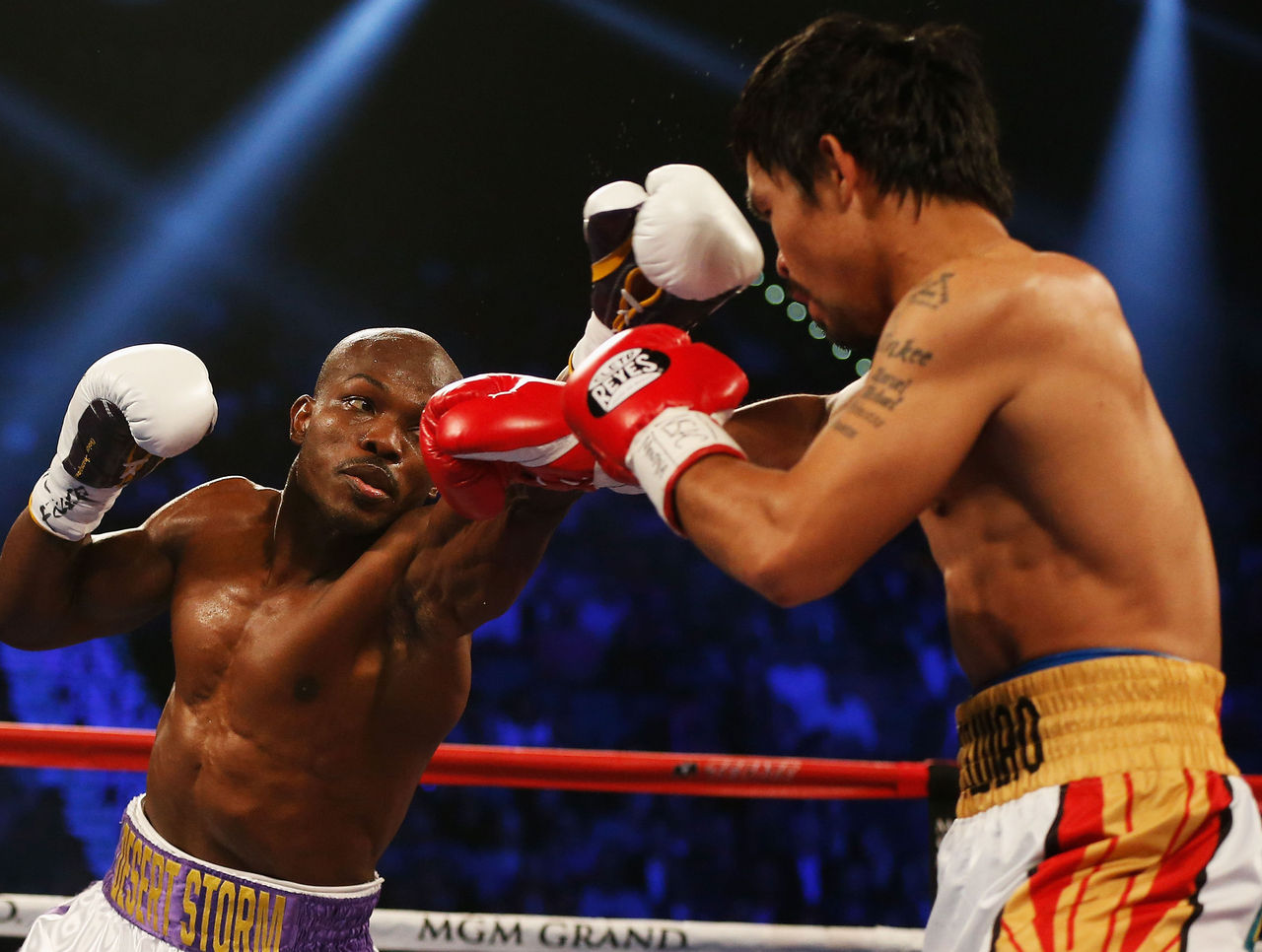 Round 7: Between the bells, Freddie Roach concedes Pacquiao hasn't mentioned any discomfort in his right shoulder. The Filipino legend continues to be the aggressor and has his opponent on his heels. Manny knocks Bradley to his knees 20 seconds from the end of the round. Pacquiao takes another round.
Round 6: Strident and spittle spewing, Atlas just incited his pupil to show his worth between rounds. A slow opening minute was followed by an inside right hook by Pacquiao. Not as eventful as the prior round. Manny takes his fourth round to Bradley's two.
Round 5: That may have been Bradley's best round yet. A body shot was followed with a robust right from the American. PacMan answered with a cluster capped-off with a left hook that caught Bradley flush. Now we've got a fight. Manny takes the fifth.
Round 4: Pacquiao appears to be favoring the same right shoulder that was plagued by a torn rotator cuff after the Mayweather defeat. If Bradley and trainer Teddy Atlas have noticed, this clash could take a turn. Pac finishes with a flurry to take the fourth round.
Round 3: Pacquiao gets Bradley against the ropes for the first time before the two trade a melee of punches. Chants of "Manny, Manny" ring out in the MGM Grand as the fight begins to take shape. Both fighters appear sharp, with Bradley taking a second round by the slimmest of margins.
Round 2: Bradley catches Pacquiao with a right to the face in close quarters, though it's the latter who takes the round with a more varied attack. Second round goes to Pacquiao.
Round 1: Bradley, in white trunks with matching gloves came out the aggressor in a round short on substance. Even round that narrowly goes to Bradley.
Undercards:
Gilberto Ramirez (34-0, 24 KOs) def. Arthur Abraham (44-5, 29 KOs)
Gilberto "Zurdo" Ramirez became the first Mexican fighter to capture the WBO Super Middleweight belt, defeating holder Arthur Abraham in 12 rounds by unanimous decision, 120-108, 120-108, 120-108.
Abraham defended his 168 lb title for a sixth time on the trot against the angular Ramirez, but it was the tale of the Sinaloa Kid in King Arthur's Court that prevailed Saturday night.
Characteristically lacking in aggression, Abraham sussed out his foe early only to get caught by a right hook in the second round, painting the Armenian-born German's face a shade of sangria.
With the first five rounds clearly in Zurdo's back pocket, Abraham was approaching the point of no return where only a knockout would do. The sixth round was the belt holder's, but that was it, as the fight's denouement was as predictable as it was unexciting. Full credit to the Mexican for a deserved result.
Oscar Valdez (20-0, 17 KOs) def. Evgeny Gradovich (21-2-1, 9 KOs)
Well, that didn't last long.
Oscar Valdez topped Evgeny Gradovich on the heels of a furious start to remain unbeaten with a straightforward fourth-round knock down.
If Ramirez was easy to hit, Gradovich, 29, was a stationary, barely sentient boxer ankles deep in molasses. With a cut over the right eye after Round 1 matched by a cut on the other a round later, Valdez's jab was repeatedly taking advantage of the Russian's dropped gloves.
With a minute left in the fourth round, Valdez knocked Gradovich down with a perfect left hook that hit the Russian flush, prompting a deserved stoppage from the ref.
Speaking post-fight, Valdez said, "Felt great. I know I'm going to get tough fights. I know I have to evolve. I've evolved."
That you have.
Jose Ramirez (17-0, 12 KOs) def. Manuel Perez (25-12-1, 6 KOs)​
With spectators still filing into their seats, junior welterweight rising star Ramirez, under the tutelage of famed trainer Freddie Roach, bested Manny Perez in the pay-per-view undercard opener.
Ramirez, 23, started slow but finished strong, putting an emphasis on head shots while his foe focused on the body in a match that went the distance. Ramirez won by unanimous decision, 97-93, 98-92, 99-91.
Favored over the fighter eight years his senior and three inches shorter, Ramirez was perilously hittable through the first three rounds. That changed in the fourth, with the younger fighter landing left jabs with ease paired with combos that slowed the 31-year-old Perez.
Decked out in camouflaged trunks, Perez could do little to conceal himself from Ramirez's repeated combinations teased by the left jab, crowned by the right hook. A left hook in the final round nearly knocked Perez down.
Ramirez was the victor Saturday and remains unbeaten, though he'll need to improve his defence to match his rising star status.
Comments
✕
Pacquiao tops Bradley by UD in vintage display
  Got something to say? Leave a comment below!