Disney interested in movie featuring TCU's Bram Kohlhausen
Erich Schlegel-USA TODAY Sports
If Walt Disney Pictures has its way, Oregon's misery from the 2016 Alamo Bowl could be immortalized forever in a movie featuring TCU backup quarterback Bram Kohlhausen.
The Horned Frogs trailed the Ducks 31-0 at halftime of the Jan. 2 game before the second-string senior pivot led TCU all the way back to claim a 47-41 triple-overtime victory. It seemed like a scene right out of a movie, and that idea could become reality in the near future.
"Disney approached us about a movie," TCU sports information director Mark Cohen told The Oregonian via email. "Bram's focus this spring is on his May graduation. After he has his degree in hand, we'll revisit the opportunity to see if it's a fit."
Kohlhausen was a relative unknown heading into the Alamo Bowl, tethered to the Horned Frogs' bench behind star quarterback Trevone Boykin. Three days before the bowl game was set to kick off, however, Boykin was arrested for a bar fight in which he allegedly struck a police officer. That incident led to Boykin's immediate suspension, ending the college career of the All-American, and thrusting the man with 38 career completions into the spotlight.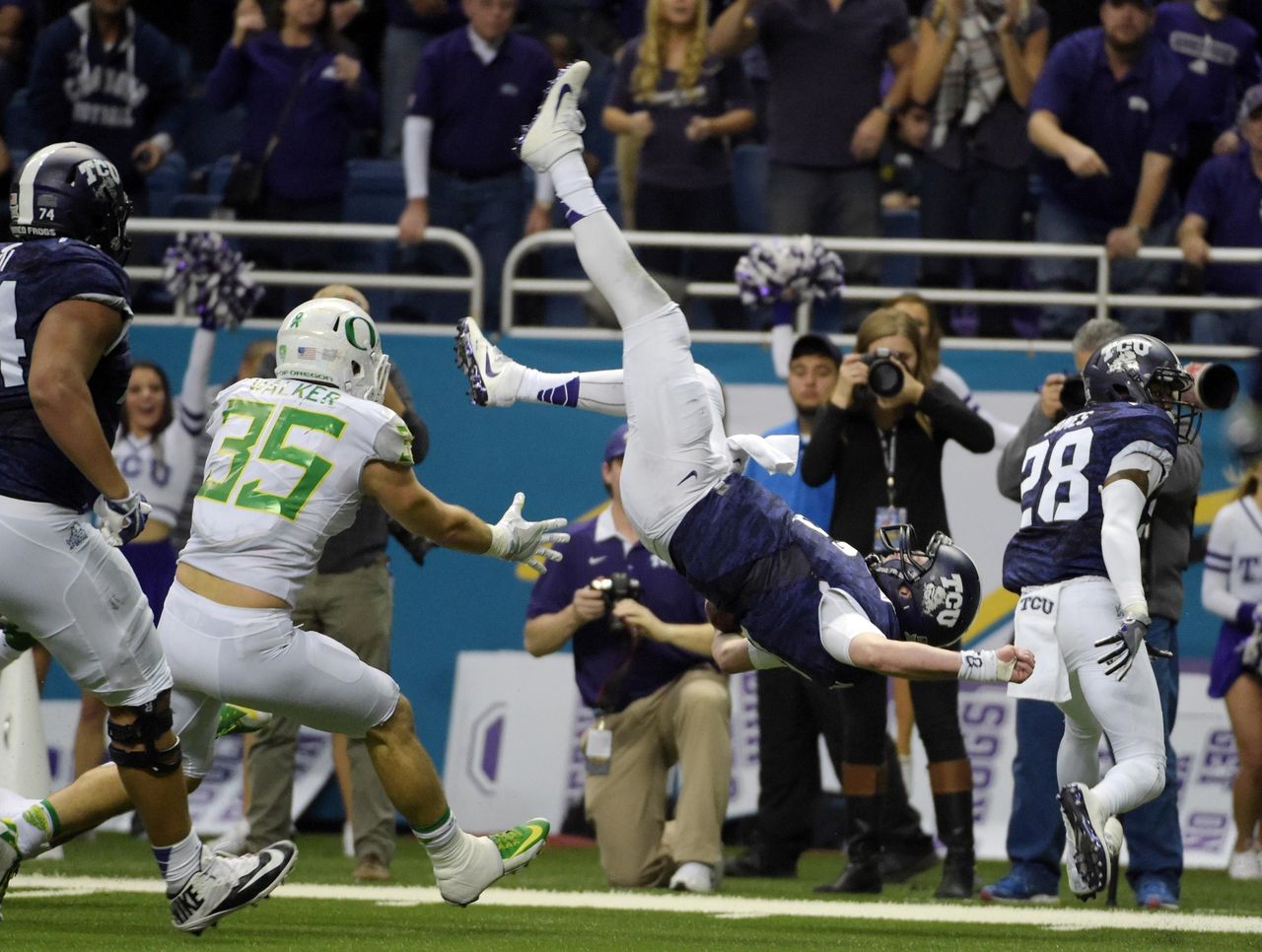 Oregon raced out to a 31-0 lead before star quarterback Vernon Adams Jr. suffered a head injury and was forced to leave the game. Kohlhausen would then play like a man possessed in the second half, as the Frogs scored 47 points on nine straight drives to overtake the Ducks for the win. The Houston native threw for 351 yards and two touchdowns, while also adding two scores on the ground.
Further adding to Kohlhausen's legend was the fact he played through a broken wrist in the comeback. His father had also passed away from cancer just six weeks before the game.
Not only did the story have a happy ending with the Frogs' win, but TCU head coach Gary Patterson rewarded his walk-on senior quarterback with a scholarship for his final semester of school.
Of course, this isn't the first time that Walt Disney appears interested in filming a real-life football underdog story. In 2006, Disney released the movie "Invincible," starring Mark Wahlberg as a Philadelphia bartender who makes the Eagles after an open tryout.
Comments
✕
Disney interested in movie featuring TCU's Bram Kohlhausen
  Got something to say? Leave a comment below!