CFB Wrap-up: Takeaways from Week 5's biggest games
College Football Wrap-Up recaps the most important developments from the day's action and examines their significance moving forward.
Brock Bowers takes over
After a slower start to the season by his incredibly lofty standards, it's safe to say Brock Bowers has found his footing. The Bulldogs leaned heavily on the star tight end down the stretch at Auburn to avoid the upset and keep their perfect run going. Bowers' final line was an impressive eight catches for 157 yards and a touchdown, but it's the importance of the plays that stand out.
A 29-yard catch-and-run with Auburn winning 17-10 set up Georgia's tying touchdown. The next drive saw Bowers register two catches for 65 yards to set up a go-ahead field goal. However, the final drive was the real masterpiece, beginning with a 16-yard catch on third-and-12 putting Georgia in Auburn territory. Bowers then completed the job with a 40-yard touchdown that ended up being the game-winning tally for the top-ranked Bulldogs.
The two-time defending national champions were underwhelming again for a large portion of the game but still delivered the victory when it mattered. Another test awaits the Bulldogs next week, with undefeated Kentucky coming to Athens.
Ole Miss outlasts LSU in offensive explosion
104 points, 1,343 yards, 65 first downs, 14 touchdowns, two exhausted football teams and one winner on a last-minute score. The annual LSU vs. Ole Miss rivalry game has evolved into a memorable event - and Saturday was no different. The two teams started scoring from the jump and did not stop in an offensive shootout for the ages. When the dust cleared, it was the home team that emerged victorious with the Rebels' Tre Harris finding the end zone with 39 seconds to play.
That was nearly enough time for the LSU offense to stage a comeback as Jayden Daniels drove them down the field for one final shot at a winning touchdown. The ball would fall incomplete at the buzzer, handing the wild victory to Lane Kiffin and Ole Miss.
Both offensive units were brilliant, but the defensive film study next week will be rough for both teams. LSU, in particular, was once again burned by a secondary that has struggled against the pass all season. Outside of a strong performance in the win over Mississippi State, the Tigers have allowed 11 touchdown passes and an average of 340 passing yards per game against Power 5 competition.
The loss leaves just two teams in the SEC West that are undefeated in conference play - Alabama and Texas A&M.
Hartman shows worth with a single play
Sam Hartman joining Notre Dame was arguably the biggest transfer portal addition this offseason. The senior, who piled up the second-most passing yards in ACC history during his tenure at Wake Forest, showed exactly why the Fighting Irish brought him aboard with one play on Saturday against Duke.
With Notre Dame trailing 14-13 with under a minute to play, Hartman and the offense faced a fourth-and-16 to extend the game on the final drive. With his receivers blanketed, Hartman rolled to his right and took off for the marker, diving forward to convert the first down by a yard. That crucial move kept Notre Dame in business, and Audric Estime found the end zone one play later for the game-winning score.
The narrow win meant Notre Dame extended its regular-season winning streak over ACC opponents to 30 games. It also keeps the program alive for a potential run to the College Football Playoff - something Hartman likely prioritized when choosing where he would play.
USC is what we thought it was
Insert epic Denny Green press conference here, because USC is exactly what we thought it was.
We knew two things about the Trojans entering the season - Caleb Williams is a cheat code and their defense is likely going to keep them from competing for a national title. Both those were on full display Saturday in a tight win over Coach Prime and Colorado.
Williams flashed plenty of proof he's the no-doubt No. 1 selection in the 2024 NFL Draft, finishing with 403 yards passing and an outrageous six touchdowns. He spread the field with ten different players catching the ball on Saturday. The star passer now has 21 touchdown passes on the season - more than any team in the nation.
Now that we've covered the positive, let's get into the concerning. Last year's USC defense ranked 119th in the nation in yards allowed per play. Despite that performance, Lincoln Riley opted to retain defensive coordinator Alex Grinch.
"I've been through it enough with that guy to know, don't bet against him," Riley said in January, according to Paolo Uggetti of ESPN. "I know what he's made of. I just do. I know what's getting ready to happen defensively."
It's probably a safe bet Riley didn't have Saturday's performance in mind when he made that statement. Shedeur Sanders threw for 371 yards and four touchdowns while the running game piled up 193 yards. Colorado scored three straight touchdowns in the third and fourth quarters to make it a one-score game and force USC to recover an onside kick for the win.
While Sanders has shown he's an elite quarterback throughout the year, the rushing success the Buffaloes had should set off alarm bells in the USC locker room. Colorado entered the game ranked second-last in the entire nation at 1.9 yards per carry. It ended the game with over 4 yards per carry against the Trojans' front.
There's no doubt Williams will shine virtually every time he touches the field, but the defensive struggles look destined to doom the USC playoff bid yet again.
Colorado's still compelling
We can probably stop with the 24/7 round-the-clock coverage of Coach Prime and Colorado at this point, but the Buffaloes' effort Saturday showed they are still a compelling team despite two straight losses.
Sanders rebounded from a very rough outing at Oregon last year to torch the Trojans' defense. Despite missing Travis Hunter Jr. once again, the offense piled up 41 points as they roared back from a 48-21 deficit to make it a one-score game with just under two minutes left. The comeback eventually fell short, but the drama associated with it did not.
Of course, any Colorado game will always be heavily centered around Deion Sanders and his gift of the spoken word. That was on full display after the contest where he issued a warning to nonbelievers.
The next few weeks offer a breather for the Buffaloes after back-to-back games against top opponents. A trip to Arizona State and a home game against Stanford provide excellent chances for Colorado to get within one win of bowl eligibility - a remarkable feat given it won just one contest last year.
Texas closes in style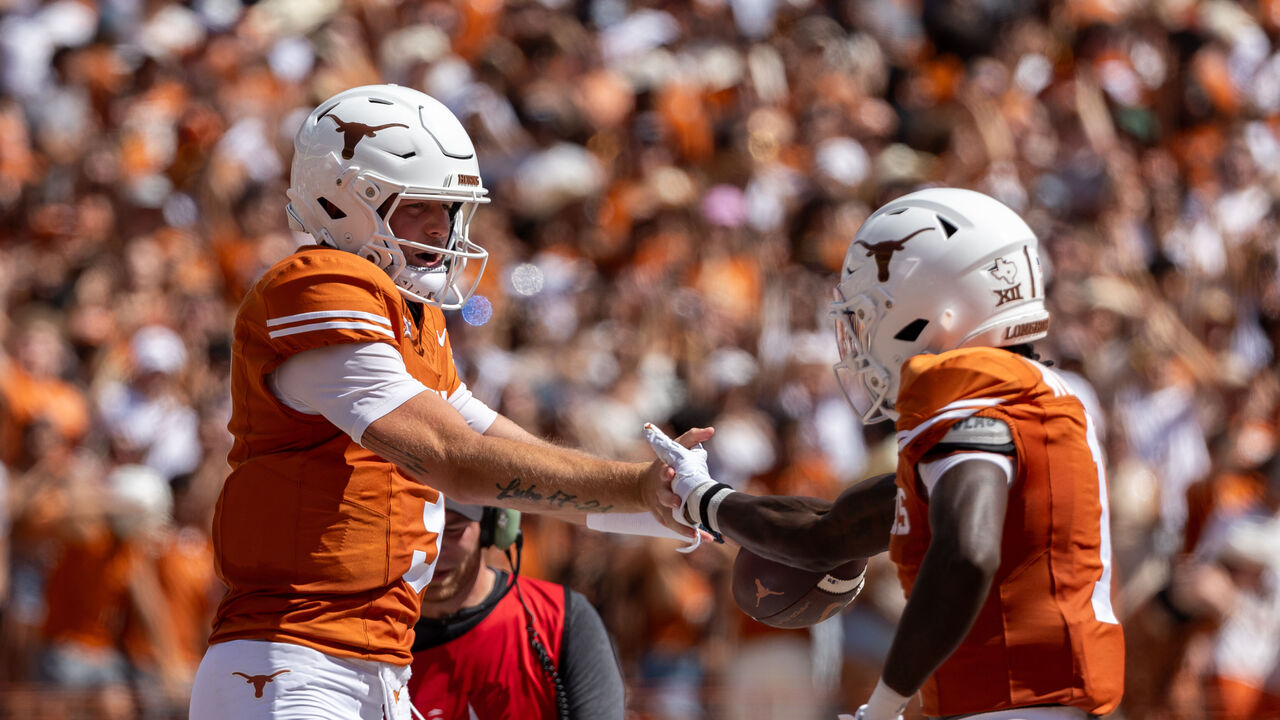 Texas' inability to close out games was talked about at length last year, with a below .500 record in one-score games on its resume. Saturday showed the Longhorns' latest step forward in that area: Their dominant final 18 minutes delivered a blowout win over Kansas.
Forgive Texas fans for feeling a little tense in the opening half given the team's dubious recent history against Kansas. It was a 20-14 game with the Jayhawks opting to go for it on fourth-and-1 inside their own territory. A massive stop by the defense got Texas the ball back and things quickly escalated from there. The next five drives showed just how scary an outfit the Longhorns can be.
Texas touchdown drive: five plays, 38 yards
Kansas punt: three plays, 4 yards
Texas touchdown drive: eight plays, 72 yards
Kansas punt: three plays, -2 yards
Texas touchdown drive: 12 plays, 75 yards
In less than 15 minutes of game action, Steve Sarkisian's team turned a 6-point lead into a 40-14 blowout. The Longhorns have shown exceptional closing potential in both of their biggest games of the season - the win at Alabama and Saturday's contest. That should have people taking Texas very seriously as a contender for the College Football Playoff.
The Red River Rivalry will be a must-watch
Next week's final Red River Rivalry game with Texas and Oklahoma as members of the Big 12 is going to be an absolute banger. Everyone knows what the Longhorns can do this season thanks to their incredible win at Alabama. However, Oklahoma rebounded from its first losing season since 1998 with a 5-0 start of its own.
The latest victim on the Sooners' schedule came Saturday in the form of Iowa State, who suffered a 50-20 blowout loss. The Cyclones entered the contest ranked 33rd in the country in scoring defense at only 19 points per game. Oklahoma surpassed that number in the opening quarter of action and has now scored at least 50 points three separate times this season.
Dillon Gabriel has thrown for 1,593 yards and 15 touchdowns in five games of work - and, most importantly, stayed healthy in the process. Gabriel missed last year's rivalry game against the Longhorns due to injury and the Sooners suffered the worst shutout loss in program history by a 49-0 scoreline. Gabriel's inclusion in this year's contest should make it the game to watch on next week's slate.
The Ray Davis game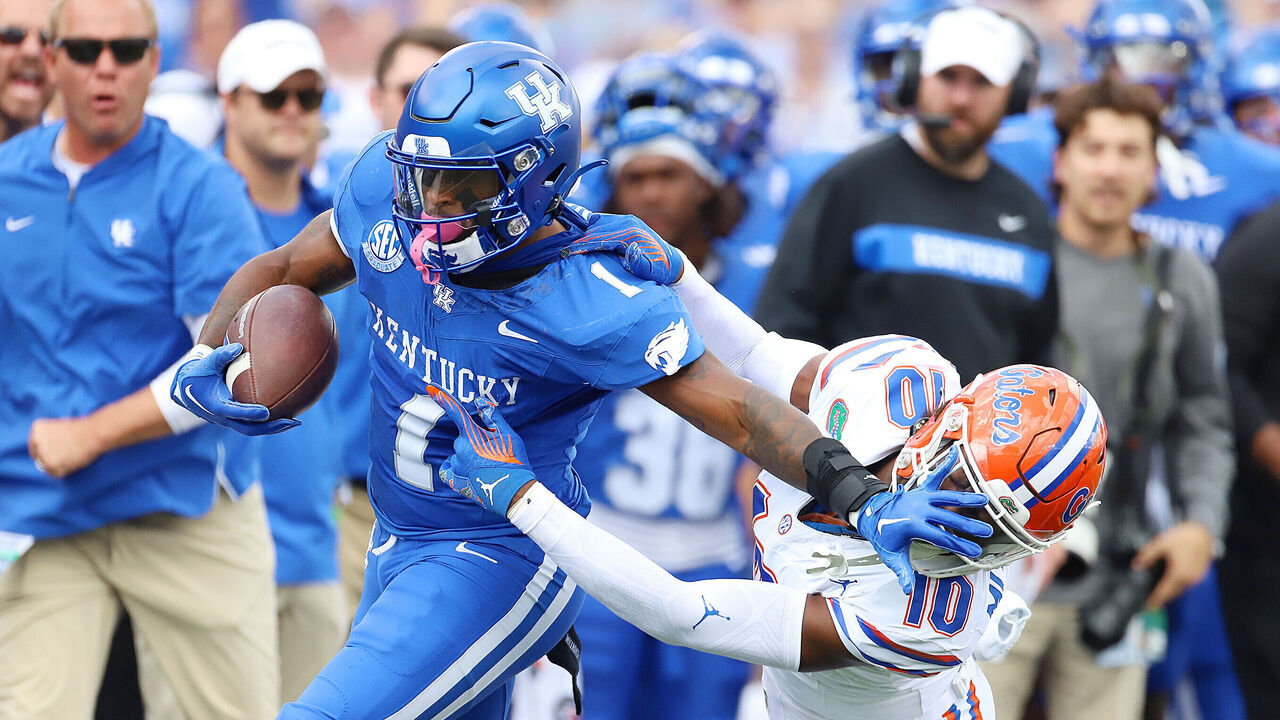 There are dominant performances, and then there's what Ray Davis did to the Florida defense on Saturday in Lexington. The Vanderbilt transfer turned in a performance for the ages, piling up the second-most rushing yards the Florida program has ever allowed. The final tally was an absurd 280 yards and four total touchdowns in a blowout Wildcats win.
Florida's defense is far from the 1985 Chicago Bears, but it entered the contest a very respectable 32nd in the nation in yards allowed per rush attempt at just over three. But Davis got to work immediately, putting up 141 yards in the opening quarter alone.
The result is the latest proof that the balance of power is shifting in the SEC East. It's Kentucky's third straight win over Florida - the first time that's happened since 1951. The Wildcats have another chance to make a huge statement in the division next week with a road trip to top-ranked Georgia.
Maryland might be a Big Ten problem
Most view the Big Ten as a three-team race between Michigan, Ohio State and Penn State - but it might be time to pay attention to Maryland. The Terrapins improved to 5-0 on the season with a 44-17 thrashing of Indiana on Saturday. While the competition hasn't exactly been a murderer's row thus far, Maryland has outscored its opponents by a combined 193-66 margin. An 18-point win over Charlotte was the closest contest.
Saturday's victory now runs Mike Locksley's record against Big Ten opponents other than the aforementioned trio to 17-5 the past two seasons. Unfortunately, they are 0-6 against the Wolverines, Buckeyes and Nittany Lions. For Maryland to take the step from a solid Big Ten team into a contender, they need to upset a big-name program. They won't have to wait long to make that splash with a road trip to Ohio State on deck next week.