CFB Wrap-Up: Takeaways from Week 13's biggest games
College Football Wrap-Up recaps the most important developments from the day's action and examines the significance of them moving forward.
McCarthy, Michigan shine in biggest test
We highlighted three reasons why Michigan dominated Ohio State on Saturday, but one major takeaway from the contest is that J.J. McCarthy outdueled Heisman hopeful C.J. Stroud at quarterback.
McCarthy showed the ability Jim Harbaugh has been raving about for two years by throwing for 263 yards and three scores on the Buckeyes' defense. The talented sophomore also added a rushing score and led the big-play offense that delivered Michigan's second straight victory over its rivals.
With Blake Corum sidelined for the majority of the contest due to injury, the Buckeyes dared McCarthy to beat them through the air, and the sophomore standout was more than happy to take advantage. The Wolverines scored on passing plays of 69 yards, 75 yards, and 45 yards to erase an early deficit and take a second-half lead they would never relinquish. McCarthy's 263 yards is his second-highest output of the season, and the three touchdown passes match a career high.
Stroud moved the ball on the Michigan defense, but the offense struggled to finish drives in the opening half. The Buckeyes finished just 5-of-17 on third- and fourth-down conversions in the contest and failed to score a touchdown in the second half.
The win gives Michigan its second straight Big Ten East title and the inside track to the College Football Playoff. The loss drops Ryan Day's record against Ohio State's rival to 1-2 and essentially ends any chance at a berth in the CFP.
South Carolina, giant killer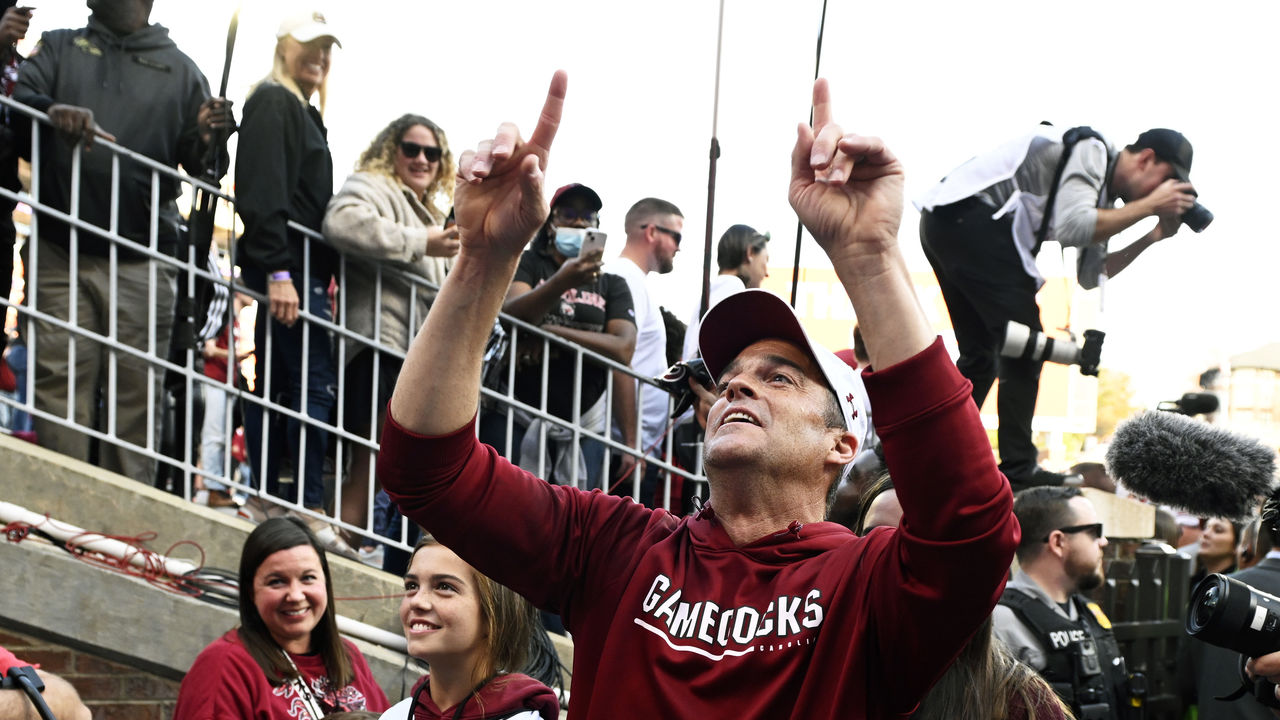 While there was a brief hangover for South Carolina coming off last week's incredible win over Tennessee, the Gamecocks rebounded with an outstanding showing in the second half to take down rival Clemson on the road. The victory wasn't just the first time ever that South Carolina has beaten two straight top-10 opponents, but it also ended a number of streaks held by the Tigers.
Clemson not only lost a nation-best 40-game home winning streak but also saw its 68-game victorious run when leading at halftime end as well. It's the first victory for the Gamecocks in the rivalry after six straight losses.
Spencer Rattler continued his incredible late-season resurgence, following up last week's six-touchdown performance with 360 yards passing and two more scores against Clemson. The Tigers' secondary ranked 62nd in the country, having given up 36 passing plays of at least 20 yards this season. Rattler took advantage with big plays on 65- and 72-yard passing touchdowns on Saturday.
On the other side, Clemson's secondary wasn't the only issue for Dabo Swinney, as the offense again couldn't move the ball through the air with DJ Uiagalelei under center. The junior quarterback had arguably his worst game as a Tiger, completing just 8-of-29 passes for 99 yards total.
The Tigers still advance to the ACC title game to face North Carolina next weekend, a contest that has lost virtually any buzz prior to kickoff. The Tar Heels lost two straight games to finish the season, while Saturday marked Clemson's second defeat in its last four outings.
TCU finally free of drama
TCU has become the comeback king of the 2022 season with seven straight wins by 10 points or less - often needing a charge in the second half to get the job done. On the other side, Iowa State entered Saturday's contest with six of its seven losses by one score or less. Those two trends suggested that the home game in Fort Worth should have been a close affair.
What actually unfolded couldn't have been further from that prediction as the Horned Frogs raced out to a 24-0 lead in a 62-14 blowout of the Cyclones. TCU turned in one of its most balanced performances of the season. The offense threw for 246 yards and four touchdowns and rushed for 147 yards and two scores, while the defense supplied two pick-6s.
It was the most drama-free game of the season for TCU, with Sonny Dykes' program now able to focus fully on next weekend's Big 12 title game. Ohio State's loss to Michigan should help the Horned Frogs climb to No. 3 in the next edition of the CFP, and a win next Saturday cements their place in the semifinals.
Oregon suffers epic meltdown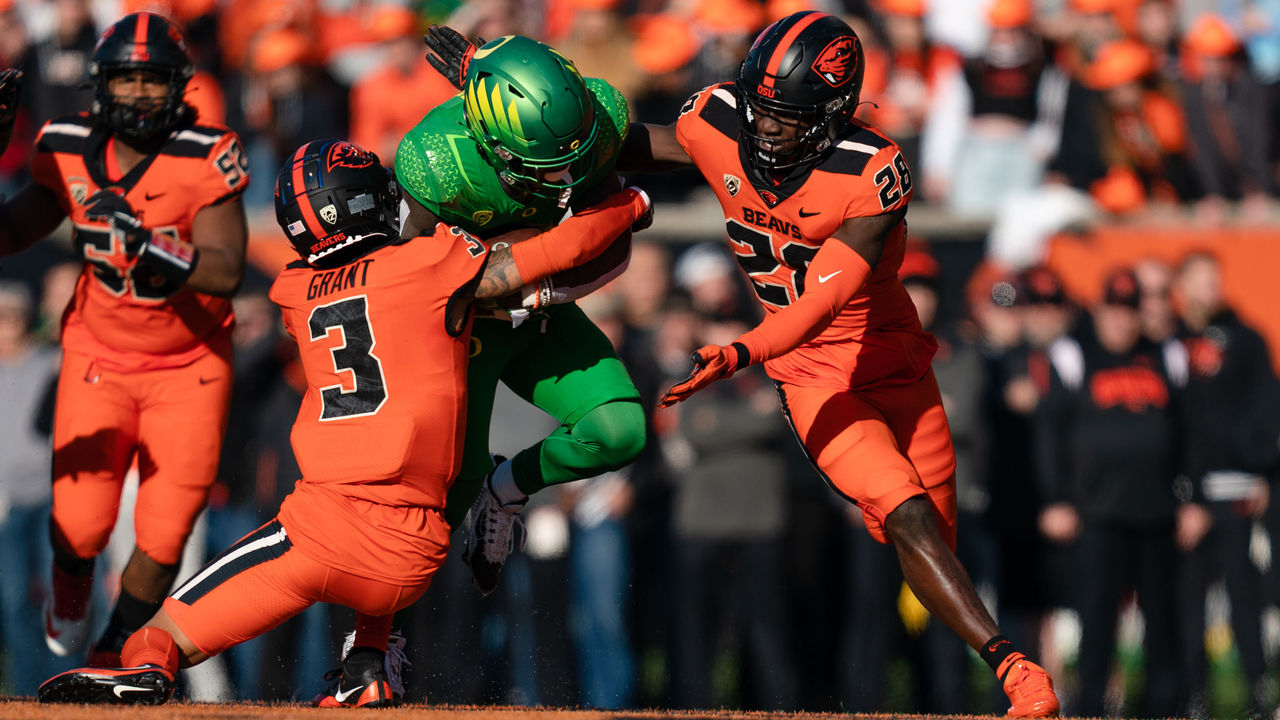 The rivalry between Oregon and Oregon State has produced some very odd games in the past, but Saturday's contest in Corvallis might go down as the weirdest one yet. The ninth-ranked Ducks needed a win to qualify for the Pac-12 title game and raced out to a 31-10 lead with 20 minutes left to play.
That's when things blew up for Dan Lanning, as the Beavers finished the game on a 28-3 run without throwing a pass during their comeback, sealing the win with a fourth-and-goal stop with two minutes to play. For the second time in three games, Lanning opted to go for a fourth down late in the game deep in his own zone - and once again, it failed.
This time it was on the Ducks' 29-yard-line while they clung to a 34-31 advantage. Bo Nix was stopped on the play, and Oregon State punched in the eventual winning score just 1:28 later.
Lanning's aggressive decision-making in his first season as head coach is certainly something that sets him apart from his peers, but that has backfired greatly in November. It will be interesting to see if those two experiences change his mind about his approach going forward.
Oregon's chance at the Pac-12 title game is now in the hands of Washington later on Saturday night in the Apple Cup rivalry against Washington State. If the Huskies win, then Utah is in the conference championship against USC. If the Cougars are victorious, the Ducks get the chance to take down the Trojans in Las Vegas.
USC on cusp of CFP berth
The rebuild in Los Angeles took exactly one season as Lincoln Riley has USC headed to the Pac-12 title game with a sparkling 11-1 record. The Trojans completed an outstanding regular season on Saturday with a 38-27 home win over No. 15 Notre Dame.
The Trojans once again utilized the game plan of explosive offense and opportunistic defense to secure the win. USC is now a nation-leading plus-22 in turnover margin after a fumble recovery and interception on Saturday. Riley's offense wasted no time turning both takeaways into points, raising its points off turnovers margin to plus-114 on the season.
With a weekend that saw Stroud, Corum, Nix, and Drake Maye all struggle, Caleb Williams essentially cemented his grip on the Heisman with a solid showing against the stout Irish defense. The Oklahoma transfer threw for 232 yards and a touchdown while also adding three scores on the ground.
The Trojans now await the finish of the Apple Cup between Washington and Washington State to determine their opponent in Friday's Pac-12 title game. Should the Huskies win the contest, USC will get a rematch with Utah - the only team it didn't beat this year. If the Cougars take the win, then it will be a wounded Oregon team to advance. Regardless, the other results from Saturday have USC facing a win-and-in scenario for the Pac-12's first CFP berth since 2016.
Jimbo's offense arrives, spoils LSU's playoff hopes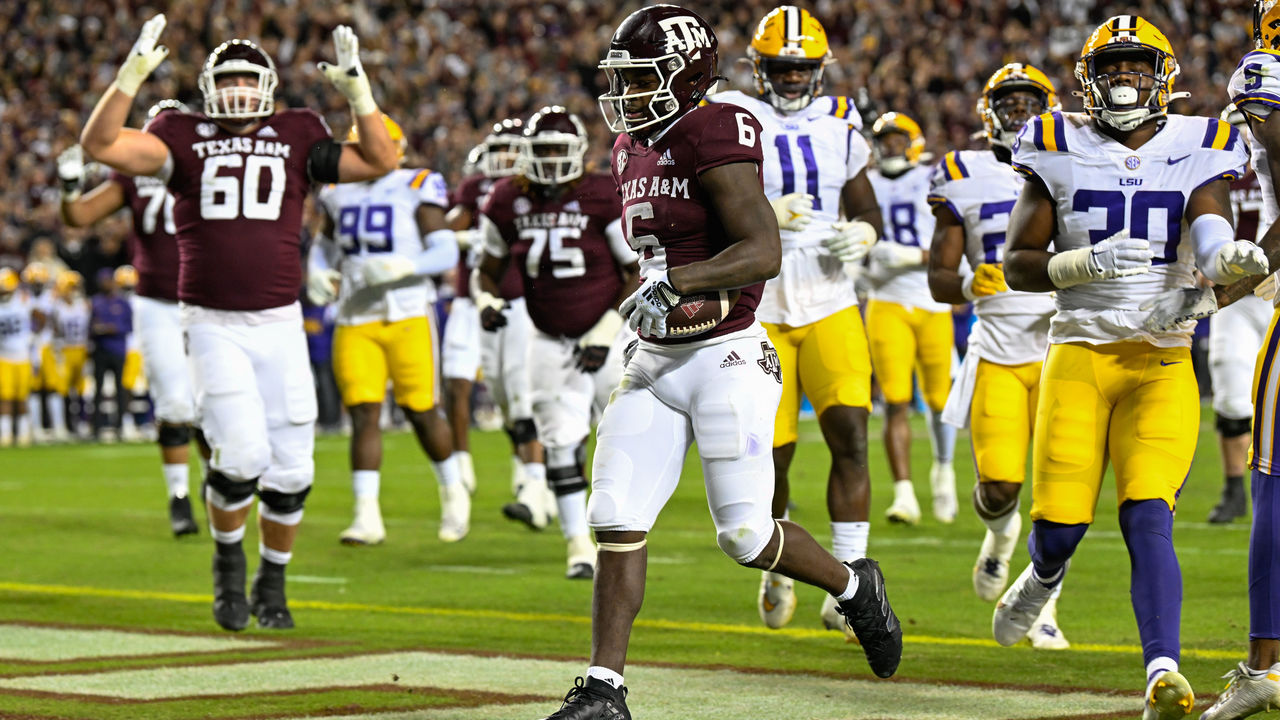 Texas A&M last scored more than 31 points against an FBS opponent 399 days ago (versus South Carolina). Unfortunately for LSU fans, the Aggies picked a bad week to break out of their offensive slumber.
Devon Achane ran wild in College Station, piling up 211 yards in a 38-25 upset win over the fifth-ranked Tigers. With a third loss of the season, LSU is now out of the CFP race even if it does beat No. 1 Georgia next weekend.
While it'd be easy to focus on what LSU didn't do Saturday, Texas A&M deserves a ton of credit for not packing it in once it could no longer become bowl eligible. A number of Jimbo Fisher's prized youngsters balled out on offense alongside Achane - freshman Conner Weigman threw two touchdowns, and sophomore Moose Muhammad III supplied a highlight-reel scoring grab.
There's no sugarcoating things in College Station: It was a terrible season for Fisher and the Aggies. The program failed to win six games for the first time since 2008 and finished tied for last in the West. Despite that, Saturday's showing from the youthful offense provided a glimmer of hope that things could be different next season.
Alabama stars go out on top
After three years in Tuscaloosa, the star duo of Bryce Young and Will Anderson likely played their last home game with Alabama. The quarterback and edge rusher are both eligible to return to college next season, but as projected top-five picks, they'll likely opt for the NFL draft. That made Saturday's blowout Iron Bowl victory against Auburn extra special - and both players went out on a high note.
Young, the reigning Heisman winner, threw for 343 yards and three touchdowns to become the first Crimson Tide quarterback with back-to-back 3,000-yard passing seasons. Anderson was a constant menace, registering two sacks and three tackles for loss in front of the adoring Alabama fans.
With two losses and no spot in the SEC title game, Alabama is highly unlikely to play in the CFP this season. The Crimson Tide will certainly receive a berth in a big-time bowl game, but it'd be no surprise if the dynamic duo skips that contest to begin draft preparations. If Saturday's game proves to be the last of their college careers, it was a fitting finale for two of the best talents to come through Nick Saban's program in a long time.
Comments
✕
CFB Wrap-Up: Takeaways from Week 13's biggest games
  Got something to say? Leave a comment below!