Week 1 overreactions to Saturday's biggest college football games
Week 1 of the 2022 college football season is finally upon us, with a number of big matchups going off Saturday. Naturally, it's time to overreact about the state of each team. Below, theScore identifies those bound for glory and those that might need to apologize to their fanbases.
Georgia is better than it was last season
After sending a record 15 players to the NFL draft following the program's first national title since 1980, Georgia somehow emerged for the 2022 season better than ever. The third-ranked Bulldogs absolutely thumped No. 11 Oregon on Saturday, scoring a touchdown on all seven possessions en route to a 49-3 blowout.
The offense was unstoppable - Stetson Bennett looked brilliant against a revamped Ducks defense. The former walk-on finished with 368 passing yards and two touchdowns while finding a new favorite target in running back Kenny McIntosh. With nine catches for 117 yards and a rushing touchdown, the senior appears more than ready to step up into a feature role.
The defense didn't look like one that had lost five players and its coordinator to the first round of the NFL draft and the opposition, respectively. It prevented the Ducks from scoring a touchdown for the first time since 2017.
There's still the full season to play, but Saturday showed why it's probably a safe bet to pencil Georgia into the College Football Playoff yet again.
Ohio State's defense is completely fixed
There's no doubt that Ohio State's defense is what held it back from being in the CFP last season. The Buckeyes finished the campaign ranked ninth in the Big Ten in scoring defense and allowed 22.7 points per contest. That prompted Ryan Day to hire Oklahoma State's Jim Knowles as defensive coordinator, which paid immediate dividends Saturday.
With the offense sputtering early due to the loss of star receiver Jaxon Smith-Njigba, the Buckeyes' defense stood tall and shut down Notre Dame in a 21-10 win. The Fighting Irish barely topped 250 total yards for the game, with the Ohio State defense holding them to just 2.5 yards per carry.
The Buckeyes' offense will eventually revert to the form that ranks among the nation's best, but it's the defense we saw Saturday that will make them a good bet for the national championship.
Anthony Richardson's star is born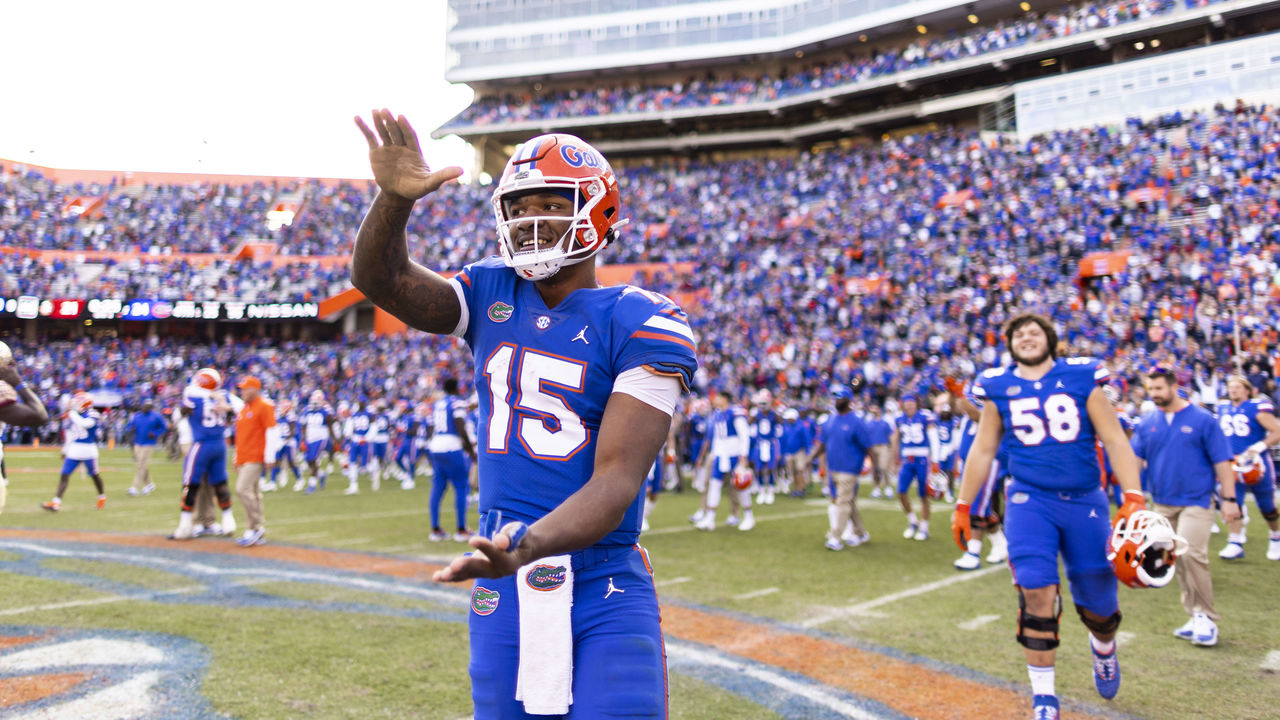 It's Richardson's world - the rest of college football is just living in it. While that might be a bit of a stretch, Florida's quarterback had the viewing public eating out of his hand with an electric performance versus No. 7 Utah on Saturday in The Swamp. Richardson flashed his wide range of skills throughout, with a 45-yard touchdown scamper the highlight of the opening half. The standout redshirt sophomore saved his best for the second half - he pulled off an incredible fake leading to a two-point conversion, then produced a game-winning touchdown in the dying minutes. He finished with 168 yards passing, 104 yards rushing, and three total touchdowns. The Billy Napier-Anthony Richardson era is off to a roaring start in Gainesville.
Bryce Young will repeat as Heisman winner
Utah State is certainly no powerhouse, but Young served notice Saturday that the Heisman Trophy might just be staying in his possession for another season. The Alabama quarterback only needed 30 mins of work in Tuscaloosa to start his season off with a bang.
Young will face a stiffer test next week with a road trip to Texas, but there's no reason to think he's slowing down at any point this season.
Oregon might have made the wrong hire
There's a new regime in Oregon, but the immediate returns are even worse than those from the tail end of the previous one. Dan Lanning got spanked by his former team in his first game as head coach, and his team had virtually no positives to take away from Atlanta.
Bo Nix may have swapped his Auburn uniform for an Oregon one, but the results were the same - he dropped to 0-4 versus Georgia in his career. The transfer quarterback completed just 21 of 37 passes with two interceptions in the loss.
Lanning's job in Eugene was always going to be tough. The Ducks didn't exactly come into 2022 riding a wave of momentum. Adding in last season's final four contests, Oregon is now 1-4 in its last five games and has been outscored 201-90. No team in the country appeared ready to hang with Georgia on Saturday, but the Ducks looked completely unprepared for a team Lanning should have been very familiar with.
Drake Maye might be better than Sam Howell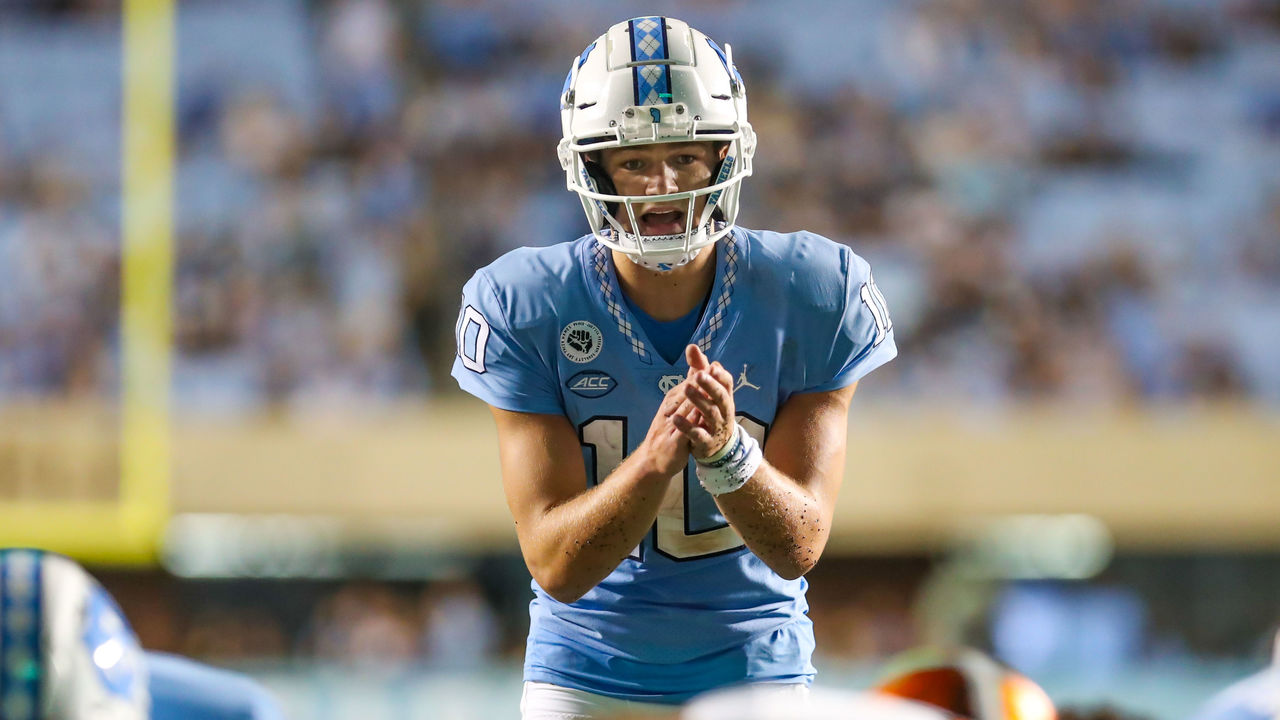 Life after Howell looks pretty comfortable for North Carolina at the moment, as Maye has emerged as a new star quarterback for the Tar Heels. With Howell off to the NFL after setting records as the program's all-time leading passer, Maye stepped in and kept the explosive offense humming.
After becoming the first North Carolina quarterback to throw five touchdowns in their first career start last week, Maye led the Tar Heels to an incredible road win at Appalachian State. The redshirt freshman threw for 352 yards and four touchdowns while also adding 76 yards and a score on the ground.
The Tar Heels' defense nearly blew it in the fourth quarter, allowing a shocking 40 points in the final frame before emerging with a 63-61 victory. That unit figures to be a challenge yet again in Chapel Hill, but Maye appears ready to shoulder the ACC outfit's load.
Michigan should make J.J. McCarthy QB1
Jim Harbaugh's "biblical" plan this season was for Cade McNamara to start at quarterback for Week 1 and McCarthy to get that job for Week 2 before deciding on a permanent starter. It's clear after Saturday's win that McCarthy should be the man going forward for Michigan.
McNamara struggled despite facing an overmatched Colorado State defense, completing just 9 of 18 passes for 136 yards and a touchdown. Almost half of those yards came on a 61-yard screen that saw Roman Wilson catch the ball behind the line of scrimmage. McCarthy entered the game in the third quarter and immediately showed his dual-threat capabilities with a 20-yard touchdown run.
The highly touted quarterback would complete 4 of 4 passes for 30 yards with 50 yards rushing on just three attempts. McNamara is completely capable of running the Michigan offense to a great degree of success, but McCarthy's playmaking ability can take the Wolverines to a brand new level.
Iowa didn't fix its offense
It's certainly not an overreaction or quick judgment to say that Iowa's offense is going to struggle yet again in 2022. Since head coach Kirk Ferentz's son Brian took over as offensive coordinator in 2017, the Hawkeyes have averaged a ranking of 67th in the country in scoring offense and 89th in passing yards per attempt. Last year was particularly poor, with Iowa finishing 98th nationally in scoring. Saturday's performance was a clear indicator that won't be changing in 2022.
The Hawkeyes' offense was a disaster yet again, with the defense carrying the team to an ugly 7-3 win over South Dakota State. One might look at that score and think Iowa scored a touchdown, but it was actually a field goal and two safeties that got the team there. While there are issues all over the field, the partnership between Brian Ferentz and quarterback Spencer Petras clearly hasn't improved.
Petras finished just 11 of 25 for 109 yards through the air, and the Hawkeyes were held to a paltry 1.6 yards per carry on the ground. The defense remains outstanding, but it's tough to imagine the Hawkeyes making a return trip to the conference title game with perhaps their worst offense in years.
Comments
✕
Week 1 overreactions to Saturday's biggest college football games
  Got something to say? Leave a comment below!