Nakobe Dean has 'a lot of dreams,' including NFL greatness
Getty Images / Photo illustration by Nick Roy / theScore
Brad Boyette shared a story recently about Nakobe Dean, the high-end NFL draft prospect, that had been told to him by the coaches at Georgia. Dean played linebacker for Boyette in high school and earned pristine grades each year in the classroom. Georgia staffers were awed when he listened to engineering lectures during football meetings, one earbud linking Dean to the online class, and answered every question about that week's game plan correctly.
"That probably was a little bit misconstrued," Dean said, smiling over Zoom as he corrected the story. Dean isn't that good a multitasker. But his routine in college was to tune into class at Georgia's practice facility, writing notes as an athletic trainer taped or treated him, maximizing his available time to excel in different settings.
"I got a lot of dreams. I want to be one of the greatest to ever do it on the football field," Dean said. "I want to be one of the greatest to ever do it in life."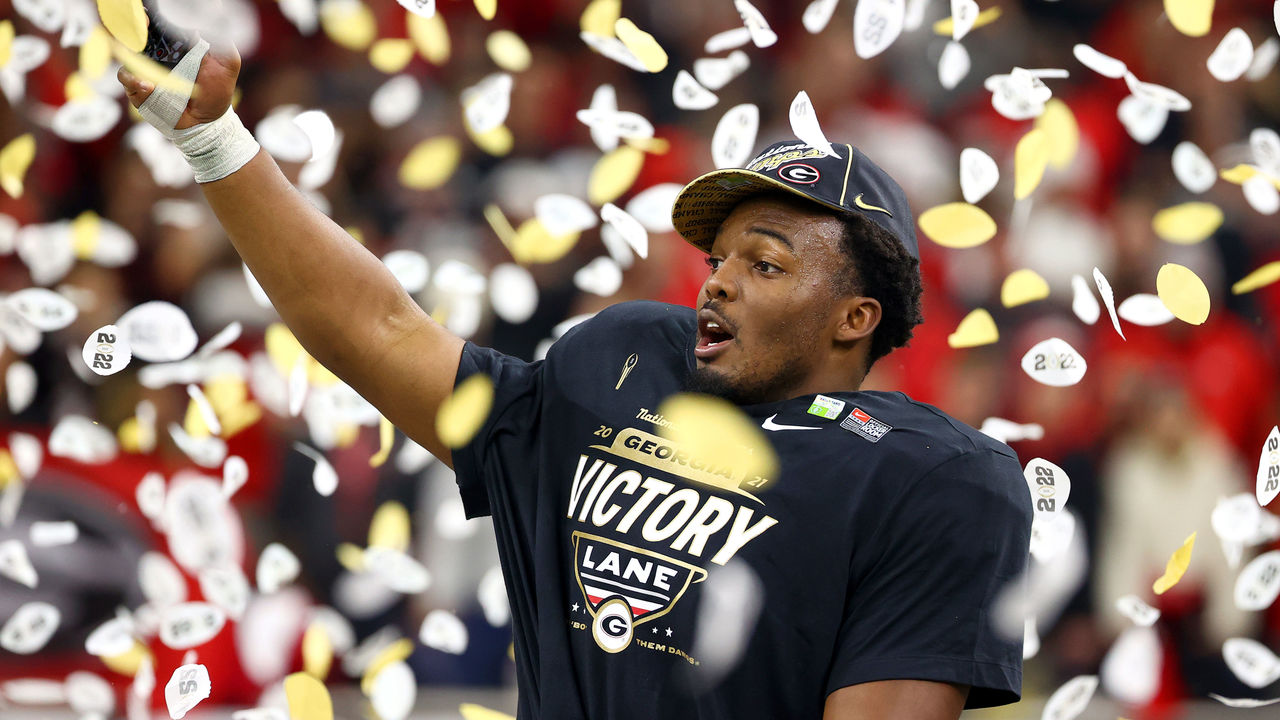 To call Dean a high achiever is no exaggeration. He's the middle linebacker who anchored last season's fearsome Georgia defense, the strength of the program's first national championship team in 41 years. At least four Bulldogs defenders project to be first-round picks in next week's draft. Dean's one of them, going No. 26 overall in theScore's most recent mock.
Whichever club picks him will get the college game's reigning top linebacker. Dean earned the same national honor, the Butkus Award, that he won in high school in 2018, when his play for Boyette's Class 6A state champion Horn Lake Eagles got him crowned Mr. Football in Mississippi. All this while acing his advanced placement schoolwork.
"He took Latin 1 and 2. Straight-A student. He finished with, like, a 4.4 GPA," Boyette said. "That intelligence was not strictly on the academic side. He had the same type of football IQ. He saw things that weren't normal for a high school kid to see."
Dean is small for an NFL linebacker at 5-foot-11 and 229 pounds, but his brain elevates him on the field. Cerebral and explosive, he diagnosed plays in an instant in college and closed on ball carriers about as fast. Dean thinks and acts "two steps ahead of everyone," NFL Network draft analyst Daniel Jeremiah wrote. Jeremiah likens him to Jonathan Vilma, the retired three-time Pro Bowler who was Defensive Rookie of the Year in 2004.
Dean turned heads at Georgia as soon as he got to campus. Glenn Schumann, the Bulldogs' inside linebackers coach and co-defensive coordinator, recalls him posting five tackles for loss in his first spring practice as an early enrollee, so instinctive was Dean's read of the game.
Last season is when Dean emerged as a destructive force all over the field. Leveraging his three-down versatility, Schumann stationed him in the box, had him blitz inside or off the edge, and tapped him to drop into nickel coverage when needed.
"There's not a skill that he doesn't have," Schumann said. "Everybody can always improve. We're all trying to improve and grow in whatever our career is. But he has those natural traits in terms of instincts, intelligence, and the power and strength that he plays with - the burst and ability to close that let him do a lot of things really well."
SEC foes are aware. When Georgia thumped unbeaten Kentucky last October, Dean sniffed out a screen pass in the red zone, tracking the running back to the weak side before the ball was thrown. Eluding two blockers, Dean clocked him in the backfield.
The week before, Dean's awareness and speed helped him capitalize on an Auburn misplay. Shadowing the running back's underneath route, Dean put himself in position to dive and snare his first career pick.
When Georgia faced Florida, one play at midfield demanded Dean cover a running back split out wide. He jumped a curl route and ran 50 yards to the house to pad the Bulldogs' blowout lead.
"To make a play like that, you first have to be extremely comfortable where you are. Once you're comfortable, you can trust your technique and play ball," Schumann said.
"He knew he had the time to make that break and undercut the route, and obviously it was a huge play in that game. But what does it say about him? Mostly that you can line him up wherever you want."
Georgia's defense pitched three shutouts last season and limited five more teams to seven points or fewer, reflecting the unit's cohesiveness and abundance of talent. Edge rusher Travon Walker, a potential top-three draft pick, matched Dean's season output with six sacks. Jeremiah thinks Devonte Wyatt has elite upside at defensive tackle. Linebacker Quay Walker, like safety Lewis Cine, is expected to go in the second round.
Based on Heisman Trophy balloting (he got nine first-place votes), Georgia's standout defender was Jordan Davis, the immovable 341-pound nose tackle. Davis clocked a 4.78 40-yard dash time at the NFL combine, the fastest run since 2003 among players remotely as big as him. Early in the national championship game, he forced an Alabama fumble that Dean, thinking on his feet, scooped and ran back for a touchdown.
The play was reviewed and ruled an incomplete pass, nullifying the score. Georgia romped to the title anyway by holding Alabama to 18 points, that program's fewest in a game in three years.
"Generally, when you combine ability with character and work ethic, good things happen," Schumann said about Georgia's departing defenders, gauging their NFL potential. "As long as they're resilient when there are struggles - because every step of growth in life has struggles - they can be as good as they want to be."
Stories from Dean's past illustrate all sides of him: the planner, the leader, the math whiz. At Horn Lake High School baseball practice his freshman year, he dove to catch a pop fly and landed on his bent wrist, necessitating surgery. This was Dean's first time under anesthesia, and when he awoke, he asked his mom to pepper him with equations to clear his mind.
"She starts: 'What's nine times nine?'" Dean said. "Eighty-one. Come on. Give me something harder."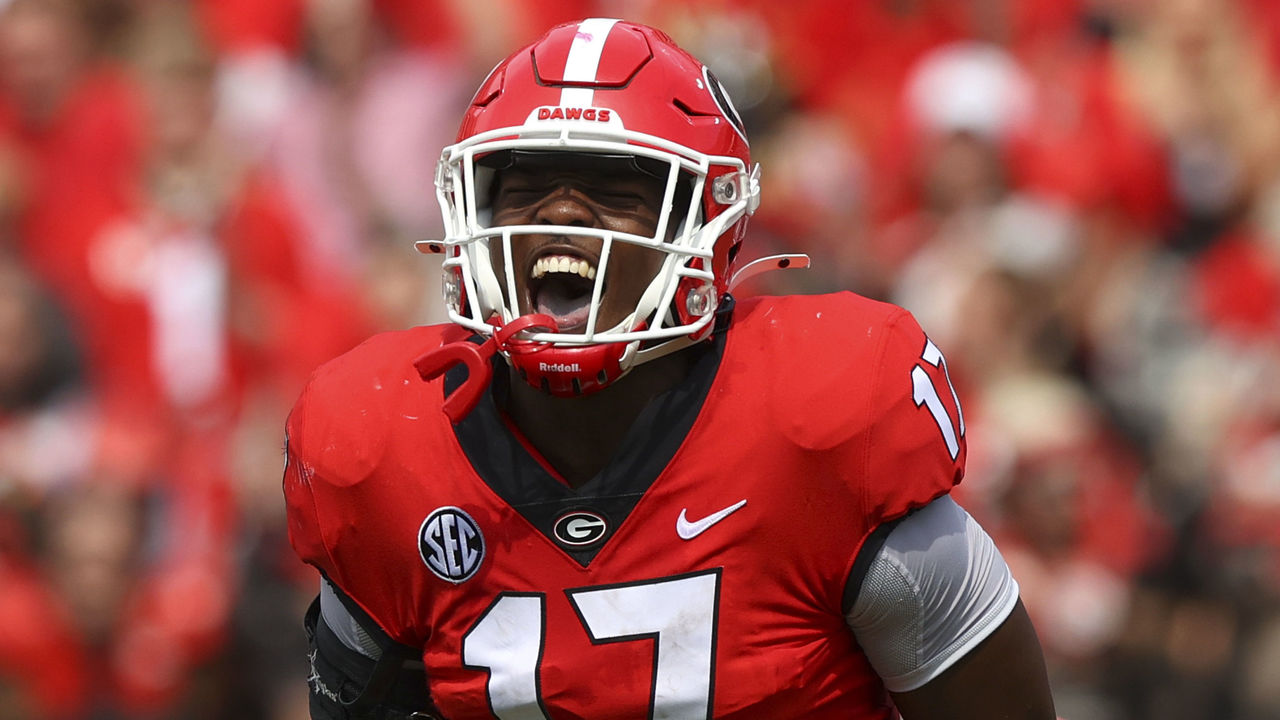 Midway through Dean's last high school football season, Horn Lake trailed a regional rival 17-7 at halftime, and Boyette sensed his undefeated team was about to panic. The coach taped a brief radio interview and set off for the locker room, resolving to speak calmly. He came upon the full roster crowded outside the door as Dean, from the center of a 90-man circle, urged each player to be the best version of himself when play resumed.
"I look at the circle and I'm looking at their eyes. He had everybody's 100% attention," Boyette said. Horn Lake rallied to win 28-17.
Shortly before Dean left Horn Lake for Georgia, his English teacher unearthed the first assignment Dean completed in ninth grade. Boyette read the sheet of paper on which Dean had written four objectives.
"Goal No. 4 was about some girl in the class. He was going to date her. That's the only one I don't know about," Boyette said. "But Day 1 of his freshman year he said: I'm going to make all A's in high school, we're going to win a state championship, and I'm going to be an Under Armour All-American. And he did. He hit on all three."
Luck doesn't explain that, Boyette said: "It was intentional, purposeful preparation day in and day out for those things that he wanted to achieve."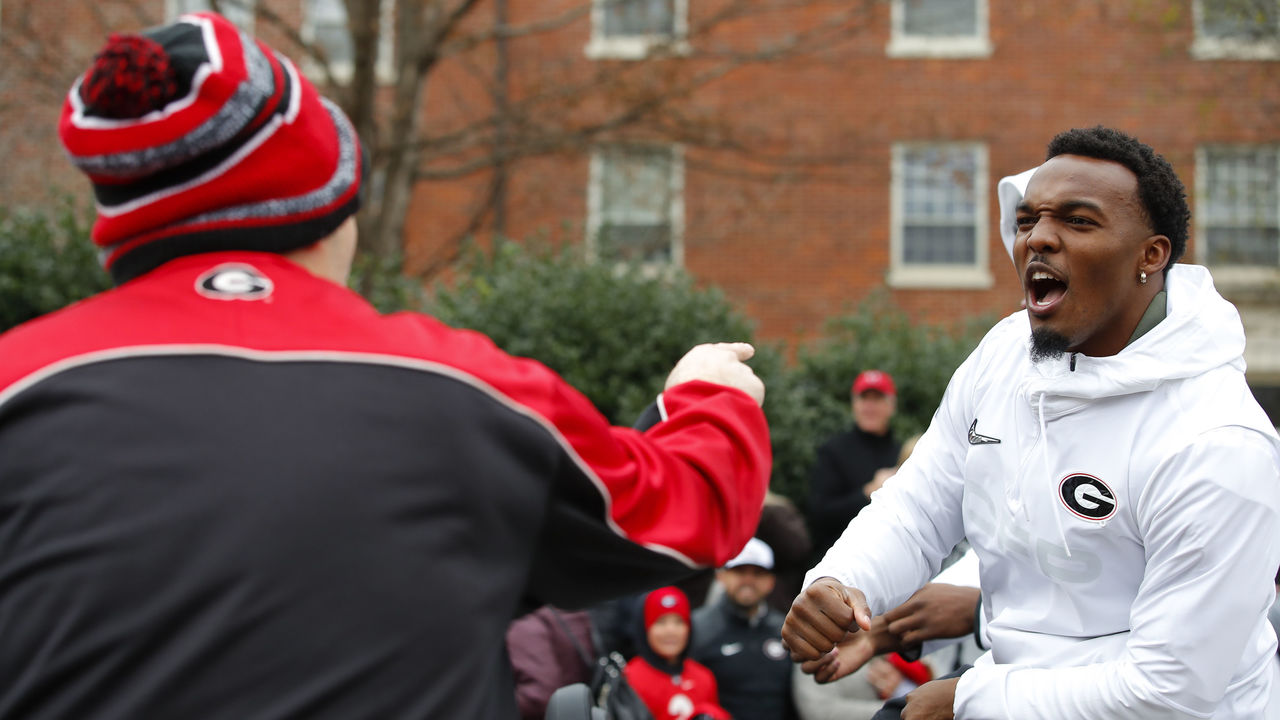 When Dean was a kid, his mom, Neketta Dean, directed community affairs for the county sheriff's department. Neketta's children volunteered at the events she organized and championed, from street cleanups to Toys for Tots giveaways. This ingrained in Dean a mentality of service, as Boyette puts it, that he maintains.
Last year Dean captained a national all-star team that recognizes community-mindedness. Allstate donated $10,000 on his behalf to a Horn Lake community center. NIL rules have enabled Dean to give money and lend his likeness to local causes. At points of the 2021 season, Dean sponsored a bed at a Georgia homeless shelter, handed out turkeys and canned goods at Thanksgiving, and helped procure Bulldogs tickets for kids in the Boys and Girls Club.
"It means just as much to me as football does. My momma had us in the community and giving back before I had the dream of wanting to be a professional athlete," Dean said. "That's a part of who I am. I give back and I want to help people."
Like Dean said, he has a lot of dreams, one of which stems from Neketta's work in veterans affairs. When Dean was young, he was introduced to military personnel who'd lost arms or legs. Versed in mechanical engineering, maybe he could build prosthetics one day: "That's something that I could see myself interested in down the road."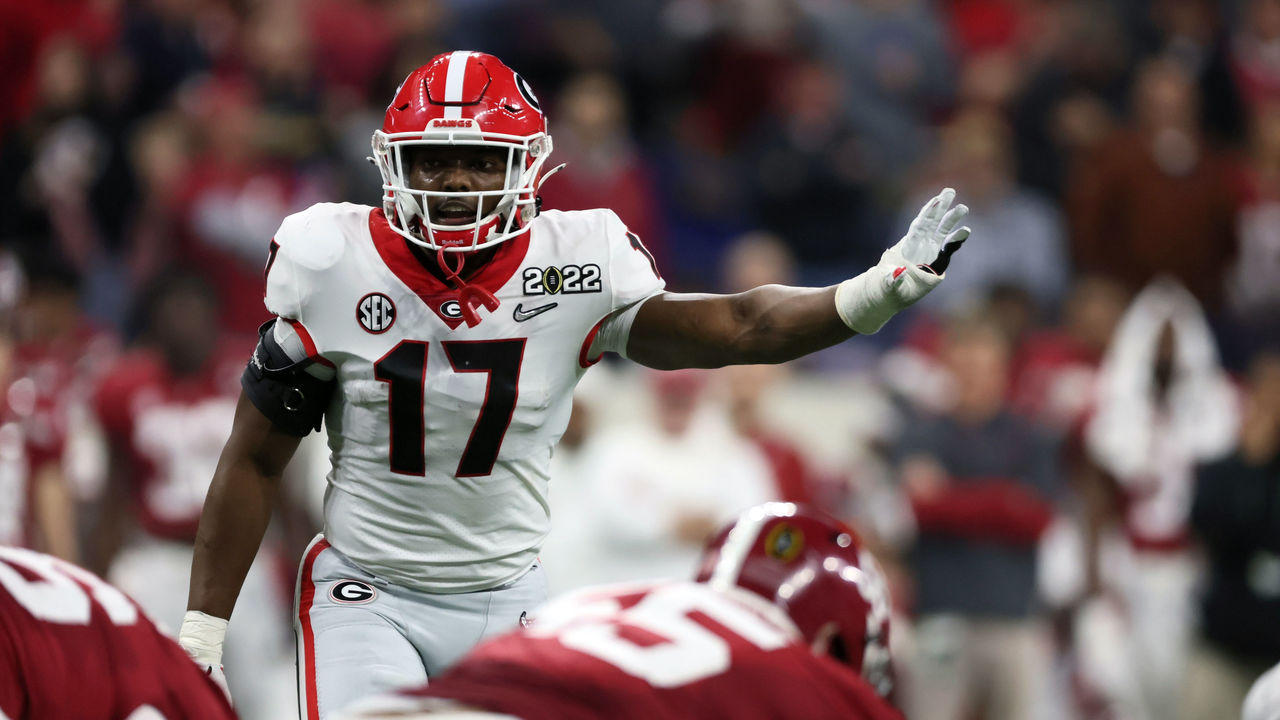 Draft day looms large in the short term. A pectoral strain stopped Dean from working out at the league combine, and he was limited to positional drills at Georgia's pro day later in March. Scouts who knock Dean do so because of his size, wary of the deficiencies it might present in the NFL: a lack of power relative to offensive linemen, a lack of length compared to tight ends.
To which Schumann replies: Trust his tape.
"The guy was the same size all year when he was making all these plays - playing in the best conference in college football, playing on the best defense in college football," Schumann said. "At the end of the day, your film is your resume. His film resume is as good as anybody's."
Boyette watched Dean excel at Georgia from afar and, a few times last season, from the stands near the Bulldogs bench. He took note of how Dean challenged teammates on the sideline without angering them or causing rifts, one sign of a respected leader.
Not long before the draft, a coaching friend asked Boyette how he'd describe Dean.
"He's not a T-shirt All-American. He's not going to go to a combine or workout and blow you away with 40 times," Boyette said. "But when you line up and you snap the ball and you want a football player, that's what you'll get when you get Nakobe Dean on your team."
Nick Faris is a features writer at theScore.
Comments
✕
Nakobe Dean has 'a lot of dreams,' including NFL greatness
  Got something to say? Leave a comment below!