By any measure, Rashaan Salaam should be a College Football Hall of Famer
Jed Jacobsohn / Getty Images
Hall of Fame debates are a staple of sports arguments - whether a player's amassed the credentials to be honored among the best in their sport is prime fodder for discussion over a beer. We're spotlighting a collection of players who we believe either deserve the distinction but haven't yet been inducted, or don't quite measure up but had a great impact on their franchise or sport.
There are 1,027 former players in the College Football Hall of Fame. Of the 65 Heisman Trophy winners in the 20th century, 64 are enshrined.
That makes sense. What is a Hall of Fame if not a place to honor those who were the most dominant?
But the numbers illustrate the absurdity that one player is still missing from the college football hall. Twenty-six years ago, he took college football by storm. He became the fourth member of college football's 2,000-yard club, rushing for 2,055 yards on a Colorado team that won 11 games and finished the season ranked third in the nation. He was a Heisman shoo-in. He should be a shoo-in for the Hall, too.
When will the late Rashaan Salaam get his due?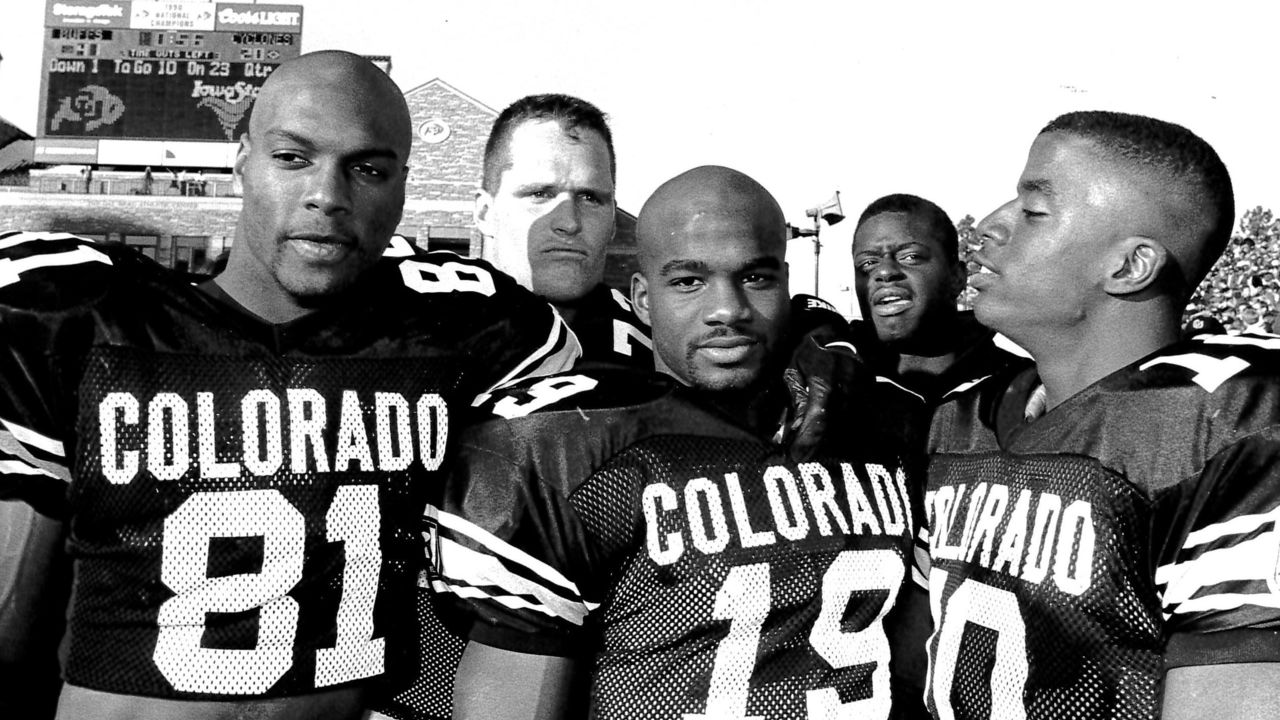 Salaam's rise was legendary.
Born in San Diego, Salaam played eight-man football at La Jolla Country Day, a private school outside the city. He ran for 4,965 yards and 112 touchdowns in his prep career, according to The San Diego Union-Tribune. His numbers got him noticed despite the small-school stigma.
A big back at 6-foot-1 and 225 pounds, Salaam chose Colorado for college. He received 27 carries as a freshman, then ran for 844 yards as a sophomore in 1993.
He broke out as a junior. After rushing for 183 yards and three touchdowns in a comfortable season-opening win over Northeast Louisiana (now Louisiana-Monroe), Salaam became a national star - along with his Colorado teammates - with his performances in three consecutive wins over ranked teams.
In a 55-17 win over No. 10 Wisconsin: 26 carries, 85 yards, four touchdowns
In a 27-26 win over No. 4 Michigan: 22 carries, 141 yards, two touchdowns (this game is remembered more for quarterback Kordell Stewart's Hail Mary to Michael Westbrook)
In a 34-31 win over No. 16 Texas: 35 carries, 317 yards, one touchdown
Against Texas, Salaam accounted for 61 of 73 yards on a drive that ended with the game-winning field goal. He set the record for most rushing yards in a game against the Longhorns.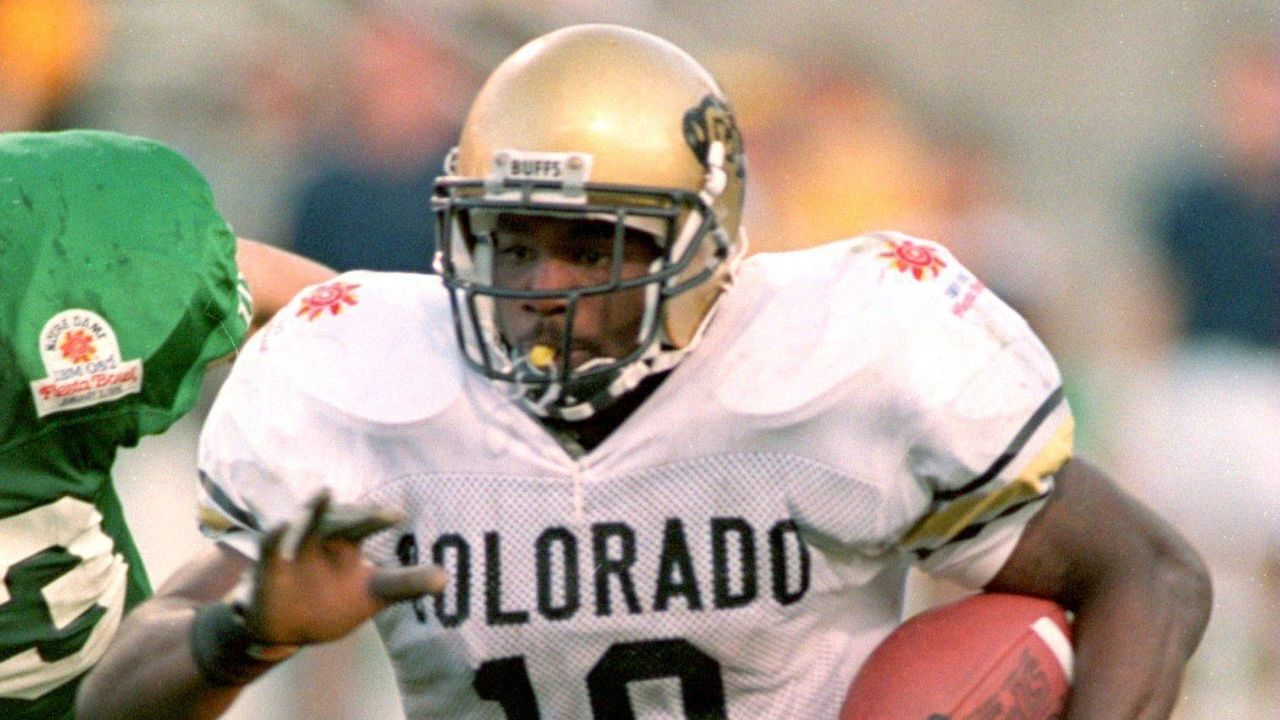 No team held him below 100 yards again in the regular season. He pounded Missouri for 166 yards and two scores, Oklahoma for 161 and four, and Kansas State for 202 and two. More than half of his 2,055 yards came against ranked opponents.
And he could have done more: Salaam did not play in the fourth quarter five times.
Salaam was never comfortable with the spotlight that accompanied his production. He told reporters in October 1994 that he was afraid of winning the Heisman Trophy.
"I really don't want to win it," Salaam said, according to The New York Times, "because I know how much pressure is put upon me. I just want to play football. I don't want to deal with all the hassles."
Colorado's national championship hopes were thwarted by a late October loss to Nebraska, but Salaam's case for the individual award only grew stronger. He finished the regular season with performances of 174, 232, and 259 yards against Oklahoma State, Kansas, and Iowa State. He crossed the 2,000-yard barrier in epic fashion with a 67-yard romp against the Cyclones.
He became the fourth player to rush for more than 2,000 yards in a season, joining USC's Marcus Allen, Nebraska's Mike Rozier, and Oklahoma State's Barry Sanders - all Heisman winners.
When the Heisman was awarded in December, Salaam received more than three times as many first-place votes as runner-up Ki-Jana Carter from Penn State. Alcorn State quarterback Steve McNair finished third. The New York Times' headline on Dec. 11, 1994 read: "2,055 Reasons Why Salaam is the Winner."
But the Heisman became more of a burden than a source of joy for the rest of Salaam's life.
Selected 21st overall by the Chicago Bears in the 1995 NFL Draft, Salaam ran for more than 1,000 yards as a rookie, but injuries and fumbling issues plagued his time in the league. He finished his pro career with more fumbles (14) than rushing touchdowns (13). His final NFL carry came in 1999 at the age of 25 with the Cleveland Browns. He surfaced in the XFL with the Memphis Maniax in 2001 and attempted a comeback with the San Francisco 49ers in 2003, but was cut during training camp.
He spent the final years of his life in Boulder, Colorado. On Dec. 5, 2016, Salaam drove to a park and shot himself in the head, The Denver Post reported. He was 42 years old.
There's no definitive explanation for why Salaam killed himself, but friends and family told Bill Pennington of The New York Times they suspect it was because of mental illness and/or CTE, the neurodegenerative disease believed to be caused by repeated head trauma.
"Rashaan was 20 years old when he won the Heisman Trophy," T.J. Cunningham, a teammate of Salaam's at Colorado, told Pennington. "To achieve the epitome of success at 20, but then you can't get to that point again - what did that do to Rashaan?"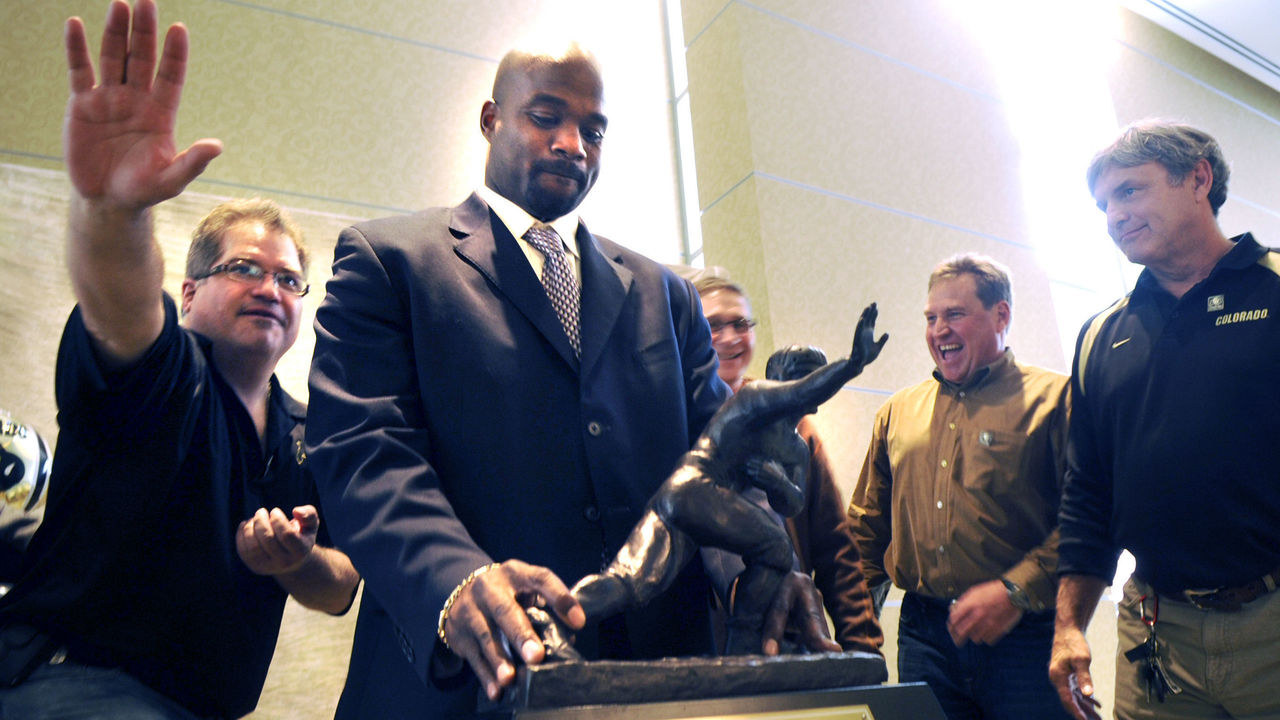 In March, officials announced the 2020 College Football Hall of Fame class. It included the first member from the 1994 Colorado football team: Westbrook, the star receiver of that prolific Buffaloes offense.
The class also included Eric Crouch, who won the Heisman Trophy in 2001, seven years after Salaam, and McNair, who finished third to Salaam in the 1994 voting for the trophy.
Heisman Trophy winners in CFB hall, post-1994
| Player | School | Heisman-winning season |
| --- | --- | --- |
| Eddie George | Ohio State | 1995 |
| Danny Wuerffel | Florida | 1996 |
| Charles Woodson | Michigan | 1997 |
| Ricky Williams | Texas | 1998 |
| Ron Dayne | Wisconsin | 1999 |
| Eric Crouch | Nebraska | 2001 |
| Matt Leinart | USC | 2004 |
The exclusion of Salaam seems nonsensical by comparison.
The website for the Hall of Fame lists four requirements for potential nominees:
First and foremost, a player must have received first-team All-America recognition by a selector recognized by the NCAA and utilized to comprise their consensus All-America teams.
A player becomes eligible for consideration by the (National Football Foundation's) Honors Court 10 full seasons after his last year of intercollegiate football played.
While each nominee's football achievements in college are of prime consideration, his post-football record as a citizen is also weighed. He must have proven himself worthy as a citizen, carrying the ideals of football forward into his relations with his community and fellow man. Consideration may also be given for academic honors and whether or not the candidate earned a college degree.
Players must have played their last year of intercollegiate football within the last 50 years. For example, to be eligible for the 2020 ballot, the player must have played his last year in 1970 or thereafter. In addition, current professional players and/or coaches are not eligible until after they retire.
Salaam did endure controversy near the end of his playing career in 1999 when he told ESPN he'd struggled with an addiction to marijuana. But that's a story that wouldn't be so big in 2020. And Salaam's legacy deserves recognition from the Hall dedicated to the sport he dominated. Should his on-field accomplishments be superseded by his struggles in the NFL and in retirement, especially if they were caused by mental illness and/or CTE?
The Hall published its list of 2021 nominees in mid-June, and Salaam is on it - as well as Carson Palmer, who won the Heisman eight years after Salaam. Thirty-six of the 78 nominees' college football careers ended more recently than Salaam's. Last year, four of the 17 players inducted played in 2000 or later.
The Hall is enshrining another generation of college football greats while leaving one man behind. Perhaps next year, Salaam's family will receive the recognition that seems long overdue.
Mark Cooper is theScore's NCAA writer.
Comments
✕
By any measure, Rashaan Salaam should be a College Football Hall of Famer
  Got something to say? Leave a comment below!