On an all-time great team, LenDale White was USC's Scottie Pippen
NCAA Photos / Getty Images
After "The Last Dance" reminded fans of the greatness of Scottie Pippen existing in the shadow of Michael Jordan, theScore's feature writers decided to examine some of the most compelling second bananas in other sports. The series begins with college football.
Imagine this scenario: A running back for the No. 1 team in college football scores a touchdown every eighth carry. By the end of the season, he crosses the goal line 24 times - more than any other player. His team goes undefeated through the regular season.
He doesn't finish top 10 in Heisman Trophy voting.
This isn't a hypothetical. Fifteen years ago, it happened to LenDale White. While teammates Matt Leinart and Reggie Bush won Heismans in 2004 and 2005, White played second banana in one of college football's greatest backfields of all time.
For his career at USC, White played Scottie Pippen to Bush's Michael Jordan. Perhaps no player in the 21st century has been so prolific and so overshadowed by a teammate at the same position. White ranks ninth all time at USC in rushing yards; Bush is only 10 yards ahead of him.
White's journey to second banana status actually began in recruiting, when the Trojans signed the second-best class in the country in 2003. The headliner was Bush, a five-star back from La Mesa, California, outside of San Diego.
Of the three running backs USC signed in that cycle, White actually ranked third - Chauncey Washington, a four-star recruit, was ahead of him in 247Sports' rankings. White was a four-star recruit, too, and the biggest of the bunch. His recruiting profile listed him at 6-foot-2, 225 pounds. The year before he arrived in Los Angeles, he rumbled for 1,683 yards for Chatfield High School in Littleton, Colorado.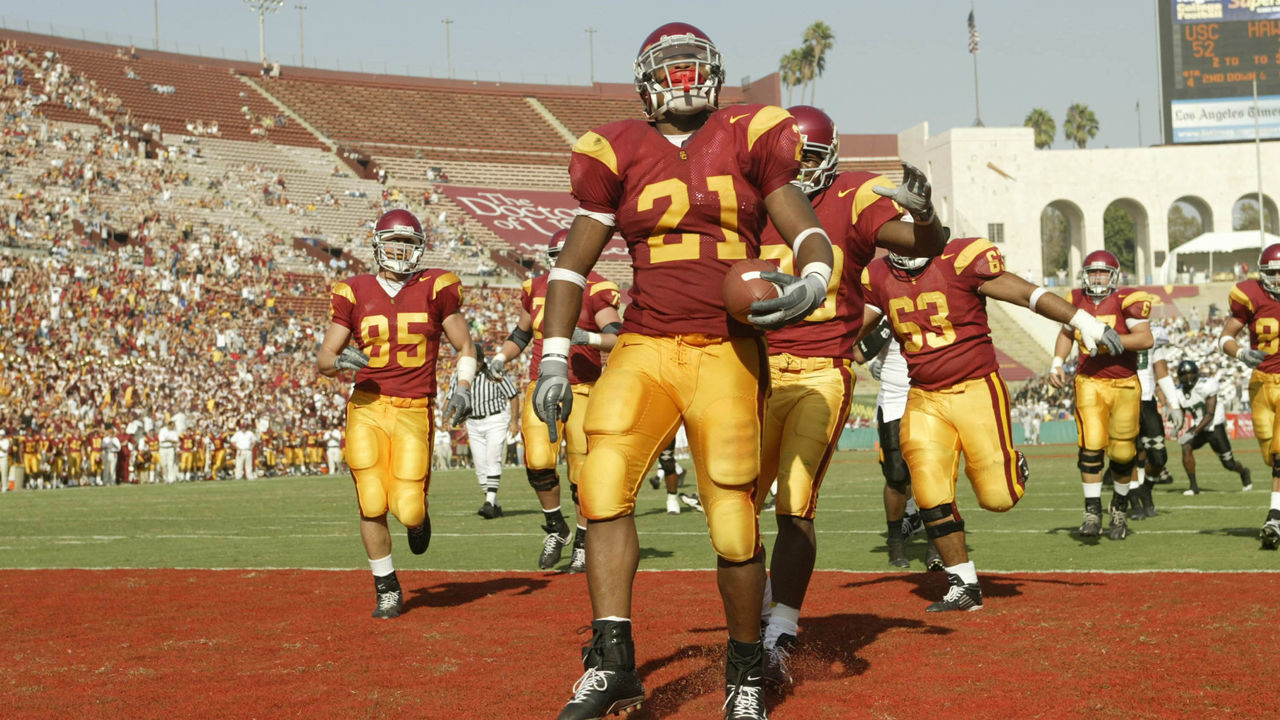 But as a true freshman, White emerged as the lead back. He rushed for 754 yards and 13 touchdowns for a Trojans team that went 12-1. His work was overshadowed by the fact USC had two 1,000-yard receivers (Mike Williams and Keary Colbert), but his workload showed that he was arguably underrated as a recruit. White received 141 carries in his first year on campus. Bush received 90. Washington got 19.
The 2004 Trojans were dominant, outscoring opponents 496-169 and ranking No. 1 wire to wire. Leinart, who threw for 3,322 yards and 33 touchdowns, won the Heisman.
White and Bush formed a thunder-and-lightning combination that was hard to beat. Bush, who totaled 1,417 yards from scrimmage and 13 touchdowns, finished fifth in Heisman voting. White, who led the team with 203 carries, 1,103 rushing yards, and 15 touchdowns, wasn't a contender.
But when the Trojans romped to a 55-19 win over Oklahoma in the Orange Bowl to clinch a national championship, White was one of the stars, rushing for 118 yards and two touchdowns on only 15 carries.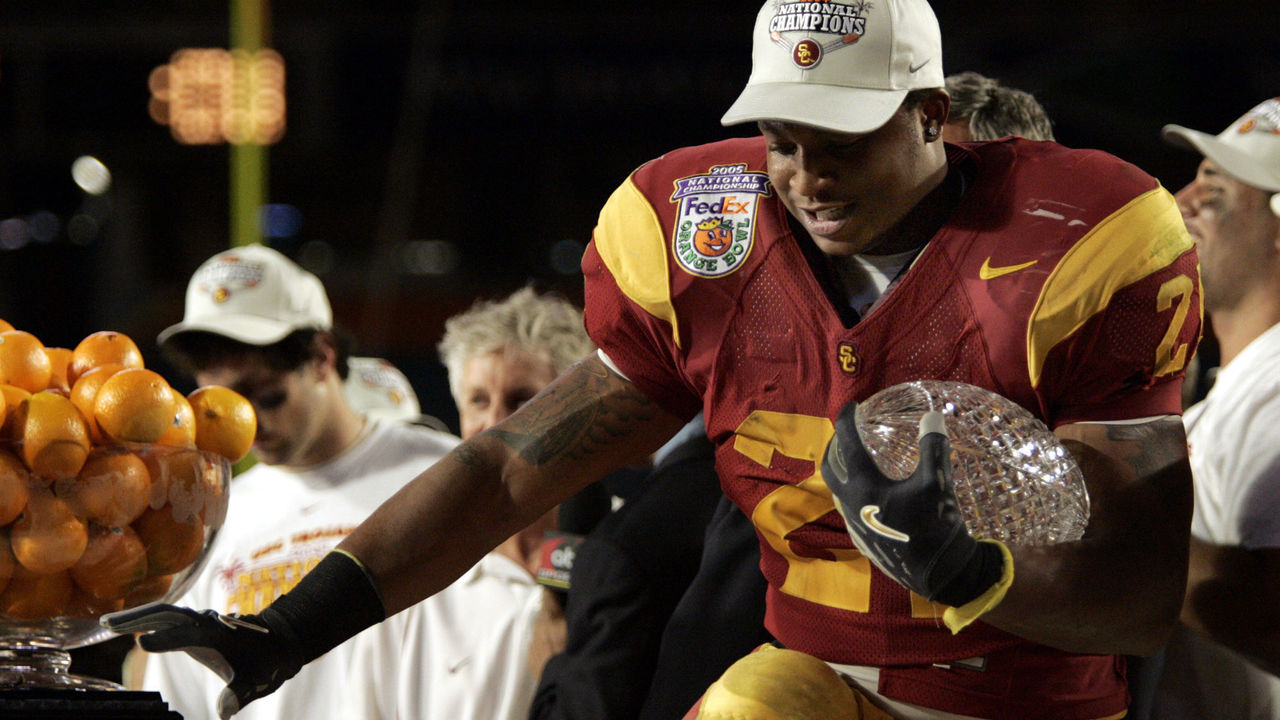 Neither Bush nor White was eligible for the NFL draft after the 2004 season. Leinart decided to return to school as well, giving USC a shot at another championship with its dominant trio.
Only three running backs in the last 20 seasons have won the Heisman Trophy. It's become an award for quarterbacks. It takes a remarkable, dominant season - like Derrick Henry's 395-carry, 2,219-yard campaign at Alabama in 2015 - for a back to get over the hump.
It's incredible, then, that Bush was able to win the trophy in 2005 in a full-on timeshare. Bush got 200 carries that year, and White 197. Bush tore through defenses for 1,740 yards and 16 touchdowns; White rushed for 1,302 and 24. (Bush did have receiving numbers White lacked, catching 43 passes for 509 yards.)
Bush, deservedly, became the front-runner for the Heisman. But consider White's case. His 24 touchdowns were one more than O.J. Simpson ran for in his 1968 Heisman season. They were two more than Marcus Allen had when he won the award in 1981. They were five more than Charles White had when he won it in 1979.
"The problem we've got, about the time you start running sideways with ol' Reggie, ol' LenDale White hits you right in the mouth," Texas head coach Mack Brown said in 2005. "I don't think people talk enough about LenDale White because of the 'Wow!' that Reggie brings to the game."
USC career rushing TD leaders
| Player | Years | Rushing TD |
| --- | --- | --- |
| LenDale White | 2003-05 | 52 |
| Charles White | 1976-79 | 49 |
| Marcus Allen | 1978-81 | 45 |
| Anthony Davis | 1972-74 | 44 |
| Ronald Jones | 2015-17 | 39 |
| O.J. Simpson | 1967-68 | 36 |
| Ricky Bell | 1974-77 | 28 |
| Mike Garrett | 1963-65 | 25 |
| Reggie Bush | 2003-05 | 25 |
| Javorius Allen | 2012-14 | 25 |
USC ended the 2005 season in the Rose Bowl against Texas with another national championship on the line. In one of the greatest college football games ever played, White had one of his best performances. He seemed poised for his Jordan moment. White scored three of the Trojans' five offensive touchdowns, accumulating 124 yards on 20 carries. (Bush had 82 yards rushing and 95 receiving.)
Had USC defeated Texas, White would have received his due as one of the most important players in a win that sealed a dynasty. Instead, White's Rose Bowl is also remembered for fourth-and-2.
The Trojans led Texas 38-33 with under three minutes to play and the ball near midfield. USC head coach Pete Carroll opted to play with White in the backfield, not Bush, as the Trojans tried to drain the clock. On first-and-10, White created 3 yards out of nothing. After an incomplete pass, White rumbled forward for 5 yards on third down. He fumbled, but USC's Steve Smith recovered, setting up a manageable fourth-and-2.
Carroll rolled the dice, going for the win in the moment. He kept White in the game.
Texas stopped him less than 1 yard short. With 19 seconds left in the game, Texas quarterback Vince Young scampered into the right corner of the end zone. The Longhorns were champs, ending USC's 34-game winning streak.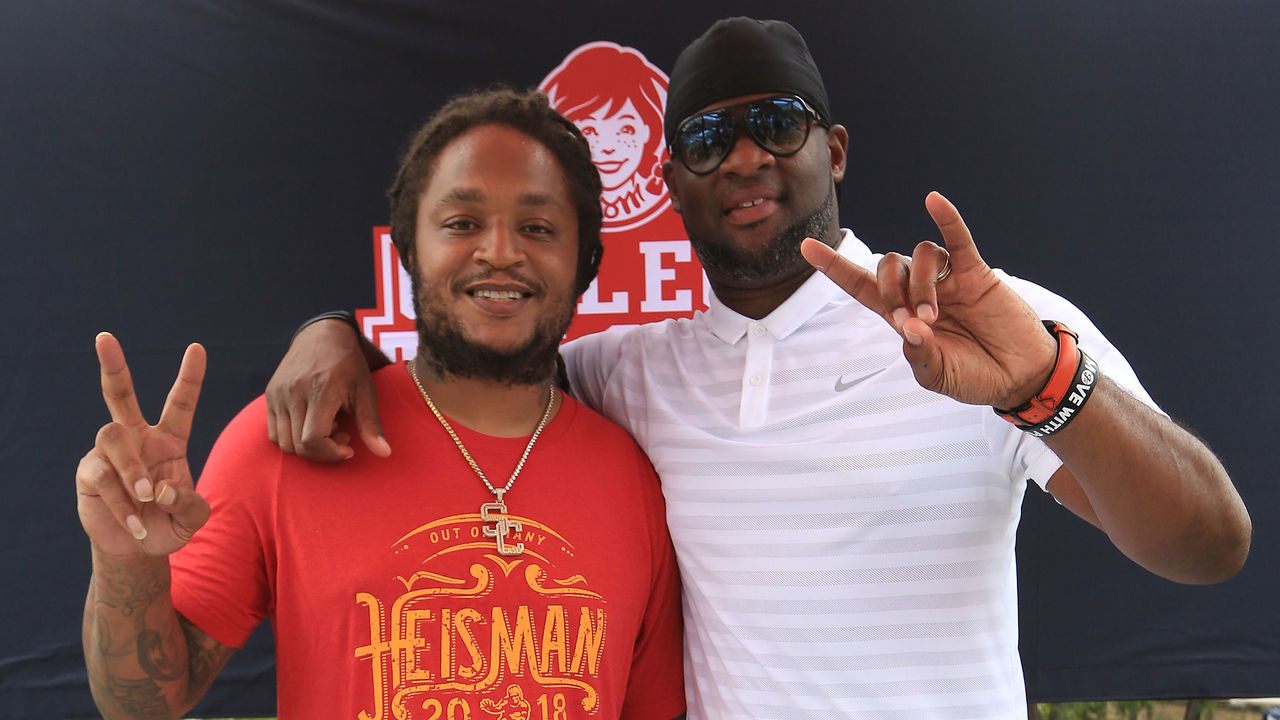 When the AP All-America teams came out after the 2005 season, White made the third team. Bush was a first-team selection.
Perhaps White suffered from hesitancy to recognize two players from the same school at the same position at the same time. Perhaps he also suffered from a lack of dazzle. Bush was the explosive, impossible-to-stop option who was destined to be a top pick in the 2006 NFL draft (he went No. 2 to New Orleans). Comparatively, White was a boulder at 6-foot-2, 235 pounds.
No matter the reason, White was one of the most productive second bananas in college football history.
He would go on to be a second-round pick. The Tennessee Titans picked White 45th overall - 43 spots after Bush and 35 after Leinart went to the Arizona Cardinals. In his one season as an NFL starter, 2007, White rushed for 1,110 yards and seven touchdowns. He ended his four-year NFL career with as many touchdowns (24) as he ran for in his mighty 2005 season.
As White was preparing for the NFL draft in February 2006, he downplayed the idea that he was overshadowed by the stars surrounding him at USC.
"It might have looked like that, or some media portrayed it like that, but I felt like what I accomplished with that team, that my teammates knew what kind of instrument I was with the band," he told The Denver Post. "They knew how good I was and how I fit in. That was all I needed to know. My teammates accepted me and gave me praise. They knew I was there fighting with them every week.
"I don't need newspaper or magazine stories making me out to be 'The Man.' I know I couldn't have done anything without those guys. I definitely didn't feel slighted at all because I did what I could for my team. If that wasn't enough for the world, then fine."
Mark Cooper is theScore's college sports writer.