A transfer quarterback. A once-doubted head coach. A 30-year-old passing game coordinator.
Back in August, LSU was one of college football's great unknowns. By early September, when the Tigers went to Texas and lit up the scoreboard, it became apparent that this team - with Joe Burrow and Ed Orgeron leading the way - was going to be a factor in the national championship picture.
The Tigers were more than a factor. LSU dethroned the champs to complete one of the most dominant seasons in recent memory. After a slow start, the Tigers treated Clemson like most of their opponents this season, dominating en route to a 42-25 win in the Mercedes-Benz Superdome in New Orleans - and celebrating with a purple-and-gold dominated crowd.
It's LSU's first national championship since 2007. Here are five takeaways from a special night in Louisiana:
The greatest QB season and offense in college football history?
In 2069, when the country celebrates college football's 200th anniversary, there will be a place for Burrow and the 2019 LSU Tigers on the all-time lists.
Whether the team's records still stand in 50 years remains to be seen. But LSU raised the bar for what's possible offensively in the 21st century.
With five touchdown passes on Monday (he added a sixth touchdown on the ground), Burrow eclipsed 60 for the season. He broke the previous record of 58 that former Hawaii quarterback Colt Brennan held.
From 2015 to 2018, LSU quarterbacks threw 58 touchdown passes in 50 games.
In two playoff games, Burrow scored 14 total touchdowns (12 passing, two rushing). The first quarterback to win the Heisman Trophy and national championship in the same season since Jameis Winston in 2013, Burrow was at his best for most of Monday's title tilt. When his team needed it, Burrow found his receivers, dropping two touchdown passes to Biletnikoff Award winner Ja'Marr Chase and a pair to tight end Thaddeus Moss (the son of Randy).
His final touchdown toss - a 24-yard feed to Terrace Marshall - put LSU ahead 42-25 with 12 minutes to go, essentially sealing the game.
It also pushed LSU ahead of Winston's 2013 Florida State team for the most points scored in a college football season. LSU finished with 726, three more than Florida State's 723.
When you consider the schedule LSU played to go 15-0, the all-time great team conversation begins, too.
To win the national title, LSU defeated No. 3 Clemson, No. 4 Oklahoma, No. 5 Georgia, No. 9 Florida, No. 12 Auburn, and No. 13 Alabama. It won 12 games by double digits, and the team scored 36-plus points in 14 of 15 games.
The Tigers also became the first No. 1 seed to win the national championship in the six-year College Football Playoff era. Last year's Clemson team became the first to complete a 15-0 season, and the 2019 LSU squad was arguably better.
No doubting the Orgeron hire now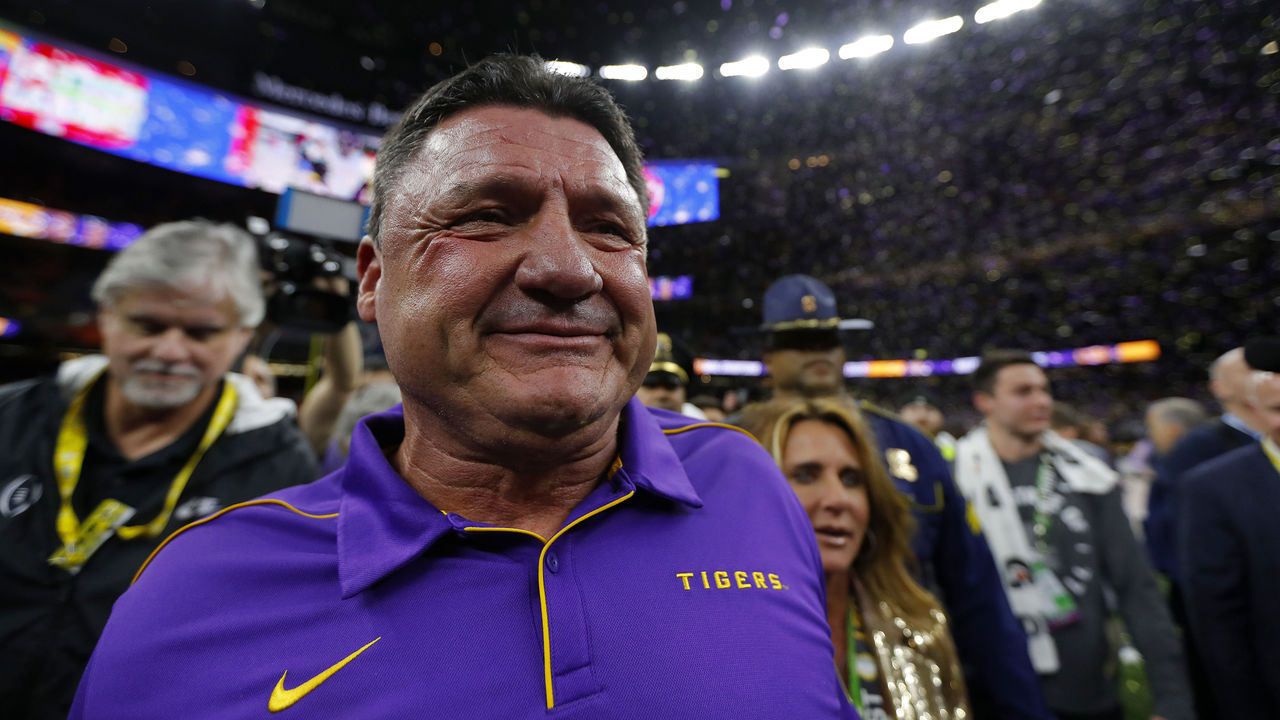 Is there a more perfect fit in college football than Orgeron and LSU?
Few were praising the Tigers' decision to hire the Larose, Louisiana native full time in 2017. But the 58-year-old has completed one of the most remarkable mid-career turnarounds as a head coach in recent memory.
His first opportunity to coach in the SEC ended in failure. In three seasons at Ole Miss, Orgeron went 10-25 overall and 3-21 in the SEC.
He bounced from the New Orleans Saints, to Tennessee, and then to USC, rebuilding his reputation with a strong stint as USC's interim coach in 2013.
After going 6-2 as LSU's interim coach in 2016, he received his second chance at a full-time job. Storybook results followed.
Orgeron is 40-9 as the Tigers' head coach, including a 25-3 record over the last two seasons. He made the move to hire Joe Brady, the 30-year-old passing game coordinator, from the Saints this offseason. Brady rewarded Orgeron's judgment with a season that earned the coordinator the Broyles Award, given to the country's top assistant.
Orgeron's "One Team, One Heartbeat" mantra captivated his Tigers players and the fan base. And he handled the moment with poise on Monday, leading his team to victory over a two-time national champion in Clemson's Dabo Swinney.
Orgeron has evolved from a character - may his Ole Miss-era Hummer commercial live forever - to top-tier coach.
Targeting penalty hurts Clemson
The game was still close when Clemson linebacker James Skalski met LSU receiver Justin Jefferson with a hard hit over the middle.
LSU led 28-25, and the Tigers had just entered the red zone when Burrow connected with Jefferson for the 7-yard completion. Skalski made the tackle with the crown of his helmet.
Officials flagged him for targeting and, after review, upheld the penalty. The leader of Clemson's defense was ejected. One play later, Burrow found Moss for a touchdown to push the lead to 10.
The play didn't determine the game, as LSU's defense clamped down on Clemson's offense, producing a shutout over the final 25 minutes. But it was a deflating moment with Clemson attempting to mount a comeback from a 28-17 halftime deficit.
Skalski, who had recorded five tackles and a sack, was playing as well as anyone on Clemson's defense at the time of the ejection.
A rare off day for Lawrence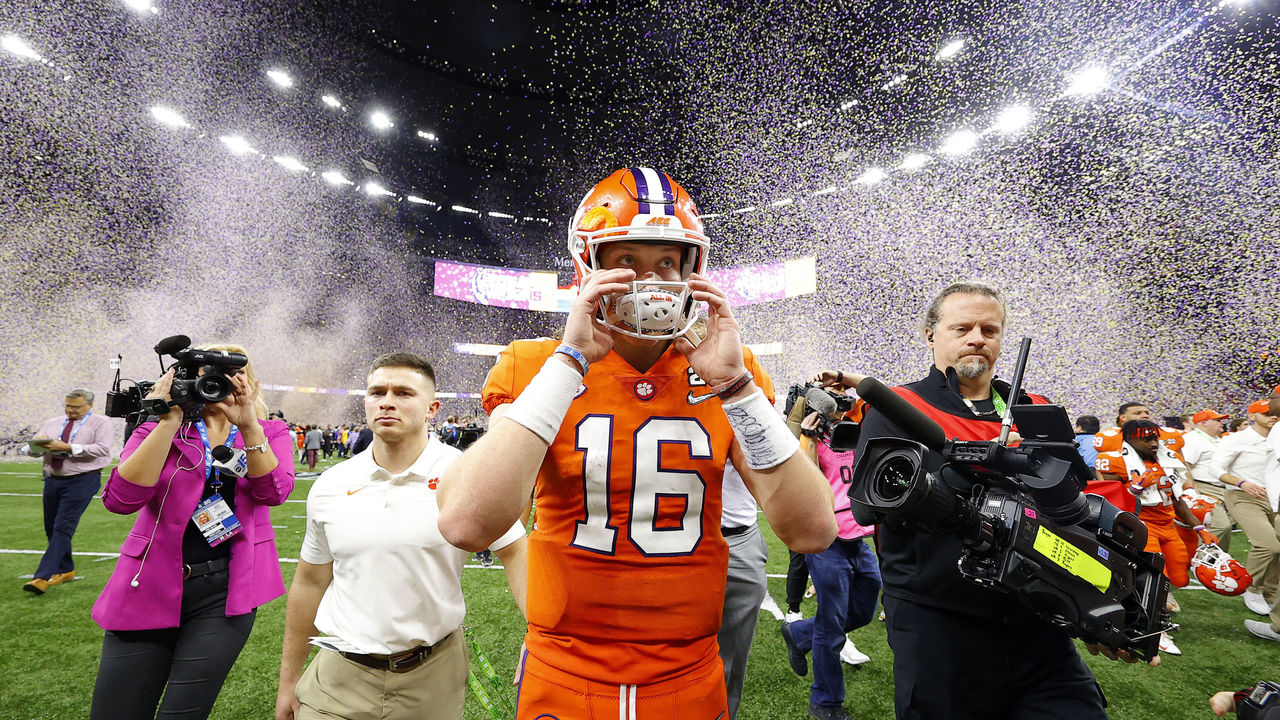 Trevor Lawrence hadn't lost a game since Nov. 17, 2017. On that day, Lawrence was still the quarterback for Cartersville (Ga.) High School.
With a win on Monday, Lawrence would have begun his Clemson career with back-to-back undefeated seasons, which is greatest-of-all-time stuff.
But although his missteps have been few and far between, he was simply off against LSU.
He finished the game 18-of-37 passing for 234 yards, scoring his only touchdown on the ground. Lawrence completed less than 50% of his pass attempts for the first time in his college career, and he failed to throw a touchdown pass for only the second time.
He was high with his throws both early and late in the game. Lawrence struggled to connect with top targets Justyn Ross and Tee Higgins, completing just 8-of-22 attempts in their direction.
It was a performance that should fuel Lawrence entering his junior season. Burrow is likely to become the first overall pick in the 2020 NFL Draft, and Lawrence could do the same in 2021. He has a chance to end his collegiate career with a 40-1 record as a starter if he leads the Tigers to the title next year - and Clemson should enter 2020 as the team to beat.
The Clemson-Alabama streak breaks
It's a stretch to call an LSU national championship a sign of "parity" in college football. The Tigers are undoubtedly one of the sport's blue bloods and have won three national titles since 2000.
But for college football fans looking for something different, LSU offered that in 2019.
Alabama and Clemson each won two national titles from 2015 to 2018 and faced each other in the national championship three times. Ohio State won the first iteration of the playoff in 2014, but until LSU came along, it looked like Alabama and Clemson were breaking away from the rest of the country.
The Crimson Tide came back to the pack in 2019 largely because of injuries. But we also saw the rise of LSU and Ohio State, and schools like Oklahoma, Georgia, Oregon, and Florida lurking not too far from the top tier. Other programs, like Penn State and Auburn, should enter 2020 with high expectations.
Of course, it would surprise no one to see Alabama and Clemson competing for the national championship a year from now. But LSU, with a transcendent quarterback and arguably the country's best group of playmakers, offered the field a glimmer of hope.