Joe Burrow made the first move. After three years on the Ohio State sideline, he announced his intention to graduate and transfer in May 2018. Ten days later, he decided to become an LSU Tiger.
Jalen Hurts and Justin Fields made their exits a season later. Hurts' decorated career at Alabama was destined to end backing up Tua Tagovailoa. So he moved west to Norman, Oklahoma, to be Lincoln Riley's third transfer quarterback in three years. Fields, the second-best quarterback in his recruiting class, went from Georgia to Ohio State after one season in Athens.
While the circumstances were different, the moves were all similar - quarterbacks jumping from one blue-blood program to another. In a different time, these actions might have been unprecedented. In 2018 and 2019, they were merely the highlights of a deeper trend, heightened by the cryptically dubbed "transfer portal."
However, the on-field results for Burrow, Hurts, and Fields following their respective changes were groundbreaking. All three could conceivably be Heisman Trophy finalists, though Burrow likely cemented the award for himself with his performance this weekend.
Their teams flourished, too: The transfer trio accounts for three-fourths of the starting quarterbacks in the 2019 College Football Playoff. Clemson quarterback Trevor Lawrence, who won a national championship as a true freshman, is the outlier. In the first five seasons of the playoff, only three transfer quarterbacks - Alabama's Jake Coker and Oklahoma's Baker Mayfield and Kyler Murray - started a playoff game.
It's only fitting that in the age of the transfer, the national championship will be decided by players competing for their second schools.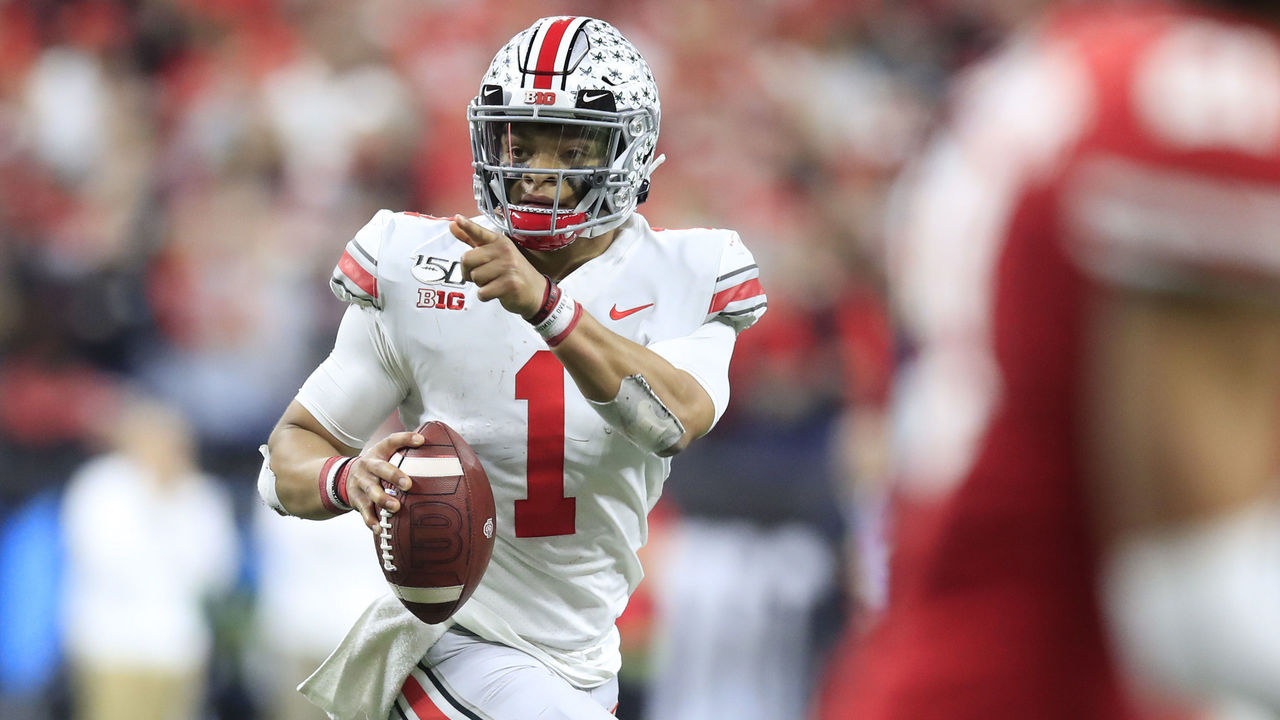 Of the 64 teams in the Power 5 conferences, 24 started an FBS transfer at quarterback at some point in 2019. Some of the pivots, like Michigan's Shea Patterson and Washington's Jacob Eason, were big-name recruits who made headlines at the time of their transfer. Others, like Cal's Devon Modster and Oklahoma State's Dru Brown, provided depth for their new programs after a starter went down with an injury.
Seven teams in the final CFP top 25 started a transfer, including the top Group of 5 school, Memphis (Brady White). If you expand the parameters to transfers who attended a junior college in between FBS stops, Virginia's Bryce Perkins and Boise State's Jaylon Henderson can be added to the list. Henderson was named Offensive MVP of the Mountain West championship game Saturday.
Via the graduate transfer rule (Burrow, Hurts) or a waiver (Fields), all three transfers slated to start in the national semifinals were also immediately eligible at their new schools - a perk that has its naysayers, including some coaches.
But what harm did all these uniform changes cause in order to warrant criticism? Aside from the challenge it can create for programs to maintain a full roster of scholarship players, it's hard to see many tangible ramifications. Twelve weeks into the season, Pro Football Focus ranked Burrow, Fields, and Hurts its No. 1, 2, and 3 quarterbacks. Clearly, the trio adapted quickly to their new programs, and their new teammates accepted them as well.
Burrow gained a year of experience through his immediate eligibility in 2018, which helped him reach a freakish level in 2019 that's drawing comparisons to Tom Brady. His 48 touchdown passes and 77.9% completion rate lead the nation.
"Yeah, well, obviously the Joe Burrow transfer has made a difference for us. We're fortunate that the transfer rule's in place," LSU head coach Ed Orgeron said during a media teleconference Sunday. "Joe's one of the most important recruits we've had at LSU. With the spread offense, we couldn't have had success without him."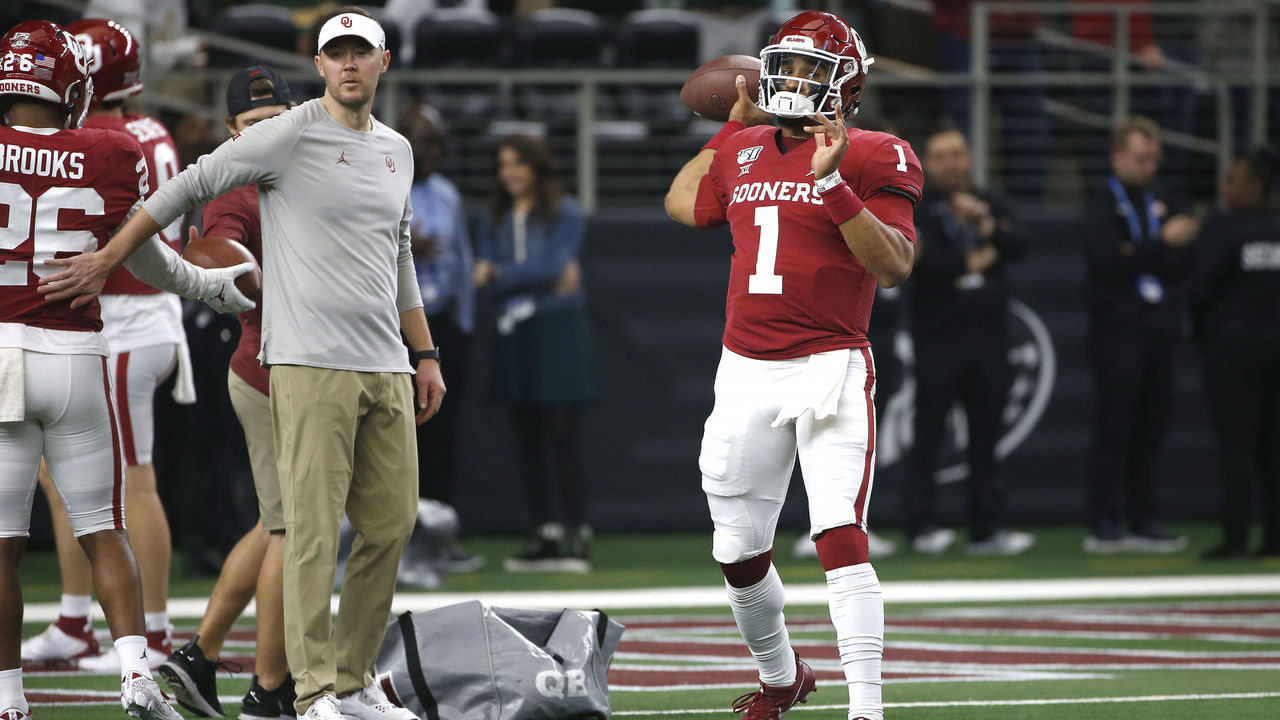 Hurts, one of the most experienced players in college football, was replaced by Tagovailoa at halftime of the 2017 national championship game at Alabama. But his transfer allowed him to see what he could do under Riley, the best offensive coach in the country. With Hurts on board, the Sooners' offense led the country in yards per play.
"Obviously, the transfers for quarterbacks have been good to us," Riley said on the same teleconference.
Since Fields' petition for immediate eligibility was granted, we got to witness one of the more remarkable statistical seasons in recent memory - a 40-touchdown, one-interception masterpiece from a quarterback who'd never started a college game prior to this season.
All three quarterbacks played indispensable roles in getting each of their new programs to the playoff.
As for the schools they left behind … they're all right, too! Georgia finished one game shy of the playoff and heads back to the Sugar Bowl, Alabama had its season derailed by injuries, something Hurts could not have fixed, and Ohio State … is in the playoff.
So as you sit back on Dec. 28 to watch four of the top offenses - and top quarterbacks - square off to decide a national championship, remember what got us here: The freedom to transfer when the time felt right.