In five days, debate will give way to finality.
The College Football Playoff committee will watch this weekend's conference championship games together in Grapevine, Texas. There, they'll choose the 2019 playoff field on Sunday.
With one week to play, seven teams still have a chance of reaching the playoff. At this point, you can separate them into tiers:
• Tier 1: Ohio State, LSU, and Clemson - the undefeated teams.
• Tier 2: Georgia - a lock to be in with a win over LSU, but have no chance with a loss.
• Tier 3: Utah, Oklahoma, and Baylor - all need help, to varying degrees.
With this in mind, here are three thoughts on Tuesday's rankings release heading into conference championship weekend:
Utah-Oklahoma debate remains intense
Georgia belongs at No. 4 because of its resume. The Bulldogs own three wins over top 15 teams, defeating Florida, Auburn, and Notre Dame.
Baylor belongs at No. 7 because of its head-to-head performances. The Bears' lone loss came to the team ahead of them, Oklahoma. They also only have one win over a currently ranked team (No. 25 Oklahoma State).
CFP committee chair Rob Mullens didn't even field a question comparing Georgia to any of the one-loss teams below it on a media teleconference Tuesday.
But the debate between No. 5 Utah and No. 6 Oklahoma remains fierce - and it's increasingly hard to differentiate between the two teams.
"We spent considerable time on it," Mullens said. "More time than anywhere else on the board."
Mullens cited the relevant bullet points. Oklahoma has the better resume with wins over Nos. 7 and 25. Utah, Mullens said, has dominated the majority of its schedule.
He called the Utes "very balanced." And he pointed out that Utah's lone loss, at No. 22 USC, came in a game where the Utes were without starting running back Zack Moss.
The committee lines up all of these factors and votes. Once again, Utah remained on top this week even though it has yet to defeat a ranked team (they could this Friday against No. 13 Oregon).
It's the classic debate between resume (Oklahoma) and eye test (Utah).
If Utah and Oklahoma both win this week and Georgia loses to LSU, the committee will ultimately decide which team earns a berth in the playoff.
No matter which way the committee goes, for half of the college football-loving country, the choice won't sit right.
Barring disaster, the top 3 are in the playoff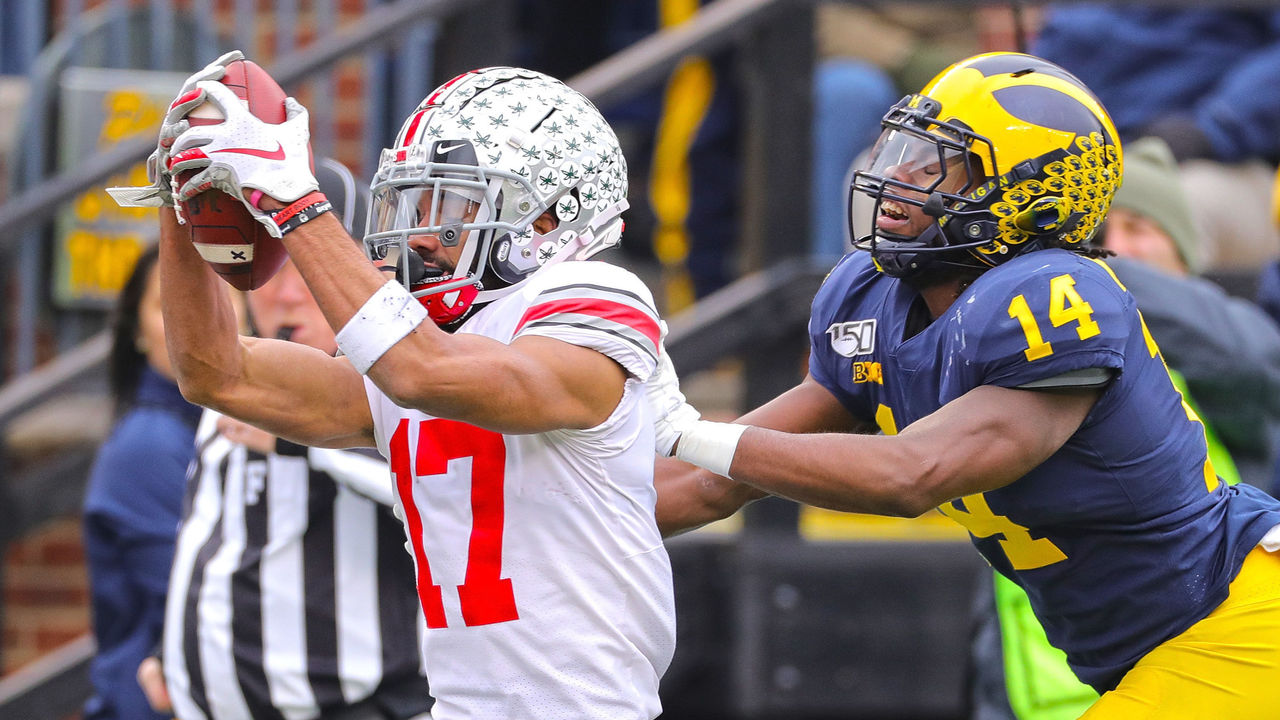 The top three kept the same order this week.
Going by their resumes, it's an order that makes sense: Ohio State (four top-25 wins), LSU (three top-25 wins), and Clemson (no top-25 wins).
A combination of the extra ranked win and a stronger defense is what keeps the Buckeyes ahead of LSU.
But all three teams should be playing for the same thing this weekend: seeding.
It's hard to imagine any of the three sliding out of the top four entirely with a loss in the conference title game.
If Ohio State loses, it'll be to a Wisconsin team the Buckeyes already beat. They'll still have the distinction of owning a win over every team on their schedule.
If LSU loses, it'll be to the No. 4 team in the country on a neutral site. The SEC would be pleased, as it would get two teams in for the second time in three years.
And even if Clemson loses to No. 23 Virginia, the Tigers' dominance this season should be enough to keep it ahead of Utah, Oklahoma, or Baylor. Clemson outscored its opponents by a greater margin this year than it did in the 2018 regular season.
Alabama just slid out of the New Year's Six
Aside from the order of the top seven teams, the most interesting aspect of Tuesday's rankings was the precipitous falls of Alabama and Minnesota.
The Golden Gophers slid 10 spots to No. 18 after a 38-17 loss to Wisconsin.
The Crimson Tide, ranked fifth last week, dropped to No. 12 after losing to Auburn. Alabama is one spot behind its Iron Bowl rival.
Why is it interesting? Well, because it's different.
For the first time, Alabama will miss the playoff.
And with this ranking, the Crimson Tide will likely miss out on a New Year's Six bowl game.
Alabama ranked fifth among SEC teams in this week's top 25. It's likely that only three - and certainly no more than four - SEC schools will reach the playoff or a New Year's Six bowl game. LSU, Georgia, and Florida are locks. Now, we know Auburn would be next in the pecking order.
It means Alabama could fall to a game like the Citrus Bowl, which is played on New Year's Day in Orlando. How juicy would a potential Alabama-Michigan, non-playoff matchup be?