College football is sport at its zaniest.
The coaches, the college towns, and the fact that games are played (mostly) by those between 18 and 21 years old contribute to Saturdays that are never dull. And with 130 teams in the Football Bowl Subdivision, you can't predict where the most memorable moments of the weekend will occur.
Each week this season, theScore is here to break it all down - from the good to the bad to the weird. Here's what happened in Week 11 and why it matters.
The good
LSU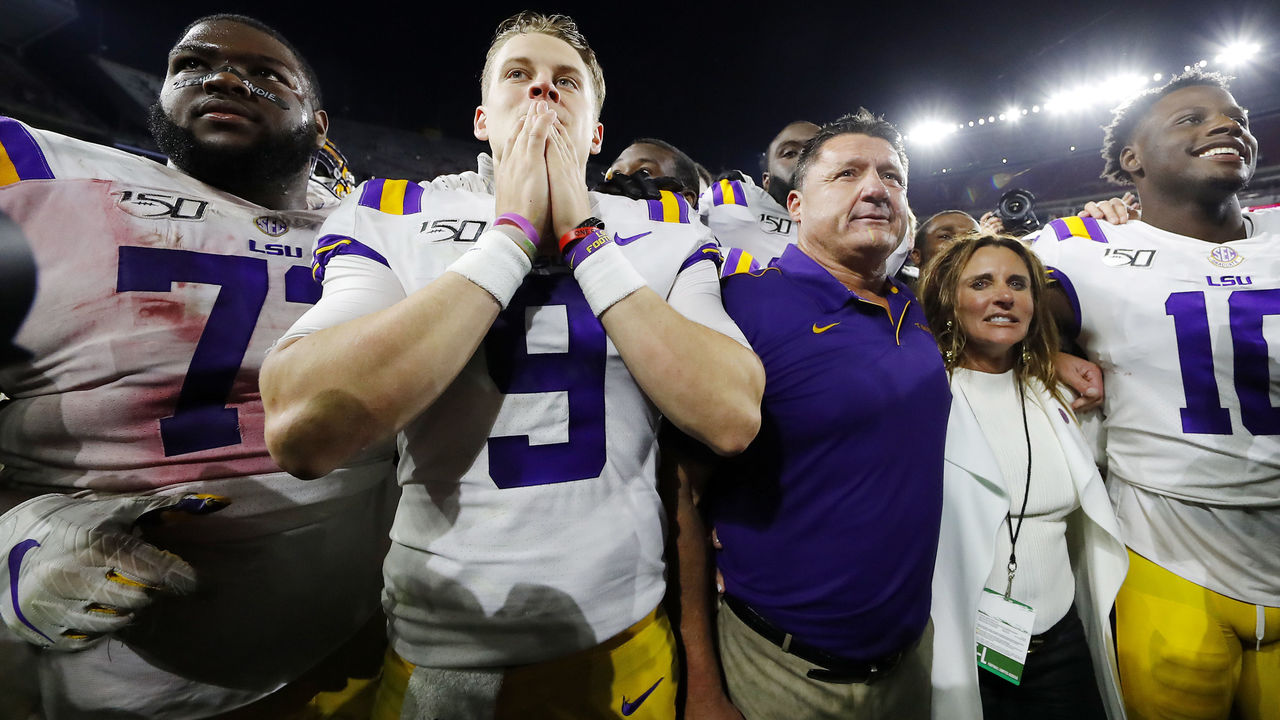 Ed Orgeron had plenty of critics.
One of 22 full-time head coaching hires made in the 2017 offseason, Orgeron wasn't seen by many as an A-plus hire for LSU. Tom Herman's hire at Texas in the same offseason drew more praise.
Orgeron went 10-25 in three years at Ole Miss from 2005-07 and it remained a stain on his resume. Combined with his croaking voice and the demeanor of a defensive lineman, he was written off.
No more.
Orgeron's 34th victory as LSU's head coach, with only nine losses in between, came against the gold standard in college football - Nick Saban's Crimson Tide. And the remarkable part about LSU's 46-41 victory is that it didn't feel like an upset. The Tigers were demonstrably better than Alabama.
LSU is a team full of talent and resources built on a foundation of previous snubs.
There's Orgeron, who was passed over at USC after going 6-2 as its interim head coach in 2013.
There's Joe Burrow, the likely Heisman Trophy winner who attempted 39 passes in three seasons at Ohio State before leaving to find a school that would play him.
And there's running back Clyde Edwards-Helaire, a Baton Rouge, Louisiana, native who was the No. 378 overall player in his recruiting class, according to 247Sports, and received only four Power 5 offers. Edwards-Helaire was extraordinary against Alabama, muscling his way to 103 yards and three touchdowns.
These are the faces of the AP's No. 1-ranked team in the nation.
Tanner Morgan
The last time Minnesota started a season 9-0, Teddy Roosevelt was president. The Golden Gophers' schedule in 1904 included games against Twin Cities Central High, Grinnell, and Shattuck. No individual statistics are available, but head coach Henry Williams' team outscored opponents 725-12 over a 13-game season.
This year's Minnesota team surely hasn't gone undefeated to this point in the same way. The Golden Gophers have had more than their share of close games this season. But they're 9-0, including a 31-26 win over then-No. 4 Penn State on Saturday. In addition, quarterback Tanner Morgan finally had a moment to gain recognition on the national stage.
Morgan has quietly been one of the most efficient quarterbacks in the country this year. He was at his best Saturday, completing 18 of 20 passes for 339 yards and three touchdowns.
His passer rating is better than Ohio State's Justin Fields'. He ranks fourth in the statistic behind only Jalen Hurts, Tua Tagovailoa, and Burrow. Morgan is also one of only 16 quarterbacks to complete 10-plus passes of 40-plus yards.
Indiana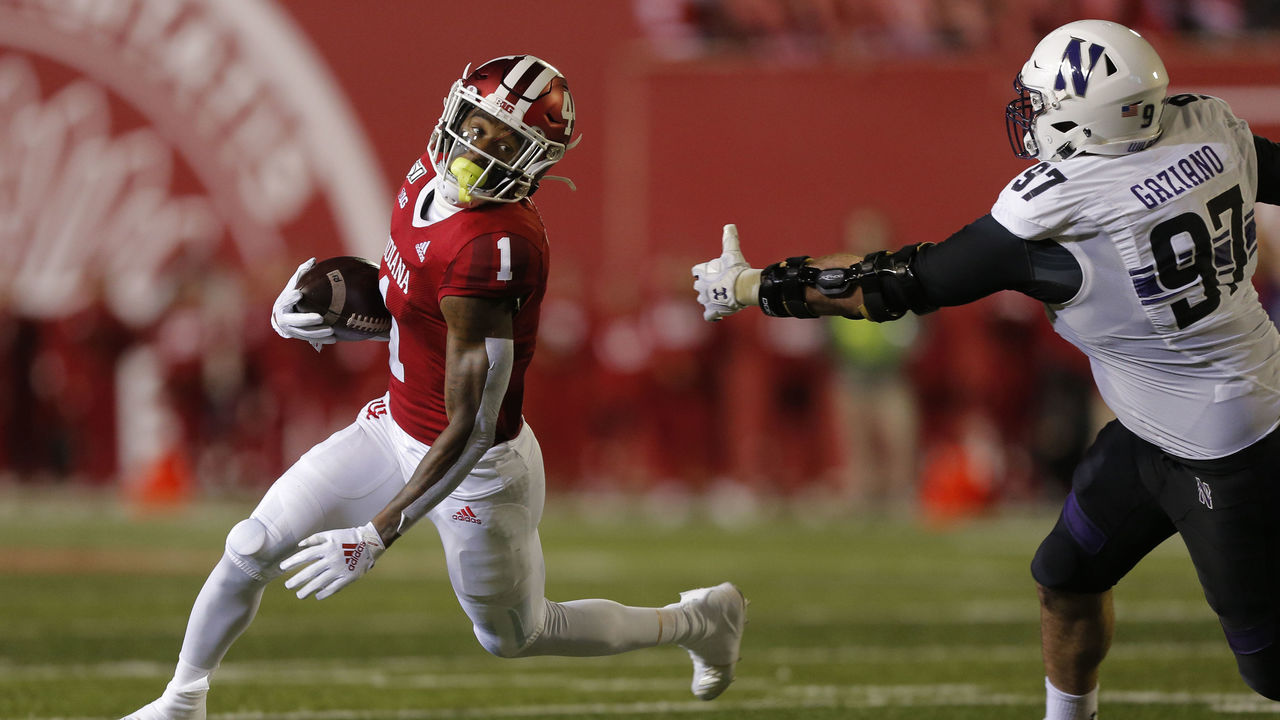 You might find Indiana's inclusion here strange, and for good reason, since the Hoosiers were on a bye this weekend.
But something happened Sunday that merits a mention: Indiana was ranked in the AP Top 25 for the first time since 1994. The team's continued presence outside the rankings was the longest such streak of any Power 5 football program.
The Hoosiers are 7-2 with Penn State, Michigan, and Purdue left on their schedule. They haven't won nine games in a season since 1967, the last time they reached the Rose Bowl. If the program pulls an upset and reaches 10, it'd mark the first season with double-digit wins in school history.
The bad
Arkansas
The Razorbacks joined Florida State in firing their second-year head coach, as they let Chad Morris go after a 4-18 record in Fayetteville. But that wasn't even Arkansas' worst moment of the weekend.
The firing came a day after the Razorbacks lost 45-19, at home, to Western Kentucky. This is the same Hilltoppers team that lost its season opener to Central Arkansas, an FCS club in the Razorbacks' state.
Western Kentucky is one of the better turnaround stories in the FBS this year, having won six games after going 3-9 last season.
But that doesn't excuse an SEC program losing by four scores on its home field against a Conference USA opponent. Arkansas trailed 35-7 at the half. Adding further insult, the Hilltoppers' starting quarterback, Ty Storey, transferred to WKU from Arkansas. He was 0-9 as a starter in a Razorbacks uniform.
Michigan State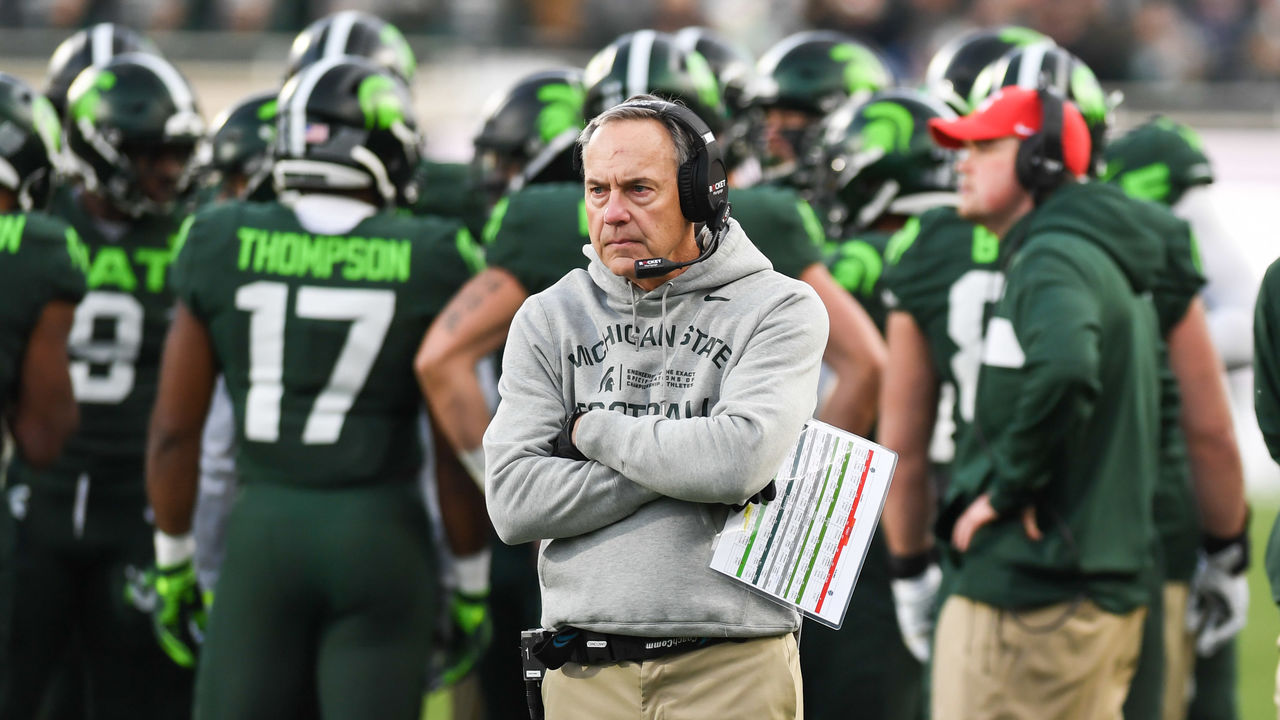 From 2013-15, Michigan State ended the season ranked third, fifth, and sixth. The Spartans reached a Rose Bowl and a College Football Playoff semifinal and went 36-5 during that span.
They lost their fifth game of 2019 on Saturday, blowing a 25-point lead at home to Illinois. For the second consecutive year, the Spartans will finish unranked. They must win two of their final three games - against Michigan, Rutgers, and Maryland - to reach a bowl game.
Michigan State's defense looked stout early in the season, holding its first four opponents below 20 points. But the dam broke near the end of September. The Spartans have allowed 33.6 points per game over their last five contests and are 1-4 over that span.
UMass
UMass lost 63-7 on Saturday to Army to fall to 1-9. It marked the fourth time this season the Minutemen have allowed 60-plus points in a game.
Expectations weren't high for 2019 in Amherst, but this has become a little much. UMass has surrendered 531 points in 10 games and is 74 shy of the FBS record for points allowed in a campaign, set last season by UConn.
The teams scoring 60-plus on UMass - Coastal Carolina, Louisiana Tech, Liberty, and Army - aren't worldbeaters. The Minutemen close the season at Northwestern and at home against BYU.
The weird
Clemson's end-of-game silliness
As Dabo Swinney's team does most weeks, Clemson overwhelmed its opponent, dominating NC State to the tune of a 55-10 victory. But it's what happened near the end of the game that stood out.
Leading 49-10 with a couple of minutes to play, the Tigers came out passing. Backup quarterback Chase Brice threw twice on a seven-play touchdown drive that culminated with a Michel Dukes score with 11 seconds to play.
The strangest part: Linebacker James Skalski came out to attempt the extra point. He missed.
Pac-12 refs
How doesn't this get corrected on the spot?
The Pac-12 suspended a referee for one game Sunday after an egregious error in the middle of California's 33-20 win over Washington State.
The error: A penalty assessed to the wrong team.
It occurred when Washington State returned a kickoff early in the third quarter. The referee threw a flag for an illegal hands to the face penalty. But he incorrectly assessed it to the receiving team, rather than the kicking team.
Washington State was backed up to its own 8-yard line. The penalty cost the Cougars 27 yards.
D-III creativity
The most creative play-calling in Week 11 came from Central College (Iowa) in a Division III game Saturday.
The scenario: Central and Wartburg went to overtime tied at 49. Wartburg scored a touchdown first and kicked the extra point.
Central then scored and decided to go for two points to end the game.
Two offensive linemen shifted wide in an effort to confuse Wartburg's defense. When quarterback Blaine Hawkins took the snap, he had only three blockers in front of him.
But he got the ball out quickly to his left. Wide receiver Hunter Robinson caught the pass and extended the football over the goal line for the win.
It remains to be seen if any school at a higher level was watching and taking notes.