Something has to give on Saturday.
For 10 weeks, LSU has been arguably the story of the 2019 season. The Tigers' transformation from an offensively challenged program into one with a Heisman Trophy front-runner at quarterback has been swift and remarkable.
Now, Ed Orgeron's team goes up against its nemesis while trying to score against an Alabama squad that's smothered LSU for the better part of a decade.
Alabama shut out LSU in two of the last three seasons, and the Tigers have been held below 20 points in nine consecutive meetings. The total for this game is hovering around 63, and an Alabama-LSU contest hasn't produced 63 points since 2007.
It's No. 2 vs. No. 3 in a game full of NFL talent. To preview it, let's break down the Crimson Tide and Tigers position-by-position:
Quarterback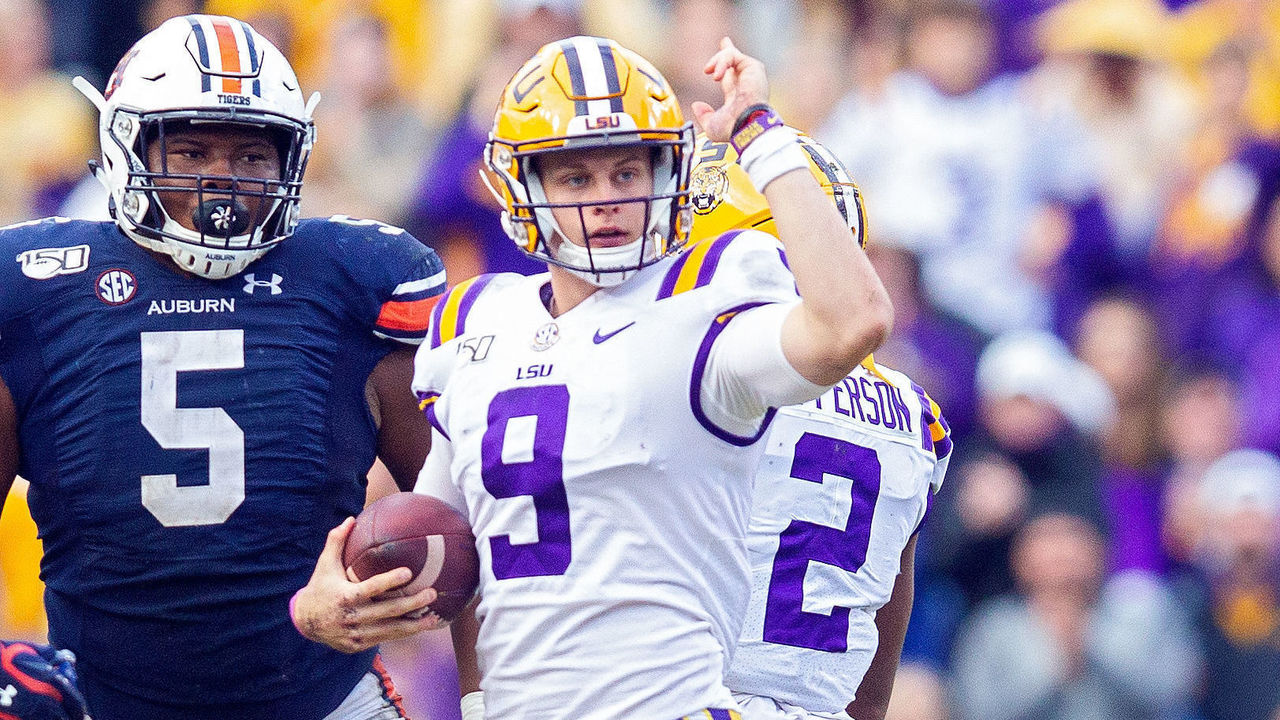 Joe Burrow has passed every test sent his way. The senior Tigers quarterback enters Saturday's game second in passing yards (2,805) and touchdown passes (30), and first in completion percentage (78.8). In his two games against ranked opponents (Florida and Auburn), Burrow has completed a whopping 80.3% of his pass attempts.
Tua Tagovailoa has been just as impressive. The Alabama pivot is second only to Jalen Hurts in quarterback rating. He's posted 27 touchdown passes while tossing only two interceptions, and Tagovailoa will return from an ankle injury that sidelined him against Arkansas.
ESPN's Mel Kiper has slotted Tagovailoa as his No. 2 player in next year's draft, and Burrow isn't far behind at No. 6. This matchup is nearly even, but the injury concerns tied to Tagovailoa give Burrow the edge.
Advantage: LSU
Running back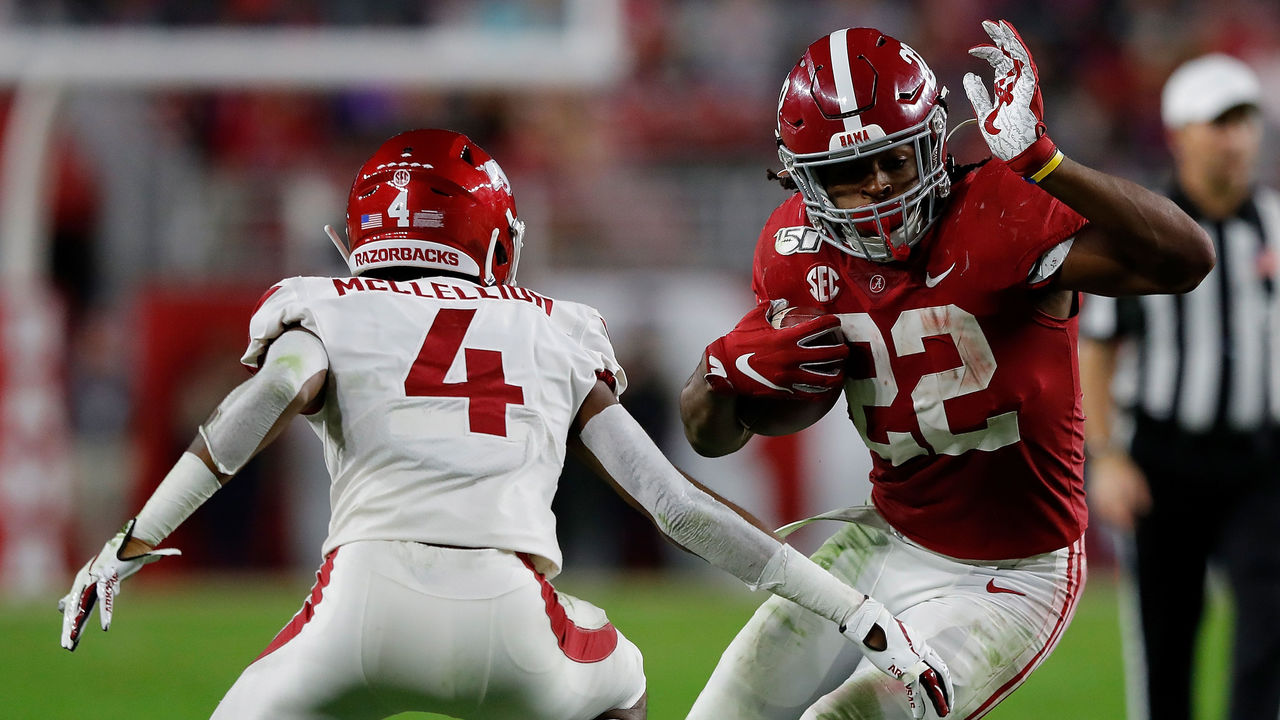 Both schools have produced multiple NFL running backs recently. For Alabama, the standouts are Josh Jacobs, Derrick Henry, and Mark Ingram. Meanwhile, LSU has seen Leonard Fournette and Derrius Guice pass through Baton Rouge.
The running backs aren't the big names this time around, but both rushing attacks have been productive.
At 6-foot-2 and 230 lbs, Najee Harris averages nearly six yards per touch, and he posted 100-plus-yard games against Southern Miss, Texas A&M, and Tennessee.
LSU's Clyde Edwards-Helaire is smaller (5-foot-8, 209 lbs), but similarly productive while averaging 5.9 yards per carry. He's stepped up in big moments, recording 134 yards versus Florida and 136 yards against Auburn.
Advantage: Alabama
Receivers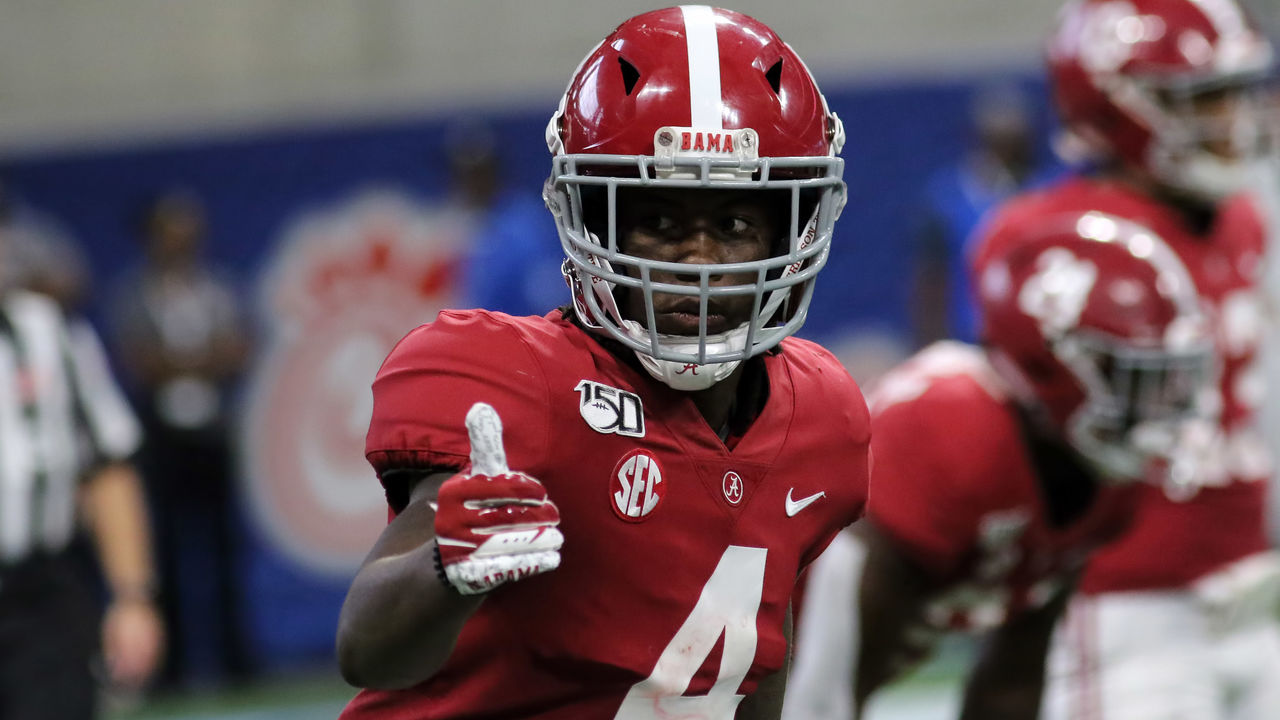 These teams field two of the country's top five receiving corps.
Alabama's group was the best coming into the season and has lived up to the hype. The team's pass-catching depth is unbelievable.
Jerry Jeudy, last year's Biletnikoff Award winner and a potential top-10 pick in 2020, is only second on Alabama in receiving yards (682). Junior Devonta Smith (43 receptions, 721 yards, nine touchdowns) has been terrific. Henry Ruggs (26 receptions, 513 yards, six TDs) and Jaylen Waddle (21 receptions, 297 yards, one TD) are also dangerous.
LSU would hold the receiving advantage against most teams. The Crimson Tide will still have their hands full with LSU's Justin Jefferson (55 receptions, 819 yards, nine touchdowns) and Ja'Marr Chase (43 receptions, 749 yards, nine touchdowns).
Advantage: Alabama
Offensive line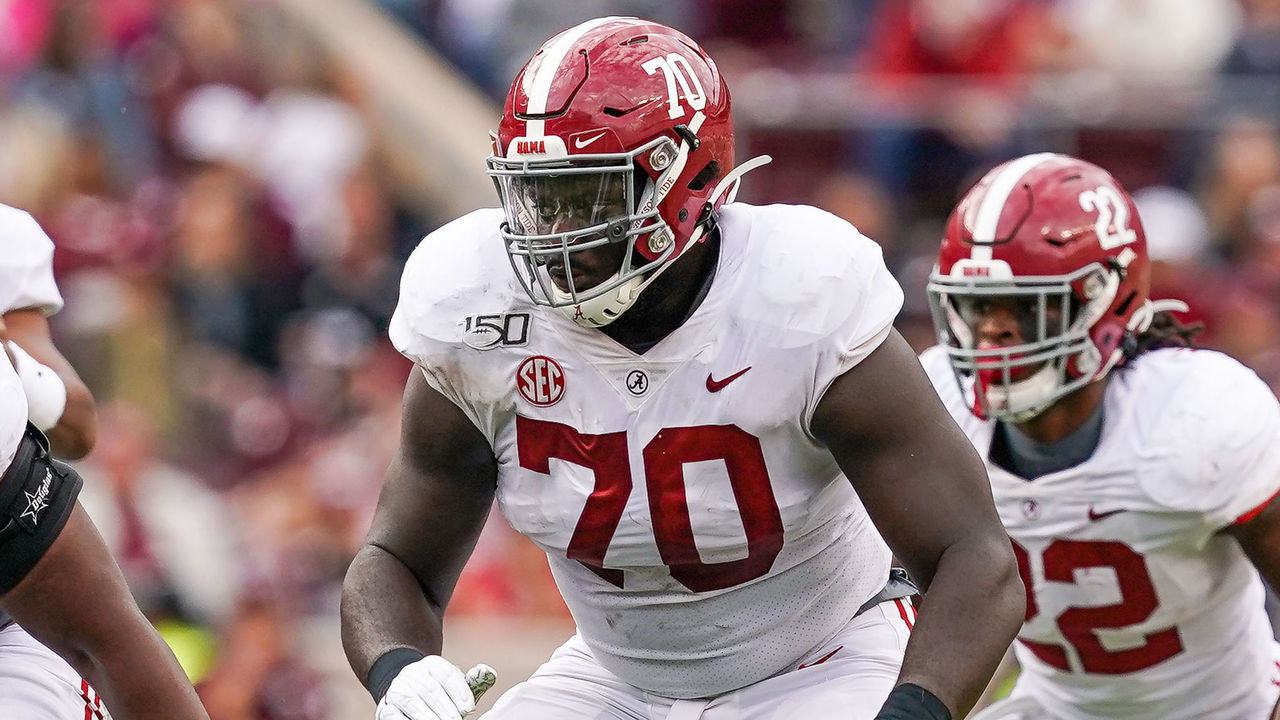 Each team boasts NFL-caliber offensive line talent, which is why both offenses are exceptionally hard to stop.
For Alabama, tackles Alex Leatherwood and Jedrick Wills could star at the next level, and center Lloyd Cushenberry and left tackle Saahdiq Charles might do the same after their time at LSU.
However, the Tigers have been more vulnerable to sacks. While Alabama has surrendered only nine sacks in eight games, LSU has allowed 15, which is nearly two per game. That makes a slight difference.
Advantage: Alabama
Defensive line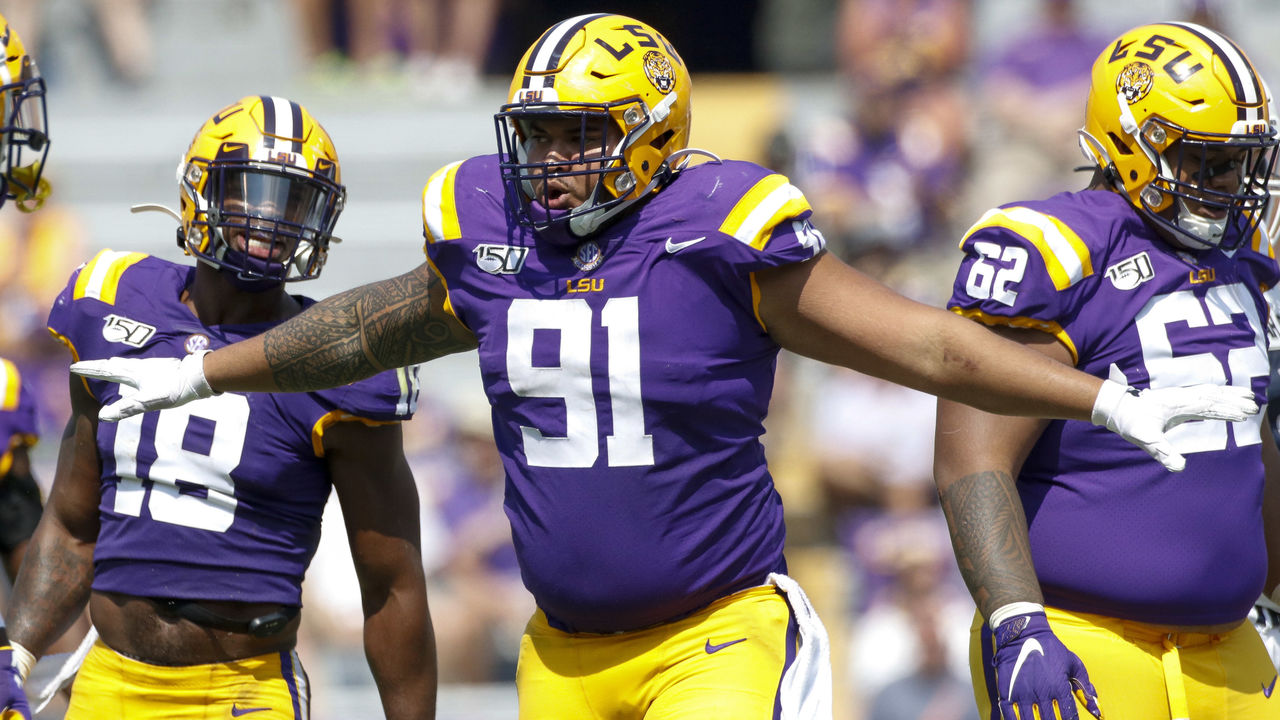 Alabama trots out a future NFL player at nearly every position. Here, Raekwon Davis (33 tackles, 1.5 for a loss) is the standout. Meanwhile, LSU could use a big game from Rashard Lawrence, who has notched only seven tackles over five contests.
Based on production, the Tigers' defensive front has stood out more. Sophomore nose tackle Tyler Shelvin is putting together a strong year, and so is junior Neil Farrell while posting four tackles for a loss.
It's been nearly impossible to run on LSU, with the Tigers holding seven of eight opponents below four yards per carry.
Advantage: LSU
Linebackers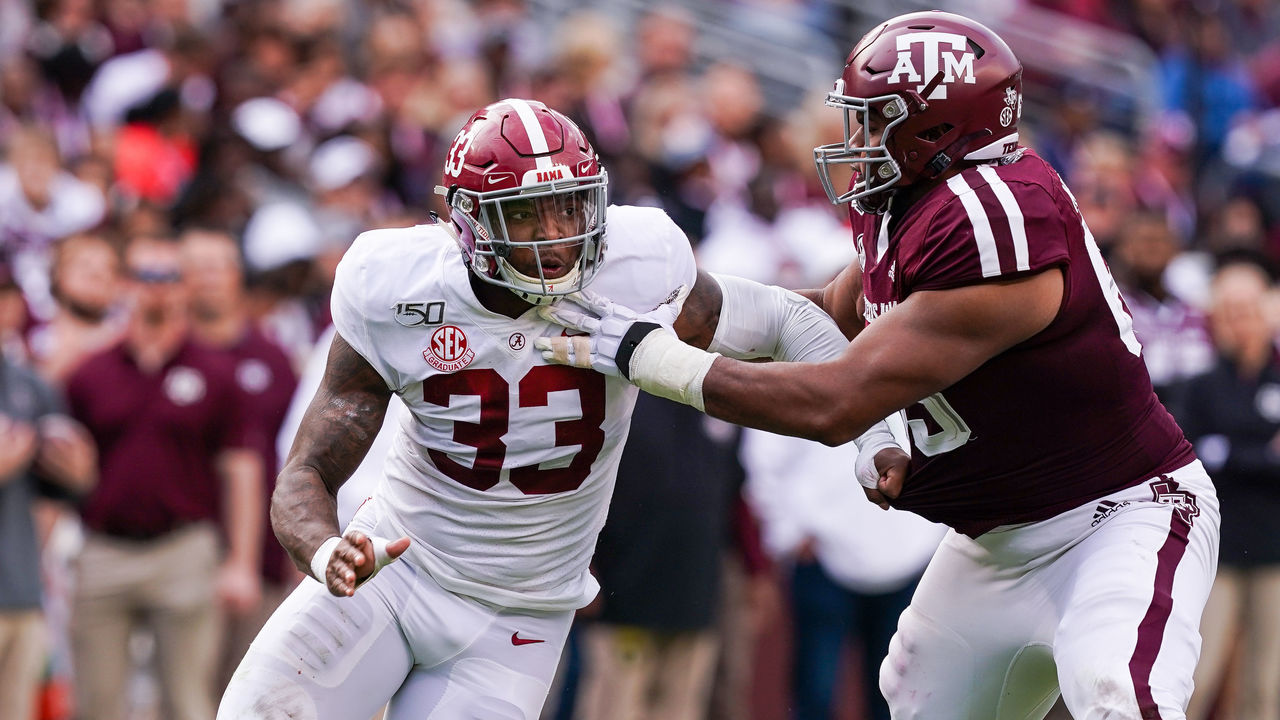 A mix of youth and experience at linebacker powers Alabama.
Senior Anfernee Jennings and junior Terrell Lewis are both potential 2020 draftees. But the Crimson Tide also start two freshmen in four-star recruits Shane Lee and Christian Harris. Lewis and Jennings have combined for 10 sacks, while Lee and Harris have combined for 90 tackles.
LSU's linebacking corps took a hit when outside linebacker Michael Divinity (23 tackles, four for a loss) left the team this week. But junior inside linebacker Jacob Phillips (64 tackles, four for a loss) is a steady player, and sophomore K'Lavon Chaisson can create some negative plays.
Advantage: Alabama
Secondary
Alabama's receivers are the best in college football, but LSU's secondary can claim that status, too.
The Tigers are loaded at safety and corner. Safety Grant Delpit is their big name, but LSU starts one corner, Kristian Fulton, who could be a 2020 first-round pick, and another in Derek Stingley who's among the best freshmen defensive backs in the country. You don't want to throw Fulton's way, and Stingley leads LSU with four interceptions.
Alabama's unit also isn't too shabby, with Trevon Diggs and Patrick Surtain II at cornerback, and team-leading tackler Xavier McKinney at safety. But like LSU's receivers, the Crimson Tide's defensive backfield ranks a very, very talented second in this game.
Advantage: LSU
Special teams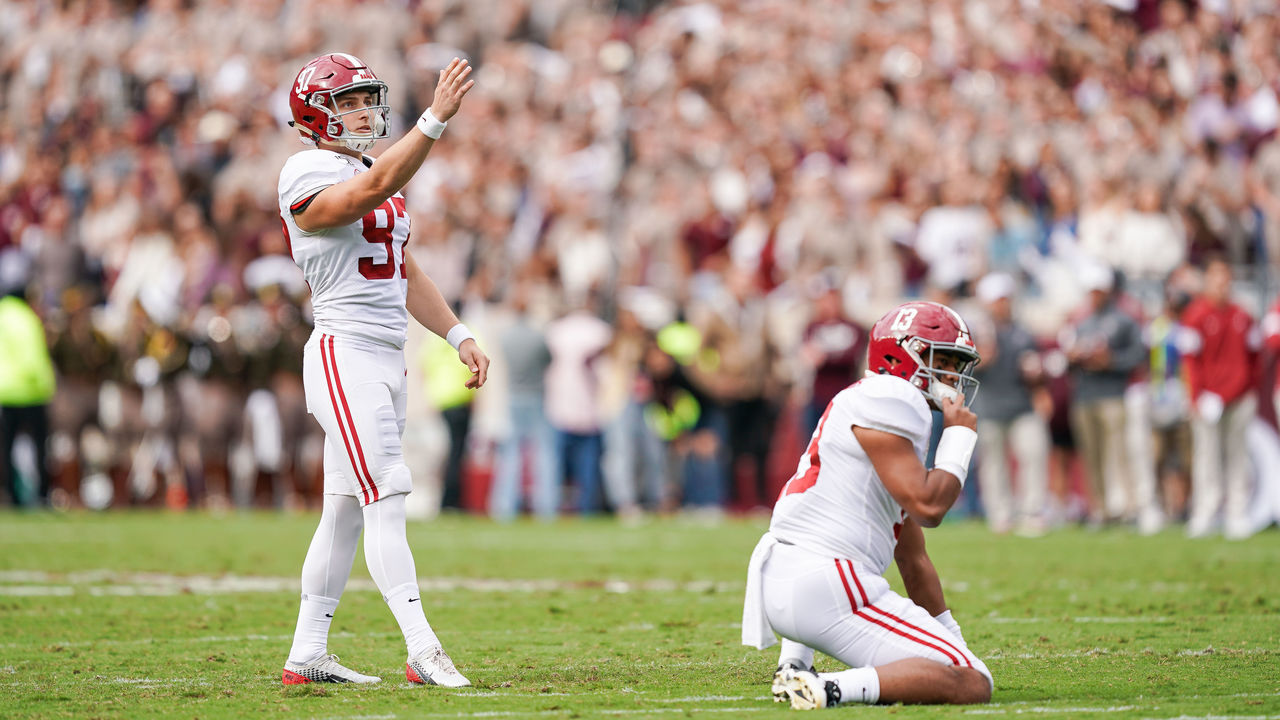 LSU's kicker Cade York is a true freshman. He's 11-of-13 on field-goal tries this season, including one from 48 yards. But he hasn't made an attempt longer than 26 yards since Sept. 7, and York is 0-for-2 kicking from 30-plus yards during that span.
Alabama has used two kickers this season while freshman Will Reichard deals with a hip injury. Reichard is 4-of-7 kicking, and sophomore Joseph Bulovas has hit five of his seven attempts.
It's safe to say both team's kicking games are a little shaky.
In the return game, we'll give Alabama the edge because of Waddle, who averages 21.6 yards per punt return. Neither school struggles with return coverage.
Advantage: Alabama
Coaching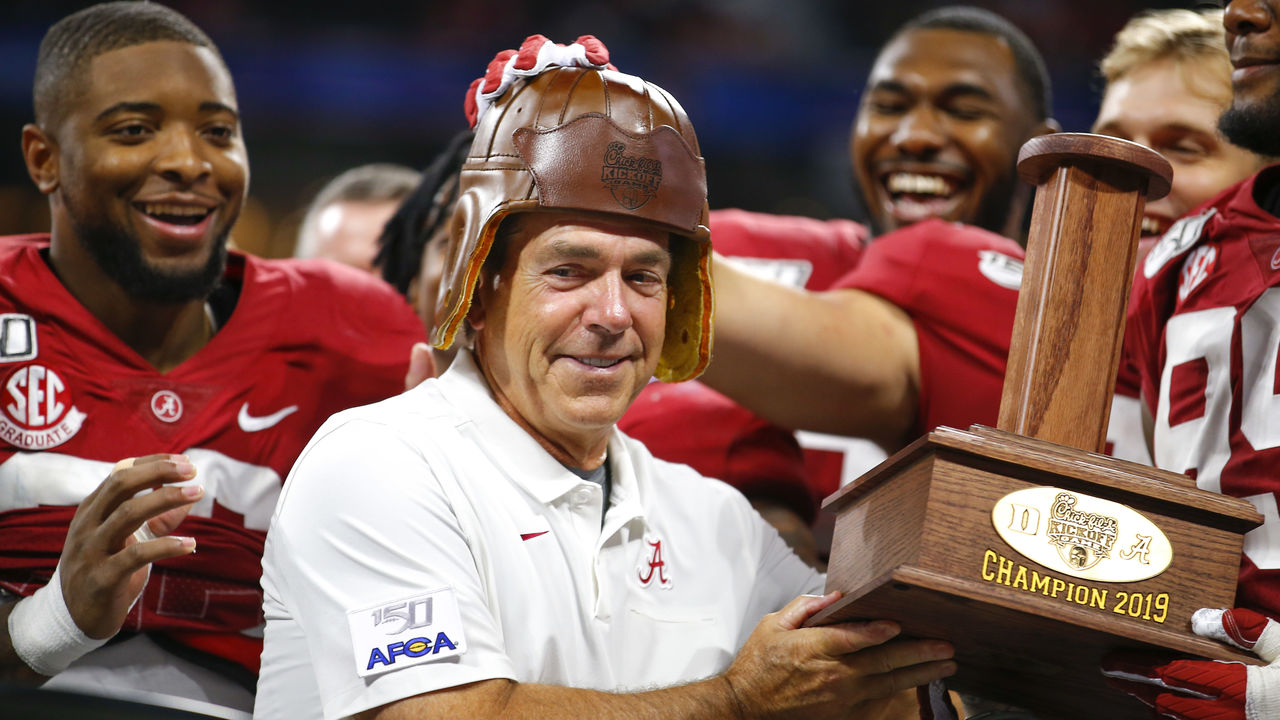 Orgeron hasn't solved Nick Saban yet, but he hasn't faced Alabama with a team like his 2019 squad. In three meetings since Orgeron took over at LSU, Alabama has defeated the Tigers 10-0, 24-10, and 29-0.
Saban's teams have won nine of the Crimson Tide's last 10 games after an open week. Of course, Alabama doesn't lose much, period, especially at home. Since LSU won in 2011 at Bryant-Denny Stadium, Alabama has dropped just two home games - to Texas A&M in 2012 and Ole Miss in 2015.
Advantage: Alabama