A disgruntled UCLA fan has turned to Craigslist in the hopes of getting rid of Chip Kelly.
In an ad posted Monday, the fan said they're selling a "used Chip Kelly in broken condition" for $9 million or best offer.
"This antique might still have some value as a fun Christmas present for your ailing, desperate, and gullible football program," the ad reads. "It comes pre-loaded with 100 snarky quotes like 'The wishbone was successful too' and 'We're just trying to have a good Monday.' However, after nearly two years, we haven't gotten the most important parts of it to work.
"Its previous owners were also dissatisfied with it and we thought it'd need a good home and some TLC. It turns out that it is broken beyond repair, so we are selling AS-IS and for PARTS ONLY. We imagine you can find some workable pieces in here if you are looking for five-tight-end play designs and are in need of tearing down your roster to its bones."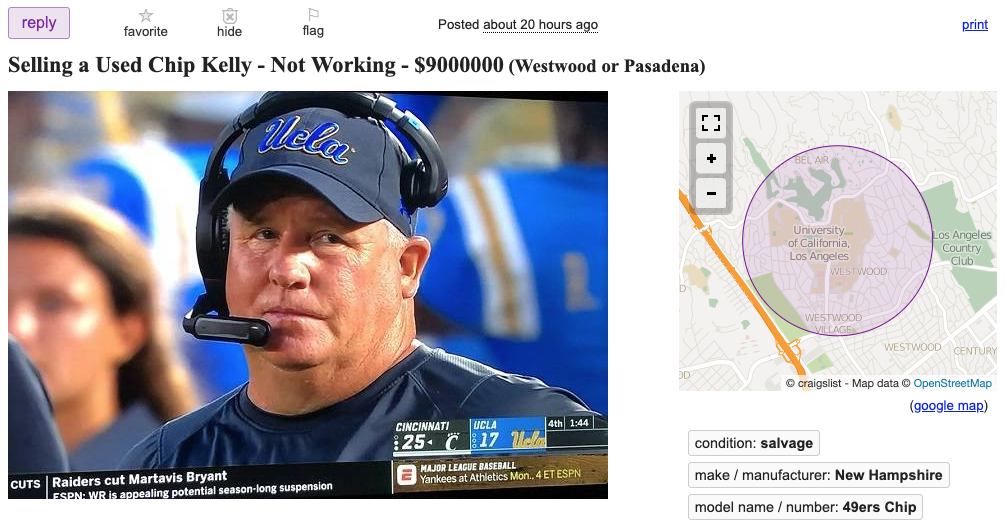 The ad comes after UCLA was defeated 48-31 by Oregon State on Saturday to fall to 1-5 on the season and 4-14 under Kelly.