theScore runs down the top storylines and developments from Saturday's college football games and what they might mean moving forward.
Florida was good, but LSU was great
LSU and Florida battled each other like heavyweights. They drove up and down the field like Big 12 offenses, entering the locker rooms deadlocked after two quarters. The No. 5 Tigers were the two-touchdown favorite, but the No. 7 Gators took on Death Valley with no fear.
In battles like this, though, a lesser side wears down. LSU was simply better than Florida. The Tigers were deeper than Florida. They shut out the Gators for the final 25:54, scoring the last 21 points of the game in a 42-28 victory in front of a raucous crowd.
The Tigers scored 40 points for the ninth consecutive game, and quarterback Joe Burrow continued his meteoric rise, completing 21 of 24 passes for 293 yards and three touchdowns. Running back Clyde Edwards-Helaire averaged 10.3 yards per carry. LSU allowed no sacks against a Florida team that had 26 in its first six games.
As an offense, LSU averaged 10.6 yards per play - against a top-10 team with a legitimate defense.
This is a new era of LSU football, clearly. With College GameDay in town and a prime-time kickoff, LSU stated loud and clear it isn't going anywhere. The Tigers could be the best team in the SEC - we'll find out when they play Alabama on Nov. 9. They could also be the best team in the country.
Florida impressed, especially in the first half. Kyle Trask didn't look like a quarterback making his first career road start, taking the Gators the length of the field on all four touchdown drives. Florida even took a 28-21 lead early in the second half, but LSU quickly responded.
Still, the Gators have a chance to win the SEC East. They'll see Georgia on Nov. 2.
Notre Dame survives, but USC was resilient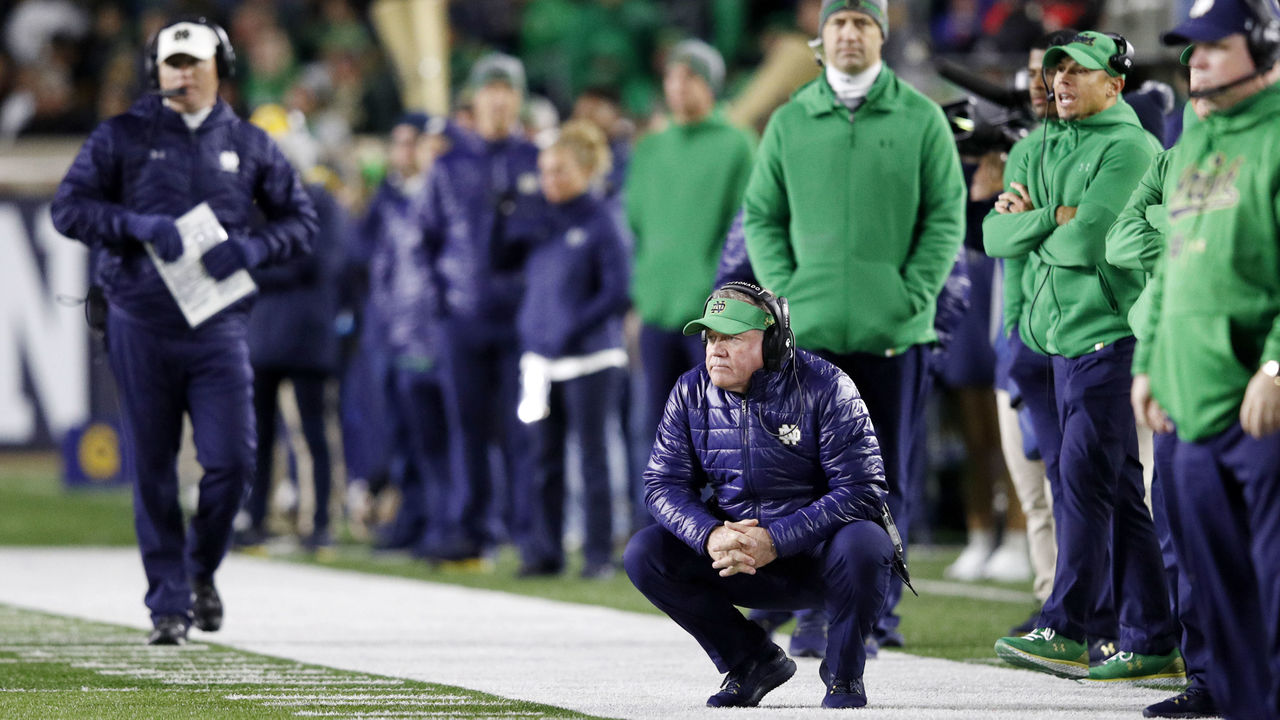 USC entered halftime trailing Notre Dame 17-3 on Saturday. Before the Trojans could get to the locker room, players from both teams got into an on-field skirmish. The officials added to USC's embarrassment by assessing unsportsmanlike conduct penalties on Notre Dame and UCLA.
It felt like it was that kind of night for the Trojans. Their offense, despite the return of talented freshman quarterback Kedon Slovis, struggled to get moving in the first half. Notre Dame had complete control.
The No. 9 Fighting Irish went on to win, 30-27. While the win was necessary for a Notre Dame team still in the playoff hunt, the resilience USC showed in the second half was impressive.
Slovis completed 24 of 35 passes for 255 yards and a pair of touchdowns. Twice, he led USC to touchdown drives to cut the deficit to three. But the Trojans ran out of time and the game ultimately came down to an onside kick (one that Notre Dame coach Brian Kelly was strangely on the field for).
On the Notre Dame side, the Fighting Irish can be happy that every time USC got within an arm's length, it had a response. Notre Dame rushed for 308 yards, with 176 coming from Tony Jones.
The Fighting Irish now get a week off before traveling to Michigan, the only ranked team remaining on its schedule.
Scott Satterfield's Louisville ahead of schedule
Louisville's 62-59 win over Wake Forest might have been a battle for ACC Coach of the Year.
The Demon Deacons entered as one of two undefeated teams in the ACC (along with Clemson); Dave Clawson's team was ranked for the first time since 2008.
But what Scott Satterfield has done at Louisville in a short time might be even more remarkable. He came to the school from Appalachian State, where he went 51-24 in five seasons. Immediate success at Louisville wasn't necessarily expected, but the Cardinals are suddenly on track to get back to a bowl game. With Saturday's win, he has the Cardinals at 4-2, a year after they cratered to a 2-10 record (0-8 in the ACC).
This was the craziest game of the day - 121 points scored, 1,188 yards, 62 first downs. The Cardinals scored one touchdown via 100-yard kick return, and their two quarterbacks - Micale Cunningham and Evan Conley - combined for 295 yards passing and 138 rushing. Louisville led by 21 on two different occasions (28-7 and 52-31), but Wake Forest rallied to get within 55-52 with 3:37 to play.
On Louisville's ensuing possession, Conley, a true freshman, broke free for a 41-yard touchdown run on fourth-and-1. Wake Forest scored once more to cut the deficit to 62-59, but Louisville held on after the officials ruled it had recovered this onside kick:
Wake Forest also used two quarterbacks after losing starter Jamie Newman to injury. His backup, Sam Hartman, threw for two touchdowns and ran for another.
After playing Clemson and Virginia, Louisville will end the season with four consecutive games against unranked opponents (Miami, NC State, Syracuse, and Kentucky).
The only thing left for Wisconsin to prove is …
… whether it can beat Ohio State.
Really, what else do you want from the No. 8 Badgers? With apologies to Penn State, Michigan, Minnesota, and anyone else still in contention in the Big Ten, it feels more and more like a two-team race watching Wisconsin and Ohio State play.
The Badgers completely dominated Michigan State in Madison on Saturday, 38-0. They did it despite a "down" performance from Jonathan Taylor (78 yards, two touchdowns), pitching their fourth shutout in six games.
Wisconsin's defense has allowed four touchdowns this season - and has scored four.
Wisconsin held Michigan State to 149 yards and seven first downs. Every time the Big Ten Network cut to the Spartans' sideline, Mark Dantonio looked as frustrated as you'll see any coach. That's what playing Wisconsin does to you.
The Badgers and Buckeyes meet in two weeks in Columbus. We're ready.
Alabama, Clemson keep rolling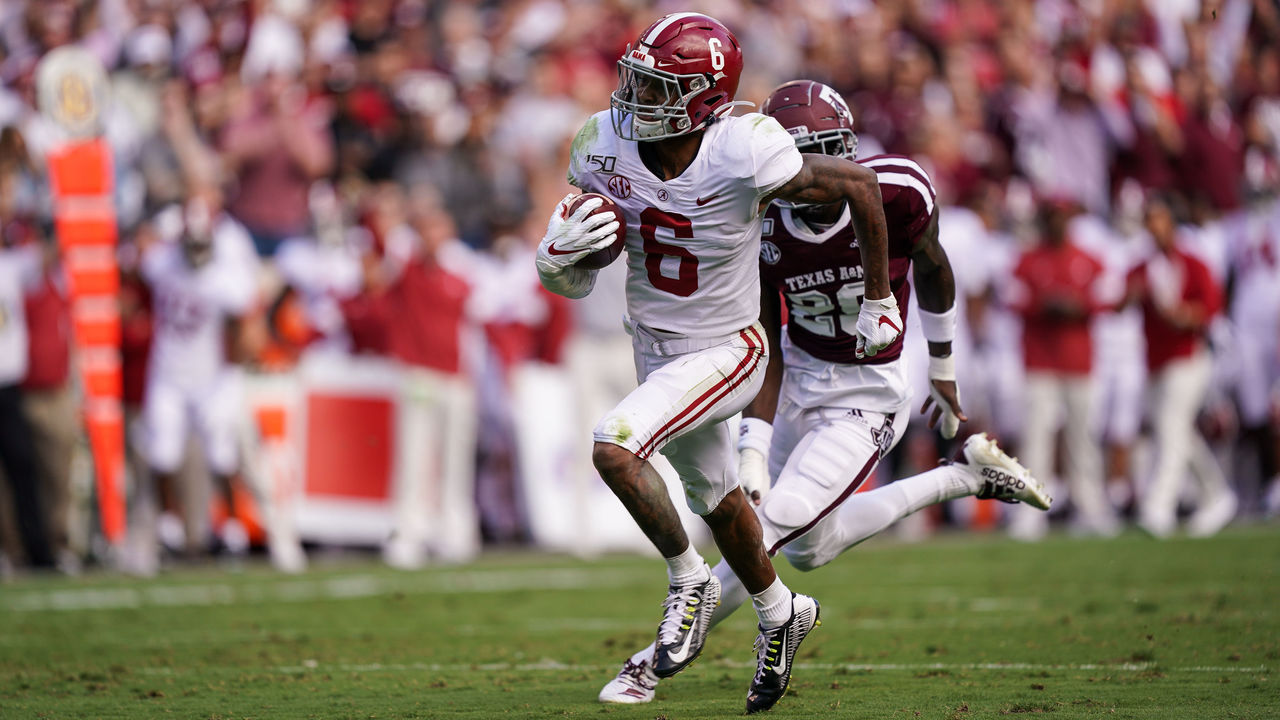 Alabama made sure the SEC's top two ranked teams didn't lose on the same weekend.
The Crimson Tide remained undefeated with an impressive 47-28 road victory at No. 24 Texas A&M. Once again, Tua Tagovailoa and his receivers showed off. Tagovailoa passed for 293 yards and four scores to four different players - Jaylen Waddle, DeVonta Smith, Najee Harris, and Henry Ruggs. (Alabama's most well-known receiver Jerry Jeudy was held to four catches for 50 yards, but it didn't matter.)
Surely, Nick Saban isn't pleased with Alabama's defense, which has allowed 31 (to Ole Miss) and 28 points in its last two games. But he likely has three weeks to figure it out. Alabama hosts Tennessee and Arkansas in its next two contests, then has an open week before playing LSU.
For Clemson, Saturday's 45-14 win over Florida State was a statement of its own. The Tigers nearly lost to North Carolina two weeks ago, falling to No. 2 in the AP Top 25. On Saturday, they looked like the well-oiled machine we're accustomed to seeing; Trevor Lawrence scored four touchdowns, Travis Etienne ran for 127 yards, and the Tigers intercepted FSU's quarterbacks three times.
Baylor is 6-0 after double-OT win
Only three schools - Clemson, Ohio State, and Appalachian State - have longer active win streaks than Baylor after the Bears' 33-30, double-overtime win over Texas Tech.
Two weeks after they needed a last-second field goal to defeat Iowa State, the Bears were a part of one of the more exciting games of the weekend again. Although the Red Raiders took a late 20-17 lead, Baylor quarterback Charlie Brewer led his offense 89 yards in 97 seconds to set up a game-tying field goal. The drive included this ridiculous catch by Denzel Mims:
After the teams traded touchdowns in the first overtime, Baylor held Tech to a field goal to begin the second. Running back JaMycal Hasty delivered the walk-off win with a 5-yard touchdown run.
Baylor has a tricky game at Oklahoma State next week, but the Bears host both Texas and Oklahoma in November. Split those, and there's a real possibility Matt Rhule is coaching in a Big 12 championship in his third season.
Despite the loss, Texas Tech can take positives from the game, too; first-year head coach Matt Wells has things moving in the right direction. The Red Raider defense has six interceptions in its last two weeks against Brewer and Oklahoma State's Spencer Sanders. Without starting quarterback Alan Bowman, Tech nearly defeated a second consecutive ranked team.
Time to take Oklahoma's defense seriously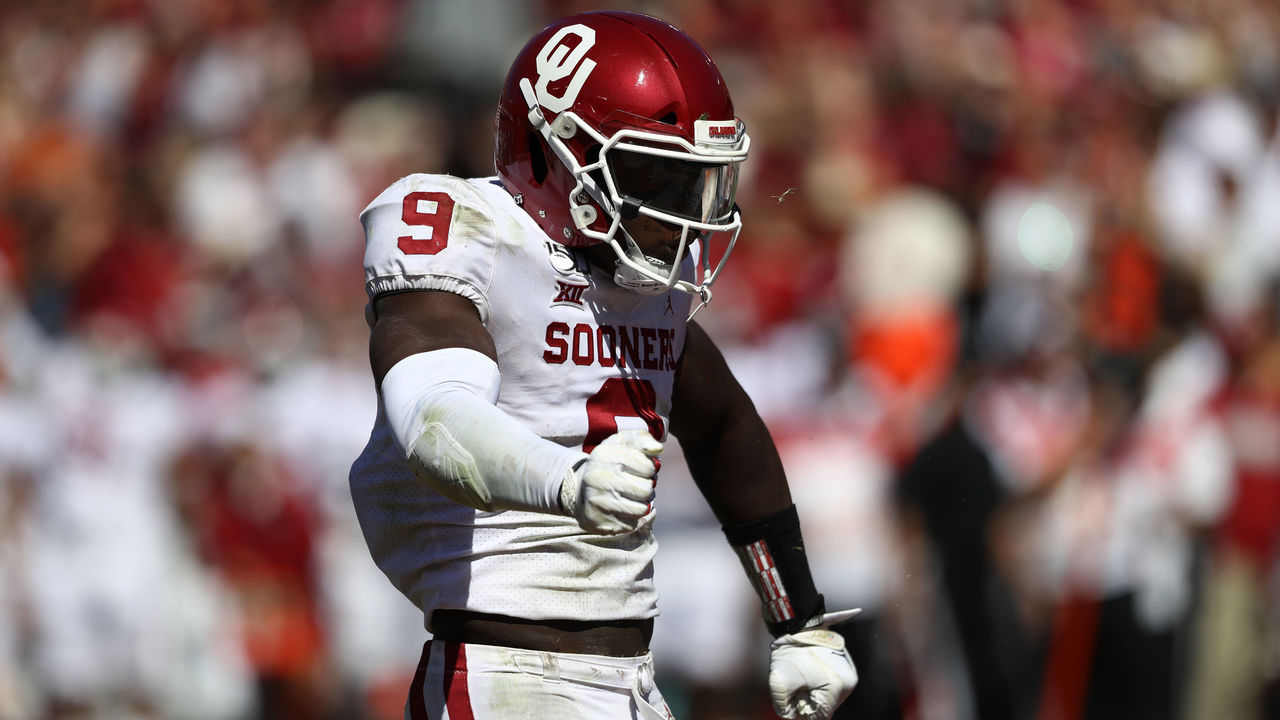 Oklahoma forced Texas to go three-and-out four times. It sacked Longhorns quarterback Sam Ehlinger nine times. Linebacker Kenneth Murray, the clear leader of the OU defense, went sideline-to-sideline, wreaking havoc on seemingly every drive.
Yeah, we're talking about Oklahoma's defense. The much-maligned unit of the No. 6 Sooners made a statement in Saturday's 34-27 win over No. 11 Texas.
It's time to take them seriously.
In this same setting a year ago, head coach Lincoln Riley fired defensive coordinator Mike Stoops after a 48-45 loss in which his unit was responsible for. The Sooners responded and won out until the College Football Playoff, but their defense never improved enough to win a national title.
Riley hired Alex Grinch from Ohio State to fix the defense. So far, Grinch has been as valuable an addition as quarterback Jalen Hurts.
The Sooners limited Ehlinger's efficiency even though he scored two rushing touchdowns. Fifty-seven of Texas' 100 rushing yards came on one play. Oklahoma's nine sacks were the program's most in a single game in 14 years.
The defense picked the offense up when Hurts turned the football over twice in the red zone in the first half. Despite the turnovers, the Sooners led 10-3 at halftime. If OU came to the Cotton Bowl with last year's defense, there's no telling how momentum would have changed.
The Sooners' offense clicked in the second half - and CeeDee Lamb (10 receptions, 171 yards, three touchdowns) made his case as the best receiver in the nation.
But the story was the defense. Oklahoma elevated itself from a playoff contender - which it has been for years - to a true, legitimate title contender with Saturday's Red River statement.
Georgia bungles game, perhaps season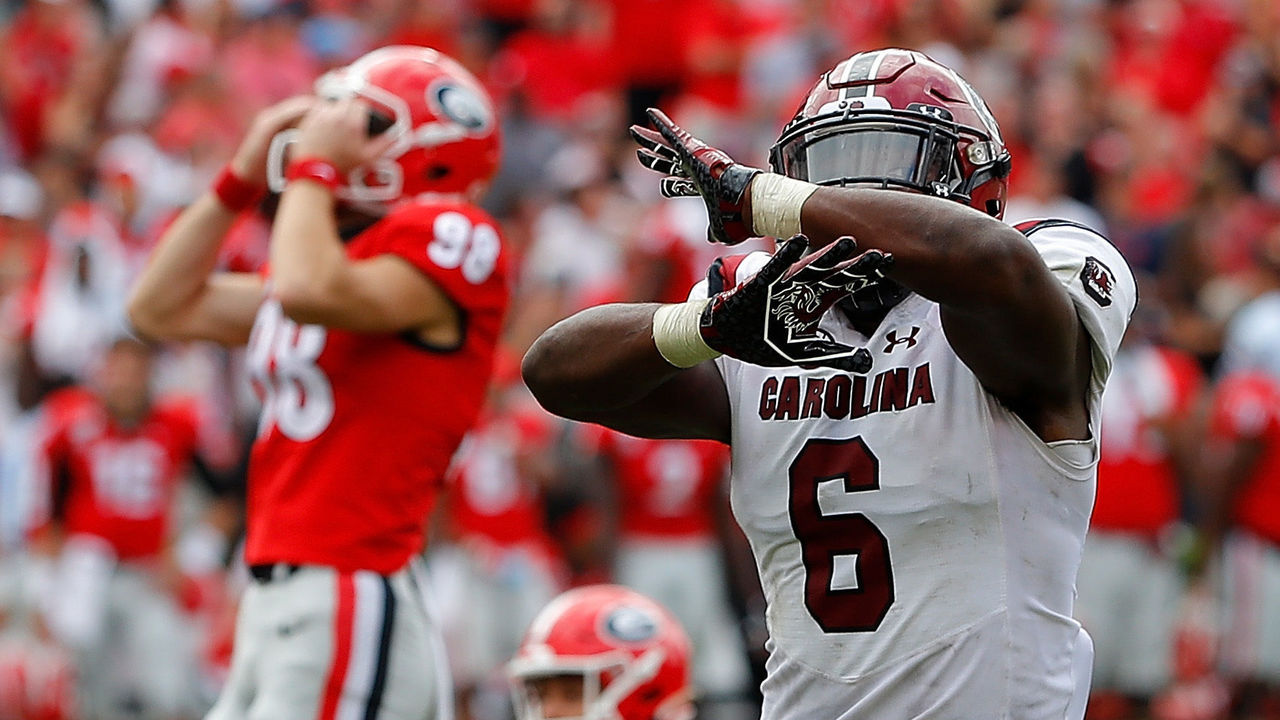 Early in the third quarter, South Carolina freshman quarterback Ryan Hilinski went down with a lower-body injury that kept him out the rest of the game.
Clinging to a 17-10 lead on the road against the No. 3 team in the country, the Gamecocks handed the offense to Dakereon Joyner, a redshirt freshman with 14 career pass attempts.
The Gamecocks wouldn't score again in regulation - they, somehow, wouldn't need to in order to beat Georgia 20-17 in double-overtime.
How the Bulldogs, considered by most to be a challenger to Alabama and Clemson's reign, lost this one is beyond comprehension.
Where to start? Georgia generated 30 first downs and outgained South Carolina 468-297. But it turned the football over four times - including three interceptions from quarterback Jake Fromm. Fromm, who completed 28 of 51 for 295 yards, fell to 0-5 when attempting 30 or more passes.
Still, after managing to tie the game at 17 with a 13-play, 96-yard drive, Georgia had two chances to win in the final moments and couldn't execute.
First, in the final minute of the fourth quarter, after South Carolina foolishly attempted a 57-yard field goal that missed to the right, the Bulldogs took over at their own 40-yard line with 40 seconds left.
Fromm got Georgia to the South Carolina 38 - right at the edge of kicker Rodrigo Blankenship's range - with eight seconds left.
Georgia attempted to run one more play, but two receivers shifted their positions late. The illegal shift penalty pushed the Bulldogs out of range.
Then, in the second overtime, Georgia held South Carolina to a field goal, meaning the offense had 25 yards between it and victory. But the unit didn't gain a yard. After one stuffed run play and two incomplete passes, Blankenship - who hadn't missed a kick all season entering Saturday - saw his 42-yard attempt sail wide left.
It's a brutal loss for Georgia, who was a three-touchdown favorite. This is a team that still has Florida and Auburn on its schedule. The Bulldogs have left themselves no margin for error if they want to reach the SEC championship game for a third consecutive season.
Temple is a top-25 team
In the best Group of 5 matchup of the weekend, Temple confirmed its status as an AAC title contender.
The Owls took an early 16-point lead, then held on for a 30-28 victory over No. 23 Memphis in Philadelphia. The victory moved Temple to 5-1. First-year head coach Rod Carey's team had already defeated Maryland and Georgia Tech, but this was perhaps the most impressive win of the season. The Owls forced four turnovers and got a great performance from receiver Branden Mack (nine receptions, 125 yards, touchdown).
The result continues an incredibly fun season for the AAC, which has been as unpredictable as any conference. UCF and Memphis, the preseason favorites in each division, both have conference losses. Temple, Cincinnati, SMU, and Tulane remain undefeated in AAC play.