College football is sport at its zaniest.
The coaches, the college towns, and the fact that games are played (mostly) by those between 18 and 21 years old contribute to Saturdays that are never dull. And with 130 teams in the Football Bowl Subdivision, you can't predict where the most memorable moments of the weekend will occur.
Each week this season, theScore is here to break it all down - from the good to the bad to the weird. Here's what happened in Week 6 and why it matters.
The good
Backup QBs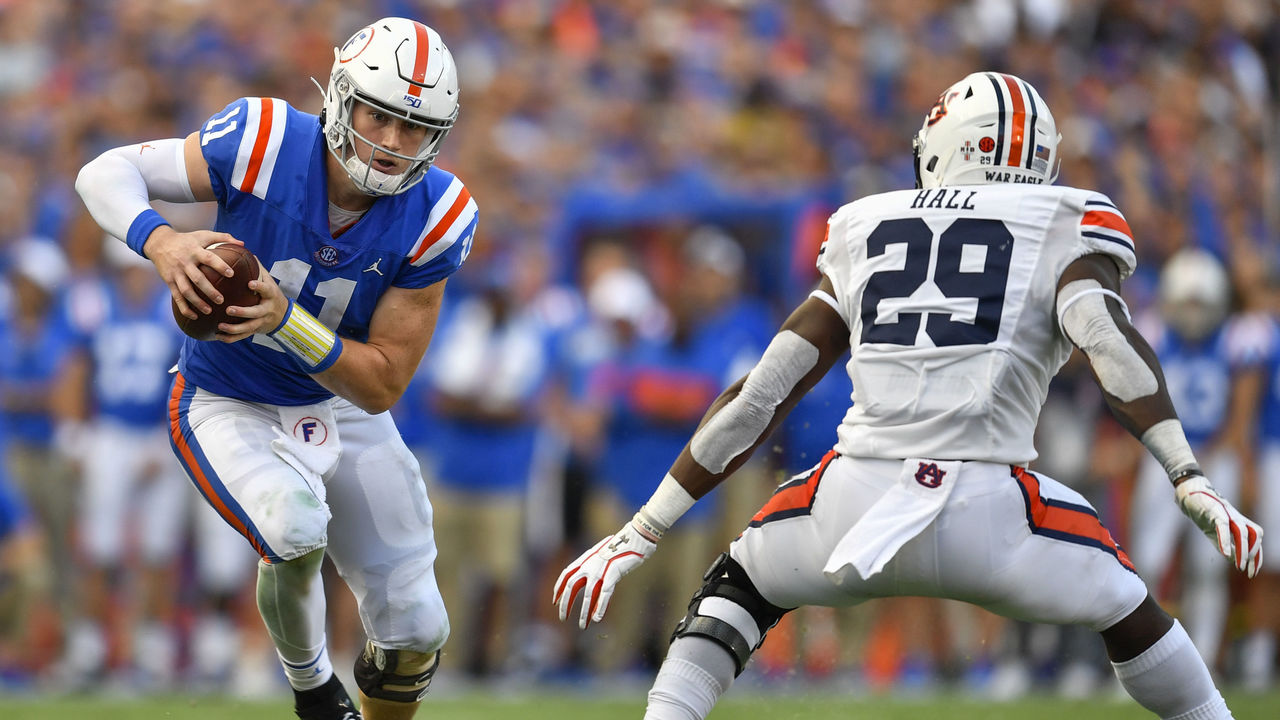 In plenty of games, this was the week of the turnover (more on that later). In others, it was the week of the backup quarterback.
For instance, in the biggest matchup of Week 6 - No. 7 Florida's 24-13 win over No. 12 Auburn - the Gators went with second-string quarterback Kyle Trask, who last started as a high school freshman. Trask was good (234 yards, two touchdowns), but Florida was even forced to bring in third-string QB Emory Jones for a spell when the former left with an injury.
Meanwhile, junior backup quarterback Jett Duffey looked like a star in Texas Tech's 45-35 win over then-ranked Oklahoma State, throwing for 424 yards and four scores.
And Miami nearly rallied from a 28-0 deficit against Virginia Tech because of backup N'Kosi Perry, who replaced Jarren Williams (three interceptions). Perry, who started six games last year, passed for 422 yards and four touchdowns.
In fact, Duffey and Perry led all quarterbacks in passing yardage during Week 6.
Elsewhere, Stanford's Davis Mills, who began the season as K.J. Costello's backup, engineered a 23-13 upset of Washington. And Nebraska backup Noah Vedral led the Cornhuskers on a 42-yard drive in six plays to set up a game-winning field goal against Northwestern.
Minnesota at 5-0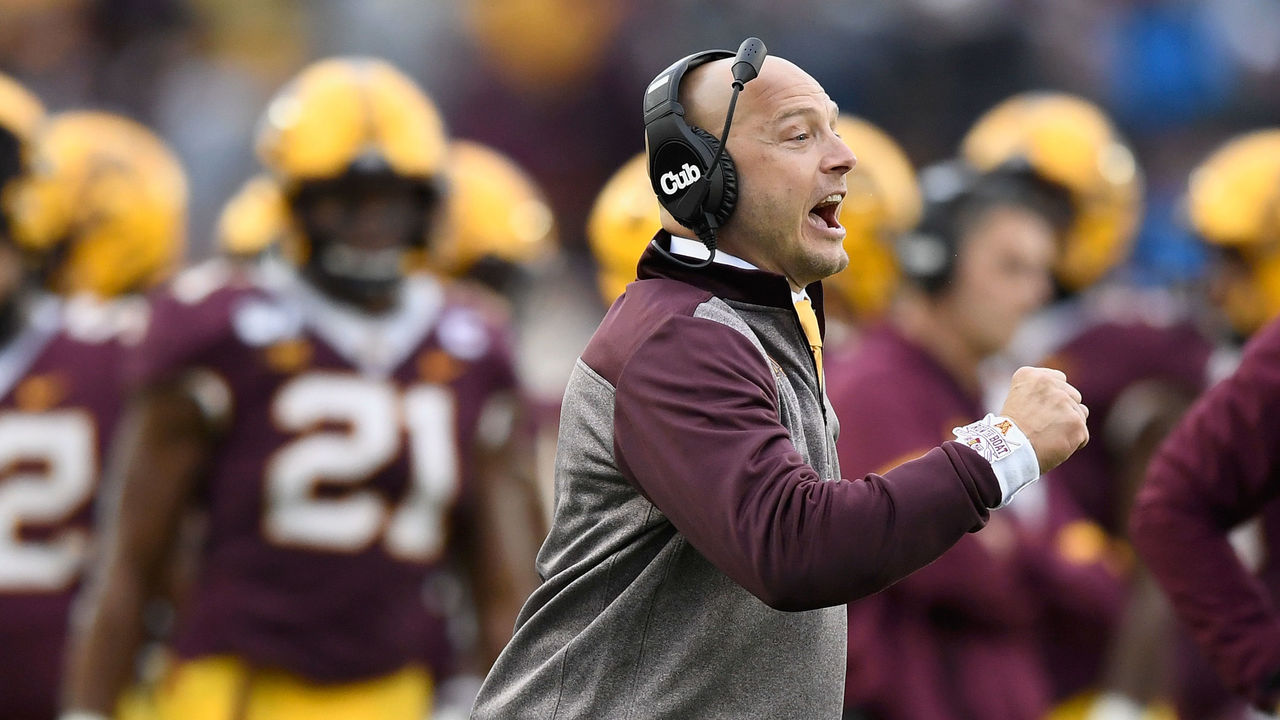 Only one Power 5 football team holds the distinction of being both unranked and undefeated after six weeks.
That would be P.J. Fleck's Minnesota, which is 5-0 for the first time in 15 years following a 40-17 win over Illinois.
It isn't that the Golden Gophers necessarily deserve to be ranked. Before Saturday's romp, which occurred after Illinois lost starting quarterback Brandon Peters to injury, Minnesota had won its first four games over South Dakota State, Fresno State, Georgia Southern and Purdue by a combined 20 points.
But Minnesota's going to be in the conversation, if only because its upcoming schedule (Nebraska, Rutgers, and Maryland) will provide a chance to be 8-0 heading into a Nov. 9 game against Penn State.
Tanner Morgan also deserves more recognition. He's currently fourth in the nation in quarterback rating behind Jalen Hurts, Tua Tagovailoa, and Joe Burrow.
Linemen with the football
The only thing that stopped Derrick Brown was the turf monster.
Auburn's 6-foot-5, 318-pound defensive tackle displayed some athleticism by scooping a fumble and returning it 42 yards into Florida territory. It was reminiscent of the Tigers' season opener, during which defensive end Big Kat Bryant returned a fumble 83 yards before an Oregon defender caught him.
Not to be outdone, though, was Texas offensive lineman Samuel Cosmi.
Cosmi got credit for a 12-yard rushing touchdown in Week 6 after rumbling into the end zone on this throwback pass from Sam Ehlinger in the Longhorns' 42-31 win over West Virginia.
The bad
Interceptions. So many interceptions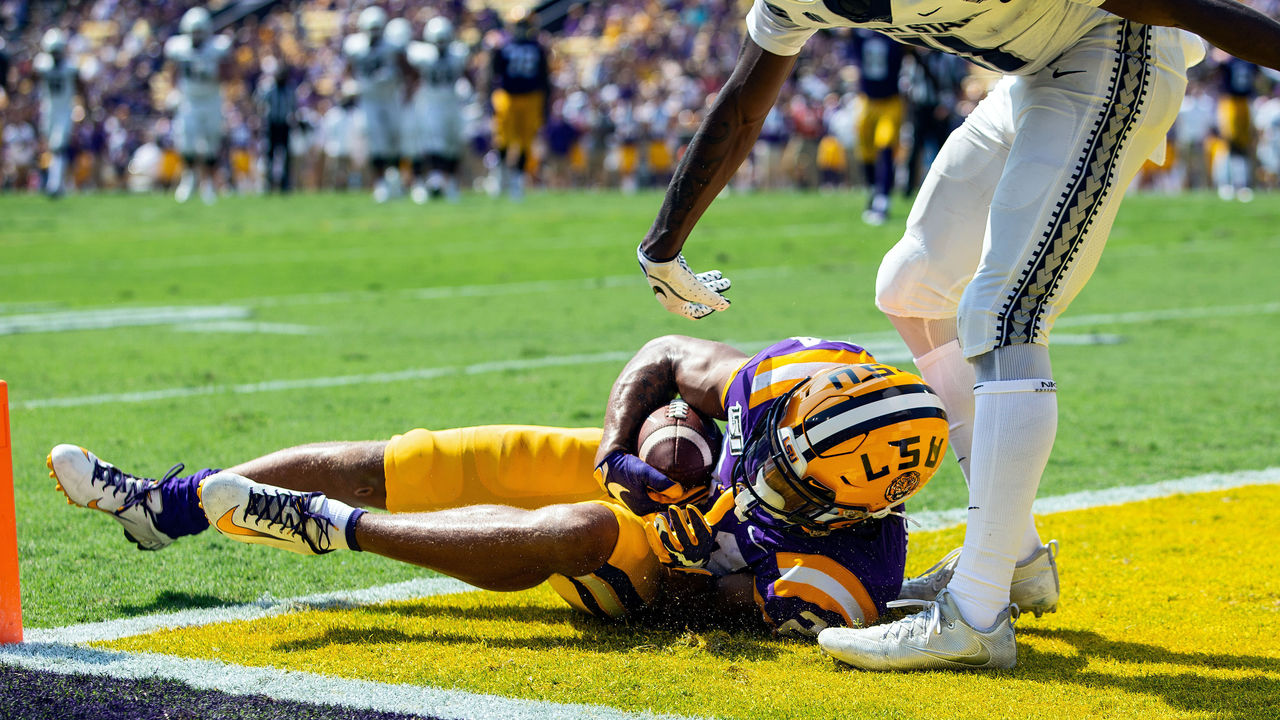 Iowa lived in Michigan territory on Saturday, crossing midfield seven times. Yet the Hawkeyes ended the game as 10-3 losers, in large part because they couldn't take care of the football. Quarterback Nate Stanley, who hadn't turned the ball over all season, threw three interceptions.
It won't be any consolation for Stanley, but he was far from alone over the weekend.
In total, 10 FBS quarterbacks tossed three or more picks in Week 6. That's the most QBs to throw three-plus interceptions in one week in four years. On the weekend of Oct. 3, 2015, 11 quarterbacks reached the ignominious mark.
Those QBs went 0-11. These quarterbacks went 0-10, as they combined to throw 14 touchdowns and 31 picks.
In one case, West Virginia outgained Texas, but four interceptions from quarterback Austin Kendall threw a wrench into the Mountaineers' upset plans. (Coincidentally, former WVU quarterback Skyler Howard was one of the players who threw three INTs on that weekend in 2015).
And four ranked teams, including Iowa, were among the 10 who couldn't stop turning the ball over. Oklahoma State, Auburn, and UCF - all quarterbacked by a freshman or a redshirt freshman - each struggled with giveaways in road losses.
Washington (and the Pac-12's dwindling playoff options)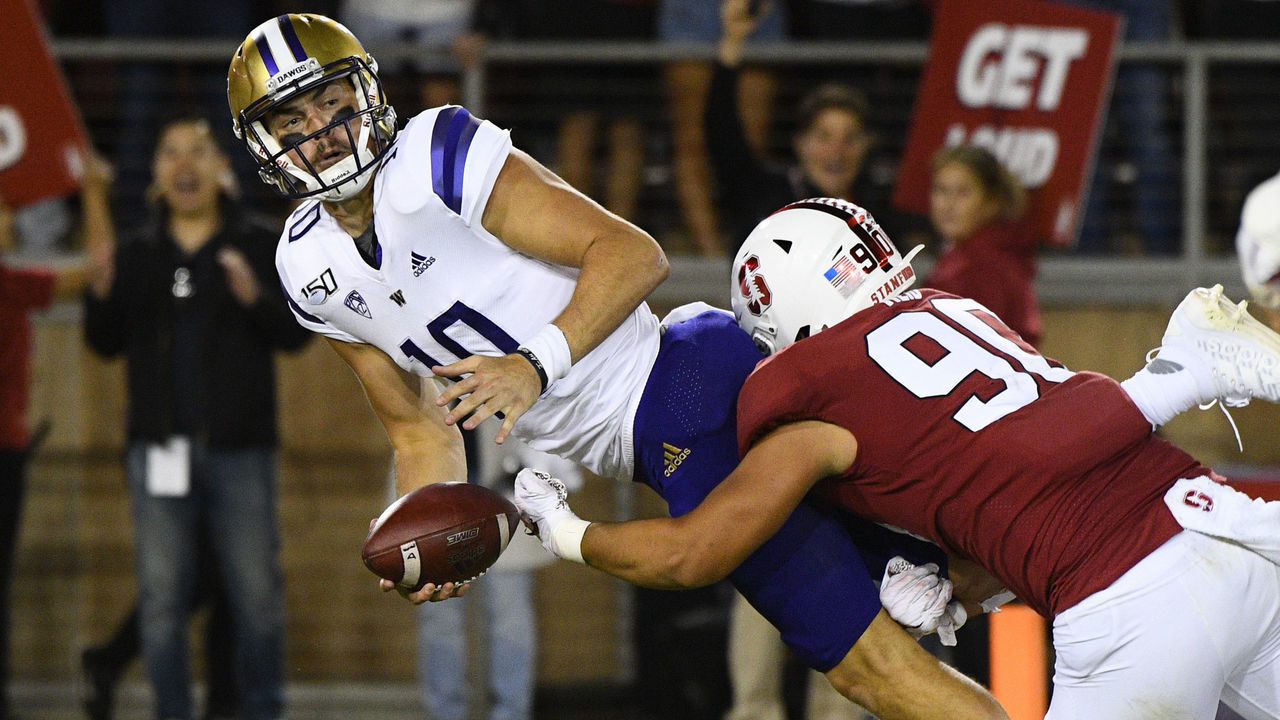 For the second time in three Pac-12 games, Washington's offense laid an egg.
The Huskies were likely eliminated from the College Football Playoff discussion with a 23-13 loss to Stanford late Saturday. Washington scored its only touchdown on its first drive.
It was yet another defeat that damaged the Pac-12's hope of reaching its first playoff since 2016. The conference last won a playoff game in 2014, when Oregon advanced to the national championship.
This year's Pac-12 is fun and extremely competitive, but its cannibalistic nature isn't likely to produce a one-loss conference champion.
In fact, only four schools in the conference - Oregon, Arizona, Arizona State, and Utah - have one defeat through six weeks.
Pac-12 North
| Team | Overall | Conference |
| --- | --- | --- |
| Oregon | 4-1 | 2-0 |
| Stanford | 3-3 | 2-2 |
| Oregon State | 2-3 | 1-1 |
| California | 4-2 | 1-2 |
| Washington | 4-2 | 1-2 |
| Washington State | 3-2 | 0-2 |
Pac-12 South
| Team | Overall | Conference |
| --- | --- | --- |
| Arizona | 4-1 | 2-0 |
| USC | 3-2 | 2-1 |
| Arizona State | 4-1 | 1-1 |
| Colorado | 3-2 | 1-1 |
| Utah | 4-1 | 1-1 |
| UCLA | 1-5 | 1-2 |
The ACC Coastal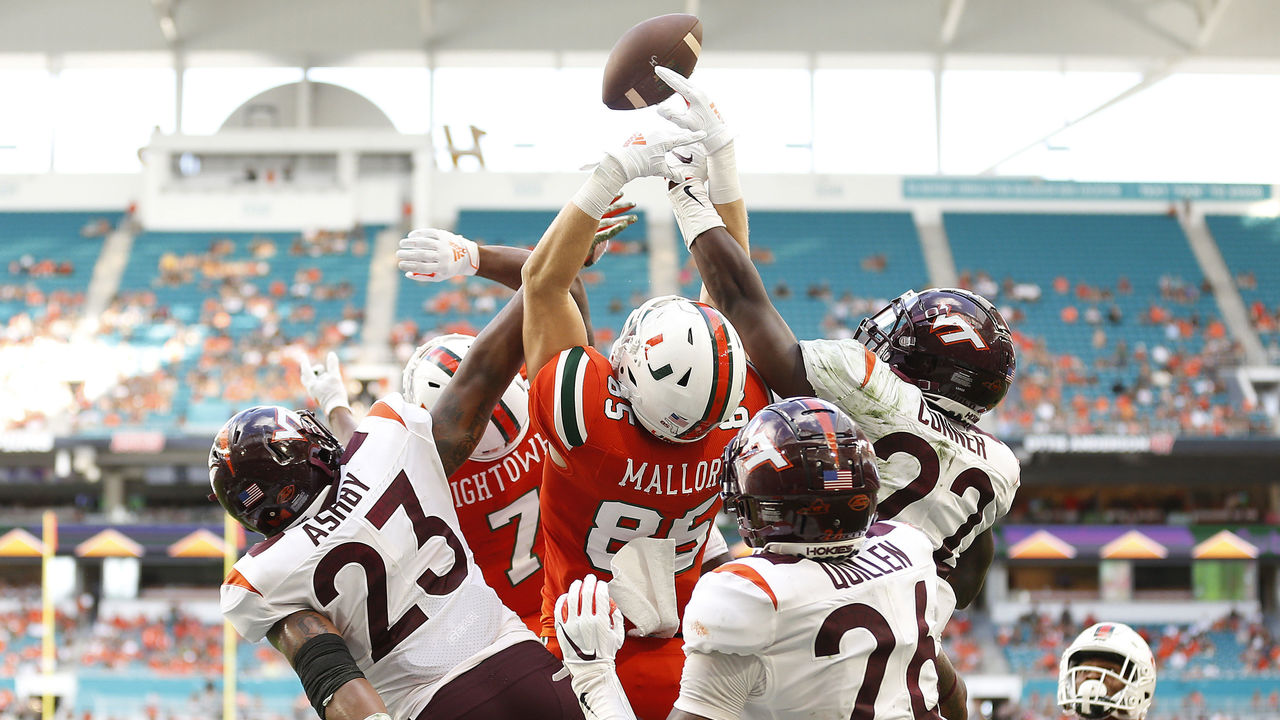 The ACC's non-Clemson division is bad in the best way.
As indicated above, the ACC Coastal is the only Power 5 conference division to rank below a non-power division. The AAC West, which includes Memphis, SMU, and Tulane, is above it.
Virginia is the only one-loss team in the Coastal. Pittsburgh is the only other school with four wins to this point. North Carolina and Duke have had their moments, while the others - Virginia Tech, Miami, and Georgia Tech - have scuffled.
But it can be both bad and good. Take Saturday's results:
• Virginia Tech forced four turnovers and jumped out to a 28-0 lead against Miami, only to watch the Hurricanes scratch back to tie the score at 35. The Hokies eventually won 42-35.
• Similarly, Pittsburgh went to Duke and dominated the Blue Devils, taking a 26-3 lead early in the third quarter. Duke then scored 27 unanswered points, taking a 30-26 lead on a 44-yard pass with 1:29 to play. But Pittsburgh, which miraculously upset UCF two weeks ago, found some more magic with a late score for a 33-30 win.
Don't change, Coastal. We prefer it this way.
The weird
Everything about Tulsa-SMU
SMU's first game as a ranked team in 33 years was positively insane.
First, the play above took place. Moments after Tulsa scored to take a 10-6 lead, it kicked off deep to the Mustangs. But no SMU player scooped up the football … leaving it for Tulsa's Kendarin Ray to recover in the end zone for a touchdown. It never hurts to score 14 points in one second of game time.
For a while, that play seemed to epitomize the contest, and Tulsa led 30-9 after three quarters. But SMU scored 21 unanswered points in the fourth, tying the game with 62 seconds left in regulation.
The Golden Hurricane and Mustangs proceeded to battle for three overtimes. Jacob Rainey, Tulsa's starting kicker, appeared to exit with an injury after missing a potential game-winning field goal in the second OT.
Next, backup kicker Zack Long missed a 42-yard attempt on the first drive of the third overtime. That allowed SMU quarterback Shane Buechele and receiver James Proche to end the game with this:
An OC change in Year 1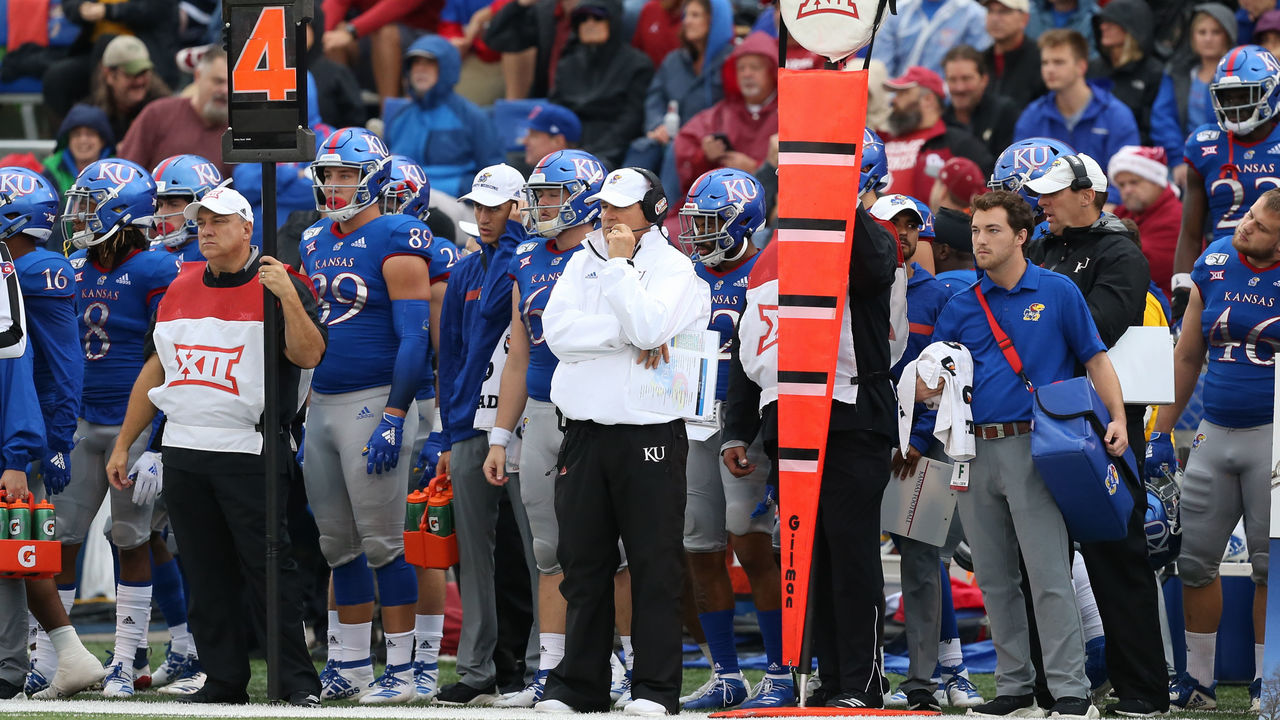 As we check in on Kansas … this is never a great sign.
No, we're not referring to Friday's "Late Night at the Phog," which featured an uncensored Snoop Dogg performance (and later, an apology from Kansas athletic director Jeff Long).
On Sunday, a day after KU football lost 45-20 to Oklahoma to fall to 2-4, the program announced it had parted ways with offensive coordinator Les Koenning. Brent Dearmon, who was previously a "senior offensive consultant," was installed as the new OC.
This might ultimately be a step forward for Kansas under Les Miles considering Dearmon's terrific record of coordinating offenses at small schools. As the head coach of Bethel University, an NAIA program, in 2018, he helped lead the highest-scoring offense at any level (55 points per game). He was also successful while leading Division II Arkansas Tech in 2016-17.
So, Dearmon's now getting a much-deserved shot at running a D-1 offense. But six games into its first year with a new head coach, one of the last things a program should want is staff turnover. However, that's the case for a Kansas offense that ranked 56th in the nation in yards per play.
Lack of excitement for a Hail Mary
Let's close the chapter on Week 6 with this - perhaps the play of the weekend.
Ashland, a Division II school in Ohio, upset No. 9 Grand Valley State with a 52-yard Hail Mary pass from quarterback Austin Brenner to receiver Logan Bolin.
The play itself was great. However, it was also weird for the subdued, sleepy play-by-play call: