We're closing the chapter on Week 3 of the college football season by handing out some superlatives.
Best game
No. 19 Iowa 18, Iowa State 17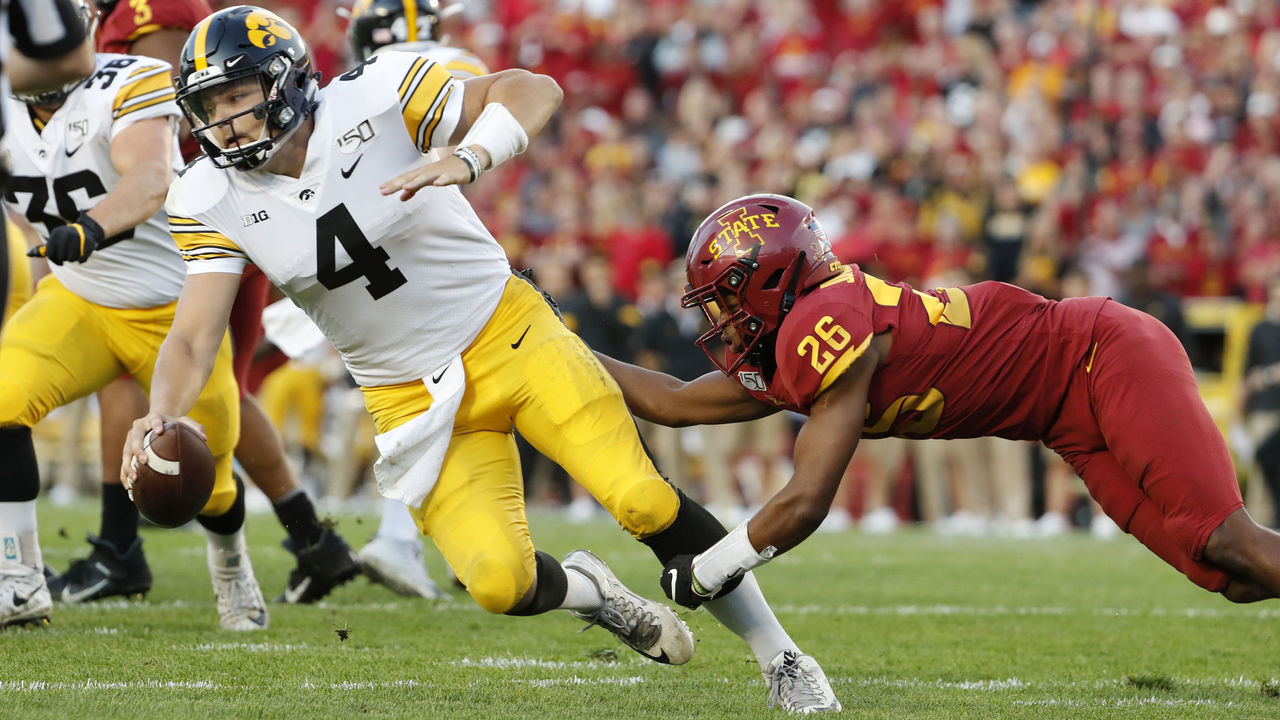 The 66th meeting for the Cy-Hawk Trophy produced the type of day that is so unique to college football.
College GameDay traveled to Ames, Iowa, for the first time, and "College AmesDay" lived up to the billing.
The game, which began at 3 p.m. CT, endured two weather delays. One of those lasted two hours and led some Cyclones fans to move onto the field inside Jack Trice Stadium. By the time Iowa State went to halftime with a 7-6 lead, it was after 7 p.m.
Fifty-seven seconds into the third quarter, Iowa State produced the game's biggest highlight when Brock Purdy found Tarique Milton over the middle for a 73-yard, catch-and-run touchdown.
But that would be Iowa State's final touchdown. Iowa battled back from a 14-6 deficit and took an 18-17 lead on a Keith Duncan field goal with 4:51 to play.
Then the Cyclones lost in devastating fashion: on a muffed punt.
Iowa has now defeated Iowa State in five consecutive years, denying Cyclones coach Matt Campbell his first win in the rivalry. The Hawkeyes won ugly, averaging 4.3 yards per play and scoring one touchdown. But Kirk Ferentz's team is 3-0 for the third consecutive season and is perhaps now the second favorite (behind Wisconsin) in the Big Ten West.
Best finish
BYU 30, No. 24 USC 27 (OT)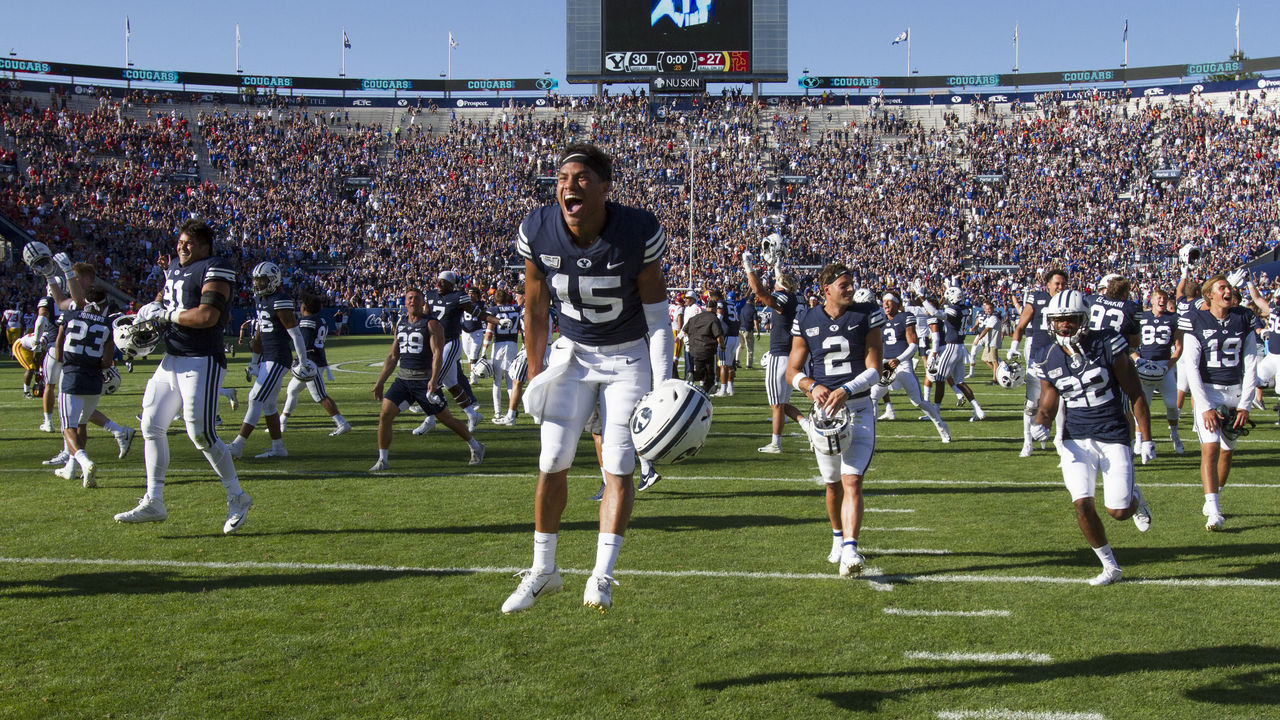 For the second consecutive week, BYU was involved in one of the week's most dramatic finishes. And for the second consecutive week, the Cougars upset a big-name program.
Seven days after upending Tennessee, BYU intercepted USC freshman Kedon Slovis three times in a 30-27 overtime victory in Provo, Utah. The final interception came in overtime, sealing the victory after the Cougars hit a field goal on their own overtime possession.
Quarterback Zach Wilson threw for 280 yards and a touchdown and ran for another score. His rushing touchdown, a 16-yard scamper through the middle of the defense, gave BYU a 27-24 lead in the fourth quarter. The Trojans forced overtime when Chase McGrath hit a 52-yard field goal in the final two minutes.
Biggest surprise
Kansas breaks out to blow out Boston College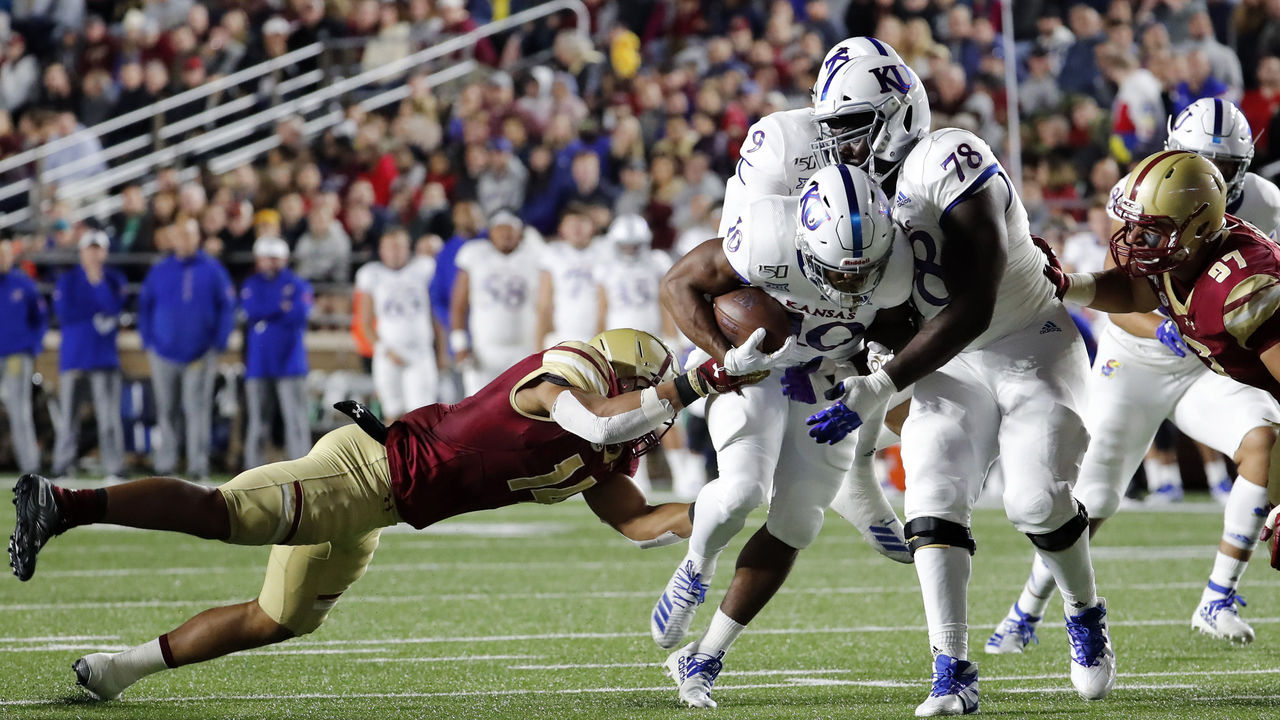 From the came-out-of-nowhere department, meet Kansas' offense.
The Jayhawks' attack was anemic, to say the least, in the team's first two games under Les Miles. Kansas managed three offensive touchdowns total in a win over Indiana State and a loss to Coastal Carolina.
Visiting Boston College on a short week didn't seem like a spot where Kansas would fare much better. The Eagles defeated Virginia Tech in their season opener and entered Friday's home game as massive favorites.
So Kansas' 48-24 win over Boston College was a shocker for many reasons.
The Jayhawks hadn't won a road game against a Power 5 opponent since 2008 - a streak of 48 consecutive losses. Quarterback Carter Stanley had only led Kansas to one previous win over a Power 5 opponent, and that was three years ago (at Texas, 2016).
Kansas ended the game by scoring 27 unanswered points, and its 567 yards of offense were the most the team put up against an FBS opponent since 2009.
Players of the week
QB Dillon Gabriel, UCF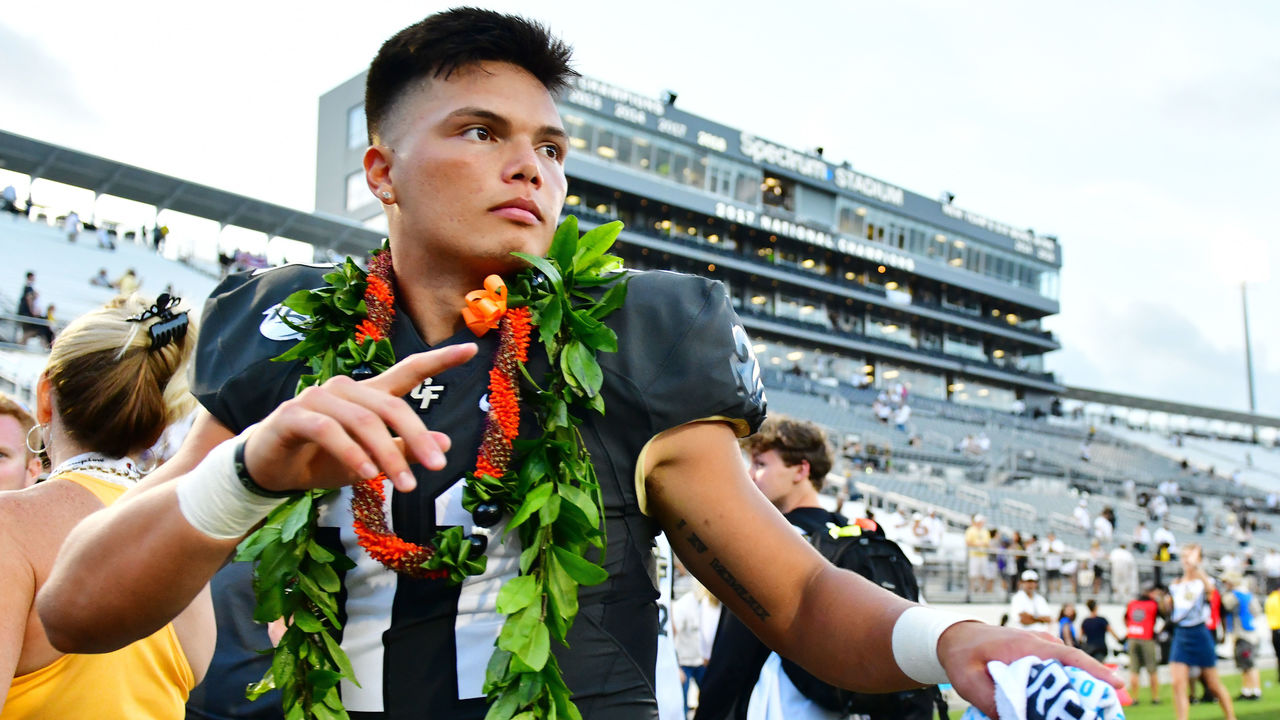 It looks like UCF could run the table in the regular season for a third consecutive year, and quarterback Dillon Gabriel is a major reason why.
The freshman from Mililani, Hawaii, completed 22-of-30 passes for 347 yards and four touchdowns in the Knights' 45-27 win over Stanford. Three games into his college career, Gabriel has tossed nine touchdowns and no interceptions. He's currently fourth in the country in quarterback rating. The top three - Oklahoma's Jalen Hurts, LSU's Joe Burrow, and Alabama's Tua Tagovailoa - are all considered Heisman candidates.
UCF doesn't have a ranked team on its schedule. The Knights travel to Pittsburgh this week and face a potentially tough trip to Cincinnati on Oct. 4, but should be favored in every game the rest of the regular season.
RB Chuba Hubbard, Oklahoma State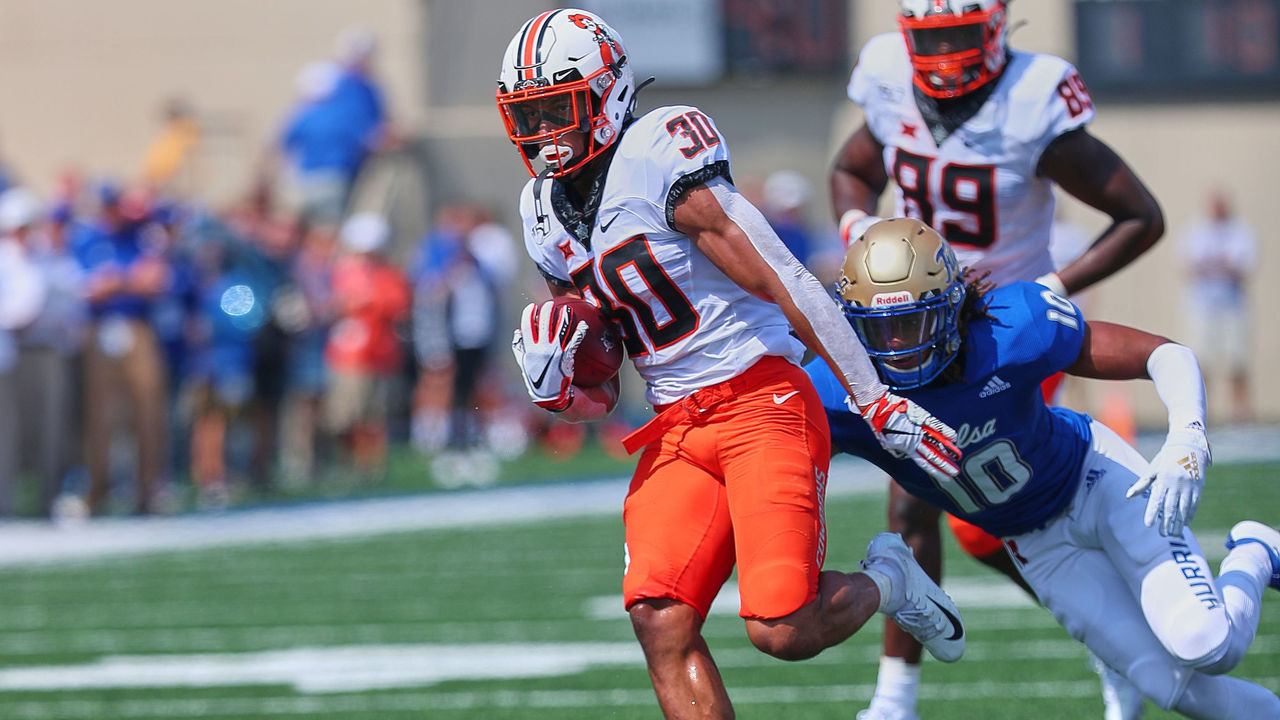 Oklahoma State boasts the nation's leading receiver (Tylan Wallace) and rusher (Chuba Hubbard) three weeks into the season, though it's Hubbard who may need more love in the early Heisman Trophy discussions.
The Canadian sophomore took the ball 32 times for 256 yards and three touchdowns in Saturday's 40-21 win over Tulsa.
His 521 rushing yards and seven touchdowns in three games are both FBS bests. No other running back has more than 455 yards.
WR Sage Surratt, Wake Forest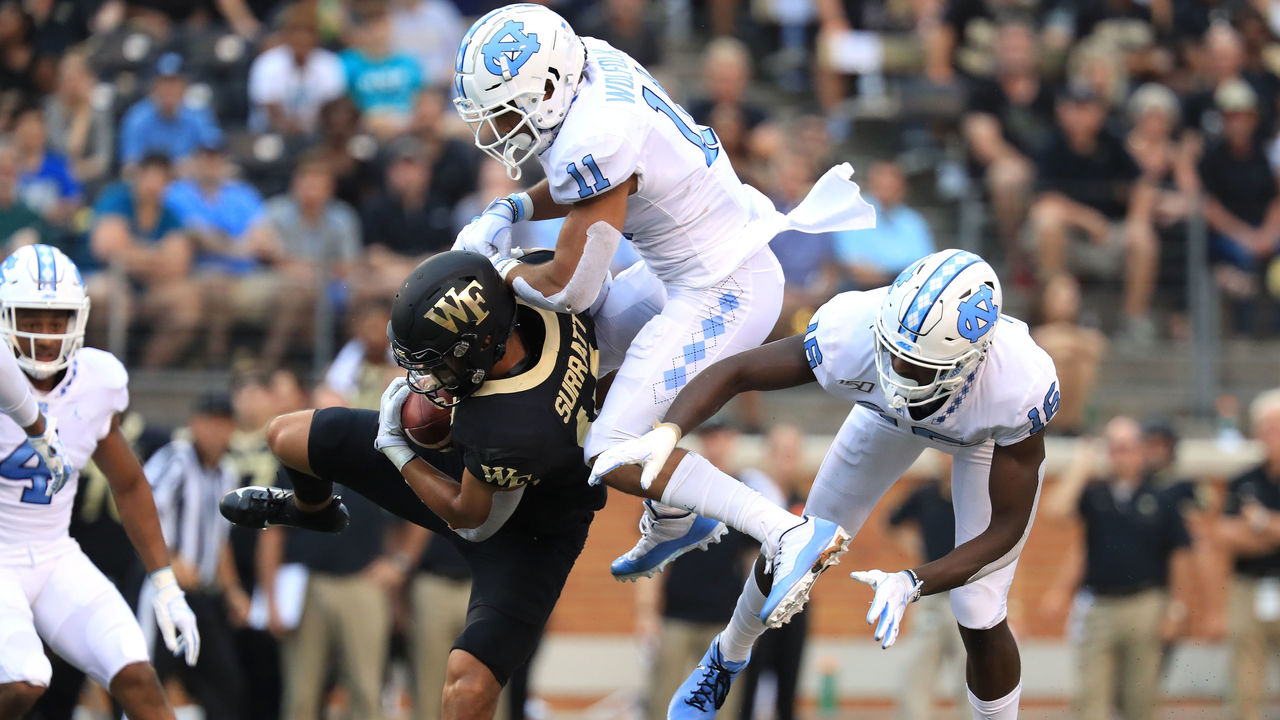 Wake Forest is quietly 3-0 in an underwhelming ACC. The Demon Deacons have yet to play a Saturday game but have thrived on weeknights against Utah State, Rice, and North Carolina.
Quarterback Jamie Newman is becoming one of the best under-the-radar players in the country. His top target, sophomore Sage Surratt, looked ready to blossom into a star in Friday's 24-18 win over the Tar Heels.
The 6-foot-3 receiver hauled in nine passes for 169 yards and a touchdown in the victory, his second game of 150-plus yards in three weeks. He ranks in the top 15 in the country in receptions, yards, and touchdowns.
Best things you missed
Georgia honors Arkansas State coach's late wife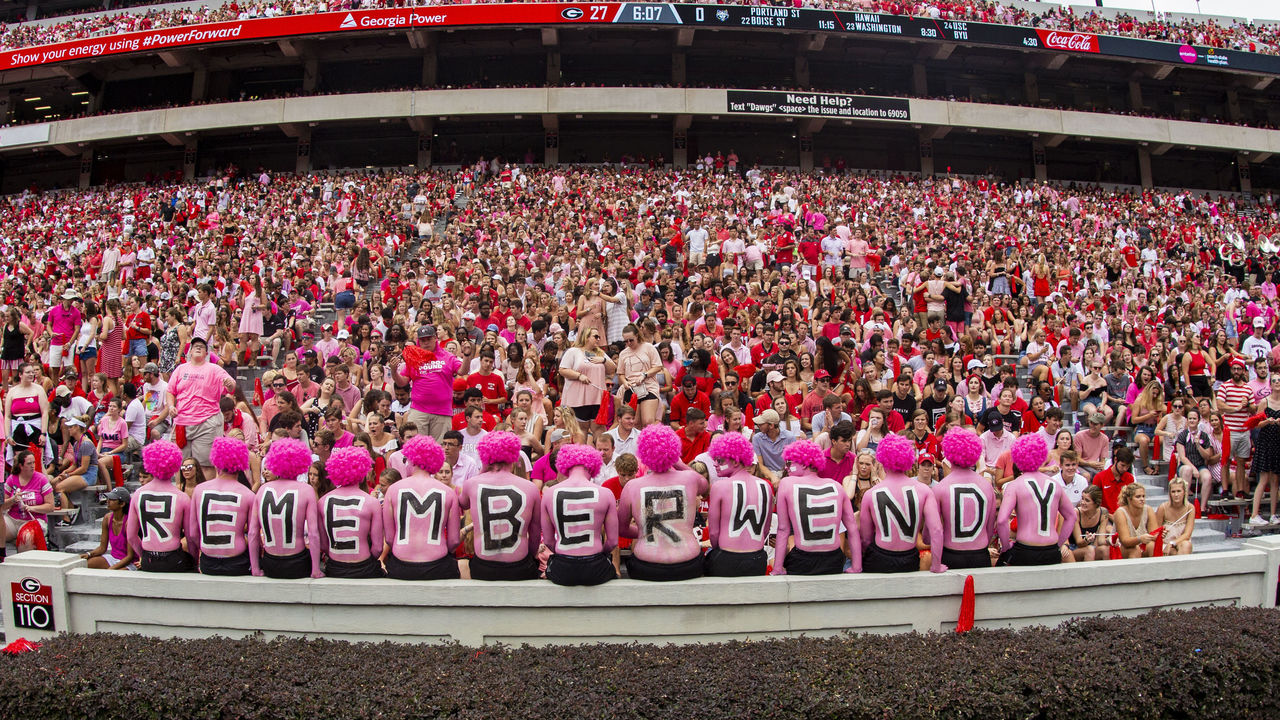 This might be the best display of sportsmanship you'll see all season.
Georgia fans arranged to wear pink to Saturday's game against Arkansas State in memory of Wendy Anderson, the wife of Arkansas State coach Blake Anderson. She died of breast cancer Aug. 19.
Thirteen fans painted their backs to spell "Remember Wendy." Postgame, Anderson told reporters it was "one of the classiest moves I've ever seen."
O'Grady cannot be stopped
Arkansas tight end Cheyenne O'Grady provided the week's strongest second effort (or perhaps it was just poor tackling on Colorado State's part).
The senior tight end caught a pass at the Colorado State 45-yard line and managed to escape from a circle of five Rams defenders, none of whom could bring him to the ground. The long score was the highlight of a 55-34 win for the Razorbacks as they avenged last season's loss to Colorado State.
The late Tate show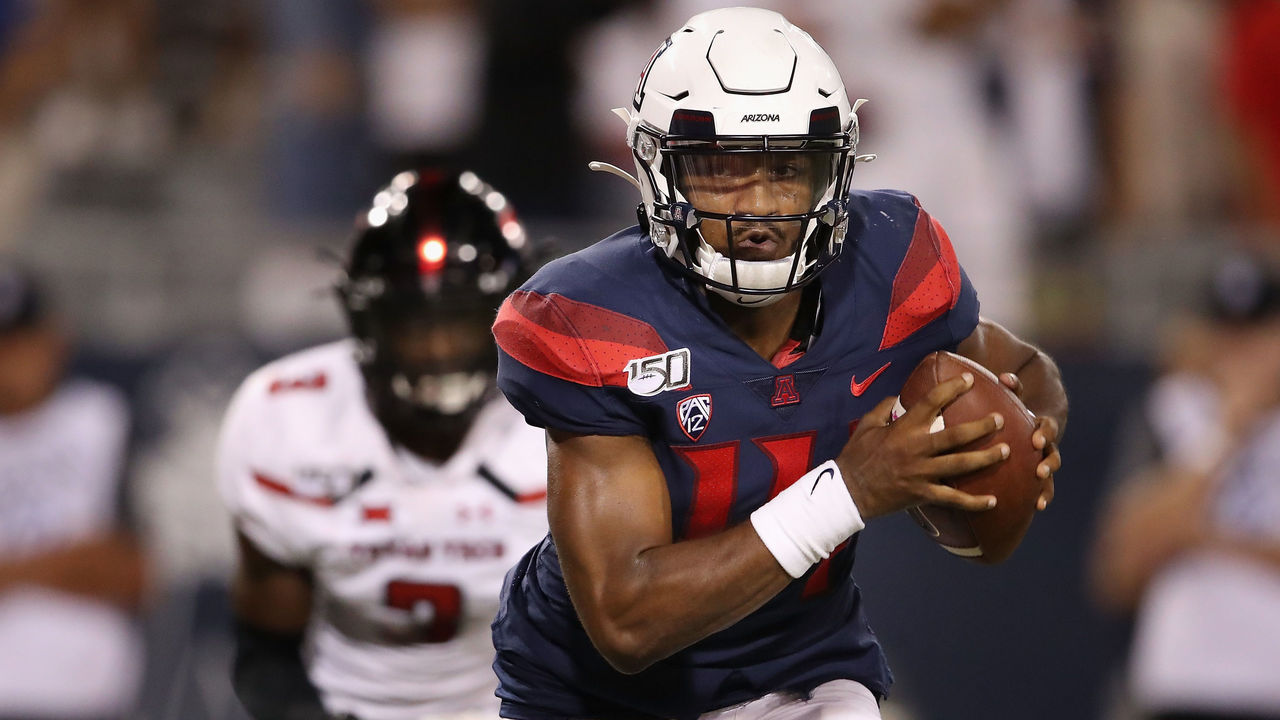 Khalil Tate is getting back to his 2017 ways.
In a late-night win over Texas Tech, the Arizona quarterback ran for 129 yards and threw for 185. With 238 yards rushing in three games, he has already eclipsed his total from his entire 2018 campaign.
There aren't many quarterbacks who can do this:
Mark Cooper is theScore's NCAA writer. You can find him on Twitter @mark_cooperjr.