The college football playoff rankings remain unchanged for a third consecutive week. So, in lieu of a rankings analysis, we're examining the biggest weakness of the top four teams.
Remember: we're nitpicking here. These are four of the most well-rounded teams in the country.
Alabama Crimson Tide
It's hard to find any fault with the 2018 version of Nick Saban's death star.
The only issue: giving up explosive plays. Alabama ranks 71st in the nation in defending explosive plays this season, and the Tide are 51st in conceding 20-plus yard plays.
There's a lot of noise in those numbers. Alabama has routinely played prolonged stretches with its backups, and opponents have no choice but to launch the ball downfield while trailing by wide margins.
But we're trying to find a flaw - even a teensy weensy one - so here we are.
Part of this weakness is schematic, too. Alabama still plays its brand of match-three coverage - a hybrid, matchup zone defense that converts to man coverage when receivers release vertically.
Saban calls it "cat" coverage, as in "my cat is better than yours." Sometimes, your cat isn't better.
Teams throw deep and outside the numbers to attack Alabama's boundary corners. It's a 1-on-1 matchup, and sometimes the receiver wins: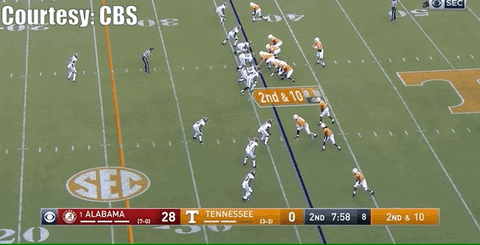 That's how Saban likes it because the coverage forces a low-percentage throw. It takes a great throw and great grab for a completion that's a tick over 20 yards: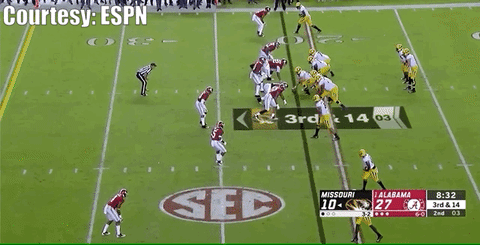 Consistently executing tough, deep throws isn't sustainable for an offense, and trying to win that way plays into Alabama's hands.
Those kinds of plays take a long time to develop. Most teams can't hold up in protection long enough against Alabama's front, and the team's secondary is one of the country's best. The Tide's defensive backs sit on outside throws, knowing any kind of miscue can lead to an interception.
Alabama has no glaring weakness. The only thing that can hold the defending champs back is a recurrence of Tua Tagovailoa's knee injury, and he has a month to get fully healthy for the playoff.
He should be fine (gulp).
Clemson Tigers
We are really nitpicking when it comes to Clemson. The team's offense is explosive and efficient. Its defense ranks second in S&P+, and the group is first in rush defense, and third in passing defense.
Clemson's defense lives in opposing backfields. It creates a ton of negative plays, ranking an unthinkable third in stuff rate and fifth in sack rate.
The only area where Clemson's defense ranks outside of the top 25 is in conceding 20-plus yard plays. The Tigers are 26th, which is still a really, really good position, particularly for a team that frequently jumps out to giant leads.
There just isn't a flaw here, folks! You can quibble about the speed at wide receiver. Early on, the secondary looked poor, too, especially when Texas A&M effortlessly drove up and down the field. Since then, however, Clemson's defensive backs have been as good as any group in the country.
Michigan Wolverines
Michigan has the best defense in the nation. The offense, however, is a different story.
Jim Harbaugh has crafted an interesting system, blending old-school run concepts with some new-age option designs. Gap-scheme runs are the foundation of any Harbaugh program, with linemen pulling and moving to create angles while attacking specific gaps.
This year isn't any different with Michigan's much improved offensive line. But the same scheme design that gives Michigan its identity is also a potential flaw against the best of the best. That issue might rear its ugly head against Ohio State this weekend.
Gap-scheme runs have intricate designs. They require everyone to work in unison to hit the right angle and not just the right guy. There are a lot of moving parts and a lot of things that can go wrong.
A well-executed gap run is a thing of beauty: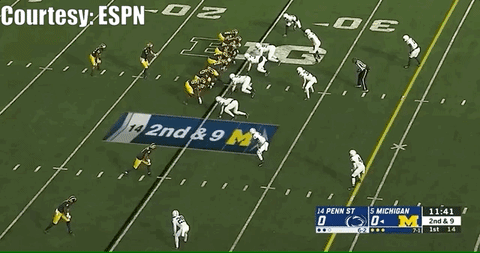 Too often this year, though, Michigan's offense has stalled on early downs, with the Wolverines ranking 66th in rushing efficiency. When a run pops, it really pops. But Harbaugh and company have been forced to face third-and-forever too often because of the pitfalls of the team's offensive design.
Michigan ranks 118th in the country in the percentage of its first downs that come on first or second down. The Wolverines are regularly forced to rely on third-down magic from quarterback Shea Patterson to move the chains.
Runs with pulling linemen are difficult against quick defensive fronts. Down defensive linemen can beat the opposing offensive linemen to their set points. Athletic linebackers can arrive at the point of attack before the pulling lineman has the chance to wrap around and get in position.
That's been an issue for Michigan all season: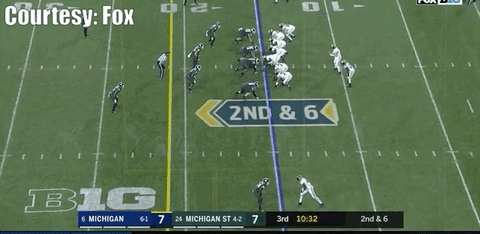 Runs with two-plus pullers, when the offense is trying to out-leverage the defense, are inherently boom or bust.
If the second-level defenders diagnose the play quickly enough, or a defensive lineman whips the point man (the O-lineman who is sealing the angle while the lineman beside him pulls), they can shoot the gap and the play has little to no chance.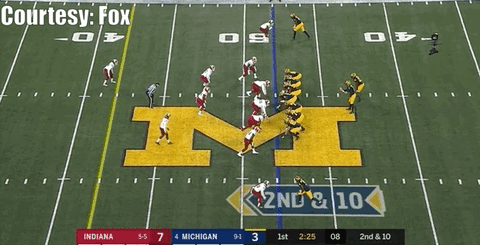 Michigan's formidable offensive line has dominated periods of games this season. When you add in the option elements that utilize Patterson's legs, you get one of the most sophisticated, unpredictable run games in college football.
Harbaugh and his staff will have to re-evaluate aspects of the team's rushing attack heading into Saturday's game and (they hope) the playoff. The defensive fronts at Alabama and Clemson are too damn fast off the ball to set up elongated run designs.
Michigan has had success with slimmed down insert-zone and zone-read designs. The Wolverines will have to do more of that moving forward.
Notre Dame Fighting Irish
Notre Dame's defense is great. The Irish rank third in defensive S&P+, behind only Clemson and Michigan.
Defensive coordinator Clark Lea has fashioned a system that's eerily similar to Don Brown's defense at Michigan. There's lots of movement, creative blitzes, all manner of fronts, and quirky pre- to post-snap rotations.
The team also has a lot of speed and a dynamite secondary. The unit sinks into a four-deep look, keeping the play in front while jumping underneath routes and limiting explosive plays. The Fighting Irish's defensive line is also undersized and agile, and a menace against power-run schemes.
But Lea's group has a very specific flaw: the linebacking corps. I guarantee Saban and his band of merry analysts have already spent hours drawing up wicked ways to attack Notre Dame's second level.
The biggest issue is Te'von Coney, the group's leader. Coney is a stud who leads the team in tackles (78!), and has nine tackles for a loss, 3.5 sacks, and 12.5 run stuffs this season.
He has a weakness, however, and the kind that can help tilt a close playoff semifinal: he's tight hipped.
Check out his pre-snap stance, and how he regularly bows his leg: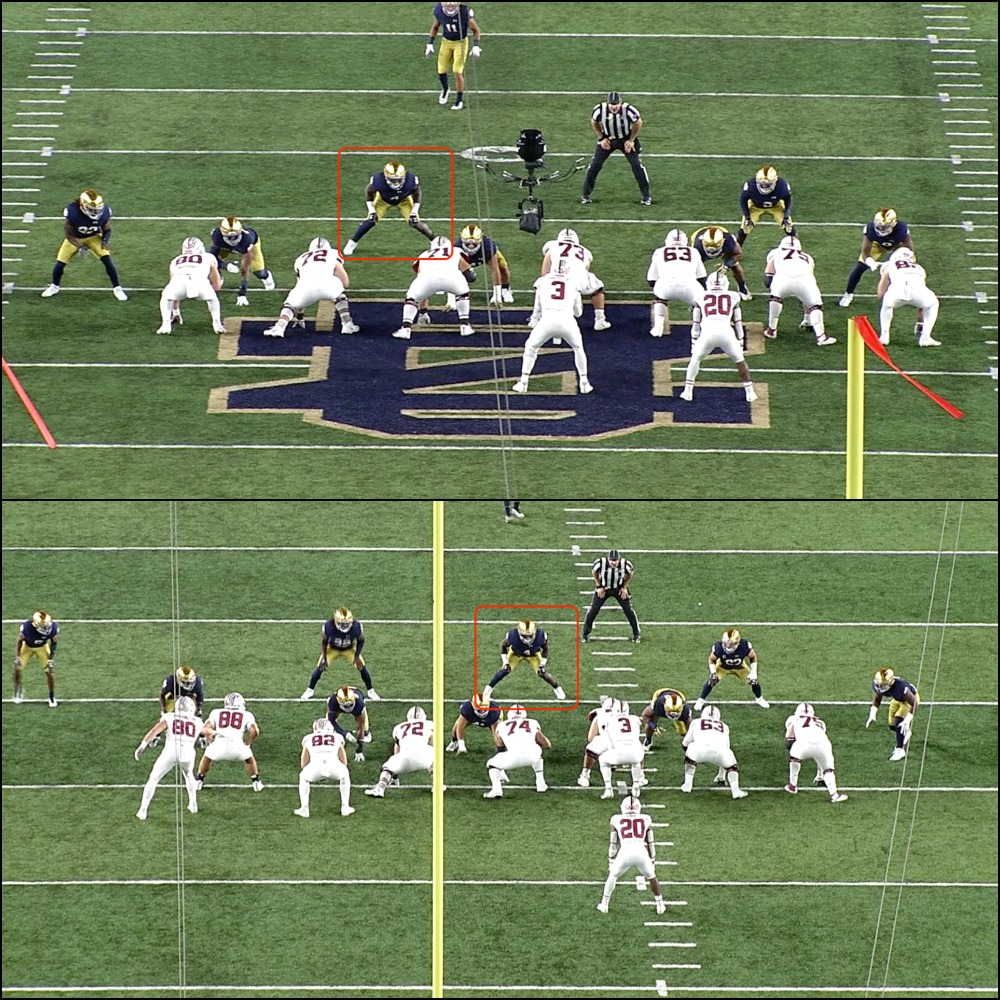 Coney is a diagnose-and-attack threat. He thunders downhill with the kind of ferocity that makes you perk up a little in your seat. His speed is visceral, and violent even.
But it's a controlled aggression, and he shows excellent patience when tracking runners: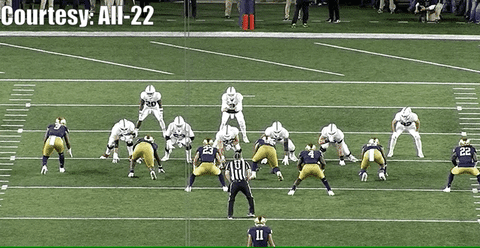 He plays fast when in attack mode.
Ask Coney to move laterally, though, and he gets in trouble. He isn't fluid enough in the hips to redirect and catch up with top-level athletes. This was evident in last year's matchup with Wake Forest: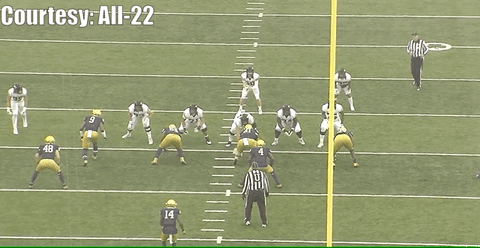 Watch how stilted he looked above. Once Coney planted his outside foot and fired, he shifted into high gear. But it took him ages to get there. Transitioning his weight and shifting toward the ball carrier should have been one seamless movement. It took Coney three.
Opposing offenses have already begun to take advantage. The Demon Deacons did a nice job of clearing Coney out of the box through formations and alignments. Coney is ineffective if he isn't seeing and attacking the ball from the Mike linebacker spot. With him pushed toward the sideline, Notre Dame missed his size and instincts inside: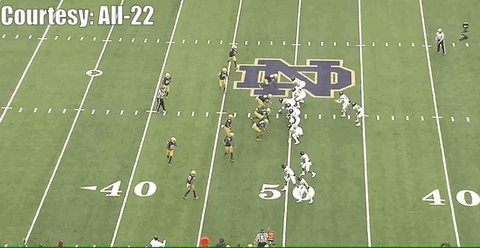 Smart coaches will get Coney shifting his weight one way and then the other inside the box. The flow of the play will start in one direction before the team hits another spot along the front.
Let's use one of Notre Dame's own brilliant plays as an example: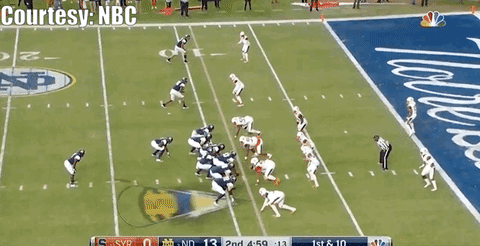 That's a fake-toss fullback dive. The toss action dragged the linebackers one way before the backside guard wrapped around in the opposite direction to lead the way for his fullback.
That design forces a linebacker to sit on his heels. He can't trust his instincts and fire toward the first thing he sees. He has to think, and linebackers don't want to think. They want to hit.
Fly sweeps, reverses, and every misdirection play you can think of should and will be scattered in game plans to target Coney's lack of agility.
Lea has recognized the issue. He's regularly sliding Troy Pride Jr., who's listed as a cornerback, over to a dime linebacker spot, either to help Coney out or to take the team's top linebacker off the field.
Pride gives the defense more mobility at the second level. He's a former track star with legitimate world-class speed.
He's bulked up now, yet his fluidity and athleticism still pop on tape: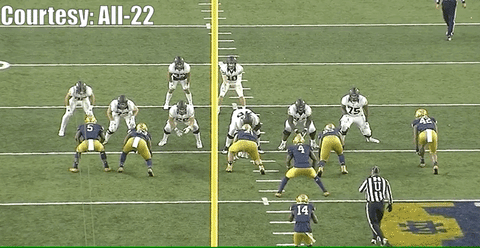 But so does his inexperience. While the previous clip from 2017 against Wake Forest was positive, the opposition took advantage of him in that contest also. He's playing a new position, and Pride often loses the ball or gets caught hitting the wrong gap: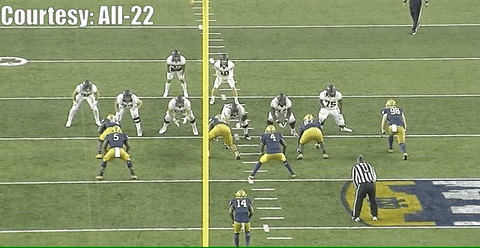 Notre Dame doesn't have a great full-time solution, and that's not something a team can scheme around.
The Fighting Irish have the athletes to hang with the rest of the CFP contenders. But such an obvious flaw at a pivotal position could sink their season.