There's still plenty of time left in the season. Remember, at this time in 2014, our first year with the selection committee, Mississippi State was still No. 1.
But while pre-Rivalry Week playoff polls are largely pointless, they do give us a decent indication of what the selection committee is thinking in relation to the rest of the country.
Here are the top takeaways from Tuesday's second round of rankings (record and previous week's rank in parentheses):
Top Four
1. Alabama (9-0, LW: 1)
Duh! Alabama's dominant win over LSU on the road all but assures the Tide will make the playoff. Even a loss to Georgia in the SEC Championship game - which is almost unthinkable at this point - wouldn't keep Nick Saban's side out of the final four.
It's time to start recognizing Alabama's defense as every bit the menace its offense is. The Tide's D has slow-walked much of the season. Saban has tried stuff. They've been up so big early, that rotations haven't painted the prettiest picture, at least in relation to the juggernaut of an offense.
Well, Alabama is now up to 11th in defensive S&P+ and rising. Gulp.
Defending explosive plays had been the team's major issue. That's evaporated in recent weeks. Defensive lineman Quinnen Williams has become the most dominant interior defender in the nation. Whether you would start your dream front with Williams or Ed Oliver is now a real question.
2. Clemson (9-0, LW: 2)
Alabama has made this season feel like a foregone conclusion. But I don't think the gulf to Clemson is quite that big.
Everyone else? Sure. In fact, why not just let the two play a best-of-seven series the rest of the way and let everyone fight it out for the Makers Wanted Bahamas Bowl (that's an actual, real-life thing).
Clemson is coming. True freshman quarterback Trevor Lawrence now has his feet under the desk. The early issues that come with any QB switch have been ironed out. Syracuse kept it too close for comfort. Texas A&M still lingers in the back of the mind.
Since the 'Cuse, though, Clemson has pulverized everyone in its way. The cumulative win margin in its last four games: 240-36. Yeesh!
Dabo Sweeney and company will gallop into the playoff 13-0, securing another ACC title. The Tigers are seventh in offensive S&P+, despite a quarterback change, and second in defensive S&P+. Alabama may be on another level, but Clemson has the weapons to keep a game close.
3. Notre Dame (9-0, LW: 4)
Notre Dame moved up a spot thanks to LSU's home loss. From here on out, the Irish should run the table.
Syracuse is the only major barrier remaining. Notre Dame should cruise by Florida State and USC (those are two amazing sentences back-to-back in a non-basketball column).
The Irish's defense will give them a chance against anyone in the non-Alabama division of the playoff. Clark Lea's group is tough to decipher and has legitimate, NFL speed at all levels.
4. Michigan (8-1, LW: 5)
Michigan tops the one-loss teams, as it should.
The Wolverines' Death Star is now fully operational. Don Brown has built the best defense anywhere in college football. The team's offensive line is a fearsome group. Shea Patterson provides just enough third-down magic to make the entire offense damn near unstoppable.
Win and you're in - that's the committee message to Jim Harbaugh. It will come down to Ohio State on the road, a win that could vault them above Notre Dame into the third spot.
But what if the Buckeyes win? Would that scrub away the dreadful beatdown at Purdue's hands? Would Oklahoma climb above both Big Ten teams? The Sooners' current No. 6 ranking would suggest not.
Surprises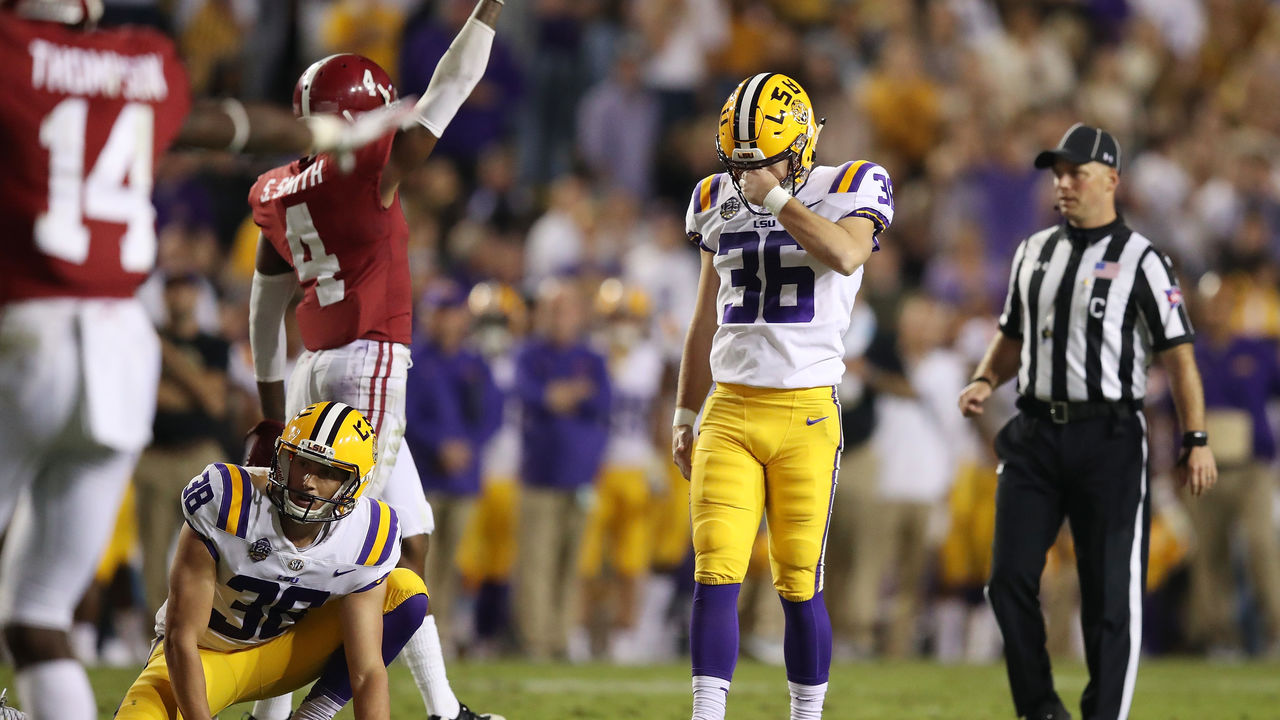 LSU dropping to No. 7 despite a 29-0 smothering at home tells us the committee views Alabama in a different stratosphere than everyone else. Remember: heading into last week the committee thought LSU was the third-best team in the nation.
How about Dino Babers and the Orange? Syracuse vaulted up to 13th in the latest poll, one place behind unbeaten UCF. Babers has done an excellent job in a short amount of time. He has made his team competitive against the ACC's big boys, particularly Clemson, and started to consistently win the toss-up games.
Dark Horse
Fresno State is stuck at No. 23, despite climbing to 8-1. Jeff Tedford's team can make a real argument to be the top mid-major program in the country. Don't lose your minds UCF fans.
Fresno State has swept the table against non-Power 5 foes. The only loss of its season came on the road to Minnesota. With Boise State, San Diego State, and San Jose State on the docket, 11-1 is looking likely.
The Bulldogs are eighth in defensive S&P+. That's eighth in the nation! They're restricting opponents to 4.4 yards per play, tied with Alabama for seventh. It's not just defense, either. Fresno State is 22nd in offensive S&P+, a highly respectable figure for a Group of 5 team.
Fresno State will be ready to pounce if UCF slips down the stretch.