Another week of college football means another handful of situational betting spots.
So, before crunching the numbers for Week 7, be sure to keep these scenarios in your back pocket.
Potential letdowns
Texas A&M (at South Carolina)
Line: Texas A&M -2.5
After coming up short against Clemson and proving to be no match for Alabama, Jimbo Fisher finally picked up his first win over a ranked team since joining Texas A&M. And by beating then-No. 13 Kentucky in overtime, the Aggies also slipped into the top 25.
With that W in the rear-view mirror, it's fair to call Week 7 a letdown spot. Texas A&M will begin a three-game gauntlet on Saturday with a visit to South Carolina before heading to No. 24 Mississippi State and then to No. 21 Auburn.
The Gamecocks are markedly improved this season and will pose an even bigger test should starting quarterback Jake Bentley be healthy enough to play.
Saturday could be another step in the right direction for Texas A&M, or it could be the start of a spiral before two more tough road games.
Northwestern (vs. Nebraska)
Line: Northwestern -5.5
Credit Northwestern for getting back on the horse after I questioned whether the team had anything left in the tank following a third straight home loss. Northwestern answered the bell with a huge road win over Michigan State as a 10-point favorite.
Nebraska will now come into Evanston looking for its first win, although the Cornhuskers haven't been as bad as their record indicates. They lost a close one to Colorado, didn't have their starting quarterback healthy versus Troy, and moved the ball with ease on the road against Wisconsin.
All I'm saying is be careful investing in Northwestern as a home favorite. That hasn't worked out well this season.
Texas (vs. Baylor)
Line: Texas -14.5
Texas might not be all the way back, but it's getting there. A win over Oklahoma as a 7.5-point underdog capped off what's been one the strangest turnarounds of the season to date. After dropping their opener to Maryland and eking out a win over Tulsa, the Longhorns have rolled. They've ripped off five straight since losing to the Terps - a streak that includes victories over USC, TCU, and the aforementioned Sooners.
The letdown spot is typically an angle that features teams facing an inferior opponent on the road after a big win or a team coming off a heartbreaking loss. Another intriguing angle is getting an inflated number for a team after a huge victory, which we have with Texas.
I've already conducted the Baylor bandwagon a couple of times this season. Despite its hot streak, Texas shouldn't be laying more than two touchdowns.
Miami (FL) (at Virginia)
Line: Miami -6
Virginia isn't a very good football team, but it'd be a travesty to not include Miami somewhere in here. The Hurricanes overcame a 20-point deficit to beat archrival Florida State, and will now go on the road to play Virginia with Boston College on deck. Proceed with caution.
Illinois (vs. Purdue)
Line: Purdue -10.5
I know it seems far-fetched to throw the Fighting Illini into a letdown spot considering, you know, it's Illinois, but let's dive in a little bit. Last week's victory over Rutgers was the team's first win in Big Ten play since ... 2016. And Rutgers should probably be exiled from the conference after being ripped apart by Lovie Smith's ground game.
Illinois now gets set to host a rejuvenated Purdue, which picked up wins over Boston College and Nebraska after losing three games by one possession. The Boilermakers are also coming off a bye week.
The 10.5 points might seem like a lot to lay for a 2-3 Purdue team on the road, but Illinois still isn't a very competitive side.
Sandwich/Lookahead spots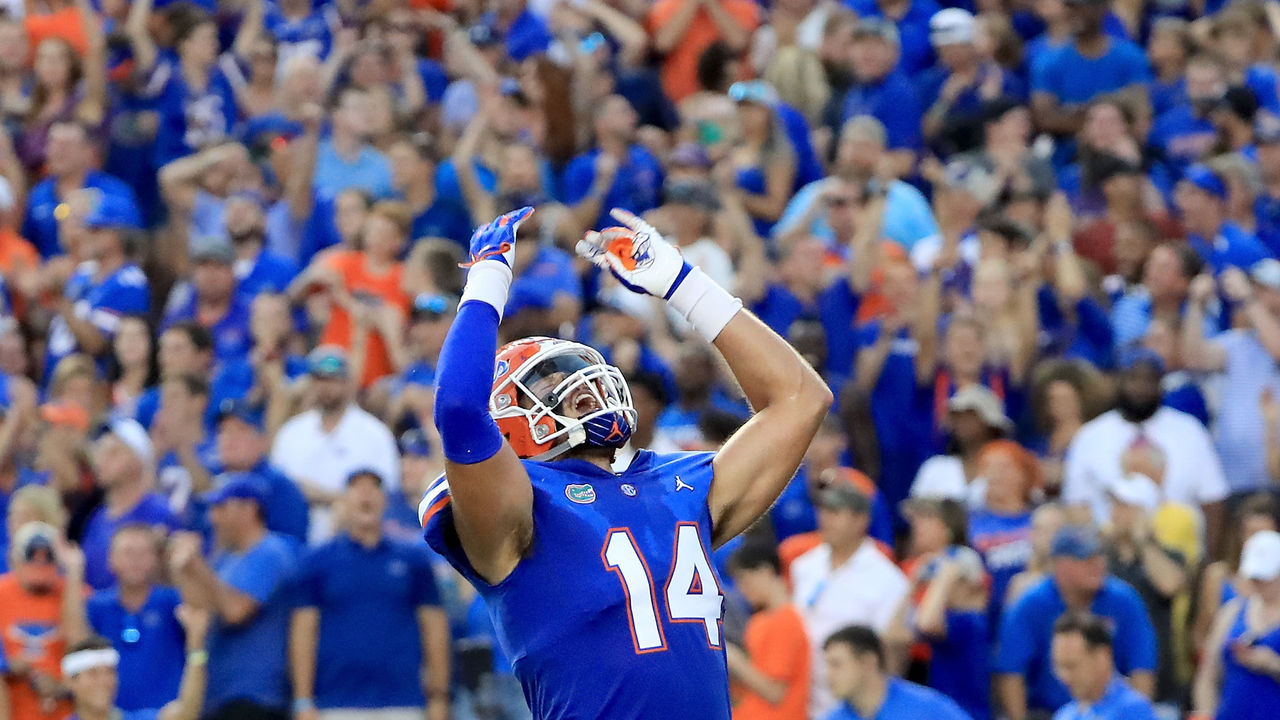 Florida (at Vanderbilt)
Line: Florida -7
Week 7 will be a sandwich spot and a lookahead game for Dan Mullen and the No. 14 Florida Gators.
The Gators are coming off two marquee wins, on the road against Mississippi State and over LSU at the Swamp. Now, they'll face Vanderbilt with an early kickoff before heading out to play the biggest game of their season against No. 2 Georgia.
Can the Gators bring the same intensity as they have in recent weeks for a noon kickoff against a 3-3 Vanderbilt team? The line looks a tad short ...
Travel
Army (at San Jose State)
Line: Army -14.5
I'm old enough to remember the last time Army played a home game - Week 3! The Black Knights are the sixth team this season to play three straight contests on the road, although they're coming off a Week 6 bye.
In the previous five situations, the three teams that lost against the spread - UMass, South Alabama, and Rice - saw the total go over, while the two teams that covered - Northern Illinois and Eastern Michigan - had the total go under. Does it mean anything? Absolutely not, at least over a five-game sample. However, one would figure that if Army's the play, so is the under based on the team's style of play.
UL Monroe (at Coastal Carolina)
Line: Coastal Carolina -4.5
UL Monroe will finish up its own three-game road trip at Coastal Carolina on Saturday. Meanwhile, the Chanticleers will come into the game after a bye week and will be playing their only home game between Weeks 2 and 10.
Alex Kolodziej is theScore's betting writer. He's a graduate of Eastern Illinois who has been involved in the sports betting industry for 11 years. He can quote every line from "Rounders" and appreciates franchises that regularly wear alternate jerseys. Find him on Twitter @AlexKoIodziej.