Brett McMurphy's bowl projections: Notre Dame in national title picture
Dylan Buell / Getty Images Sport / Getty
Brett McMurphy has been a college football reporter for nearly 30 years. He is a longtime voter in The Associated Press poll as well as a Heisman Trophy voter. Find him on Twitter @brett_mcmurphy.
It's going to get ugly. That's not a threat, that's a promise.
Because there could be as many as seven bowls that Power 5 conference tie-ins will be unable to fill due to poor records, there are going to be some unorthodox pairings this postseason. I'm projecting at least two bowls won't have a team available from their designated conferences.
However, the Power 5 conferences' lack of bowl teams will benefit the smaller Group of 5 conferences, specifically Conference USA and the Mountain West. C-USA could send 10 teams to bowls and the MWC eight teams.
(Teams that have accepted bowl invitations are listed in bold type.)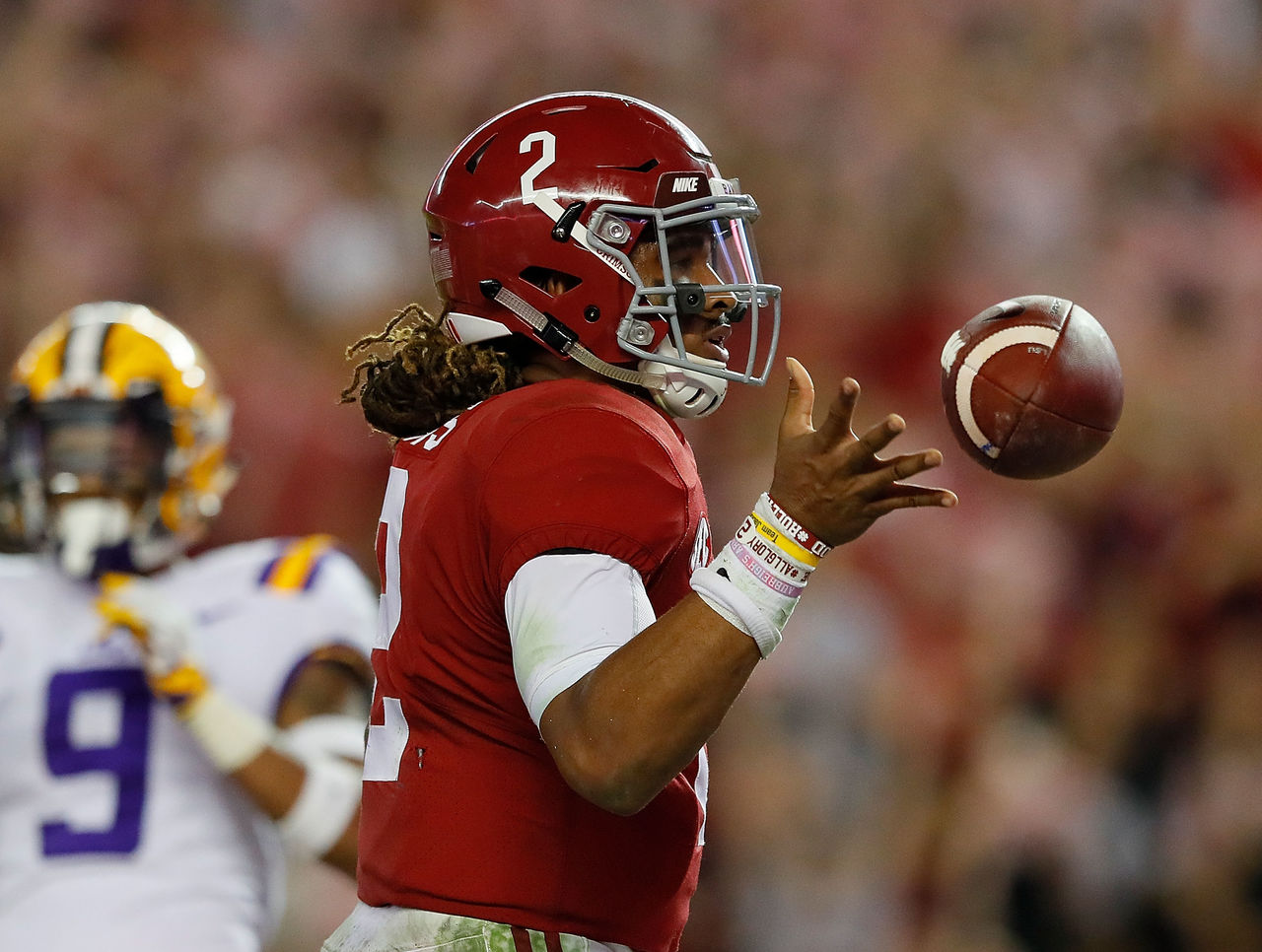 College Football Playoff
| BOWL (CITY) | DATE | MATCHUP |
| --- | --- | --- |
| Championship Bowl (Atlanta) | Jan. 8 | CFP semifinal winners |
Projection: Alabama vs. Notre Dame
Yes, Alabama remains one of my picks to reach the national title game (even though I think the selection committee keeps Alabama at No. 2 again this week). Notre Dame has been dominating of late, but faces a tough stretch at Miami and Stanford over the next three weeks. How will the committee treat Notre Dame since it doesn't play in a conference is a big unknown, but I can't see an 11-1 Notre Dame being left out of the playoff.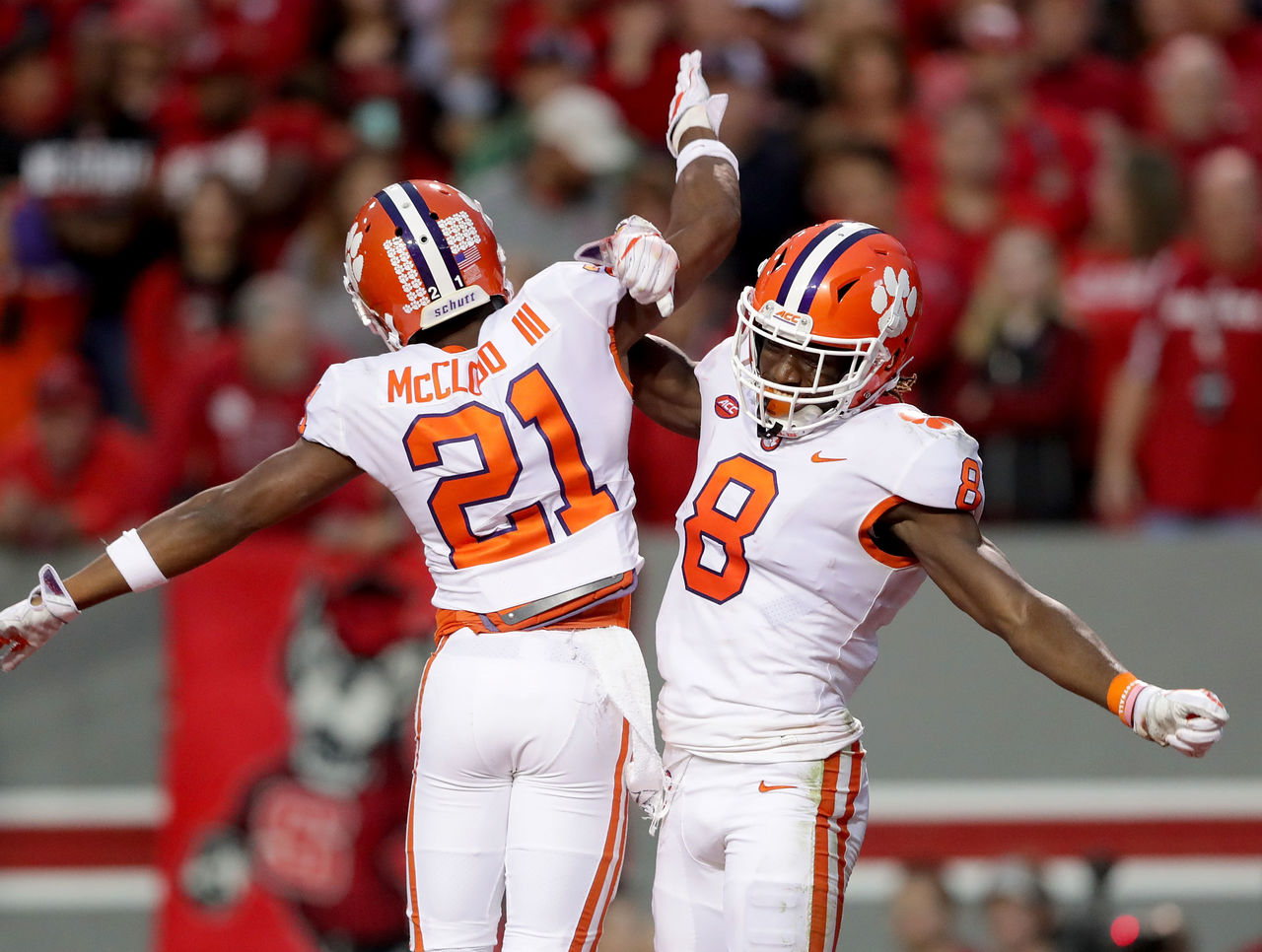 Semifinals
| BOWL (CITY) | DATE | MATCHUP |
| --- | --- | --- |
| Rose Bowl (Pasadena) | Jan. 1 | CFP semifinal |
Projection: Clemson (CFP No. 2) vs. Notre Dame (CFP No. 3)
I'm projecting Clemson gets the No. 2 seed over Notre Dame by virtue of its ACC championship. Whether the Tigers are seeded No. 2 or No. 3, I'm projecting a Clemson-Notre Dame Rose Bowl semifinal.
| BOWL (CITY) | DATE | MATCHUP |
| --- | --- | --- |
| Sugar Bowl (New Orleans) | Jan. 1 | CFP semifinal |
Projection: Alabama (CFP No. 1) vs. Oklahoma (CFP No. 4)
Alabama remains my projected No. 1 team. The Crimson Tide's semifinal opponent will be 12-1 Big 12 champion Oklahoma as the No. 4 seed. I believe the selection committee gives the Sooners the final spot over one-loss, SEC runner-up Georgia.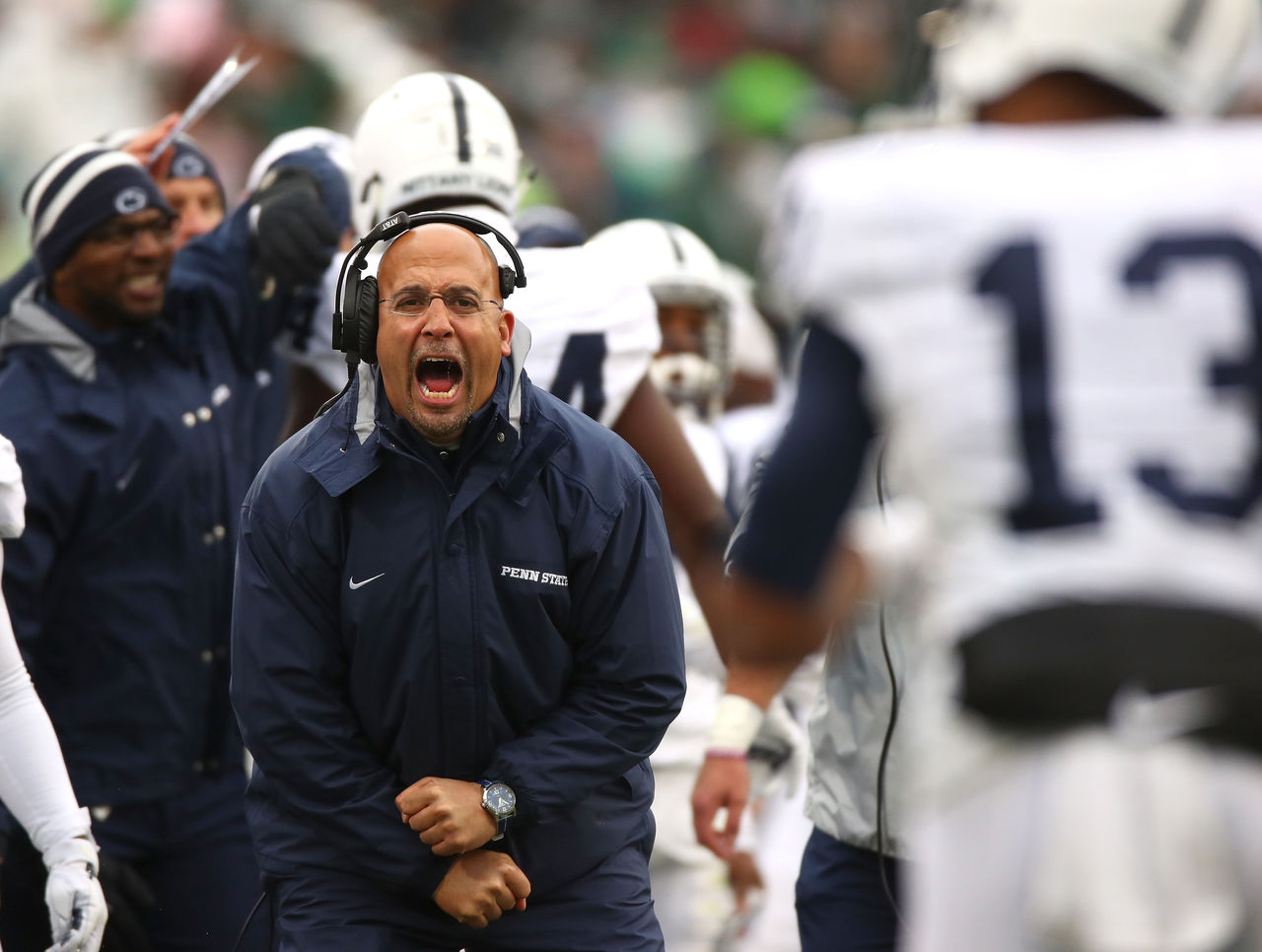 New Year's Six bowls
| BOWL (CITY) | DATE | MATCHUP |
| --- | --- | --- |
| Peach Bowl (Atlanta) | Jan. 1 | at-large vs. Group of 5* |
Projection: Penn State vs. UCF
Kudos to Penn State head coach James Franklin for his postgame actions after the Nittany Lions lost at Michigan State on Saturday. Franklin ran after some of his players who were leaving the field to make sure they shook hands and congratulated the Spartans on the victory.
| BOWL (CITY) | DATE | MATCHUP |
| --- | --- | --- |
| Fiesta Bowl (Glendale) | Dec. 30 | at-large vs. at-large |
Projection: Washington vs. Ohio State
Before the season, I predicted Washington would win the Pac-12 and make the College Football Playoff. The Huskies are looking good as far as the Pac-12 title is concerned, but they are going to need a lot of help to return to the playoff. Despite its blowout loss at Iowa, Ohio State can still win the Big Ten title, but its scenarios to reach the playoff have more holes in it than the Buckeyes' defense against Iowa.
| BOWL (CITY) | DATE | MATCHUP |
| --- | --- | --- |
| Orange Bowl (Miami Gardens) | Dec. 30 | ACC vs. Big Ten/SEC/ND |
Projection: Miami vs. Georgia
Before last week's game with Virginia Tech, Miami had been called "fraudulent" by the media. Miami football's official Twitter account corrected that by rearranging "fraudulent" to spell "undefeated." The Hurricanes put their unbeaten record on the line Saturday at home against Notre Dame.
| BOWL (CITY) | DATE | MATCHUP |
| --- | --- | --- |
| Cotton Bowl (Arlington) | Dec. 29 | at-large vs. at-large |
Projection: TCU vs. Wisconsin
Wisconsin remains the Big Ten's only unbeaten team - and only hope to make the College Football Playoff. I'm projecting the Badgers won't finish the year undefeated, so Wisconsin settles for a New Year's Six bowl. TCU visits Oklahoma on Saturday in a College Football Playoff elimination game, which will also likely be a preview of the Big 12 title game.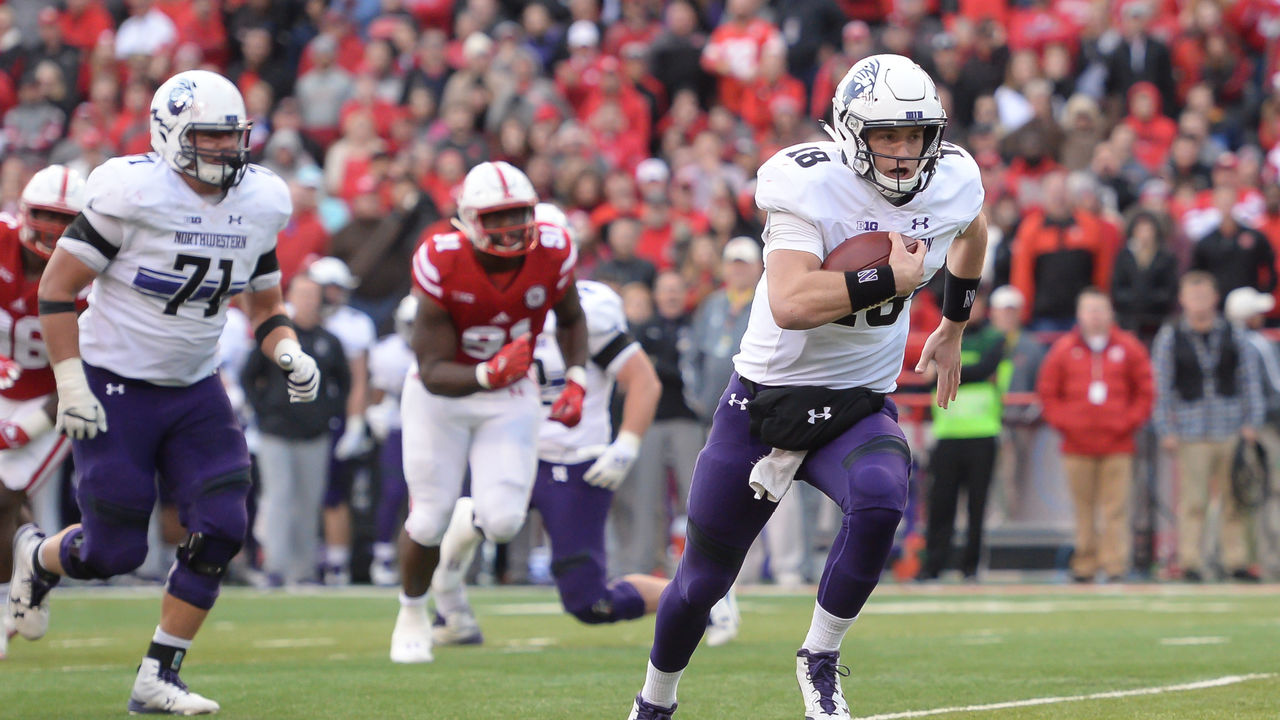 Other bowls
| BOWL (CITY) | DATE | MATCHUP |
| --- | --- | --- |
| Citrus Bowl (Orlando) | Jan. 1 | ACC/Big Ten vs. SEC |
Projection: Northwestern vs. Mississippi State
In games decided in regulation, Northwestern is only 3-3. The Wildcats, however, are the first team in FBS history to win three consecutive overtime games. A big reason is the play of running back Justin Jackson. Mississippi State would love to get to overtime Saturday. The Bulldogs host Alabama, looking for their first win versus the Crimson Tide since 2007, Nick Saban's first year with 'Bama.
| BOWL (CITY) | DATE | MATCHUP |
| --- | --- | --- |
| Outback Bowl (Tampa) | Jan. 1 | Big Ten vs. SEC |
Projection: Michigan State vs. LSU
Michigan State's upset of Penn State shouldn't have come as a big surprise. It was the seventh time in the Spartans' last 14 games as at least a touchdown underdog under Mark Dantonio that Michigan State pulled off the upset. It also was the Spartans' 17th victory when trailing in the fourth quarter since 2007, the most in the FBS.
| BOWL (CITY) | DATE | MATCHUP |
| --- | --- | --- |
| Liberty Bowl (Memphis) | Dec. 30 | Big 12 vs. SEC |
Projection: Texas vs. Texas A&M
I'm still holding out hope for this projected matchup between the longtime rivals. Sources tell me that it's unlikely Texas and Texas A&M would sign off on meeting in a bowl game, especially Texas A&M, if the Aggies make a coaching change.
| BOWL (CITY) | DATE | MATCHUP |
| --- | --- | --- |
| TaxSlayer Bowl (Jacksonville) | Dec. 30 | ACC/Big Ten vs. SEC |
Projection: Utah** vs. Auburn
Auburn athletic director Jay Jacobs announced he was stepping down by next June. How will that impact head coach Gus Malzahn's future? That's to be determined, but Malzahn's 1-7 record vs. Top-10 ranked teams since 2014 doesn't help. Malzahn will have an opportunity to improve on that in the final three weeks against Georgia and Alabama and cause some major chaos in the College Football Playoff rankings.
| BOWL (CITY) | DATE | MATCHUP |
| --- | --- | --- |
| Arizona Bowl (Tucson) | Dec. 29 | MWC vs. Sun Belt |
Projection: San Diego State vs. New Mexico State
Since San Diego State ended its two-game losing streak, running back Rashaad Penny has literally run over the Aztecs' past two opponents. In wins against Hawaii and San Jose State, Penny has rushed for 487 yards on only 50 carries.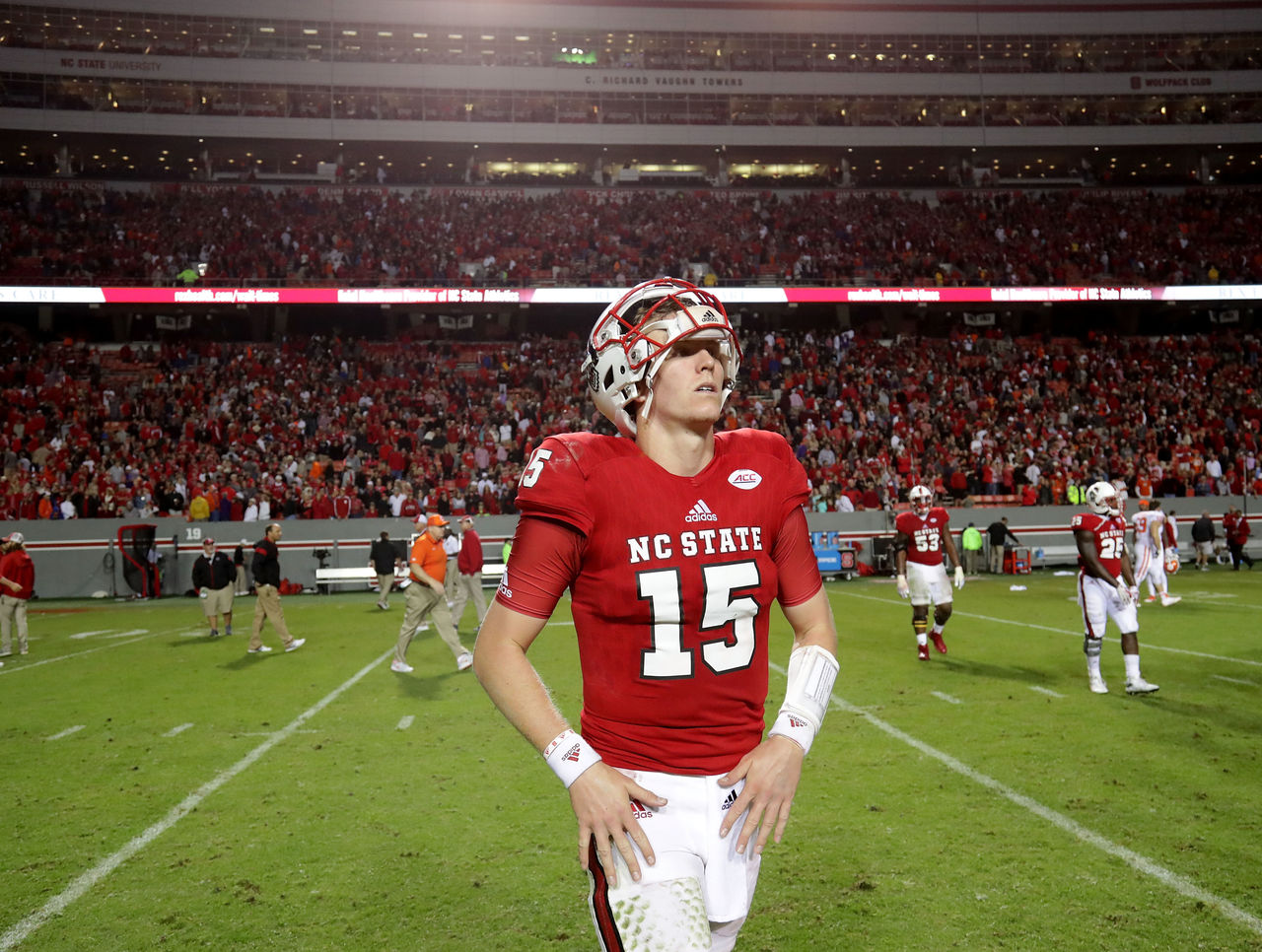 | BOWL (CITY) | DATE | MATCHUP |
| --- | --- | --- |
| Belk Bowl (Charlotte) | Dec. 29 | ACC vs. SEC |
Projection: NC State vs. Kentucky
Following last week's loss to Clemson, NC State fans threw objects and spit on the officials as they were leaving the field. In this projected bowl matchup, maybe NC State football fans and Kentucky basketball fans can trade notes on how to berate officials after controversial losses.
| BOWL (CITY) | DATE | MATCHUP |
| --- | --- | --- |
| Music City Bowl (Nashville) | Dec. 29 | ACC/Big Ten vs. SEC |
Projection: Virginia vs. South Carolina
Virginia became bowl eligible for the first time since 2011 with last week's upset of Georgia Tech. Bronco Mendenhall, in only his second year with the Cavs, has guided Virginia to a 6-3 record after the school had posted a 7-23 mark in its previous 30 games.
| BOWL (CITY) | DATE | MATCHUP |
| --- | --- | --- |
| Sun Bowl (El Paso) | Dec. 29 | ACC vs. Pac-12 |
Projection: Louisville vs. Stanford
Example 1A on why we'll never see a repeat Heisman winner: Lamar Jackson. The Louisville quarterback is averaging 426 yards per game in total offense, only 11 yards fewer per game than last season. Yet, Jackson has no chance at repeating because the voters' expectations are so unrealistic on a returning Heisman winner.
Based on odds from the Las Vegas Westgate Superbook, Jackson won't even make the Heisman ceremonies in New York and is tied for only for the fifth-best odds to win at 30-1.
| BOWL (CITY) | DATE | MATCHUP |
| --- | --- | --- |
| Alamo Bowl (San Antonio) | Dec. 28 | Big 12 vs. Pac-12 |
Projection: Oklahoma State vs. USC
Two days after Oklahoma State's loss to Oklahoma, Cowboys mega-booster T. Boone Pickens tweeted a letter of encouragement he sent to head coach Mike Gundy. This is a complete 180-degree turn for Pickens, who had openly questioned Gundy's commitment in the past. Maybe this is a sign that the Pickens-Gundy Cold War has finally thawed.
| BOWL (CITY) | DATE | MATCHUP |
| --- | --- | --- |
| Camping World Bowl (Orlando) | Dec. 28 | ACC vs. Big 12 |
Projection: Virginia Tech vs. West Virginia
Yes, this is a rematch of the season opener between Virginia Tech and West Virginia. However, based on the bowl pecking order in the ACC and Big 12, the Camping World Bowl, after the College Football Playoff and New Year's 6 bowls are filled, gets the highest-ranked ACC team and second-highest ranked Big 12 team. For now, I'm projecting that to be Virginia Tech and West Virginia.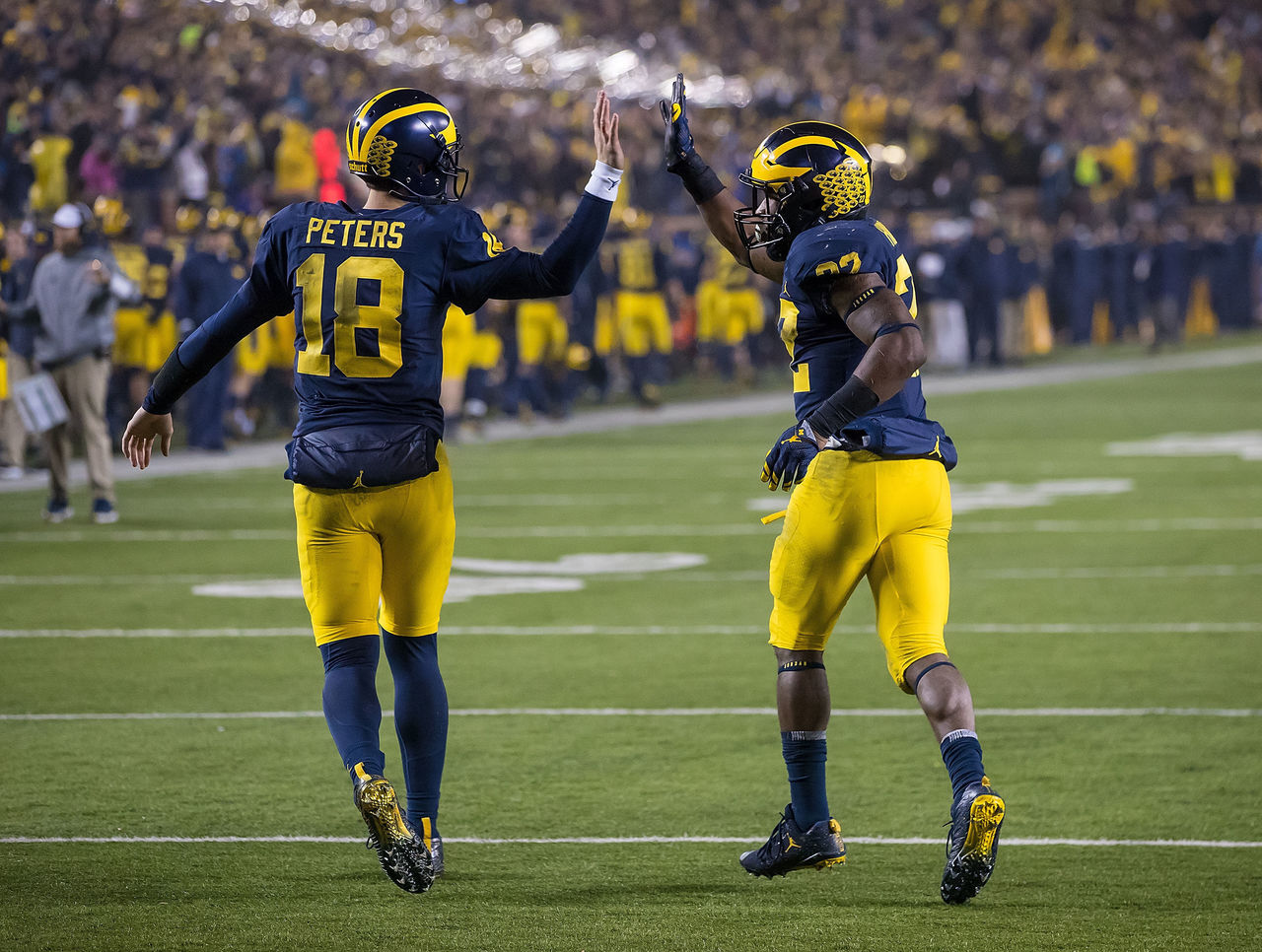 | BOWL (CITY) | DATE | MATCHUP |
| --- | --- | --- |
| Holiday Bowl (San Diego) | Dec. 28 | Big Ten vs. Pac-12 |
Projection: Michigan vs. Washington State
Washington State quarterback Luke Falk became the Pac-12's all-time leader in career passing yards Saturday with 13,806, breaking Oregon State's Sean Mannion's record of 13,600. More importantly, Falk rallied the Cougars past Stanford to stay alive in the Pac-12 North race. The Cougars, who are off this week, can win the Pac-12 North by finishing with road wins at Utah and Washington.
| BOWL (CITY) | DATE | MATCHUP |
| --- | --- | --- |
| Military Bowl (Annapolis) | Dec. 28 | ACC vs. American |
Projection: Syracuse vs. Temple
Hello, Temple. The Owls, under first-year head coach Geoff Collins, make my bowl projections for the first time this season. Temple is making a late run to get bowl eligible and I think the Owls can get there. Last week's upset of Navy improved Temple to 4-5 with games remaining at Cincinnati, versus UCF, and at Tulsa. Knocking UCF from the unbeaten ranks will be difficult, but the Owls should have a shot at winning their final two road contests to get to six wins.
| BOWL (CITY) | DATE | MATCHUP |
| --- | --- | --- |
| Foster Farms Bowl (Santa Clara) | Dec. 27 | Big Ten vs. Pac-12 |
Projection: Iowa vs. Arizona
Having derailed Ohio State's College Football Playoff hopes, Iowa can do the same at Wisconsin on Saturday. The Hawkeyes will be hard-pressed to match last week's dominating win against Ohio State, but in Iowa's favor is the fact the road team has won the past six meetings between the Hawkeyes and Badgers.
| BOWL (CITY) | DATE | MATCHUP |
| --- | --- | --- |
| Independence Bowl (Shreveport) | Dec. 27 | ACC vs. SEC |
Projection: Florida State vs. Southern Miss**
Even at 3-5 and visiting Clemson on Saturday, Florida State rejoins my bowl projections. Not so much because of its win over Syracuse, but because the Seminoles have rescheduled their game with Louisiana-Monroe that wasn't played earlier in the year because of Hurricane Irma.
FSU has been bowling in 35 consecutive seasons, the nation's longest current streak, and even with a loss at Clemson, FSU should reach six wins by closing against Delaware State, Florida, and UL-Monroe.
| BOWL (CITY) | DATE | MATCHUP |
| --- | --- | --- |
| Pinstripe Bowl (Bronx) | Dec. 27 | ACC vs. Big Ten |
Projection: Boston College vs. Air Force**
After an off week, Boston College looks to continue an impressive run of upsets against Louisville, Virginia, and Florida State. The Eagles will be an underdog for a fourth consecutive game at NC State. Boston College's success under head coach Steve Addazio is even more impressive considering the Eagles are the nation's only team whose leading rusher (AJ Dillon), passer (Anthony Brown), and receiver (Kobay White) are all freshmen.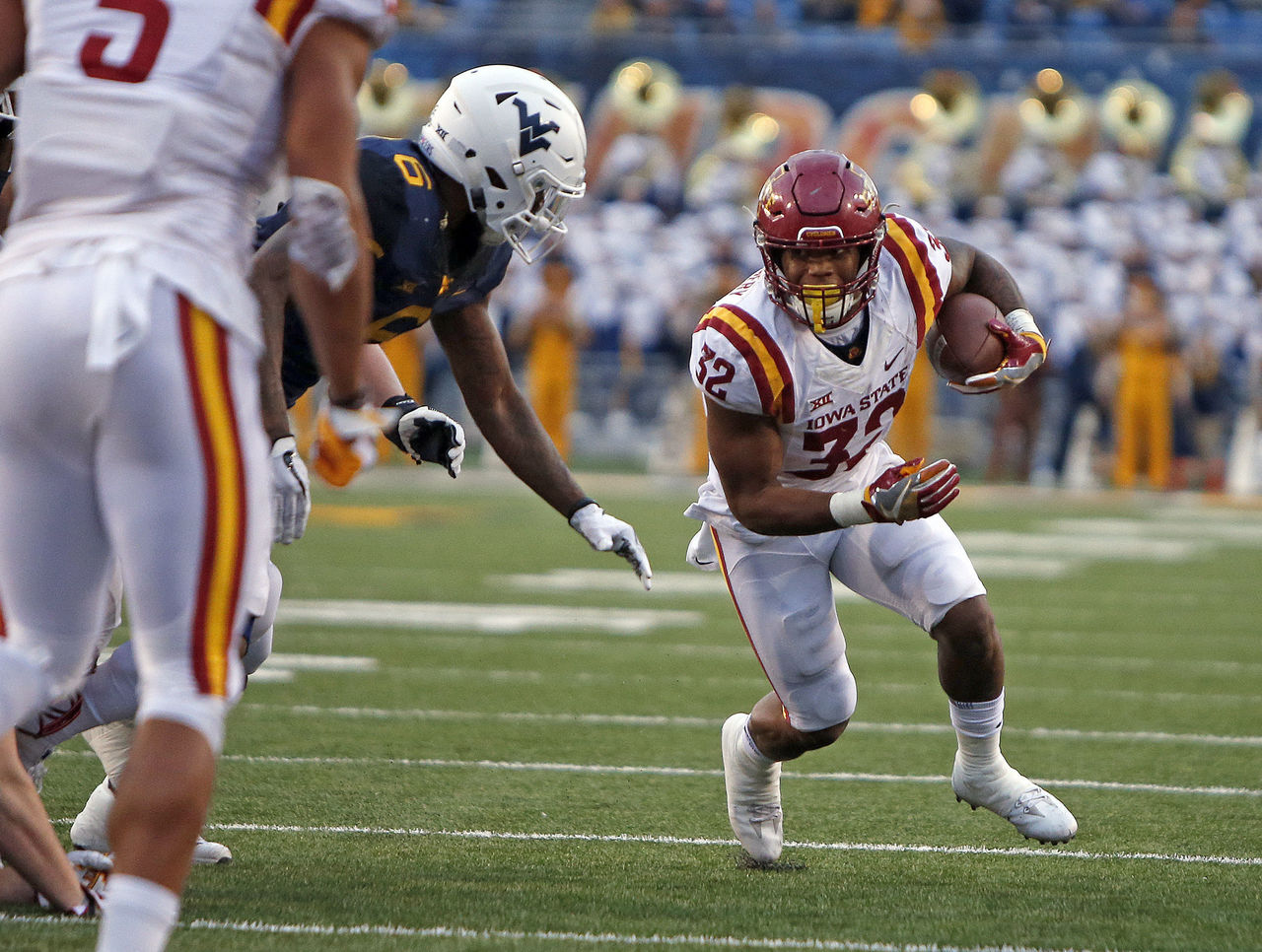 | BOWL (CITY) | DATE | MATCHUP |
| --- | --- | --- |
| Texas Bowl (Houston) | Dec. 27 | Big 12 vs. SEC |
Projection: Iowa State vs. Missouri
Iowa State's surprising run to the Big 12 title game was all but squashed with Saturday's loss at West Virginia. Having already defeated Oklahoma, the Cyclones host Oklahoma State this week. An Iowa State victory would mark the Cyclones' first sweep of the Sooner State duo since 1961.
| BOWL (CITY) | DATE | MATCHUP |
| --- | --- | --- |
| Cactus Bowl (Phoenix) | Dec. 26 | Big 12 vs. Pac-12 |
Projection: Kansas State vs. Arizona State
Kansas State's bowl hopes looked shaky last month, but the Wildcats halted a three-game losing streak with consecutive wins. Now they only need one win in their final three games to qualify for an eighth consecutive bowl. It won't be easy, though. The Wildcats host West Virginia on Saturday followed by a road game at Oklahoma State and their home finale against Iowa State.
| BOWL (CITY) | DATE | MATCHUP |
| --- | --- | --- |
| Heart of Dallas Bowl (Dallas) | Dec. 26 | Big Ten vs. Big 12 |
Projection: UNLV** vs. Western Kentucky**
UNLV continues its quest for bowl eligibility Saturday by hosting BYU. It's the final home game for 19 UNLV seniors, who have never defeated the Cougars. The Rebels have only won three of 19 meetings all time and are 0-8 against the Cougars in Las Vegas. UNLV needs to win two of its last three versus BYU, New Mexico, and Nevada to secure its first bowl bid since 2013.
| BOWL (CITY) | DATE | MATCHUP |
| --- | --- | --- |
| Quick Lane Bowl (Detroit) | Dec. 26 | ACC vs. Big Ten |
Projection: Wake Forest vs. Central Michigan**
After defeating Western Michigan last week, Paulette Bonamego, wife of Central Michigan head coach, John, caught her husband in bed in a compromising position and tweeted a photo. Actually, it was only Bonamego sleeping with the Victory Cannon Trophy, awarded to the CMU-WMU winner. It was Bonamego's first victory over the Broncos.
| BOWL (CITY) | DATE | MATCHUP |
| --- | --- | --- |
| Hawaii Bowl (Honolulu) | Dec. 24 | American vs. MWC |
Projection: Memphis vs. Wyoming
Memphis and QB Riley Ferguson continue to pile up points and wins. The Tigers have scored at least 30 points in five consecutive games, the nation's fourth-longest streak, and in eight of nine contests this year. The only game in which the Tigers were held to under 30 was against UCF. No worries, the Tigers could get their chance for revenge against the Knights in the American Conference title game.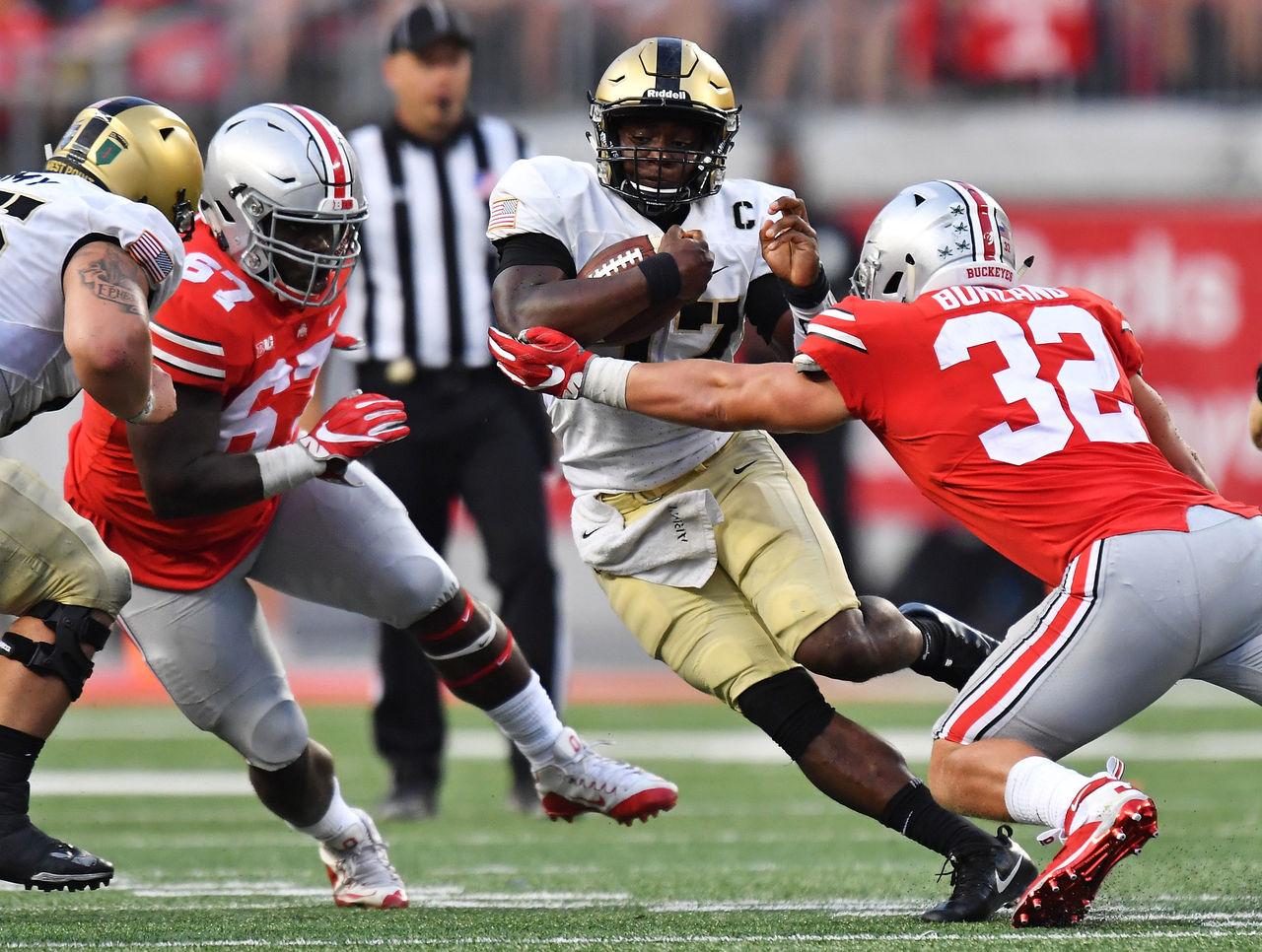 | BOWL (CITY) | DATE | MATCHUP |
| --- | --- | --- |
| Armed Forces Bowl (Fort Worth) | Dec. 23 | C-USA vs. Army |
Projection: Louisiana Tech vs. Army
Last week Army shut out Air Force, setting up a winner-take-all against Navy for the Commander-in-Chief's Trophy on Dec. 9. This week, the Black Knights host Duke, looking to avenge a 44-3 loss to the Blue Devils at Michie Stadium in 2015. Since a 2-2 start, Army has reeled off five consecutive victories. During the winning streak, Army has completed only 12 passes and didn't even attempt a pass in last week's win at Air Force.
| BOWL (CITY) | DATE | MATCHUP |
| --- | --- | --- |
| Birmingham Bowl (Birmingham) | Dec. 23 | American vs. SEC |
Projection: UAB** vs. Akron**
Last Friday, UAB head coach Bill Clark received a new five-year, $4.72-million contract. The next day, his team routed Rice to become bowl eligible. Before the season, UAB's projected win total was 2 1/2. The Blazers have already doubled that total, and although they would need North Texas to lose its final two league contests, they remain in contention for the Conference USA title game.
| BOWL (CITY) | DATE | MATCHUP |
| --- | --- | --- |
| Dollar General Bowl (Mobile) | Dec. 23 | MAC vs. Sun Belt |
Projection: Toledo vs. Arkansas State
Toledo just keeps rolling along. The Rockets have reached the eight-win mark for the seventh time in the last eight years. In last week's victory over Northern Illinois, senior quarterback Logan Woodside set the school career passing yards record with 9,288, surpassing Bruce Gradkowski (2002-05).
| BOWL (CITY) | DATE | MATCHUP |
| --- | --- | --- |
| Bahamas Bowl (Nassau) | Dec. 22 | C-USA vs. MAC |
Projection: FIU vs. Ohio
What a first-year coaching job by Butch Davis. FIU defeated UTSA on Saturday, its third consecutive win as an underdog, to reach bowl eligibility for the first time since 2011. The Panthers are favored this week against Old Dominion and must guard against looking ahead to the following week's "Shula Bowl" with south Florida rival FAU.
| BOWL (CITY) | DATE | MATCHUP |
| --- | --- | --- |
| Idaho Potato Bowl (Boise) | Dec. 22 | MAC vs. MWC |
Projection: Western Michigan vs. Fresno State
Fresno State maintains a one-game lead over San Diego State in the Mountain West's West Division but closes the regular season with consecutive road contests at Hawaii (sun and surf) and Wyoming (snow) followed by a home game against Mountain Division leader Boise State. The Bulldogs own the head-to-head edge over San Diego State so they only need to win two of three to guarantee a spot in the MWC title game.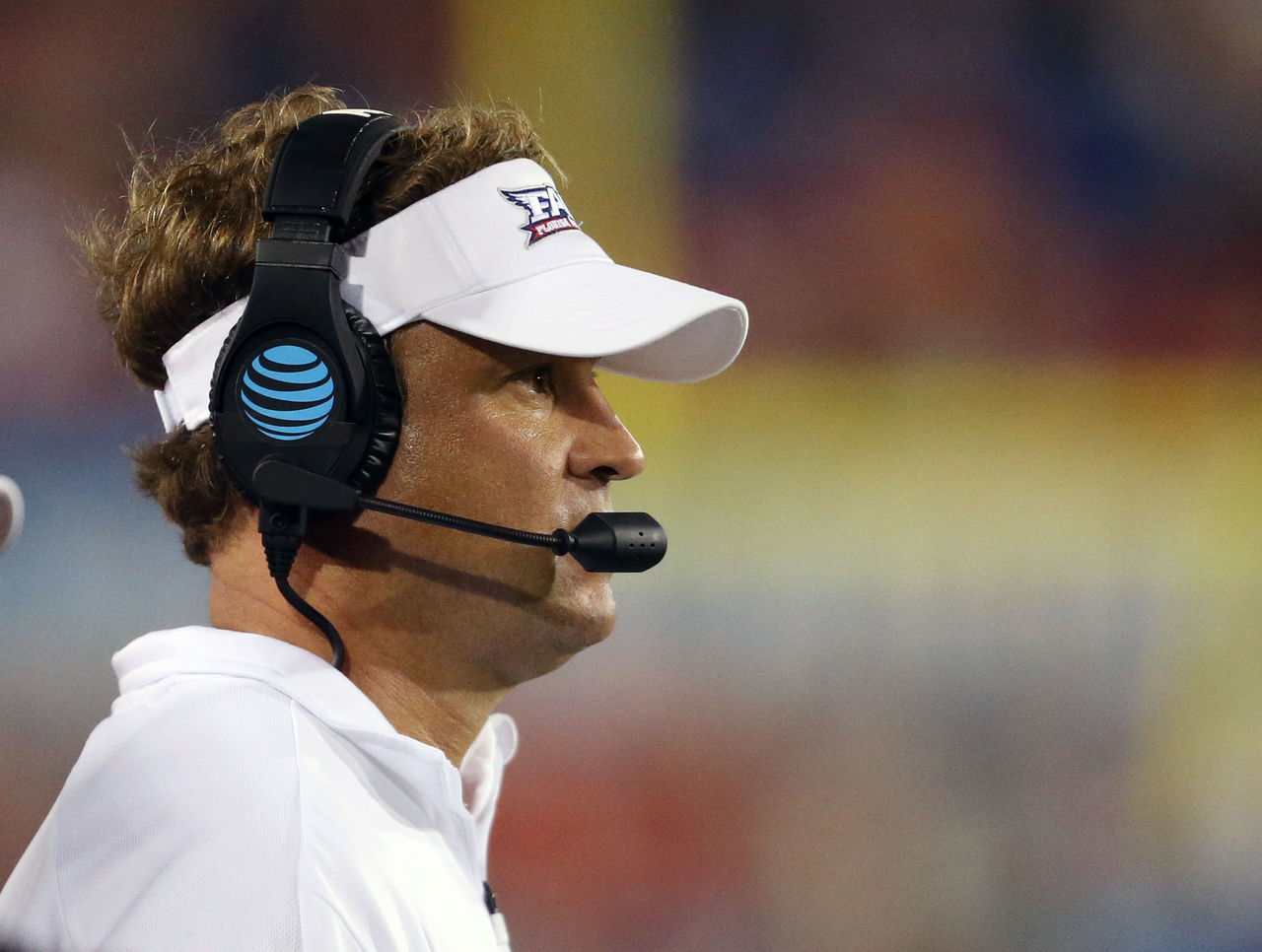 | BOWL (CITY) | DATE | MATCHUP |
| --- | --- | --- |
| Gasparilla Bowl (St. Petersburg) | Dec. 21 | American vs. C-USA |
Projection: USF vs. Florida Atlantic
Florida Atlantic continues to roll along and Lane Kiffin continues to troll along. Last Friday, FAU, not wanting to risk getting a punt blocked, took an intentional safety with eight seconds left vs. Marshall in the 30-25 victory. The safety was significant because FAU was favored by 6 1/2 points and failed to cover the spread.
After the game, Kiffin tweeted "Didn't want to cover because of too much rat poison #keptuwatching #5-0 #cometothefau #playersgetweekendoff." Kiffin later said he was kidding about not wanting to cover.
| BOWL (CITY) | DATE | MATCHUP |
| --- | --- | --- |
| Frisco Bowl (Frisco) | Dec. 20 | American vs. MAC/MWC |
Projection: SMU vs. Middle Tennessee**
Middle Tennessee quarterback Brent Stockstill, who suffered a cracked sternum and separated collarbone in Week 2 against Syracuse and missed six games, returned in last week's rout of UTEP. The return of Stockstill is great news for the Blue Raiders, who only need wins in two of their final three games against Charlotte, Western Kentucky, and Old Dominion to earn a bowl bid for a third consecutive season.
| BOWL (CITY) | DATE | MATCHUP |
| --- | --- | --- |
| Boca Raton Bowl (Boca Raton) | Dec. 19 | American vs. C-USA |
Projection: Houston vs. North Texas
Last year, North Texas went bowling with only five wins because of its Academic Progress Rate (APR) score. This season, the Mean Green is bowling again - but this time it could be as Conference USA champions. UNT is in first place in the C-USA West Division and needs only one win vs. either UTEP or Rice (a combined 1-17) to clinch a spot in the C-USA title game. UNT, which was 1-11 the year before Seth Littrell arrived, is 11-11 under the current head coach.
| BOWL (CITY) | DATE | MATCHUP |
| --- | --- | --- |
| Camellia Bowl (Montgomery) | Dec. 16 | MAC vs. Sun Belt |
Projection: Northern Illinois vs. Troy
Troy running back Jordan Chunn missed two games after suffering a cut on his right leg that required 18 stitches. He returned last week and rushed for 113 yards and two scores against Idaho as the Trojans remained a half-game behind Sun Belt leader Arkansas State. Troy has already clinched its second consecutive bowl game under head coach Neal Brown.
| BOWL (CITY) | DATE | MATCHUP |
| --- | --- | --- |
| Cure Bowl (Orlando) | Dec. 16 | American vs. Sun Belt |
Projection: Utah State** vs. Georgia State
Utah State (5-5) is off this week and only needs a victory against Hawaii or at Air Force to return to a bowl game after sitting home last year with a disappointing 3-9 season. The key for the Aggies' success has been a defense, led by senior cornerback Jalen Davis, that is tied for first nationally with 24 takeaways.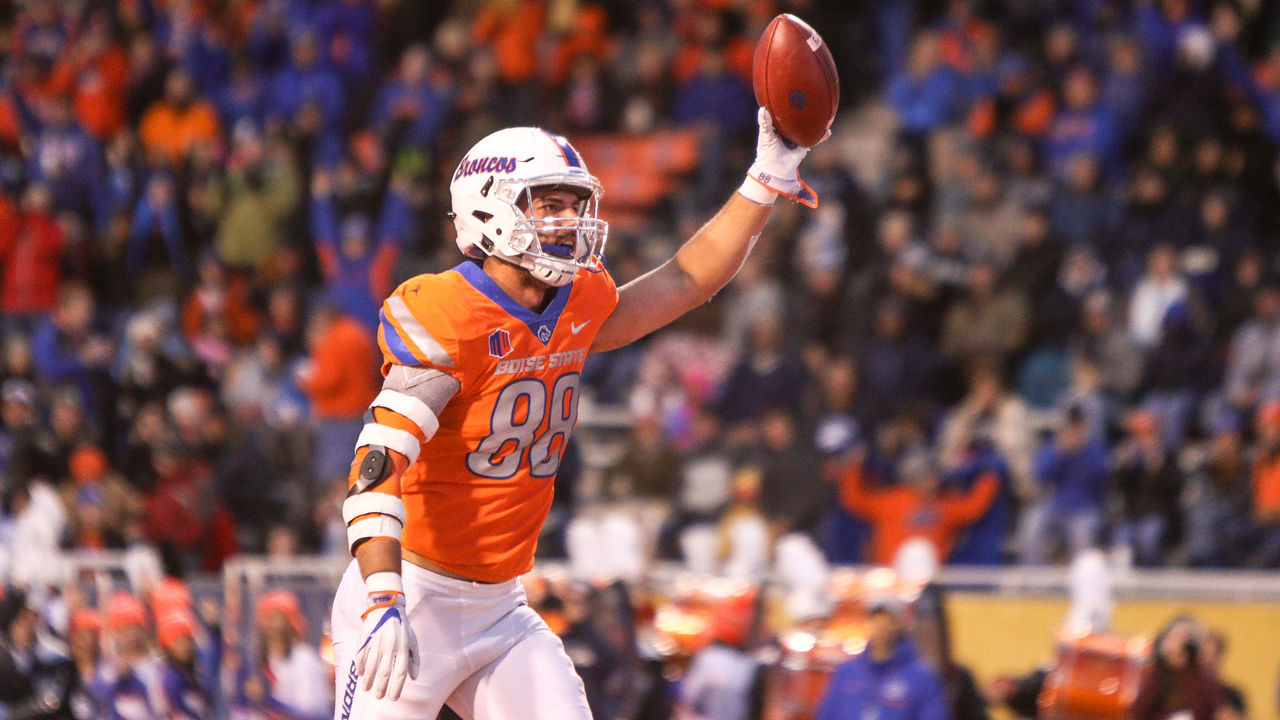 | BOWL (CITY) | DATE | MATCHUP |
| --- | --- | --- |
| Las Vegas Bowl (Las Vegas) | Dec. 16 | MWC vs. Pac-12 |
Projection: Boise State vs. Oregon
Ho hum, Boise State is headed to a bowl game for a 16th consecutive season. Since starting 2-2, the Broncos have reeled off five consecutive victories to take control of the Mountain West's Mountain Division. Boise State visits Colorado State on Saturday in a matchup of the division's top two teams.
| BOWL (CITY) | DATE | MATCHUP |
| --- | --- | --- |
| New Mexico Bowl (Albuquerque) | Dec. 16 | C-USA vs. MWC |
Projection: UTSA vs. Colorado State
When Colorado State hosts Boise State on Saturday, the Rams will be looking for their first victory against the Broncos. Boise State has won all six meetings against CSU, with last year's five-point win the only game in the series that was competitive. The teams have played the past six years with Boise State winning the first five meetings by an average of 27 points.
| BOWL (CITY) | DATE | MATCHUP |
| --- | --- | --- |
| New Orleans Bowl (New Orleans) | Dec. 16 | C-USA vs. Sun Belt |
Projection: Marshall vs. Appalachian State
Since getting its sixth win and bowl eligibility, Marshall has suffered consecutive losses to Florida International and Florida Atlantic. The Herd shouldn't have any trouble regrouping for Saturday's game with Western Kentucky. In last year's finale, the Herd lost to WKU 60-6.
*The highest-rated champion from the Group of 5 conferences (American, Conference USA, Mid-American, Mountain West, and Sun Belt) will be selected to play in either the Cotton, Fiesta, or Peach Bowl.
**Replaces team from league that can't fill bowl.
Want more Brett McMurphy? Of course you do. Find him on Facebook.
(Photos courtesy: Getty Images)